Alexandre Dauge-Roth wins 2015 Kroepsch Award for Excellence in Teaching
Livestream: Dauge-Roth delivers Kroepsch Lecture at 4:30 p.m. March 18, 2015
One thing professor Alexandre Dauge-Roth wants his students to take away from his teaching is a better understanding of how their worldview is shaped by their own position, and how understanding the limitations of that position is central to learning how to read and listen without immediately judging the experiences of others.
When students and scholars gain that awareness, they are able to learn with their subjects, instead of learning about them. When that shift occurs, powerful learning and understanding takes place not just in class, but across a person's life, Dauge-Roth said.
"Sometimes it takes time for students and for me," he said. "It's great when, years later, when we are facing an unfamiliar situation, we are able to mobilize or revisit some of the discussions we had together but didn't fully appreciate at the time."
---
NOTE TO READERS: Alexandre Dauge-Roth's Kroepsch Lecture, The Transformative Power of Literary and Testimonial Encounters, takes place at 4:30 p.m. Wednesday, March 18, in the Keck Classroom (G52) in Pettengill Hall.
---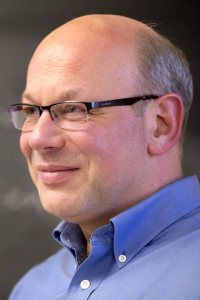 Dauge-Roth's ability to coach students in this way is one reason why Bates has awarded him the 2015 Kroepsch Award for Excellence in Teaching, which was established in 1985 by a gift from Robert Kroepsch '33. Nominated by students and alumni, recipients are selected by a committee of previous years' winners.
Dauge-Roth, an associate professor of French and francophone studies, will give his Kroepsch Lecture on the "the transformative power of literary and testimonial encounters." The lecture takes place at 4:30 p.m. Wednesday, March 18, in the Keck Classroom (G52) in Pettengill Hall.
"What we are learning here is, how do you establish communication or dialogue with people who are telling you their stories when you really cannot fully comprehend what their story is?" Dauge-Roth said. "The exchange of knowledge is not about acquisition but the genuine development of a self-critical understanding of the limits of your own ability to truly hear people with whom you share a common space but cannot identify."
Dauge-Roth has taken students to Rwanda during Short Term to hear first-person accounts of the 1994 genocide against the Tutsi and to create collaborative short documentaries with survivors. The fact that he is able to tackle such weighty issues through courses in French and francophone studies is not lost on his current and former students.
"He pushes me to places I didn't know I could go, academically and emotionally," said Brenna Callahan '15 of Milton, Massachusetts. "He makes events from the last century that happened on the other side of the world affect my life on a daily basis … What's most impressive is that he does all of this while studying and talking about genocide."
Dauge-Roth was born in Switzerland and came to the United States in 1993 through an exchange program with the University of Michigan, where he earned his doctorate in French literature. He came to Bates in 2005 after stints as a visiting professor at both Colby and Bowdoin.
Dauge-Roth said he is drawn to the study of social dynamics and polemical tensions between collective memory and personal trauma because doing so forces him to question and explore his personal role in redefining the cultural and social awareness of experiences and voices that are too often silenced.
'He pushes me to places I didn't know I could go'
"The more I began to work on this body of literature, the more I began to question, what is our role as people who have not gone through these experiences?" he said. "What is our ethical and social responsibility in relationship to people who have survived genocide or the AIDS pandemic?"
Winning the 2015 Kroepsch Award is humbling given the great faculty at Bates, he said. It's also validating to be nominated by former students.
"Teaching is a bit of a black box because you don't know exactly how your teaching is received by students," he said. Winning the Kroepsch Award reaffirms that "there is a long-term effect between what we talked about, the conversations we had in class and how former students are using the questions we discussed in their daily lives and development."
In Dauge-Roth's classroom, "listening, empathy and compassion become crucially academic in a way that is both intellectually stimulating and emotionally and personally awakening," said Cody Tracey '15 of Baltimore. "Tenderness and care are two of my most preferred attributes in a mentor or a professor, and I owe a lot of thanks to Alex for that realization."