Bates announces college-record 20 Fulbright U.S. Student fellowships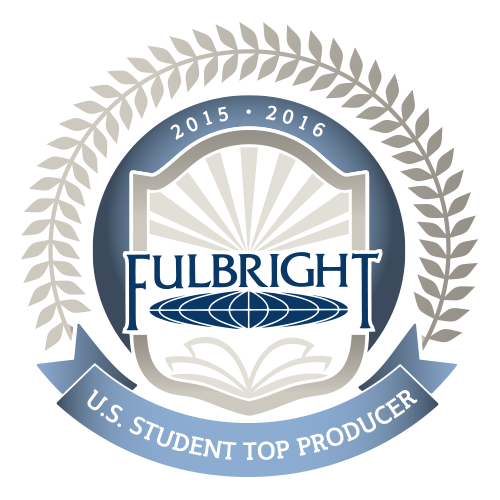 Already celebrated as a "Top Producer" of Fulbright U.S. Student fellowships, Bates has announced 20 new grants this year — a record for the college.
Fifteen current seniors and five graduates won the 20 prestigious awards for teaching and research abroad in 2015-16.
"The name 'Fulbright' is synonymous with international service, learning and adventure," said Matthew Auer, dean of the faculty and vice president for academic affairs. "It's incredibly gratifying to see so many of our students going abroad to make an impact as teachers, as scholars and as ambassadors of Bates."
---
Update: Bates ranks third in nation for number of 2015-16 Fulbright Student grants.
---
Compared with prior year totals achieved by U.S. undergraduate colleges, Bates' crop of Fulbright U.S. Student grants ranks among the top several schools nationally.
Supporting an academic year of research or teaching in more than 155 countries outside the U.S., the Fulbright U.S. Student Program, funded primarily by the U.S. Department of State, sends some 1,500 U.S. citizens abroad annually.
Of the 20 Bates recipients, four were awarded Fulbright Study/Research grants and 16 received Fulbright English Teaching Assistantships, which support positions teaching English in primary and secondary schools or universities abroad.
The college's prior record was 12 Fulbright U.S. Student grants, in 2013-14.
Class of 2015 Fulbright U.S. Student recipients
Teika Carlson '15
Teika Carlson '15, an environmental studies major from Southbury, Conn., was awarded a 2015–16 Fulbright English Teaching Assistantship for Brazil.
At Bates, Carlson worked with students at Lewiston public schools, the Lewiston public library, and Hillview Resource Center. She also spent a summer in Lewiston working with Hillview as a Community Outreach Summer Student Fellow. Her extracurricular activities included leading a trip in Bates' Annual Entering Student Outdoor Program and running on the cross country and the track and field teams.
Further teaching experience in Hawaii and a semester abroad in Valparaiso, Chile, helped inspire Carlson to pursue a teaching opportunity through the Fulbright grant.
Carlson says that her previous teaching experiences have taught her the educational value of inviting student input through questioning.
"Questions provided wonderful opportunities to follow the students' interests, sparked the curiosity of others in the classroom, and indicated that the students were comfortable participating in the learning environment," she says. "Having emotional connections to classroom material makes the work seem relevant and is key to keeping students motivated and engaged."
In Brazil, Carlson plans to form a book group, similar to one that she formed in Lewiston. "I hope to stimulate equally important conversations with the kind of thoughtful open-ended questions that defined my own tertiary education," she says. She plans to use texts to spark conversations about social issues and current events.
Through this experience, Carlson hopes to gain exposure to new teaching methods that will support her goal of earning a master's degree in education and working as a teacher and school administrator.
Michael Creedon '15
Michael Creedon '15, an English major from Medfield, Mass., was awarded a 2015-16 Fulbright English Teaching Assistantship for Brazil.
Creedon expects that his Brazil experience will develop his skills in teaching and language. He also hopes that his time abroad will broaden his worldview.
He has taught summer-school English at Phillips Exeter Academy, has tutored and student-taught in Lewiston schools, and currently works for the Bates Peer Writing Center. "In every educational context in which I work, I try to see myself both as a teacher and a student," Creedon explains.
"While tutoring here in Lewiston, this means giving English language learners an opportunity to demonstrate their diverse range of foundation knowledge, so they can connect the new to the known.
"And in Brazil, this would mean immersing myself in the Portuguese language and exchanging ideas with students who are also aspiring teachers."
While in Brazil, Creedon will immerse himself in the community by hosting running races in support of local causes.
He completed a Bates honors thesis in English in 2014-15, examining the intersection of racial and sexual representations of tomboys in the years during and immediately after the Second World War.
Creedon hopes to apply the Fulbright experience to his role as a teacher of diverse students. He aspires to teach English and ELL in secondary schools.
In 2014, he helped lead a Short Term class that visited Malawi. A dean's list student and a Dana Scholar, Creedon is an active athlete and the treasurer for the Bates Authors' Guild.
Barbara Crespo '15
Barbara Crespo '15, an environmental studies major from New York City, was awarded a 2015-16 Fulbright English Teaching Assistantship for Guatemala.
Inspired by her own childhood experience as an English-language learner, Crespo plans to use specific teaching techniques, honed during trips to Nicaragua and Ethiopia, to help students not only improve their English skills but also develop the tools to further their own success. She will also lead weekly art classes to integrate what she's teaching in the classroom into the larger community.
"I will explore what learning English means to this community and how cultural and social conditions affect these areas," says Crespo.
"The students and their families will be encouraged to reflect on their lives and aspirations through narrative and visual arts. This technique will foster a greater understanding of the English language, and also make their artwork accessible to people in the United States."
At Bates, Crespo worked as a Spanish tutor and assistant in the education department. She also worked off-campus as an intern at Lewiston's Hillview Arts Program and a park steward mentor at a Bronx-based non-profit organization.
Following her time in Guatemala, Crespo hopes to work in New York City's public school system as a program coordinator for youth development while pursuing a master's degree in education with an emphasis on urban schools and higher education.
Jackson Emanuel '15
Jackson Emanuel '15, a biochemistry major from Lakewood, Colo., was awarded a 2015-16 Fulbright English Teaching Assistantship for Poland, where he will work with undergraduate science students on their English language skills.
Emanuel was inspired by meeting students from all over Europe, including Poland, during his study abroad at the University of Edinburgh. He feels that because many technical resources are in English, it is important to provide the opportunity for science students to improve their skills in the language.
"In addition to 20 hours per week of regular teaching sessions, I'd like to run a weekly workshop on accessing online resources in English, data interpretation and analysis," Emanuel says.
"Ideally, I would work with host university professors to develop course content that complements what students are studying in other classes."
While in Poland, Emanuel will also host informal English speaking sessions, and will continue learning Polish as a way to immerse himself in the cultural experience of the host country.
At Bates, Emanuel has served as the vice president of the Biology Club, a student tutor for courses on molecular biology, and wrote his senior thesis on a gene regulation in Borrelia burgdorferi, the bacterium that causes Lyme disease.
Following his time in Poland, Emanuel hopes to pursue graduate studies in biochemistry and to earn a doctorate. He intends to teach undergraduate sciences while conducting his own research.
Frances Jennings '15
Frances Jennings '15, a double major in politics and Chinese from Springfield, Ohio, was awarded a 2015-16 Fulbright Study/Research Grant to study the changing concept of success in China. Her research will take place primarily at Sun-Yat Sen University in Guangzhou, China.
Jennings plans to engage in qualitative interviews about perceptions of success in the context of the country's recent development. Using ethnographic discussion to collect stories from residents, she'll explore, from a sociological perspective, how their lives are affected by China's massive economic growth, and the varying answers to what it means to live the "Chinese dream."
"Understanding personal and situational effects on Chinese nationals' interpretation of the concept will be integral to its perpetuation as a national phrase and project," she says.
"I think that researching individual accounts of the Chinese dream will illuminate the capacity of the phrase and its potential to change the modern Chinese conceptualization of progress."
She will write essays analyzing and contextualizing the interviews and compile them into a narrative collection that she hopes will provide a deeper understanding of the myriad of differences existing in modern China.
Jennings works as a legal intern at Pine Tree Legal Assistance in Lewiston, Maine, and at Bates has served as a student outreach coordinator with the college's EcoRep organization. In 2014, while studying in Beijing, Jennings served as a research intern at Women Watch China.
Upon her return to the United States, Jennings hopes to attend law school or a graduate program in international relations or public policy to further a career in human rights law and politics.
Liliana Jimenez '15
Liliana Jimenez '15, a politics major from Chicago, was awarded a 2015-16 Fulbright English Teaching Assistantship for Turkey.
Jimenez was inspired to teach in Turkey by two previous experiences with Turkish students: first while studying at the Université de Nantes, in France, and then during a stint assisting English-language students in Chicago.
"Having worked with Turkish students, I understand that sentence structure is one of the most challenging parts of learning English for them," explains Jimenez. "Being able to structure my lesson plans to effectively explain this will help me make a contribution to the Fulbright Fellowship Turkish ETA program."
During her classroom time, Jimenez plans to encourage presentations of both Turkish and American culture in order to foster deeper levels of international linguistic understanding.
After her Fulbright experience, Jimenez hopes to pursue a graduate degree in international studies to complement her fluency in French and Spanish.
At Bates, Jimenez has participated in the student organizations Latinos Unidos and the Women's Advocacy Group, and is a member of Bates College Women in Leadership.
Danielle Munoz '15
Danielle Munoz '15, a politics major from Bedford, N.H., has received a Fulbright English Teaching Assistantship for Germany.
Drawing from her experience as both a teacher and student of foreign language, Munoz hopes to instill a passion for learning in her students, while exploring culture and identity to form a meaningful cross-cultural exchange with them.
"In the classroom, I would share with my students American history, current events and pop culture, but, more than anything, I would stress that languages do not have borders," she says. "Instead, in this globalized world, languages fluidly cross country-specific borders in ways that are full of potential for citizens of the world."
She also plans to teach dance, organize a girls soccer league and join a local outing club.
At Bates, Munoz was a member of the Bates Democrats and served as co-president of the Bates Entrepreneurs Club. She received the Hoffman Research Support Grant to research Afro-Brazilian dance and culture in Salvador, Brazil, and in Lewiston volunteered at the Somali Youth Bantu Association as a tutor in English as a Second Language and the U.S. citizenship test.
Following her return, Munoz hopes to work in renewable energy and in urban and sustainable development in the hopes of creating more environmentally conscious communities in the United States.
Ashleen O'Brien '15
Ashleen O'Brien '15, a double major in environmental studies and politics from Edmonds, Wash., was awarded a 2015-16 Fulbright English Teaching Assistantship for Mexico.
O'Brien is committed to developing close academic and personal relationships with students, families and fellow teachers, while studying the role Mexican identity plays in learning and education.
"I realized that the most effective way I can contribute to change at a macro level is not necessarily through pursuing a career as a politician," she says. "Rather, policy is informed by empowerment and collaboration with people on the ground, and education is the most powerful tool for empowerment."
Through her time living and working as an intern at Nezinscot Farm, a diversified organic family farm in Turner, Maine, O'Brien developed a strong passion for organic farming and food education that she hopes to put to use while working with students and their families in local communal gardens.
At Bates, O'Brien has been involved with the Bates Energy Action Movement and was a team member and tournament director for the Brooks Quimby Debate Council. She also worked at Tree Street Youth in Lewiston.
Upon her return, O'Brien will pursue a career in urban environmental justice and education. She hopes to use her experiences in Mexico to further her work with the Mexican population here in the United States.
Amelia Oliver '15
Inspired by her own Ukrainian heritage and a passion for teaching English, Oliver will work with students to expand their language skills and encourage their exploration of culture, identity and what it means to be part of a community.
She hopes to establish an afterschool program for local children that uses the art of collage as a means of expression and documentation to further their skills in the English language.
"Collage making will mutually sharpen language skills, draw cultural parallels and provide youth with a space for reflection and discussion," she says.
"Collages provide a unique window into the world of words, images and messages by conjuring a conglomeration of unrelated parts to come together and make a beautiful whole."
Oliver completed a Bates honors thesis in English in 2014-15, examining Vladimir Nabokov's The Eye and how Nabokov attempts to transcend traditional textures of space and time by means of artistic consciousness.
At Bates, Oliver is a member of the women's track and field team, and served as an English tutor through the Refugee Volunteers Club. Her experience as a campus tour guide and as a volunteer college admissions adviser at a local ELL afterschool program have allowed her to sharpen her skills as an educational counselor and outreach administrator.
Following her time in Ukraine, Oliver will apply to master's programs in Slavic languages and Eurasian studies with the ultimate goal of a career in international relations. She hopes to gain the necessary skills and experience for a lifetime of work dedicated to diplomacy and Eurasian policy.
Molly Pailet '15
Molly Pailet '15, a history major from Denver, was awarded a 2015-16 Fulbright English Teaching Assistantship for the Czech Republic.
There Pailet will teach English as a second language in an immersive environment. Her interest in the Czech Republic was deepened through her study abroad experience there, and her recently completed honors thesis focused on Czech spirituality and secularism. Pailet will become involved in the Czech community through arts and crafts work and beekeeping.
"I will bring my openness, personal self-sufficiency, perspective and skill set of communication and perseverance as an ETA," says Pailet.
"I do not expect that being an ETA will be easy. I look forward to embracing the challenges of teaching English in a different culture because I know that change and challenge inspire me."
After her Fulbright experience, Pailet plans to pursue her interests in public and oral history through organizations such as The Moth, which advances the practice of public stoytelling, and StoryCorps, and a national oral history project that records and distributes personal history.
She plans to earn a master's degree in either museum science for exhibit development or museum education.
At Bates, Pailet is a dean's list student and a writing and speaking assistant in Ladd Library.
M. Lane Peterson '15
M. Lane Peterson '15, a double major in German and rhetoric from Washington, D.C., was awarded a 2015-16 Fulbright English Teaching Assistantship for Germany.
Peterson will teach English to students using a comprehensive, conversational approach. "By creating an English-speaking community in the classroom, the students' comfort with the language and their breadth of comprehension will grow," Peterson explains.
"Once class has begun, we will speak English and explore ways of clarifying unknown words through English, not German. This will help them stop translating and begin thinking and understanding in English."
As part of her community outreach, Peterson plans to join a choir and take art classes at a German community college.
After her Fulbright experience, Peterson says, "I want to work in a position that allows the opportunity to work with an international company's German or European branch." She is also contemplating graduate school.
For her senior thesis at Bates, Peterson explored questions of cultural identity through the work of German-Spanish poet José F.A. Oliver. She has served as a teaching assistant for the German department and been a member of the choir and the Merimanders a cappella group.
Grace Pezzella '15
Grace Pezzella '15, a history major from Newburyport, Mass., was awarded a 2015-16 Fulbright English Teaching Assistantship for Malaysia. Pezzella will offer her students an opportunity to master the English language through creative and empowering instruction. She also plans to study how increased tourism in Malaysia has affected children in rural areas.
Using her background in theater, Pezzella plans to create music-themed exercises such as improvisation games, skits and songs as a secondary means of learning that will incorporate the cultures and traditions of her students.
"Not only will this support the students' English training in a way that could reach those who struggle in a traditional setting, but also it will allow for meaningful intercultural exchange through art," she says.
She completed a Bates honors thesis in history in 2014-15, examining the evolution of the Appalachian Mountain Club hut system as a masculine space, and how the modern huts function as an ideal feminist model.
At Bates, Pezzella served as managing news editor of The Bates Student newspaper and is the vice president of the Bates Outing Club. She works as a cook and wilderness-medicine guide for the Appalachian Mountain Club in Gorham, N.H.
Pezzella plans to attend a graduate program for journalism or travel writing upon her return to the United States.
Quincy Snellings '15
Quincy Snellings '15, a double major in sociology and English from Lexington, Mass., was awarded a 2015-16 Fulbright English Teaching Assistantship for Brazil.
Inspired by conversational learning in the Bates Peer Writing and Speaking Center, Snellings' application to teach in Brazil was also propelled by her interest in the cultural exchanges between Brazil and other Portuguese-speaking countries.
"In the classroom in Brazil, I'll listen carefully, with the intention of making meaningful connections with my students and understanding what is holding them back from meeting their potential," says Snellings. "Outside of the classroom, I will hold myself to the same standards as I explore and make connections with the community around me."
While in Brazil, Snellings plans to engage with her community through capoeira, the Brazilian martial art that combines elements of dance and acrobatics, or other forms of dance or martial arts.
In the future, Snellings plans to teach high school English to diverse classrooms in areas of high need. She hopes that her time in Brazil will help her to introduce global perspectives to her students.
She completed a Bates honors thesis in sociology in 2014-15, investigating Bates students' perceptions and awareness of whiteness and its impact on their college experience.
A dean's list student, Snellings works in recruitment for Teach for America. She is a writing and speaking tutor, a Dana Scholar and the captain of women's track and field.
Matthew Summers '15
Matthew Summers, a senior economics major from Short Hills, N.J., was awarded a 2015-16 Fulbright English Teaching Assistantship for South Africa.
Summers, named the top debater at the 2015 U.S. Universities Debating Championship in April, plans to bring international awareness and a passion for communication to his teaching position, and hopes to use his years of experience in teaching public speaking and in debate to start a debate club at his assigned school.
"I have spent much of the last decade training myself to be the best communicator I can be, and during that time I've seen how much individuals can be held back when they struggle with English," he says.
"For the next period of my life, I want to use the skills I've learned to help others communicate their ideas and feelings as well as they possibly can."
At Bates, Summers has worked as a writing assistant for fellow students in the Peer Writing and Speaking Center. He also served as a teaching assistant for the economics department, and was an SAT tutor for local students at the Lewiston-based organization Let's Get Ready.
Upon his return, Summers may enroll in an economics doctoral program with the goal of becoming a developmental economist or a macro economist, while devoting equal time to teaching, research and policy advising.
Patrick Tolosky '15
Patrick Tolosky '15, a Spanish major and premed student from Longmeadow, Mass., was awarded a 2015-16 Fulbright English Teaching Assistantship for Spain.
Tolosky is also the recipient of a $10,000 Davis Projects for Peace award. During summer 2015, prior to his departure for Spain, he will use the Projects for Peace grant to build a public health facility in a remote region of Peru.
Tolosky's experiences in tutoring began in high school. At Bates, Tolosky has worked as an organic chemistry tutor and as a tutor for English language learners at the Lewiston Public Library. He believes that leadership skills he has learned through these experiences will be invaluable to his plans for teaching English in Spain.
Tolosky has also been inspired by the example of the Model UN. "Teamwork, communication, reliability, foresight, resourcefulness and adaptability are all skills reinforced through the Model UN project," says Tolosky.
As part of his cultural outreach in Spain, Tolosky plans to become involved as a public health volunteer.
A dean's list student, Tolosky has served as president of the Bates Public Health Initiative and the Health Sciences Club. He is a member of Men Against Sexual Violence and the Spanish Club.
Tolosky hopes his experiences in Spain will inform his plans to promote the use of the Spanish language in the field of health care. His goals include medical school and a career that addresses the role of poverty in health both domestically and abroad.
Alumni Fulbright U.S. Student recipients
Ashley Braunthal '14
Ashley Braunthal '14, a double major in geology and German from Riverside, Conn., was awarded a 2015-16 Fulbright Study/Research grant to work with the Bjerknes Centre for Climate Research (BCCR) in Bergen, Norway.
While in Norway, Braunthal plans to study the effects of Arctic Sea ice on the Greenland Ice Sheet by comparing abrupt shifts in ice and sediment core samples. She will begin her fellowship aboard a research vessel bound for eastern Greenland and the Nordic Seas.
Braunthal will work under the mentorship of Trond Dokken and Matthew Reeve of the BCCR.
"I anticipate that 
the experience will contribute to my lifelong commitment to global science collaboration and intercultural exchange," says Braunthal.
"Bergen is an international hub and think tank for climate research, and I hope to take with me an inspiring and innovative approach toward my future endeavors: that is, sharing with others a passion for climate research and other interests while embracing our
 cultural and personal differences."
To share her work, Braunthal will contribute articles to ClimateSnack.com, an international and inter-disciplinary community where early-career scientists interact in order to improve their writing and communication skills, and on her own blog. During this process, she will participate in the ClimateSnack writing group at the University of Bergen (UiB). She plans to live at UiB.
At Bates, Braunthal was an EcoRep, president of the German Club from 2012-14, founder of the Bates Field Hockey Club and a member of Takenote, an a cappella ensemble. Following her Fulbright experience, Braunthal hopes to pursue graduate work in Earth system science.
Joel Colony '06
Joel Colony '06, a religion major from Harrisville, N.H., was awarded a 2015–16 Fulbright Study/Research grant to study global politics and international relations in the European Union.
Colony's project includes travel to London, Brussels and Rome where he will examine how gender equality is being promoted through EU foreign and security policy, and ways in which U.S. and EU approaches to this issue can be improved.
Meanwhile, he plans to earn a master's degree at the London School of Economics and Political Science.
Colony will base his research on interviews with EU scholars and policymakers. He will also engage in public diplomacy through sports and community service.
At Bates, Colony was a dean's list student and graduated Phi Beta Kappa. He was the captain of the track and field team, a residence coordinator and an active member of the Bates College Student Government. Since 2009, Colony has worked for U.S. Sen. Jeanne Shaheen (D-N.H.) as an adviser on foreign policy.
Colony's goals include working for the U.S. State Department's Office of Global Women's Issues. He hopes to advance the inclusion of women in matters of foreign policy, security and development.
Nicole Huang '14
Nicole Huang '14, an anthropology major from Portland, Maine, was awarded a 2015-16 Fulbright Study/Research grant for India.
Titled "Sustainable Development and the Organic Movement in South India," Huang's research project involves relationships between sustainable agriculture and development. Her research will include interviews with farmers, consumers and activists. She hopes that her work will promote communication between communities.
The project, she says, "will allow me to further develop my understanding of the organic agriculture movement in its local and global contexts. More importantly, as a Fulbright Fellow, I will engage with communities in India, contribute to sustainable agriculture projects and build connections between groups that are involved in the movement."
Inspired by a study abroad program in Madurai, India, Huang plans to immerse herself in her host country's culture by working on organic farms or volunteering at local schools.
Huang intends to pursue a graduate degree in environmental policy and education upon which to build a career in the field of sustainable agriculture.
"After returning to the United States," she says, "I plan to educate the American public about innovations in Indian agriculture as I work to promote sustainable development and agricultural change at home and abroad."
At Bates, Huang worked at the Somali Bantu Association in Lewiston and at the Bates Peer Writing Center. A dean's list student, Huang graduated Phi Beta Kappa and is currently an AmeriCorps volunteer at the University of New England.
Elizabeth McKean '12
Elizabeth McKean, a third- and fourth-grade lead teacher from Helena, Ark., was awarded a Fulbright English Teaching Assistantship for Malaysia to further her interest in education, reading instruction and multiculturalism. McKean graduated from Bates in 2012 as a politics major.
Drawing from her experience teaching struggling readers, McKean will use targeted lesson plans that use engaging repetitive drills and conversational activities to get students talking to one another. She also hopes to connect with the community through local routines and traditions, and attending activities such as church events, performances, games and festivals.
"In Arkansas, I connected with the place and my students by walking through neighborhoods, attending community events, soaking in the reality and potential of the Mississippi Delta, and finally bringing what I found into the classroom," says McKean. "I will continue to spark inquiry in my Malaysian students using the same techniques."
McKean was a campus campaign coordinator for Teach for America during her senior year at Bates, and eventually began teaching through the organization in Helena. In 2013-14, she received three grants, totaling just over $95,000, each designed to provide funding for instructional technology for the classroom.
After Malaysia, McKean will apply to graduate school to earn a degree in educational leadership or learning instruction, or will apply for a leadership role at an elementary or middle school.
Samuel Schleipman '12
Samuel Schleipman, a Peace Corps volunteer serving in Namibia, has received a 2015–16 Fulbright English Teaching Assistantship for Malaysia. A Boston native, Schleipman graduated from Bates in 2012 with a history major.
Schleipman's passion for teaching English stems from a desire to open doors for his students and allow them to feel confident seeking university and job opportunities in the world beyond their borders.
"Foreign nationals who have a command of English enjoy vastly expanded opportunities," he says. "The ease I have navigating the world with English has impressed upon me its supreme utility."
He adds, "The satisfaction I've felt when teaching compels me to immerse myself in that role again. I want to assist my students to self-actualize, and there is no better way to do that than as a teacher."
He views this fellowship as an opportunity to immerse himself in a new culture and give back to this new community, one he will soon call home.
"The defining moments of my life have always derived from travel and study in extreme and unfamiliar destinations, where my perspective changes and confidence in my ability to meet difficult challenges grows," he says.
"I have realized that fulfillment and satisfaction comes not from following the traditional path of success, but from jumping headlong out of my comfort zone and rising to the occasion."
Schleipman hopes to bring a deep enthusiasm to his classroom using skills and strategies he learned while teaching English at the Benevolent Islamic Secondary School in Sierra Leone. At Bates, he was a member of the Robinson Players and the Brooks Quimby Debate Team, fueling a passion for drama and debate, which heavily influenced his work in Sierra Leone as chair of the Literary & Debating Society.
He helped students articulate and analyze complex arguments, and started a drama club that made English tangible and exciting, enabling students to proudly demonstrate their achievements to peers and families on stage. Evacuated out of Sierra Leone in August 2014 due to the Ebola outbreak, Schleipman continues his community service in Namibia as a resource coordinator at Regional Library, promoting literacy programs on behalf of the Ministry of Education.
Upon his return to the United States, Schleipman intends to pursue graduate studies and a future in development or humanitarian aid, and will explore possibilities with the United Nations and the U.S. Foreign Service.

View Comments