Multimedia: Check out the Class of 2019's Opening Day from morning to night
The 518 members of the Class of 2019 began arriving early on Aug. 31's Opening Day, and all sorts of gerunds followed them through the day and into the night.
Signing in. Unpacking. Setting up. Lunching. Listening. Leaving (crying). Playing.
After Opening Day, the first-year students had a couple days of Orientation on campus, including the initial session of their First Year Seminars, and are now on various AESOP outdoor trips around the state or with their varsity sports teams. Next week is Convocation, marking the official start of the new year, on Sept. 8 and the start of classes the next day.
But before we get ahead of ourselves here are some Opening Day happenings.
Reporting by Doug Hubley and Jay Burns.
---
7:08 a.m. — Ready and waiting
Deepsing Syangtan '18 of Kathmandu, Nepal, a 2015 OWL, waits on Campus Avenue to greet arriving first-year students and family members.
Who are OWLs? They're Orientation Week Leaders, students trained to provide on-the-spot support, advice, and guidance during Orientation.
---
7:23 a.m. — Simplicity itself
Daniel Fichmann '19 of New York City gets out of the family vehicle as parents Jose and Barbara drop him off at Commons on Central Avenue.
Students entered Commons for registration set up along the MacNaughton Arcade, where four tables were staffed by folks from various departments including Dining Services and Human Resources.
Taking less than a minute per student, the check-in was simplicity itself: what's your name, please sign and date here, and here's your room key and key access card. Can you find your dorm? Do you need a map? Any questions? Welcome to Bates!
---
7:37 a.m. — And coffee
Alexia Sahue '19 of Abidjan, Ivory Coast, registers in Commons with Bates staff member Sarah Bernard '75, as a new friend, Leslie-Anne Bernard '19 of Kingston, Jamaica, looks on.
There were no long lines at the ID table this year — students were invited to send their own ID photo ahead of time, rather than wait to be photographed.
"It's been really smooth," said Ree Russell, a member of the Student Affairs staff. "Everyone seems happy. The parents all want to know where they can get coffee. They ask about IT support, where their students' residences are — and coffee."
---
8:42 a.m. — Crewing interest
Members of the college staff, the "Bates Welcome Crew," volunteered to greet arriving families and help with registration.
The crew included Curt Lyford '04, director of the Parents Fund. He helped a student from South Korea find Ladd Library. "She got in at 9 o'clock last night. She was excited, but trying to stay awake!"
"It's hard not to be excited" about the way things were going, he added. Students and families were "anxious, but in a good mood" as they dropped off their students on Central Avenue.
By 10:05 a.m., 430 students had checked in.
---
9 a.m. — Twice goodbye
A mother takes a photo of her daughter and roommates outside of Smith Hall.
One of the first-year moms feeling a double dose of letting go was Heidi Statile, the mother of Eliza Statile '19 of Ipswich, Mass. The family had just seen Eliza's twin brother off to the Massachusetts Maritime Academy and now they were handing Eliza off to Bates: instant empty nest.
"They're both going to be gone," said Heidi, standing outside of Smith Hall near the heap of Eliza's stuff that had filled a small truck. "I'm a mess."
But, she added, "Bates is the right place for her to be. I'm extremely impressed with Bates. I feel she's going to be taken care of."
The twins are the family's first generation to attend college.
---
9:06 a.m. — Settling in before setting out
Alex Brown '17 of Hanover, N.H., and Monata Song '17 of Saratoga Springs, N.Y., help new students move their gear into Smith Hall.
The pair are co-leaders of an AESOP trip, one of dozens of outdoor excursions around Maine for incoming students. On Thursday, all the trips departed from campus with their charges. Brown and Song headed to Rangeley, planning to hike a section of the Appalachian Trail and canoe Rangeley Lake.
---
9:30 a.m. — Taking flights
Marcus Delpeche '17 of Wilmington, Del., helps get the load up four flights of stairs. Delpeche is a Resident Coordinator in John Bertram Hall who pitched in at Parker on Opening Day.
RCs like Delpeche are liaisons between students and various administrative offices, keeping fellow students up to date on campus issues, policies, and events.
---
9:33 a.m. — Interior angles
Sometimes the first act of connection and community occurs like this. Roommates Catie Spaulding '19 (left) of Huntingtown, Md., and Katie Hughes '19 of Pittsfield, Maine, discuss interior design ideas in their residence at Parker Hall.
---
10:35 a.m. — OWLs and empty nests
OWLs, AESOP leaders, and junior advisors — students who live among first-year students and give them advice, information, and support as they learn about college life — form a bucket brigade outside of Smith Hall, swiftly emptying a tightly packed minivan.
"All your stuff is already in the dorm," one mother told her student as he arrived at his residence hall after checking in at Commons.
Outside Smith, parents Jennifer Pline and her husband, Hans Oettgen, of Wellesley, Mass., were seeing off their daughter, Karly Oettgen '19.
Pline was having an "awesome" day, she said. Check-in and moving in were "very well-organized." There were so many people around to help, she laughed, "I never lifted anything heavy!"
Hans said he likes Bates' small scale and its welcoming atmosphere. "Everyone is friendly."
He added, "We're about to become an empty nest in six hours."
---
10:49 a.m. — Fairing well
Anjali Thomke '19 of Lexington, Mass., and her parents Stefan and Savita take in the Resource Fair in Perry Atrium of Pettengill Hall, a one-stop spot to talk with various campus offices and programs.
Here, the Thomkes speak with Darlene Zupancic of Dining Services about the college's meal plan.
Dining Services purchases directly from 32 local Maine suppliers and from another 50 local providers through their distributors, and also uses products from the campus garden. These sources total about a third of the college's food purchases.
---
10:51 a.m. — Banner year
Lisa Legowski hangs a newly purchased Bates banner for her son, Justin Legowski '19, of Farmington, Conn., while Justin's roommate, Eli Nixon '19 of Eliot, Maine, decorates his section of the suite.
---
10:53 a.m. — In the swim
As they check out the offerings at the Resource Fair in Perry Atrium of Pettengill Hall, Daniel Flores '19 (left) of Los Angeles and Shangwei Deng '19 of Portland, Maine, laugh as they talk about the opportunity to take a swimming class to meet the college's physical education credit.
---
11:18 a.m.
Josh McIntosh, dean of students and vice president for student affairs, talks with a new Bates family outside Pettengill Hall.
He and his Student Affairs team made some changes to Opening Day and Orientation this year, specifically organizing the same-day arrival of all students. In prior years, new students arrived in three waves: those going on AESOP trips, then fall varsity athletes, then the balance of the class.
The new setup also has the incoming students spending three days together on campus before leaving for trips, together and with faculty and staff.
"This emphasizes academic life first," McIntosh said. "We want to impart a sense of community and connection among new students together, as they interact with and are led in conversation by upper-class students and by faculty and staff.
"Mixed in, of course, is fun — community, connection, and social opportunities."
---
11:45 a.m. — In step
Crystal Williams (left) talks with first-year students and their families outside Roger Williams Hall during the Opening Day barbecue. Williams is associate vice president, chief diversity officer, and professor of English.
---
11:54 a.m. — Seating for three
Jake Atwood '19 of Natick, Mass. has lunch with parents Beth Wald and John Atwood during the  family barbecue on the Ladd Library Quad.
The barbecue had four serving tables, each with eight chafing dishes, capable of serving up to 2,000 people, reported Dining Services director Cheryl Lacey. In the end, the college served 340 pounds of pulled chicken, 400 pounds of pulled pork, and 100 pounds of barbecue tofu.
---
12:40 p.m. — First look
President Spencer talks with new students and families at a lunch and panel discussion for first-generation-to-college students and families in Commons. The session kicks off a new college program, Bobcat First!, that supports first-generation students in their first year at Bates.
---
1:43 p.m. — International session
Irene Mapfunde '19 of Harare, Zimbabwe, listens to a question during a panel session for international students and their parents led by James Reese, associate dean for international student programs.
---
1:53 p.m. — Sidewalk walk
Afua Sekyere '19 of Tampa, Fla., and Accra, Ghana, walks outside of Commons with her family. From left, father Kofi Sekyere '83, brother Papa Sekyere, and mother Nana Sekyere. (Phyllis Graber Jensen/Bates College)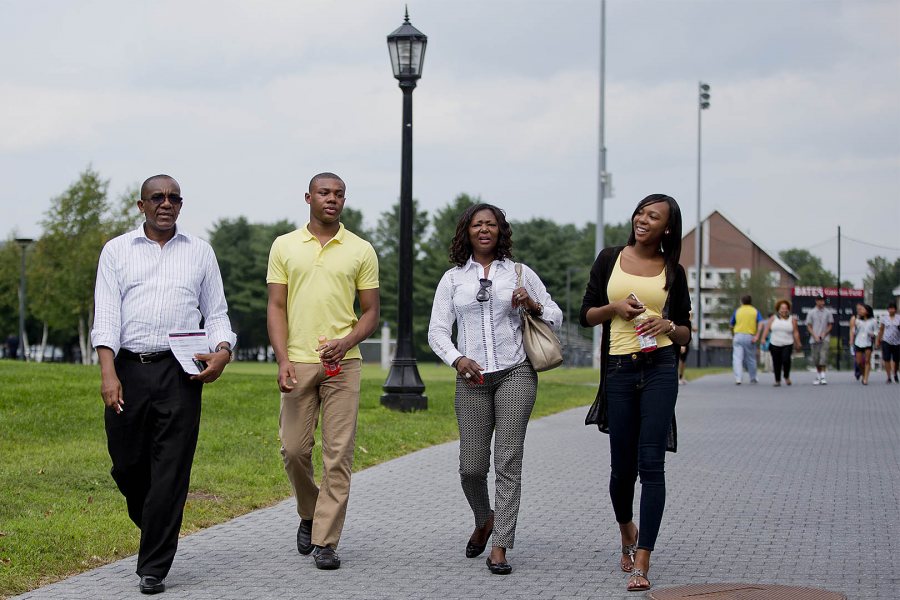 ---
2:19 p.m. — Bobcats from the grizzly bear state
Andy and Kate Barrengos, parents of Isa Barrengos '19 of Mill Valley, Calif., express their pride as Bates parents before a panel discussion on academic and student life in the Gray Athletic Building.
---
2:32 p.m. — Laugh and life
Faculty member Kirk Read gets a laugh from fellow panelists — from left, Crystal Williams, Erin Foster Zsiga, and Darby Ray — as he talks about the popularity of First-Year Seminars with the word "Life" in their titles.
There's "Well-being and the Good Life" (philosophy), "Searching for the Good Life" (psychology), and "The Sporting Life" (psychology).
Read, who is an associate dean of the faculty and a professor of French and francophone studies, told the parents that the seminars are not intended as a "gateways to a major," but rather as a kind of hors d'oeuvre to excite the intellectual palate.
"Your student will be taking a writing-intensive course with a professor who is teaching a topic that he or she is passionate about," he said.
Williams is associate vice president and chief diversity officer and professor of English; Foster Zsiga is associate dean of students for residence life and health education; and Ray is director of the Harward Center for Community Partnerships.
---
3:34 p.m. — Growing up
Halsey Platt '88 and son Gordon '19 used Opening Day to reprise a family photo taken 18 years ago on Garcelon Field during Back to Bates. Joining the fun were his mom, Julie Sutherland Platt '88, and younger brother, Alex.
For all their experience with Bates, being able to have 15 minutes of family fun on a day of big change was good for the Platt family, Halsey said. "Gordon was clearly happy and comfortable for the rest of the day."
---
5 p.m. — Last words
The traditional finale of Opening Day is President Spencer's greeting to all the new students and families.
In the college rosters it might be just another incoming class, but there are 518 new relationships with Bates just starting.
Sam Holmes '19 of Middlebury, Vt., is the grandson of the late Joseph Welch '57, who had told Sam about Bates in glowing terms. "Bates meant the world to him," Sam said.
Eric Jordan '19 of Stratham, N.H., "was excited but a little nervous. It's my first time on my own." During his college hunt, Jordan was impressed by Bates' size, its academic reputation and by how "super-friendly" everyone was. But he was also struck by an "awesome" admission interview, which was the very first interview of his search.
Emily Bowen '19 of Pasadena, Calif., was "really nervous." She'd been texting her roommates all summer but was still worked up at the thought of meeting them and so many other new people at Bates. "I'm nervous, but extremely excited," she added.
"It's really beautiful here. I fell in love with it when I saw it."
---
5:08 p.m. — Truth and dare
In her remarks, Spencer offered a charge to the new students.
"The willingness of each of you to take personal and intellectual risks is crucial to our sustaining a strong and vibrant community on campus," she said.
"Unless you dare to step outside your armored-up ways of being and open yourself to your own uncharted inner terrain, you will miss the chance to create deep and authentic connections with others."
---
5:17 p.m. — Treat your parents well
As parents say their goodbyes following President Spencer's remarks, Emily Gibson '19 of Poland, Maine, hugs her mother, Kathy, as father, Darryl and brother Hunter stand by.
In sharing her own feelings when she left her children at college, Spencer said that parents have that special "X-ray vision" to "look at our accomplished, poised, and loving children and see straight through to the fears and frailties that we know are there….
"So, kids, be nice to your parents today. It's hard to let you go. And parents, do your best to let go anyway, because letting go is a huge part of what college is all about."
---
5:21 p.m. — Different path
President Spencer talks with David DeLuzuriaga '19 of London and his father, Luis, after her welcome address.
Each new student, she told the incoming class, "has a different path that has brought you here — a different set of hopes, doubts, fears, passions, and interests encased within those calm and self-possessed exteriors.
"It's up to you to seize this opportunity."
"So I'd like you now to consider doing something that is really hard. I would like you to risk letting go, to stop holding fast to the things that got you here….Think of these next four years as a time of letting go, a time to step back and broaden the frame.
"A residential liberal arts education — more than almost any kind of experience you will have — gives you the opportunity to explore, to try new things, to take risks. But it's up to you to seize this opportunity."
---
5:22 p.m. — Their best selves
Lisa Petrini Bell '86 of Dover, Mass., takes a farewell family selfie with, from left, daughter Olivia Bell '19, husband Robert, and daughters Carley and Emily.
---
5:31 p.m. — Generations of history
Angela Kemfack '19 of Houston poses with her grandmother, Heleine Dessiji, and mother, Line Kemfack, in front of the college seal, hung from Coram Library during ceremonial college events.
---
6:33 p.m. — Things in Commons
For their first few meals in Commons, first-year students dine with their JAs. It's a nice time to get the feel of Commons before school begins.
---
8:13 p.m. — Time to shoes
The student OWLs revive a historic Orientation tradition of the shoe toss. Students throw a shoe into a pile, then everyone grabs one and finds its owner. Good-natured mayhem ensued, followed by a game of Capture the Flag.
---
8:26 p.m. — Night OWLs
What do Bobcats OWLs do at night? Cavort!
---
10:36 p.m. — Game
Later, students headed to Chase Hall Lounge for snacks and games, including foosball. From left, Jillian Sheltra '19 of Biddeford, Maine, Kayleigh McLean '19 of Bridgetown, Barbados, Elizabeth Pumiglia '19 of Saratoga Springs, N.Y., Nicole Friedman '19 of Mill Valley, Calif., and Daniel Fichmann '19 of New York City.
View Comments