Multimedia: Mount David Summit 2016
Last Friday's academic showcase, the Mount David Summit, is in the books. But let's crack that book and take a look at what happened, in photographs, text, sound, and video.
1:20 p.m. — Alumni Walk
On Alumni Walk, students, alumni, parents, and recently admitted members of the Class of 2020 head toward the 2016 Mount David Summit.
---
1:34 p.m. — Second Floor Alcove, Perry Atrium, Pettengill Hall
Trumpeters Kiernan Majerus-Collins '18 of West Hartford, Conn., and Alexander Perrone '16 of Natick, Mass., perform the traditional "Call to the Summit," aka "Fanfares of St. Charbel" by Michel Rondeau.
---
1:35 p.m. — Second Floor Alcove, Pettengill Hall
With these words, President Clayton Spencer welcomed the Bates community, friends, and proud families:
"The Mount David Summit is our moment to celebrate student academic achievement, to celebrate how it comes about…and to get student work out of that lane of anxiety — of grades and thesis and exams — and into the sharing of knowledge, which is what we're about."
---
1:37 p.m. — Main Floor, Perry Atrium
We asked biochemistry major Camille Campion '16 of Macungie, Pa., who heads to Drexel University College of Medicine in the fall, to contrast her sophomore and senior selves, academically speaking.
Her sophomore self, for example, took organic chemistry, and lab work back then meant "following a set of steps to have a set outcome."
Her senior self, however, does original research and thus can't predict the outcome of her experiments.
"It never hurts to ask questions."
If something doesn't work out, "you have to go back and do it again. You have to go back to previous research. You have to troubleshoot. You have to ask questions. You have to sit down and piece together the puzzle."
All of that "has taught me patience and to trust my intuition and my ability to figure things out. And I've learned that it never hurts to ask questions. The more you talk during lab, the more you ask questions, the better off you'll be."
---
1:44 p.m. — Main Floor, Perry Atrium
We'll call this "Rocking the Bow Tie, No. 1 in a Series of Three."
Mark Chatkin '16 of Lincolnshire, Ill., with his poster, "Examining the Scope of Benzimidazolone Synthesis via C-H Aminatino: Effect of N-Substitution," which could have utility to drug discovery and pharmaceutical chemistry.
---
1:48 p.m. — Perry Atrium
Our right and left hands seem identical when placed palm to palm. But when you put one on top of the other, you see a difference.
The same is true of drugs and other chemical compounds: their molecules have left- and right-handed versions, a phenomenon scientists call "chirality."
Chirality is fundamentally important. A right-handed version of one drug, for example, could cause harmful side effects that the left-handed version doesn't.
Thesis turned out to be "more hands-on" than she expected, says Cira Mollings Puentes '16 of Kingston, Jamaica. "Your advisers" — in her case, Dana Professor of Chemistry Tom Wenzel — "trust you to take charge of your project and to keep it moving forward."
Mollings Puentes hopes to attend medical school after graduation, and she's ready.
"I'm more independent in the lab now," she says, which means being able "to read through literature and pick out what's important, as well as how to explain my own results to myself."
---
1:50 p.m. — Perry Atrium
Seen and overheard during a 40-second walkthrough of the first poster session.
---
1:52 p.m. — Room G52, Pettengill Hall
Dozens of listeners learned from students, in two courses, about television stereotypes of Muslims and how those stereotypes affect the Muslim community.
Bombers and terrorists, taxi drivers and convenience-store clerks: Those are the stereotypes compiled into a video by students in "Introduction to American Studies."
Crime and action-drama shows are among the worst traffickers in negative stereotypes, the researchers explained, while comedy programs mocking the stereotypes are effective at defusing them — up to a point.
Also presenting research were students from the course "Islam in America," who interviewed Muslims in the community, including at Bates, about their experiences.
"We've learned in this class that the Muslim community in the U.S. is incredibly diverse," said one presenter. "'Who specifically would Donald Trump ban from entering the United States?' is a question that I've thought about."
---
2:01 p.m. — Perry Atrium
Foot traffic in the Pettengill Hall lobby is heavy as visitors and participants circle the summit, so to speak.
---
2:04 p.m. — Perry Atrium
A steady stream of visitors heard Ruth Baker '16 of Minneapolis explain her thesis research on Gloeotrichia echinulata, a type of bacteria found in water bodies, including Lake Auburn, the water supply for Lewiston and Auburn.
A cynobacteria, Gloeotrichia relies on photosynthesis for energy, and Baker gave us a pronounciation:
"Gloeo" produces microcystin, a toxin that in high concentrations can harm humans and animals. (Concentrations measured in Lake Auburn last summer were low.)
Scientists don't know much about Gloeo's ability to produce the toxin, but it's "becoming increasingly studied," Baker says — especially since Gloeo blooms are being noticed more frequently in the Northeast.
Baker did research alongside her adviser, Professor of Environmental Studies Holly Ewing, who monitors Lake Auburn's water quality in partnership with the Auburn Water District and the Lewiston Water Division.
Baker's study uncovered "certain methodological difficulties in measuring low levels of microcystin," says Ewing, that will need to be resolved before we can really understand the factors in the lake that might influence toxin production."
Identifying and ultimately overcoming those measurement difficulties are key, she adds, because "in the coming years water districts may soon be required to test for the toxin in drinking water."
---
2:30 p.m. — Perry Atrium
Politics major Mikka Kei Macdonald '16 of Catonsville, Md., presented her thesis research on a project to collect oral histories from her own family members who were interned during World War II.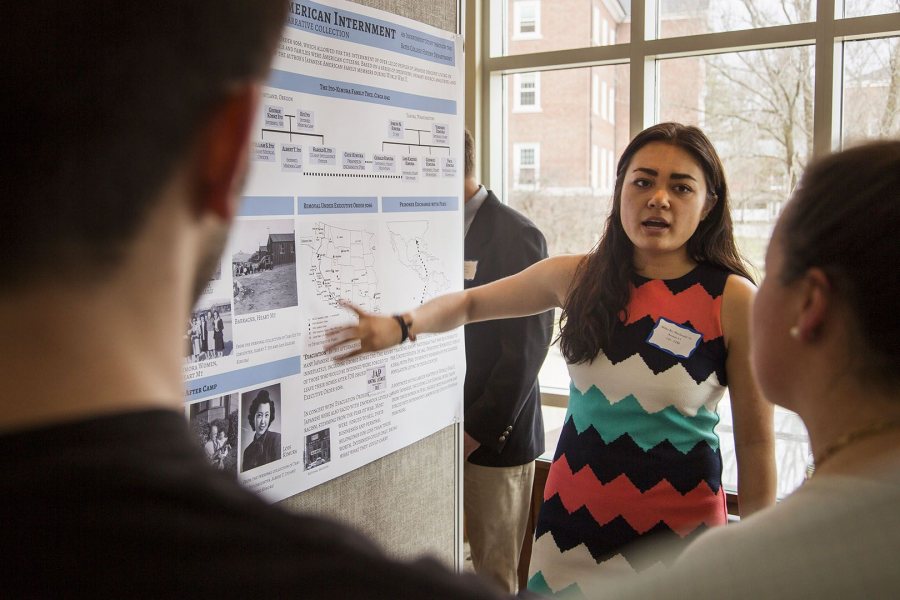 Many internees felt shame after the war, which prevented many from telling their stories. Too many personal narratives have gone "unnoticed and untold," Macdonald says.
The project is testing her skills as a budding historian, the imperative to be "objective about the past while humanizing it as much as possible," she says. Achieving both, she says, "is harder to do, but the payoff is greater and, I think, the understanding, as well."
With help from Ke Ren, visiting assistant professor of history, Macdonald will spend Short Term creating a podcast of original interviews with former internees as a way to put the narratives into the context of Japanese American history.
---
2:13 p.m. — Room G21, Pettengill Hall
Here's "Rocking the Bow Tie, No. 2 in a Series of Three."
Jeremy Glover '16 of Cleveland Heights, Ohio, takes part in the panel discussion "Everything You Always Wanted to Know About Chaucer But Were Afraid to Ask: Gender, Politics, and Sexuality in The Canterbury Tales," featuring papers about gender, politics, and sexuality in Chaucer's poetry.
---
2:30 p.m. — Room 116, Pettengill Hall
During a panel offered by the Department of Politics, sophomores Mats Terwiesch of Wynnewood, Pa., Adam Blau of Pacific Palisades, Calif., and Colby Galliher of Littleton, Mass., offered political insights into the goings-on in Tunisia, Syria, and Yemen.
Tunisia, said Terwiesch, "is a country poised to prove that the Arab Spring can work," thanks to a politically uninvolved military and a strong, well-organized civil society.
It's a "coup-proof system."
Syria's Bashar al-Assad has retained power in part by "providing soldiers the chance to ascend the social ladder, but forcing them to go through him to do so," Blau said. It's a "coup-proof system."
In Yemen, there's a drug problem: Khat, a leaf chewed daily by 80 percent of the population. Banning khat is one option, said Galliher, but that's likely to see mixed results, at best.
The panel was moderated by Senem Aslan, author of Nation-Building in Turkey and Morocco: Governing Kurdish and Berber Dissent.
---
2:41 p.m. — Room 257, Pettengill Hall
A music stand outside the door holds music, but not in the sense of staffs and notes. Instead, the sheets of paper offer only oversize QR codes — those seemingly abstract patterns that, when scanned with a cellphone, teleport the user to a particular website.
For the session "Environmental Electronica," the website is SoundCloud and the payoff is 15 audio works — one per code — composed by students in professor Bill Matthews' course "Music, Computers, and the Arts."
This was the drill: Gather a sheaf of QR codes, pick a seat, fire up your code reader, pop in the earbuds, and take a tour of student creativity in the realm of sound.
Here's Andrew Mikula '19 of Wellesley Hills, Mass., with "Phone Call." (Can you hear the croaking frogs?)
---
2:45 p.m. – Perry Atrium
Four years ago, four presenters started their hike to the Mount David Summit together.
In 2012, Greg Heller, Michaela Scanzillo, Lydia Merizon, and Raja Junaid Jahangir were in the same first-year seminar, "Physics in the 20th Century."
After that, "we went different routes," says Jahangir, who went on to major in economics and mathematics.
Four years later, they're all math majors (and some are double majors) who've worked together on a capstone project in their senior seminar in math, looking at Fourier transforms, "which can be used to analyze neuroscience data or economic trends," explains Heller, who also majors in neuroscience.
"Plus, it was much more fun."
"But we didn't look at any of those applications for our project," Heller said. "We stepped back and asked, 'What do we all have in common? Let's learn about that.'"
Collaborating on the project "added to our overall capstone experience," said Merizon, of Neenah, Wis., "because in the real world you're very rarely just doing something on your own. So learning how to accomplish a task as a group is so important.
"Plus, it was much more fun."
At the summit, Merizon and Jahangir, who is from Rawalpindi, Pakistan, co-presented on the Fourier transform project.
Meanwhile, Heller, of Walla Walla, Wash., presented neuroscience research on how odors like pheromones create specific behavioral responses in mice. Scanzillo, who is from Marshfield, Mass., also has a major in physics, and she presented on VCSELs: high-power, vertical-cavity surface-emitting lasers.
---
3:12 p.m. — Room 116, Pettengill Hall
"I stayed for the whole panel," said Phyllis Graber Jensen, director of photography and video, after leaving one presentation. "And here's why."
The panel discussion, "Perspectives on Jewish Religion and Culture," gave attendees "everything you could want from the entire Mount David Summit, packaged with a bow in a single seminar room."
Five religious studies majors made presentations: Melissa Carp of Newton, Mass., Esperanza Gilbert of Brooklyn, N.Y., Wendy Goldman of Dresden, Maine, Emilie Muller of Concord, N.H., and Alex Tritell of Bethesda, Md.
Their topics traveled both far and wide, and deep and lofty: sex, stereotypes, Lewiston history, wig wearing, conquest narratives, and divine command theory.
Deep-thinking feminist critic Audre Lorde got equal time with deep-thinking Greek philosopher Plato. The offerings were broad: there were references to Broad City.
"I've been having a great semester," Miller told the gathering.
"And we had a great hour," Jensen said.
---
3:23 p.m. — Room 116, Pettengill Hall
Beauty is in the eye of the beholder. So is its absence, says Gary Kersbergen '16, who spoke during a panel on how language study at Bates creates opportunities for cross-cultural understanding.
A history and Spanish double major from Burnham, Maine, Kersbergen was a medical interpreter for the Maine Migrant Health Program last summer.
Kersbergen, who has minor in teacher education, also did thesis research on the lives of migrant farm workers who come to Maine each year to harvest products like blueberries, apples, and broccoli.
According to a 2015 Maine Department of Labor study, migrant workers represent 62 percent of the paid labor on Maine farms and are mostly from Latin American countries.
"The cider you drink in Commons comes from apples harvested by a migrant worker," Kersbergen said, telling the gathering that he hopes his research might help efforts to "recognize the humanity of the people who pick the food that we eat."
"No, it's just work. It's nothing more."
Kersbergen's work took him to the blueberry barrens of Cherryfield, in far Down East Maine, where he chose to spend a few days wielding a blueberry rake himself.
"We woke up at 5 and began to pick as soon as the sunlight hit the fields," said Kersbergen, reading from his diary. By noon that day, he'd filled just 17 boxes, earning $46.75.
When he looked at that sunlight, "I thought how beautiful it was," and how he might appreciate the beauty more "under different circumstances."
At one point, Kersbergen asked his fellow workers if they perceive the beauty of the barrens.
"No, es sólo trabajo. No es nada más," replied a worker: "No, it's just work. It's nothing more."
Long days of hard work and difficult living conditions — 15 workers to a six-bed cabin with a leaky roof — had robbed the workers of one definition of humanity, says Kersbergen: the ability to take pleasure from natural beauty.
The workers, in fact, saw the land "almost as an ugly thing," he said. "They called the fields feo, ugly."
---
4:57 p.m.
Here's "Rocking the Bow Tie, No. 3 in a Series of Three."
Malcolm Delpeche '17 of Wilmington, Del., presents the poster, "All Lives Matter … Really?" that looked at "unequal attention given to the terrorist attacks in Paris and in Nigeria by both western and African news outlets and political leaders."
His co-presenters were Kiria Borak '19 of Guilford, Conn., and Alexia Sahue '19 of Abidjan, Ivory Coast.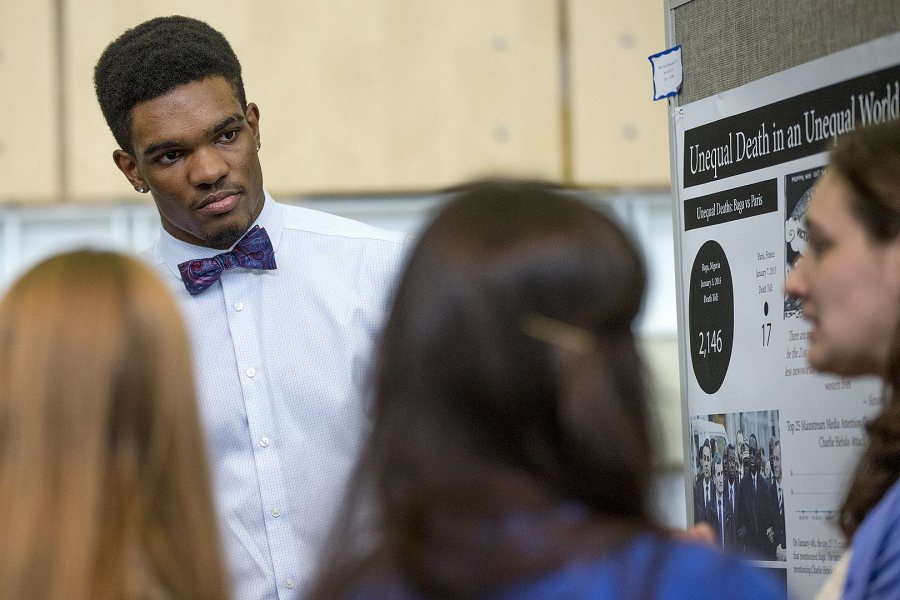 ---
5 p.m.
Tim Chamberlin '16 of Norwich, Vt., explains the physics behind drone flight to a listener who probably won't take flight: his mom, Kate Emlen.
---
5:44 p.m. — Keck Classroom, Pettengill Hall
At the annual reading by seniors who did creative-writing theses, Lex Berman '16 of Saddle River, N.J., admitted that she'd titled at least one of her poems right before the session.
She said that her adviser, Senior Lecturer in English Rob Farnsworth, "hates when I don't title my poems," which drew a chuckle from the audience.
Seeking a title for one poem, she texted her rabbi, asking him for a Hebrew word meaning spiritual education.
Her rabbi texted back, "Lex, the word in education in Hebrew is chinuch, and that encompasses both spiritual and secular education because they should always be connected."
"That's really beautiful," said Berman. "That's going to be the name of this poem."
---
7:30 p.m. — Schaeffer Theatre
Ok, we're fibbing a bit: these pictures weren't taken at 7:30, during the Bates Modern Dance Company's Spring Dance Concert; they were taken during two dress rehearsals on Wednesday and Thursday before the weekend.
But they're timeless, right?
Reported by Jay Burns, Doug Hubley, Leanne Ouimet, and Jeremy Cluchey of the Bates Communications Office.
View Comments