Here are a few items from the Muskie Archives and Special Collections Library and elsewhere:
Shortstrop
This 19th-century shaving kit in its garnet case was a prize to the Bates baseball player having the highest batting average at the close of the season.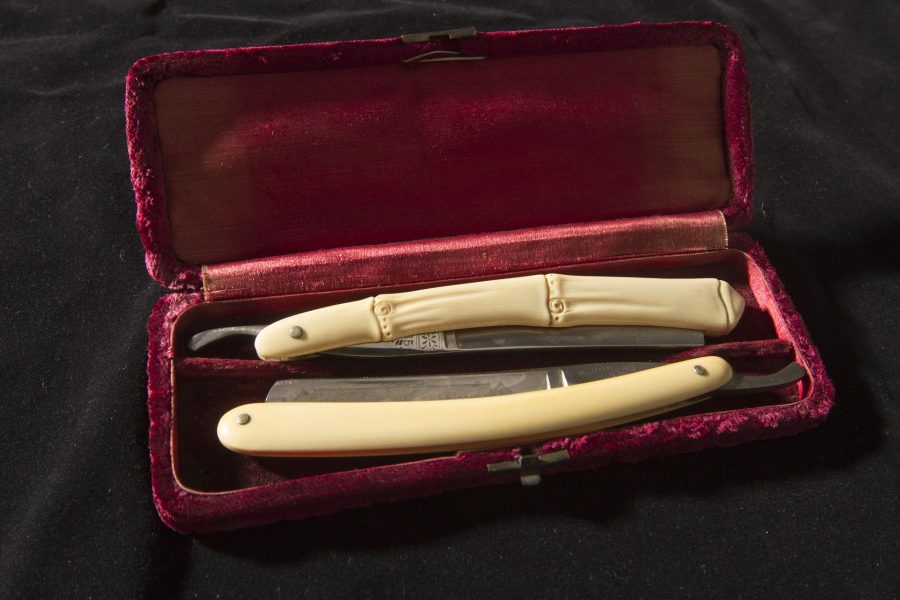 The item was donated by Tappan C. Pulsifer, Class of 1895. While we don't know whether Pulsifer won the kit, the nearly 6-foot third baseman and captain was one of the team's best hitters, with a gaudy .338 average as a junior.
After Bates, he briefly played for Lewiston's entry in the New England League, facing teams like the Pawtucket (R.I.) Phenoms and Brockton (Mass.) Shoemakers. Pulsifer then went on to be a physician.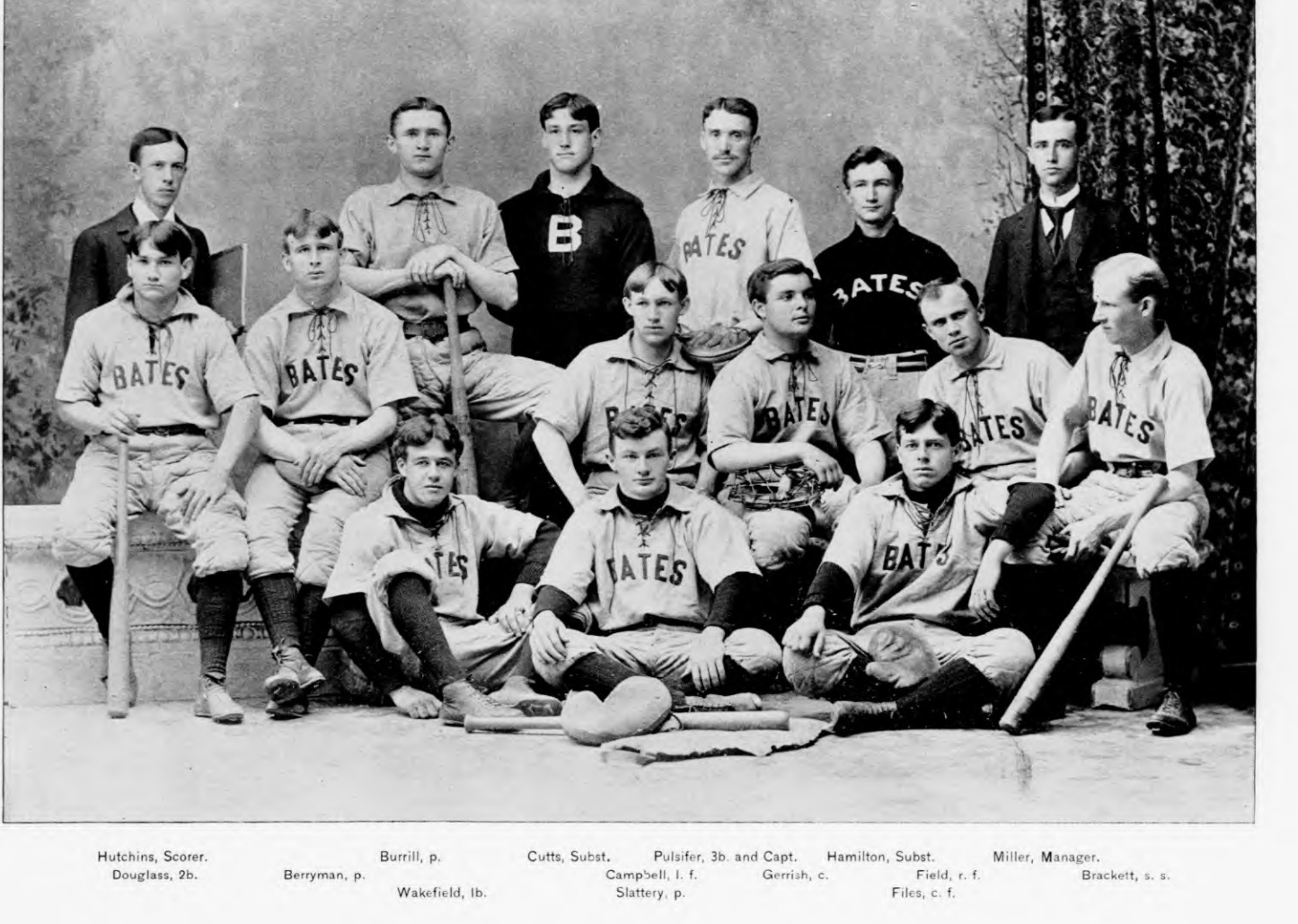 ---
Bates Nurses
Seen here is the official Bates College Department of Nursing cap, embellished with the department pin.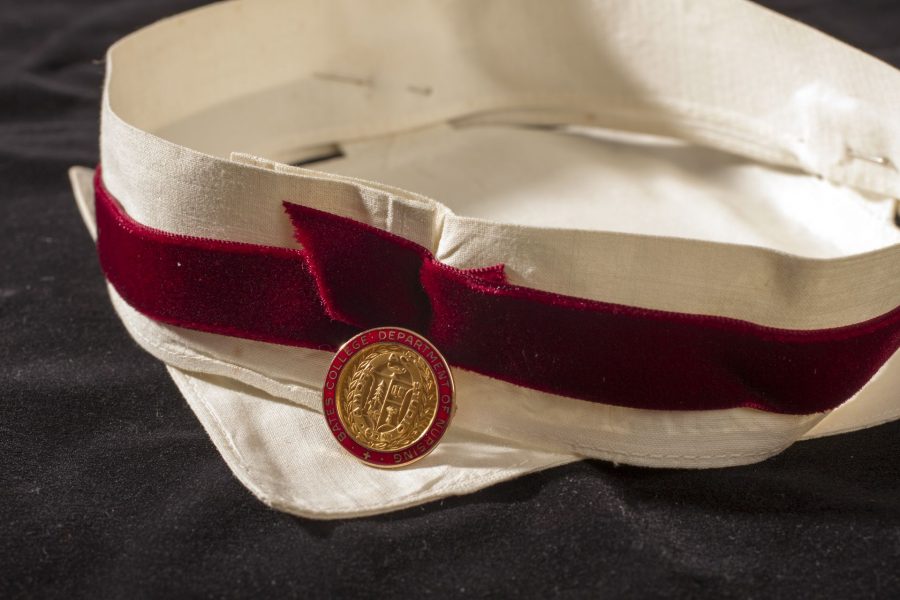 Responding to the growing need for healthcare workers during World War II, Bates launched its five-year degree program to train nurses in 1942. The program continued until 1958 and graduated nearly 100 students.
Students in the program spent two years in residence at Bates, then two years rotating through Bates-affiliated hospitals in the Boston area, then returned to campus for a final year.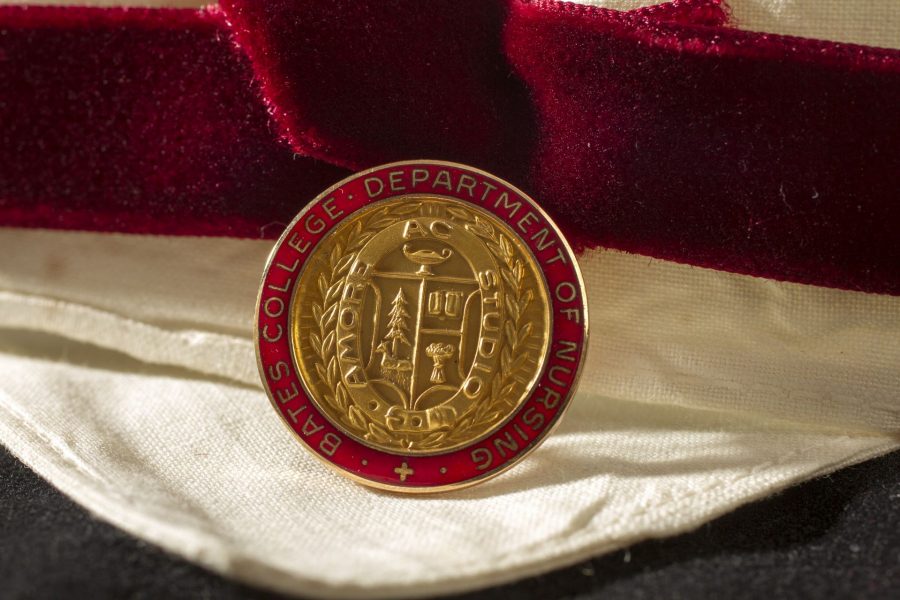 In the Class of 1958 50th Reunion book, Gail Baumann Karszes '58 described the rotation:
"At New England Baptist we studied and practiced nursing in medical and surgical wards. We worked with the mentally ill at the Metropolitan State Hospital in Waltham, we learned about communicable disease at the Rutland State Sanatorium, about public-health nursing with the Worcester Visiting Nurses Association, and about pediatrics and obstetrics and gynecology at Lynn General Hospital."
(The Metropolitan Hospital closed in 1992, during the deinstitutionalization movement; Lynn General closed, year unknown; and the Rutland sanatorium closed in 1991.)
---
A Commencement Treat
Julia Child receives an honorary Doctor of Fine Arts degree at Commencement on June 6, 1983.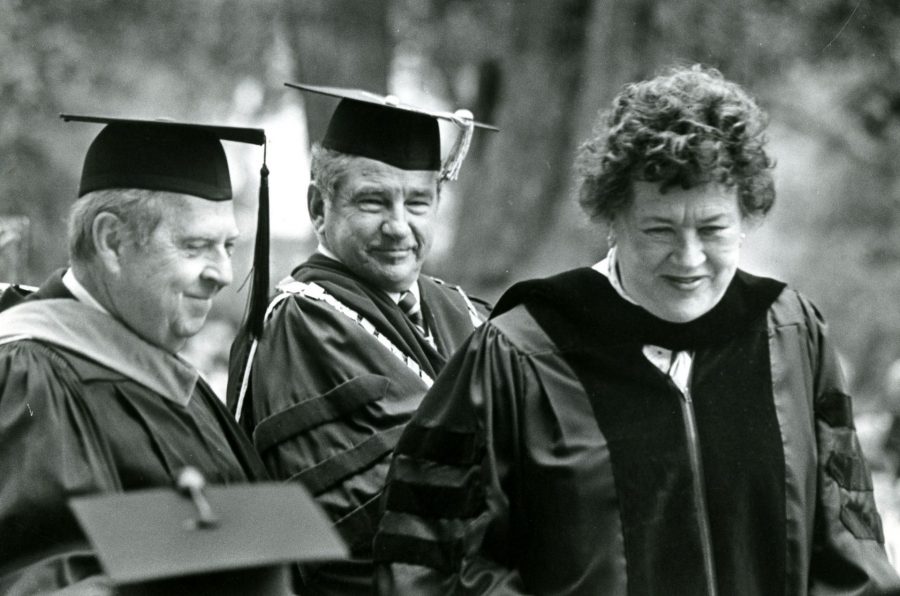 Written by the late Carl Benton Straub, the whimsical degree citation for Child recalled how, in 17th-century Boston, the Puritans objected to French dance master Henri Sherlot and his troupe setting up a dancing school, calling it "French promiscuity."
Straub, who was Dean of the Faculty, then said: "In our time, another French phenomenon has hit Boston, New England, and America. But Julia Child and her troupe have not been accused of promiscuity. It's just that the sauces are so rich!"
Child was honored for "her generosity of spirit through which she shared the artistry of cooking" and for providing "recipes for fruitful diversion and happiness among friends."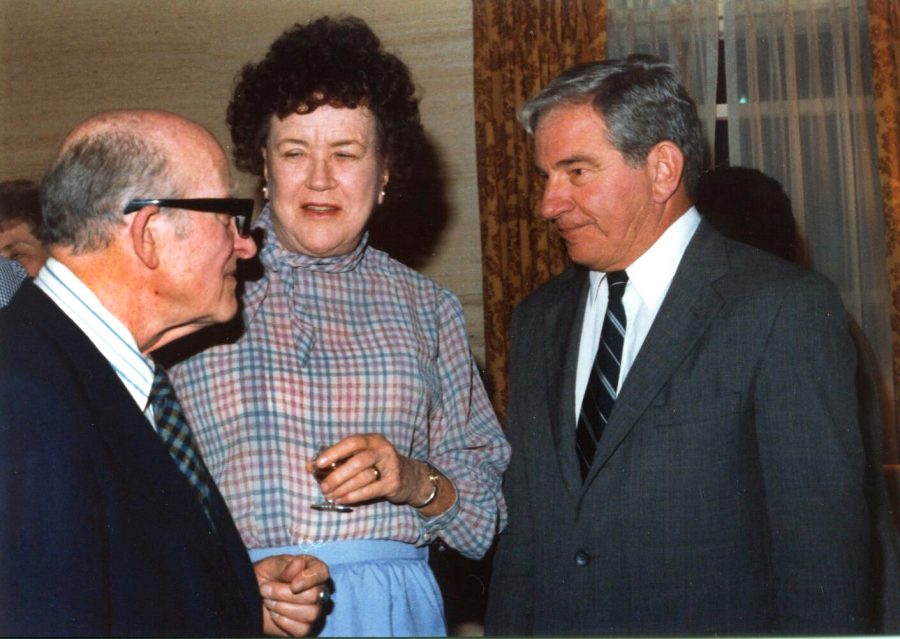 Patricia Morse '60, a Bates trustee at the time, recalls a charming Child at the traditional honorand dinner held the night before Commencement at the President's House on College Street.
"'I remember the remarkable way she connected with everyone, paying particular attention to the president's visiting mother and visiting the Bates cooks in the kitchen," Morse recalled a few years ago.
---
A Note for an A
Muriel Swicker '42 aced Professor August Buschmann's German class in 1939, which earned this note from "Herr Buschmann," typed on her report card.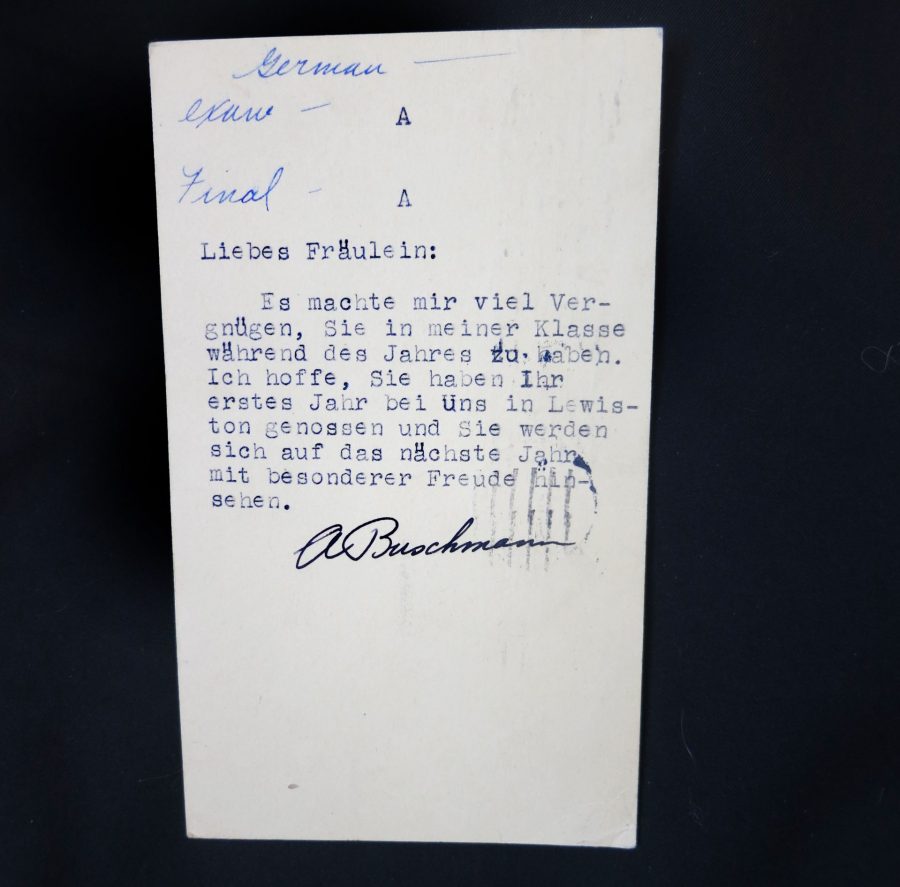 A few years ago, the late Professor of German Craig Decker offered this translation: "It was a great pleasure for me to have you in class this year. I hope you enjoyed your first year here in Lewiston and that you are looking forward to next year with particular pleasure."
---
Rule of Thumb
This 1944 banner features five Bobcats spelling out "B-A-T-E-S" with the final cat thumbing his nose.
Produced by Collegiate Manufacturing Co. of Ames, Iowa, "lineup banners" with the final mascot doing something different from the others were a popular Collegiate product of the era.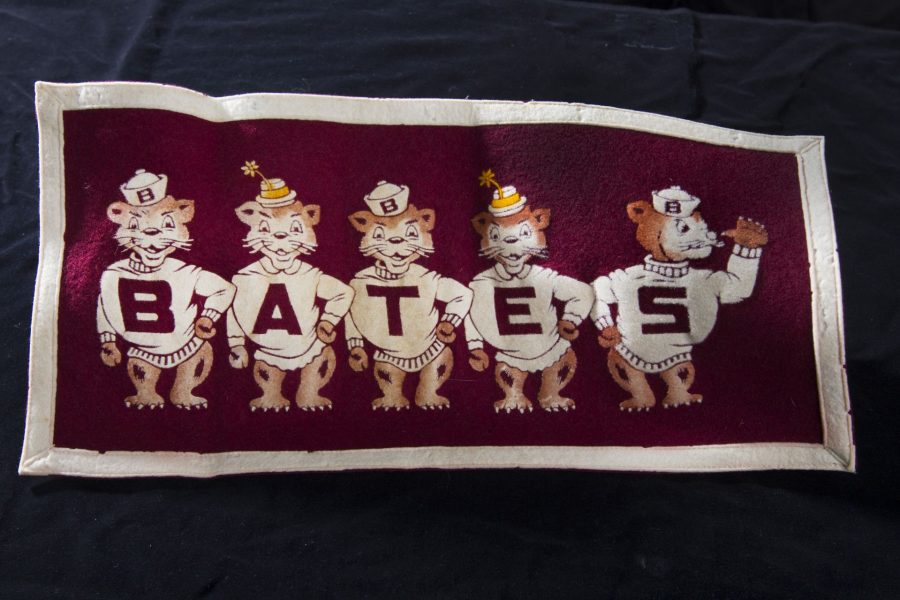 ---
Presidential Support
Props for the president: This white wooden cane belonged to the college's fifth president, Charles F. Phillips.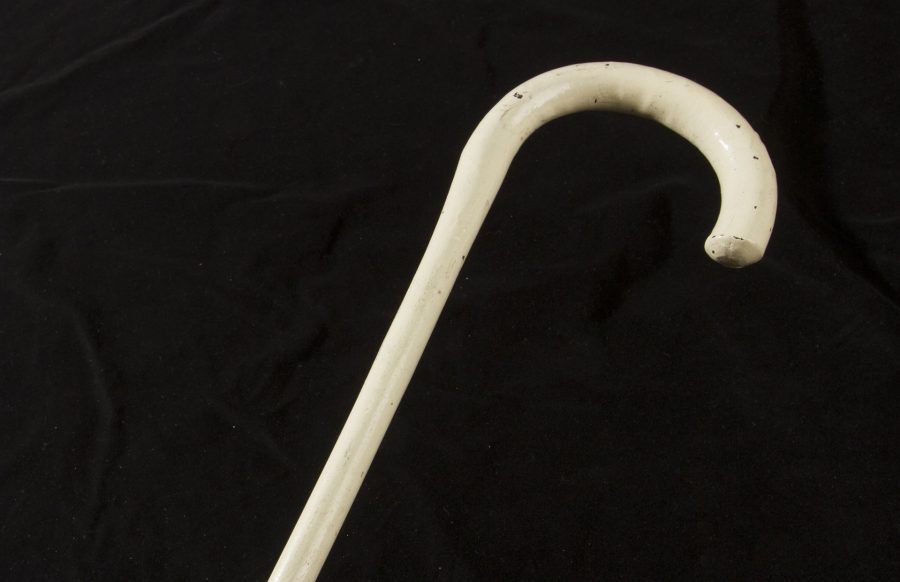 View Comments