Each week for the next nine, we'll be introducing new Bates professors who have tenure-track positions on the faculty.
This year's nine tenure appointments are in the disciplines of art and visual culture, classical and medieval studies, economics, English, environmental studies, dance, politics (two appointments), and psychology.
This week, we introduce Mark Tizzoni.
Name: Mark Tizzoni
Position: Assistant Professor of Classical and Medieval Studies
Degrees from: University of Leeds, M.A., Ph.D., in medieval studies and history; University of Scranton, B.A., in history and Latin
The spark: Classical and medieval studies is "not necessarily something that everyone just naturally goes into," Tizzoni says.
Growing up, he had a cousin who was a history buff. "When he would visit, we would talk about history. And he was very interested in the medieval period." That rubbed off on Tizzoni. By high school he was deep into Beowulf, The Wanderer, and The Seafarer.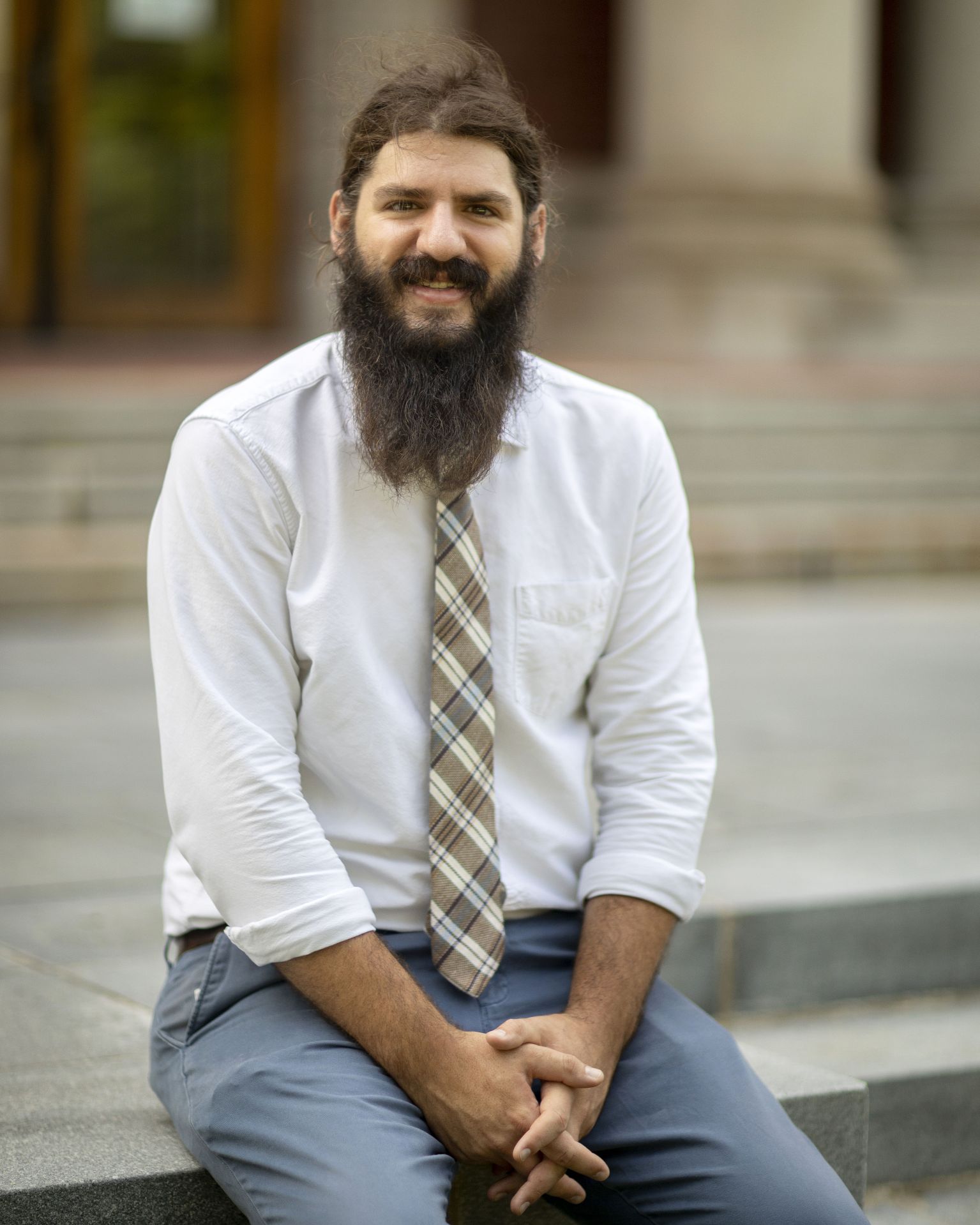 From there, he was drawn to both classical studies and medieval studies. "Homer also had that same sort of influence on me that Beowulf did. That's how I ended up with late antiquity — it's that middle ground where the two things meet."
Seeking the unknown: "I'm a first-generation to college student. As a child, academia was this really strange, foreign thing to me, a world I had no knowledge of — whatsoever," he says.
Still, he had, from an early age, "always wanted to be an educator. I wanted to really deal with material in-depth, in complexity, and in intricacies, and to work with students who want to do that.
"That's what set me on this path of the total unknown to become a college professor. And it worked. It doesn't always!"
His work: "I work on the transformation of the Roman world in the West, how it went from being Rome to the Middle Ages," Tizzoni says. "I do this through the medium of poetry — how this transformation was affected and experienced by Iberians and North Africans.
For a poet in the fifth century, North Africa was "one of the best places to be. Carthage had a really vibrant intellectual culture. It was where a considerable portion of people from the Roman world would go for their education."
And by the late fifth century in North Africa, the Vandals had taken power from the Roman Empire, and the poetry that follows reflects existential questions: "How would they exist in this world where Rome was no longer in charge? Who were they going to be? What does that mean?"
Through their verse, which was performed more than read in an era when fewer people were literate, the poets "were building this essentially new and independent Vandal identity that set them apart from Rome, bringing the rest of the populace into this political project of the Vandals. There was great excitement as they were trying to forge these new identities."
Much of the poetry that Tizzoni is looking at was written in the last decade of the Vandal Kingdom. "So we don't know what would have happened" had Vandal identity in North Africa had more time to develop.
For example? "I work on a collection called the Anthologia Latina, these really feisty, fiery, strange pieces. One poem is four lines, and the central piece is that there's a monkey riding a dog. So weird stuff, but culturally relevant. That piece actually asserts a new cultural identity, a new ethnic identity, for the people of North Africa. There's advanced stuff happening in these poems that don't feel advanced."
Why it matters right now: "Late antiquity and the Early Middle Ages are very important in discussions of identity, and it's actually at the forefront of a lot of discussions today. White nationalists have especially grabbed onto these ideas, using it to try to prop up their worldviews. And this needs to be countered.
"One way to fight this is not just to take down the Eurocentric stuff, but also to reassert the role Africans played in the Early Middle Ages. It's also important, broadly, to understand the ways people make a conscious effort to construct and build identity. That's happening in late antiquity, and that has wider implications today, as we construct what it means to be an American, or other such identities.
"Identity isn't something that just exists in the world. We create it, from many different things, including poetry."
Why teach? "I love bringing primary sources into class, especially things that I work on. It's always a lot of fun to present the students with these strange little pieces of poetry and have them see how they're historically significant and how you can actually break down pieces of import out of them, to understand the society that made them."
View Comments