"It was one of those March days when the sun shines hot and the wind blows cold: when it is summer in the light, and winter in the shade," wrote Charles Dickens in Great Expectations.
Yes, we saw exactly what Dickens meant as March 2021 came in cold, became warm, and departed with some chill winds (all in all, a benign month, weather-wise).
But whatever the weather, our forward-looking faculty, students, and staff took it in stride, as you'll notice in these campus scenes from This Month at Bates.
---
Finding Photos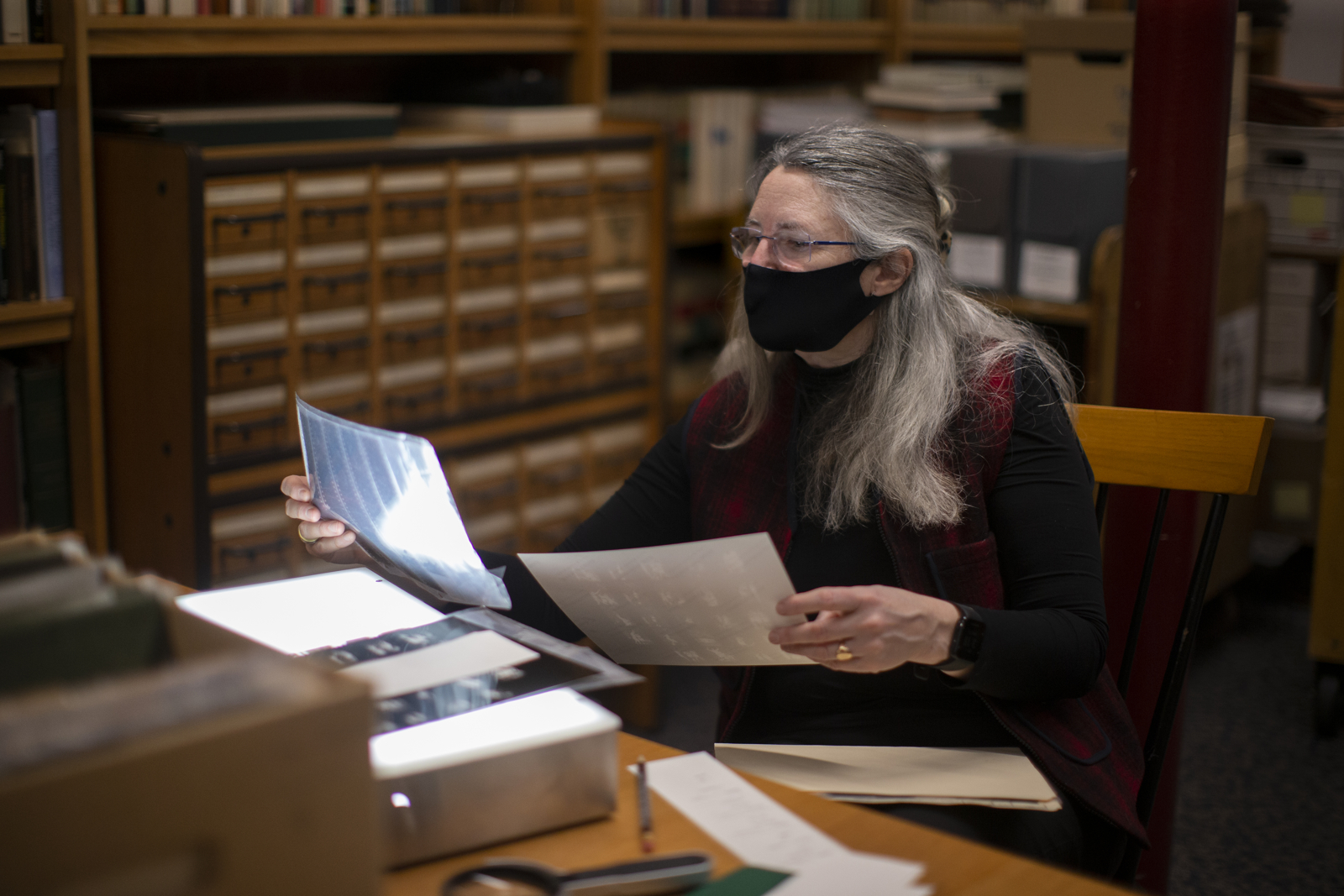 Mary Pols, media relations specialist in the Bates Communications Office, does photo research for an upcoming Bates Magazine story in the Edmund Muskie Archives and Special Collections Library.
---
Snowball Effect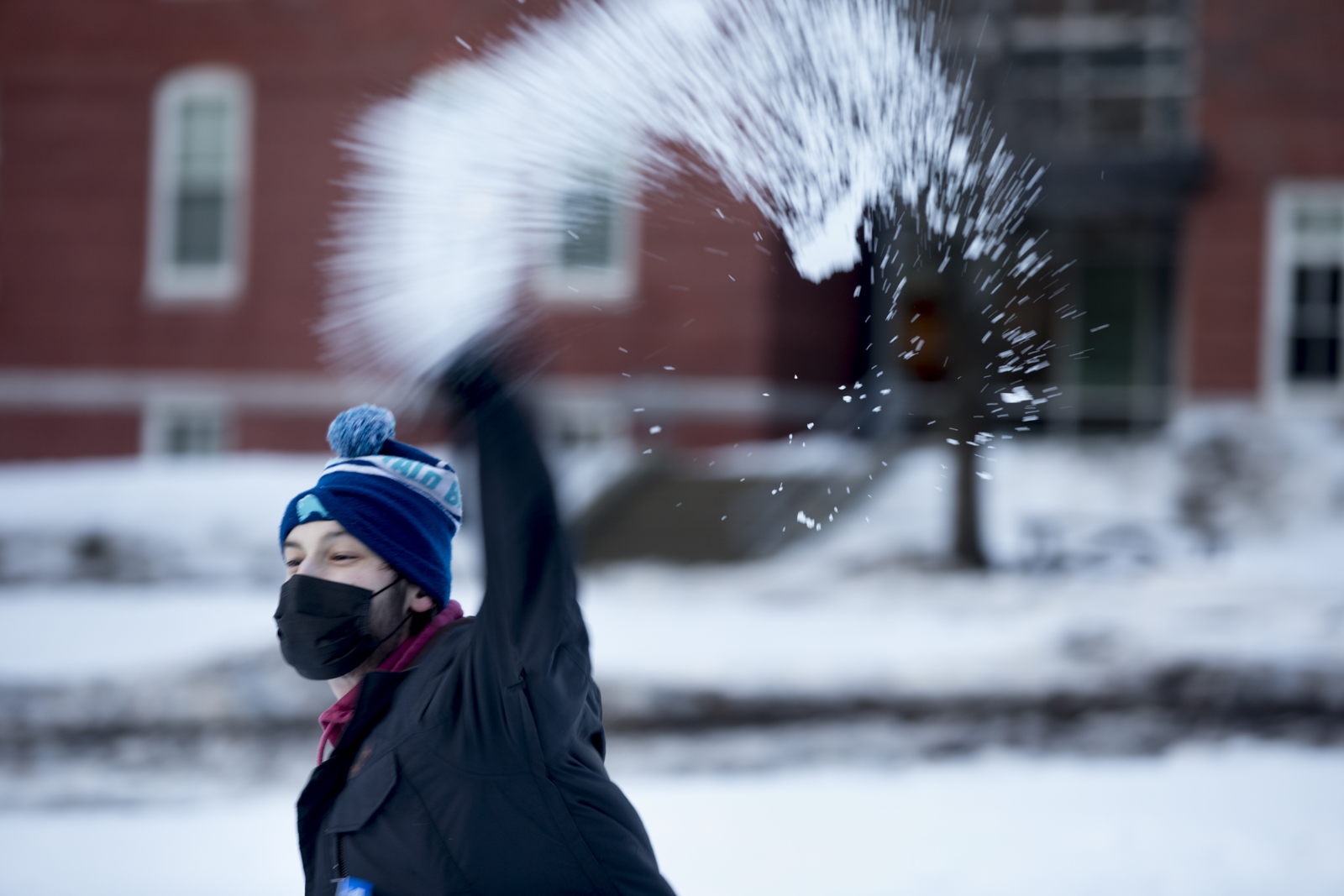 During Winter Carnival, Brady Orozco-Herman '21 of Needham, Mass., hurls a snowball amid a game of snow dodgeball on the Library Quad on March 1. This year's carnival theme was "Snowcial Distanced."
---
Heel to Toe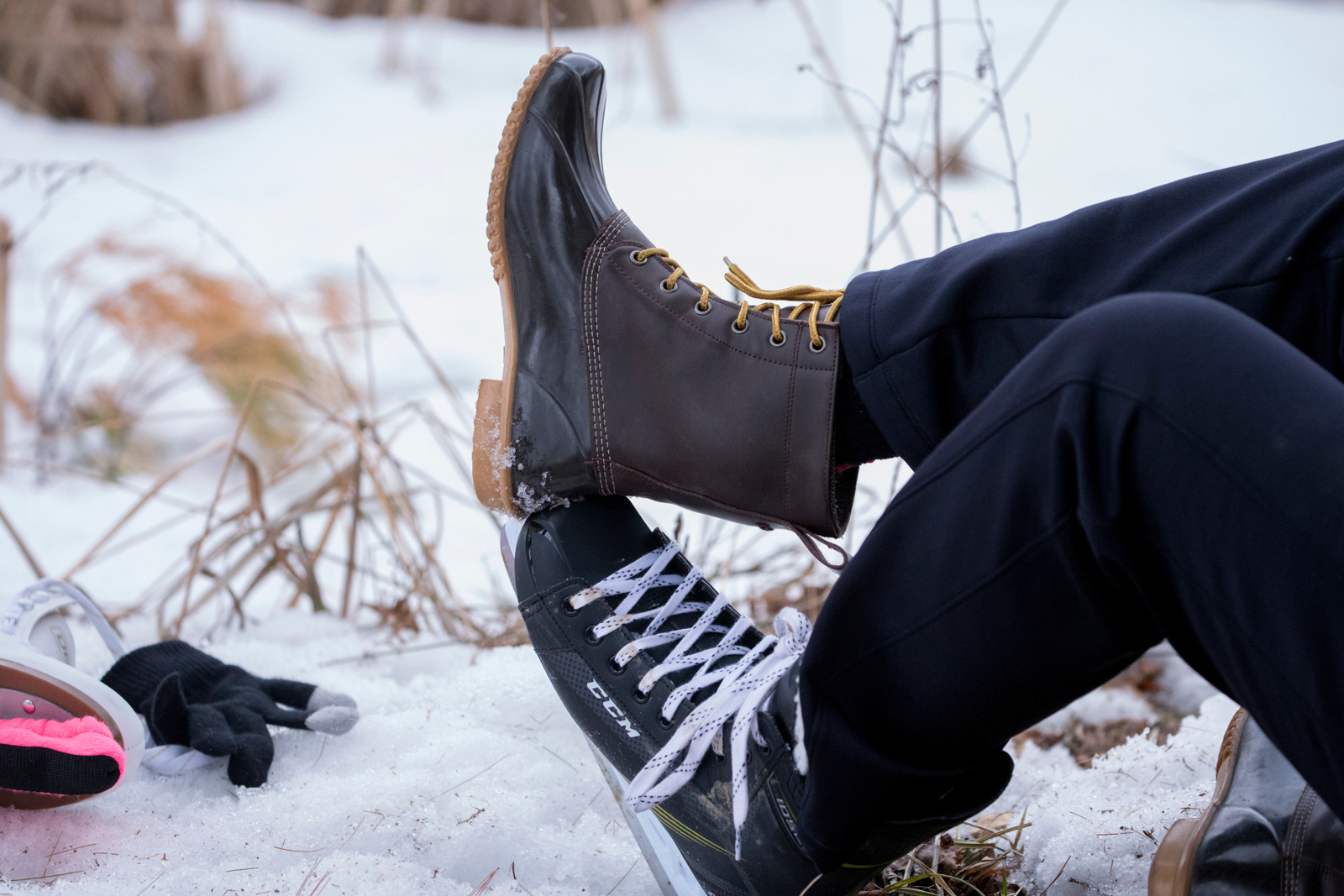 A skater dons the appropriate gear for a Winter Carnival skate on Lake Andrews.
---
The Ties that Bind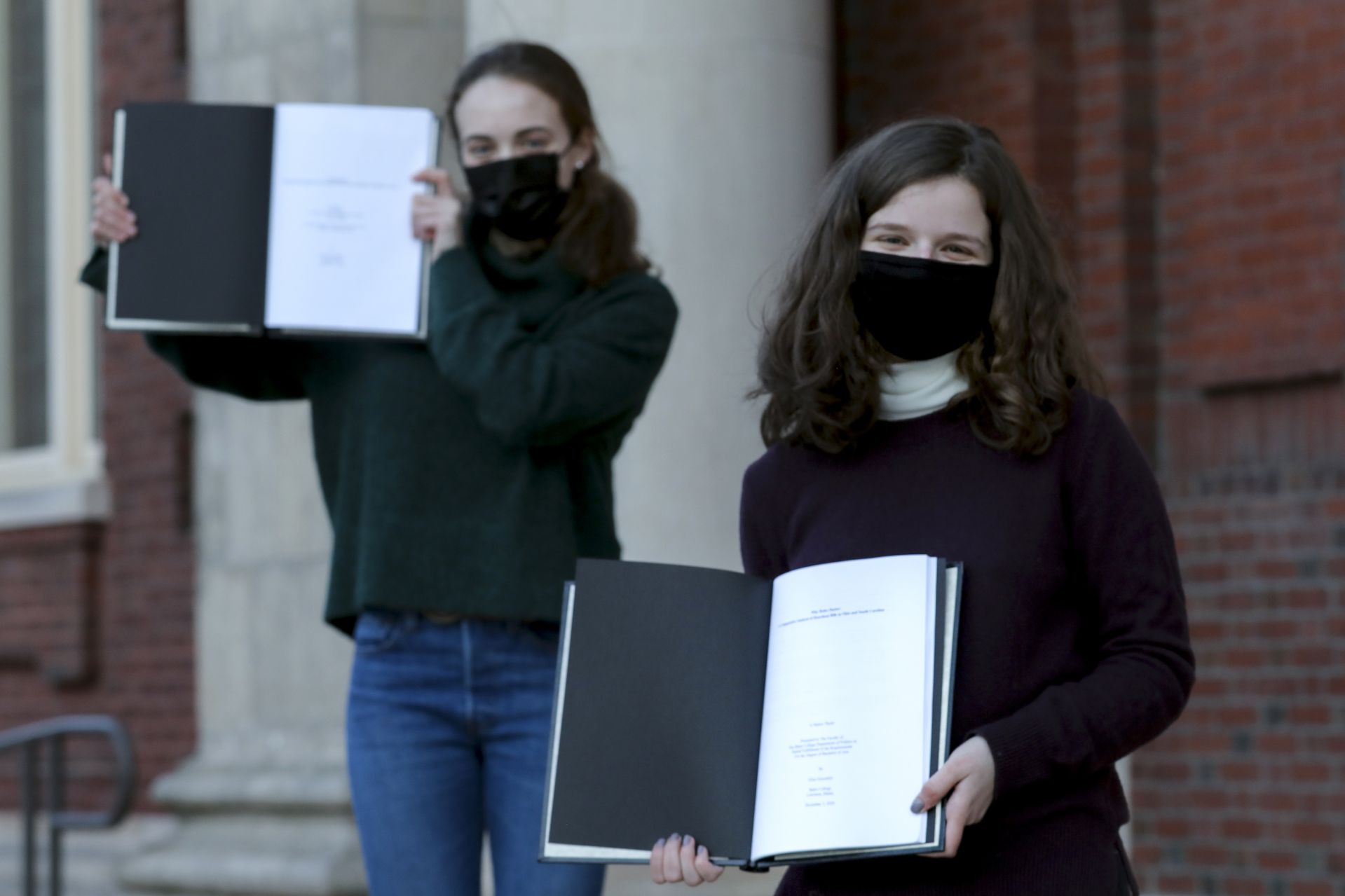 ---
Seniors Elizabeth Fairman (left) of Lathrup Village, Mich., and Elise Grossfeld of Bethesda, Md., bound their senior theses on the Coram Library steps on March 3.

In a "normal" year, a first-year would help a senior bind their thesis, the whole moment surrounded by friends. This year, it's pared down. "We both bound seniors' theses our freshmen year and wanted to continue on with this Bates tradition. In a year that is so different, it's so nice to be able to keep some of the most meaningful traditions," Grossfeld said.
---
Do Nut Worry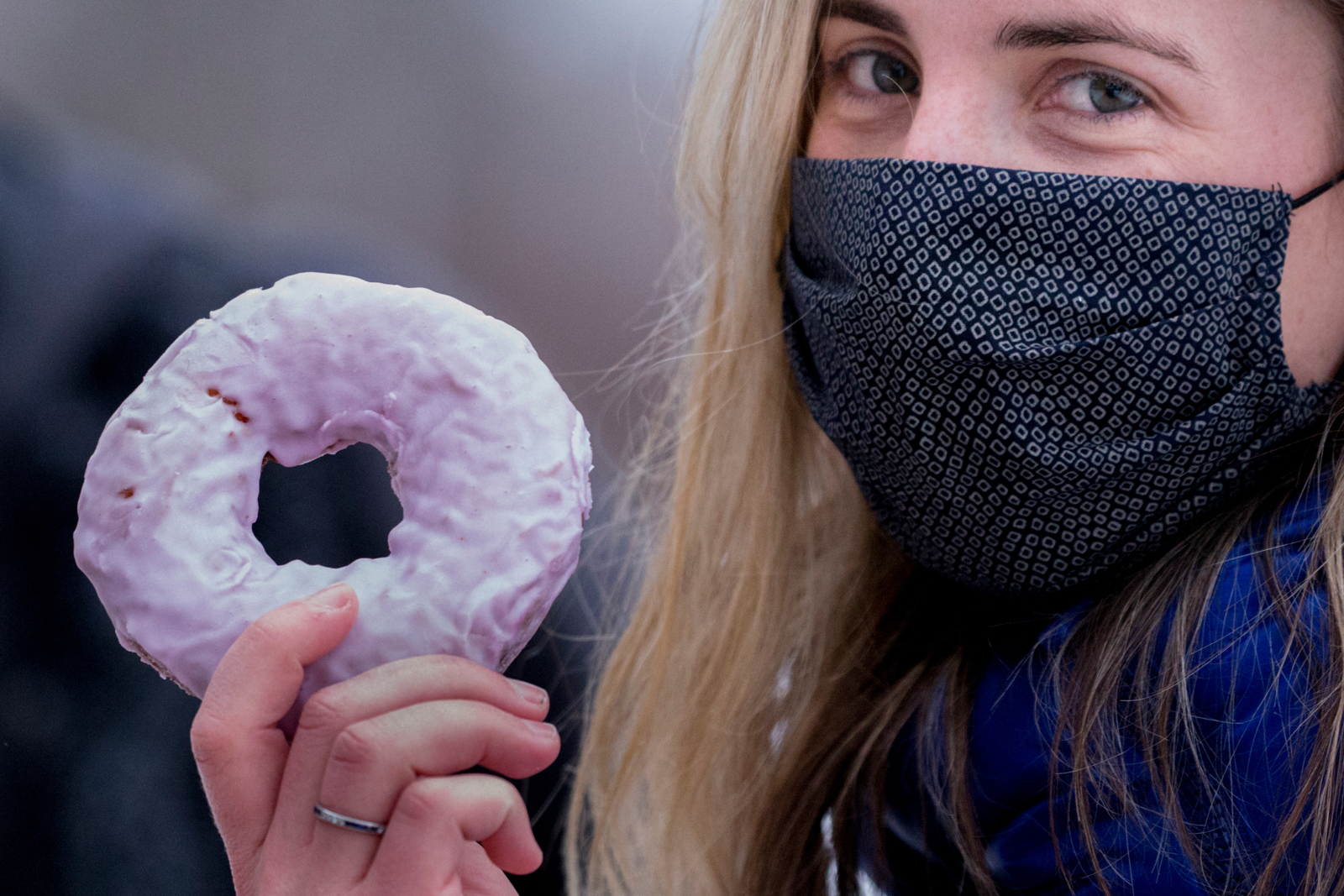 Reilly Dwight '22 of Sebastopol, Calif., displays a freshly baked donut, just out of the oven, during Winter Carnival.
---
Goal Time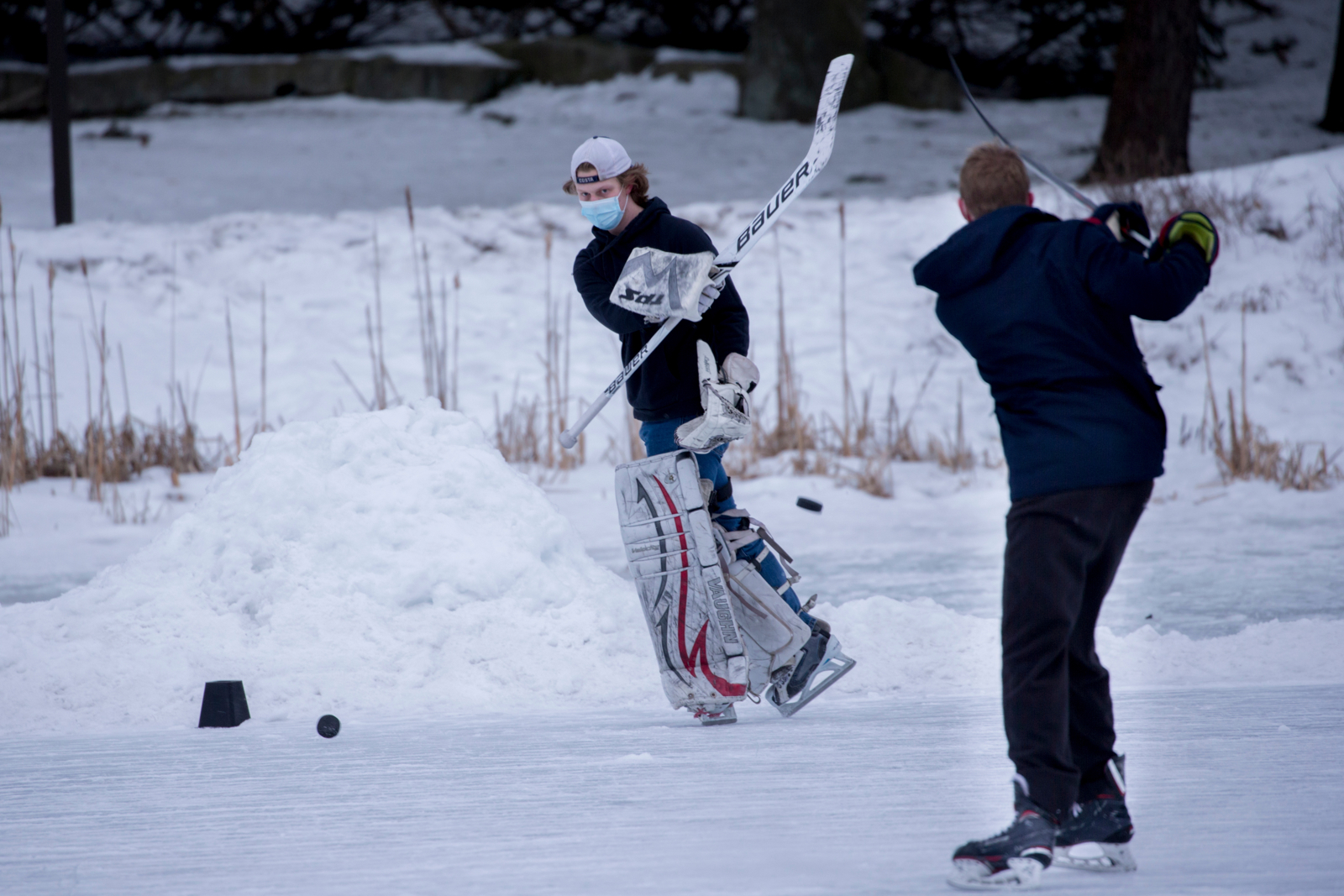 John Fraipont '23 of Chapel Hill, N.C., as goaltender, and Robby Griffin '23 enjoy some pickup ice hockey on the Puddle during Winter Carnival in early March. They both play club hockey at Bates. With Underhill being used for COVID-19 testing, students kept a rink clear until ice-out in late March.
---
Lamp Light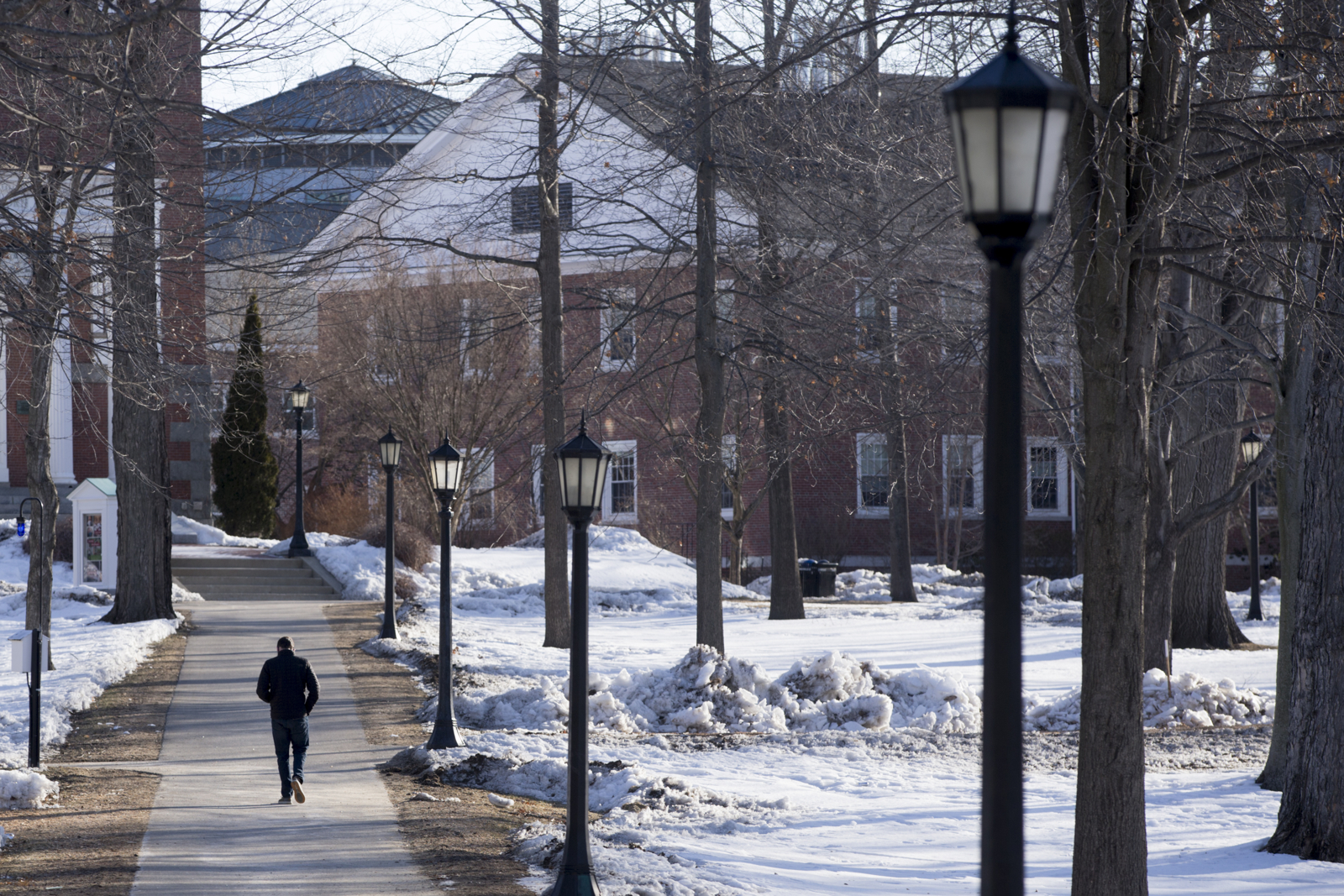 An early-morning walker on the Historic Quad heads toward Hathorn Hall.
---
Run, Don't Walk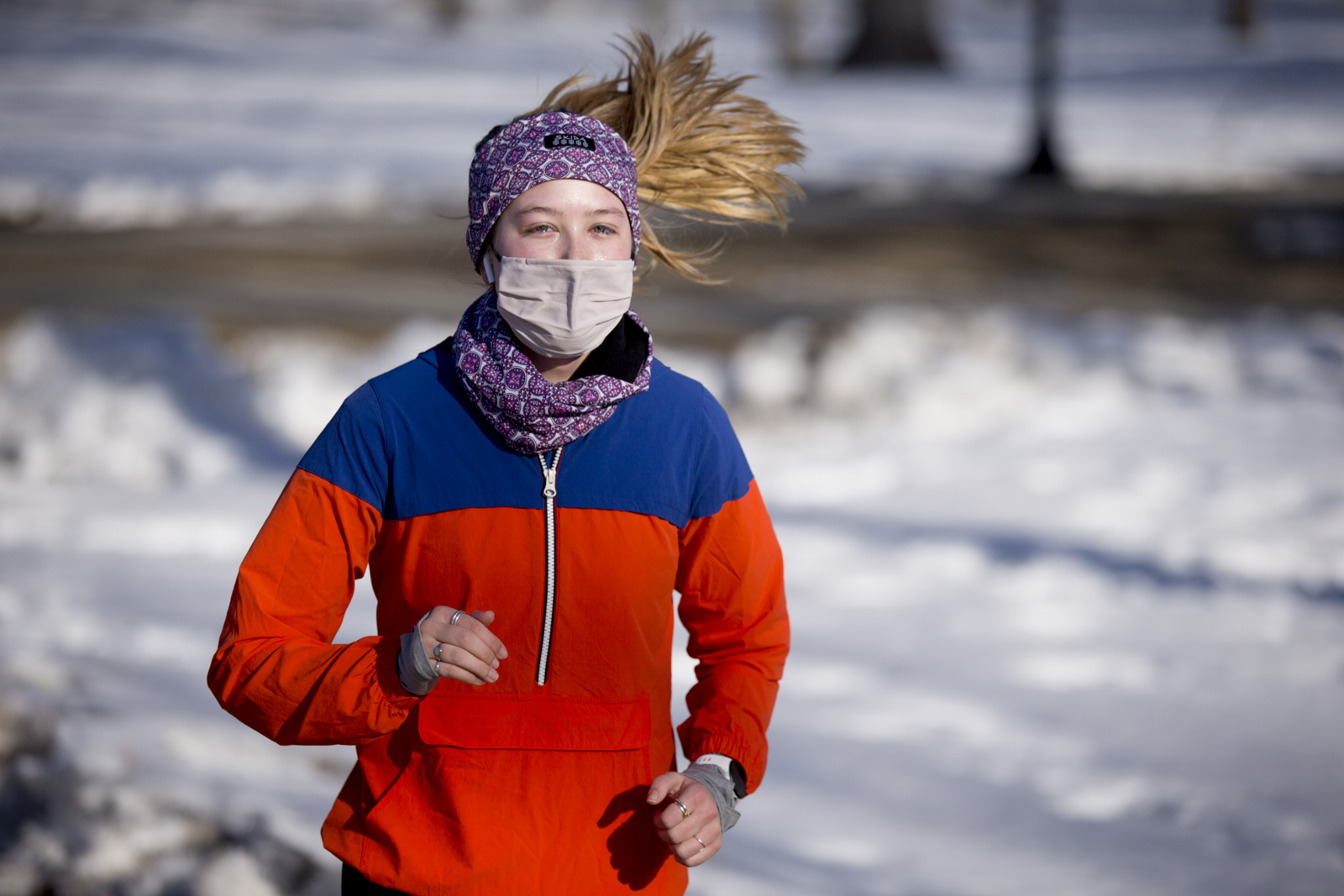 She has the sun in her face and the wind at her back on Campus Avenue as she runs on by.
---
Vines on the Gates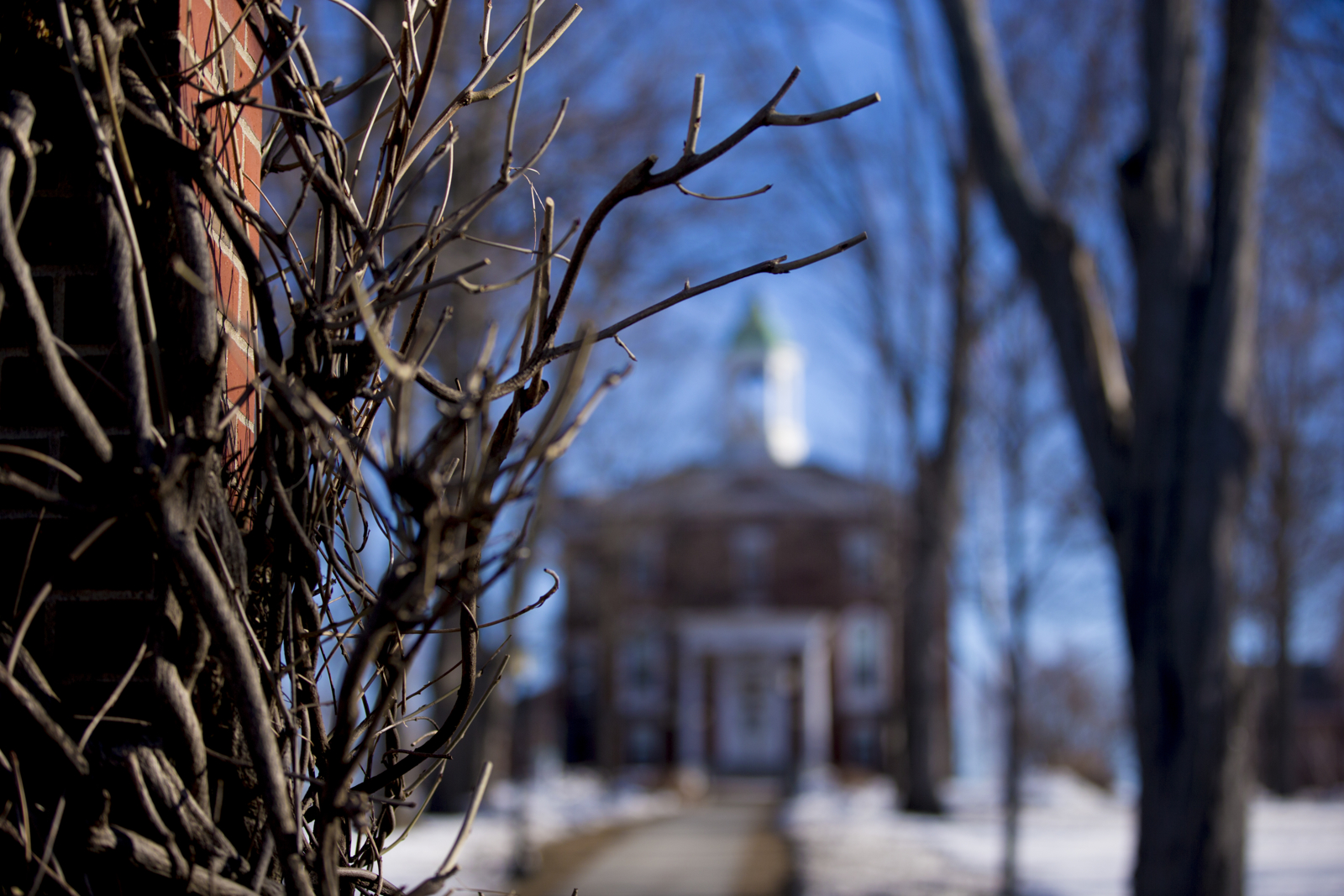 Bereft of leaves on an early March day, the climbing stems of ivy on the Class of 1906 gate frame Hathorn Hall in the distance.
---
Yoga on Ice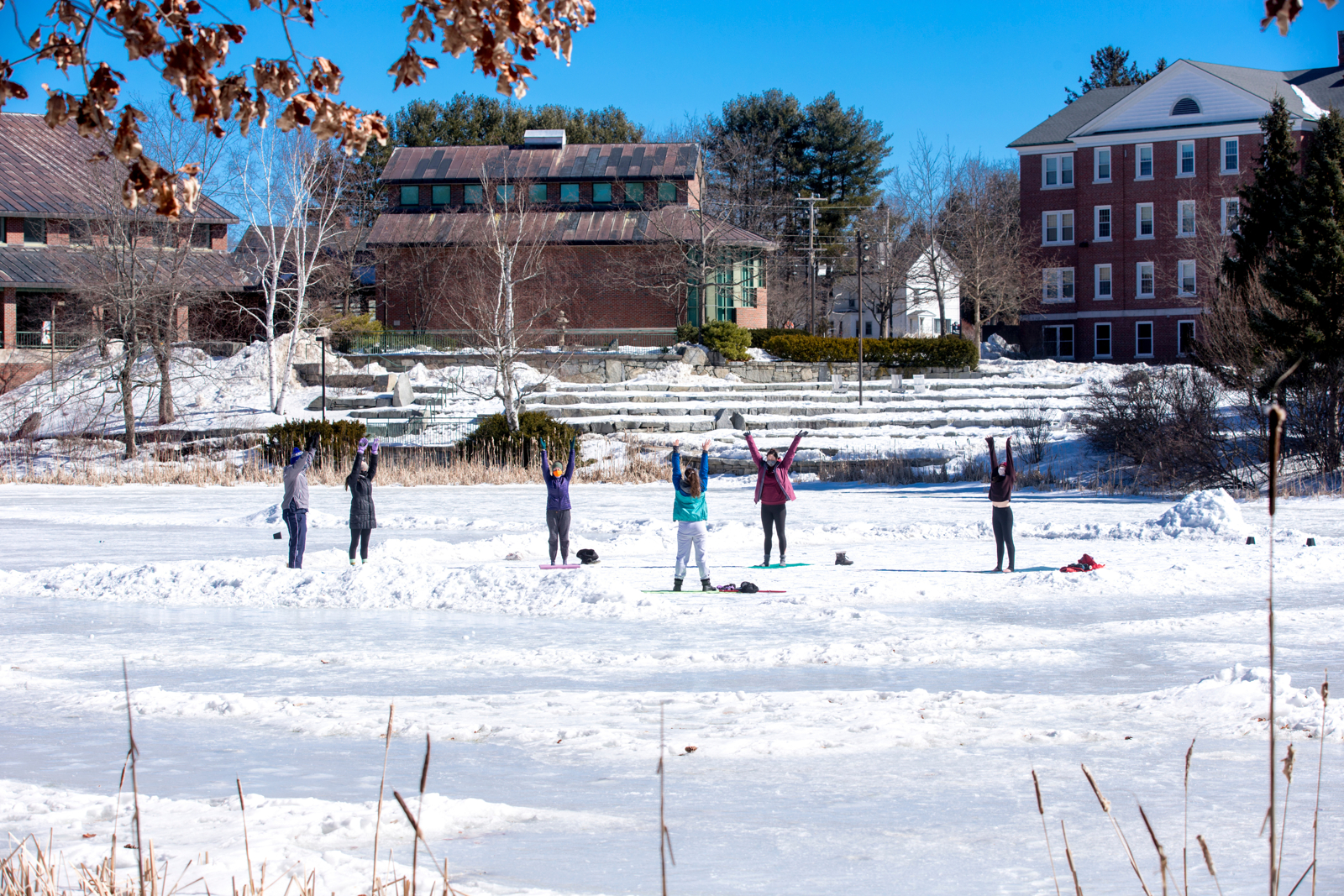 "I'm always looking for new perspectives," says Katia Ryan '23 of Amsterdam, N.Y., leading fellow Bobcats in a morning yoga session on frozen Lake Andrews in February.
---
Spaced Out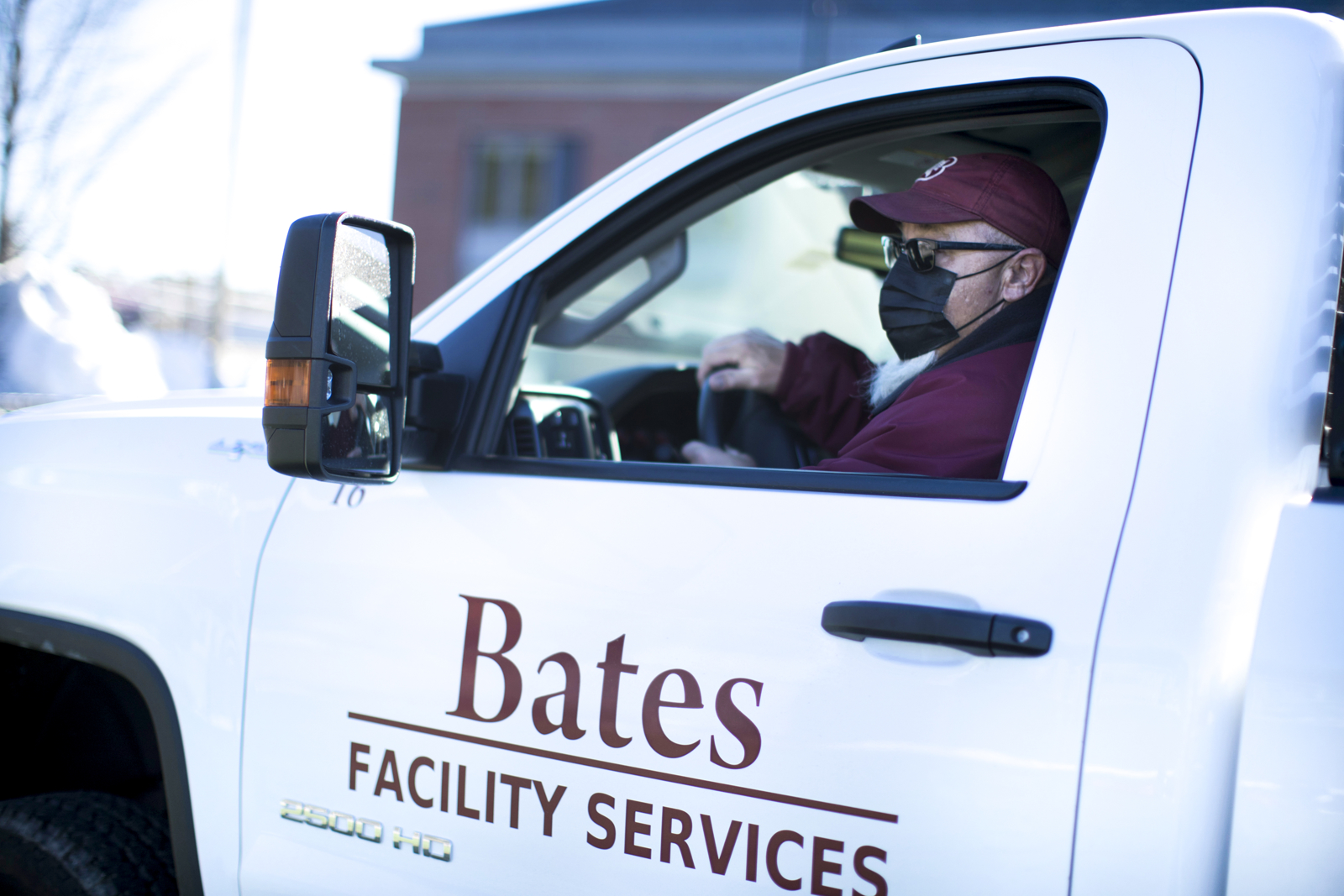 Timothy Kivus and his fellow groundskeepers with Facility Services have helped Bates provide more outdoor opportunities for students, either by setting up outdoor furniture or clearing snow from Garcelon Field, a space that he — and Bates students — have dubbed "Garcelon Beach."
---
Baker the Baker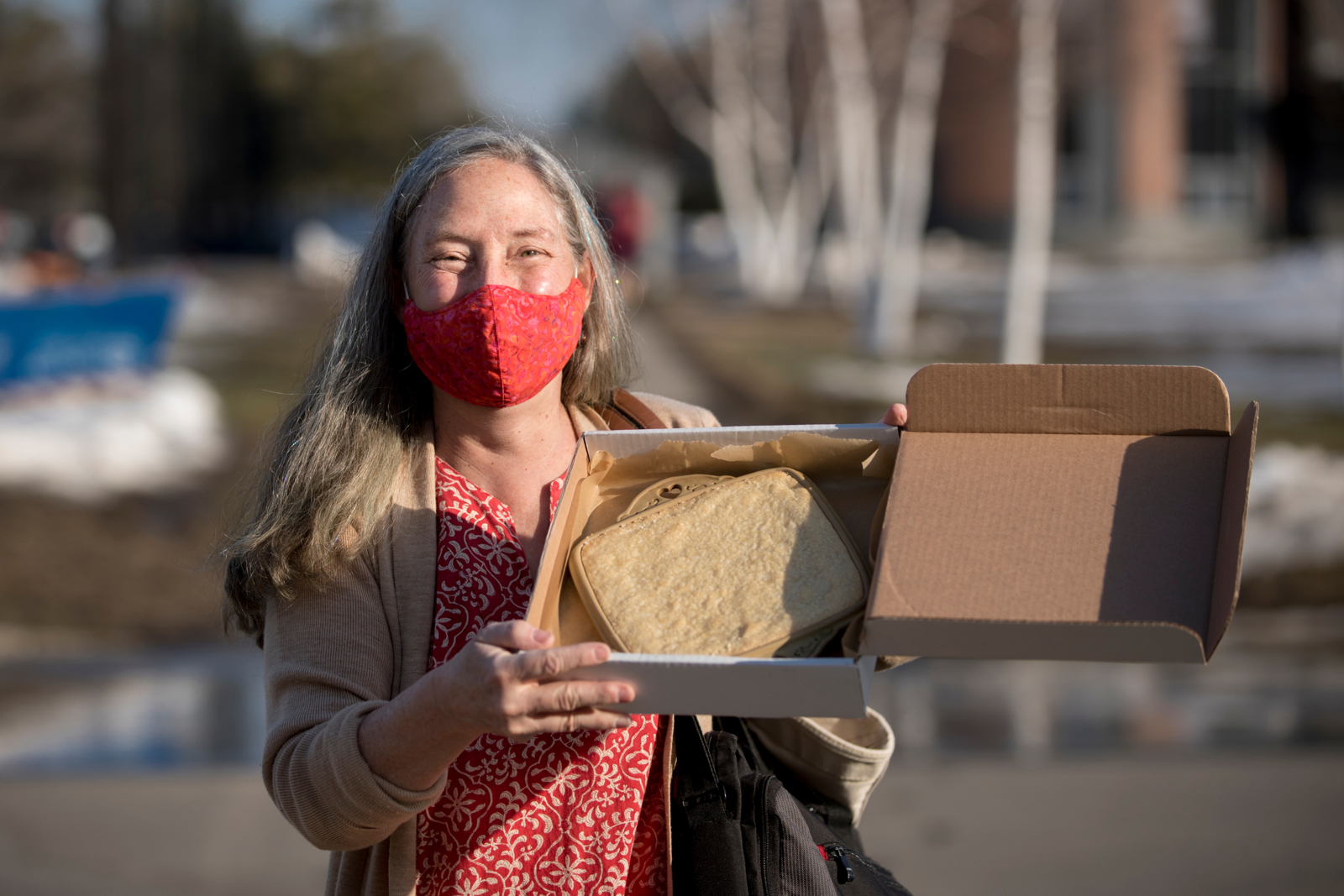 Professor of Religious Studies Cynthia Baker arrives on campus with a lavender shortbread she baked for a student who had returned to campus this semester from India. The student loves lavender, said Baker, who then scheduled physically distanced tea for two.
---
Practice Please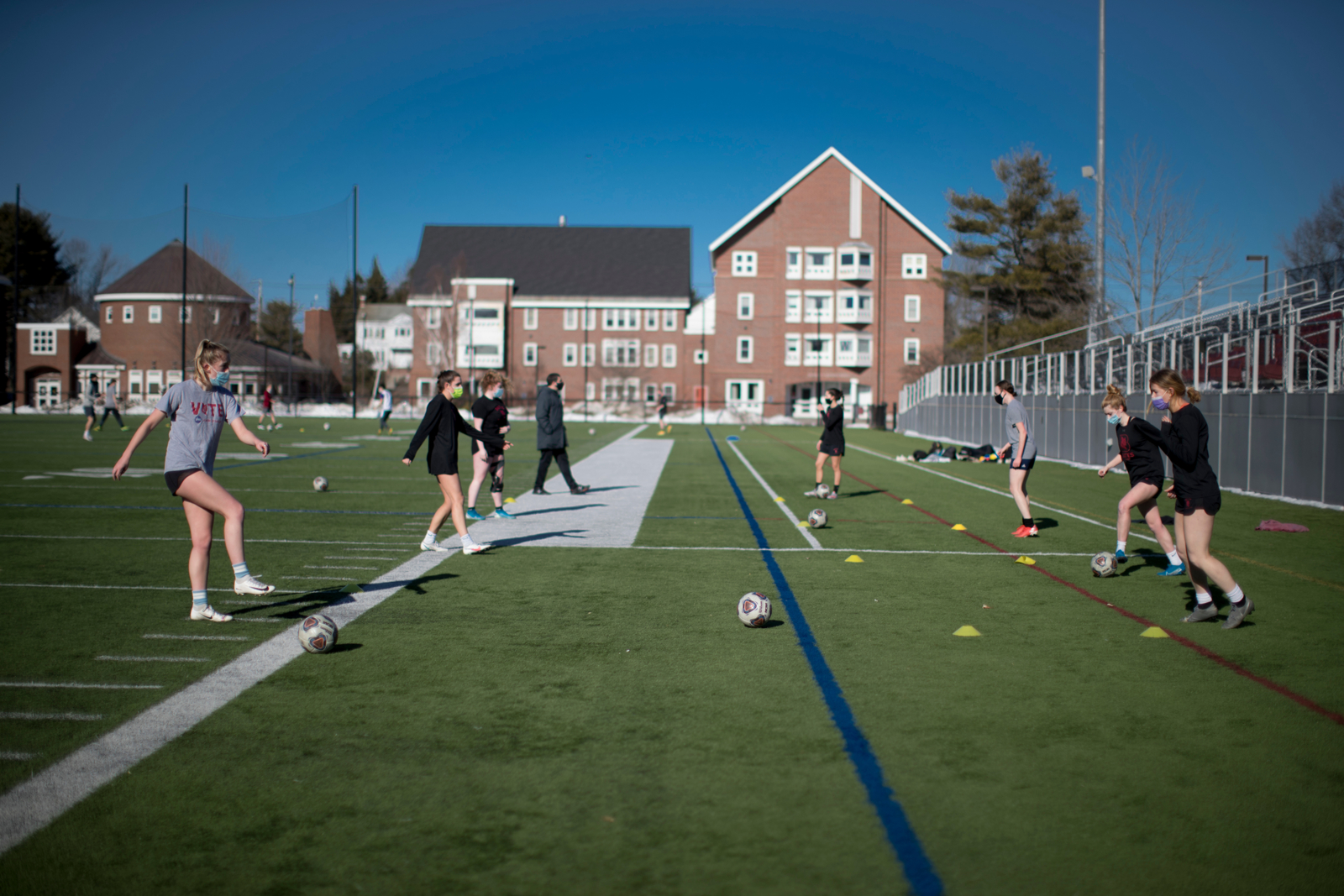 Women's head soccer coach Joe Vari leads his team in a practice on Garcelon Field.
---
Chasing Spring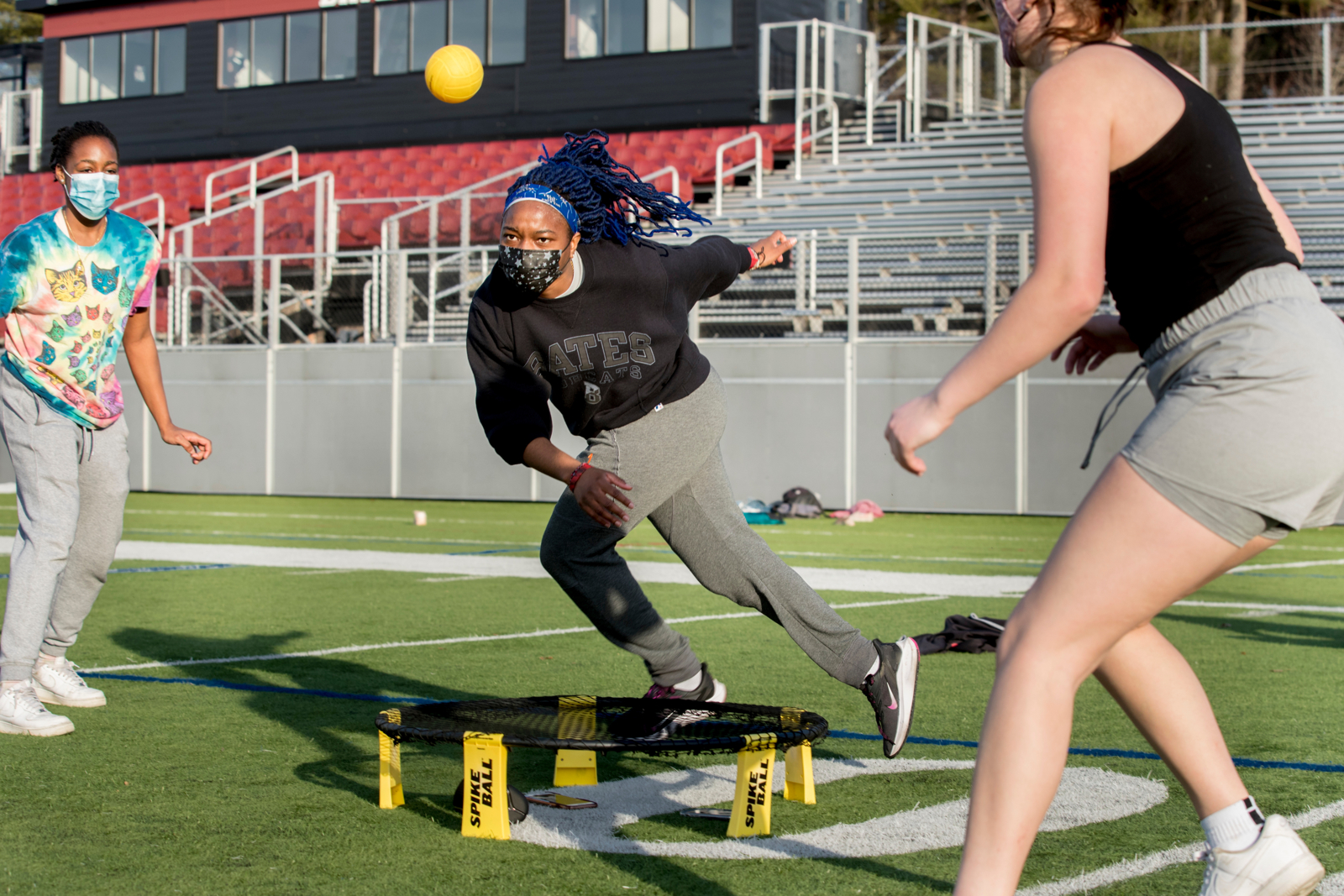 On a March day that saw temps in the 50s, sending a pounce of Bobcats onto Garcelon Field for fun and games, Davina Kabantu '24 (center) of Portland, Maine, keeps her eye on the ball during a game of spike ball. At left and right are Amaari Williams '22 of Brooklyn, N.Y., and Sarah Bennett '22 of Suffield, Conn.
---
Biofeedback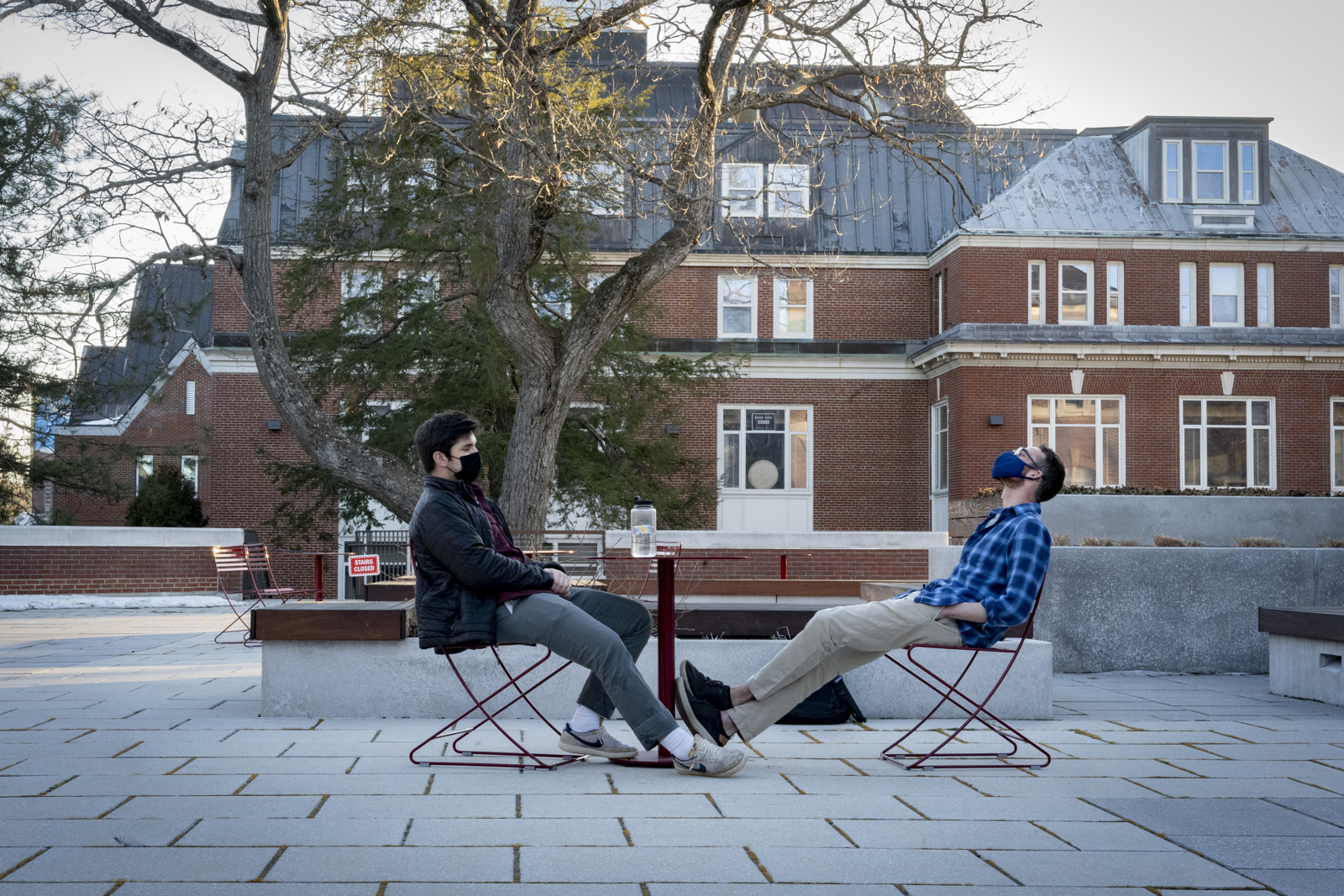 Biology majors Devin Russell '21 (left) of Falmouth, Maine, and Ben Goldberg '21 of Winnetka, Ill., caught up with each other as they took advantage of a beautiful day on the Ladd Library Terrace.
---
Boys of Spring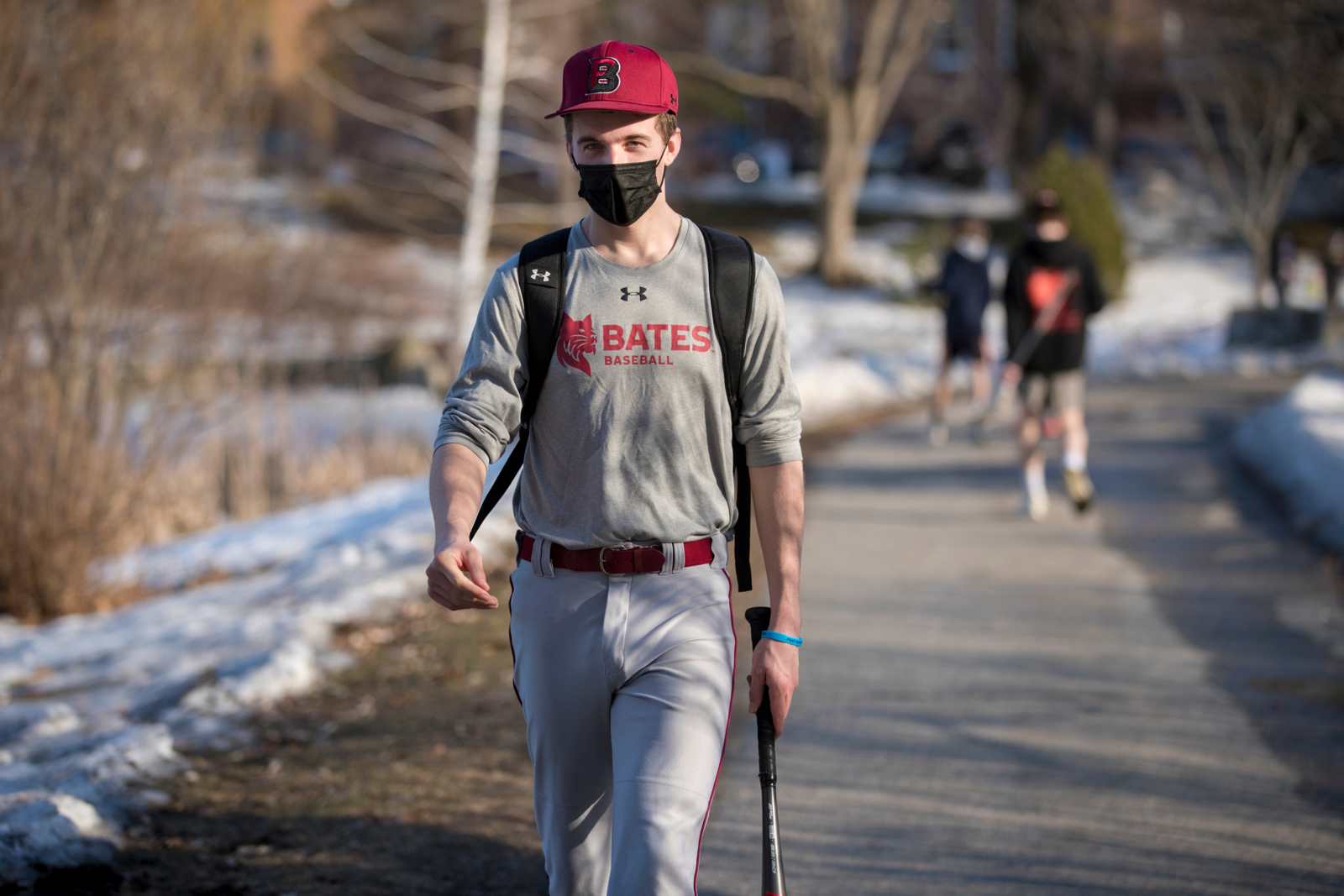 With a spring in his step, baseball player Jack Brennan '24 of West Hartford, Conn., walks back to his Page Hall residence.
---
Shakespeare on the Puddle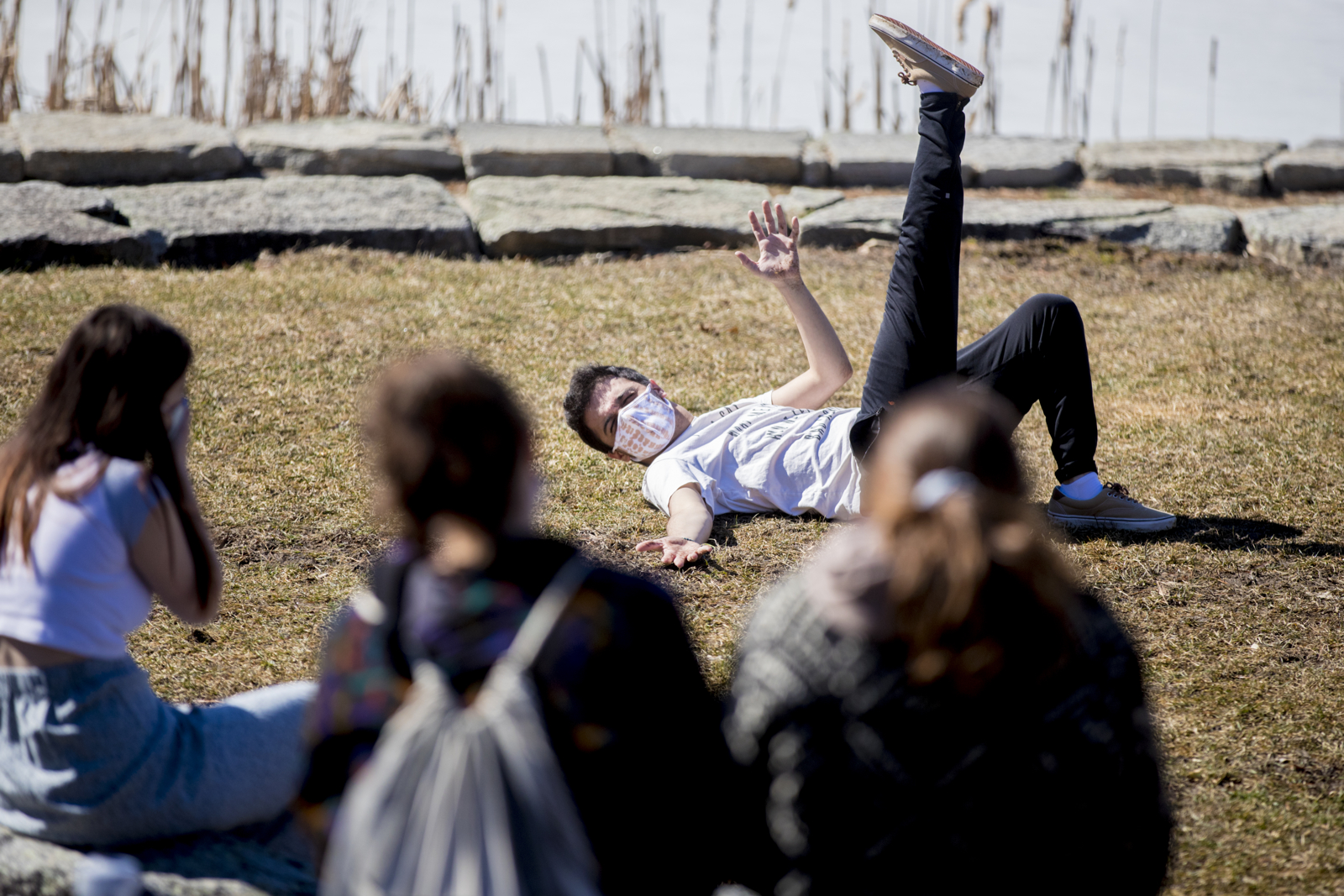 In late March, Johnny Esposito '22 of West Roxbury, Mass., goes to the mat as Duke Orsino in a pond-side rehearsal of Shakespeare's Twelfth Night, directed by Deon Custard '21 of Chicago, a double major in theater and English.
For Custard, directing the play, which will be staged in Schaeffer Theatre from May 5 to 9, is in partial fulfillment of his theater thesis.
---
Trick Knees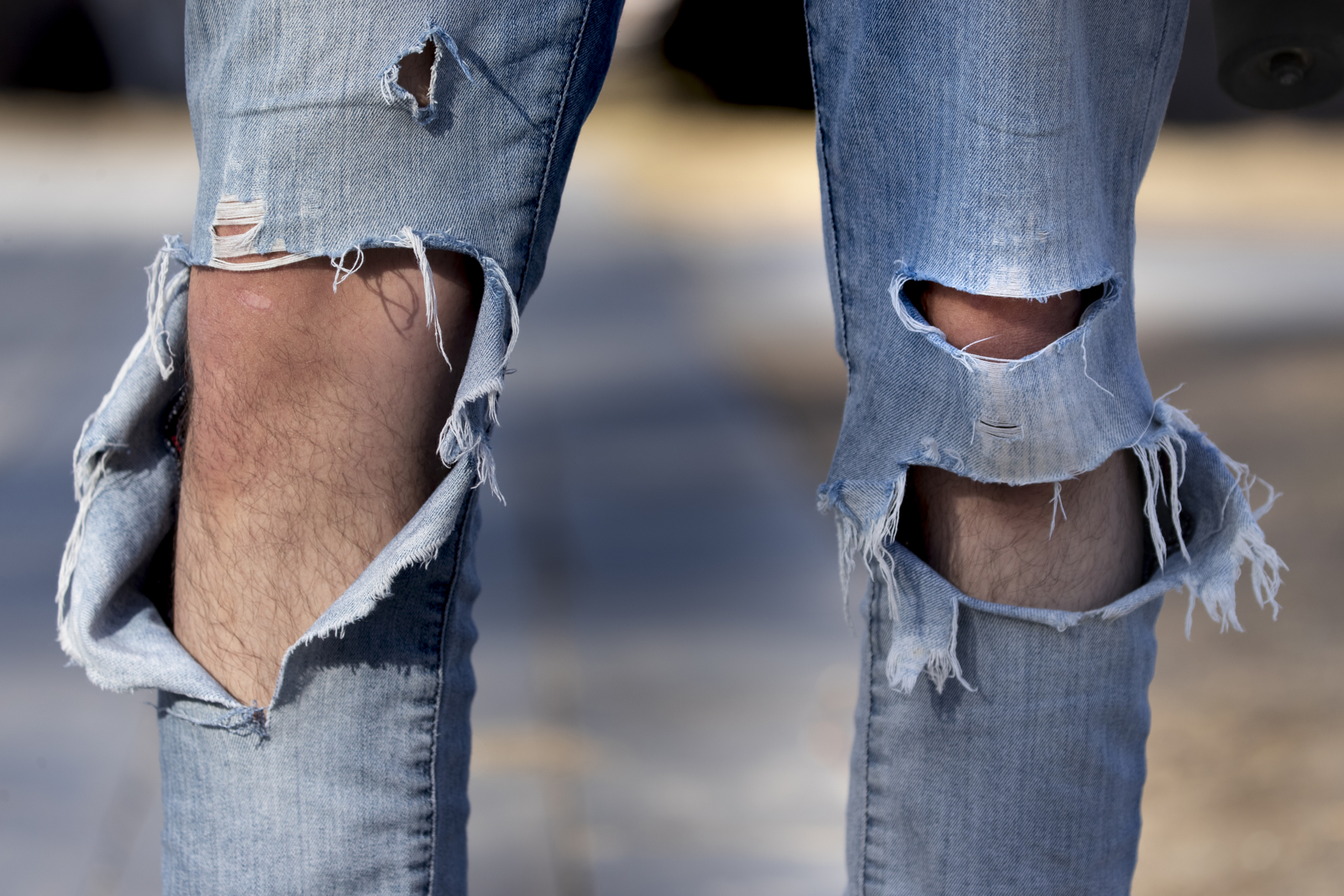 During a very warm March, we've seen a lot of B's knees (belonging to Bobcats in this case). Some in shorts. Others a skirt. Some appeared through holes in jeans. "It helps when you want to go low," said Grace Devine '24 of Falmouth, Maine, (not pictured) who wasn't quite ready for shorts, but enjoyed some knee exposure.
---
394 Days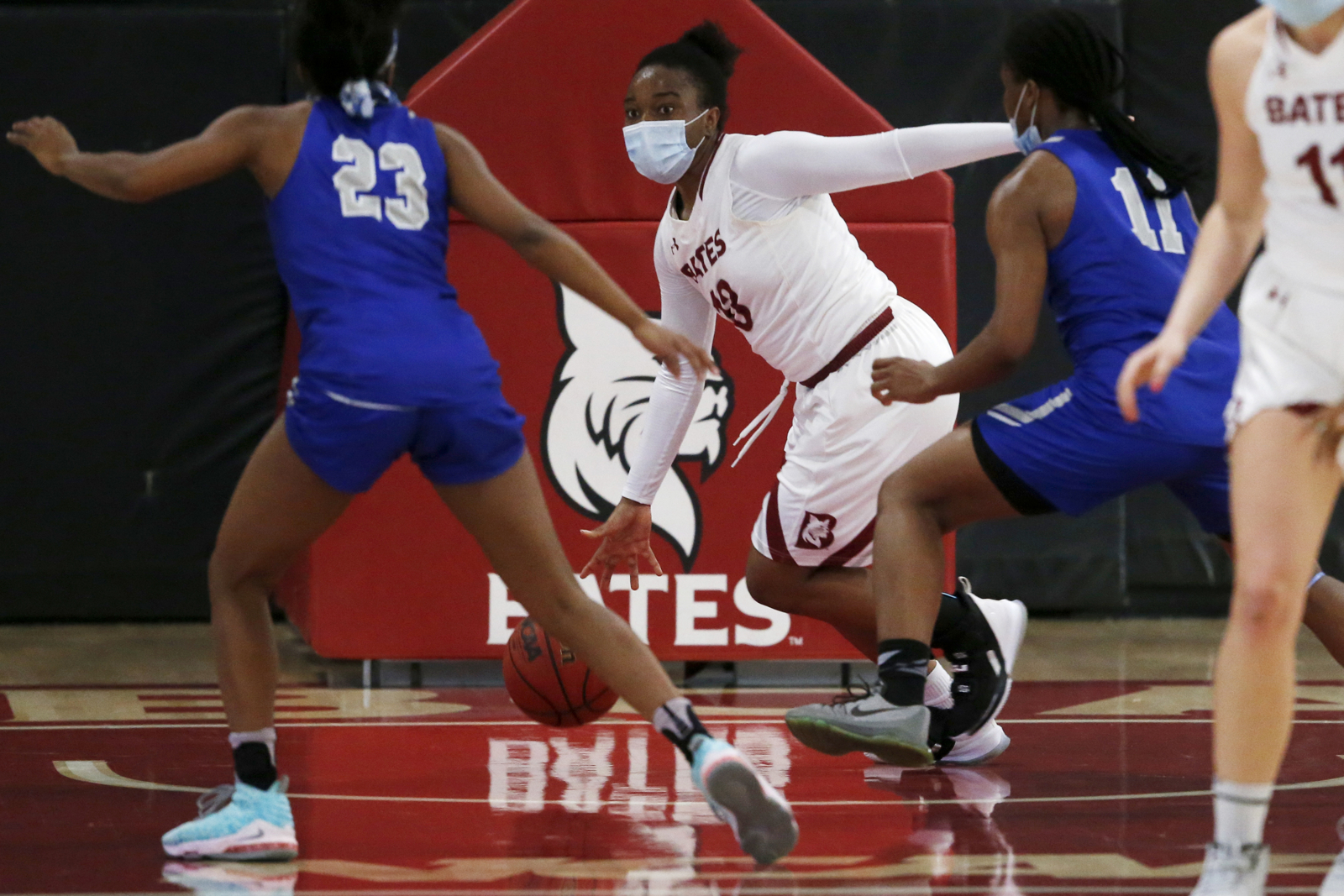 In their first game since Feb. 22, 2020 — a span of 394 days, but who's counting — the women's basketball team was defeated Colby, 65-57, in Alumni Gym on March 21. Davina Kabantu '24 of Portland, Maine, scored nine points and added four rebounds in her first home game as a Bobcat.
---
It's a Phase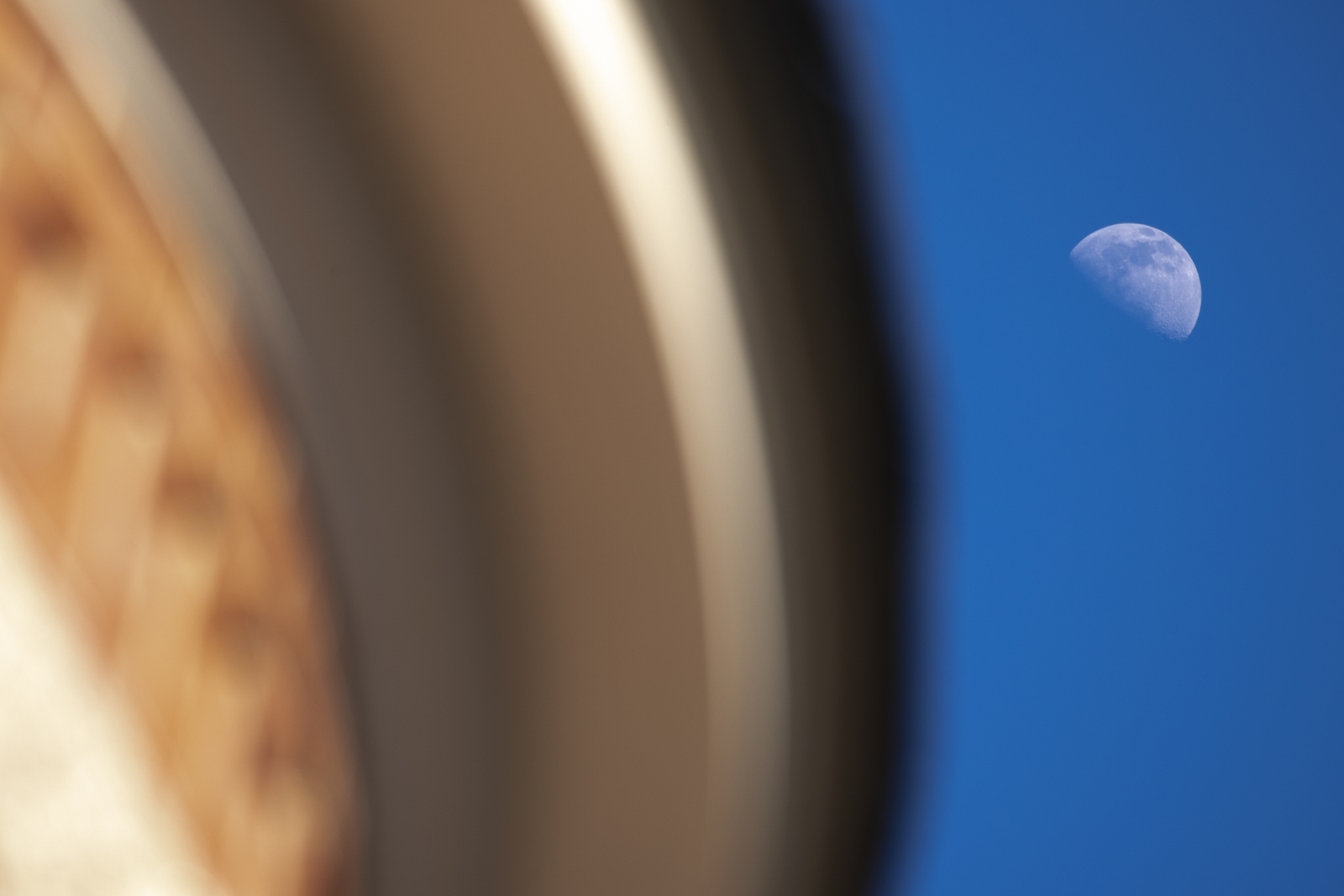 A third quarter moon hovers over Hedge Hall.
---
Lighter Later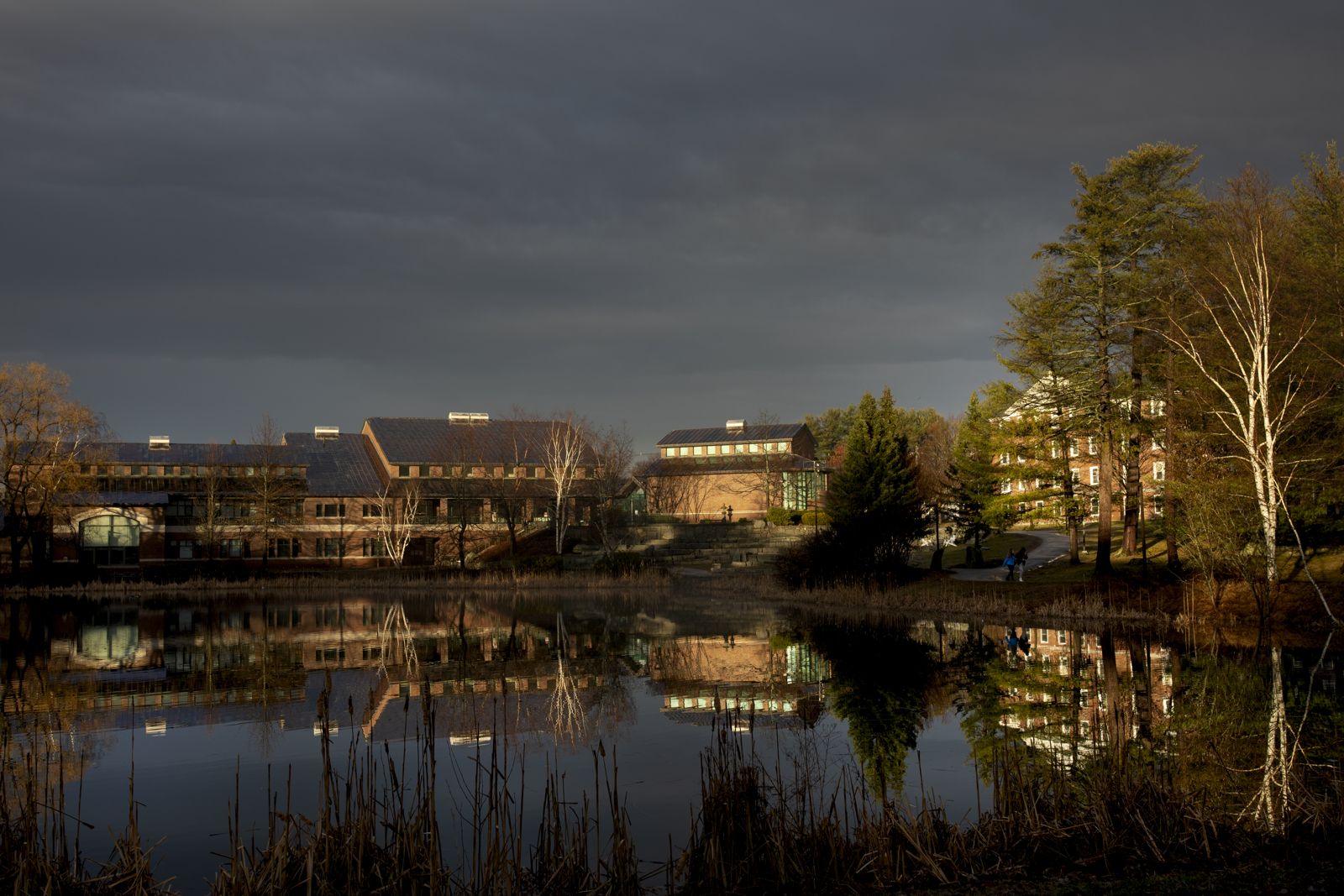 Late-afternoon light illuminates Lake Andrews and vicinity.
---
704 Days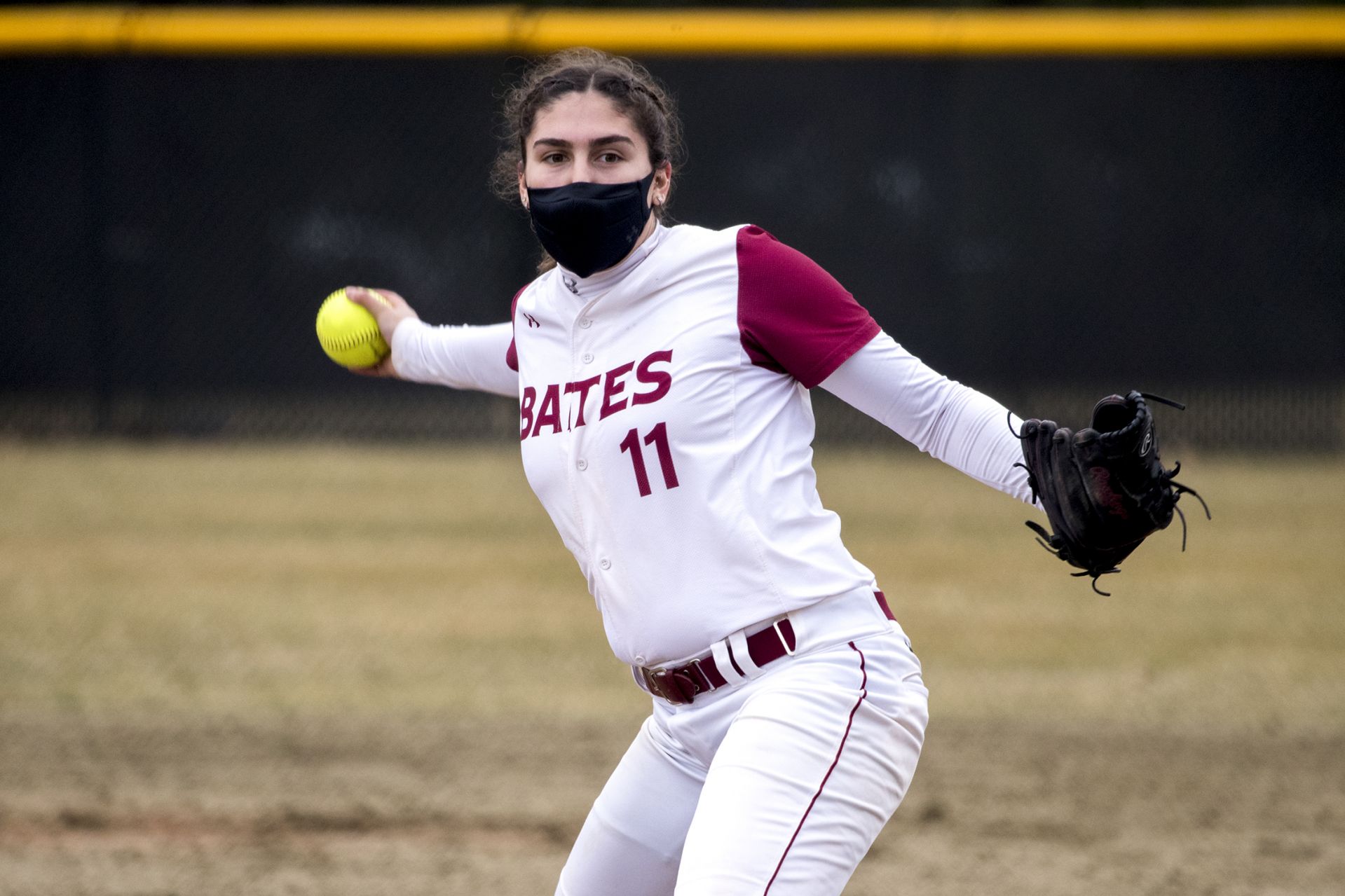 In their first home softball game since April 28, 2018 — a span of 704 days, but again, who's counting — the softball team faced St. Joseph's of Maine in a doubleheader. In the first game, junior Danielle Polirer of Bellmore, N.Y., struck out a career-high 11 batters and did not allow an earned run in a complete game .
View Comments