The true joys of spring arrive as April slides into May and we experience the bittersweet tug of departure as the academic calendar concludes with Short Term. In harmony with the season, our Bates experience ripens in numerous ways at this time of year. Let us count them for you in this latest installment of This Month at Bates.
'More Like a Painter'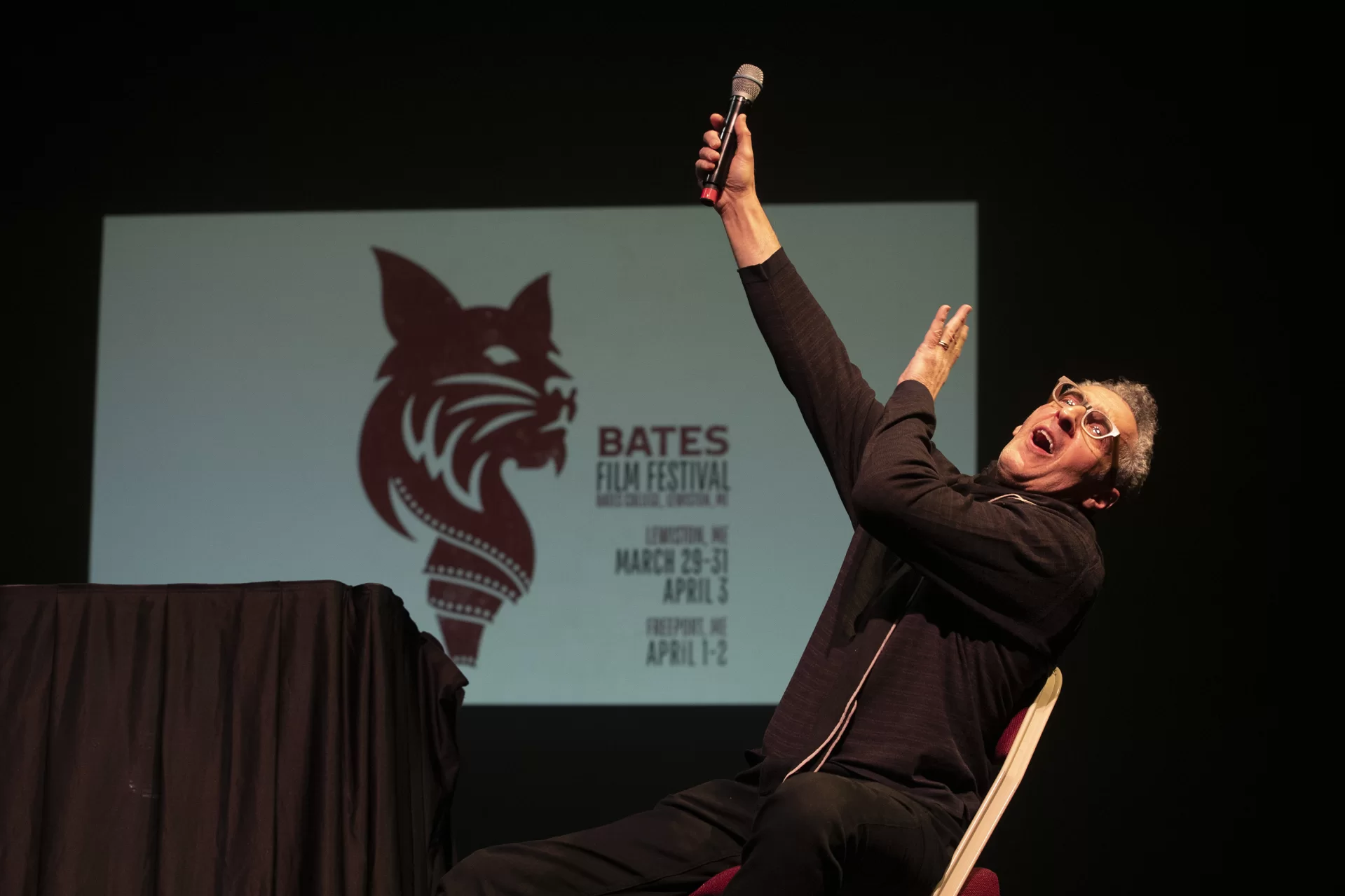 Actor and director John Turturro came to Schaeffer Theatre for this year's Bates Film Festival, which screened his films. Here, he demonstrates what acting against a green screen can be like, in this case pretending to react to a pole that would later be transformed through computer-generated imagery into a monster. Comparing acting to another art form, he described that type of acting as a "sketch" in contrast to the creative work that allows him to work more like a painter.
---
Ski Patrol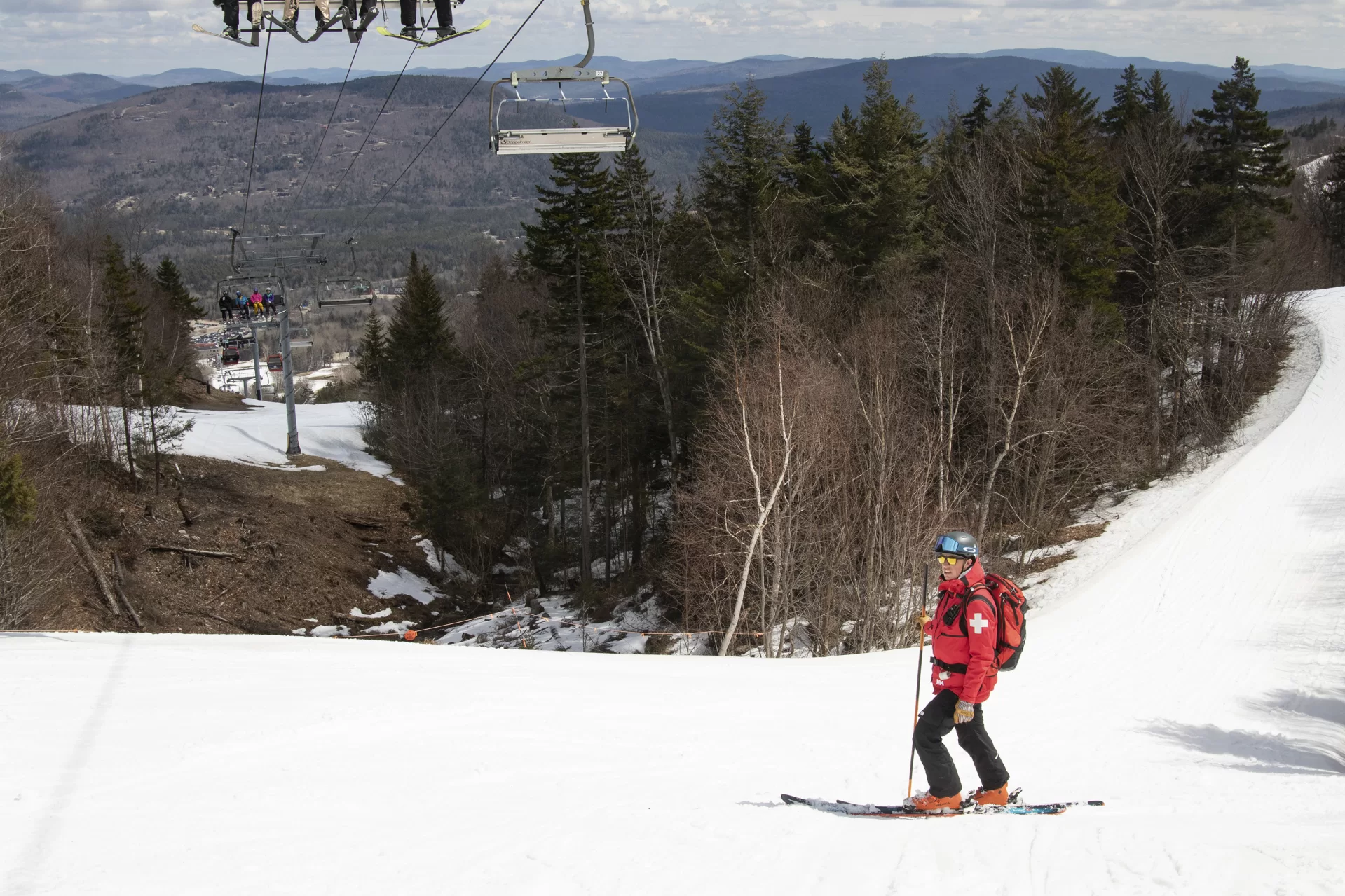 Ethan Baker '24 of Jackson, N.H., who does shifts as a ski patroller at Sunday River, begins a trail check in early April.
A firefighter and emergency medical technician, he captains Bates Emergency Medical Services on campus. An environmental studies major, he's curious about "studying our relationship as skiers with climate change and how that will affect the ski industry moving forward." He adds, "The fact that I can work at Sunday River and be a full-time Bobcat at the same time is a unique and fulfilling opportunity."
---
Saving Salamanders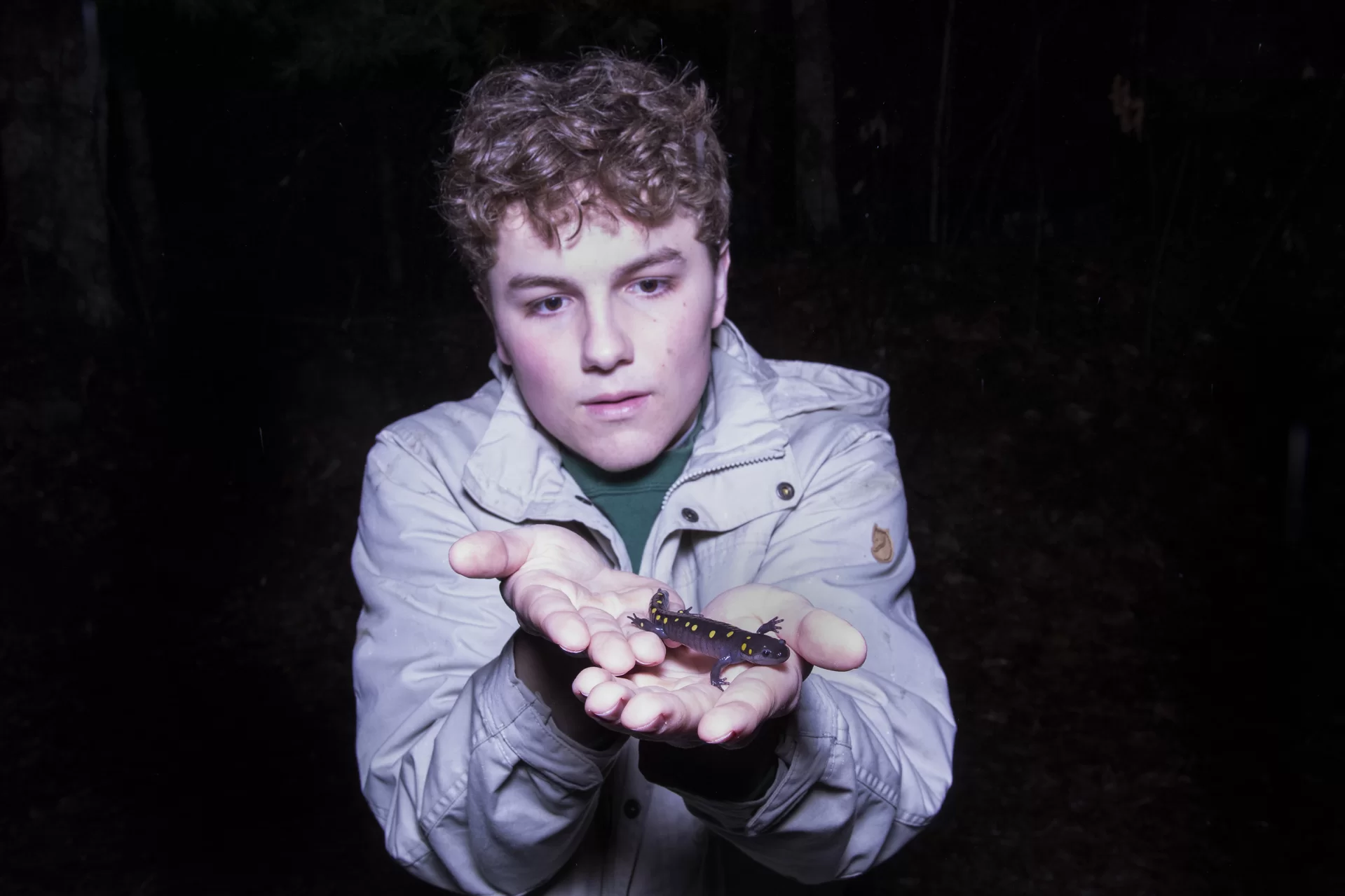 Griffin Trygg '25 of New Canaan, Conn., holds a rescued salamander on the night of March 31, aka Maine Big Night, a statewide annual event and community science initiative that collects and reports data on frogs and salamanders. This salamander had wandered away from its breeding pool. Trygg was joined by Huck Triggs '24 of Malibu, Calif., and Will Dewey '24 of Ithaca, N.Y. "It is wild how many amphibians become active, but many end up on Maine's roads where they often die," Triggs said. "We ended up moving a bunch of these guys off the roads."
---
Sugar High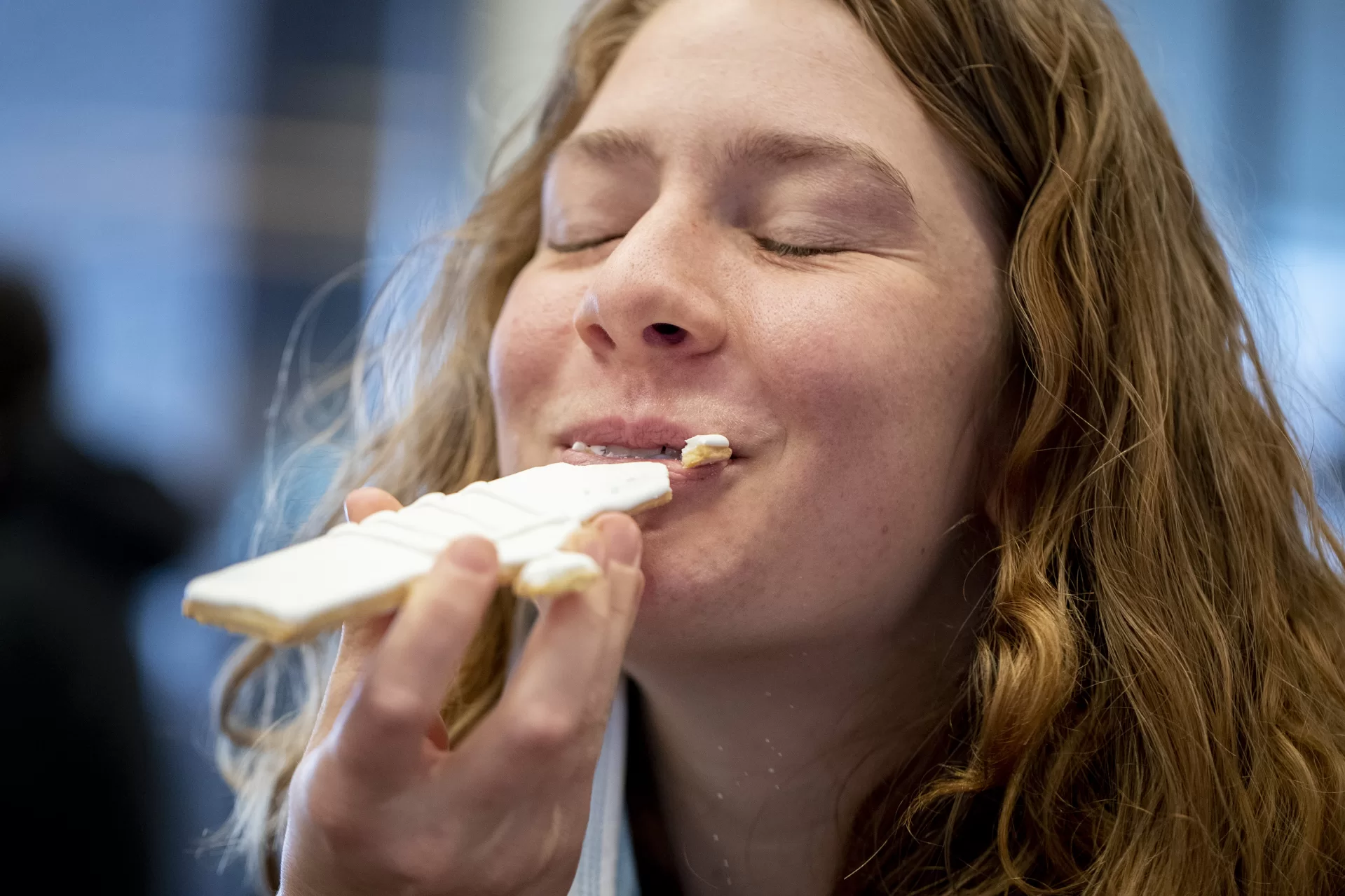 Caroline Cassell '24 of Woodstock, Vt., takes a bite of a big cookie during the Edible Books Festival held at Ladd Library on April 1. Bates community members created and shared food items inspired by book titles.
---
Tribute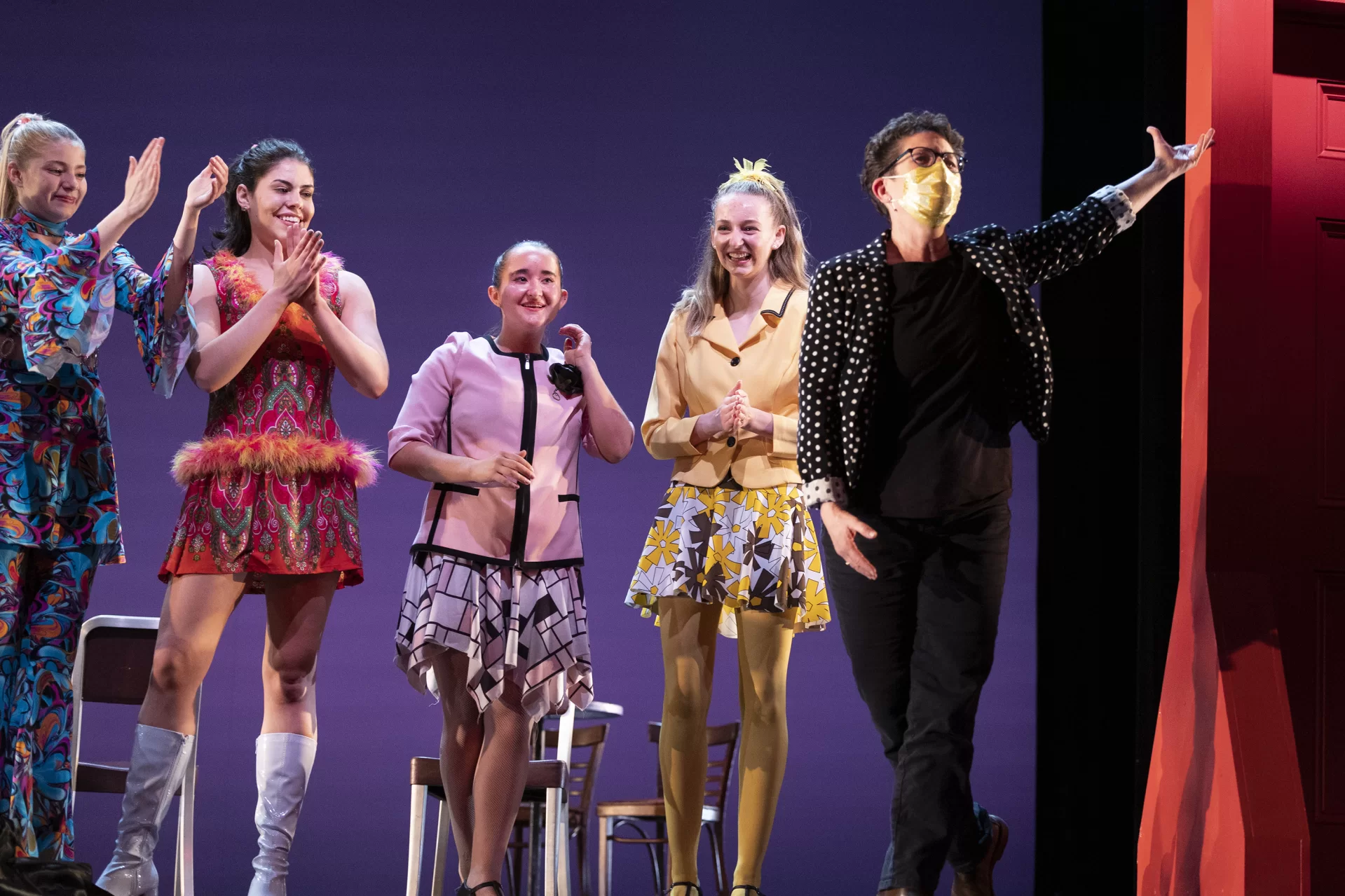 "Let's get up and dance!" That was the message that Director and Professor of Dance Carol Dilley (right), who retires this year after 19 years at Bates, delivered to the audience as she was invited onto the Schaeffer Theatre stage by her students at the conclusion of the Spring Dance Concert, their final 2022 performance.
---
Simultaneous Study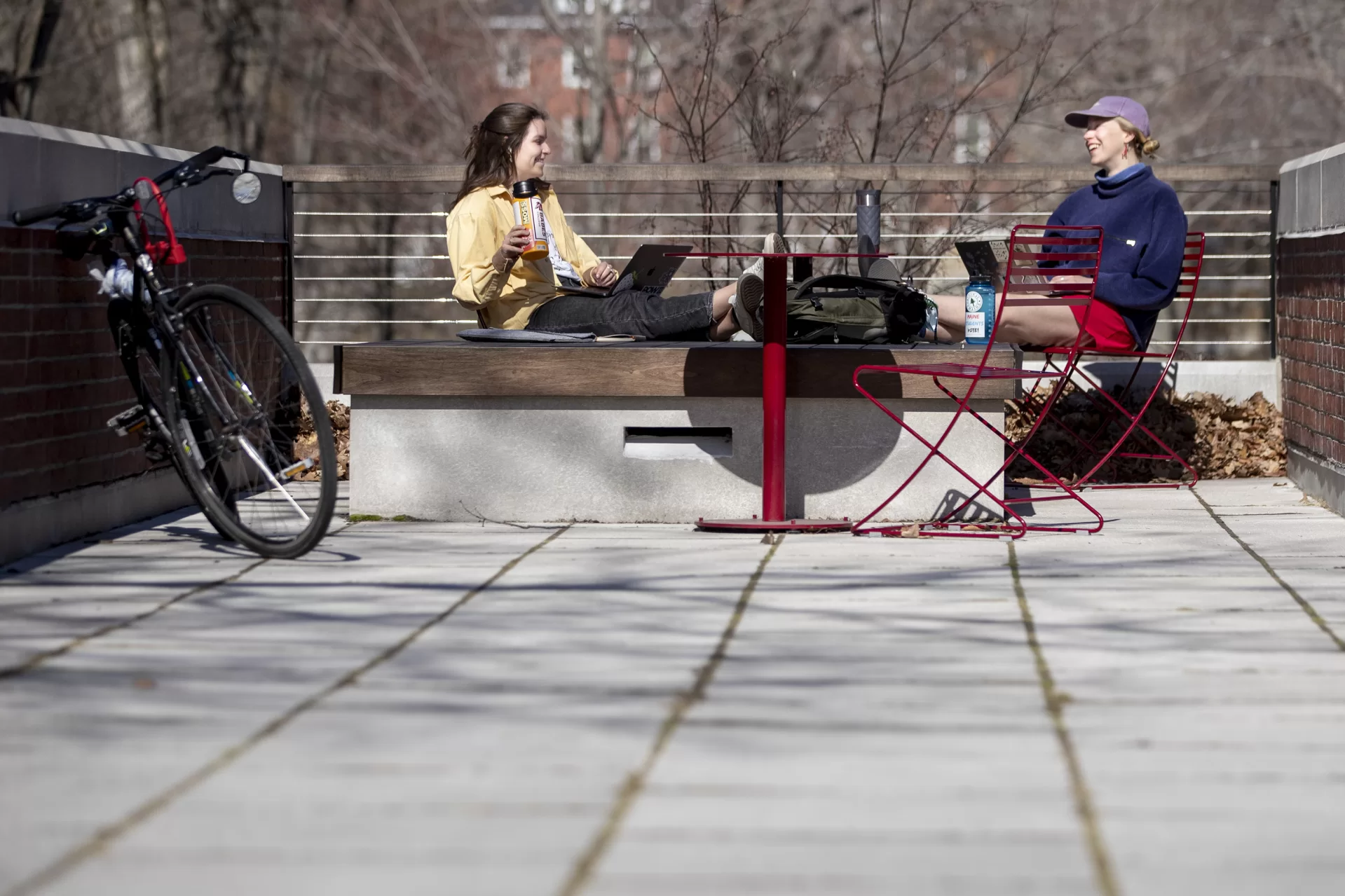 Emma Blakslee '23 (left) of Vail, Colo., prepares a debate for her evolutionary physiology class as her friend Essie Martin '22 of Newcastle, Maine, works on her senior thesis in geology.
---
Triumphant Moment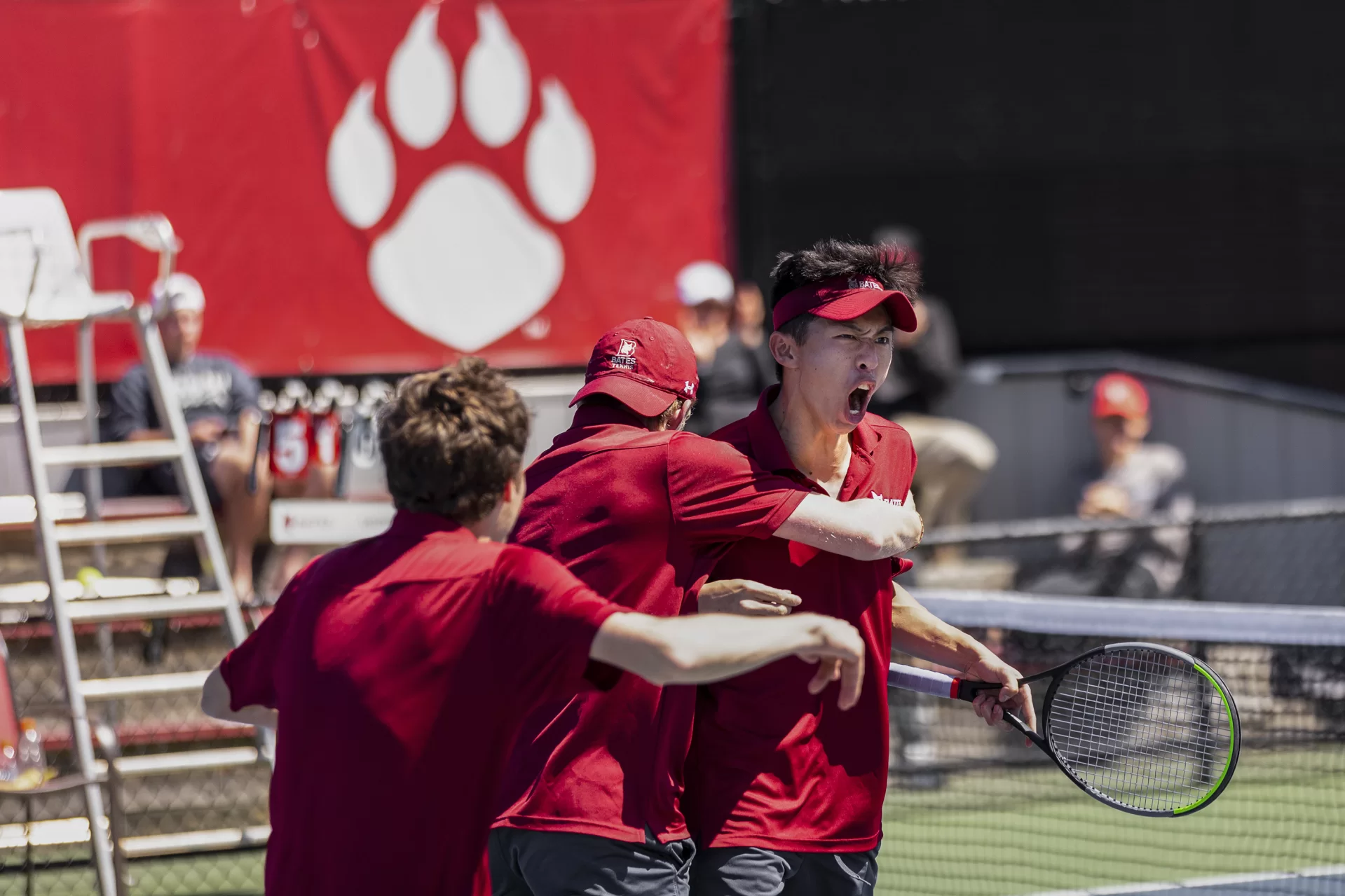 Team captain Teddy Koide '23 of Morristown, N.J., clinched the 5-4 victory for Bates men's tennis against Hamilton at the Wallach Tennis Center.
---
Studying While Swinging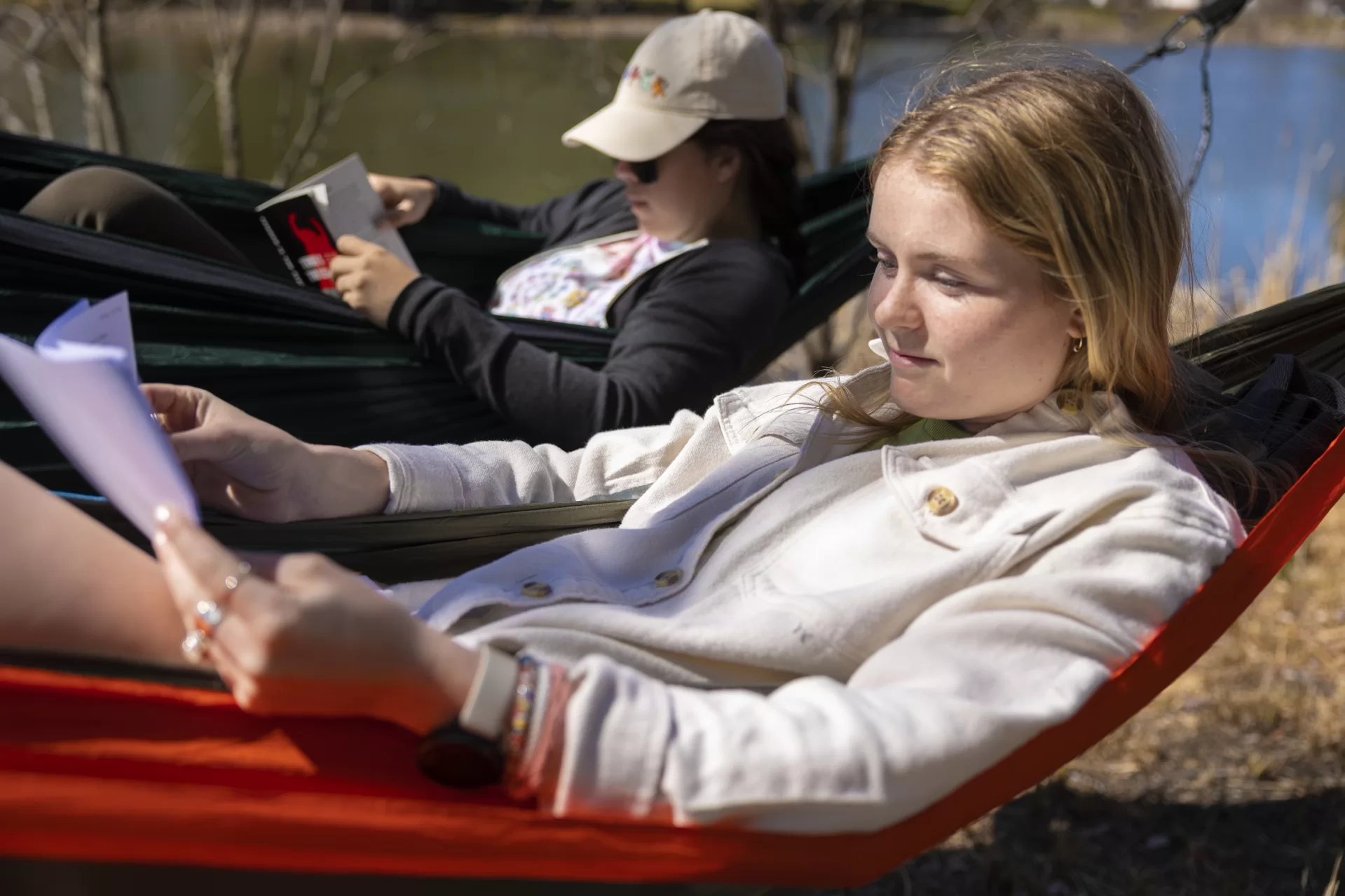 Kenzie Arnott '25 of Stowe, Vt., and Sequoia Anstine '25 of Steamboat Springs, Colo., chose Lake Andrews to study, recline, and bask in the sun on an April afternoon. They were reading for the course "Religion, Race, and Resistance: From Black Secularism to Black Power," taught by Lecturer in Religious Studies Christopher Petrella '06.
---
Kiss and Tell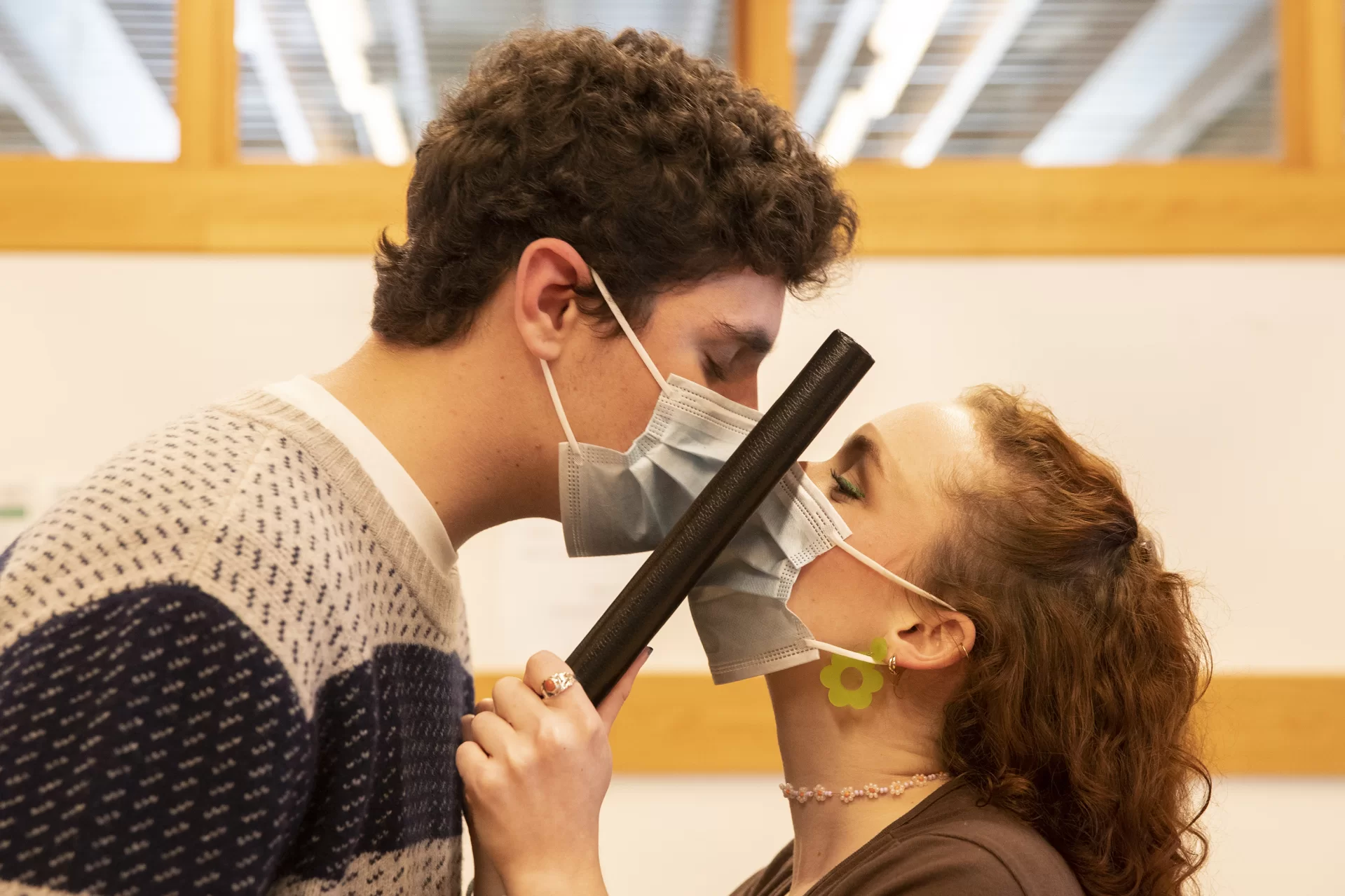 Taking part in a Bates senior thesis ritual, first-year student Miles Hagedorn of Yarmouth, Maine, helps senior history major Liv Silva of North Billerica, Mass., bind her thesis in Ladd Library, then give it a kiss to make it official. The two became friends while working together in the Bates theater production of 35mm.
Silva's thesis, advised by Assistant Professor of History Erik Bernardino, is titled "Excluded from the Gold Mountain: Anti-Chinese Misogyny and Racialized Immigration Restriction."
In writing and researching her thesis, Silva discovered that "there is a lot of room for new voices in academia who will focus on marginalized voices throughout history. I am very proud!"
---
All Hyped Up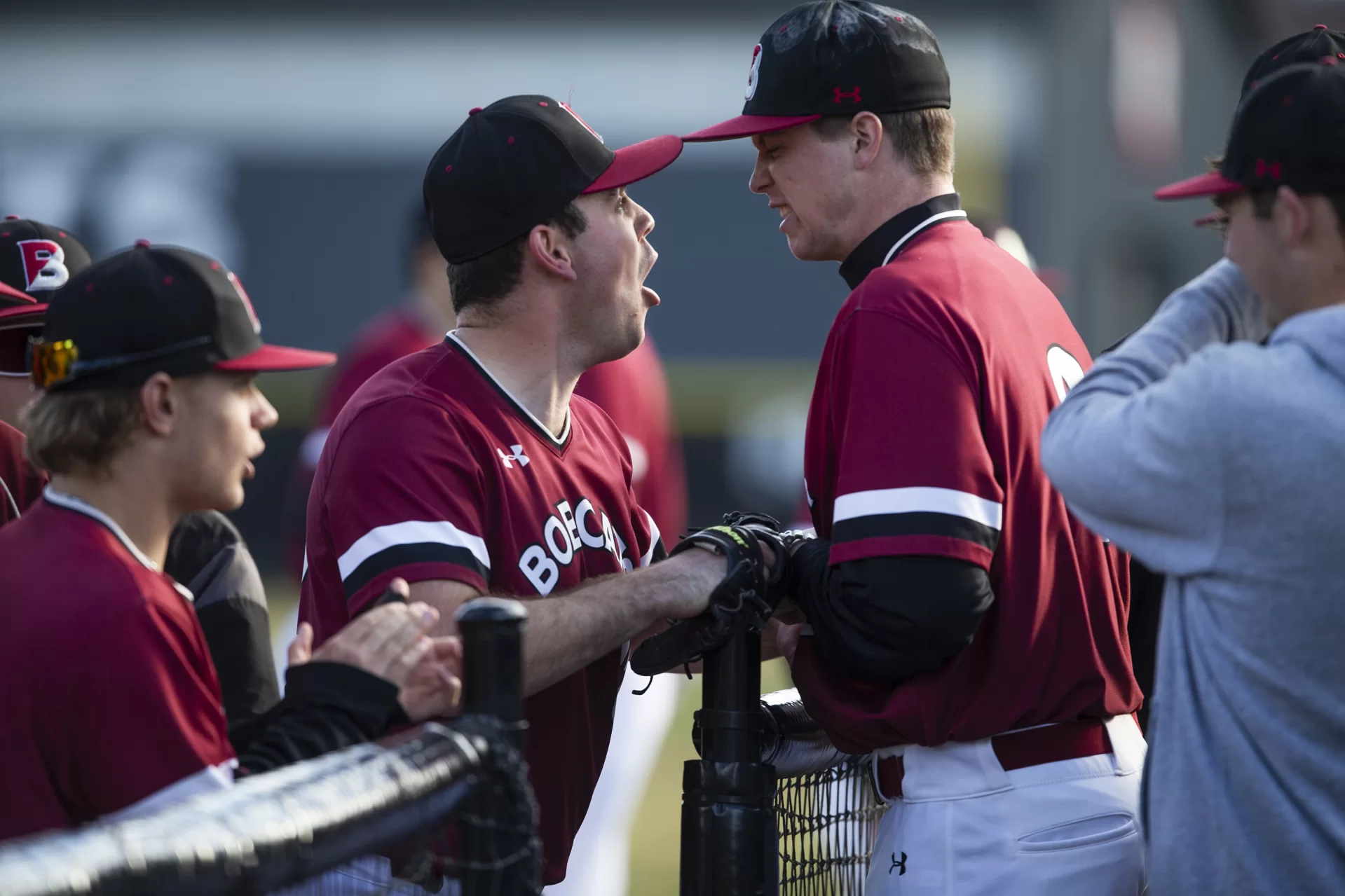 Bates pitcher Jared Pantalony '22 (left) of Brooklyn, N.Y., is pumped up after retiring all seven batters he faced out of the bullpen in a 6-4 win for the baseball team over Plymouth State.
---
Pictures at an Exhibition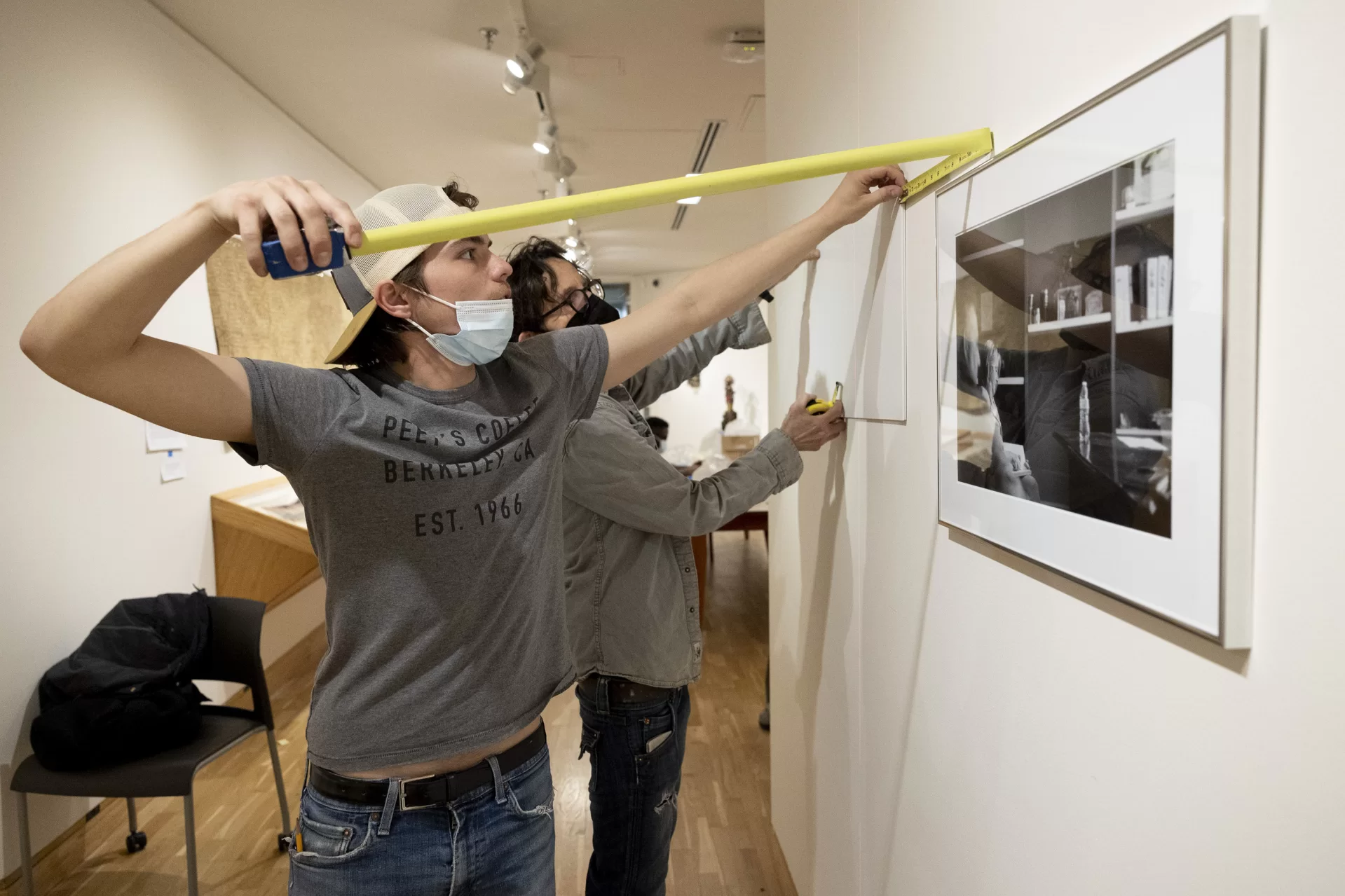 John Loftus '22 of Palo Alto, Calif., a double major in art and visual culture and neuroscience, and Bates College Museum of Art staff member Michel Droge hang one of Loftus' photographs ahead of the annual Senior Thesis Exhibition. Loftus trained his film cameras (a Nikon F3 and a Hasselblad Xpan) on people in Lewiston and the surrounding areas who are struggling with substance abuse and, especially, those who are helping them.
---
There He Blows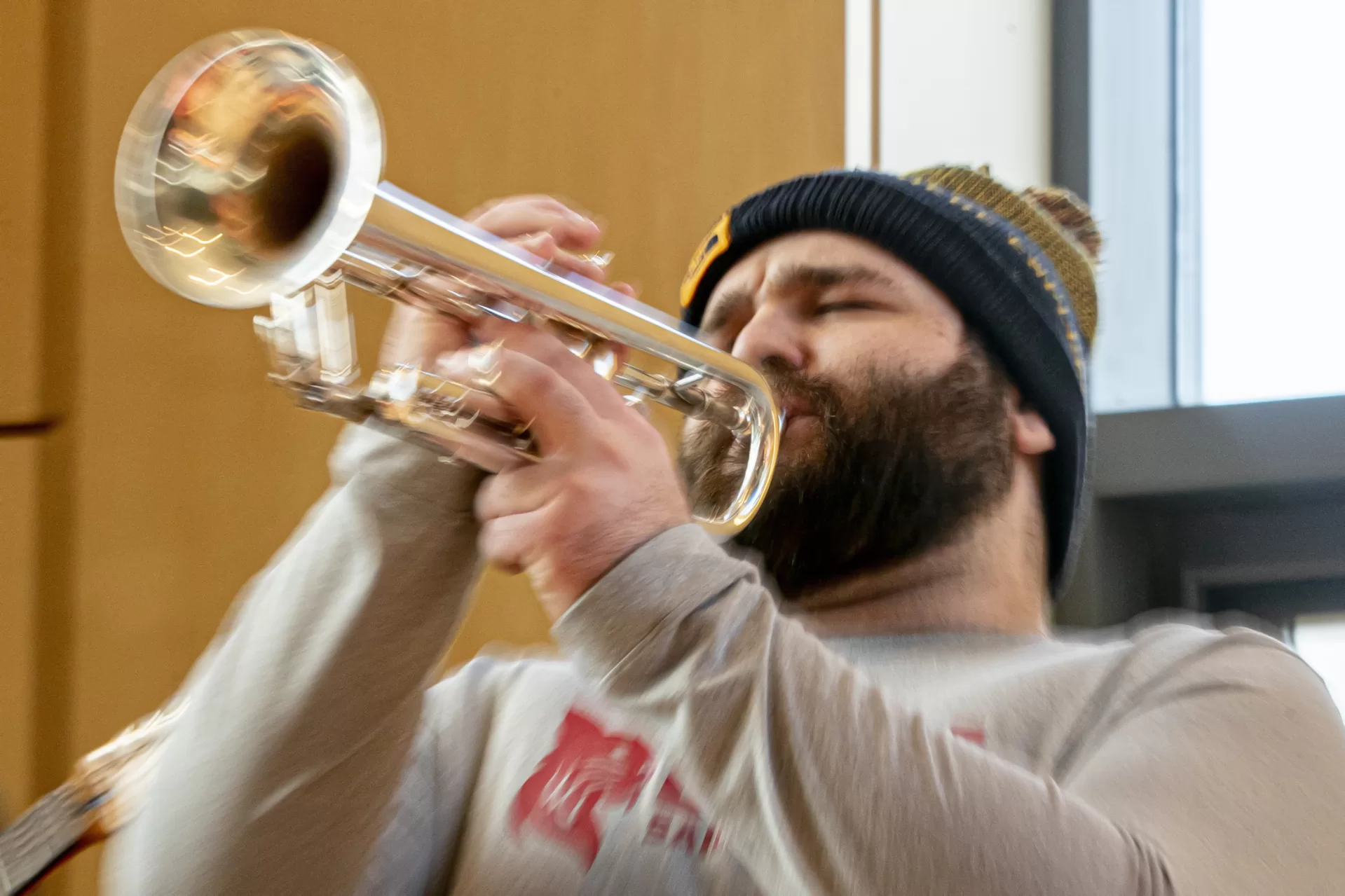 Dylan DiSunno '22 of East Hampton, N.Y., plays the trumpet with ​​Glass of Water as they kick off the 2022 Bates Film Festival with a sweet, funky, bluesy (you name it) set in the Fireplace Lounge in Commons. Fans gathered to listen as they sipped cider and munched on popcorn (think movies) to launch the six-day Bates Film Festival.
---
Bobcat First!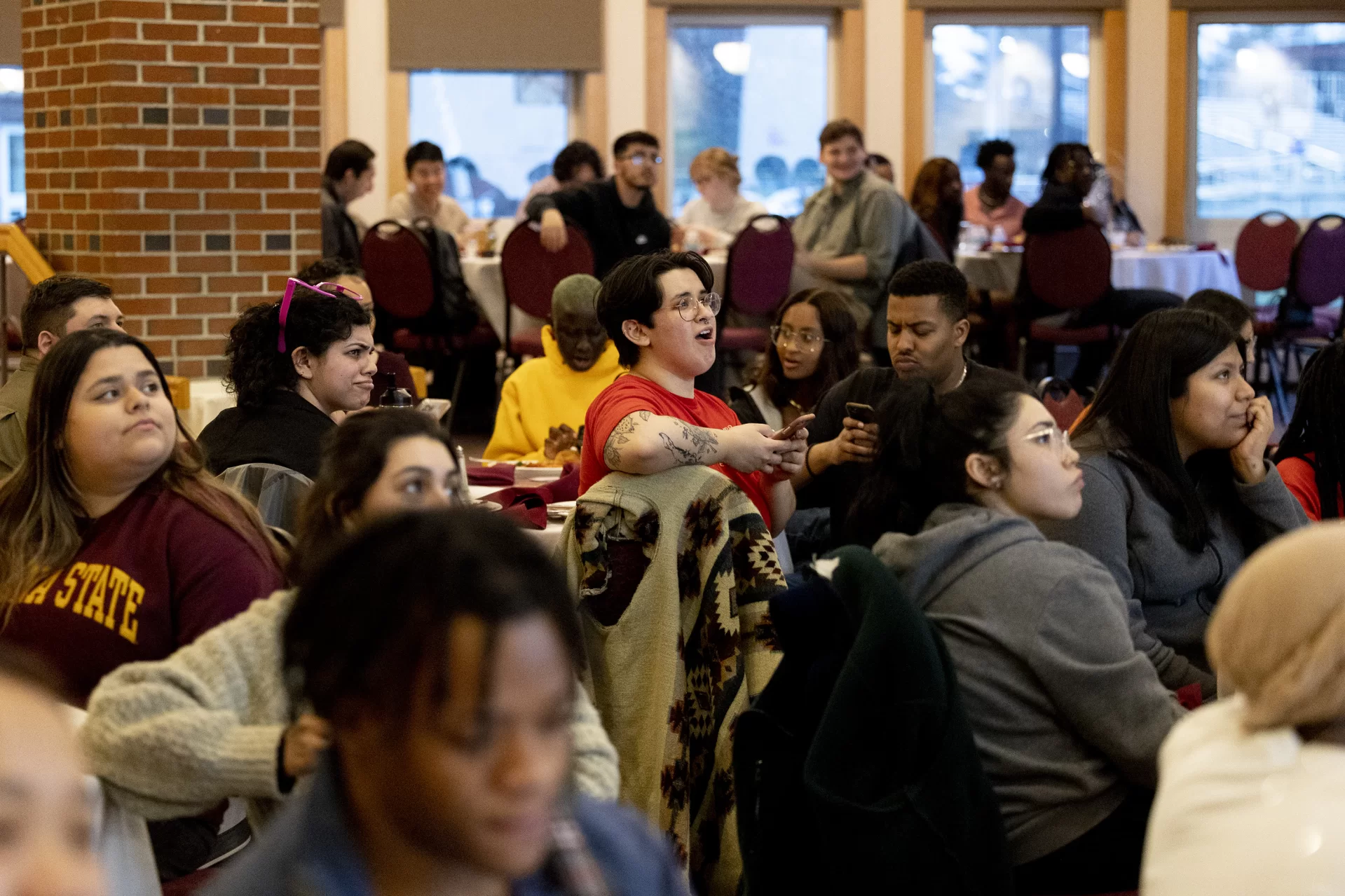 Approximately 80 students, faculty, and staff attended the Bobcat First Banquet in the Benjamin Mays Center in April. The celebration included dinner, tributes to graduating seniors, spoken word poetry by Losseni Barry '22 of New York City, a photo booth, and more. At Bates, the Bobcat First program fosters a greater sense of well-being, belonging, and self-empowerment among first-generation college students.
---
Runner and Jumper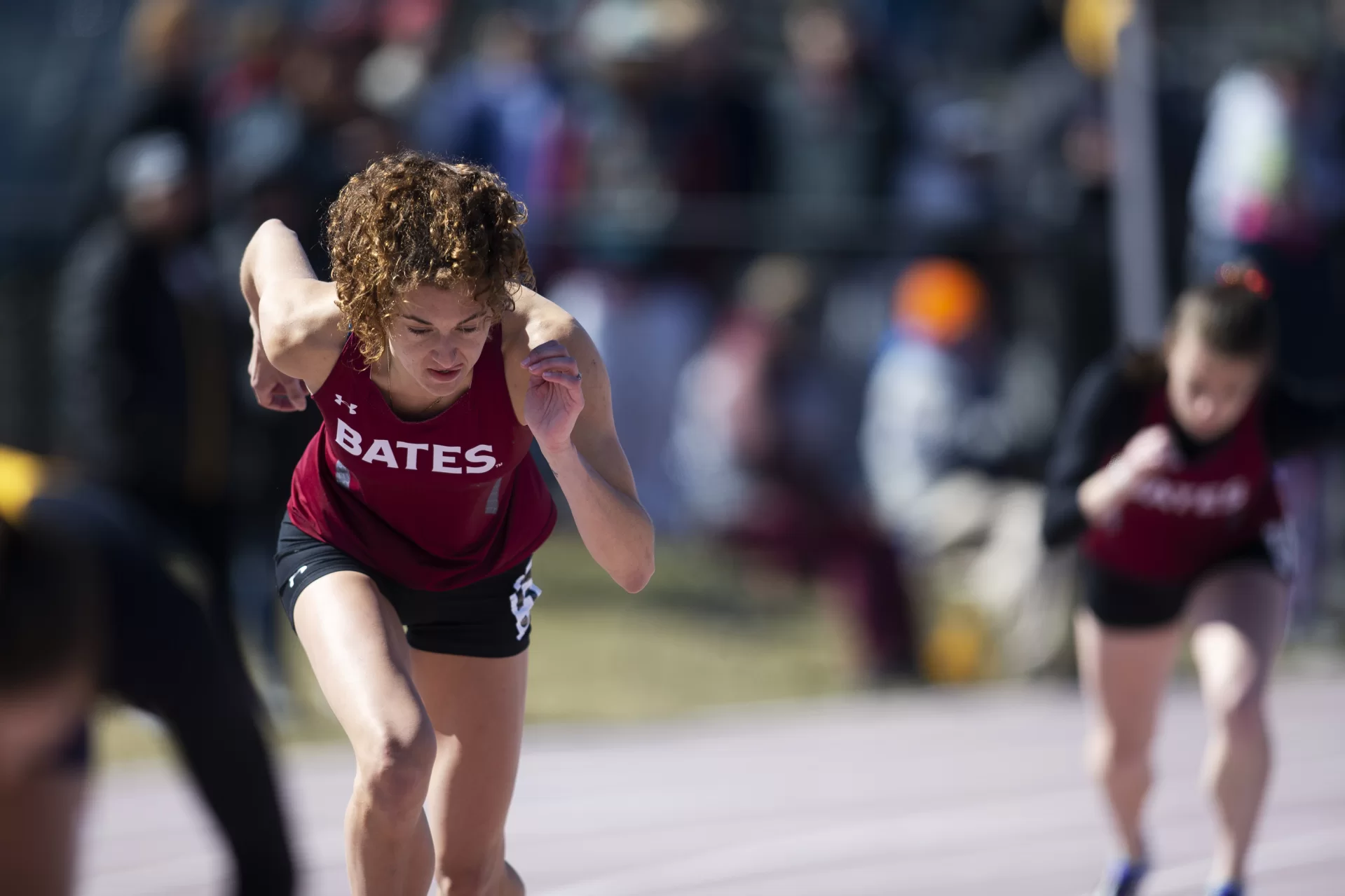 Women's track and field captain Elise Lambert '22 of Amherst, N.H., won the 400 meters and the high jump at the Bates Quad Meet in early April.
Ready for Their Closeup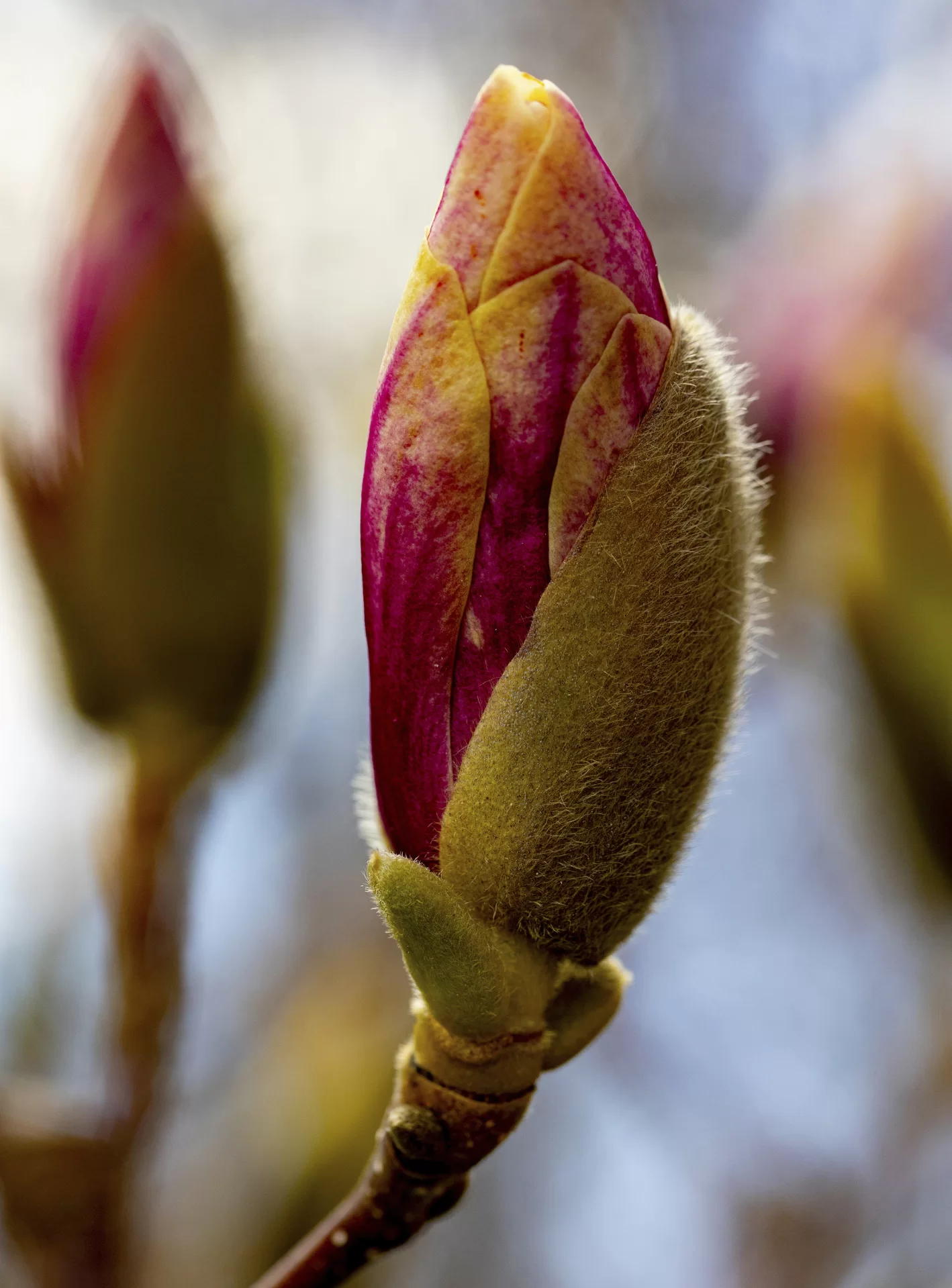 Spring at Bates has truly arrived when the Hathorn Hall magnolia blooms.
---
President's Cup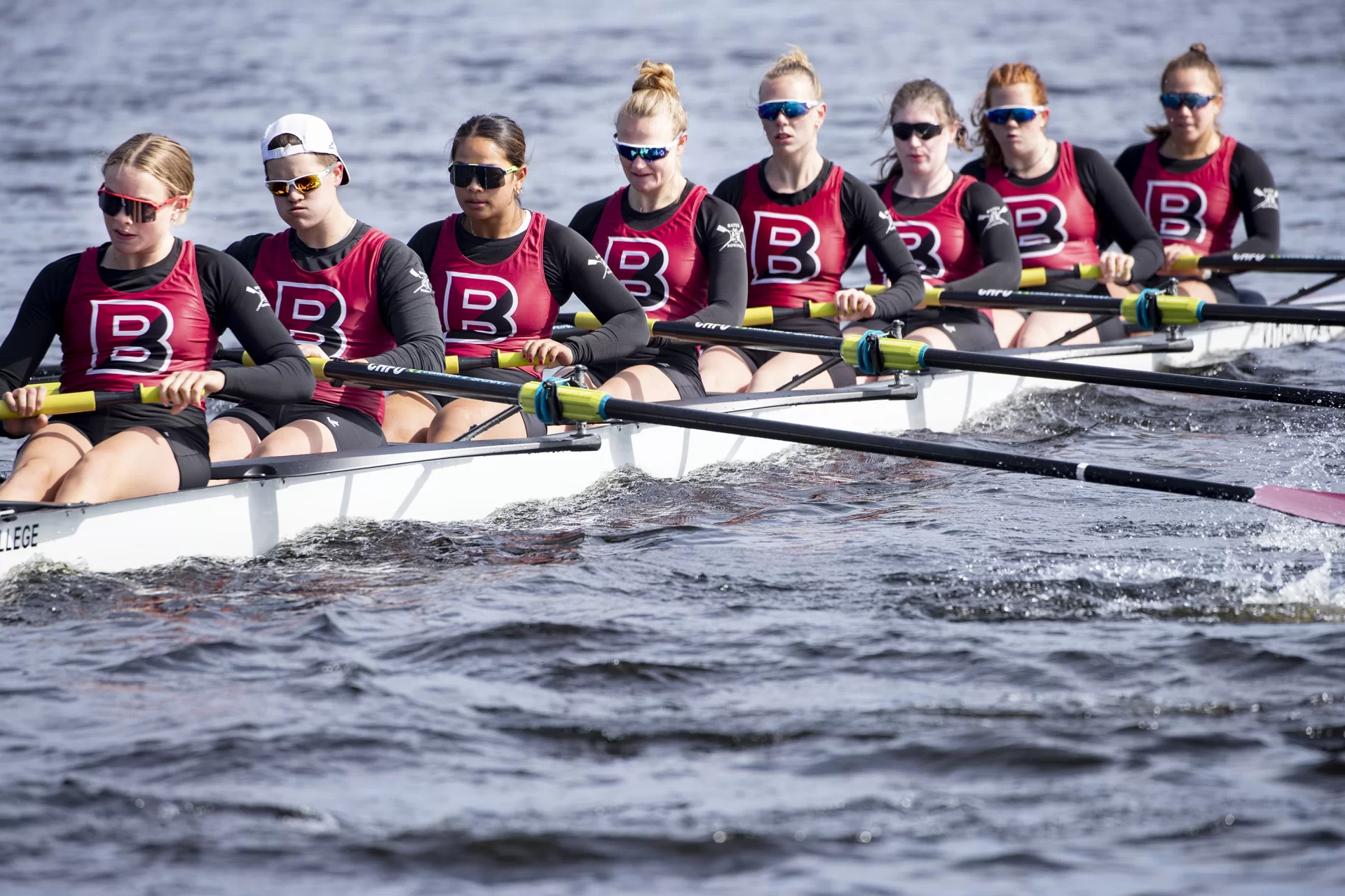 The women's first varsity eight helped the Bates rowing teams win the President's Cup for the ninth straight time over rivals Colby and Bowdoin on the Androscoggin River.
---
With a Focus on Horticulture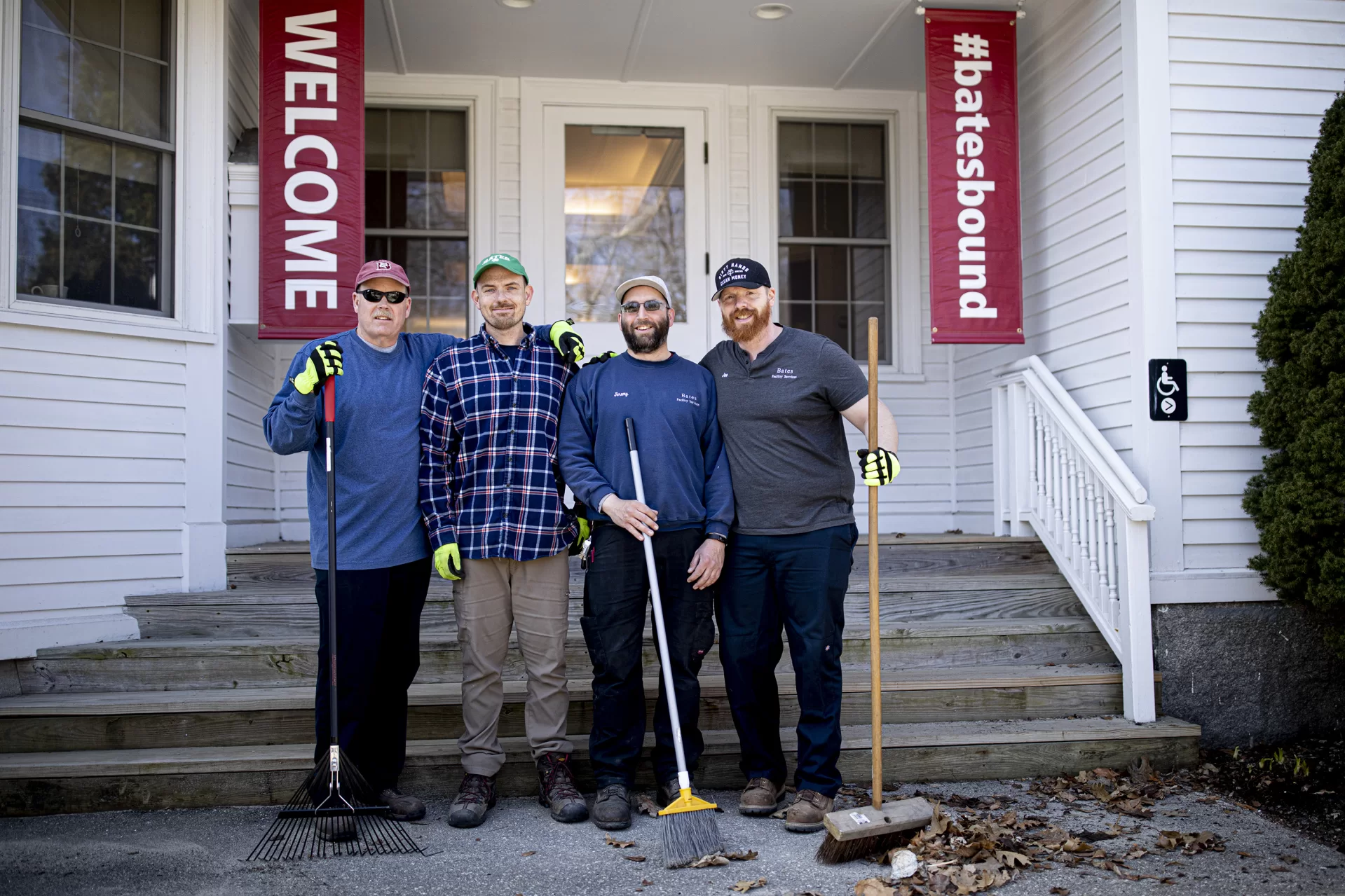 In front of Lindholm House, home of Bates Admission, Facility Services' grounds and maintenance crew pauses in their work — aerating, seeding, loaming, and raking — for a group photo. From left, "Dr." Phil Kenney, Jon-Michael Foley, Jeremy Lavertu, and Joe Castonguay.
---
Dashing Debut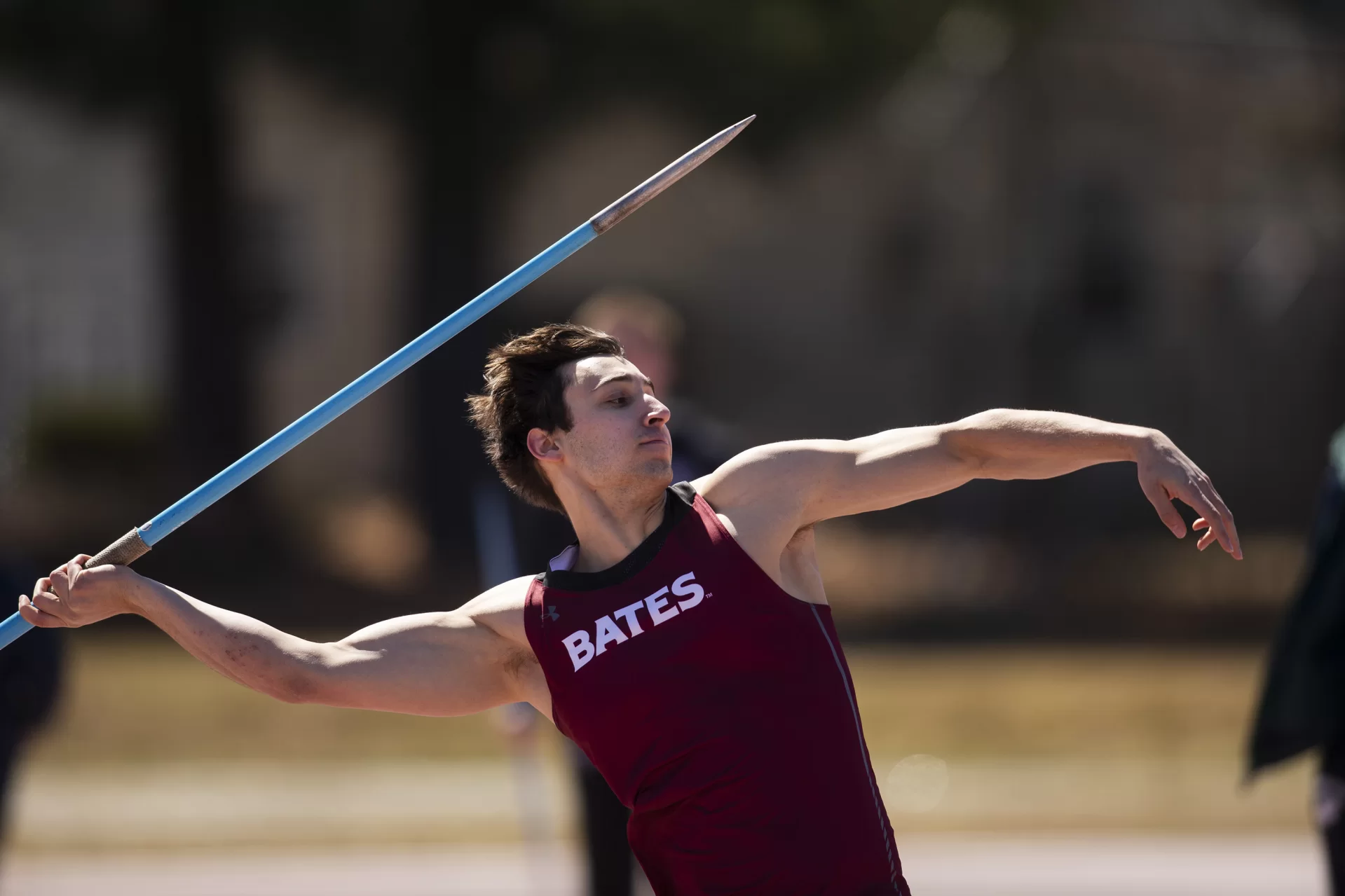 Luke Urribarri '23 of East Sandwich, Mass., made his collegiate debut in the javelin for the men's track and field team at the Bates Quad Meet.
---
Fireside Chat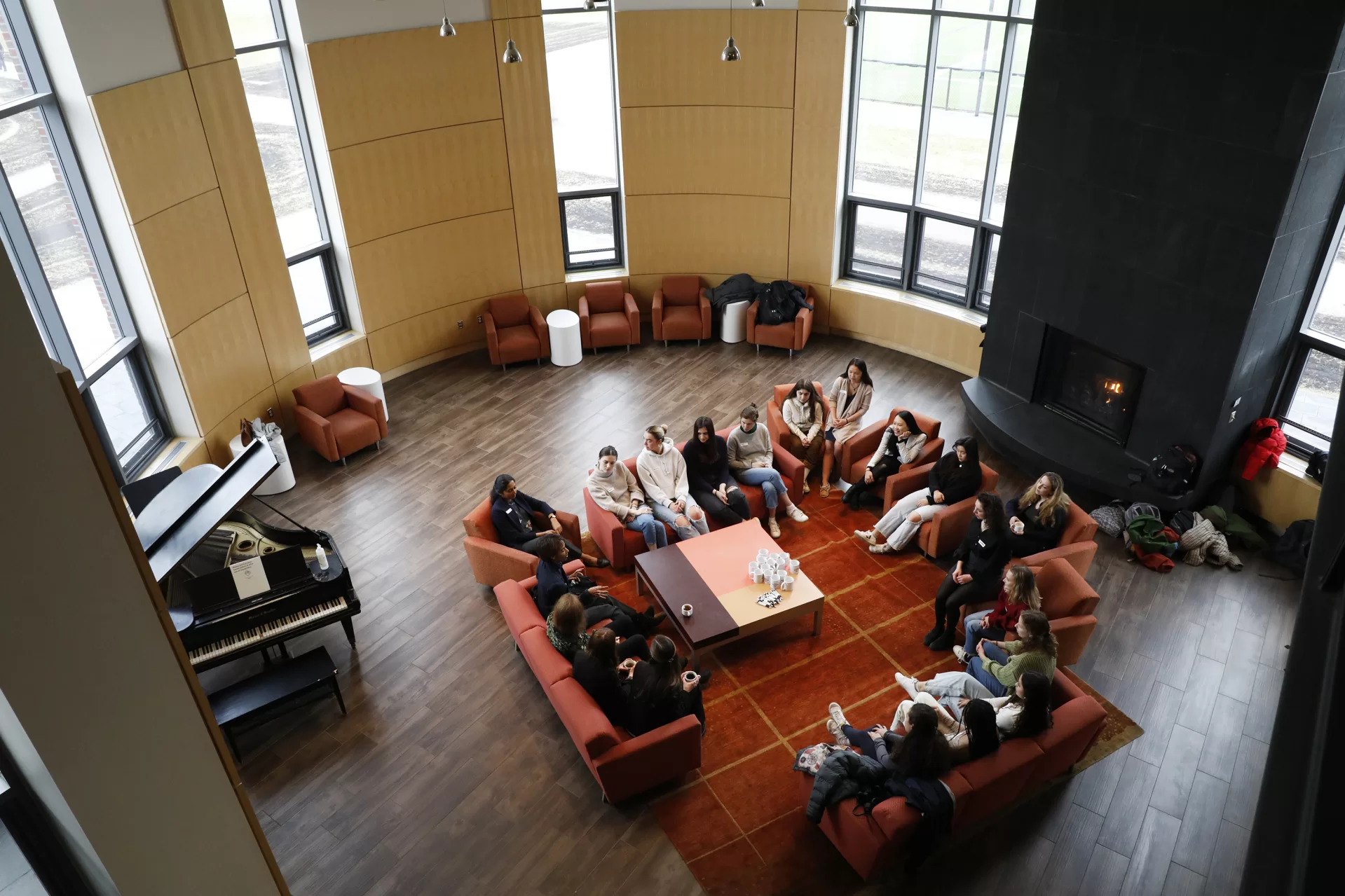 Noted economist Cecilia Rouse meets with Bates students at a welcome reception hosted by the Women in Economics club at the Fireplace Lounge. Rouse is chair of the White House Council of Economic Advisers and the Lawrence and Shirley Katzman and Lewis and Anna Ernst Professor of the Economics of Education at Princeton.
Later in the evening, Elmer W. Campbell Professor of Economics Lynne Lewis and Assistant Professor of Economics Nivedhitha Subramanian engaged Rouse in a lively Q&A session in Pettengill Hall's Keck Classroom, followed by audience questions. The Women in Economics club provides a welcoming space for Bates students to explore the historically male-dominated fields of economics, finance, and consulting.
---
Old Friends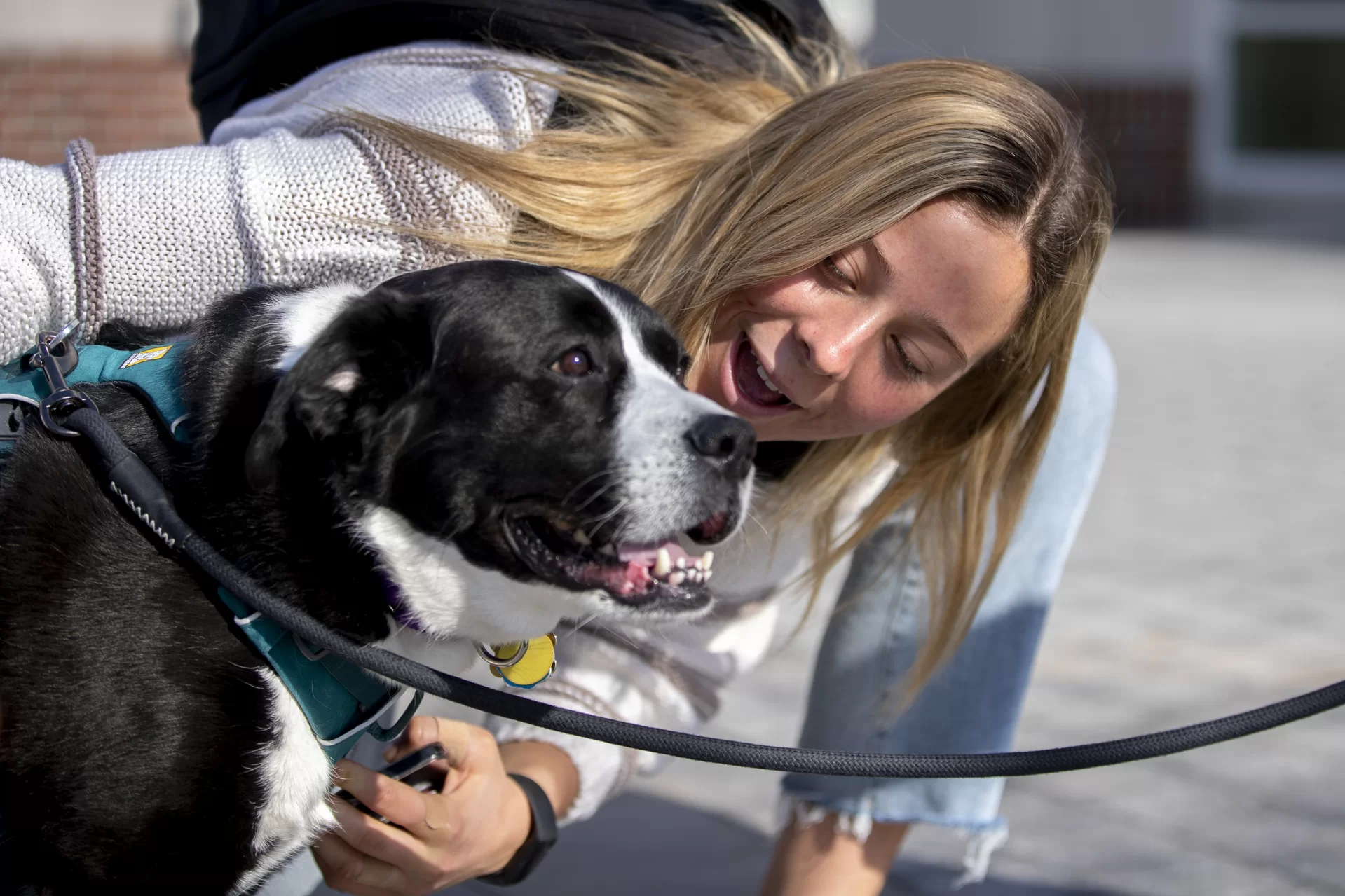 Maggie Kornfeind '25 of Ringoes, N.J., greets Sadie Bird, a 7-year-old Border Collie mix, on Alumni Walk. They're old friends.
---
What's It All About?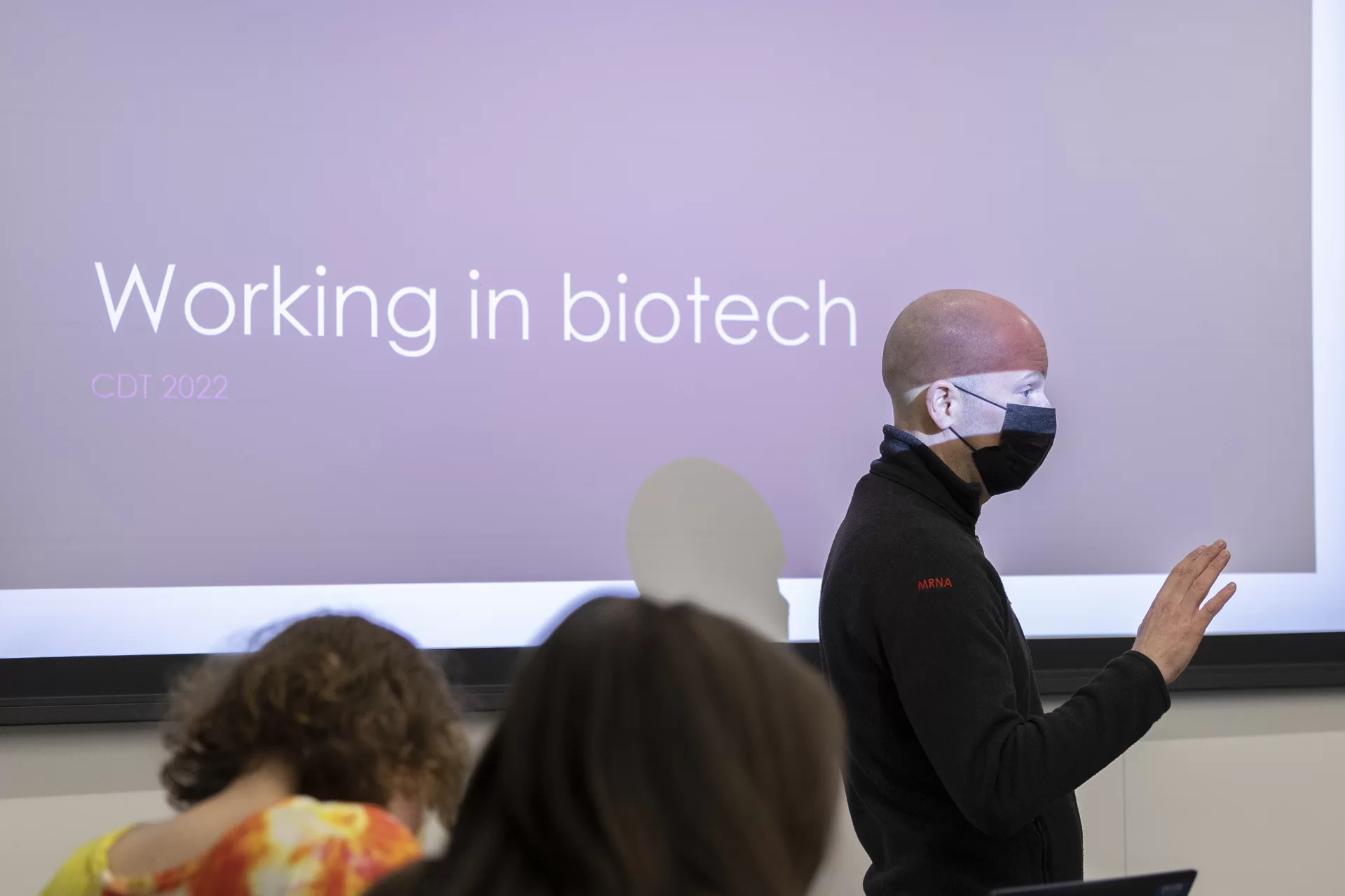 Moderna scientist Chris Tunkey speaks with students in Assistant Professor of Biology Lori Banks' microbiology class. The visit, sponsored by the Center for Purposeful Work, was arranged because Tunkey is a friend and former colleague of Amy McDonough, assistant in instruction in biochemistry and biology. Tunkey "graciously agreed to come spend the day with us and chat to the students about what he does and what it is like to work at a company like Moderna," McDonough said.
Bound by Friendship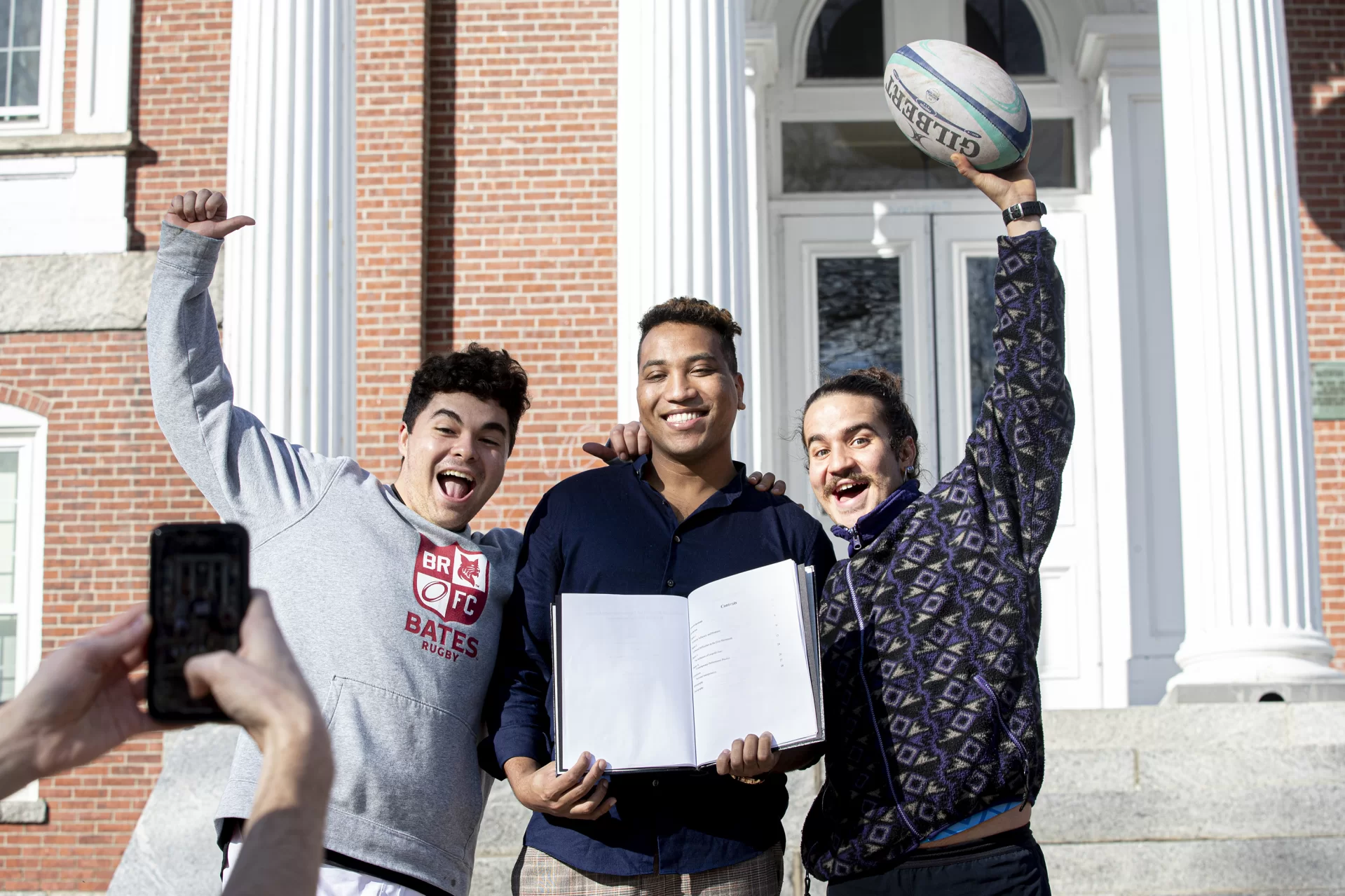 Senior music major Mathieu Moutou of Vacoas, Mauritius, poses for celebratory photographs on the steps of Hathorn Hall with friends Marcos Pacheco Soto '24 (left) of Santiago, Chile, and Miguel Pacheco Gonzalez '24 of San Jose, Costa Rica. Moutou's thesis is titled "Studying the History of the Tchaikovsky Violin Concerto to Inform Modern Performance."
---
Astronomy Extravaganza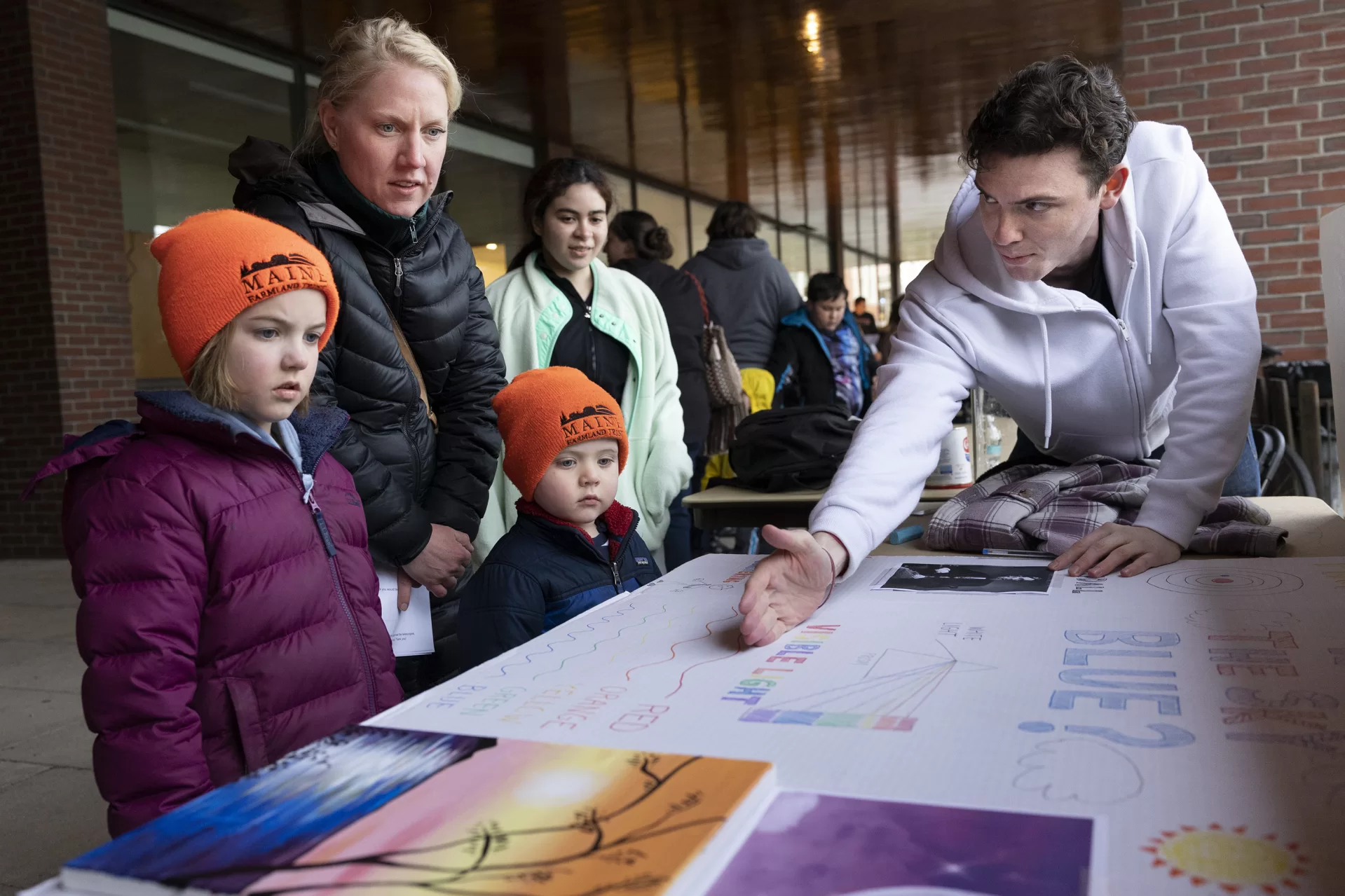 Ben Powell '22 of Chicago explains why the sky is blue to Katie Boss and her children Clara, 7, and Elliot, 4, during the Bates College Astronomy Extravaganza Night held on the Bates Library Quad. This event was the final project for students taking "Introduction to Astronomy," co-taught by Assistant Professor of Physics Aleksandar Diamond-Stanic and Nicole Hastings, assistant in instruction in physics and astronomy.
Fifty-one Bates students designed 20 interactive learning activities for the annual event. "It was nice to see some current seniors who were part of the 2019 event as first-year students come by to check it out, Diamond-Stanic said.
---
A Joyous Display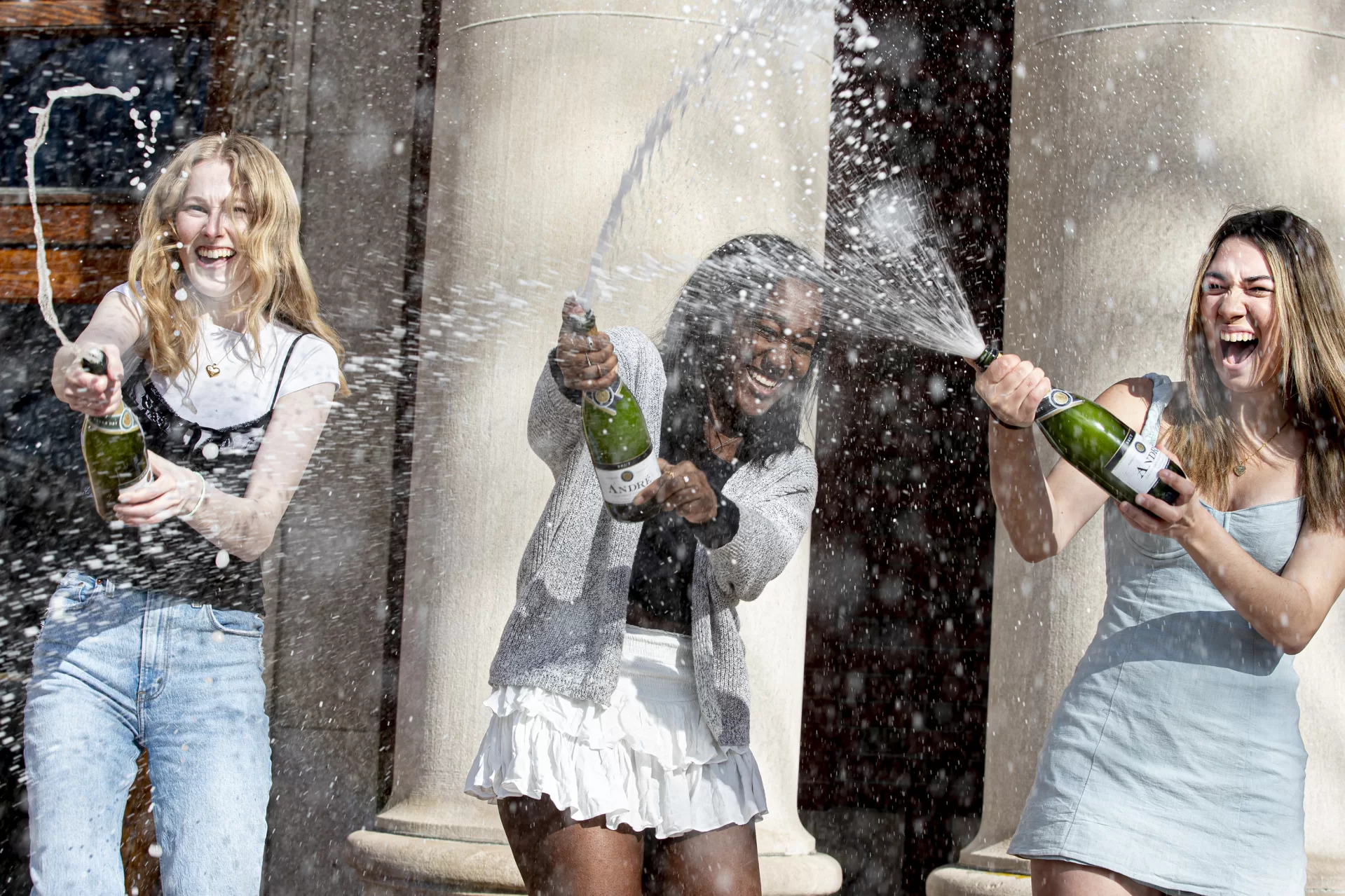 Seniors Julia Henderson of ​​Kensington, Md., Kayta Tsemo of Andover, Mass., and Isabella David of New York City, pop their champagne corks, one of the various rituals associated with binding a senior thesis at Bates, on the Coram Library porch. They met as first-year students in AESOP and have been friends and roommates ever since.
---
Senior Day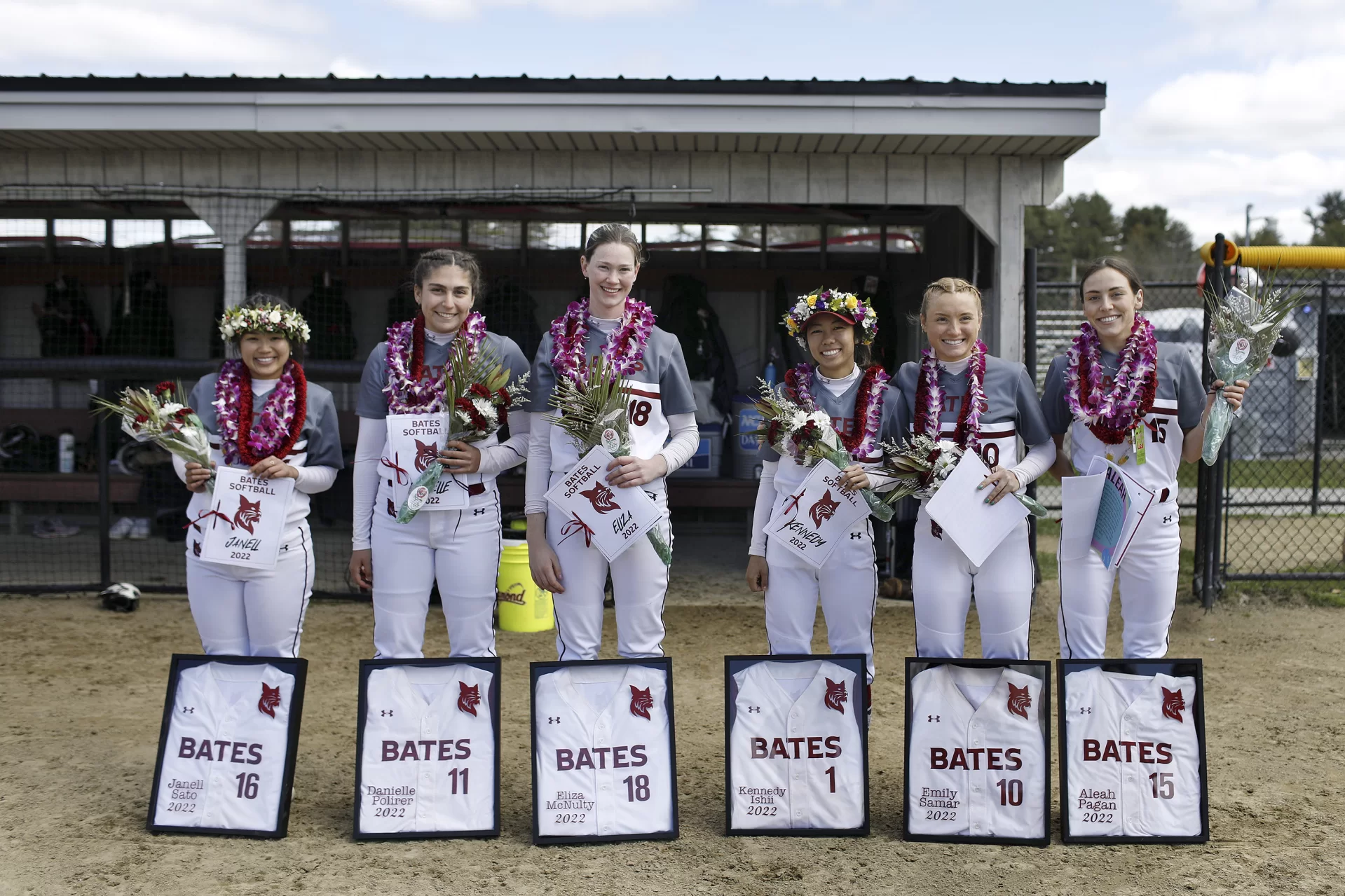 Honored on the softball team's Senior Day on April 30 were, from left, Janell Sato, Danielle Polirer, Eliza McNulty, Kennedy Ishii, Emily Samar, and Aleah Pagan.
---
Reproductive Rights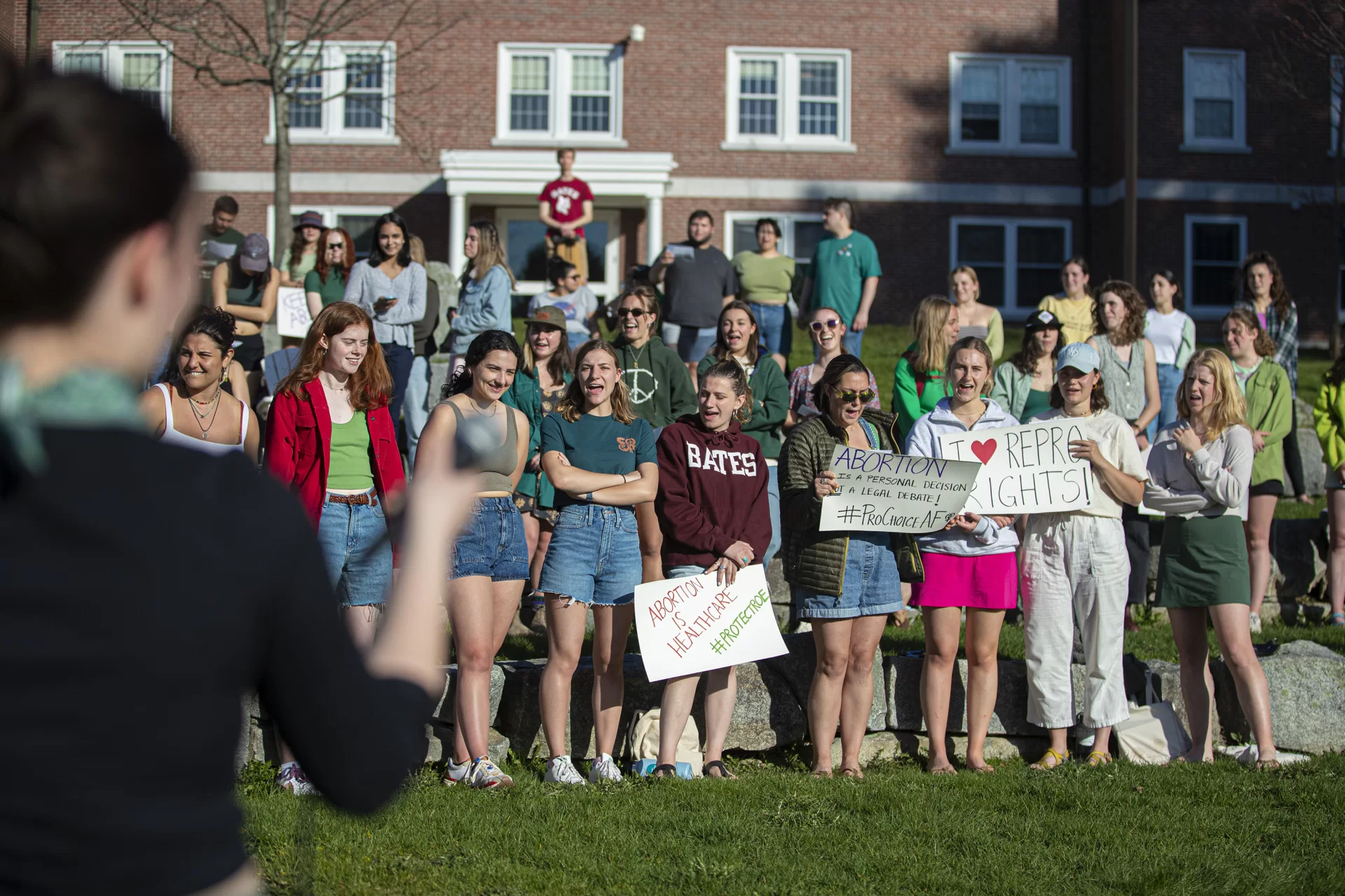 Adrian Madanes '25 of Argentina addresses the crowd gathered at the Keigwin Amphitheater on May 5 for a rally to support abortion rights. The rally was part of a coordinated national campus action to protest the U.S. Supreme Court's possible overturn of Roe v. Wade. "We are here organizing with the reproductive freedom movement," Madanes said, "We are here to show support for reproductive rights."
The World Begins Anew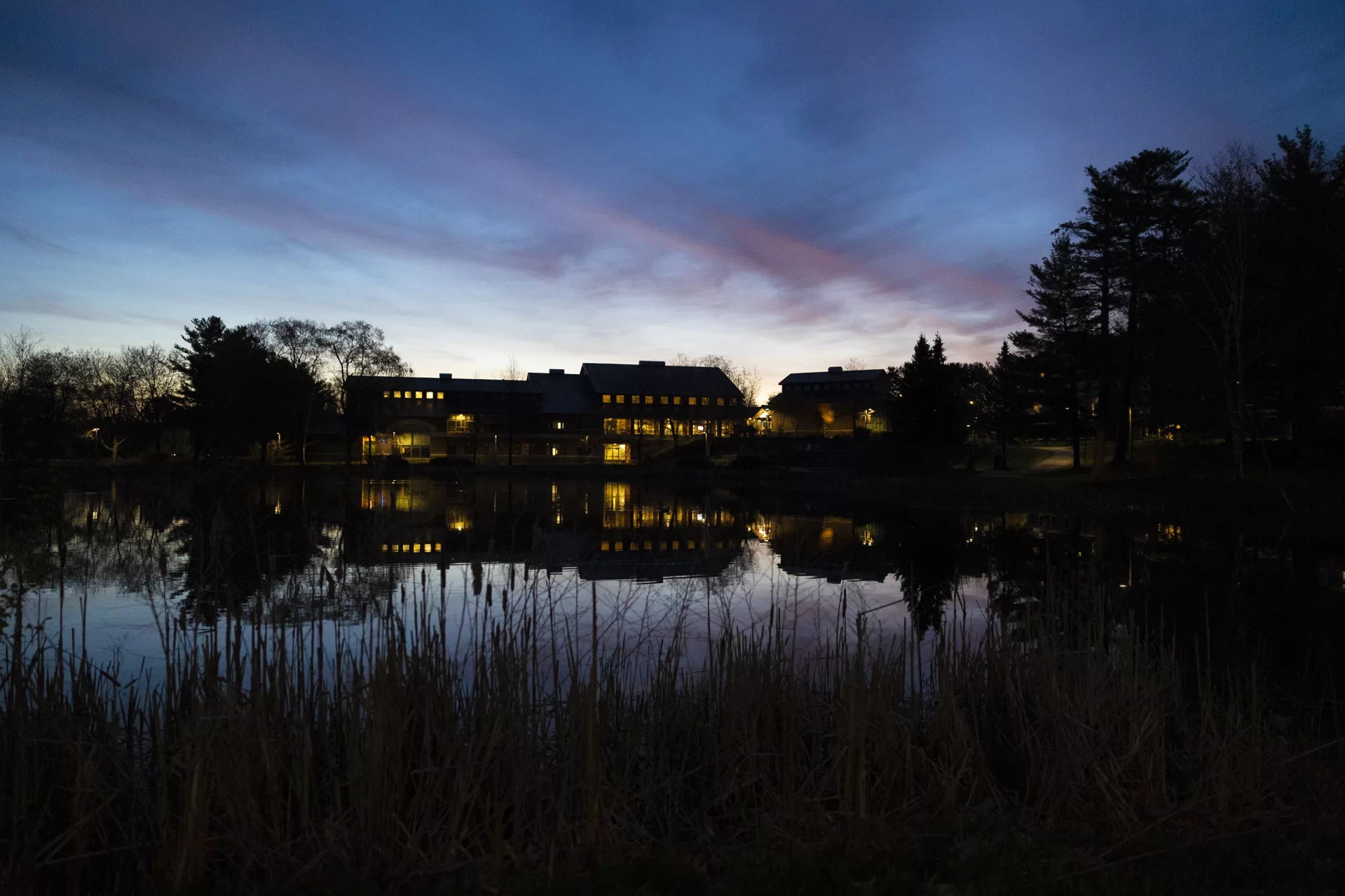 The early bird catches this view of Lake Andrews as light appears on the horizon.
View Comments