It's opening day of the 2021 Major League baseball season, and here are some photographs and stories about the old ball game at Bates.
High Pitch
Called a "lanky portsider" by The Bates Student and an "elongated lefty" by the Bangor Daily News, the late Donald Webster '41 wore this glove as a 6-foot-5 lefthanded Bobcat pitcher. He was also a standout high jumper who held the Maine indoor record.
With a nifty curveball and changeup, Webster one-hit the University of Maine 70 years ago this month, allowing only two fly-ball outs and striking out eight.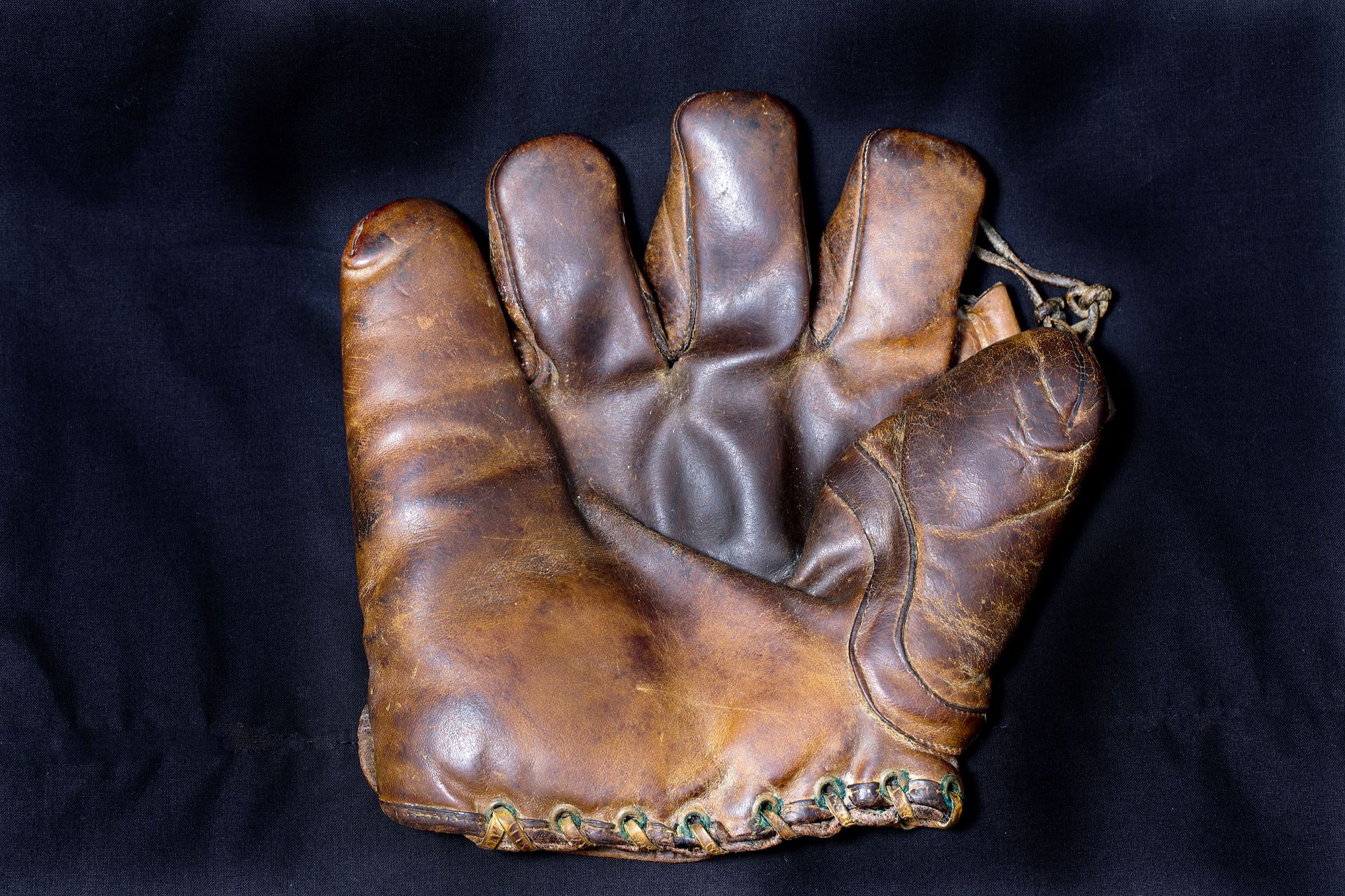 Ball Three
In 1956, governors attending their annual conference in Atlantic City, N.J., including then-Maine Gov. Edmund Muskie '36, received as gifts baseballs signed by players on the three Major League baseball teams then in New York City: the New York Giants, the New York Yankees, and the Brooklyn Dodgers.
Here's the Dodger baseball, featuring Hall of Famer Jackie Robinson's signature at top followed by those of Ed Roebuck, relief pitcher; Clem Labine, relief pitcher; Rocky Nelson, first base; Charlie Neal, second base; Rube Walker, catcher; and Sandy Amoros, left fielder.
A year later, the Dodgers and Giants would both announce their moves to Los Angeles and San Francisco, respectively.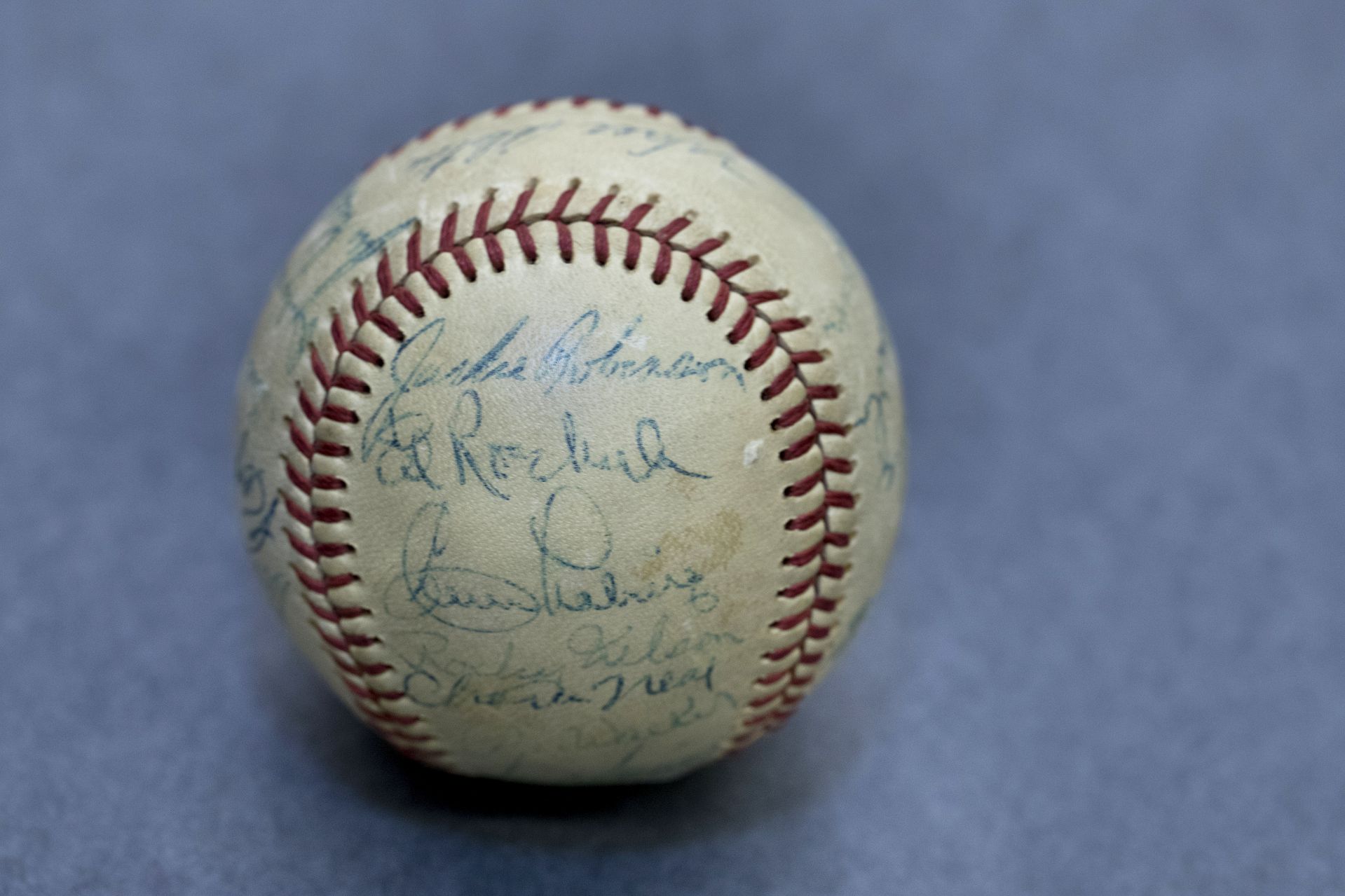 ---
Good Contact
This video clip shows a 1930s baseball game on the old Garcelon Field diamond, near where the Residential Village now sits. Research suggests it might be a Bates victory over the University of Maine from 1936.
The pitcher's three-quarter arm slot — not overhand, not sidearm, but in between — appears to be "natural, loose, and easy," says Bates head coach Jon Martin. "And I would predict this type of pitcher could master a two-seam fastball and/or sinker."
The Bates hitter looks to have a great "two-strike approach," meaning he's trying to make contact to score the runner from third base. "I bet he's a clutch hitter," Martin says, noting how the batter attacks the outside pitch and drives it to right field. "I love it. This guy could hit in my lineup any day."
---
My Lord
Harry Lord, who attended Bates for most of the 1904–05 year, playing football and baseball, went on to a notable Major League career. In 1908, as captain of the Boston Red Sox, he hit .315, good for fourth in the American League behind future Hall of Famers Ty Cobb, Eddie Collins, and Napoleon Lajoie.
As captain of the 1911 Chicago White Sox, he did even better, batting .321. "Lord is acknowledged to be the best third baseman in the circuit," wrote The English News of Indiana.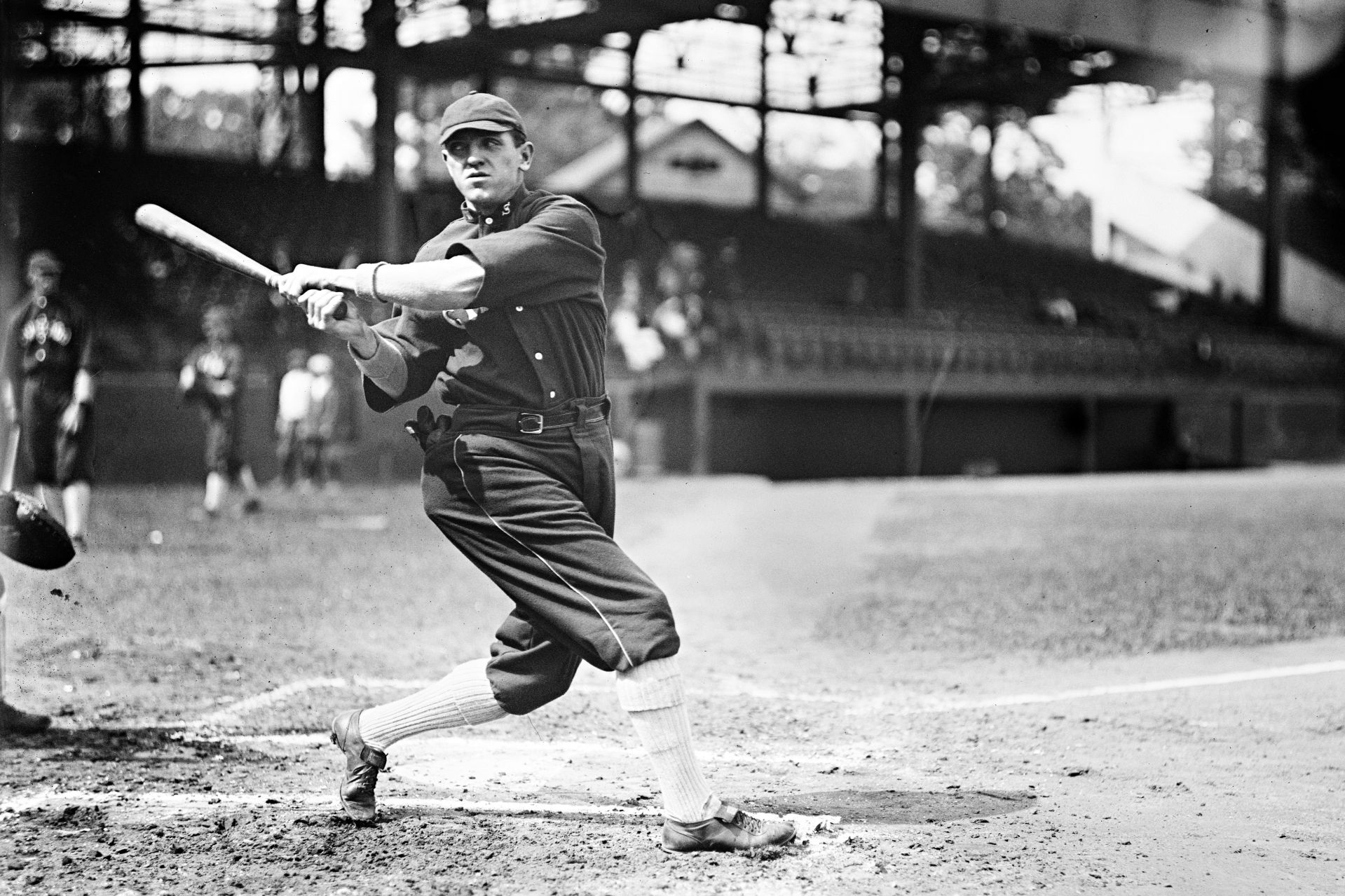 ---
Stating Their Case
The 1892 baseball team posted a 7-1 record en route to the Maine state title.
In this photo, the man in the tan suit is senior Jacob Little, team manager. (Another team photo, likely taken later that spring, shows Little brandishing a silk top hat, awarded to the state champion manager.) Team scorer Wilson Marden, a junior, stands at left displaying his scorebook.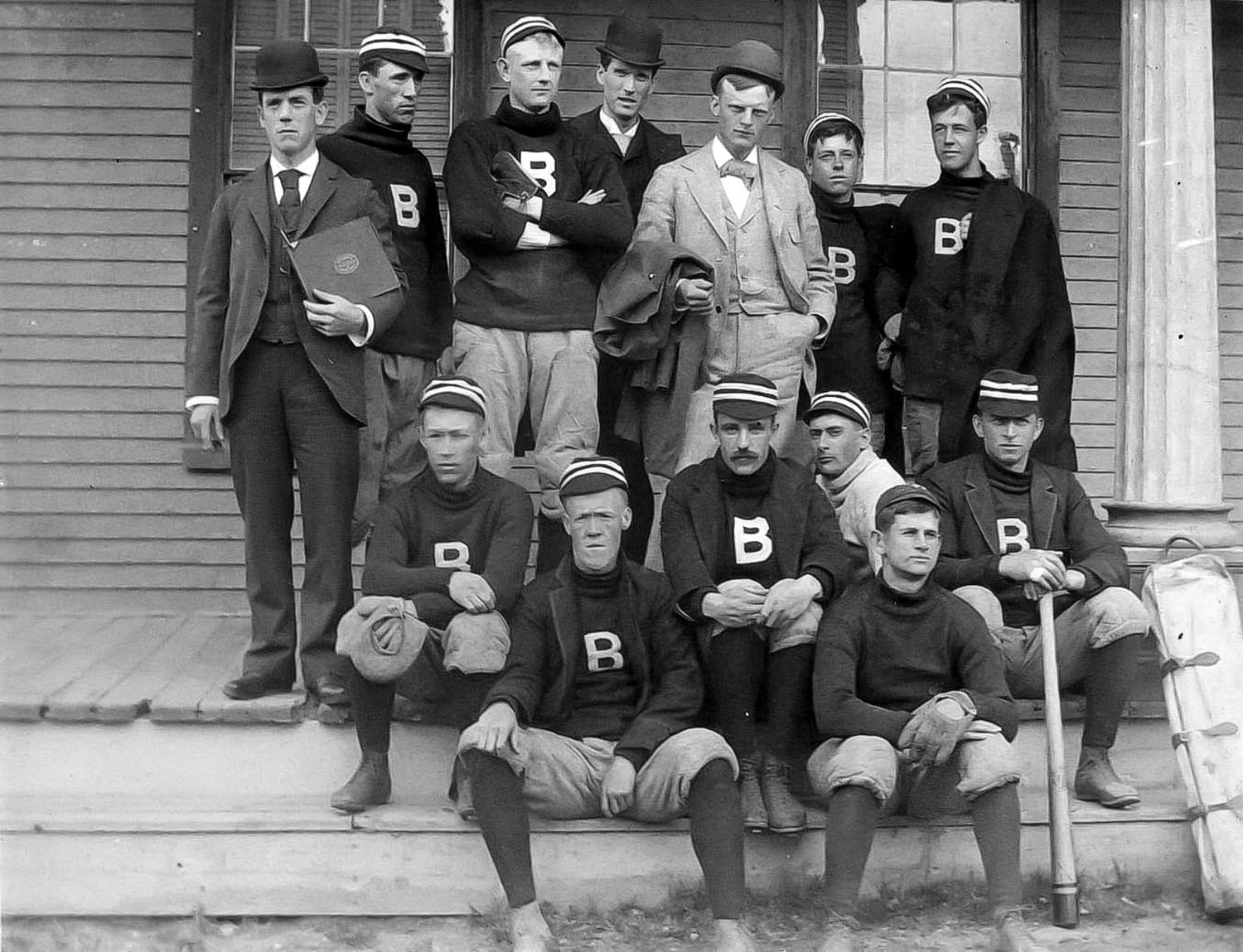 The slugger on the team was mustachioed senior left-fielder William Putnam (seated), Class of 1892, who hit a team-leading four home runs, Putnam was 5 feet, 11 1/2 inches and 165 pounds. That's a burly physique in a senior class that averaged 5-10 and 151 pounds, a fact we know because each graduating senior's height and weight was noted in The Bates Student.
Below, Putnam (seated at right) poses with the Class of 1892 team in their sophomore year after they beat the juniors during class competition in baseball.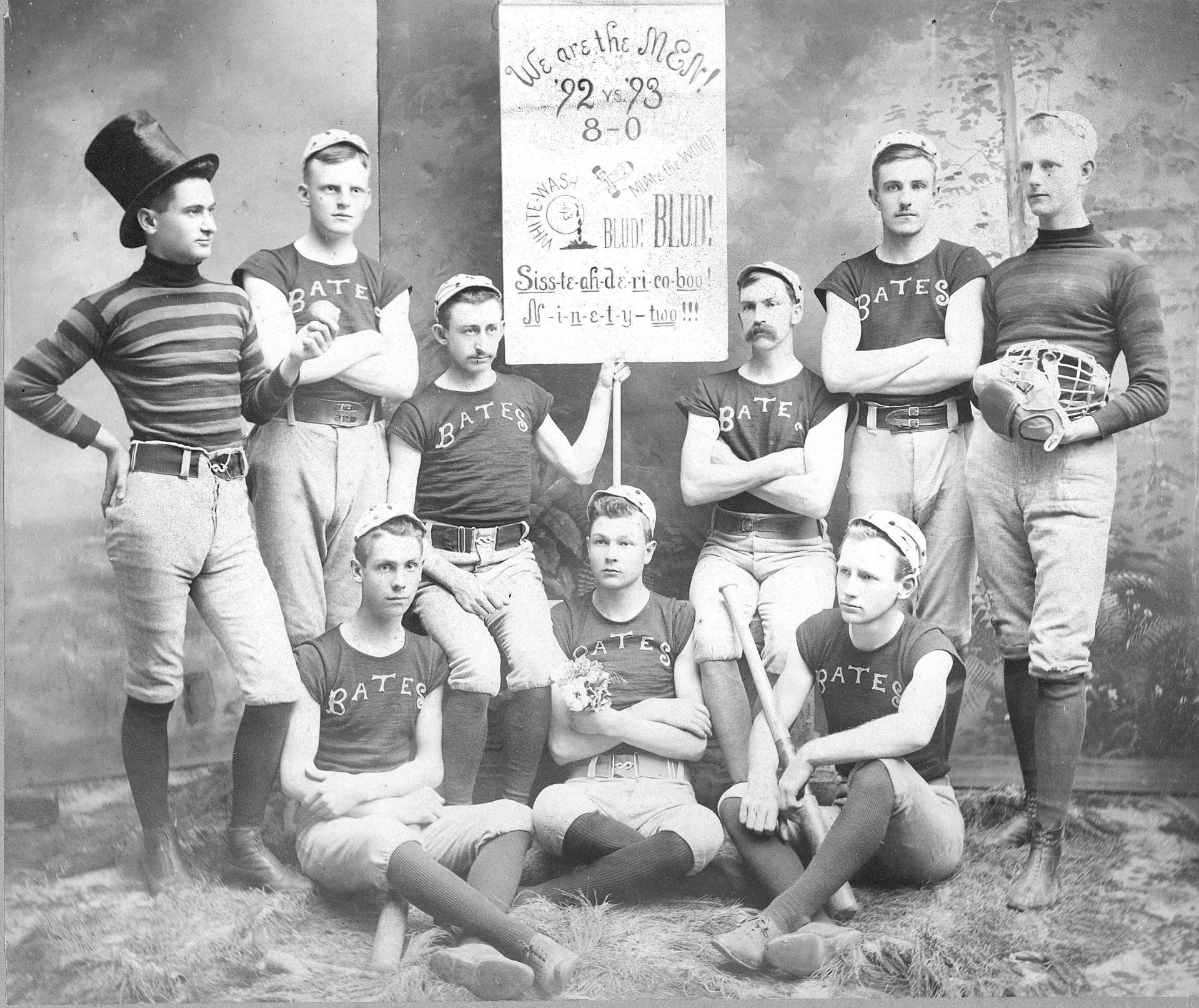 Well Run
On Oct. 23, 2014, William "Chick" Leahey '52 donned his No. 11 Bates jersey at his home on East Avenue, the day before his jersey was retired during Homecoming festivities at the college.
"I never got run," said Leahey that day, noting that in his half-century of organized baseball, including high school, minor league, semi-pro, and 36 years as a head coach of Bates baseball, he never got tossed from a game by an umpire.
In 1990 the college's baseball field was named in his honor and in 2014, his baseball jersey number 11 became the first Bates baseball number to be retired.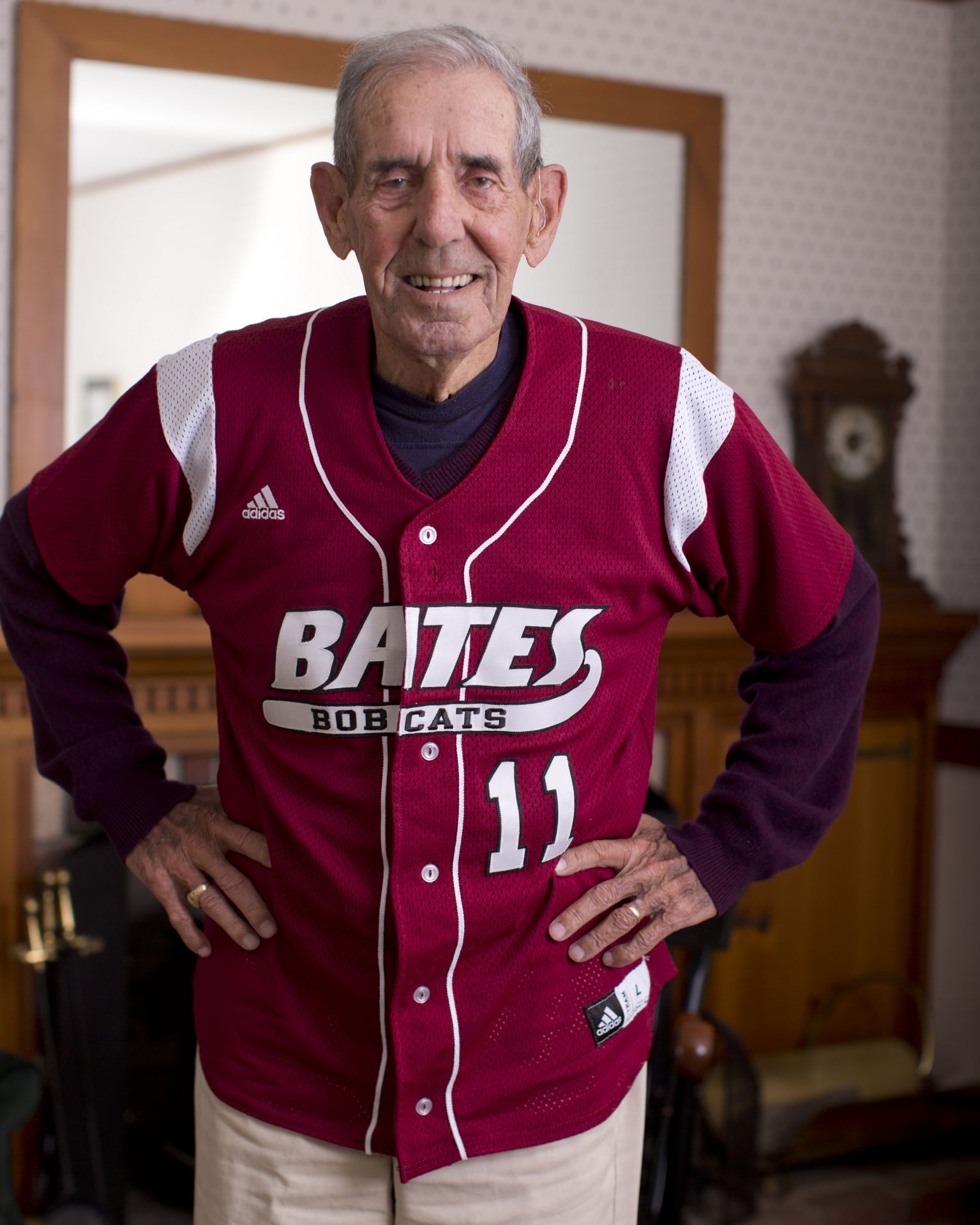 Rough and Ready
Lewiston-born Bill Carrigan was a combative player-manager who led the Boston Red Sox to World Series titles in 1915 and again in 1916. In the 1930s, he coached the Bates team. Babe Ruth, when he was with the Sox, called Carrigan his best-ever manager.
A catcher who earned the nickname "Rough," Carrigan was famous for blocking a runner's path to the plate, which often led to spectacular collisions — and fights. According to The Irish in Baseball (Carrigan was born to Irish immigrant parents), the ballplayer was "intelligent and well-spoken" off the field, "but one of baseball's best fighters on it."
"You might as well try to move a stone wall," Chicago White Sox manager Nixey Callahan once said.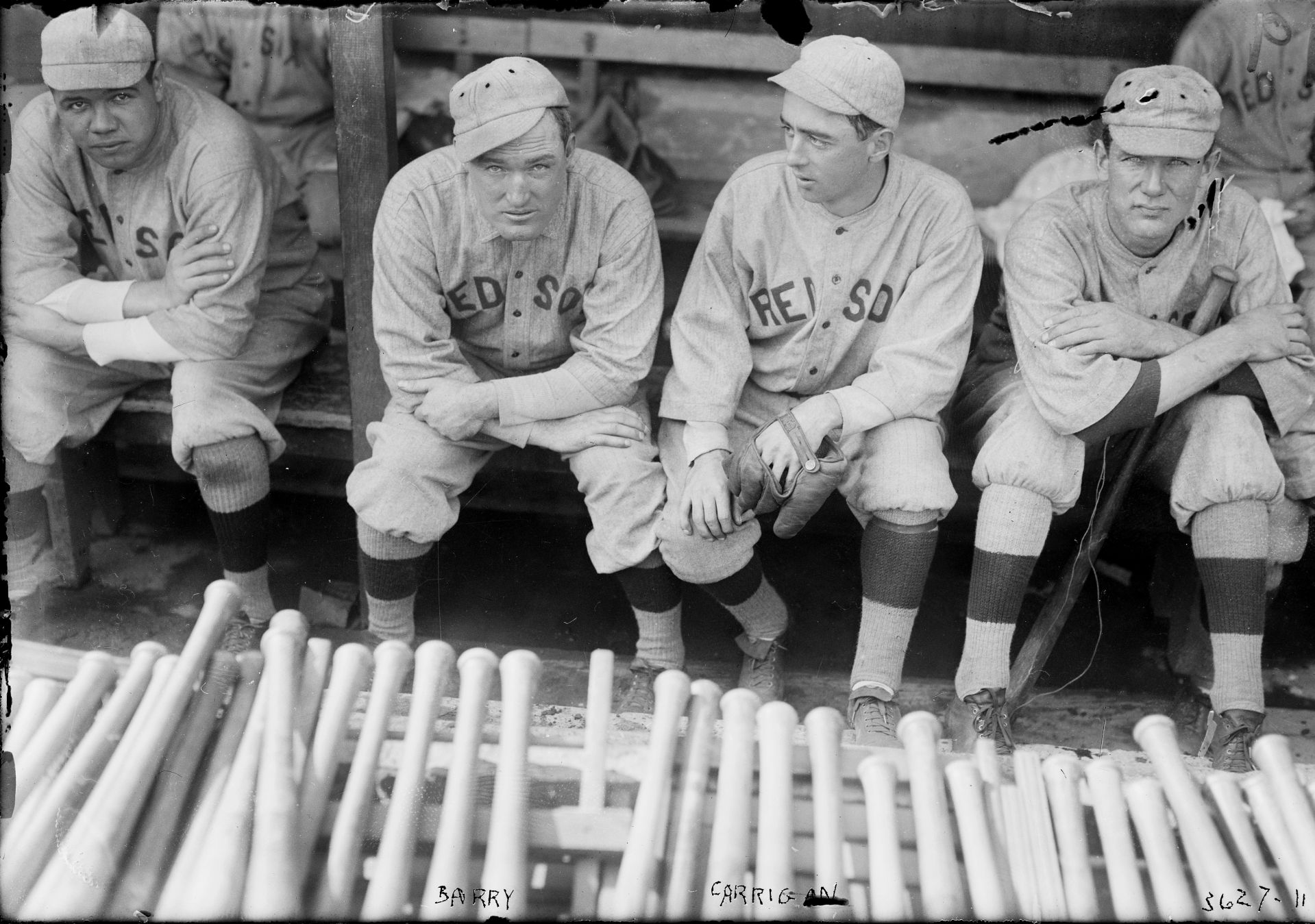 View Comments