In what promises to be another highly distinctive Bates graduation, following last year's virtual edition, this year's Commencement will feature two complete, in-person ceremonies on May 27.
Each ceremony will accommodate half of this year's 469 seniors, and audience members will be admitted by ticket only, with each Bates senior who participates in person receiving two guest tickets.
The morning ceremony, for seniors with last names A–K, will begin at 9 a.m., and the afternoon ceremony, for last names L–Z, at 3 p.m.
For our Class of 2021 seniors, here are 21 frequently, and infrequently, asked questions about this year's Commencement.
1. What's different about this year's ceremony?
The processional, from Lane Hall to the Historic Quad and Coram Library, will take a more direct route rather than heading around the Quad.
It will not involve the tradition of the graduates pausing on either side of the walkway while the president, honorands, and faculty march between them.
2. What's the same?
Nearly everything else.
At each ceremony, President Spencer will offer a welcome, followed by the Senior Speakers, presentation of honorary degrees, and seniors celebrating their individual moments of accomplishment by crossing the Coram Terrace as Vice President for Academic Affairs and Dean of the Faculty Malcolm Hill announces their names.
Each ceremony will conclude with a benediction by Multifaith Chaplain the Rev. Brittany Longsdorf, after which seniors and guests will have meals available to them near their residences.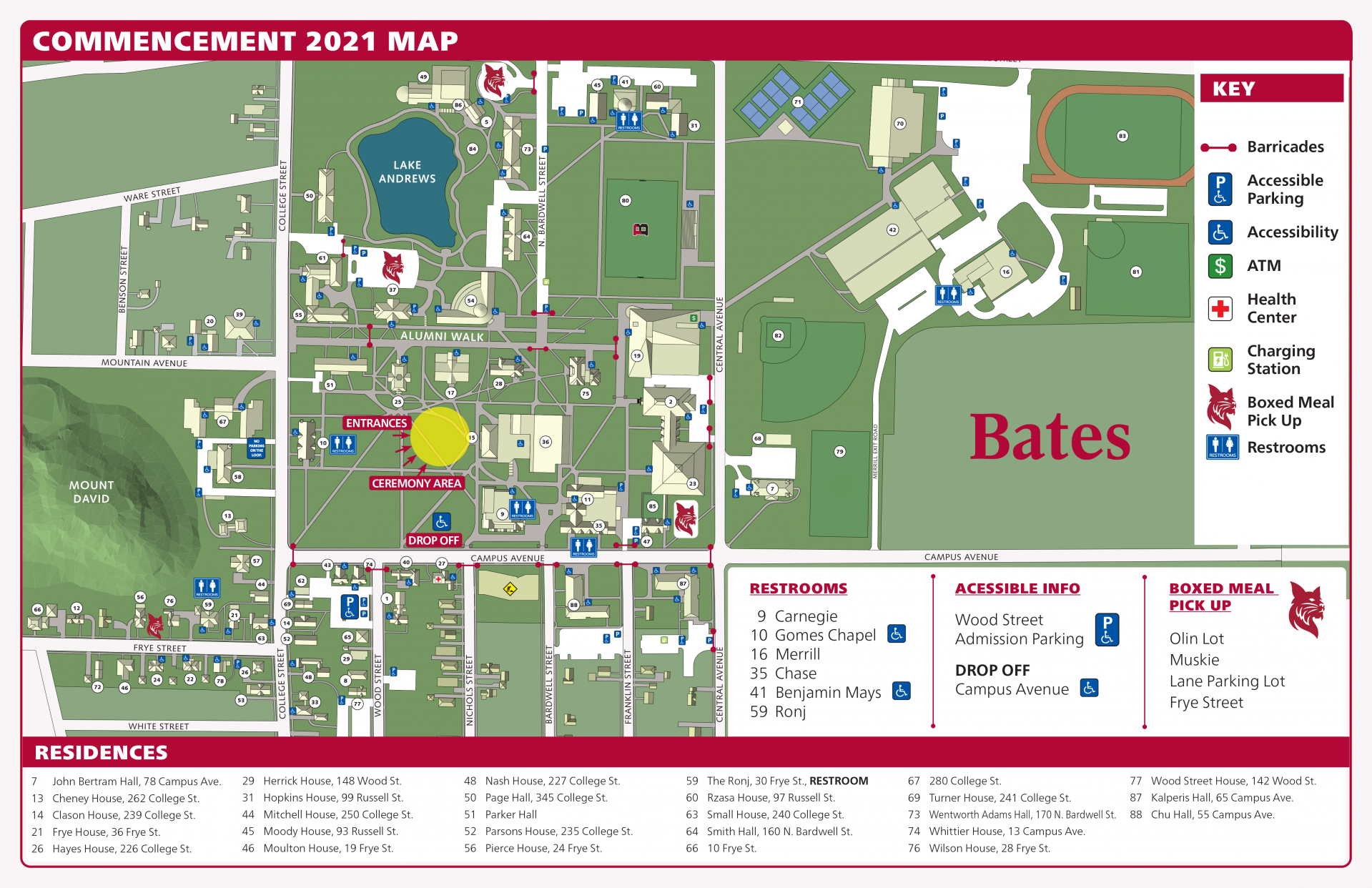 3. How do I watch the ceremonies?
The two 2021 Commencement ceremonies will be publicly livestreamed for all to watch:
For the convenience of guests attending in person, the livestream will be displayed on a 20 foot by 10 foot monitor on the Coram Library Terrace, giving the spread-out audience a good view of graduates as they cross the terrace to accept President Spencer's congratulations.
4. Don't you mean, "when they accept their diploma from President Spencer"?
Er, no. Due to the logistics of this year's academic calendar, with final exams ending just two days before Commencement and grades not due until June 3 for graduating seniors, they will receive their official diplomas after Commencement by mail in late June.
President Spencer will offer congratulations to each senior as they cross the Coram Terrace, and a diploma case with a greeting.
And there will be no handshakes this year, for reasons of physical distancing and other COVID-19 protocols.
5. When does a senior officially graduate?
Before Commencement, the Board of Trustees and the Bates faculty will approve Bates degrees to the Class of 2021. The official conferral date, which will be noted on the diploma, will be May 30, 2021, the original date of Commencement.
6. Who are the honorands?
There are four:
Yvon Chouinard, born in Lewiston and founder of Patagonia.
Vanessa German, an artist whose work was celebrated at the Bates Museum of Art last year.
Rhiannon Giddens, an acclaimed and award-winning musician.
Chase Strangio, a nationally recognized ACLU lawyer and transgender rights advocate.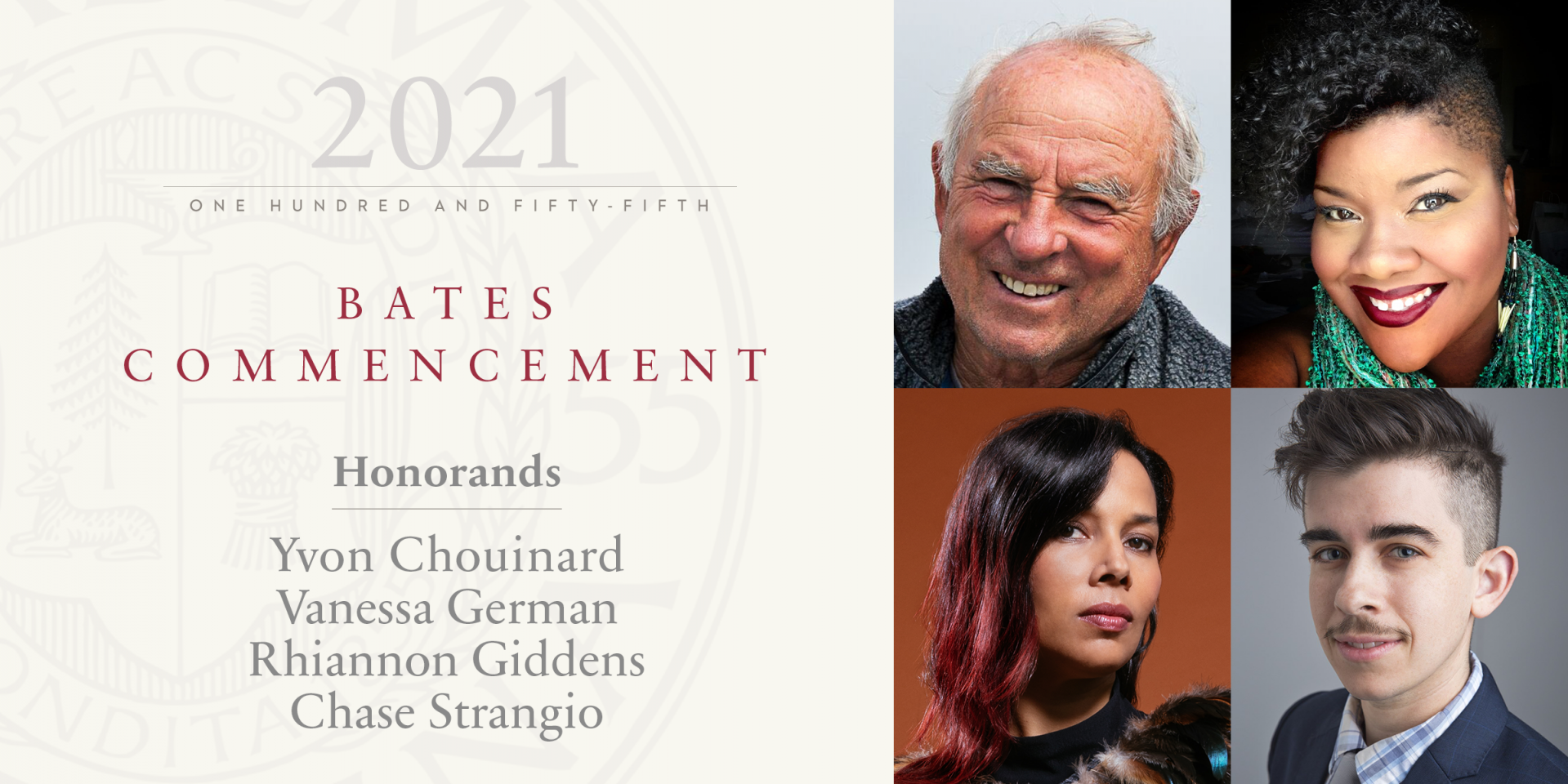 7. Will they be in person at Commencement?
No, but balancing their virtual appearance will be the fact that each will offer brief recorded remarks. We've heard the remarks, and they're wonderful, both the topics and the context.
For example, Vanessa German, in full regalia, presented hers from a fire-damaged space in Art House, the creativity community center in the Homewood neighborhood of Pittsburgh through which fire swept on Feb. 14.
8. Who is the Senior Speaker?
That's Senior Speakers: Nicole Kumbula and Munashe Machoko, who, by coincidence, are both from Zimbabwe.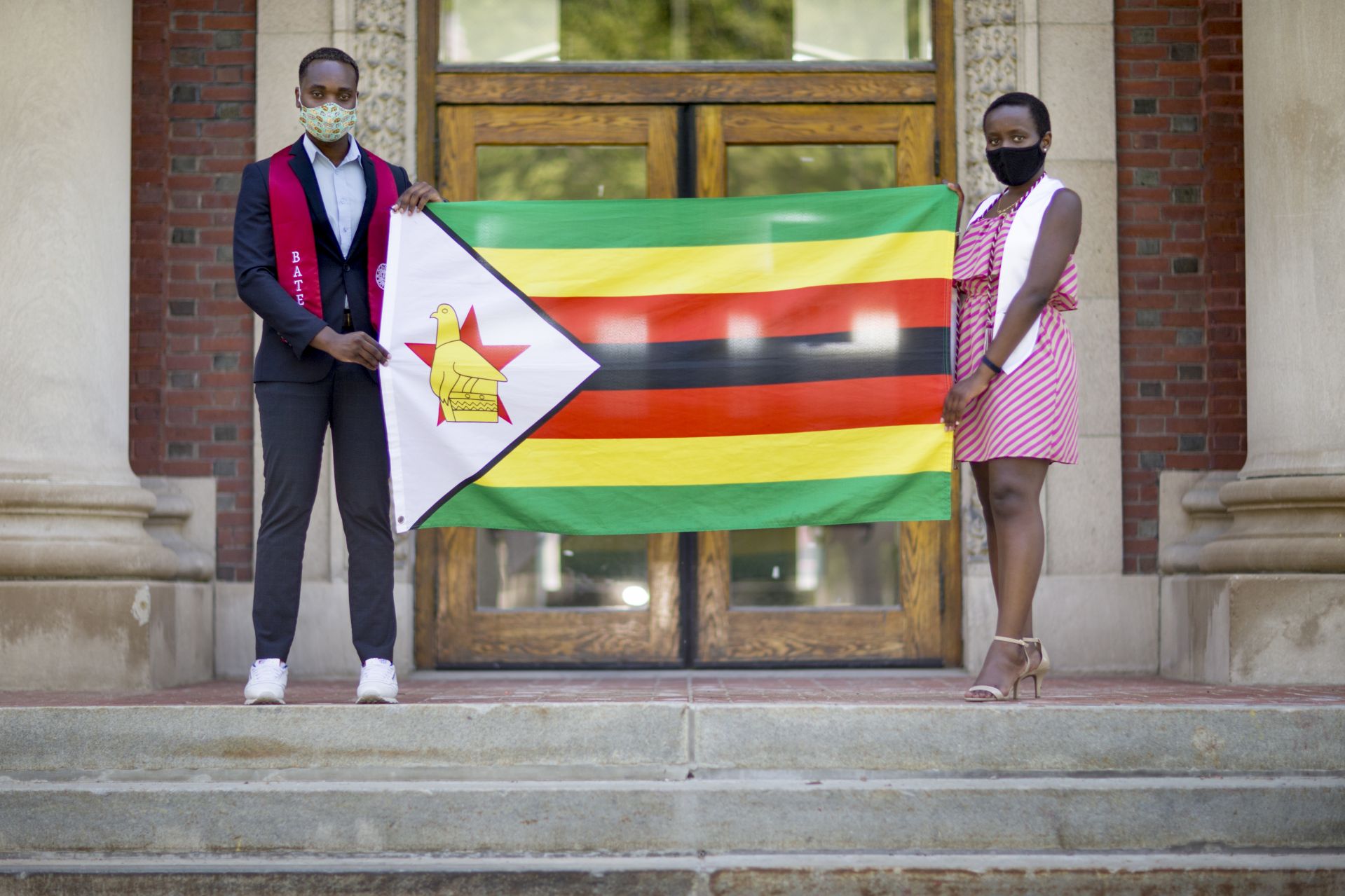 9. Are the ceremonies outdoors rain or shine?
Yes. Rain or shine. Rain and shine. Shine and rain. And even if Shinedown comes to play.
As of Friday, the forecast looks mild. Our dry stretch looks to continue.
As far a severe weather, Maine has the lowest average number of days per year with thunderstorms of any state east of the Rocky Mountains. Over the last five years, there has only been one day in May in this area that had thunder.
According to our calculations, there's a 0.3 percent chance of a thunderstorm in Lewiston, Maine, between 7 a.m. and 5 p.m. on May 27.
10. What are the expectations for guests?
All participants and guests at Commencement 2021 are expected to observe public-health guidelines and a Guest Testing and Vaccination Policy
11. Can I buy Bates gear on Commencement Day?
Yes. Though the Bates College Store will be closed to walk-in traffic on May 27, curbside pickup of online orders will be fulfilled continuously Monday through Friday from 8am to 4pm.
Customers who place online orders for curbside pickup will receive an email providing them with pickup information.
12. With physical distancing restrictions, where can we have a family photo?
Please to take family photos after the ceremony, away from areas that might be congested and/or the center of campus. The best bet would be to head to your senior's residence.
This year, guests will not be allowed to leave their seats during the ceremony. A professional photographer will be taking photos of each senior.
13. Will there be a picnic as in the past?
Great food, yes; but picnic, no.
Boxed meals, offering lobster rolls or portobello mushroom sandwiches, will be distributed at four outside locations convenient to seniors and guests: Olin Arts Center (near the Residential Village); the Muskie Archives and Special Collections Library; parking area behind Lane Hall next to Lake Andrews; and on Frye Street.
14. Why no dogs allowed, aside from service animals?
The 2020–21 year has been all about simplifying where Bates can in order to deliver a safe experience for our community. We love our dogs, and in a normal year, where we would not have to worry about physical spacing, folks could move around with their pets — it's just not possible this year.
15. I'm a parent. How do I know what there is for vehicle access for helping my student move out?
"I know there are students who have well-appointed rooms with furniture that's been with them for four years," says Associate Dean of Students for Residence Life and Health Education Molly Newton '11.
When it comes to moving the stuff out, "trust your senior on this one," she says. "They will know how to get a vehicle close to their residence."
16. Can we leave some of our student's stuff behind, like fans and furniture and rugs, for the college's Clean Sweep recycling program?
No, please do not. Due to the pandemic, there is no Clean Sweep in 2021, the college's annual garage-sale of items left behind by students when they move out.
Instead, a truck will come to campus from the Auburn SHAREcenter on Monday, May 24, and Tuesday, May 25, and be stationed in front of Pettengill Hall on North Bardwell. In addition, students can donate stuff to the local Goodwill, located in Auburn, to the Salvation Army thrift store in Lewiston.
We urge students to take advantage of these opportunities prior to their move-out day.
17. Have there ever been two Commencement ceremonies in a year?
Sort of. In the mid-1960s, Bates created a third academic term, which became Short Term, to offer a three-year plan. In 1968, 1969, and 1970, Bates had two Commencements, one for three-year grads and one for four-year grads.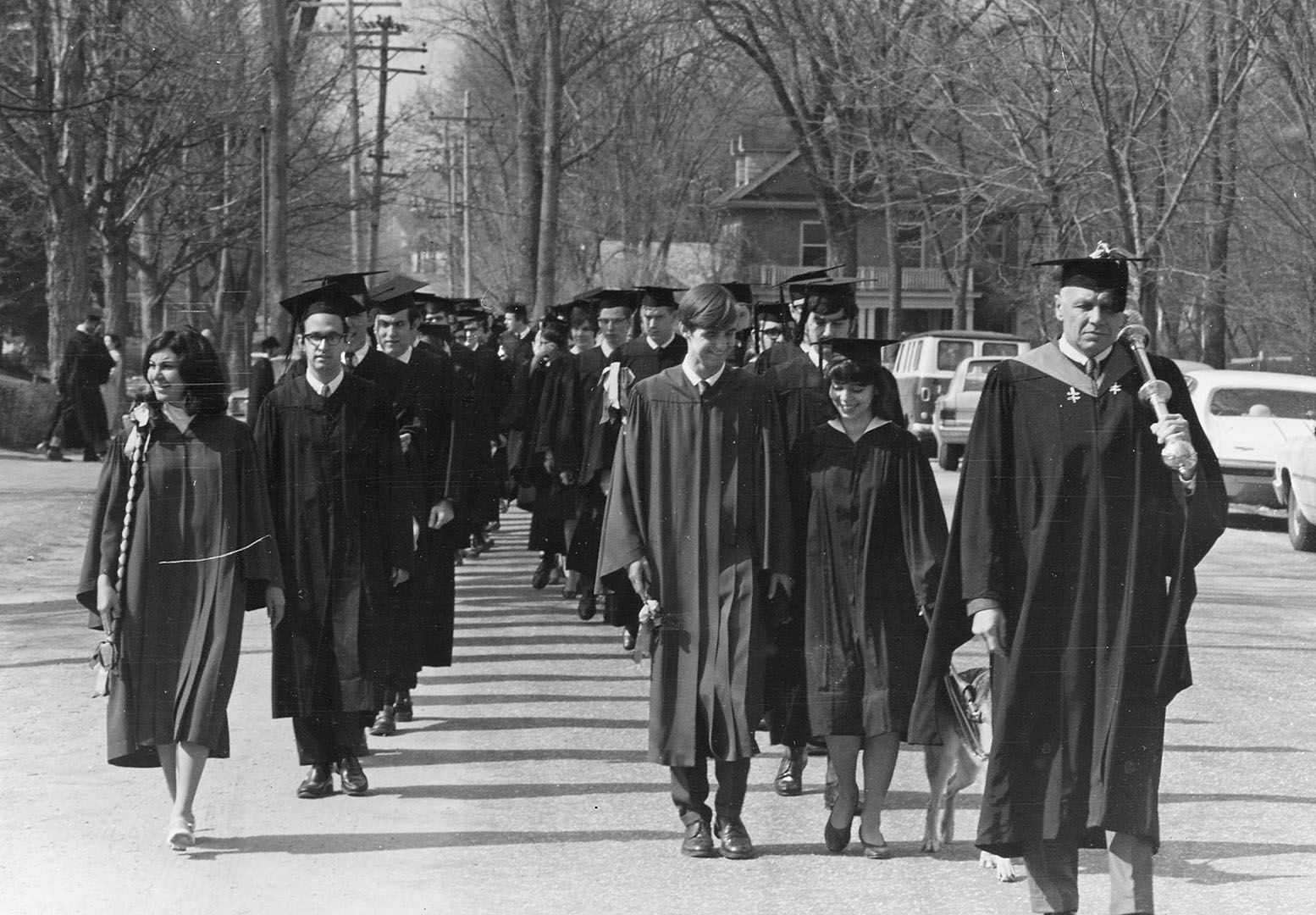 During World War II, Bates was on a 12-month schedule, and undergraduates could choose an accelerated program, so diplomas were awarded a few times a year (three times in 1943).
In this clip, the sailors of the Bates V-12 program lead the way to the Oct. 24, 1943, convocation, where 13 students received bachelor's degrees.
18. Has there ever been a Commencement on a traditional workday?
Yes. In most years since the 1930s, Commencement was on a Monday, either in June (through the 1980s) or in late May, sometimes coinciding with Memorial Day, sometimes not. Commencement moved to its now-traditional Sunday spot in 2006.
19. Has there ever been a ticketed outdoor ceremony?
Not that we can find.
20. What was the last ticketed outdoor event at Bates?
An NCAA playoff men's lacrosse victory over Amherst on May 13, 2017, at Garcelon Field.
21. Isn't that just 20 questions?
Not now! Congratulations to all seniors!
View Comments