"I wonder what it would be like to live in a world where it was always June," wrote L.M. Montgomery in Anne of the Island.
When summer seems infinite and full of promise, when we take the time to appreciate what we have, our hearts fill and our minds expand with new beginnings: the restoration of a historic architectural gem, the opening of a transformational academic facility, the blooming and greening of a treasured campus, the recognition of accomplishments by faculty and staff, and cameos by the wildlife that share our campus.
No, it's not always June, but when it is, please rejoice with us.
Mementos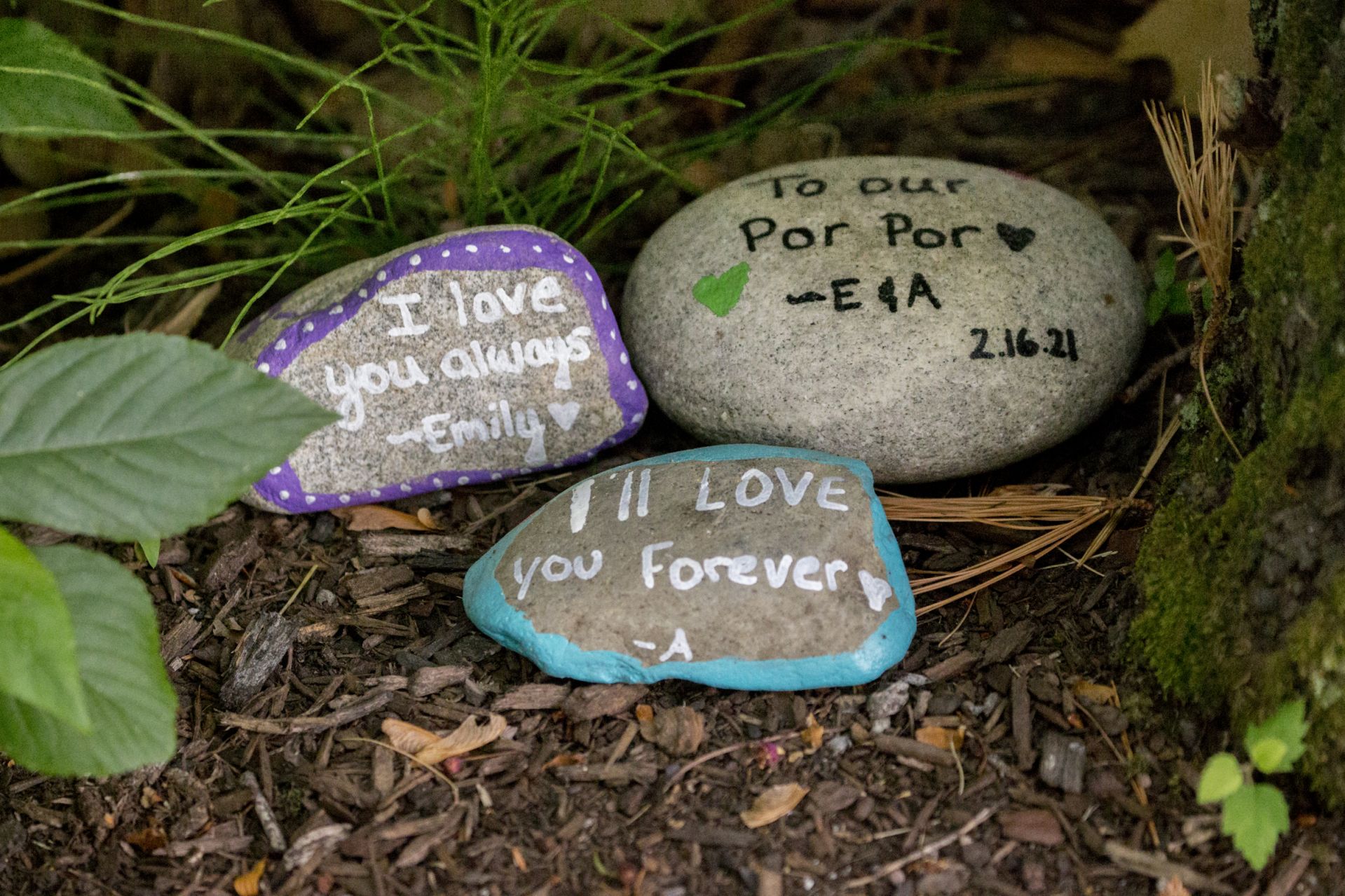 Those who circle Lake Andrews will find these decorated stones and the story they tell on the Olin Arts side of the Puddle.
---
A Win for the Team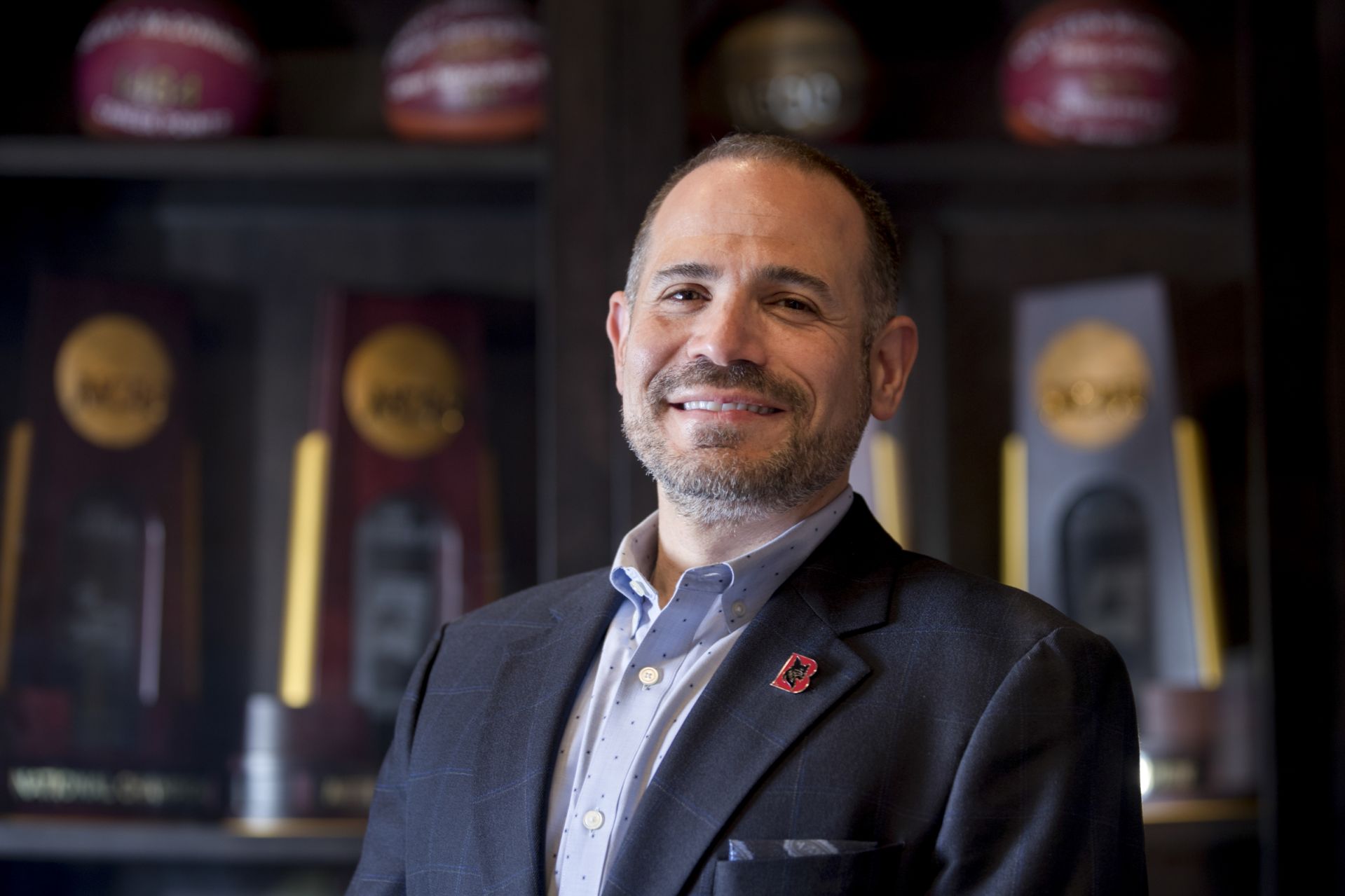 Bates Director of Athletics Jason Fein poses for a portrait in the trophied lobby of Alumni Gymnasium, just outside of his office. In recognition of his leadership in the unprecedented past year, Fein was named a 2020–21 Division III AD of the Year by the National Association of Collegiate Directors of Athletics.
---
Refreshed and Revitalized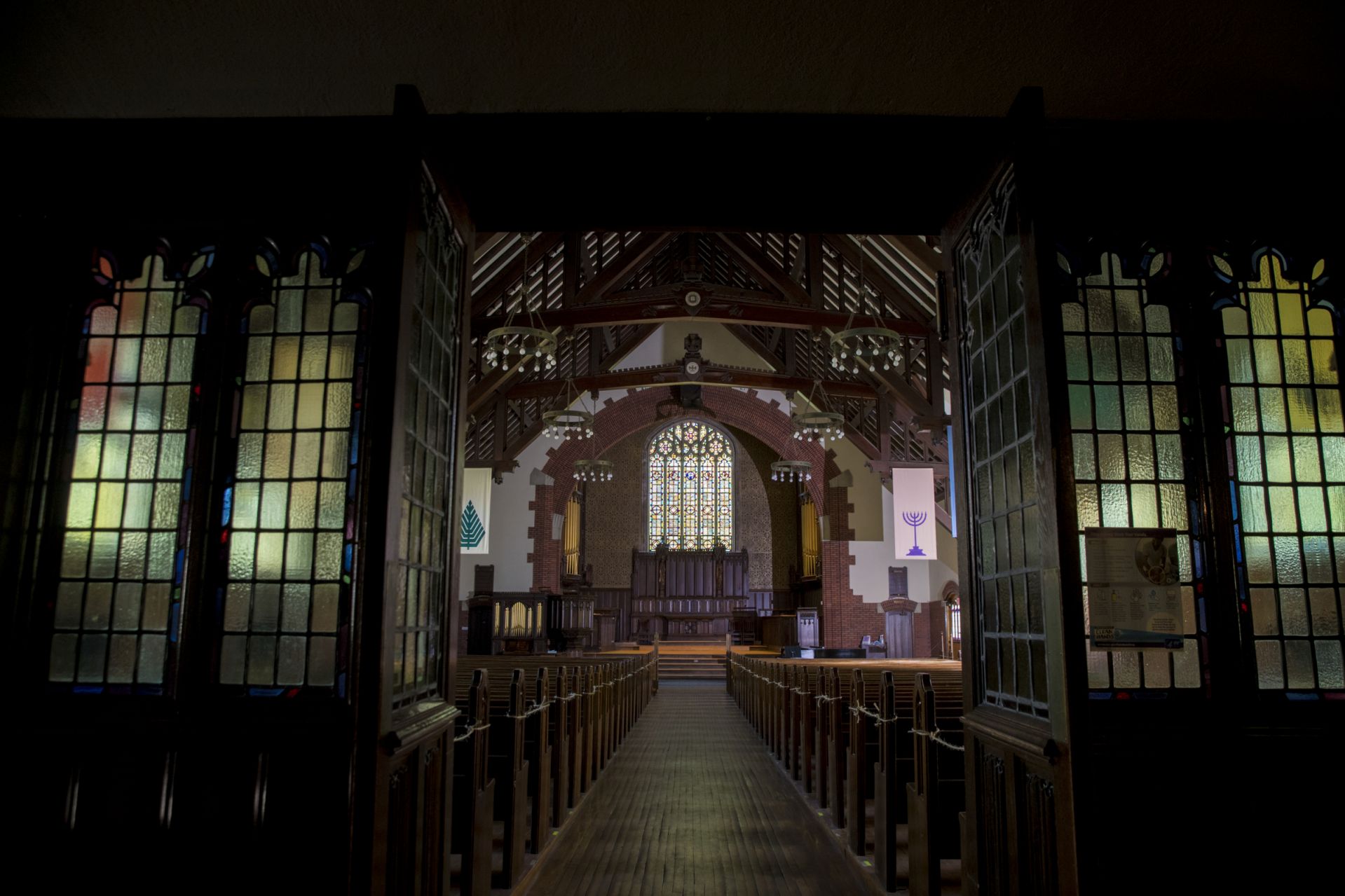 After a 22-month closure for exterior restoration, including 13 months behind a green construction fence, the landmark Peter J. Gomes Chapel reopened 10 months ago "in all of its beauty and sanctity, amidst a powerful moment of need for sacred space," said the Rev. Dr. Brittany Longsdorf, Bates' multifaith chaplain.
---
Check In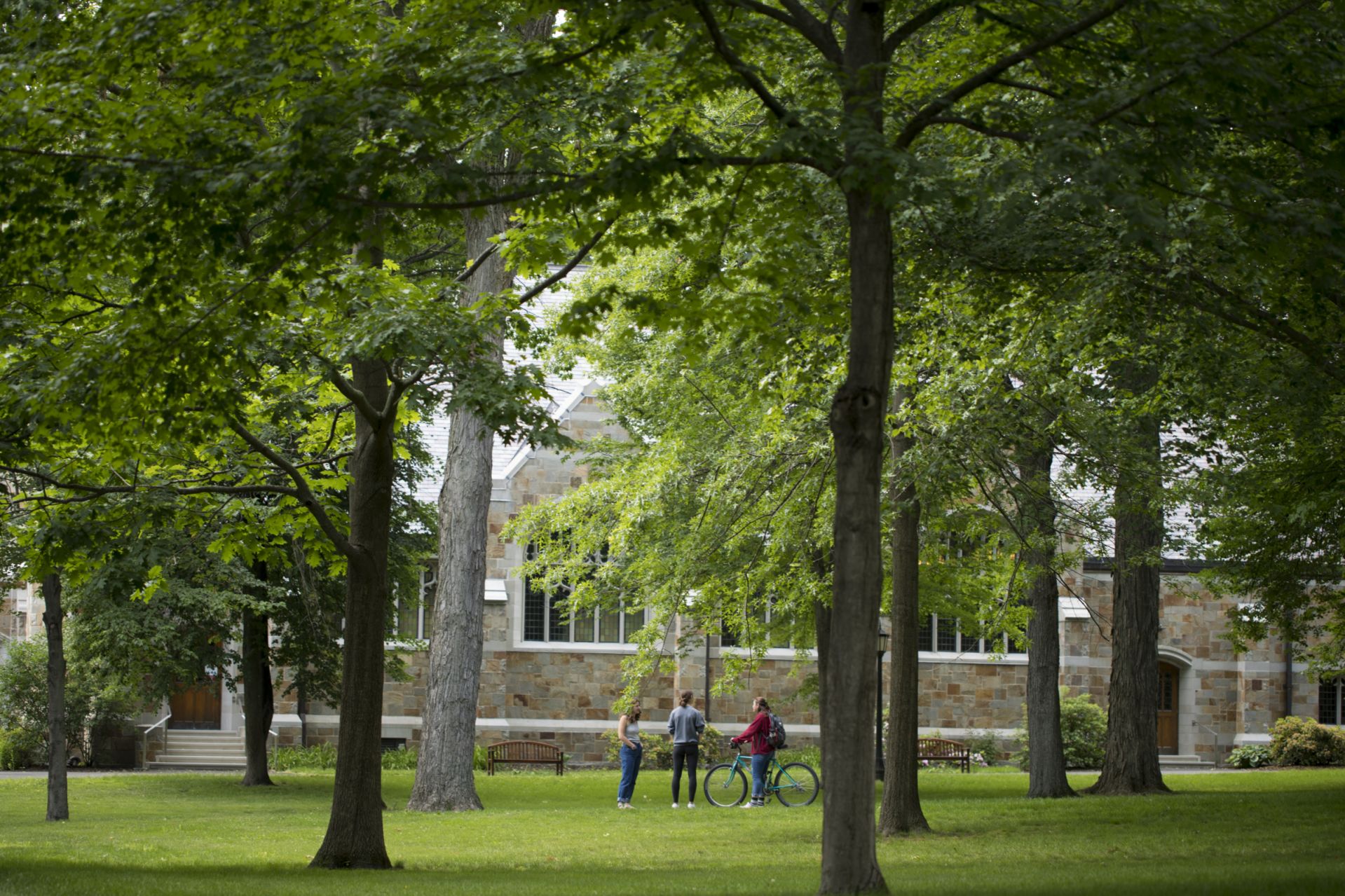 Friends meet at the end of a day on the Historic Quad.
---
Flying Duck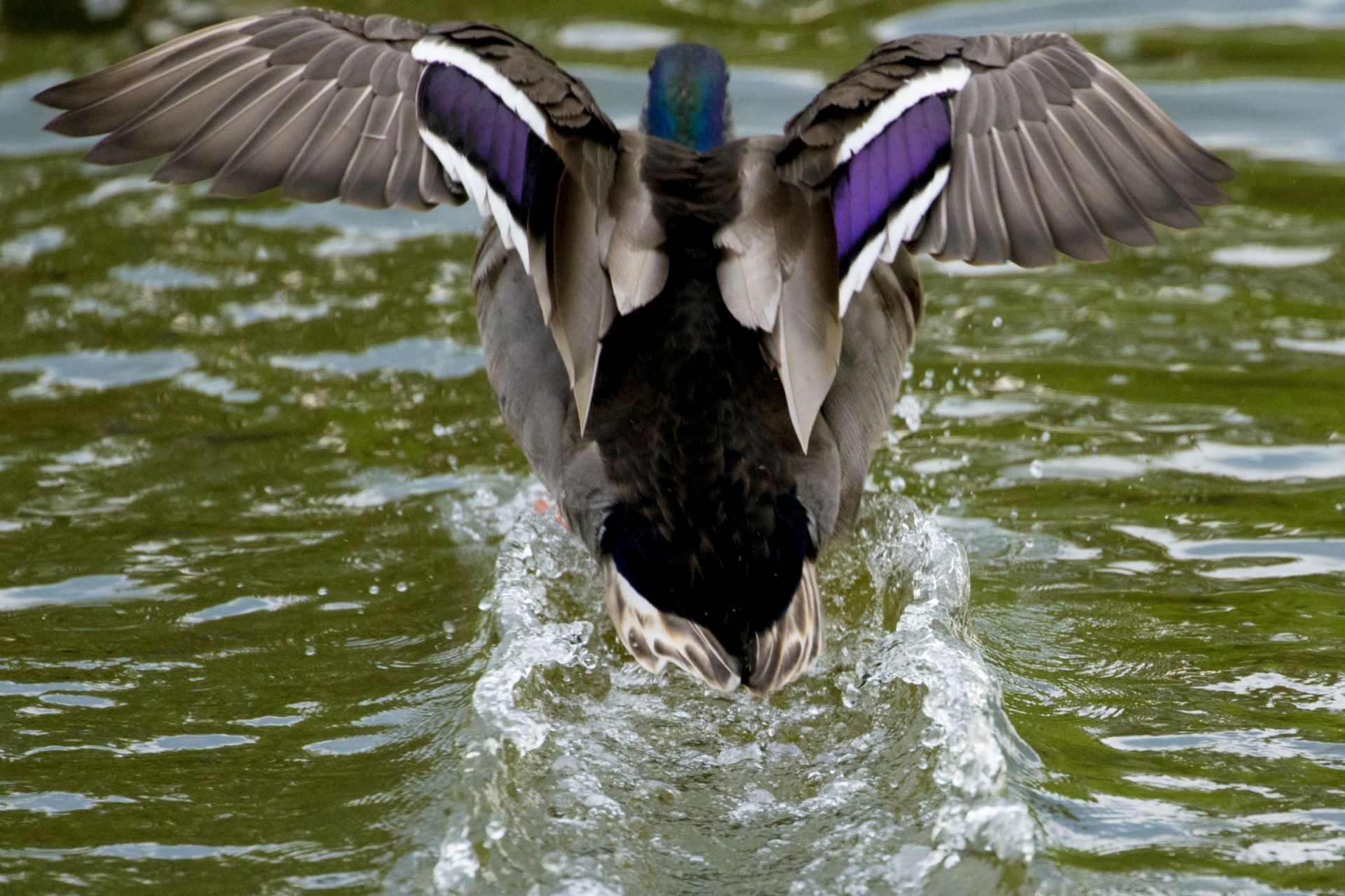 A denizen of Lake Andrews takes a flying leap from the shores into the water.
---
"It Feels So Good"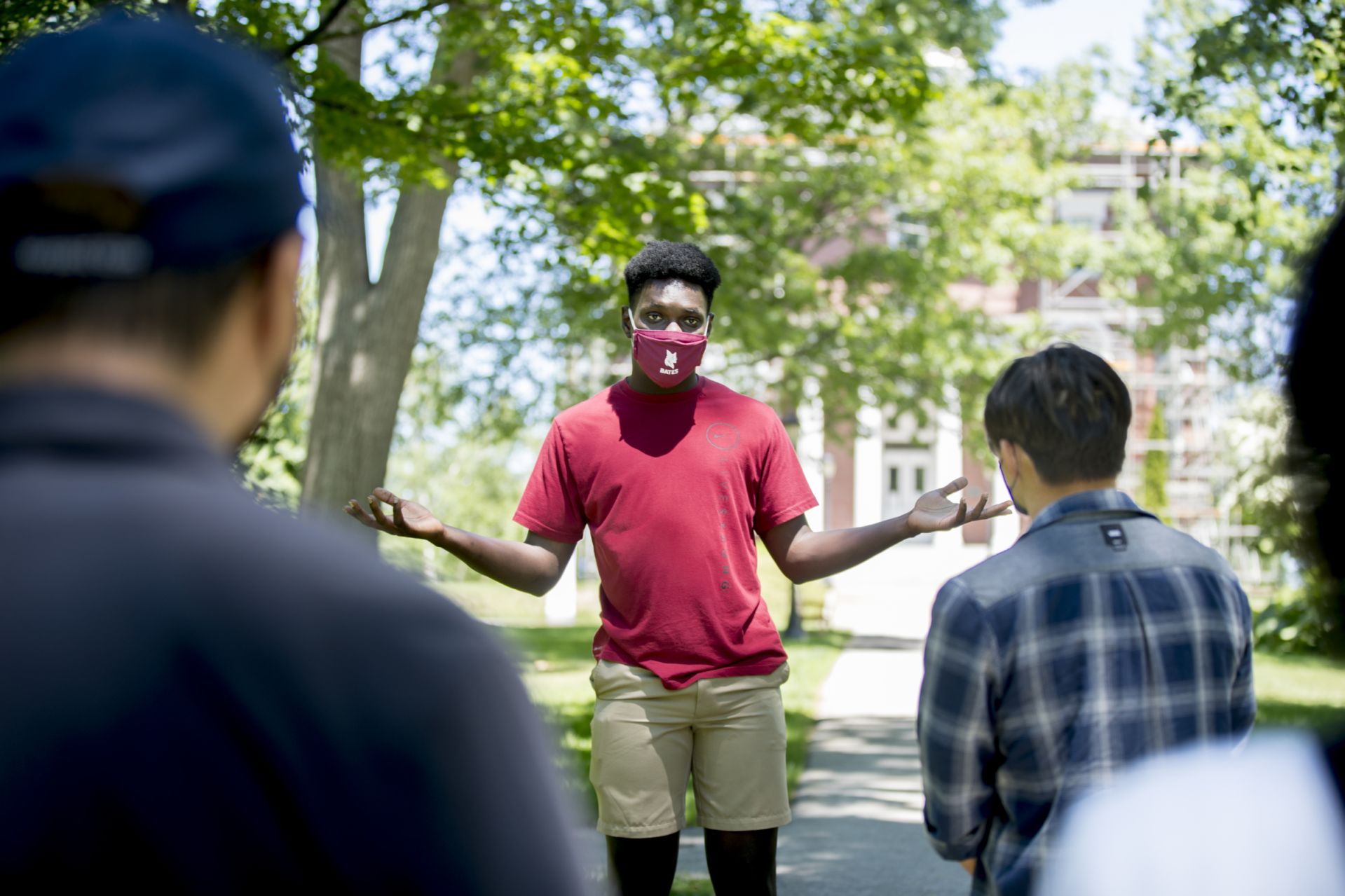 In-person Admission tours recently returned after a hiatus since March 2020. "And it just feels so good to interact with people," says economics major Omar Sarr '23 of Dakar, Senegal, an Admission intern leading a recent tour on the Historic Quad.
Sarr particularly enjoys showing the campus to recent high school grads who will be matriculating at Bates this August. Many have never seen the campus, due to the pandemic. "I can feel their excitement, and I'm always happy to answer their questions."
Current tours are being offered on a limited basis to pre-registered visitors, and student tour guides accompany a single family on a 45-minute outdoor tour. All other Admission offerings, such as information sessions and interviews, remain virtual.
---
In the Heights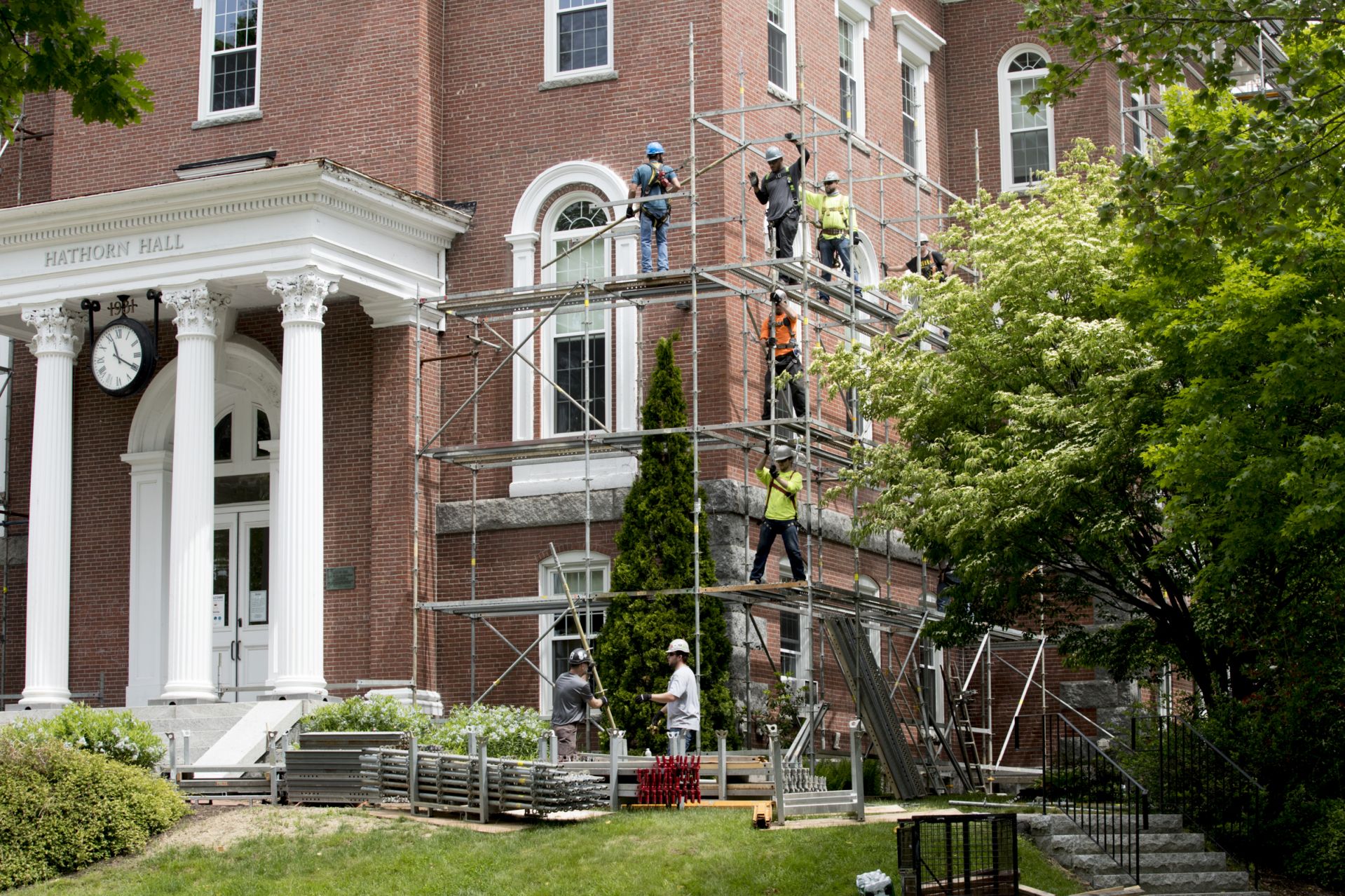 Workers converge on the staging of Hathorn Hall as they work to replace the slate roof on the college's first building.
---
Departing Dana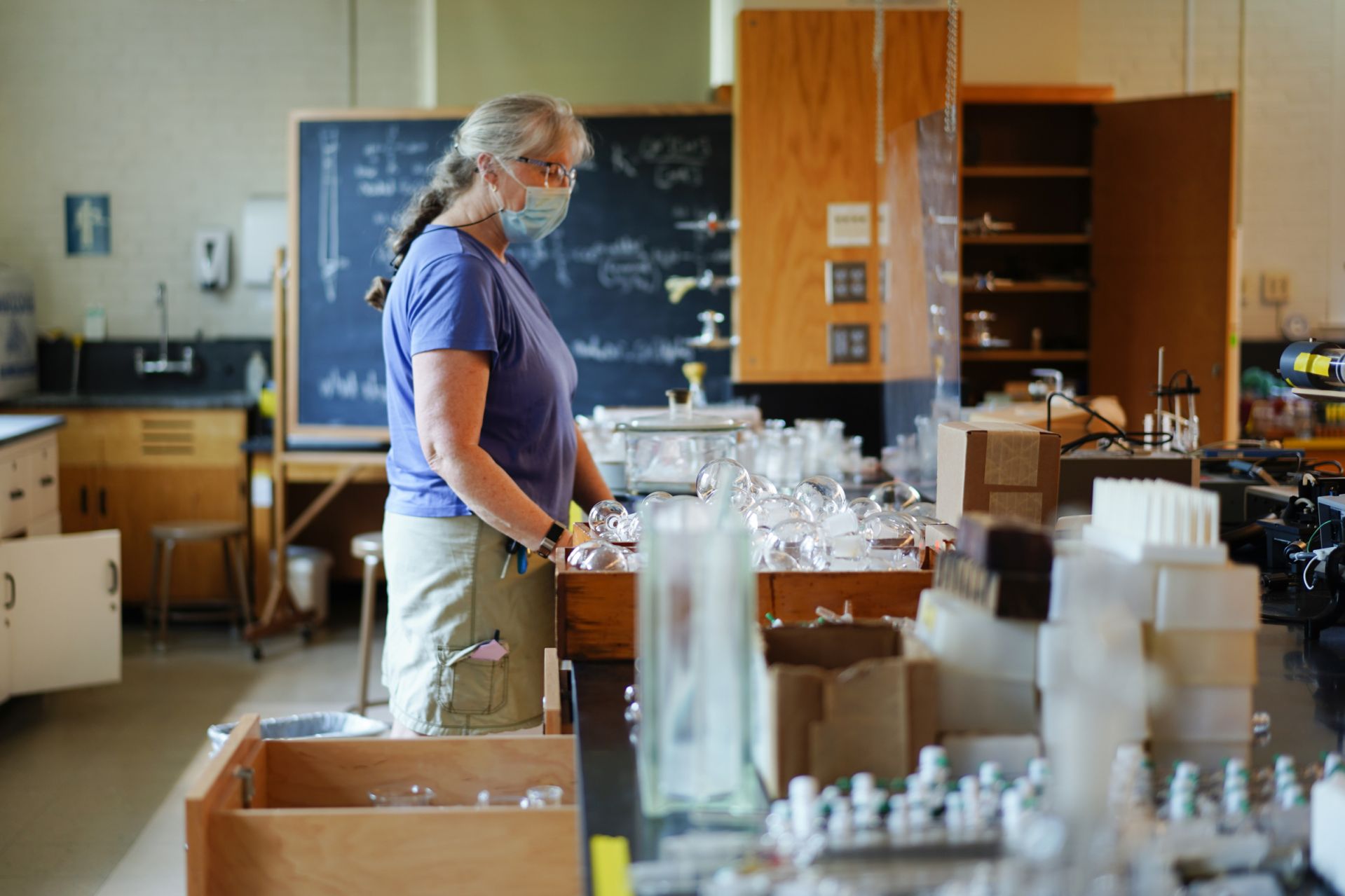 Lorna Clark, an assistant in instruction with the Department of Chemistry and Biochemistry who's now in her 30th year with Bates, packs gear and equipment in the advanced chemistry laboratory in preparation for the big move to the Bonney Science Center, which opens this summer.
---
A Flower Blooms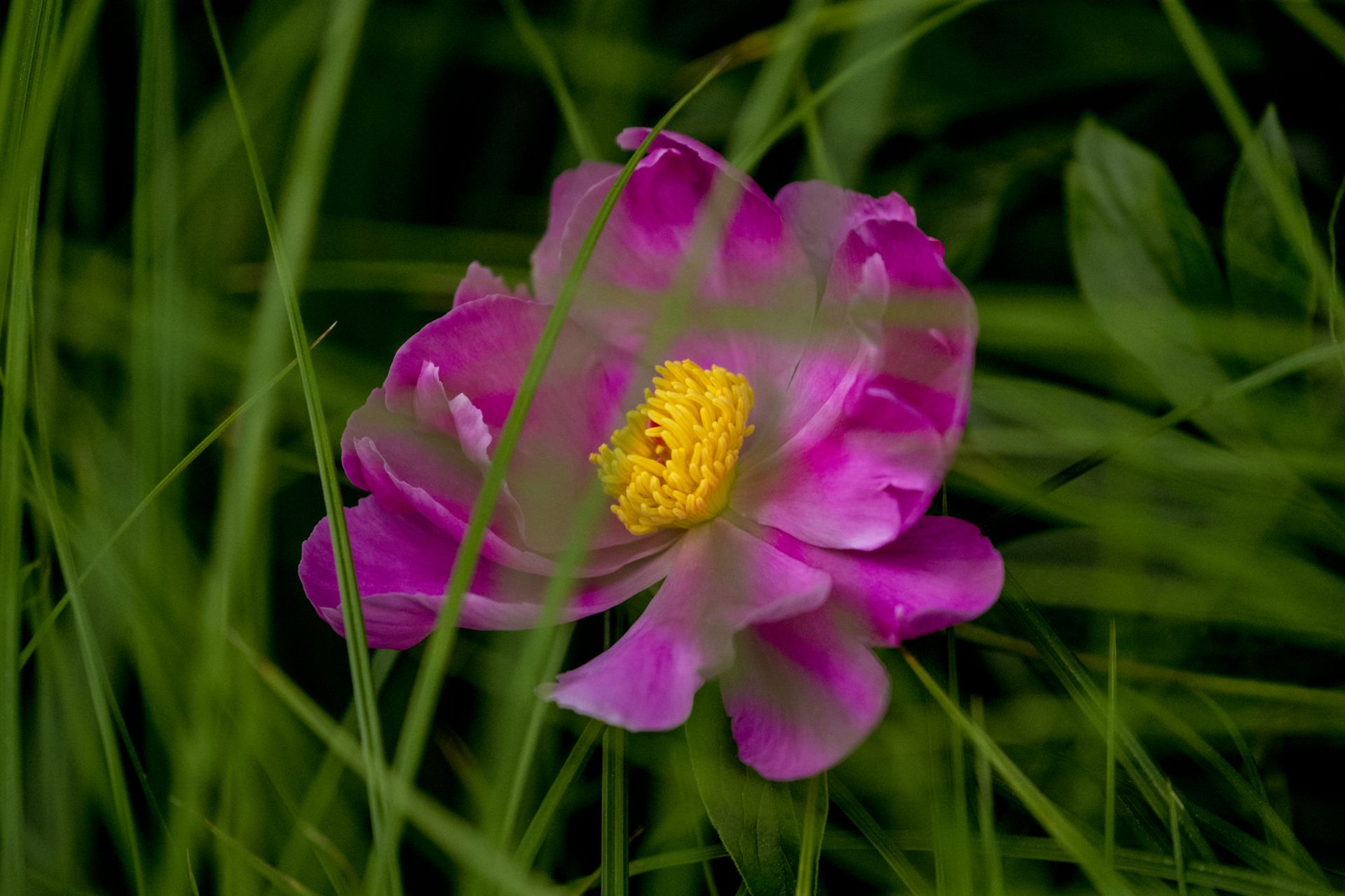 This peony outside of Dana Hall provides a preview of summer: hot and colorful.
---
Boxing Day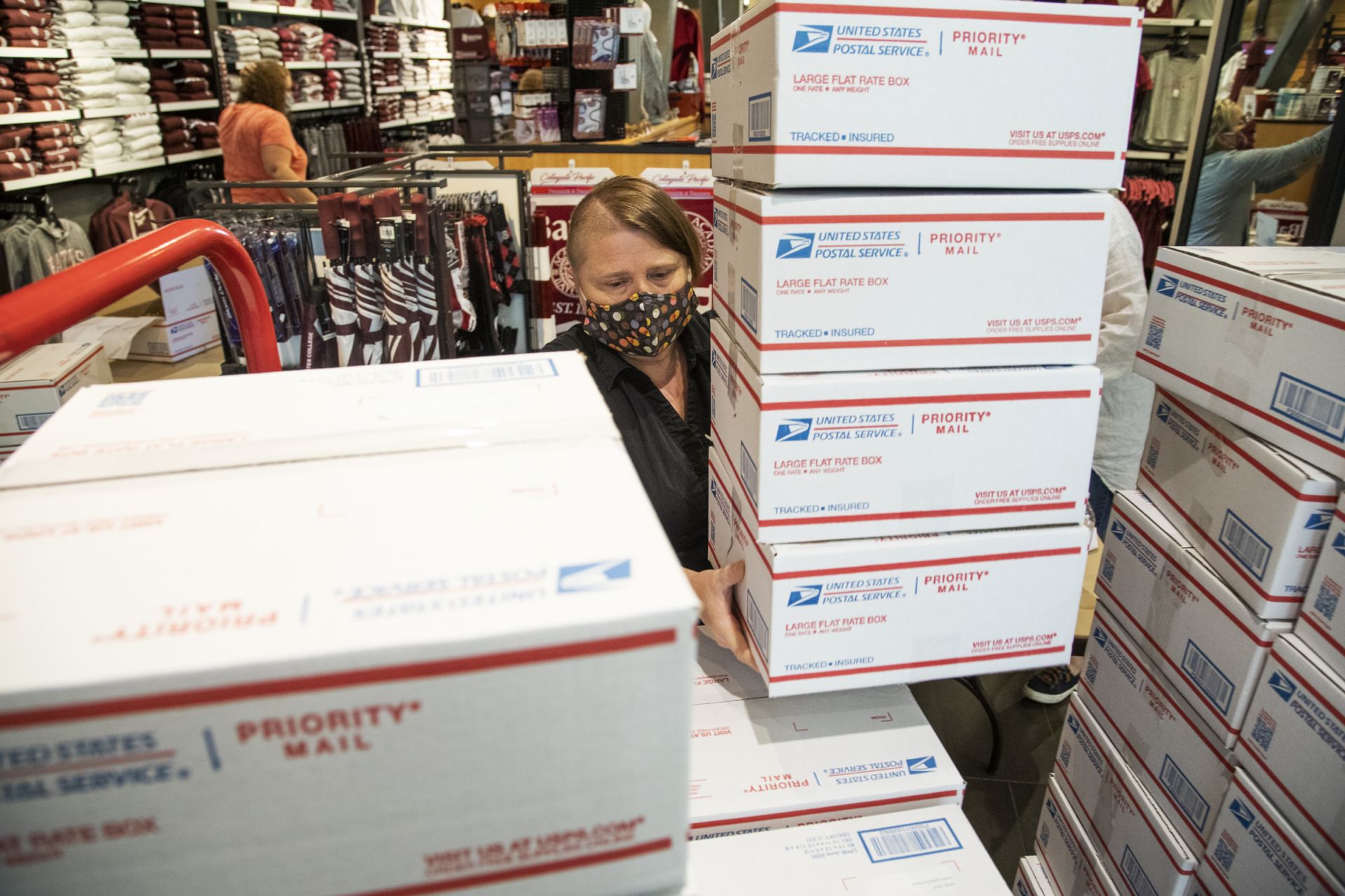 Director of Dining Services Cheryl Lacy stacks boxes in preparation for the mailing of dipolomas and other Commencement materials to graduates of the Class of 2021.
Seniors celebrating Commencement on May 27 received a diploma case without their actual diplomas due to the compressed academic calendar that saw classes end right before graduation day.
---
Raising the Roof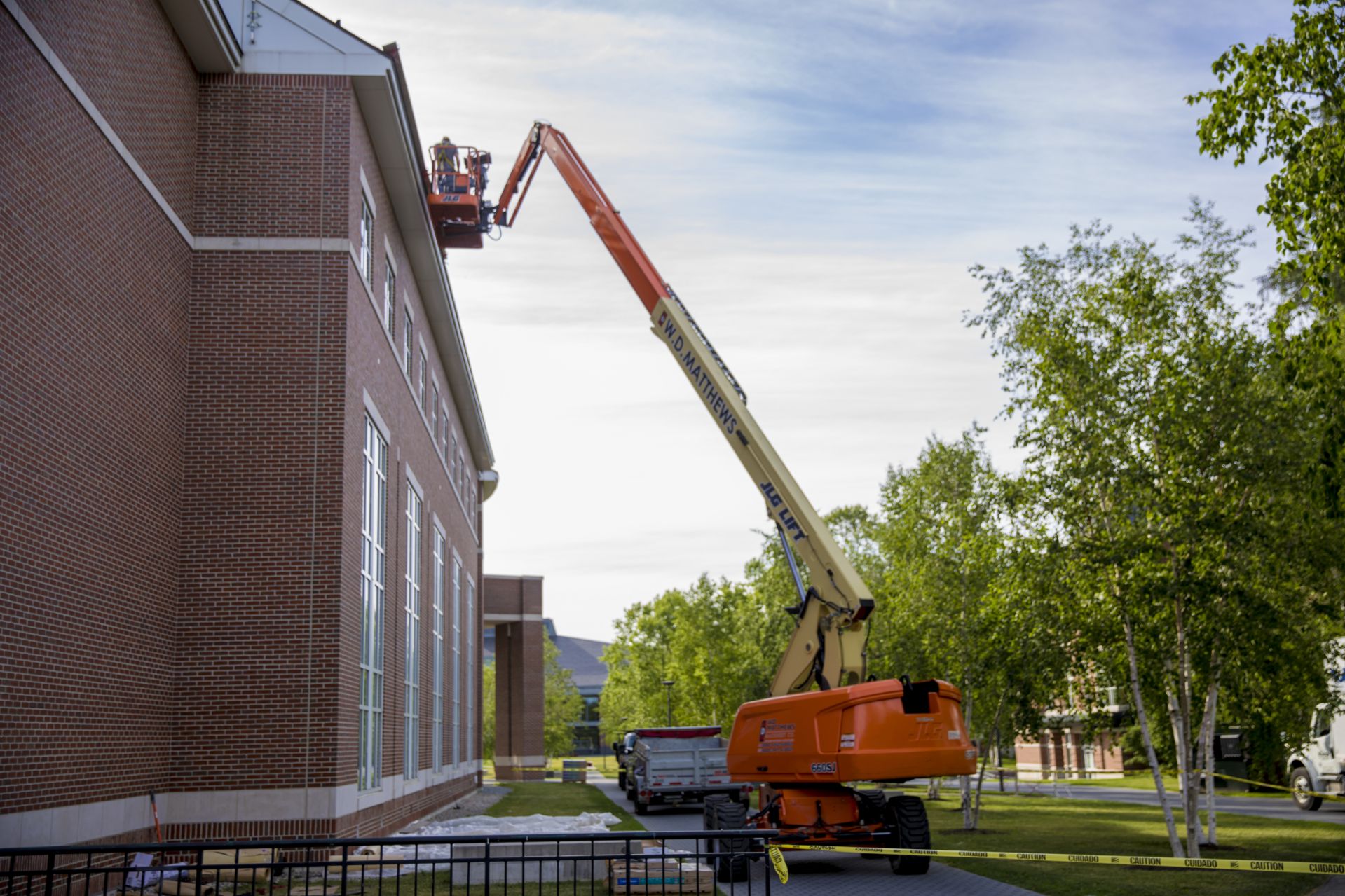 You make hay, and repair roofs, in the summer. Here, workers tend to the roof of Pettengill Hall on Alumni Walk.
---
Helpful Colleagues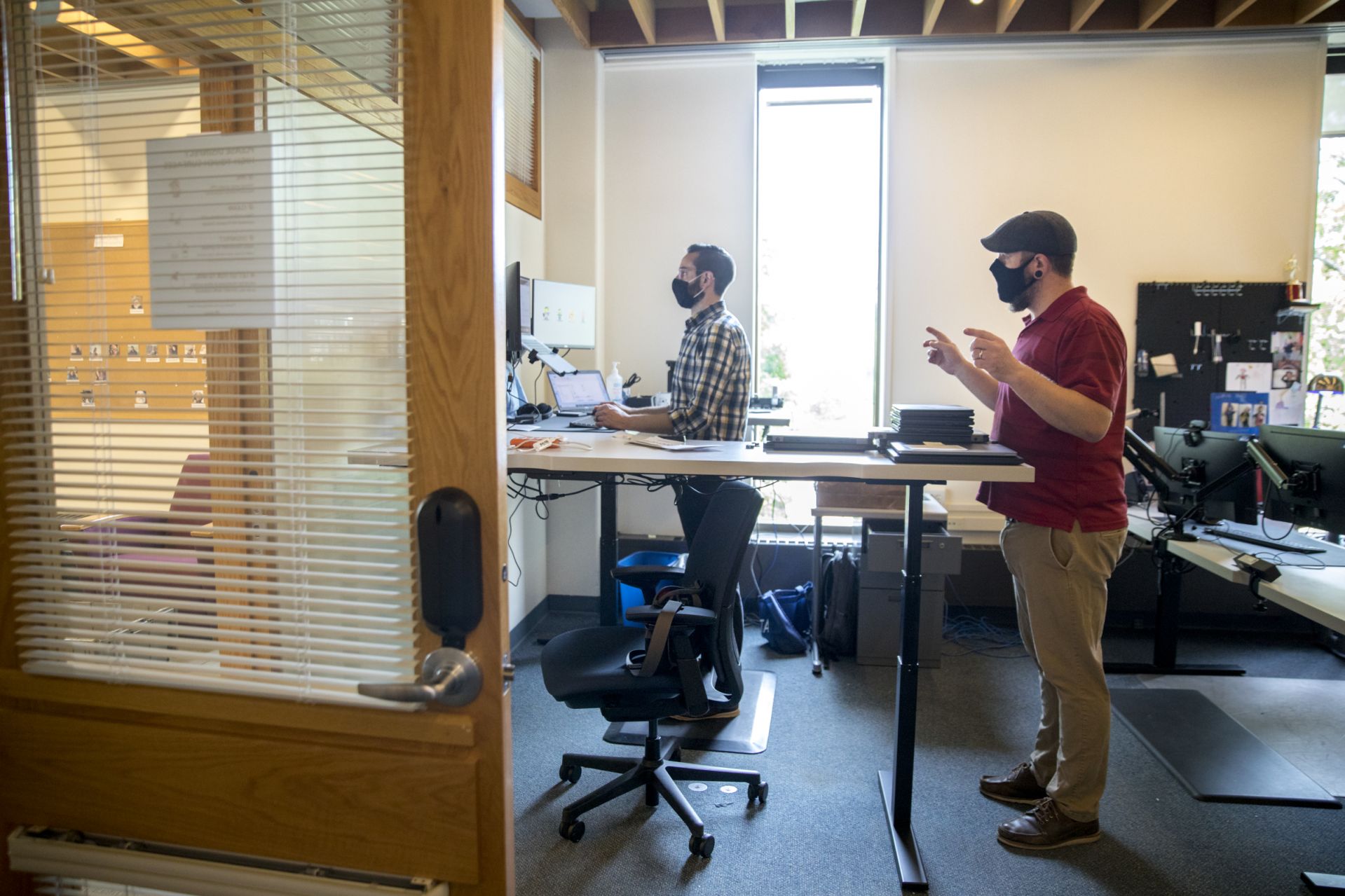 Nathan Hann and Jared Buckingham, technology support specialists for Information and Library Services, collaborate in problem solving at the Ladd Library Help Desk.
---
Squirrel Snacks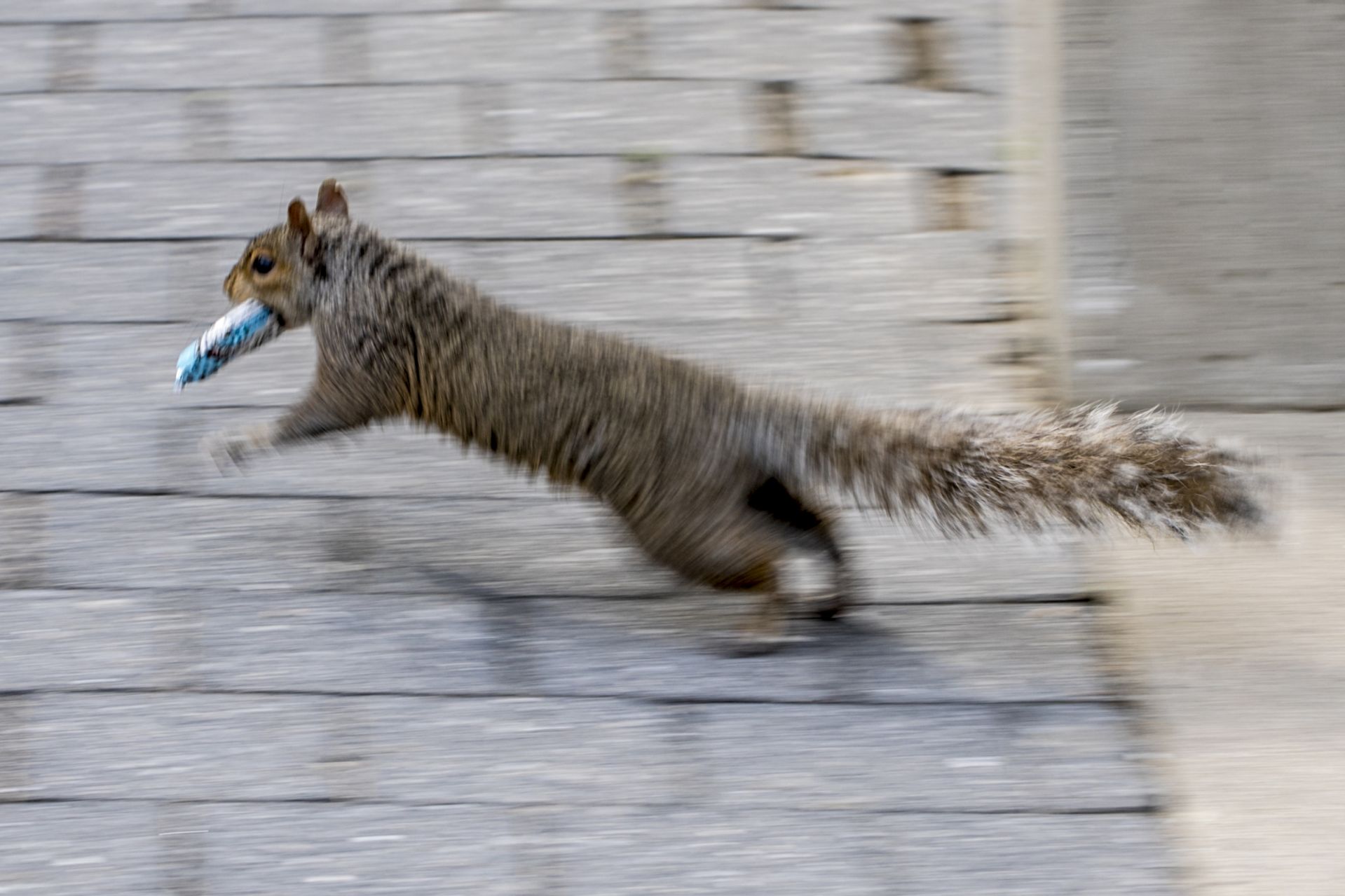 A newly found treasure in hand, this campus squirrel scampers across the Alumni Walk to enjoy his edibles.
---
What They Saw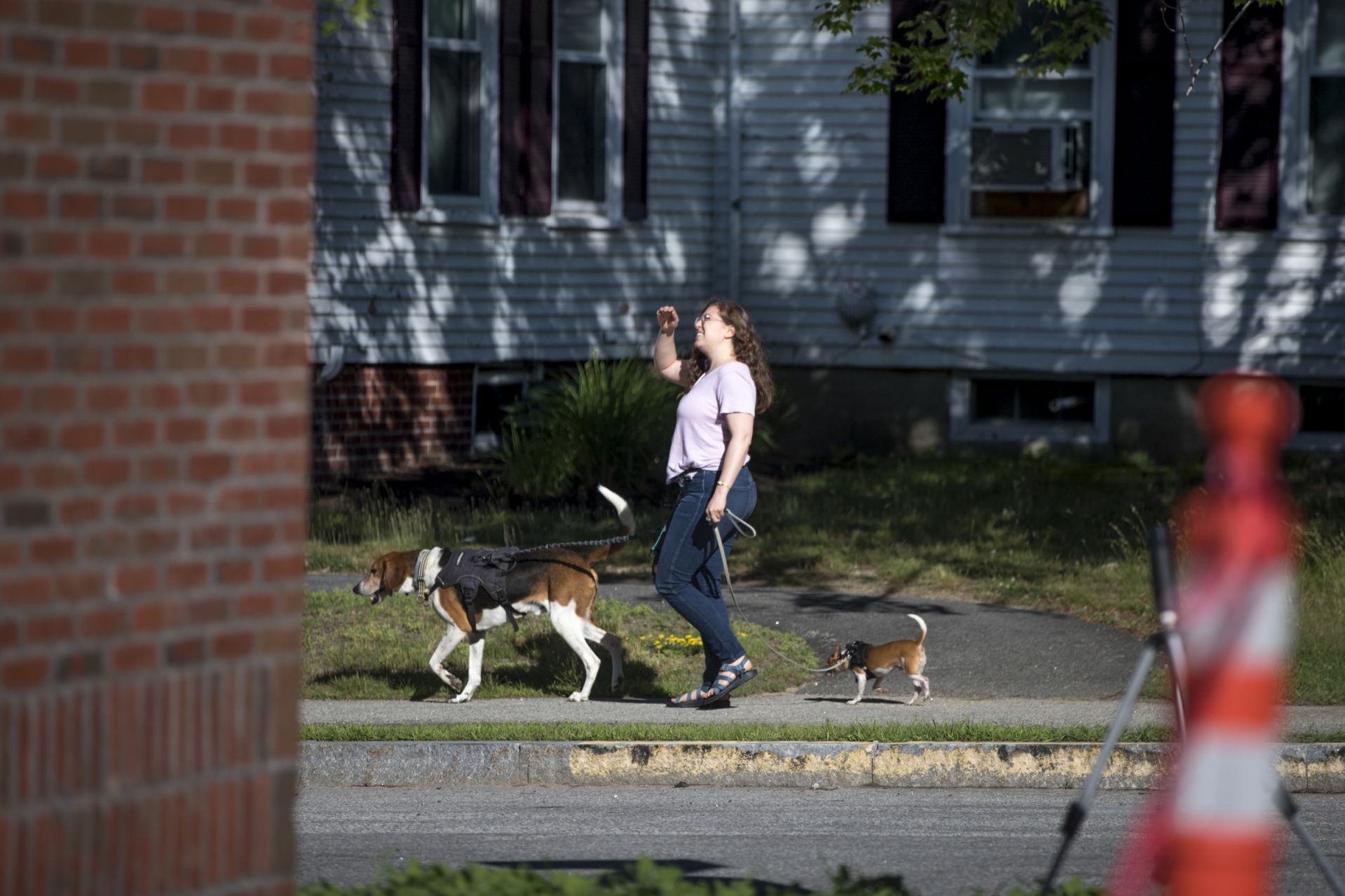 Assistant Professor of Chemistry and Biochemistry Geneva Laurita takes an appreciative look at her new home, the Bonney Science Center, as she walks her two dogs, the foxhound Copper and the chihuahua Bronco, on Nichols Street.
---
Nailed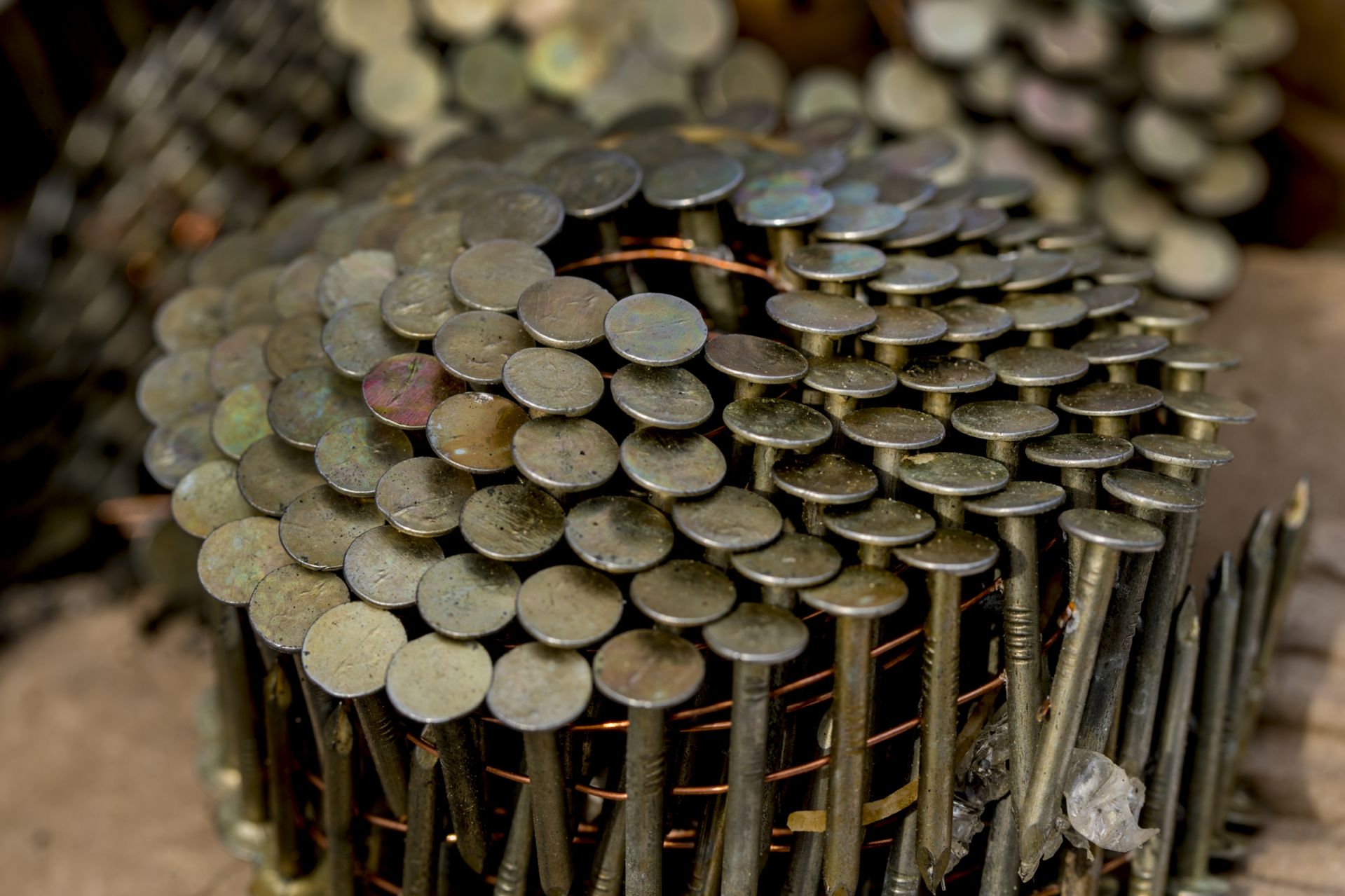 Roofing nails destined for Pettengill Hall create a pattern that suggests community and interdependence.
---
Head Portrait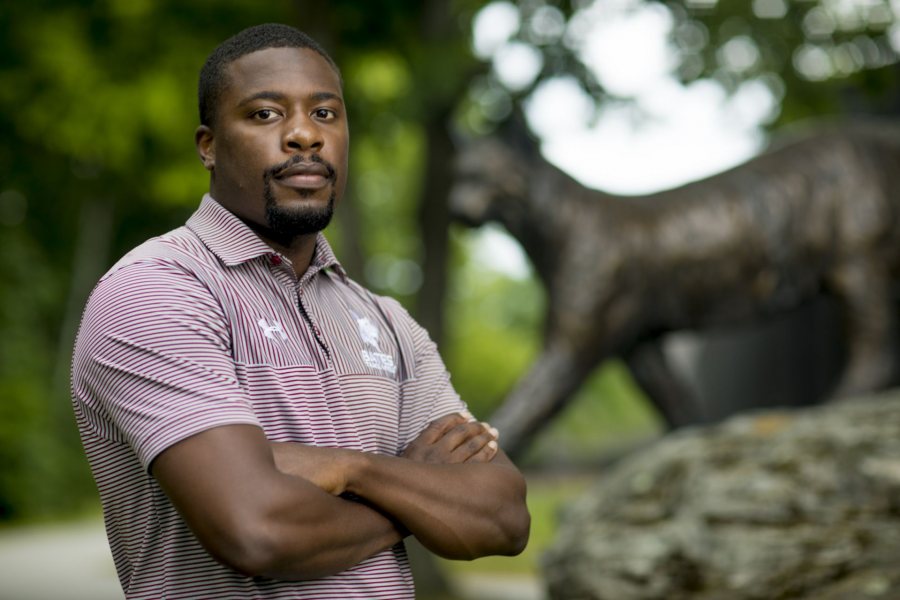 Bates recently named Curtis Johnson as head coach of Bates men's cross country and track and field.
Johnson succeeds the recently retired Al Fereshetian, and becomes only the program's third head coach since 1952. He joined Bates' men's and women's track and field coaching staff as an assistant coach in 2016 and was promoted to associate head coach of both programs in 2019.
---
Runners B-Well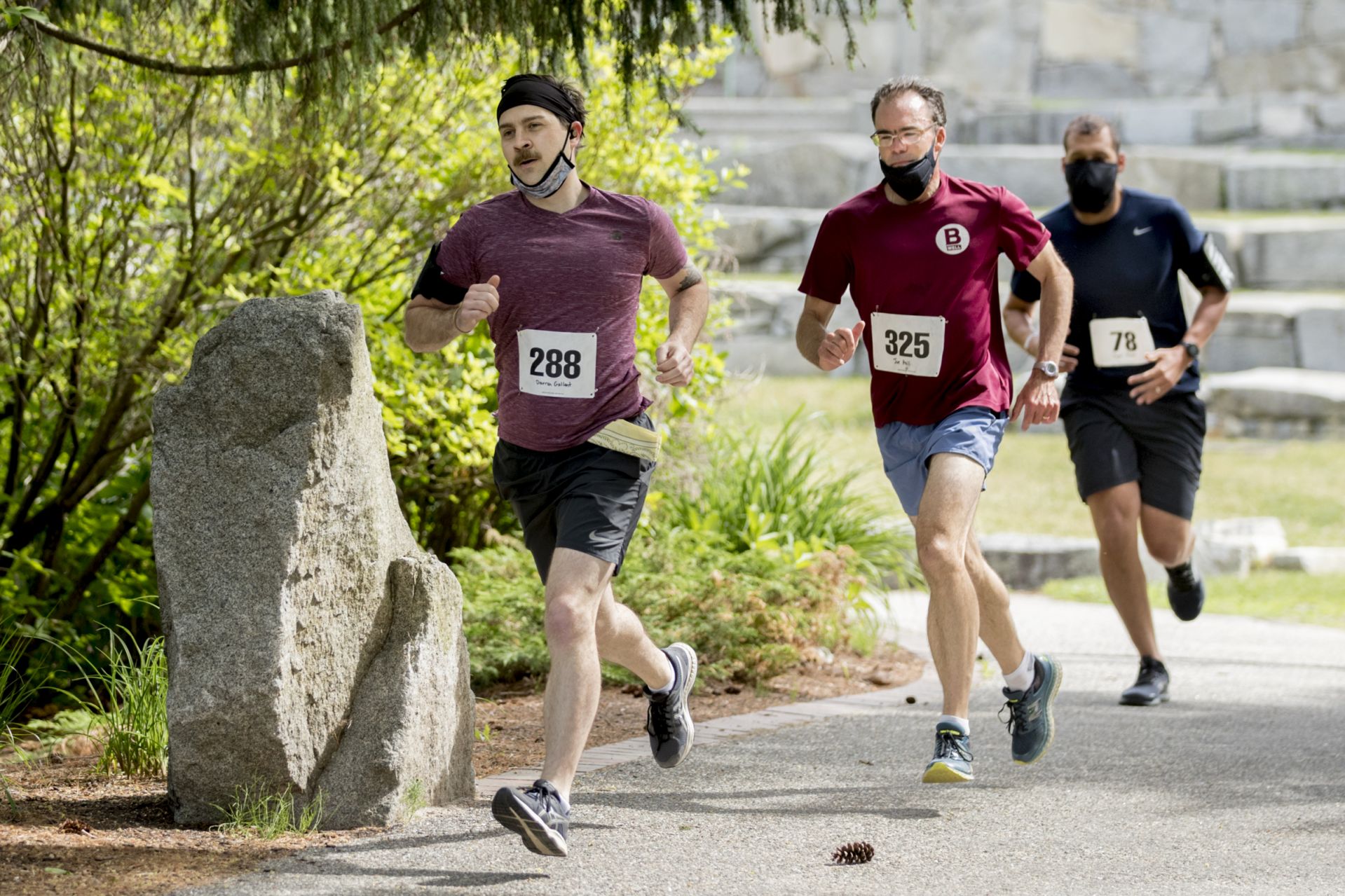 From left, Darren Gallant, Joe Hall, and Tyler Harper lead the way around Lake Andrews during the annual Bates B-Well 5K walk/run sponsored by the college's wellness program. Gallant is associate dean and director for Global Education; Hall is an associate professor of history, and Harper is an assistant professor of environmental studies.
After last year's virtual edition, the Bates B-Well 5K walk/run returned in all its in-person glory, with more than 100 participants — some striding out speedily, others huffing and puffing along, others enjoying a nice walk around campus — all in pursuit of community and wellness on a beautiful (64 degrees and breezy) Maine spring morning.

The top five finishers were Hall, Harper, Gallant, Cary Gemmer Blake '07 of College Advancement, and Andy Walter of the Bates Communications Office.
---
New Digs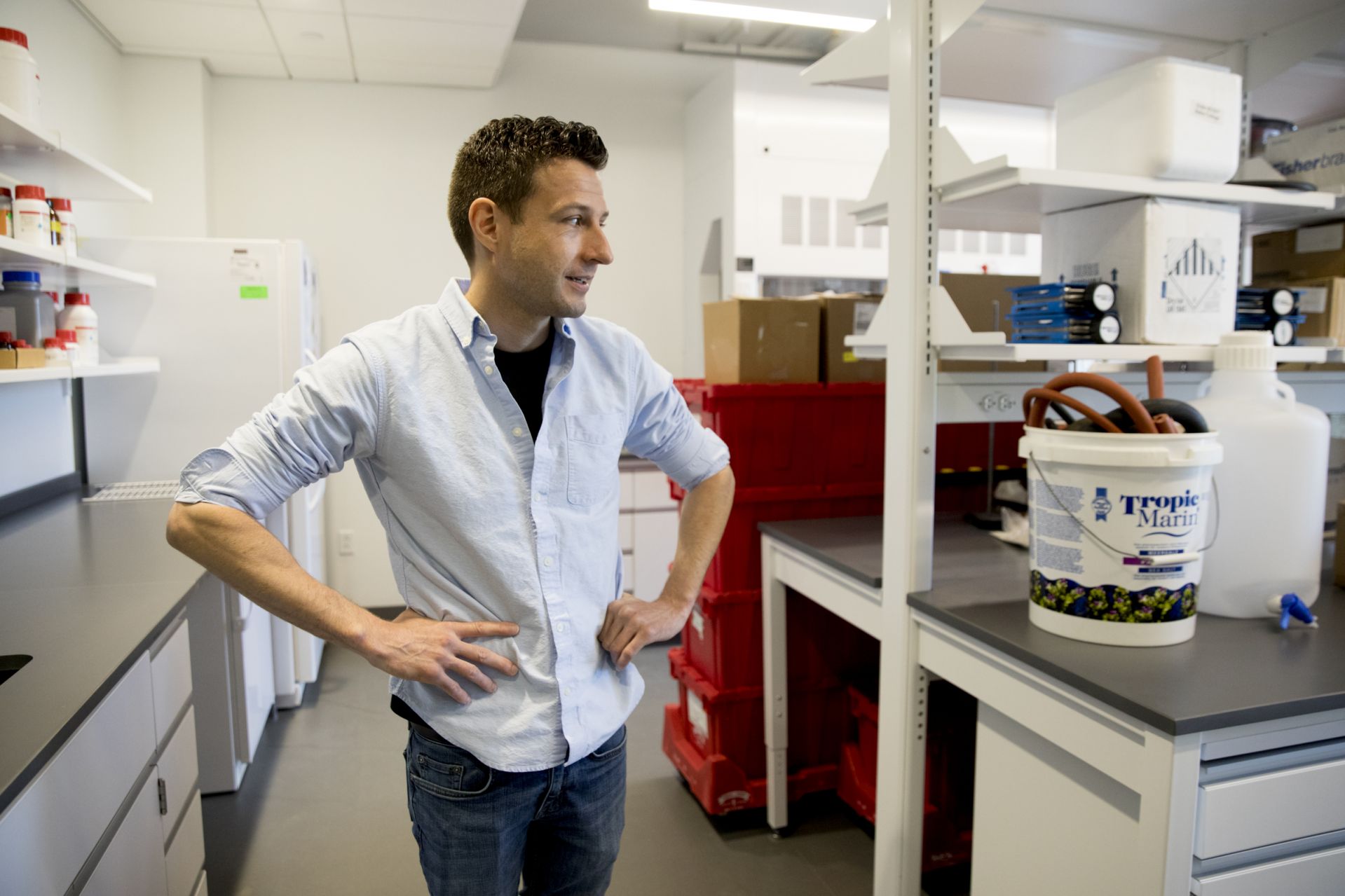 Assistant Professor of Chemistry and Biochemistry Andrew Kennedy takes a look at his new lab in the Bonney Science Center.
---
Lake Andrews Wake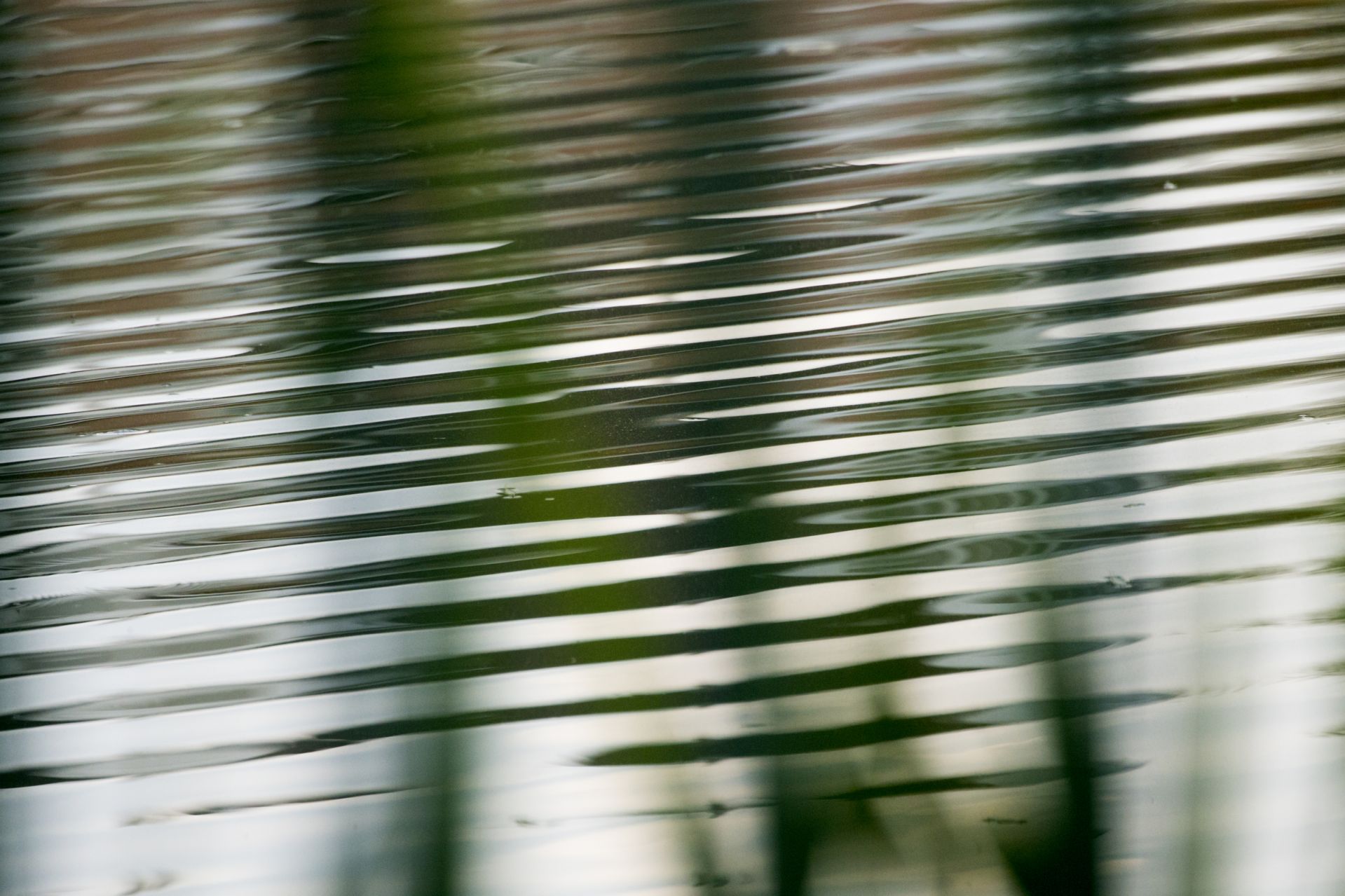 The motion of resident ducks creates early morning ripples on Lake Andrews.
---
The Light They'll Love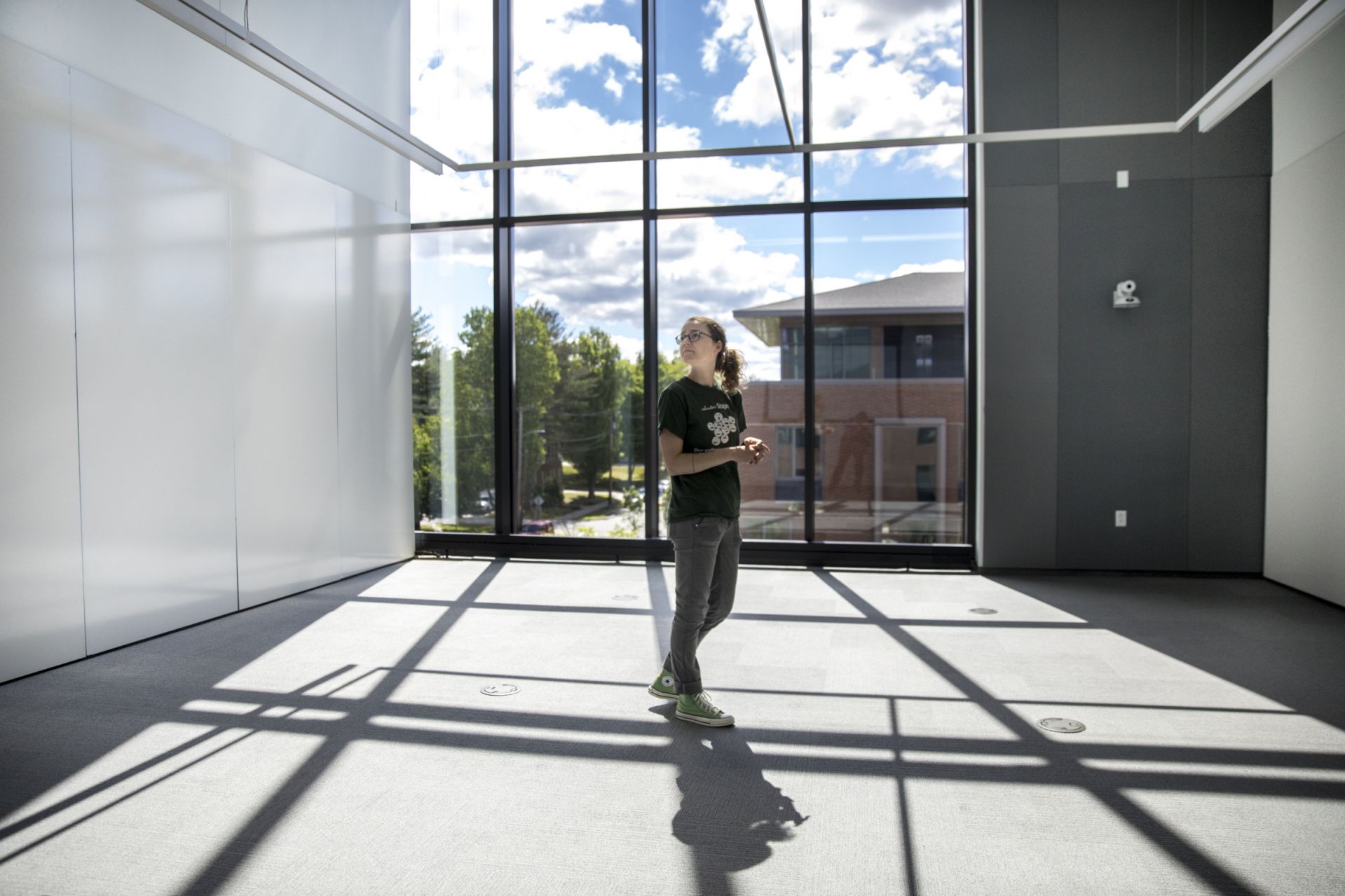 Assistant Professor of Chemistry and Biochemistry Colleen O'Loughlin inspects a third-floor classroom in the Bonney Science Center.
The change from the darker, less-windowed Dana Chemistry Hall stunned her summer research students, who wondered whether the alluring views would distract them from their work.
Not to worry, said O'Loughlin. "Being a scientist doesn't mean you stop appreciating beauty or nature. There's synergy, between that appreciation and our mechanistic understanding of what gives rise to that beauty.
"I think that is why most of us are scientists. We experienced something beautiful and moving or unusual and as we soaked up that beauty, a part of our minds said, 'Well, what would cause that to happen?" and science gave us a framework for asking those questions."
---
Glass Works
Summer research students, working under the supervision of Assistant Professor of Chemistry and Biochemistry Colleen O'Loughlin, admire the well-organized symmetry of her lab glass that they'll use this summer. From left, Diana Rodriguez '24, Julie Jesurum '22, Joanna Atwater '23, and Nick Gajarski '24.
View Comments