Here's the third installment of our series that profiles, in images and words, each and every resident of Bates' newest academic building, Bonney Science Center, as they begin to engage with their wondrous new home and the students they work with. This week's profiles feature:
Geneva Laurita, an assistant professor of chemistry and biochemistry who takes advantage of all that whiteboard space;
Jonathan Witt, a stockroom manager and safety technician, who is the college's official "chemical hygiene officer;" and
Lorna Clark, an assistant in instruction, who works closely with students and the laboratory equipment she trains them to use.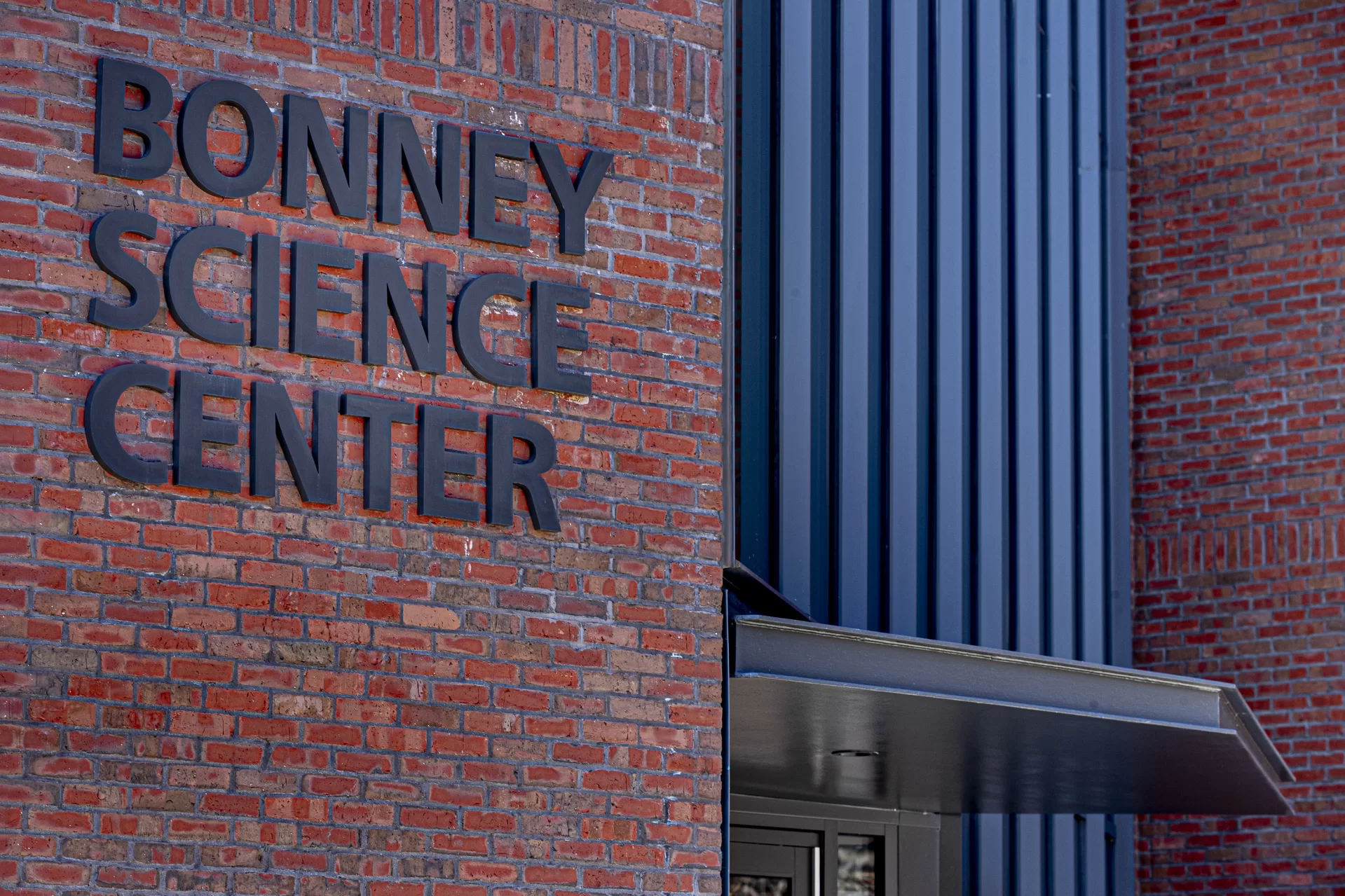 Geneva Laurita
Title: Assistant Professor of Chemistry and Biochemistry
Joined Bates: 2017
Date Photographed: Oct. 12, 2021
She says: "The new layout and upgraded spaces are allowing my lab to branch out into new directions that were previously limited."
Touch your hand to almost any wall in one of Bonney's hallways, classrooms, offices or lab, and you'll mostly be touching whiteboard or pinboard.
Sure, there's traditional sheetrock, but the amount of wall space devoted supporting communication feels distinctive, and totally in keeping with the mission of the building to elevate the capacity of Bates folks to exchange ideas, create knowledge, and foster community.
Early one afternoon last October, during a class session for the course "Advanced Topics in Inorganic Chemistry," Assistant Professor of Chemistry and Biochemistry Geneva Laurita used the expanse of whiteboard and a projector during one lesson.
A solid-state chemist, Laurita's research concentrates on materials with energy and electronic applications. Considering her new lab in Bonney, she says that "the layout and improved space are allowing my lab to branch out into new directions that were previously limited.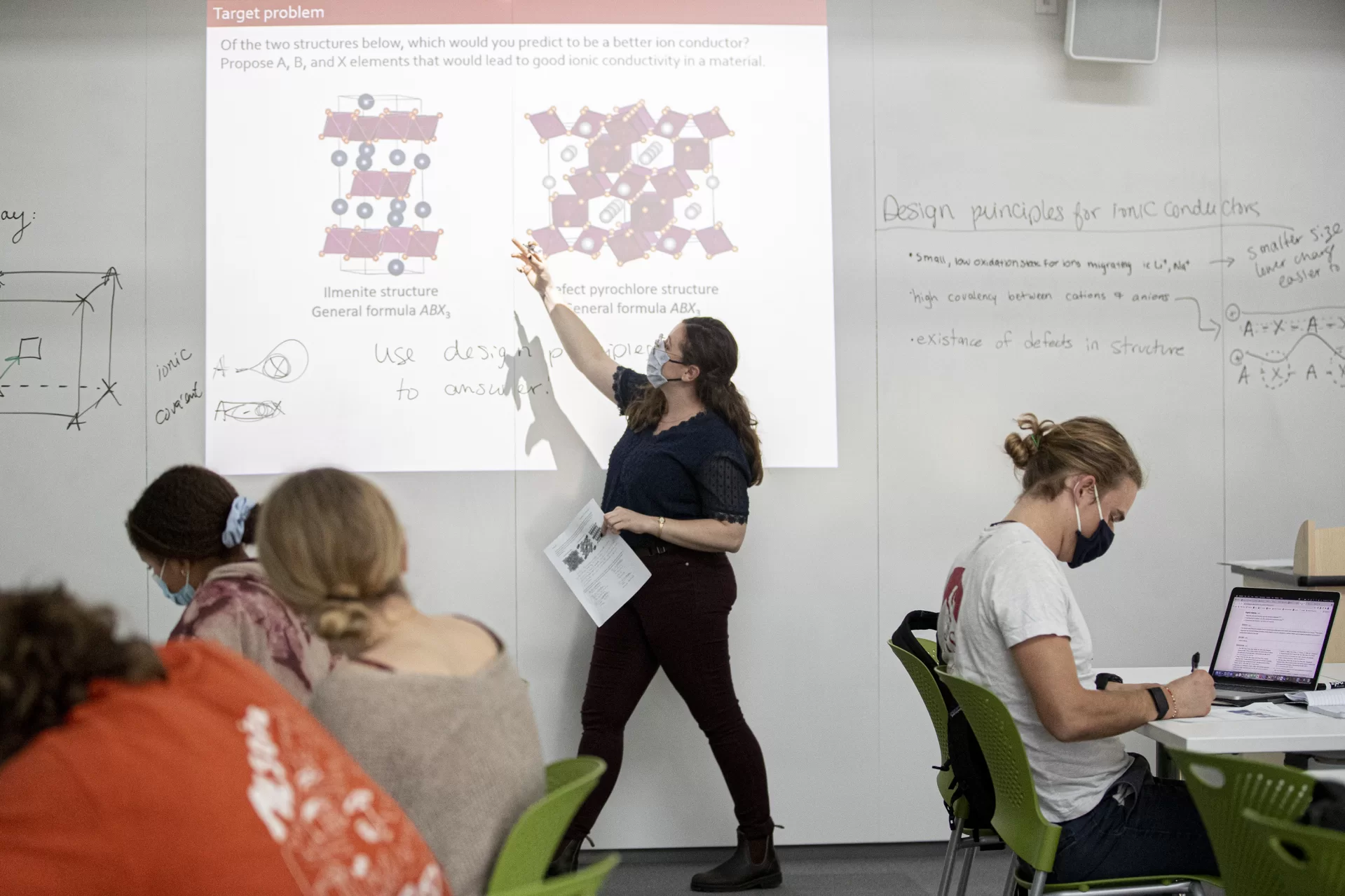 Her lab explores, as she once said, "what the structure of a material is, how atoms interact with one another, and how does that give rise to physical properties — for example, how does it conduct electricity or interact with light?"
Which brings us to ion conductors, the topic of Laurita's October lesson. While maintaining their solid state, ion conductors have near-magical properties: allowing ions — atoms or molecules that have an electric charge due to the loss or gain of one or more electrons — to move through them. This flow-through capacity is the basis for how a lithium-ion battery works, among other applications.
During this lesson, Laurita and her students made observations on materials and consulted the scientific literature to develop a set of principles that could be used to design high-performing ion conductors for battery applications.
"For this class in particular, we took advantage of the 360-degree whiteboards to compile all their findings," she says. "From that, we were easily able to use the collective knowledge of the class to come up with our 'guiding principles' for new battery materials."
The other day, we saw three students working together in one of the otherwise empty classrooms. The whiteboards are sure convenient when it comes to studying, one said. "When you fill up one section, you just move to the next."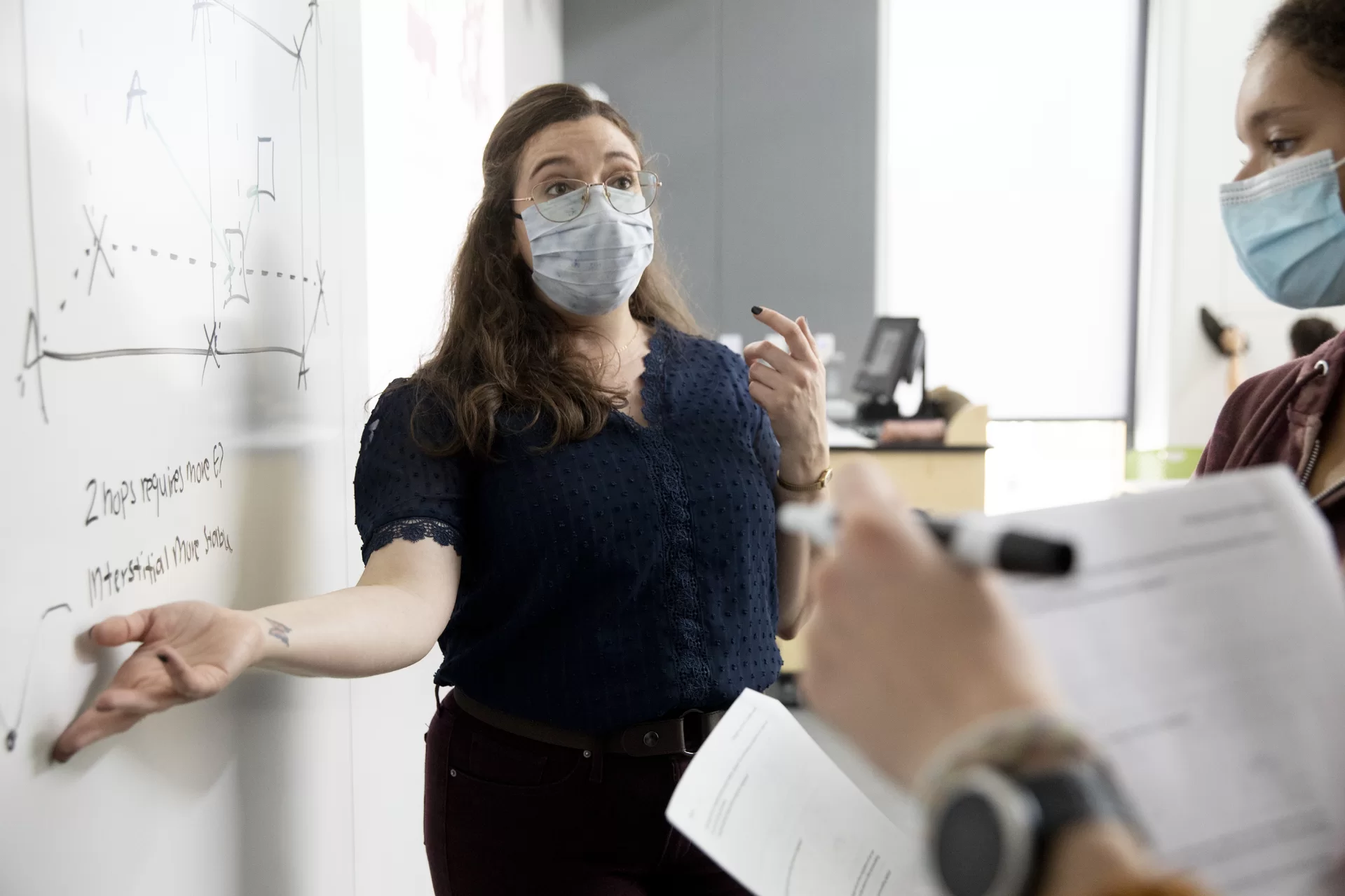 ---
Jonathan Witt
Title: Stockroom Manager and Safety Technician
Joined Bates: 2019
Date Photographed: Nov. 4, 2021, and Feb. 8, 2022
He says: "If we have it, don't order it."
"Chemists used to die young," says Jonathan Witt, noting the goal of one half of his job title, safety technician for the natural sciences at Bates, including the work done by chemists, biochemists, biologists, and neuroscientists in Bonney Science Center.
We were talking about how, in the late 19th and early 20th century, chemists had a cavalier attitude toward the dangerous chemicals in their labs, touching, smelling, and tasting them. And they smoked in their labs. All of which led to early, and sometimes explosive, deaths for more than a few.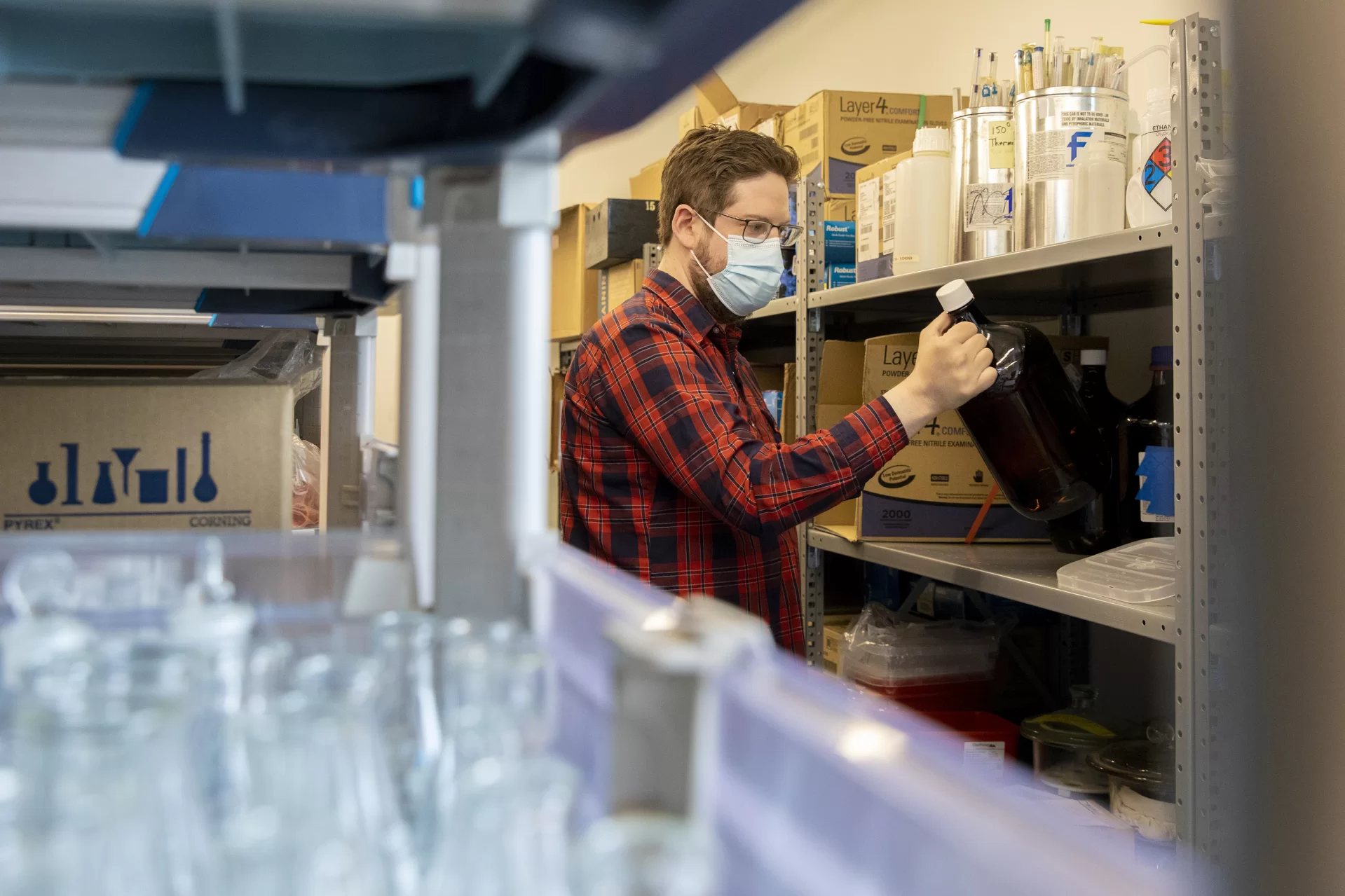 Today, Witt and others at Bates follow a range of laws by Occupational Safety and Health Administration and other federal agencies, including the Environmental Protection Agency, to keep Bates science labs safe. In OSHA terms, Witt is the college's "chemical hygiene officer." In other words, he says dryly, "I do a bunch of safety stuff with chemicals."
The other half of Witt's job is stockroom manager, overseeing the science center's storage of various chemicals — H2NC6H4CO2H anyone? — and lab equipment, from pipettes and petri dishes to test tubes and beakers and other glassware. (That chemical is aminobenzoic acid, an organic compound.)
In Bonney, Witt showed us how flammable chemicals have their own room that is its own "control area" with fire-rated walls and floors. Special lockers keep dangerous and "nasty" acids locked away. All the other chemicals are stored in their own room.
The equipment stockroom has storage space in the center, seven shelving units — the space-saving, sliding kind like in a library — and shelves, cabinets, and drawers along the room's periphery. There's a lot there. But there used to be more. Way more.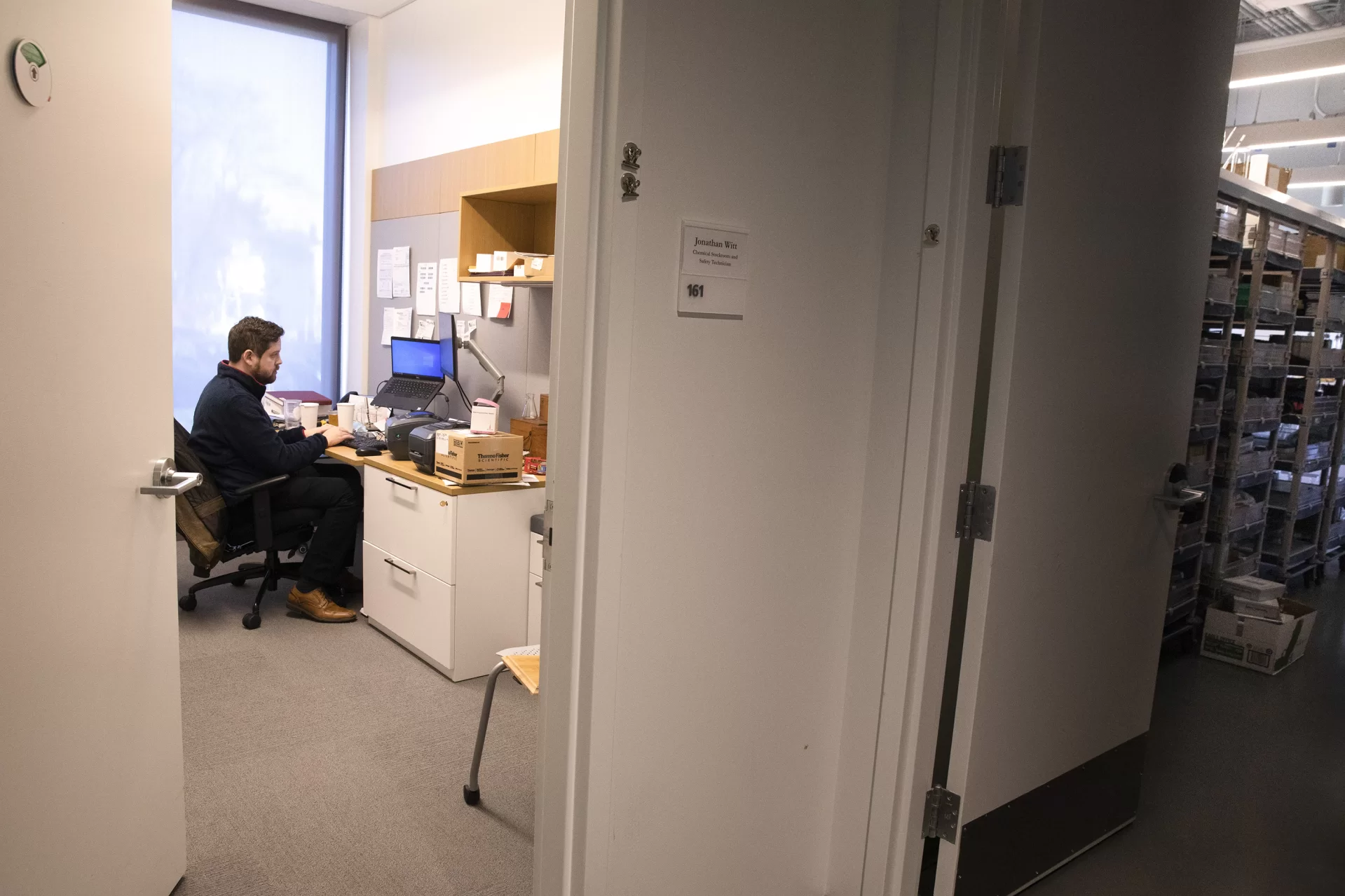 Bates' first dedicated space for science was John Bertram Hall and then, in succession, Hedge Hall, Carnegie Science Hall, and Dana Chemistry Hall. Over the years, Dana became like grandma's old house, filled with an accumulation of equipment and chemicals. Witt and others are pretty convinced that some items simply got moved from space to space over the last century and a half.
And when faculty members left the college, materials specific to their work often were left behind "and just sort of became part of the collection" in Dana, Witt says. "But often what they were doing was very esoteric or unique to them."
After a years-long inventory of Dana's contents, Bates executed a plan for the safe disposition of all the unneeded supplies and equipment. Lesson learned, says Witt: No more pack rats. "Our approach now is to get rid of things that aren't needed."
And going forward, when it comes to purchasing equipment or chemicals, "if we have it, don't order it. Try to make sure that we're not ordering excessive amounts of things. Because all that means is we eventually might have to pay for that to get decommissioned."
---
Lorna Clark
Title: Assistant in Instruction
Joined Bates: 1991
Date Photographed: Nov. 4, 2021
She says: "Being close by is a big part of the job"
As an assistant in instruction in the Department of Chemistry and Biochemistry, Lorna Clark spends much of her days in Bonney Science Center close to students and the scientific equipment that she trains them to use.
"Being close by is a big part of the job," she says.
One morning in early November, Clark had an attentive group of 19 orgo students getting ready for the experiment of the day, a continuation of a lesson on how to isolate and purify clove oil.
As Clark's students prepared for their experiment, the lab's teaching assistant, Casey Winter '23 of Malvern, Pa., checked with Clark about the air-flow monitor on the exhaust hood. "If the monitor reads zero" — meaning there's no flow of air to remove fumes — "there's a problem," said Clark.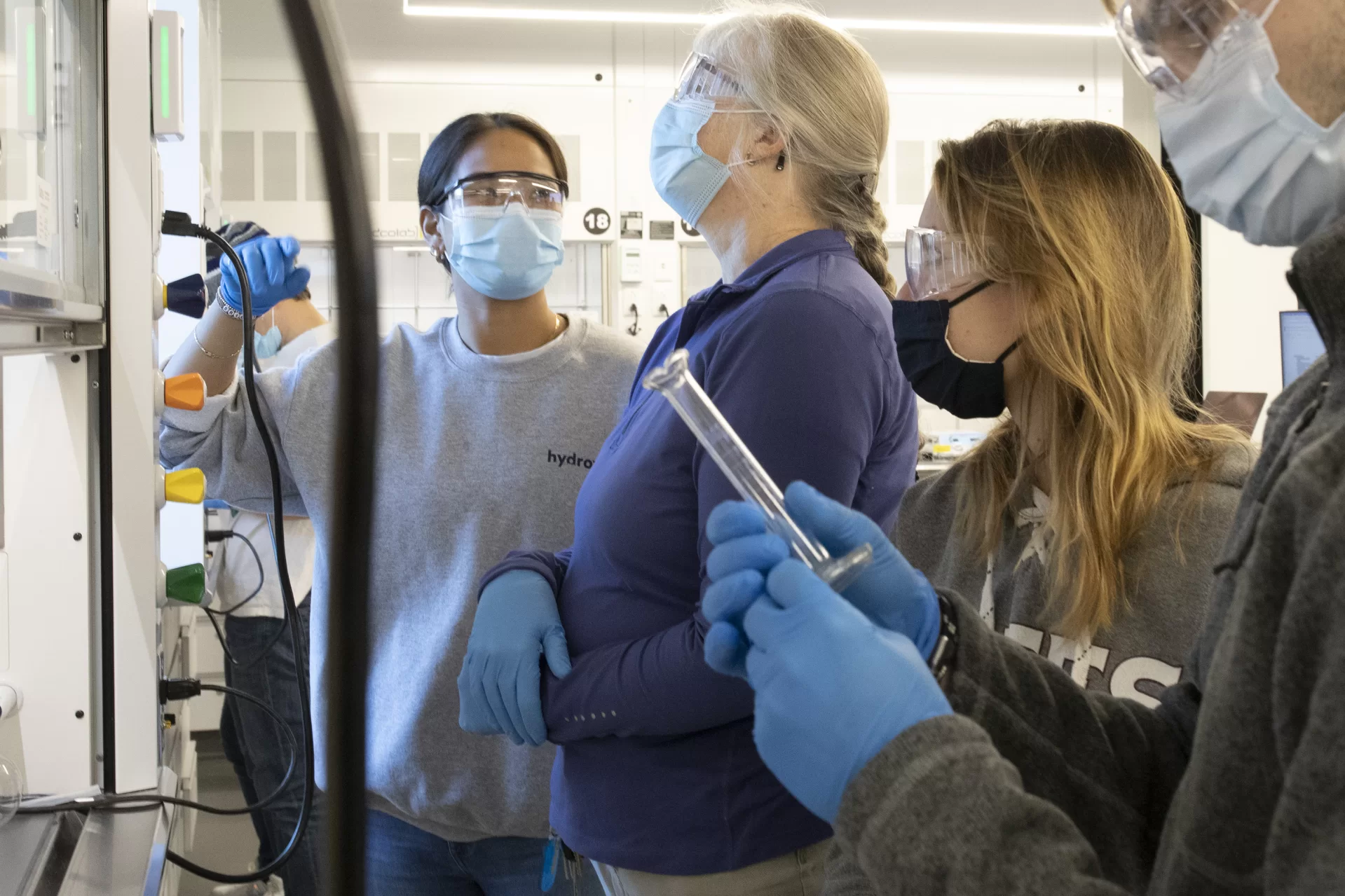 During the experiment, the students used separatory funnels. This piece of lab glassware, which looks like an upside down teardrop, is used to separate "immiscible" liquids, like oil and water. On this day they were working to purify eugenol, which had been separated from caryophyllene and humulene. "All three of these compounds are found in clove oil," Clark explains.
Clark's primary job is to get students ready and then instruct them during the department's organic chemistry lab sessions. Clark has been at Bates for 31 years, but the cohort she works with stays the same. "It's still such a great age. I love working with these students."
Clark also maintains some of the major instrumentation in the department, such as the NMR spectrometers. In Bonney, the NMR is conveniently more close to the organic teaching lab. When the labs were back in Dana Chemistry Hall, the NMR was "one floor down behind a locked door. Students submitted samples to a rack and a TA ran them."
Which meant that the NMR was "a black box to the students. Now, "students can submit their own sample directly to the NMR autosampler."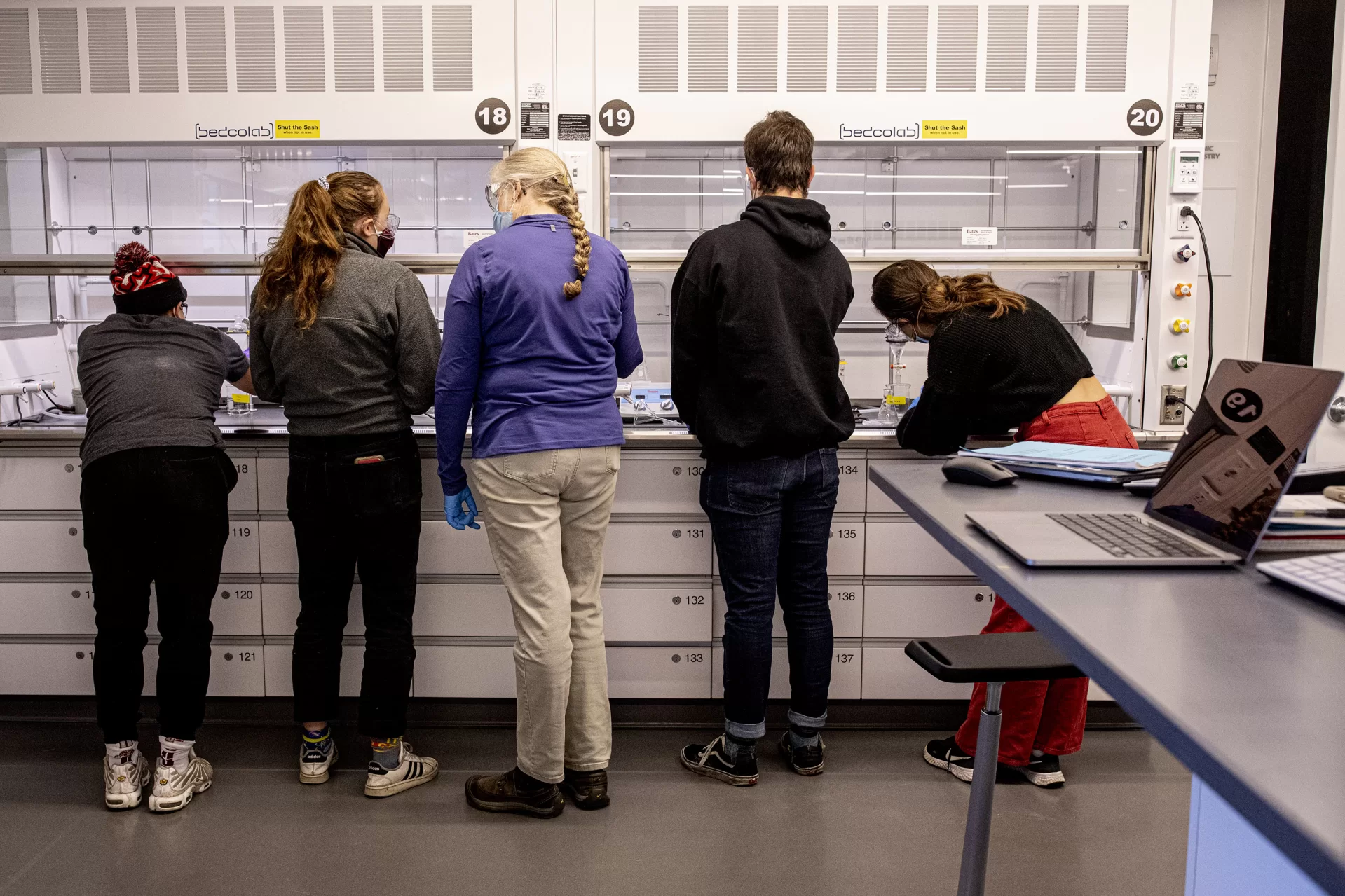 Another nifty new feature in Bonney's organic chemistry lab space are desktop computers, allowing the students to keep electronic notebooks to submit to Clark after a lab, rather than hand-written ones.
But old-school notebooks are still in play in various research labs, as is the value of learning to imagine and hand-draw the invisible molecular, atomic, and subatomic particles that students learn all about.
"There's a lot to be said for learning to draw in organic chemistry, like learning how to draw compounds," Clark says. "If you just cut and paste it, you don't learn it!"
View Comments