"It's like seeing a long-lost family member," said David Evans, manager of the Bobcat Den, as he looked around the newly reopened campus pub on Tuesday morning.
The gradual return to in-person Bates life has a lot of signposts. Some are big as billboards, like last spring's return to an in-person Commencement. And some, like the Den's return after being closed for 516 days, might whiz by without fanfare — but feel deeply symbolic.
Shortly after Evans unlocked the door at 8 a.m., his first customer was a Den regular, 97-year-old Ralph Sylvester '50, who drove himself from his home in Auburn.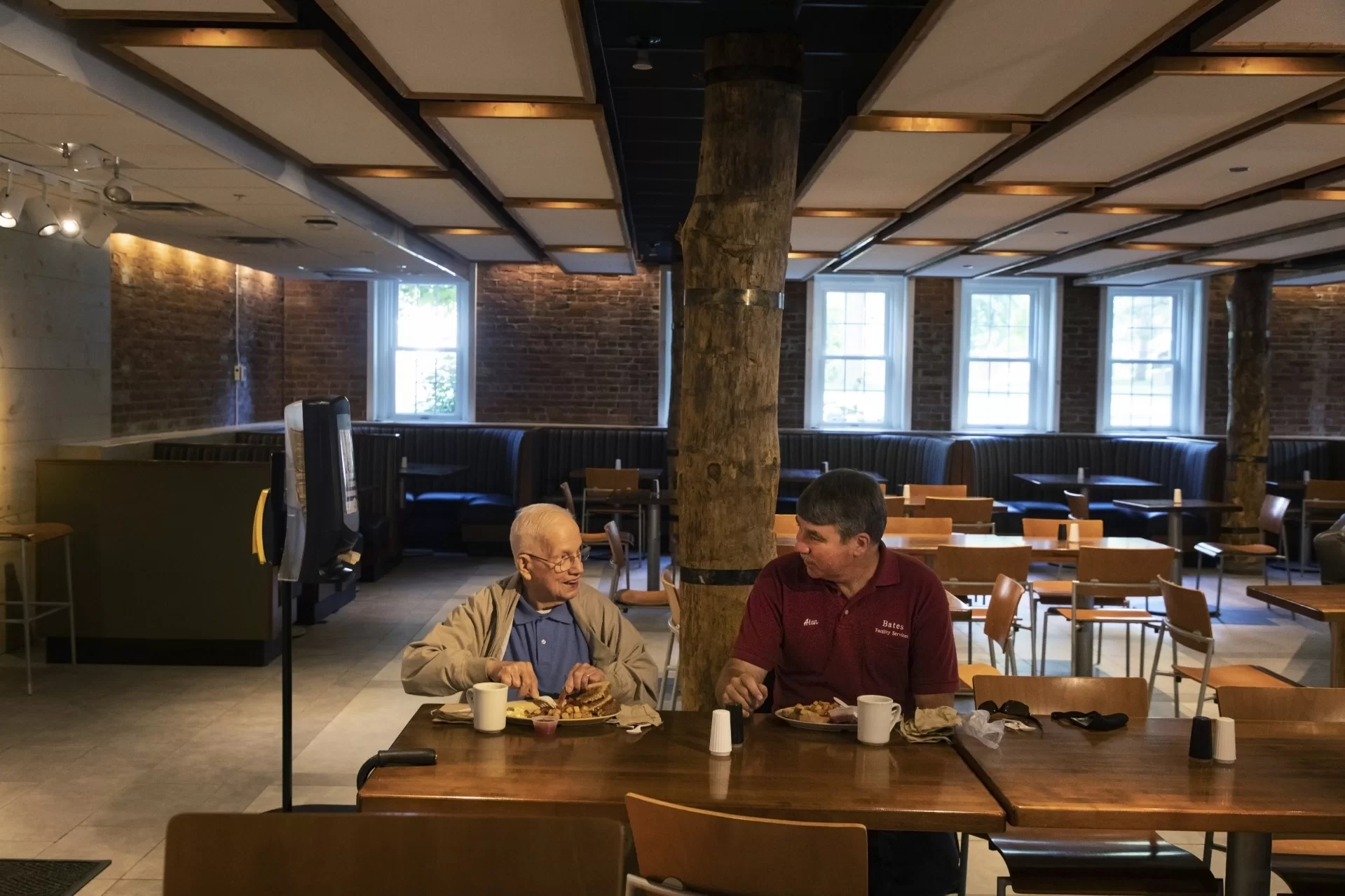 "I turned in my Subaru for a Ford Escape," he reports. And his first vehicle? "A 1938 four-door Ford sedan. I bought it after the war from Cloutier's Garage on Canal Street for $365. That was a beater."
The Den staff warmly greeted Sylvester as he ambled in. Indeed, the Den is one of those "everyone knows your name" places. And where most folks are old enough to get that reference.
"You can see a lot of people come through the Den who you may not see on a regular basis on campus," says Alan Kelley of Bates Facility Services. "It's great to see folks and say, 'Hi, how's it going,' and get a decent meal to fill your belly to start your day out right."
The Den was created as part of a 1950 expansion of Chase Hall. It promised to be, and became, a place where "men and women could get together informally anytime during the day or evening, for a coke or a snack, or just to talk, listen to records and even trip a light fantastic or two," reported The Bates Student.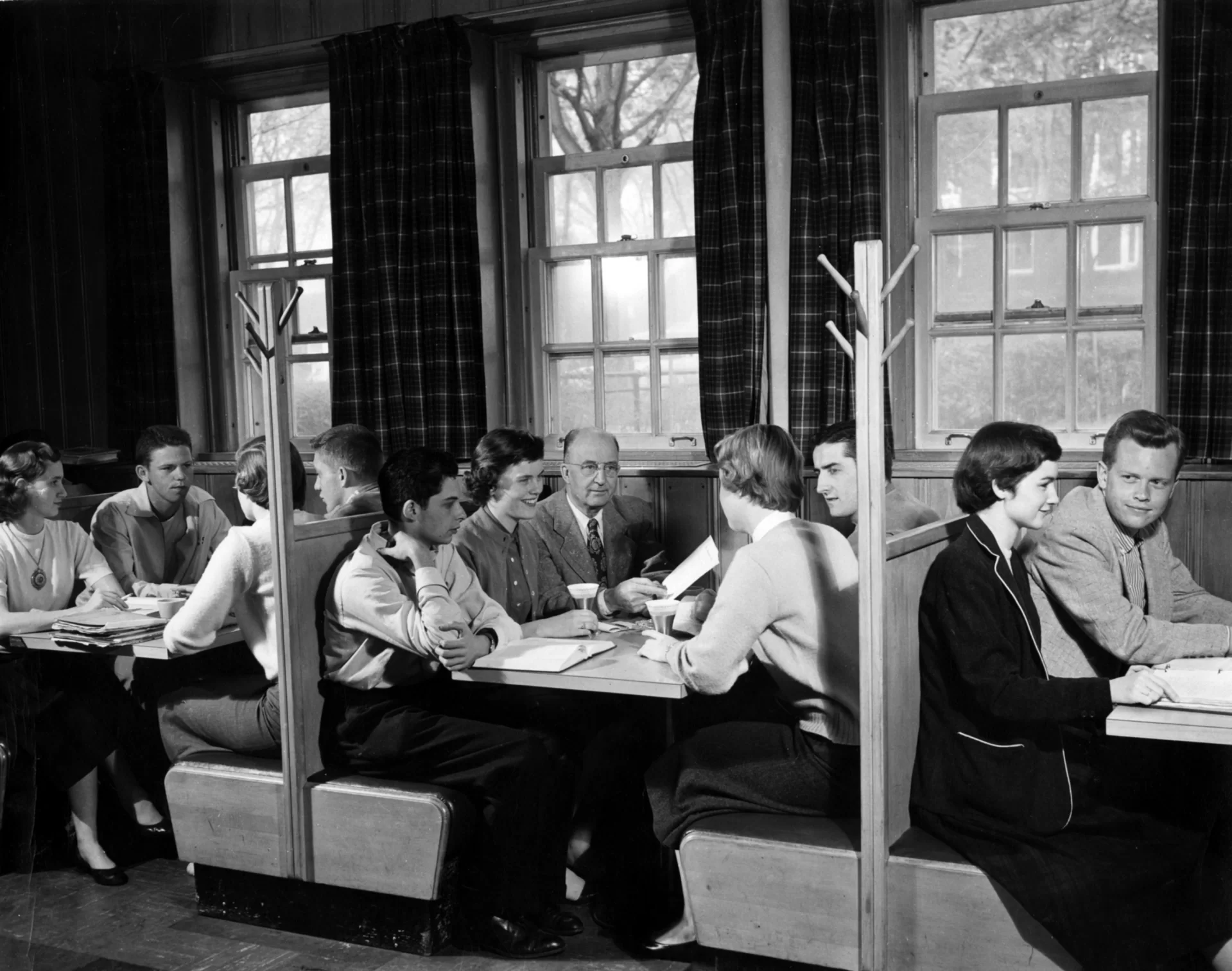 Then as now, coffee was a big seller. "Coffee sales have necessitated an order for four dozen additional cups," the Student reported.
At breakfast and lunch, Den customers today are mostly faculty and staff, plus occasional visitors, perhaps a worker from a Bates construction site or from a nearby hospital.
Some sit alone reading the paper or scrolling through their news feed. Others are at tables pushed together for a departmental meal. In the corner seats, a professor and senior might be going over a thesis proposal.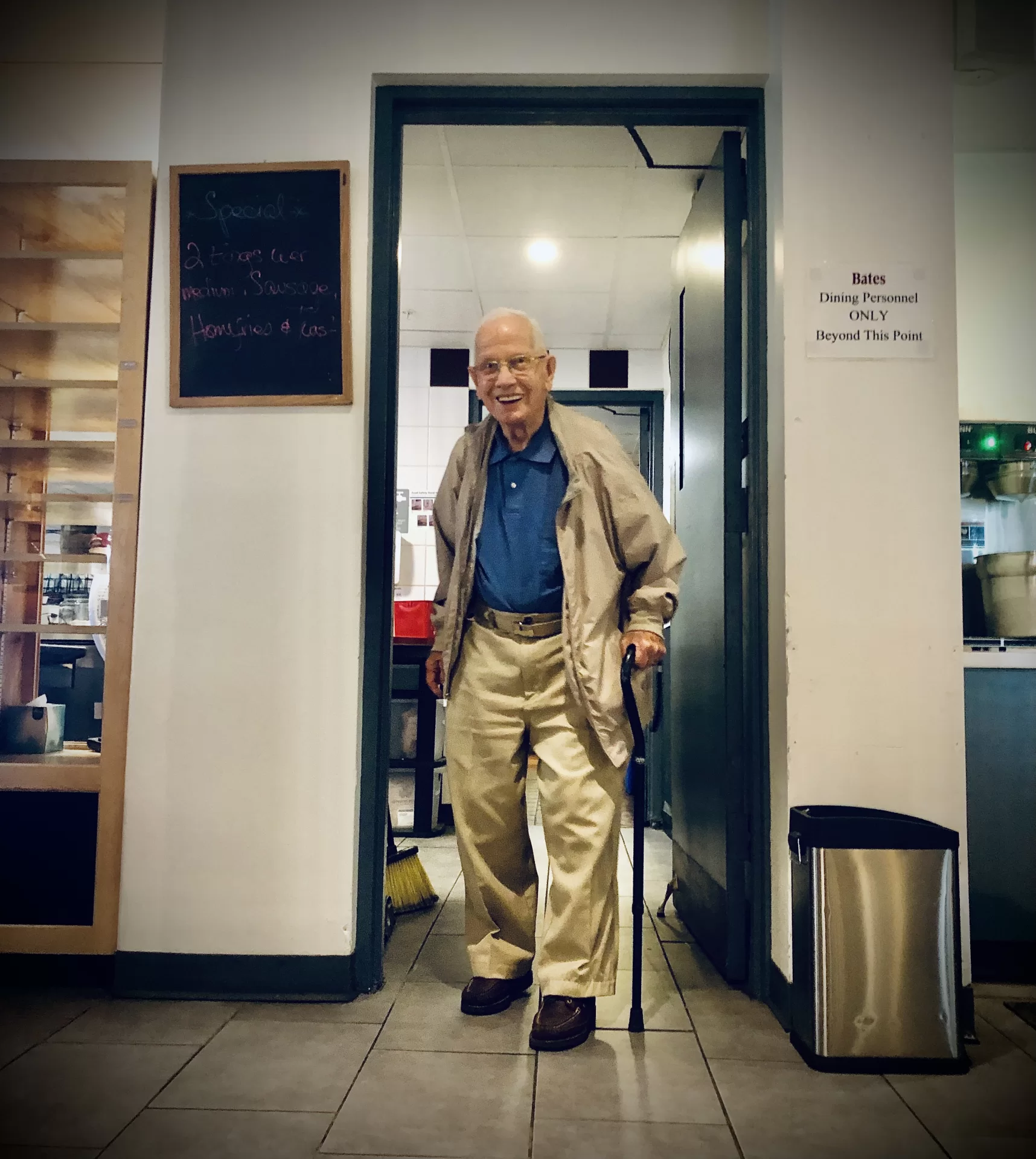 Between meals and in the evening, it's more of a quiet hangout spot for students.
Sylvester is a World War II veteran, a combat engineer who arrived on Omaha Beach about a week after D-Day, then spent the rest of the war clearing minefields and building bridges for troops heading inexorably toward Germany.
For his first breakfast back in Den, Sylvester had two eggs over easy, with bacon, toast, and home fries.
Kelley soon joined Sylvester at their regular table, close to the entrance, for a renewal of their years-long routine, having breakfast together, sometimes joined by John Rasmussen, energy manager for Facility Services.
"The Den is where Ralph and I met and developed our friendship," said Kelley, who is the mechanical and electrical services manager for Facility Services.
"And it's quite a friendship," said Sylvester, dipping a forkful of home fries into his ketchup.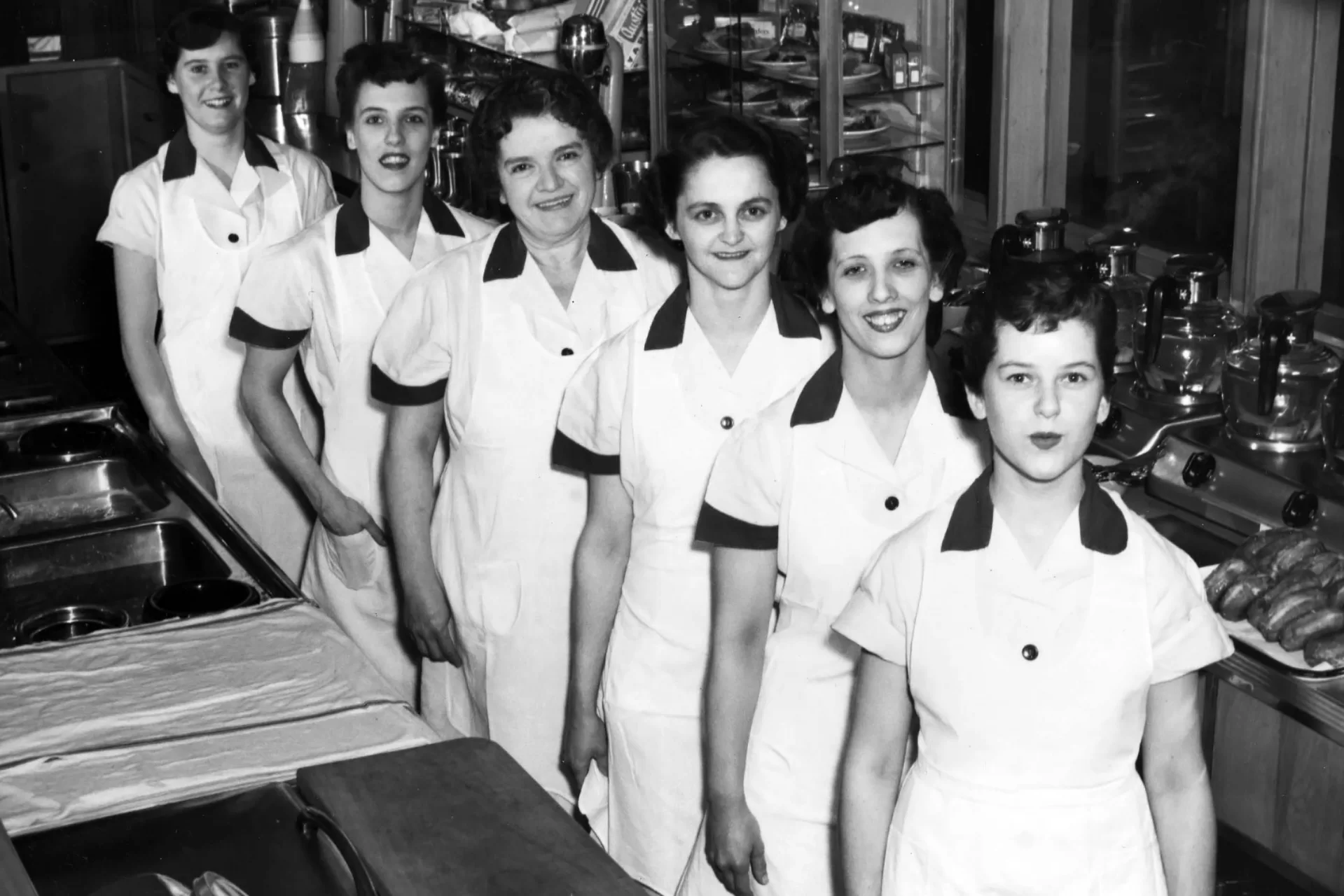 View Comments