Summer interns for Bates Admission wear many hats: co-hosting information sessions, joining Zoom panel discussions, and, of course, leading campus tours, both in person and virtually.
In-person tours are done in the traditional fashion, the guides keeping things moving ahead while walking backward, sharing facts, figures, and anecdotes — straight from the heart — about the Bates places they stroll by during each 60-minute expedition.
Typically, tour-goers are prospective students and families. But because the campus was closed to Admission visitors since March 2020, this summer has seen an influx of students who've been admitted and chosen to matriculate with the Class of 2025 — but had never set foot on campus.
"It's humbling to be that first point of contact" for a member of the Class of 2025 who's never seen the campus in person, says senior Noah Potts of Great Barrington, Mass.
"Students who have applied and been accepted have a fairly good understanding of what Bates offers in terms of opportunities for students. What we can offer is the excitement of being here on campus."
In that spirit, we decided to ask nine of Admission's summer interns: What's your favorite Bates place and why? The photographs and text below provide the answers — and their excitement.
Noah Pott '22 of Great Barrington, Mass.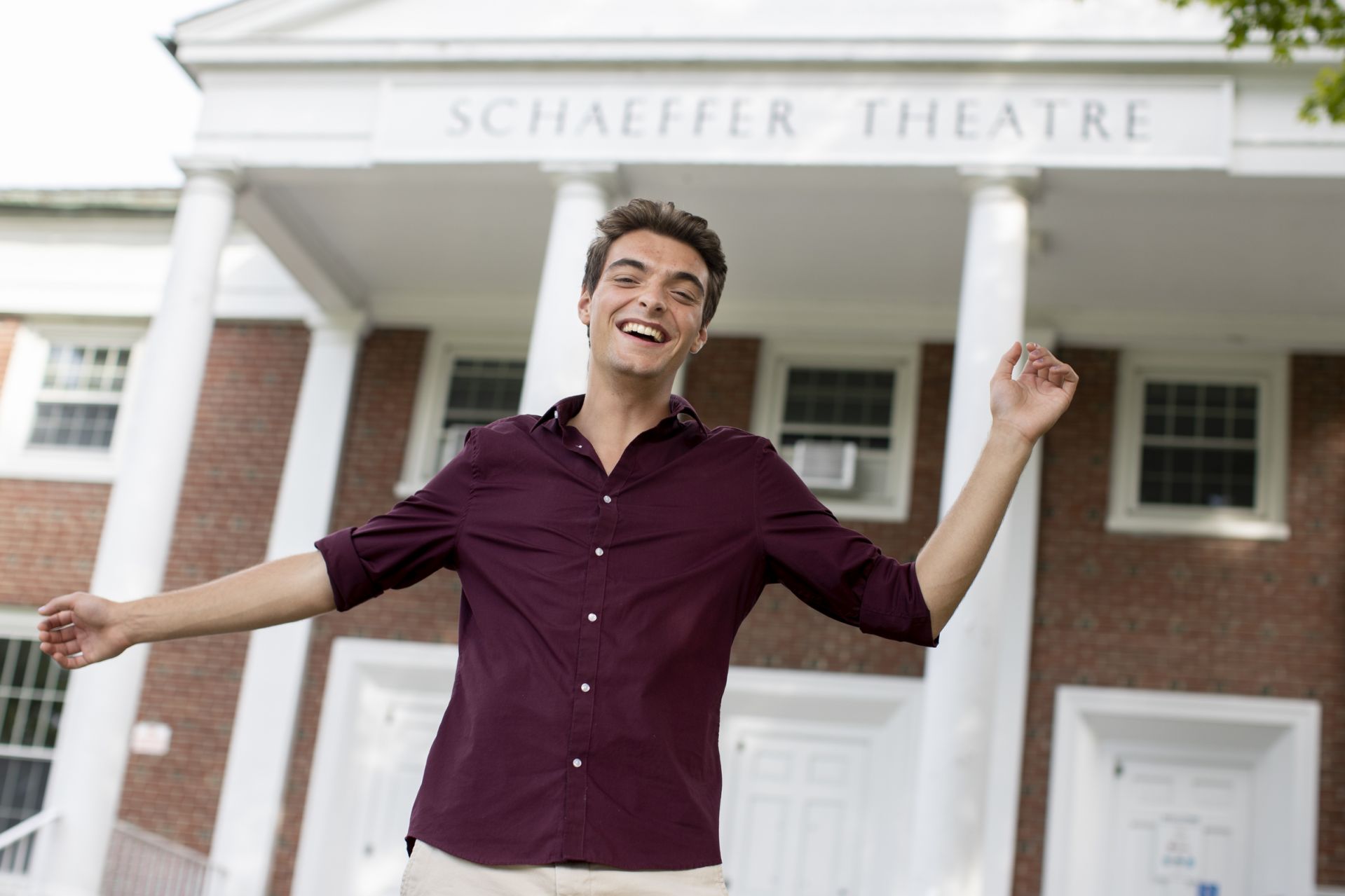 Major: Theater, Music
Favorite Place: Schaeffer Theatre
Noah says: Schaeffer is where magic and the performing arts come to life for me. Creativity flows in Schaeffer. I'm going to be performing my senior thesis in here, and I'm really excited for that.
---
Max Younger '22 of Orinda, Calif.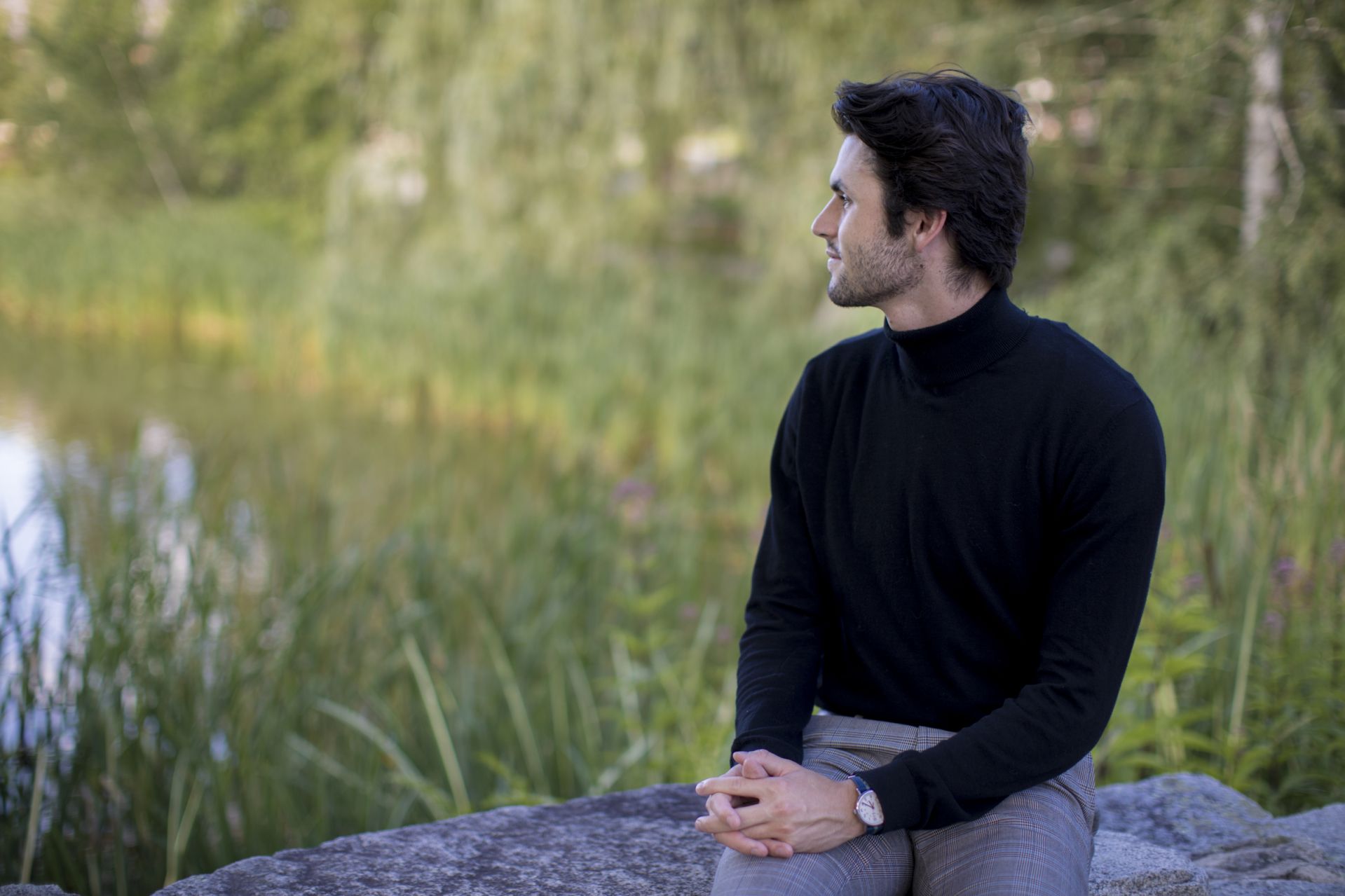 Major: Rhetoric, Film, and Screen Studies; Theater
Favorite Place: Lake Andrews
Max says: I like coming to the Puddle, particularly when I'm feeling overwhelmed. It's a good place to get outside, reflect, and relax.
---
Maddie Korbey '22 of Brooklyn, N.Y.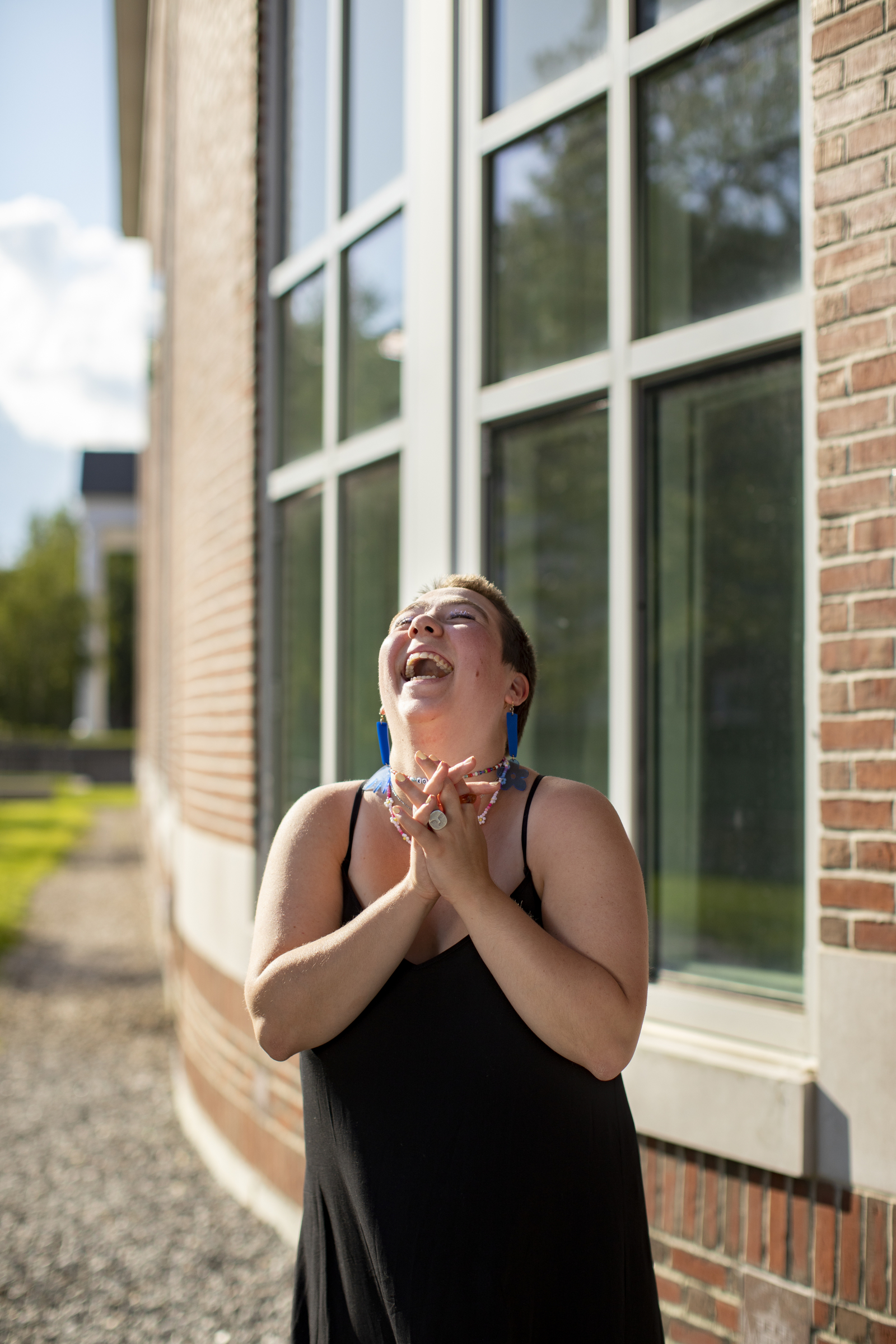 Major: Religious Studies
Favorite Place: Pettengill Hall
Maddy says: I am such a night owl. I love to post up late at night to get my work done in the quiet Atrium amongst the trees and fountains and night sky.
---
Jake Lamb '23 of Media, Pa.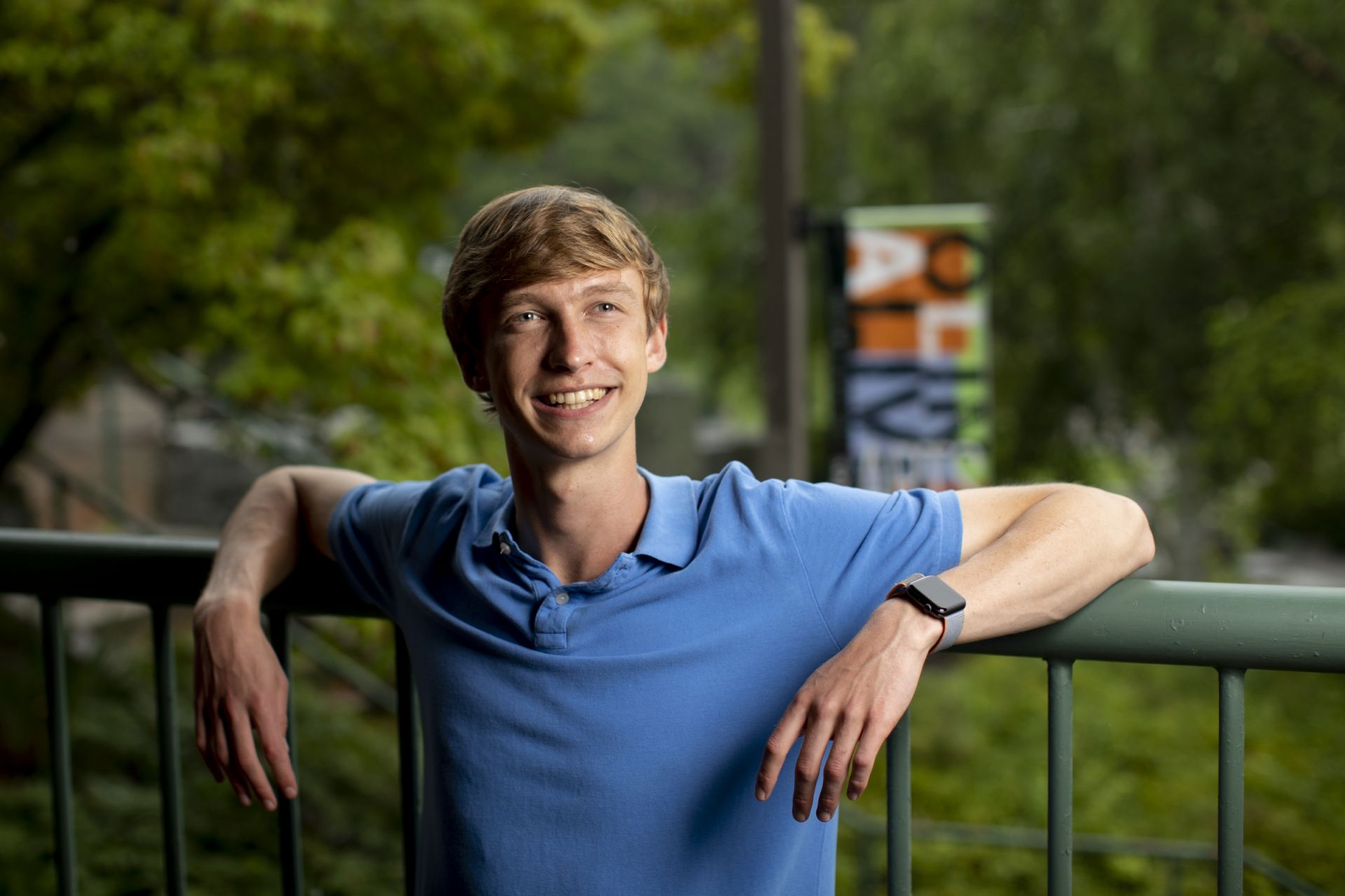 Major: Environmental Studies
Favorite Place: Olin Arts Center Concert Hall
Jake says: It's essentially my second home on campus — the perfect environment for me to learn. It makes me feel like singing, and that's what I love to do.
I've come to love it. In the evenings, I have Deansmen rehearsals for a cappella. I have choir rehearsals on a lot of afternoons. I have applied music lessons earlier in the day, and then I come to practice for those lessons. Good vibrations for singing. Make that great vibrations.
---
Elysia Garza '22 of Houston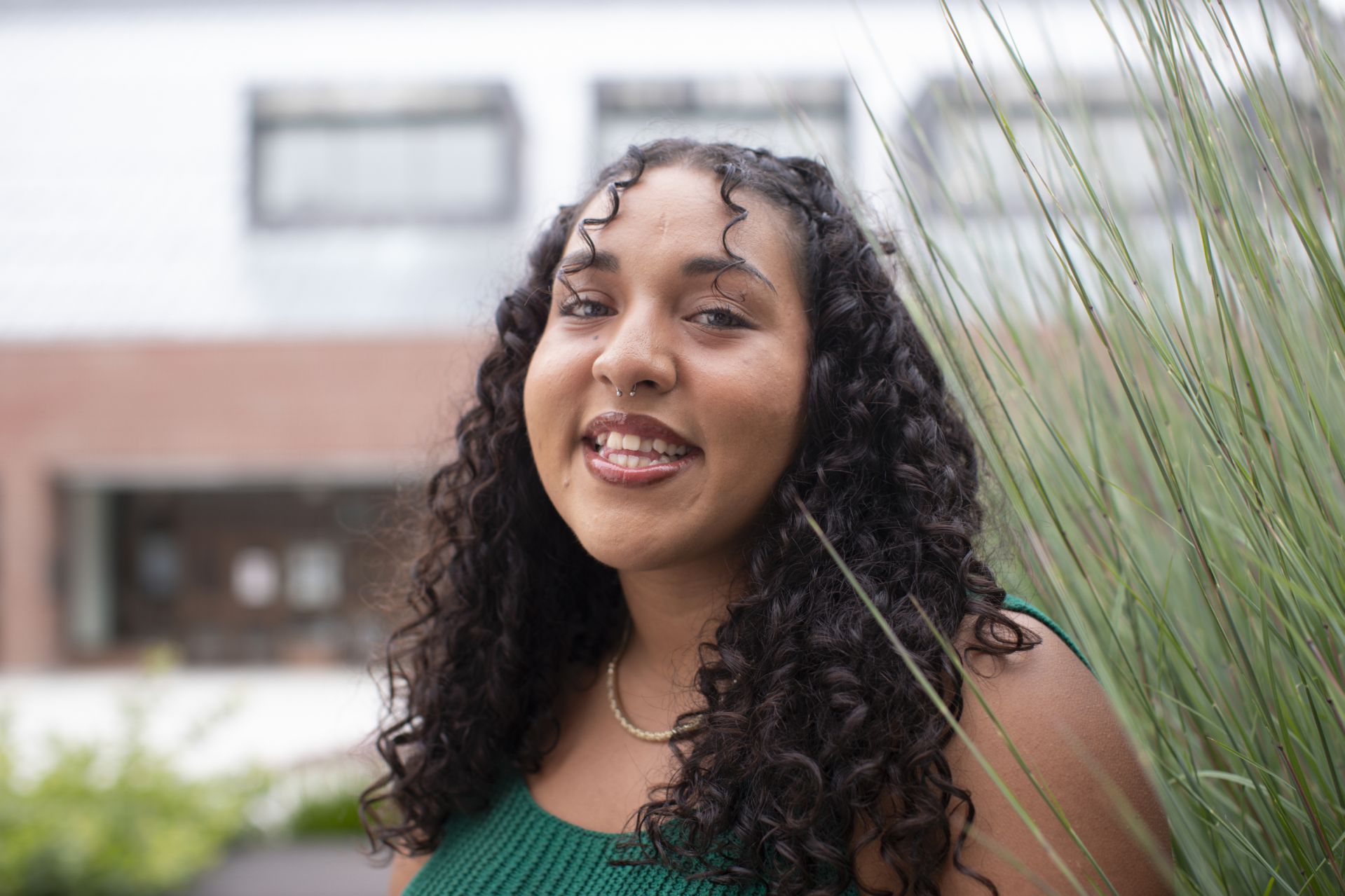 Major: Psychology
Favorite Place: The Ladd Library Terrace
Elysia says: Two of my closest friends worked in the library, in the Academic Resource Commons and with the IT Help Desk. We'd settle in to study together on the terrace before they went to work. And I'd often greet them after their shift.
---
Ava Petrin '24 of Leeds, Maine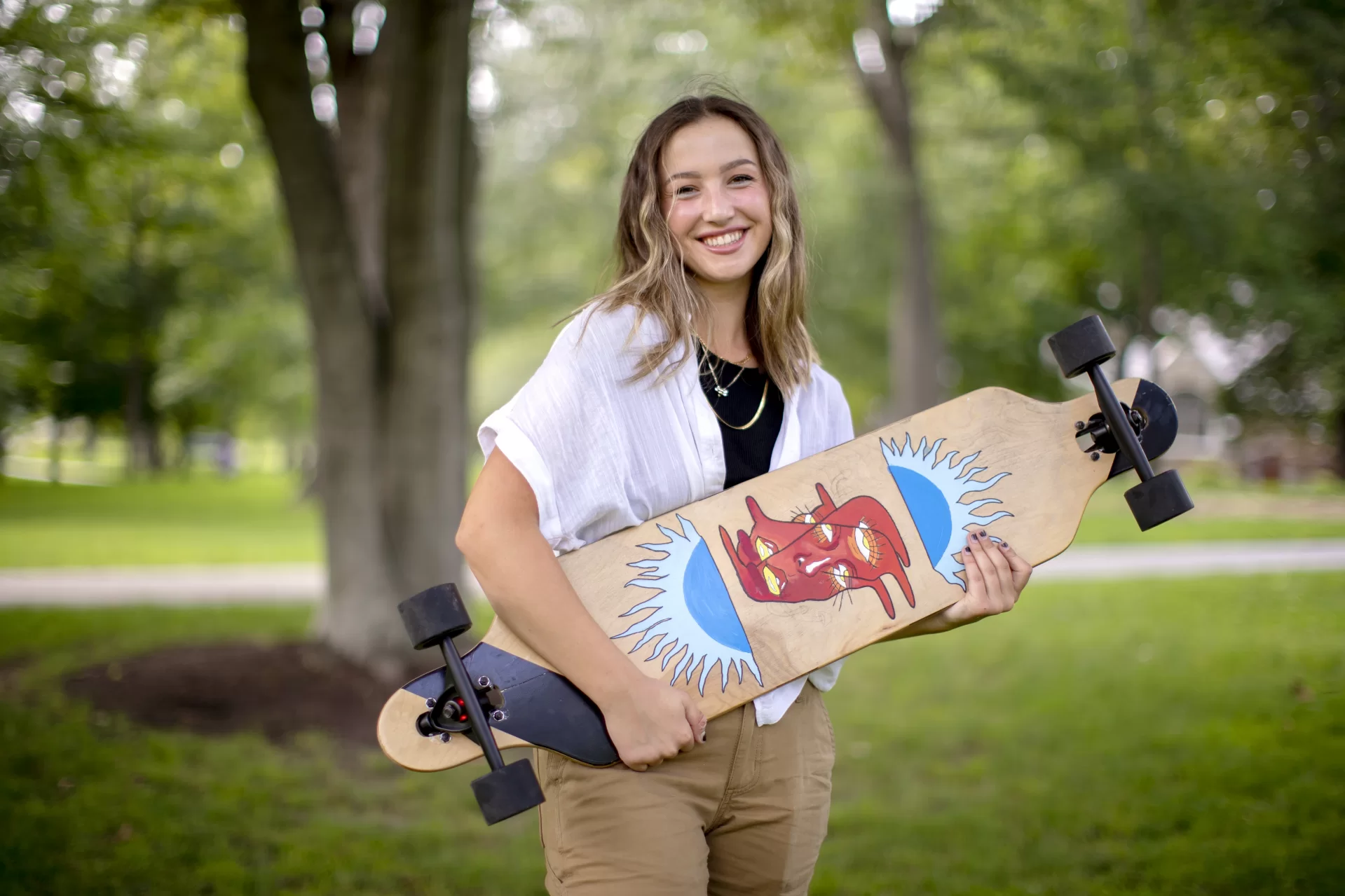 Major: Undeclared
Favorite Place: The Historic Quad
Ava says: The Quad represents Bates community and values. I come out here to hang out with my friends. A little five-minute trip usually turns into 45 minutes or an hour because we see so many people. And you get to interact with professors.
I just gave a tour a few minutes ago and saw my First-Year Seminar professor, so I got to introduce him to prospective students.
---
Omar Sarr '23 of Dakar, Senegal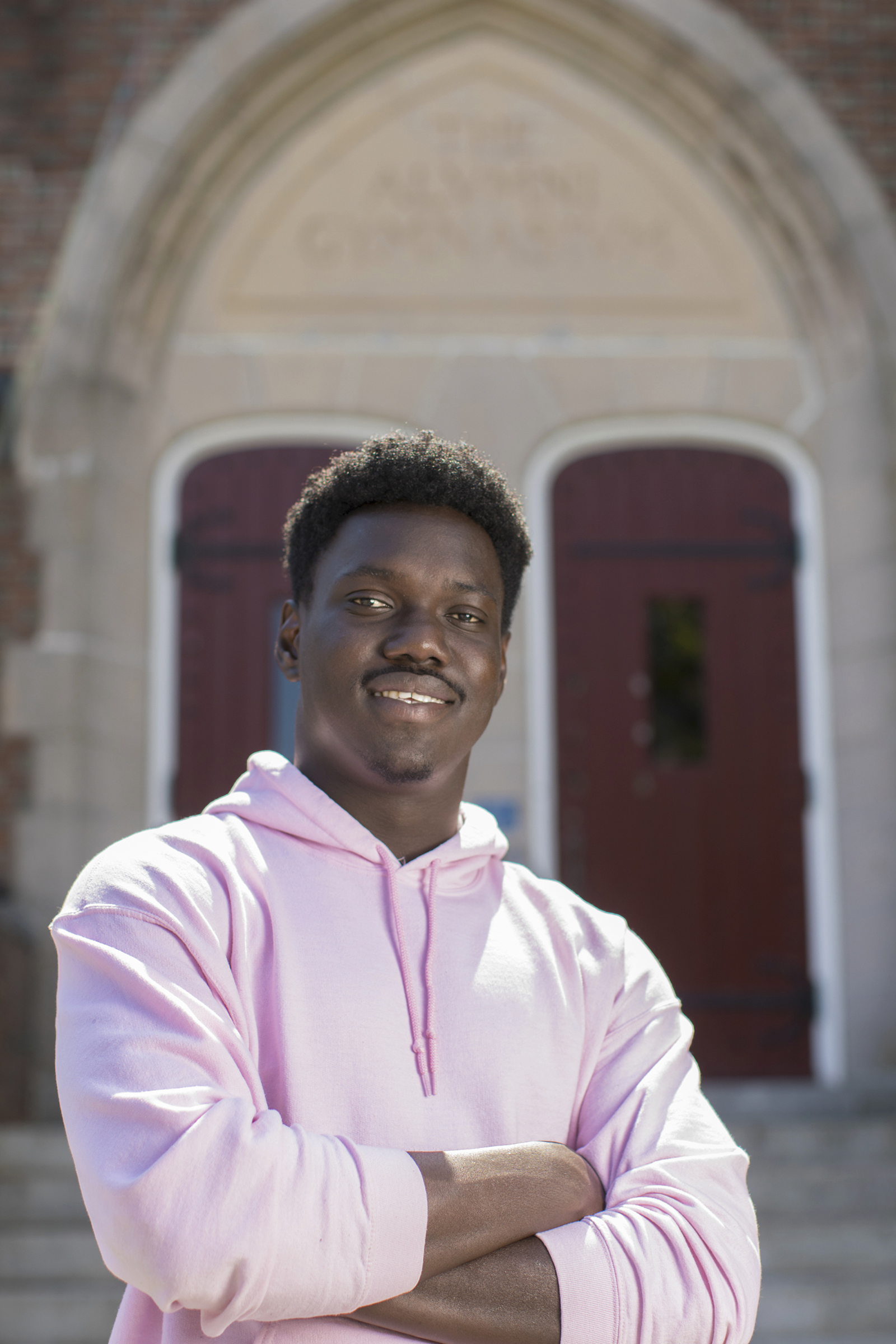 Major: Economics
Favorite Place: Alumni Gymnasium
Omar says: Alumni Gym is my home on campus. It's where I have my family, which is my basketball team. This is where I give a lot of love to my teammates and to my friends who come and watch the games. It's also where I receive the most love, from my coaches, my teammates, and from the people who come here all the time.
It's a space where I really push myself to be better all the time.
---
Maggie Nespole '23 of Annapolis, Md.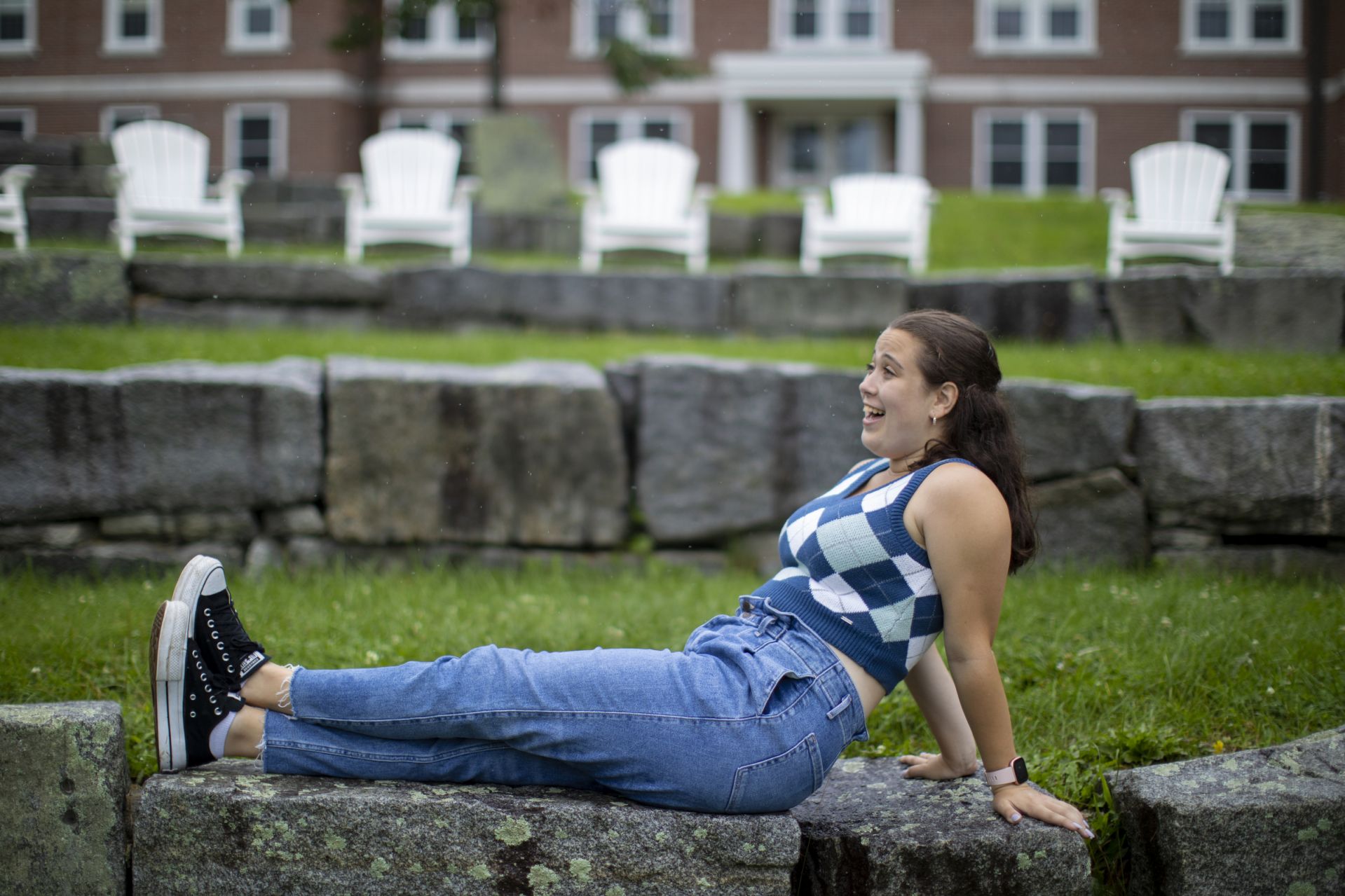 Major: English, Politics
Favorite Place: Florence Keigwin Amphitheater
Maggie says: It's a really peaceful spot. I like to study out here with friends. Sometimes we have club meetings here, and sometimes I just like to sit and read on my own.
---
Margaret Horvat '23 of Philadelphia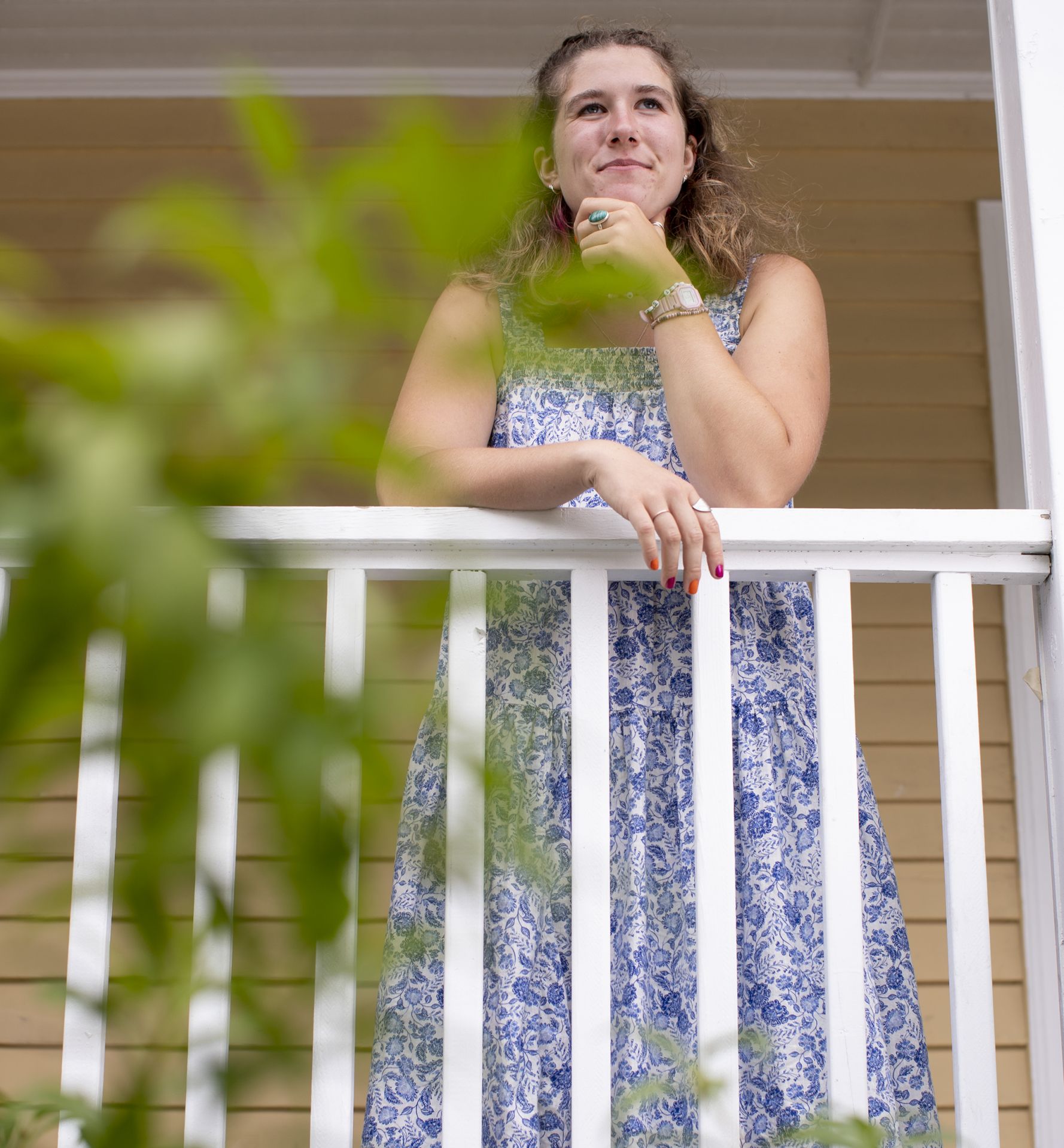 Major: Rhetoric, Film, and Screen Studies
Favorite Place: Milliken House
Maggie says: I lived in Milliken my first year, and we really enjoyed creating our community, hanging out in the common room. It's entirely first-years. We had a lot of fun!
I felt really lucky that my roommate and I got along really well. People hang out in our room. When I'd get back to my room, friends were often there. That was a really sweet experience — a wonderful space to get to know people.
View Comments