Whether tucked away individually beside the tall columns of campus buildings, or sharing a hammock with a close friend, Bates students head outside to do their thing when the weather's this fine.
Join us as we take a walk around campus, stopping here and there to photograph students and ask what they're up to on a dazzling September afternoon, on a campus with tremendous natural charm.
'Enjoyment Like Reading'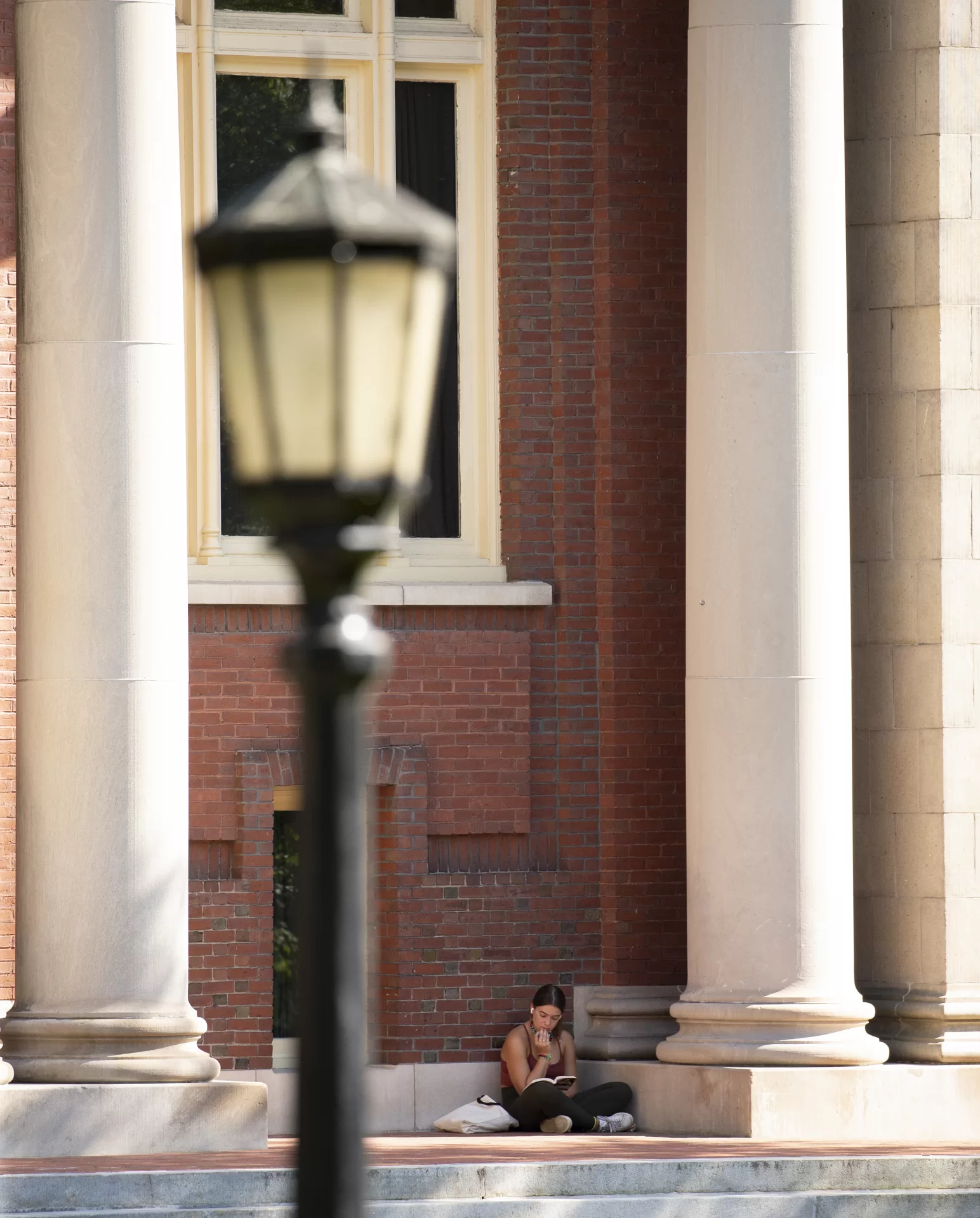 Jane Austen wrote, "I declare after all there is no enjoyment like reading! How much sooner one tires of any thing than of a book!"
Ellory Kearns '24 of Steamboat Springs, Colo., reads Jane Austen's Sense and Sensibility on the porch of Coram Library for the course "Jane Austen: Then and Now," taught by Professor of English Lillian Nayder. Other course readings include Austen's Emma, Mansfield Park, and Pride and Prejudice.
---
'Not Today, Satan'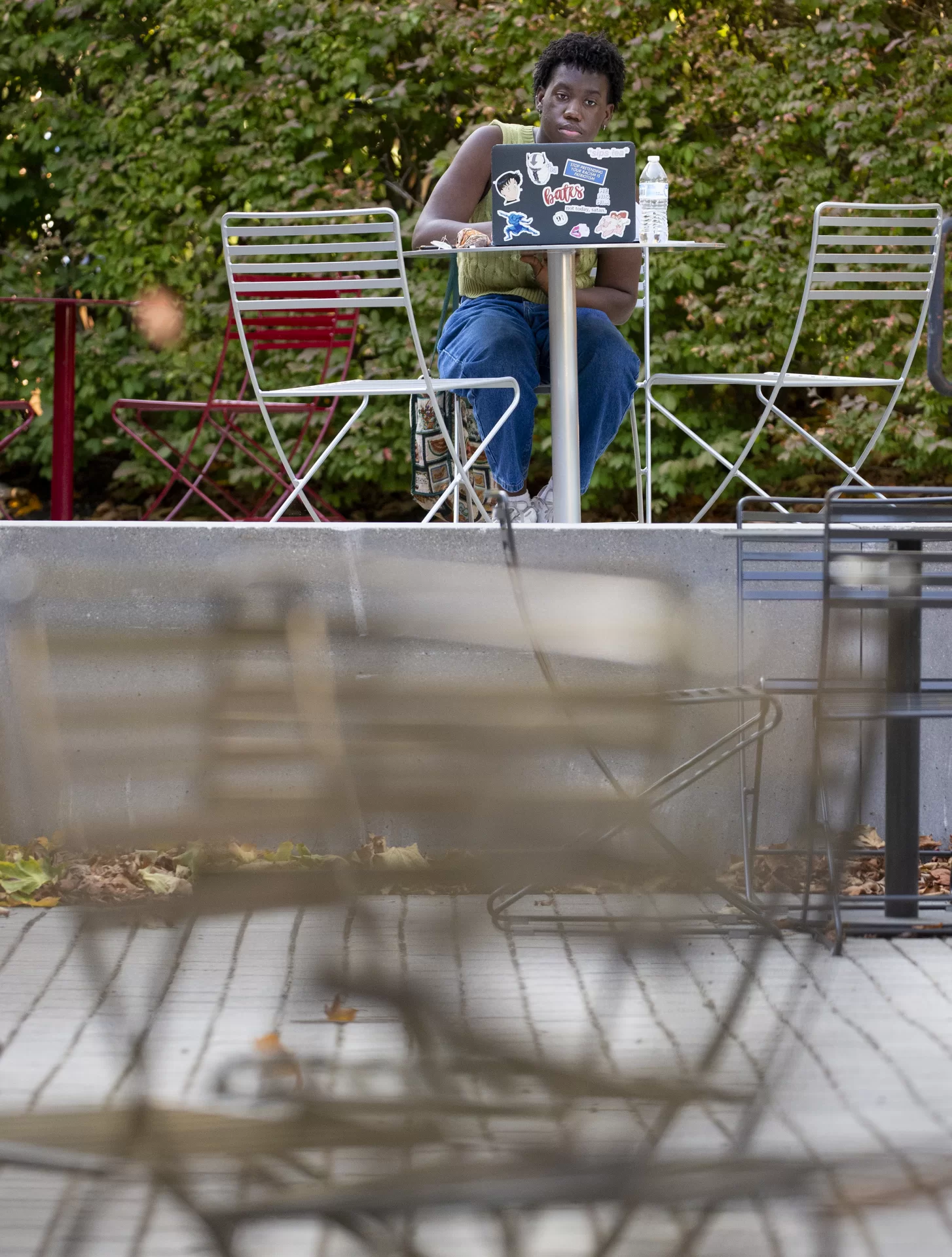 At the Den Terrace, Sam Jean-Francois '23 of Everett, Mass., attends a class via Zoom.
Taught by Dana Professor of Religious Studies Marcus Bruce '77, the course introduces students to interdisciplinary methods of analysis in Africana, American studies, and gender and sexuality studies.
Like so many others, Jean-Francois' laptop is decorated with a selection of witty and pointed images and memes, including:
"Stop Pretending Your Racism Is Patriotism," an antiracism slogan that emerged circa 2017
9 3/4: Train platform from which students board the Hogwarts Express in Harry Potter
"Not today, Satan": Line from RuPaul's Drag Race that's become a meme
The character Appa from Avatar: The Last Airbender
The character Mamoru Chiba from Sailor Moon
*sips tea*: a meme implying that you're chill while there's drama around you
Characters Steven and Connie riding the lion, from Steven Universe
---
Canine Company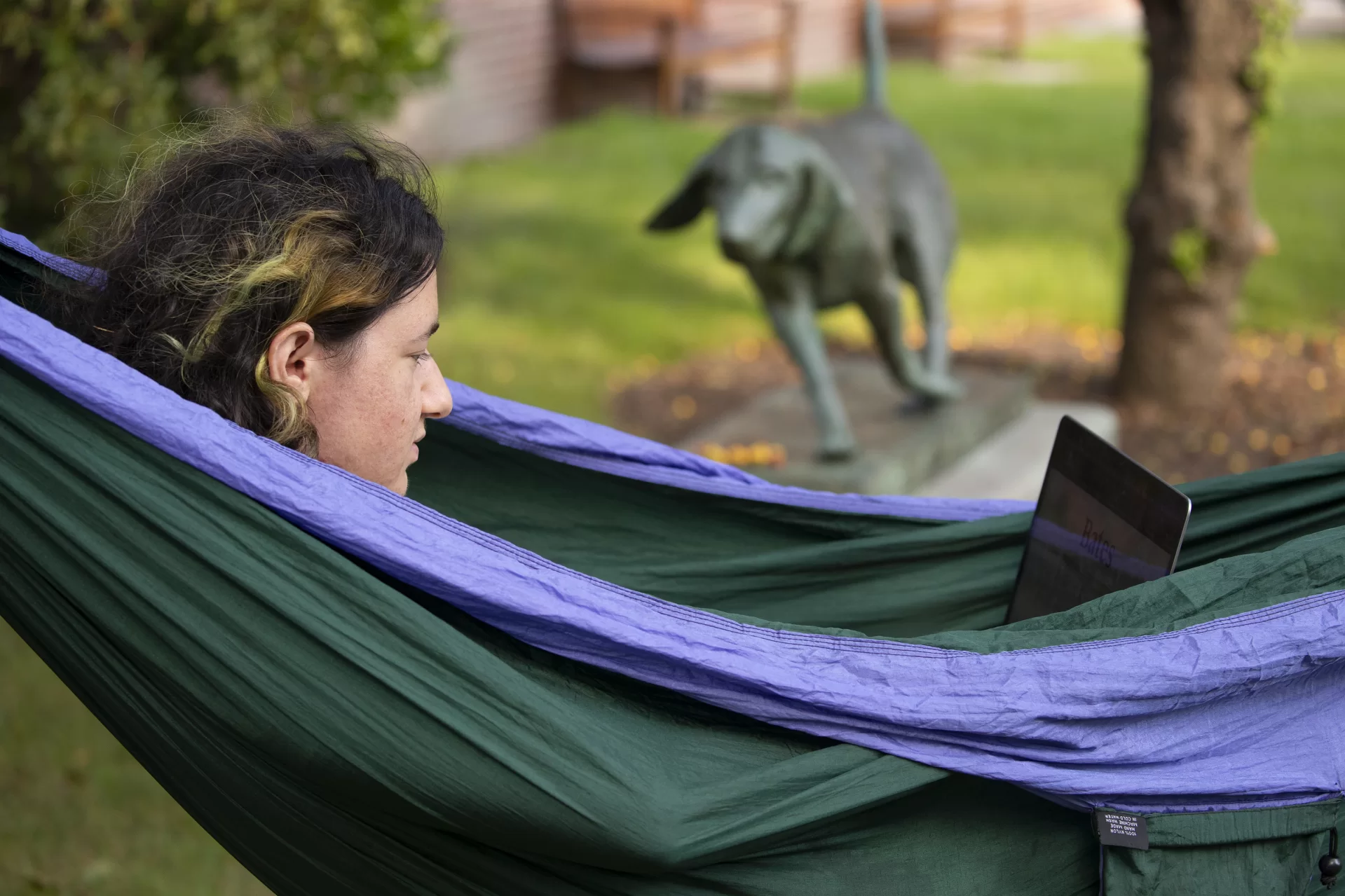 Levi Mindlin '24 of Portland, Ore., reads an assignment for Biology 202, "Cellular Basis of Life," taught by Assistant Professor of Biology Lori Banks.
The textbook for the course is Biological Sciences. His hammock is next to Dan's Beagle, tethered to two Scotch pines at the foot of the stairs to Ladd Library.
---
Welcome Back to Books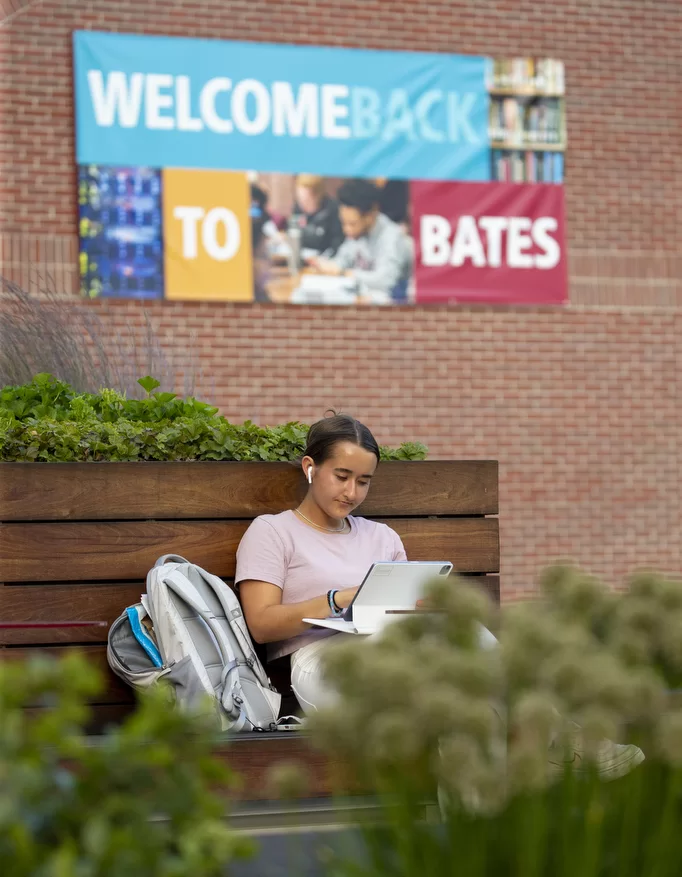 Stella Younkin '24 of East Greenwich, R.I., reads on the Library Terrace for the course "Lives in Place" taught by Assistant Professor of Environmental Studies Tyler Harper.
Course readings include The Factory by Hiroko Oyamada; The Stone Gods by Jeanette Winterson, and Trophic Cascade by Camille Dungy.
---
Pass Perfect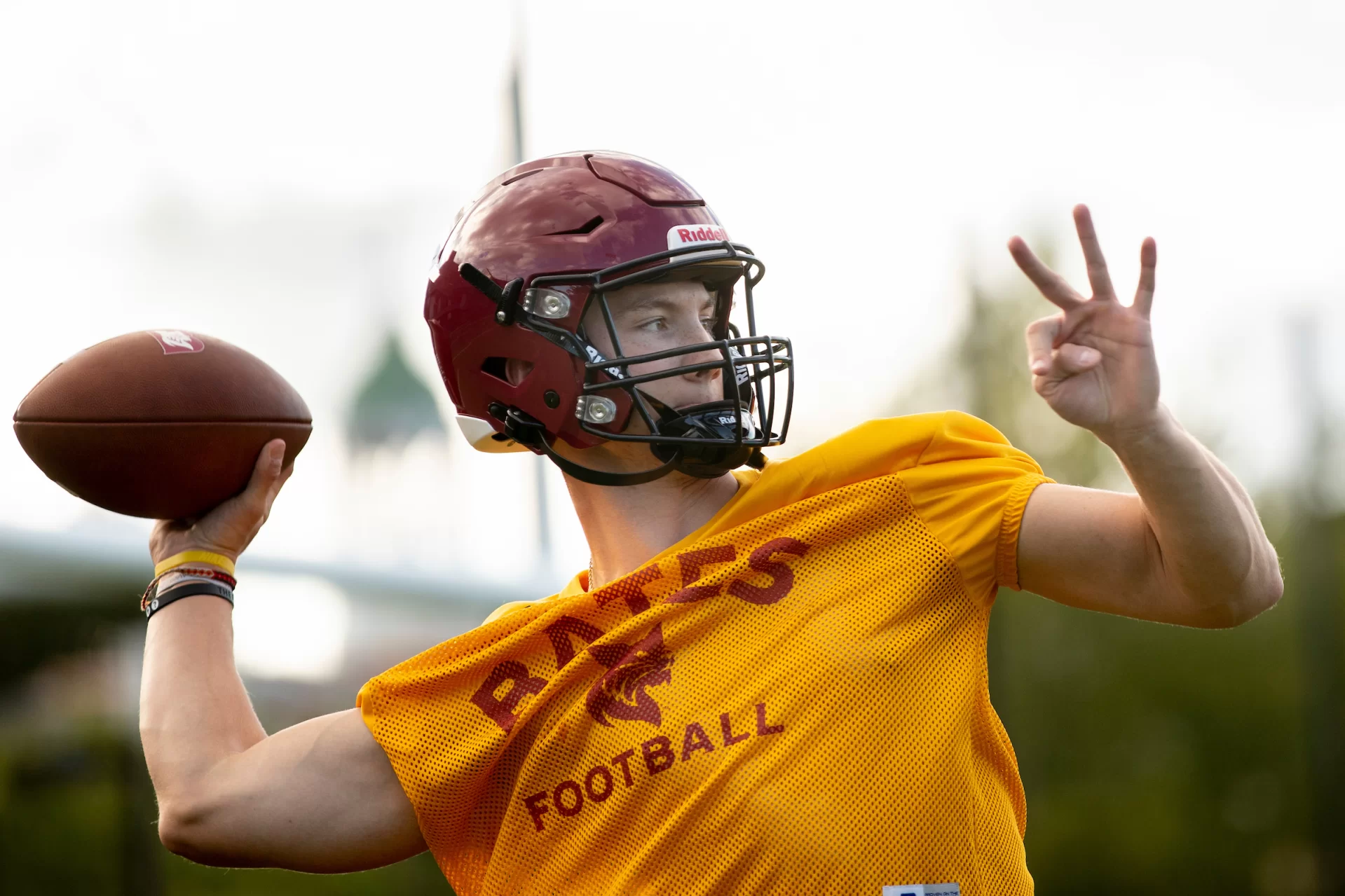 First-year quarterback Colton Bosselait of Westminster, Mass., warms up at the start of a preseason practice on Sept. 10 on Garcelon Field.
---
On Call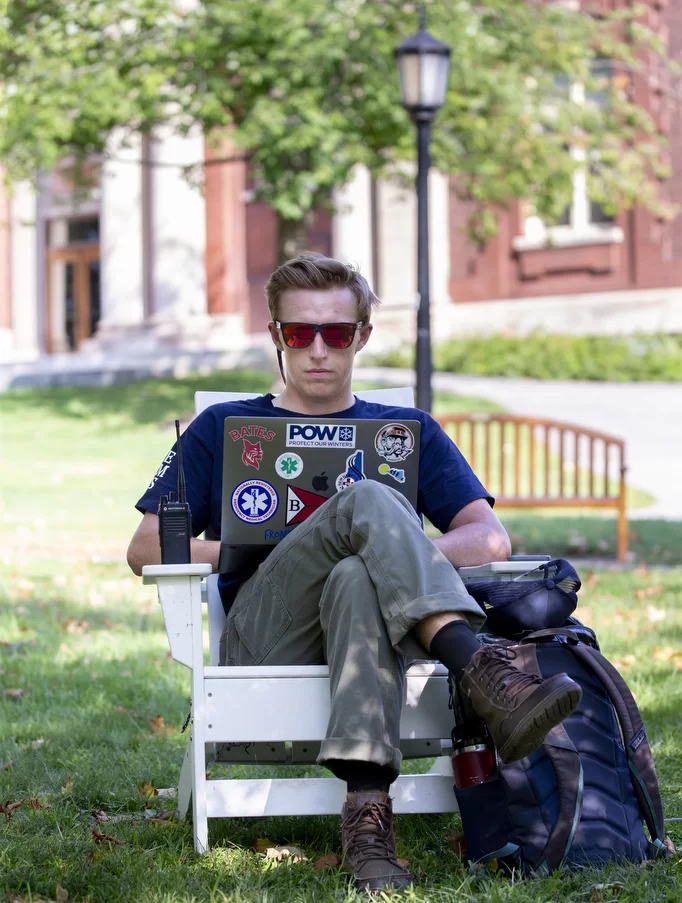 While on call for Bates Emergency Medical Services, Ethan Baker '24 of Jackson, N.H., composes an email to students in the First-Year Seminar "Managing the Gulf of Maine: Climate Change and Impacts," for which he is a course-attached tutor for writing.
The course is taught by Caitlin Cleaver, a lecturer in the humanities and director of the Bates–Morse Mountain Conservation Area and the Coastal Center at Shortridge.
---
Terrace to Table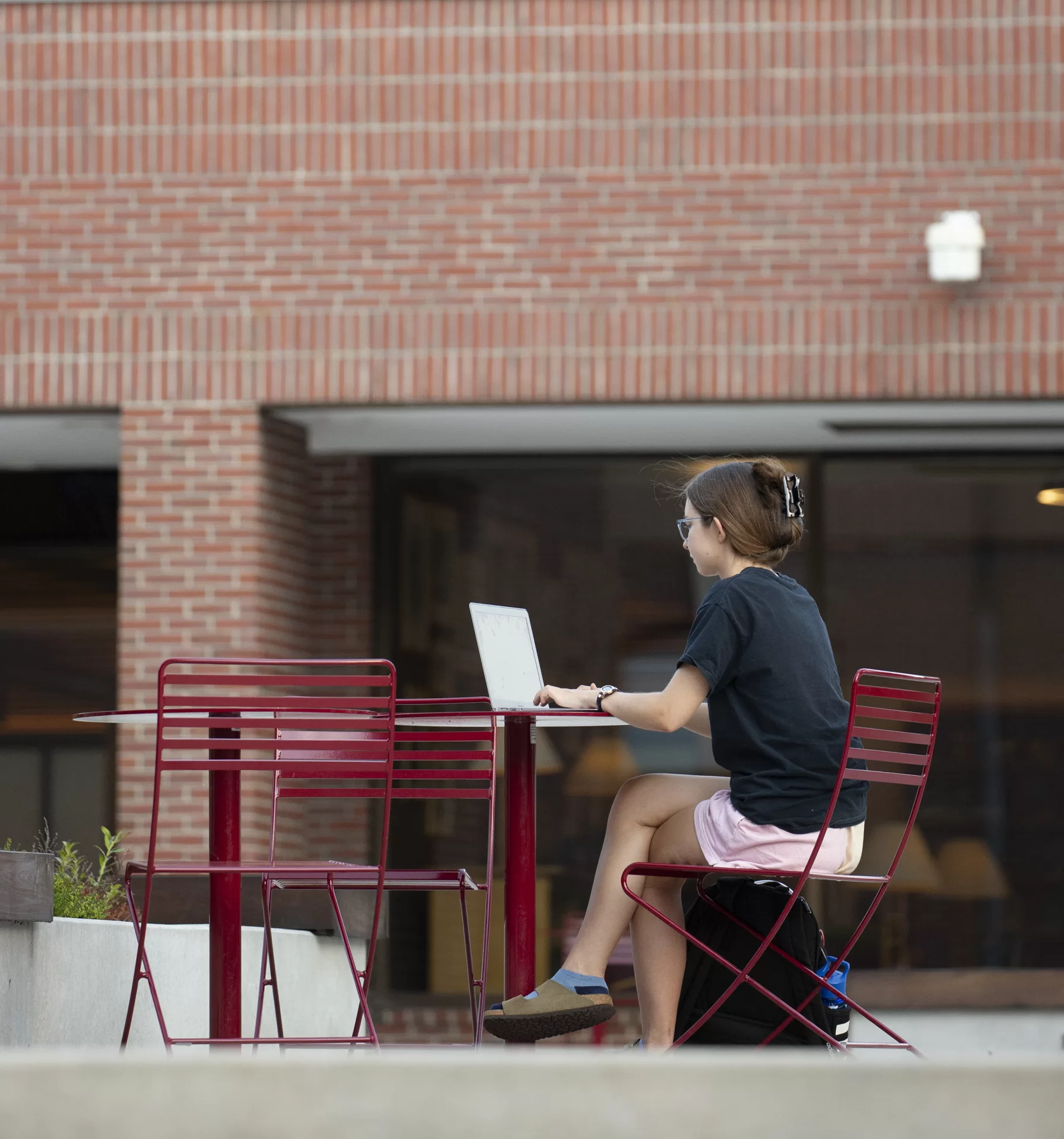 Sophie Van Leeuwen '23, a double major in economics and politics from Westchester, N.Y., studies on the Library Terrace.
---
Benched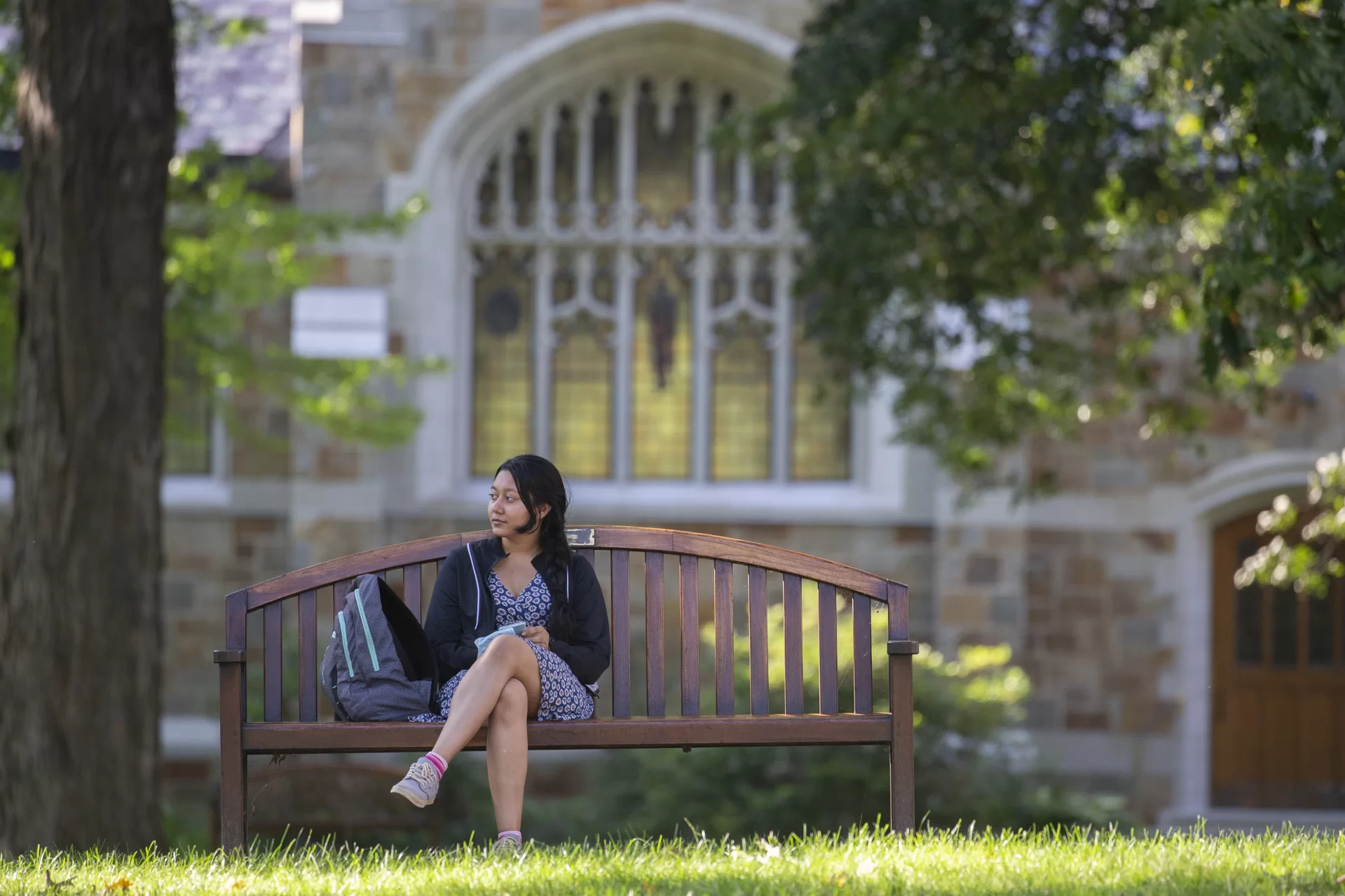 Neuroscience major Devanshi Trivedi '22 of India enjoys the view from her bench in the center of the Historic Quad.
---
A Bug's Life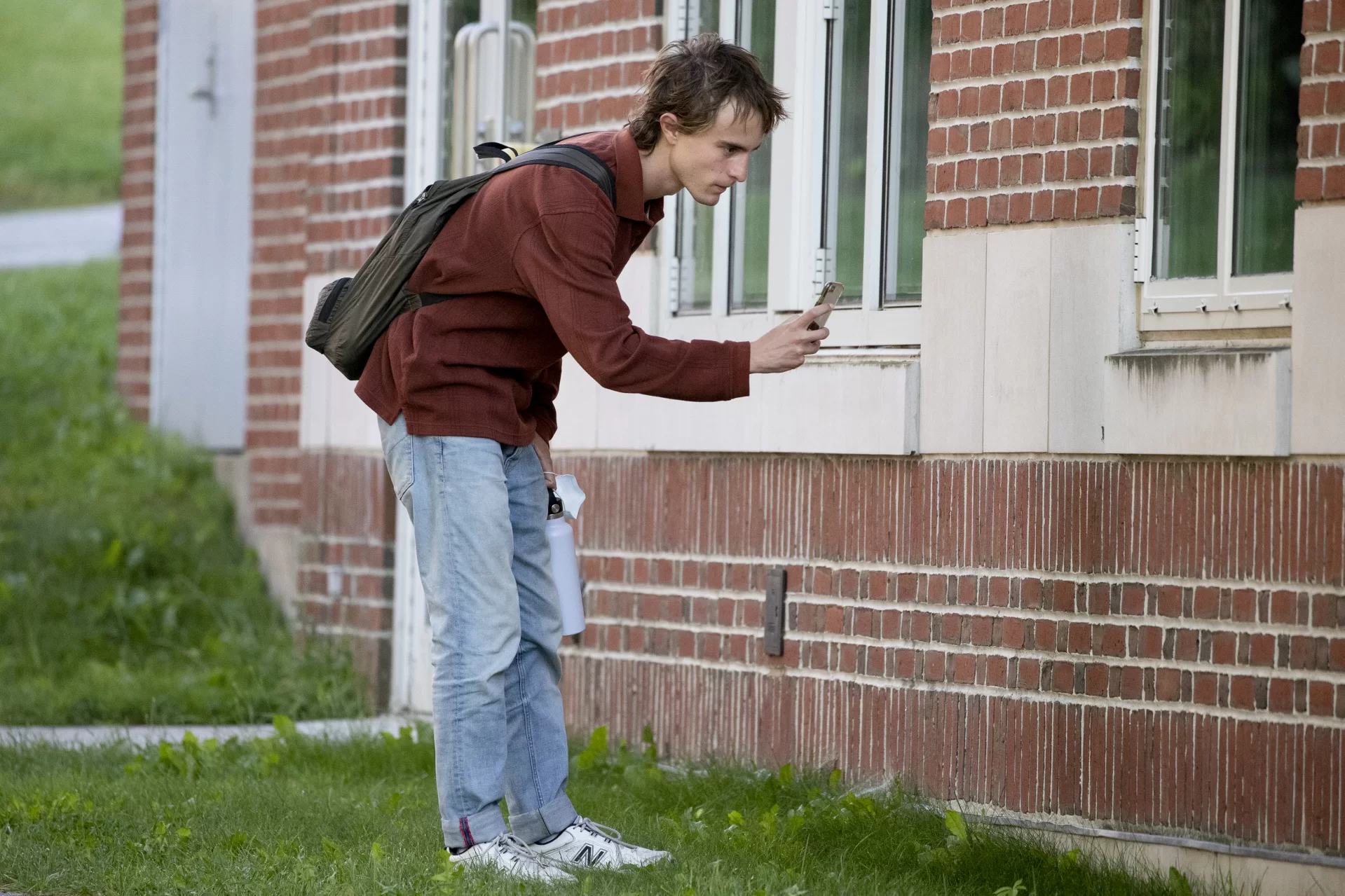 Oliver Todreas '23, a biology major from Auburndale, Mass., photographs an insect on the side of Pettengill Hall. He thinks, but is not certain, that it's an American grasshopper. "I'm interested in life in general," he says. "That's why I'm a biology major."
---
Textbook Case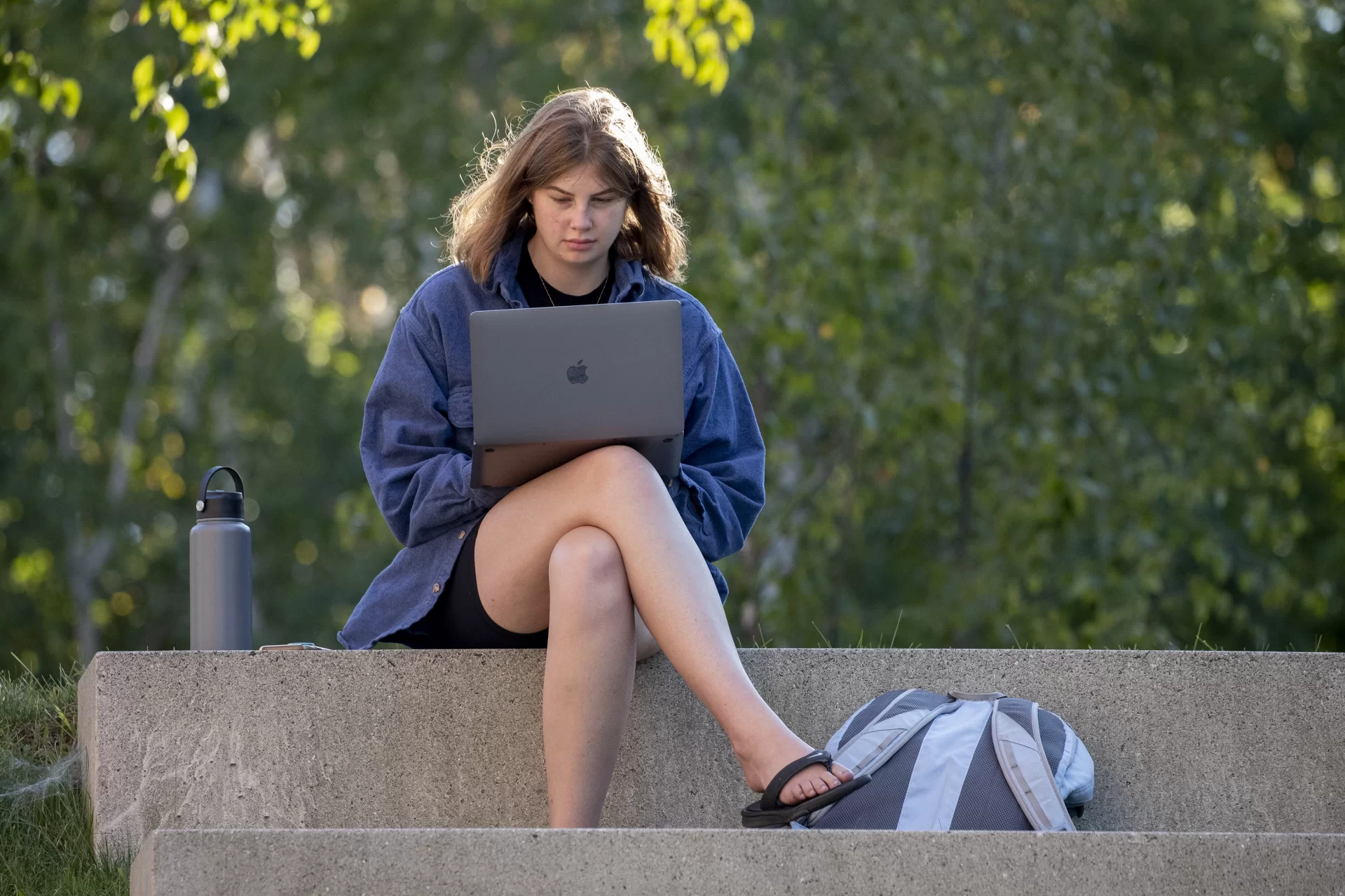 Sophia Cattalani '25 of Skaneateles, N.Y., does reading for Sociology 101, "Principles of Sociology," taught by Visiting Assistant Professor of Sociology Ben Moodie.
The book is The WEIRDest People in the World by Joseph Henrich. (WEIRD is an acronym for "Western, Educated, Industrialized, Rich, and Democratic.") Other readings include Big Rig: Trucking and the Decline of the American Dream by Steve Viscelli.
---
Walking It Off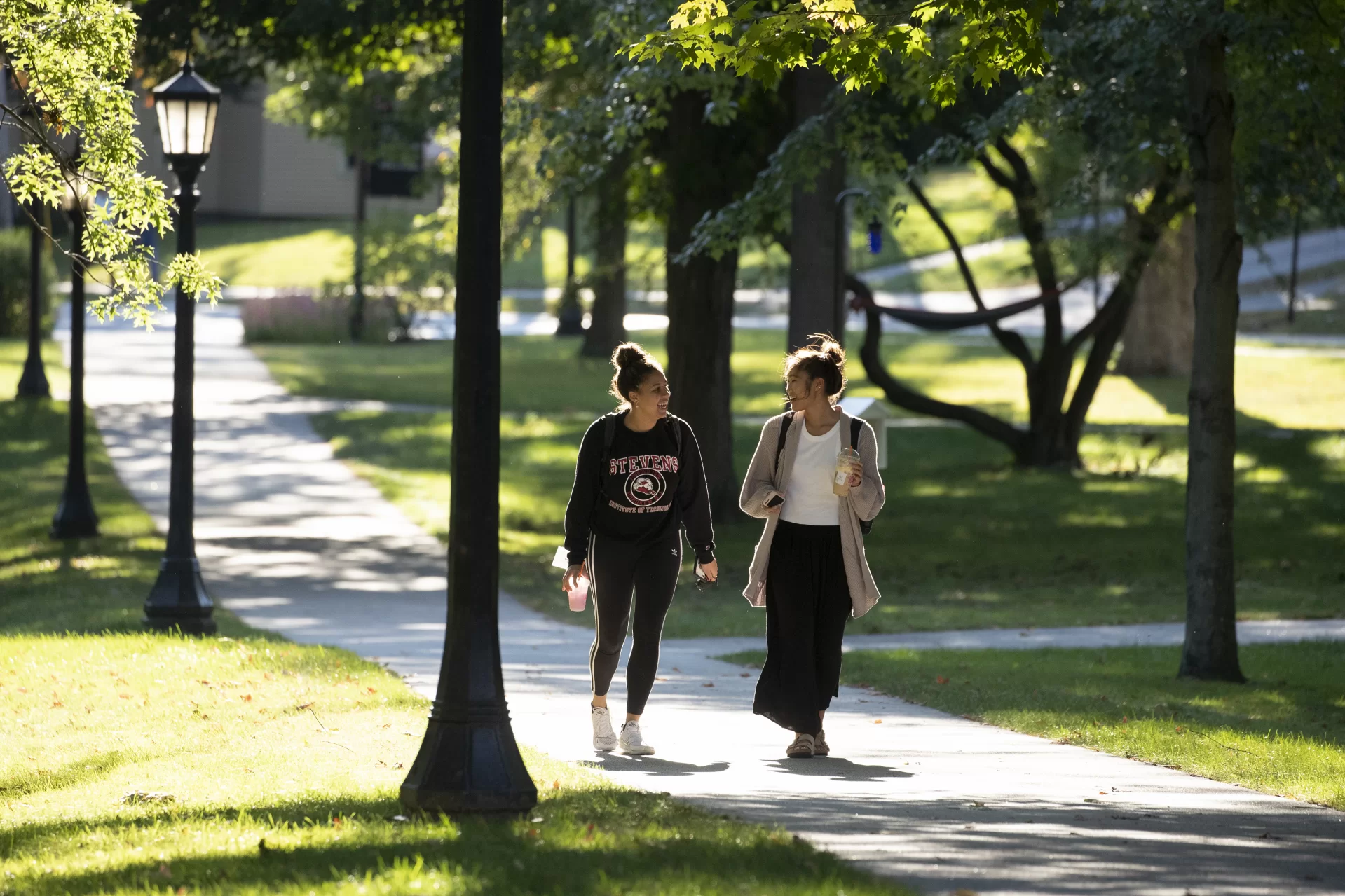 This beautiful cross-campus walk will revive them. After a long day of quizzes and classes, Angelina Moncrieffe '24 (left) of Secaucus, N.J., and Nina Greeley '24 of Scarborough, Maine, head back to their Page Hall residence for a restorative rest before starting a study session at Ladd Library later in the day.
---
Oh Pair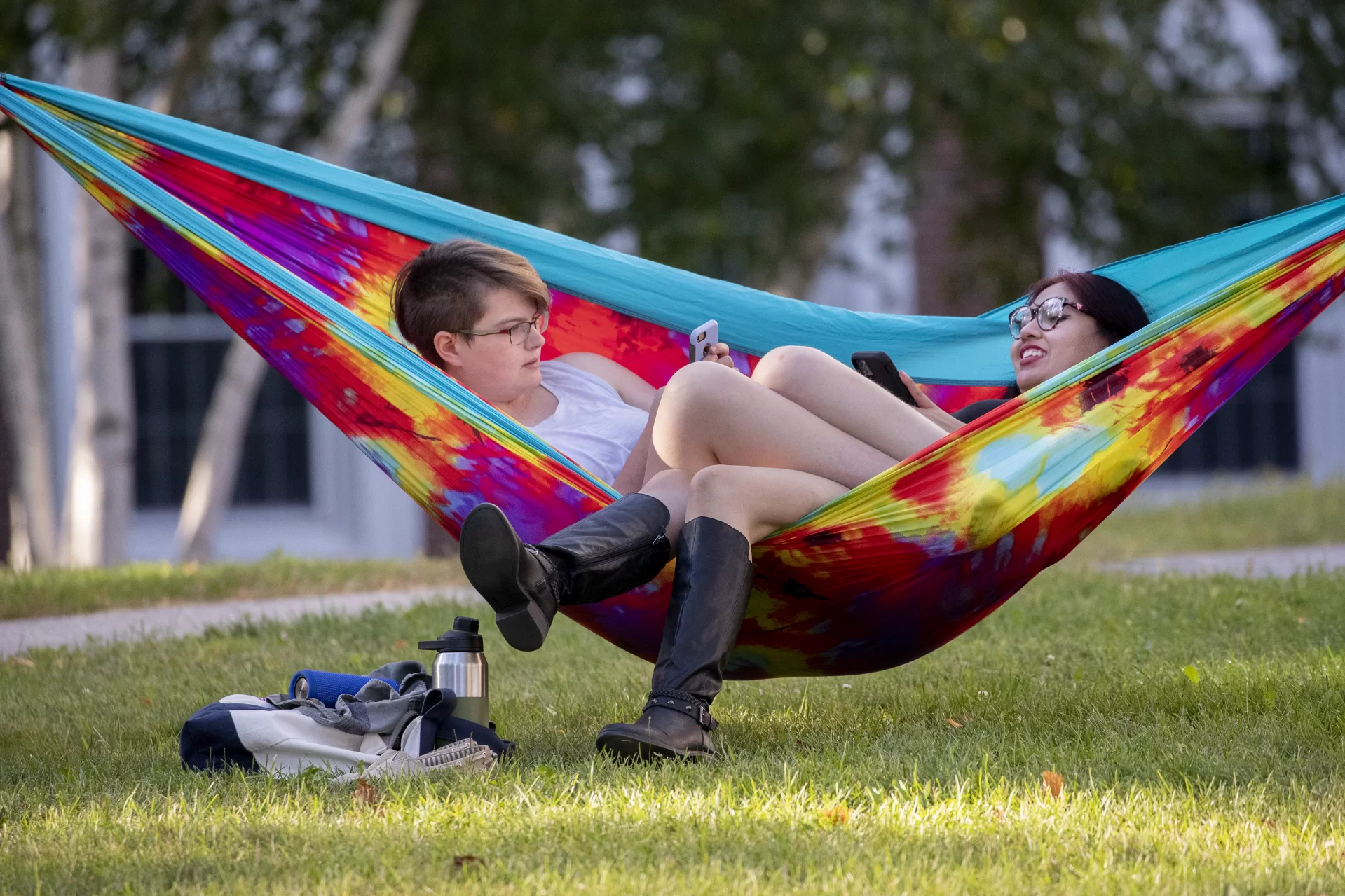 French and francophone studies and American studies double major Martha Coleman '23 (left) of Seattle hangs out with Christina Maldonado '23 of Gallup, N.M., a double major in English and gender and sexuality studies in a shared hammock on Alumni Walk. "We were supposed to study but we ended up enjoying the weather," Coleman says.
---
The Nature Connection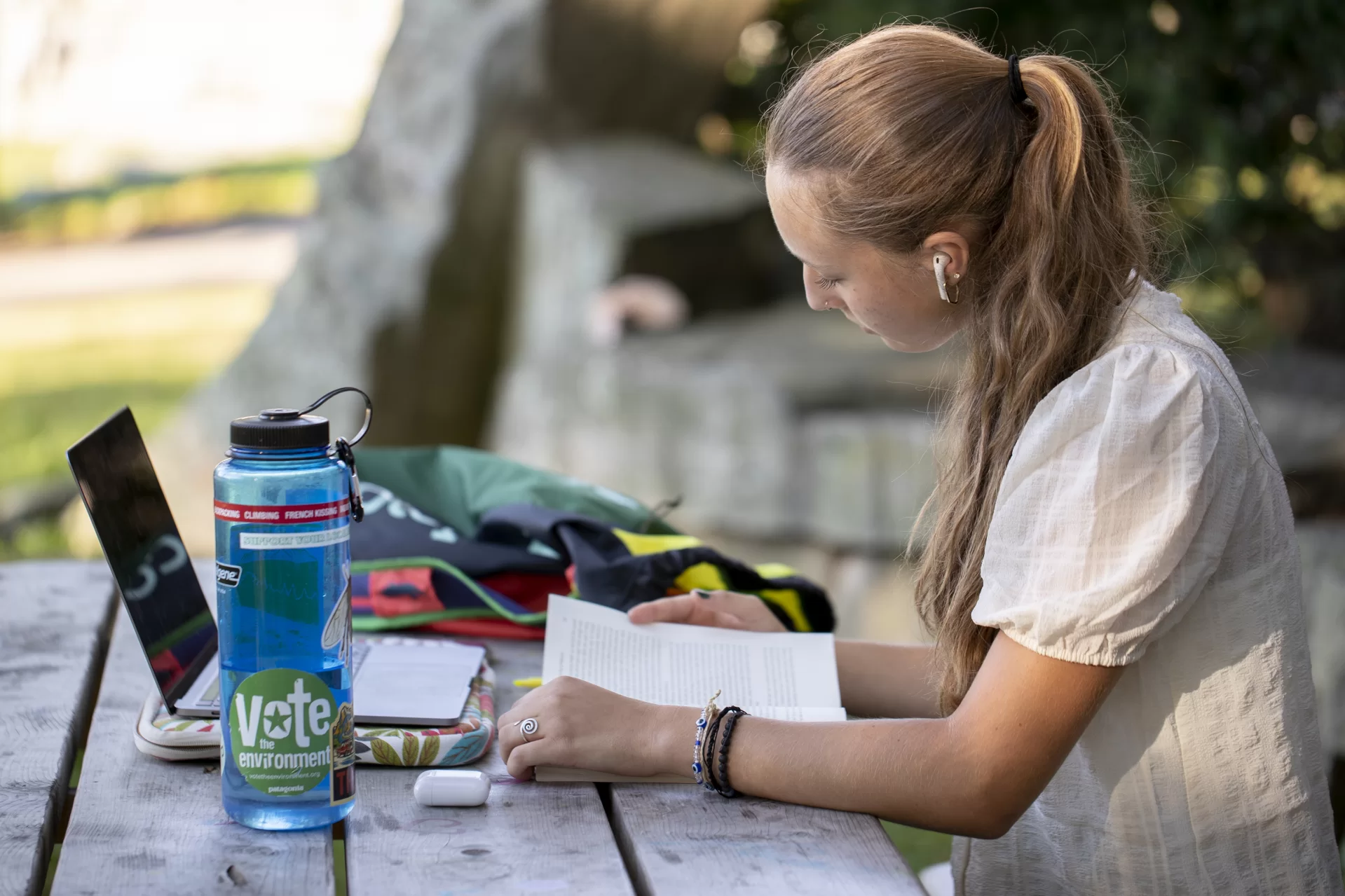 At the Otis Memorial Wall and Reflection Area, Naomi Lynch '25 of Farmingdale, Maine, reads Ecopsychology: Restoring the Earth, Healing the Mind, an anthology assigned in a First-Year Seminar taught by Laura Sewall.
Ecopsychology addresses the psychological dimensions of our relationship to the environment.

Another reading in the course is Braiding Sweetgrass: Indigenous Wisdom, Scientific Knowledge and the Teachings of Plants, by Robin Wall Kimmerer.
---
Home Stretch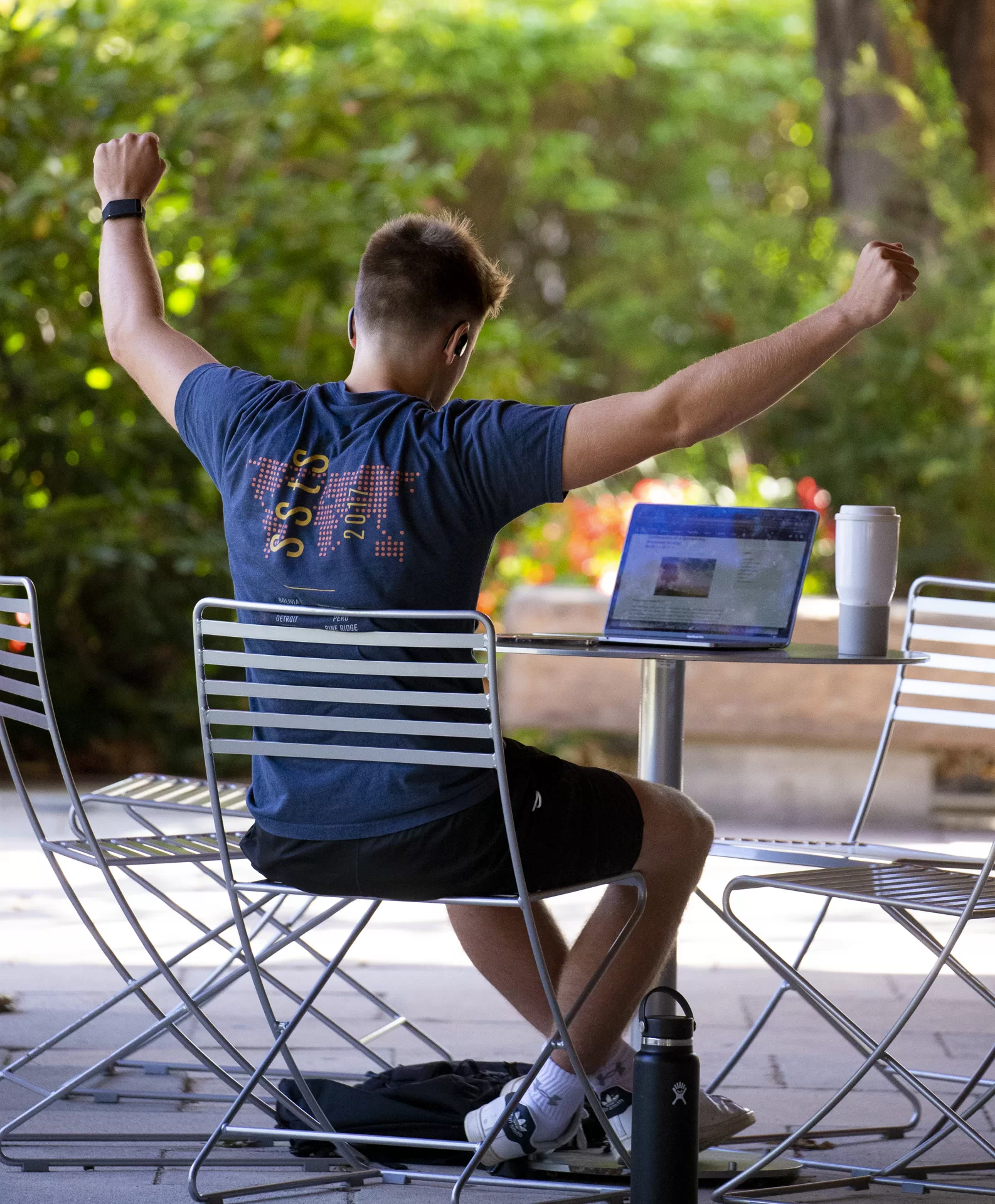 Like Stella Younkin up on the Library Terrace, Thorne Kieffer '24 of Portland, Maine, does reading for the course "Lives in Place." He's one level down, on the Library Arcade, taking a moment to stretch.
"The nice breeze keeps me focused and makes me feel refreshed while reading."
View Comments