A warm stretch of early fall weather might explain a couple things about the Ladd Library Lost and Found on Sept. 29.
First is what we didn't see: many items. Perhaps the nice weather and the pandemic are keeping Bates students happily outside.
The second is clothes. We're used to seeing fleece pullovers and the like. As cool Maine mornings give way to warm afternoons, and students eliminate (and lose) layers. Today we saw a T-shirt and tank top…. Now that's a commitment to shedding layers.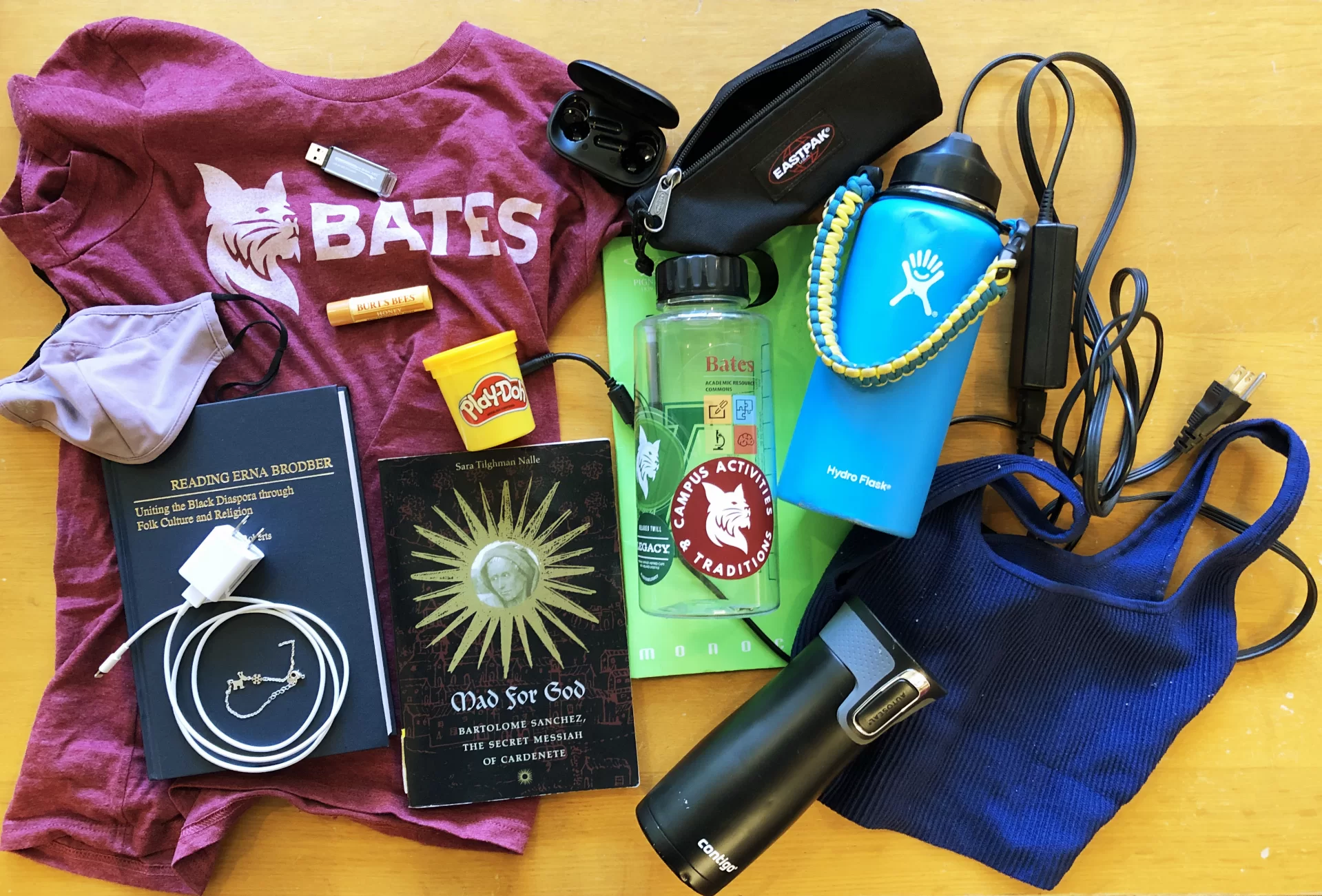 Here are the 18 items:
Electric blue ribbed cropped tank top, extra small, by Babaton

Bates pre-shrunk cotton/poly blend T-shirt, by the "fashion-forward" company District Clothing

Burt's Bees honey lip balm, a perennial lost and found favorite

Kanguru brand thumb drive, 1 gigabyte, another lost and found favorite

Eastpak brand pencil case, empty

Anker Soundcore Life P2 wireless earbuds case, empty
Small container of Play-Doh, the manipulating and squishing of which can relieve stress, ease tension, and release endorphins
Contigo travel mug, black
Water bottle, by Hydro Flask
Bracelet with a moose (or deer) and a snowflake
Book, Reading Erna Brodber: Uniting the Black Diaspora Through Folk Culture and Religion, by June Roberts. The book looks at post-colonial infrastructure of Caribbean society and life through the writings of the Jamaican writer, sociologist and social activist.
Book, Mad for God: Bartolomé Sánchez, the Secret Messiah of Cardenete, by Sara Tilghman Nalle.

Described as a "gripping tale of madness and religious conviction," the book tells the story of a Spanish peasant who believed that God had sent him in divine retribution for the crimes committed by the Spanish Inquisition. Professor of History Karen Melvin's students are reading the book this week for her course on the inquisition.
Power cord for iPhone with a Lightning connector

Power cord for a Dell laptop
Mini mechanical pencil with logo of Muskie Archives and Special Collections
Face covering, worn to prevent the spread of infectious diseases (but you knew that)
Pigna Monocromo notebook, featuring ruled pages with five-millimeter squares
Water bottle by Garyline, featuring the University of Vermont logo and four Bates stickers:
Bates Campus Life and Traditions, a student-led program that plans inclusive events
Legacy, the brand of Bates cap sold by the College store
Bates Green Dot, the college's bystander intervention program
Bates Academic Resource Commons, the one-stop shop in Ladd Library for academic support
View Comments