Students milled around the tables, ink-stained hands searching for the perfect print block. Standing shoulder-to-shoulder, they took turns using the ink rollers and waited patiently for a space to lay their tote bag, T-shirt, or mask.
The atmosphere outside the Benjamin E. Mays Center was happy and friendly, as students traded compliments and encouragement back and forth. Peppy pop music poured from the speakers, and despite the strong breeze threatening to blow paper and shirts everywhere, the event was a huge success.
This is the third year the "Stringfellows" — students working with Multifaith Chaplaincy in the spirit of William Stringfellow '49 — have coordinated their Free Press social justice printmaking event, and each time, more students participate. According to Brittany Longsdorf, Bates' multifaith chaplain, around 150 people came to the event to make prints this year.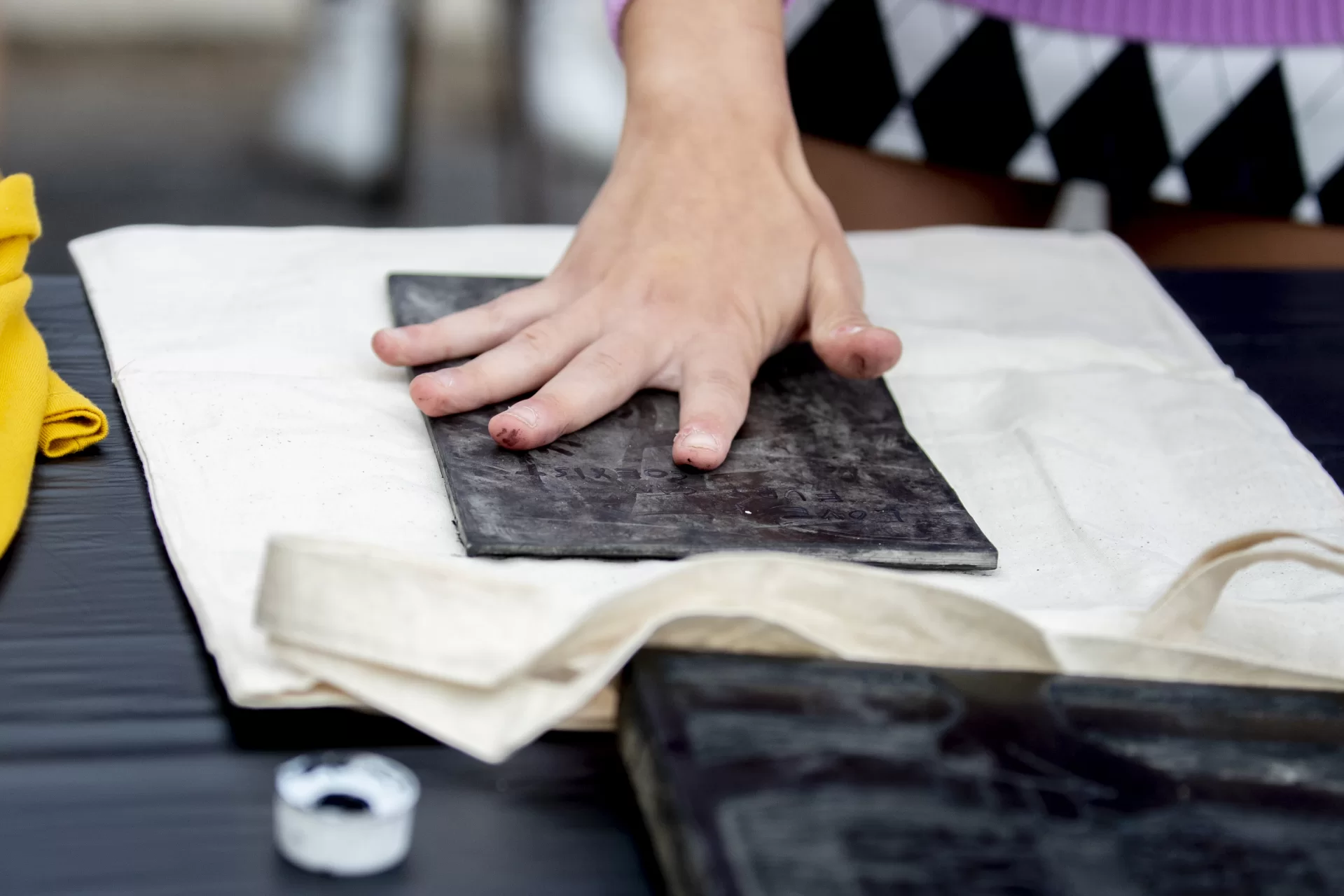 "It's just gotten bigger and bigger over the years," Longsdorf says. "I'm just sort of the memory keeper of how it runs, and then [the Stringfellows] choose whether or not they want to run it, and how they want to run it."
Stringfellows help organize opportunities for activists to connect with each other on campus, and reflect on their work. The events are all about "helping them find practices and spaces to root and remind themselves why they do this important work that can transform the world," Longsdorf says.
Dianna Georges '22 of Clifton, N.J., is a Stringfellow, and was helping sign students in to the event. Georges has been attending the event since her first year. "I feel like this is one of the first places that I started meeting different organizers on campus," Georges said. "I think it's really cool because the sophomores and the first-years, they haven't had the chance to do something in-person."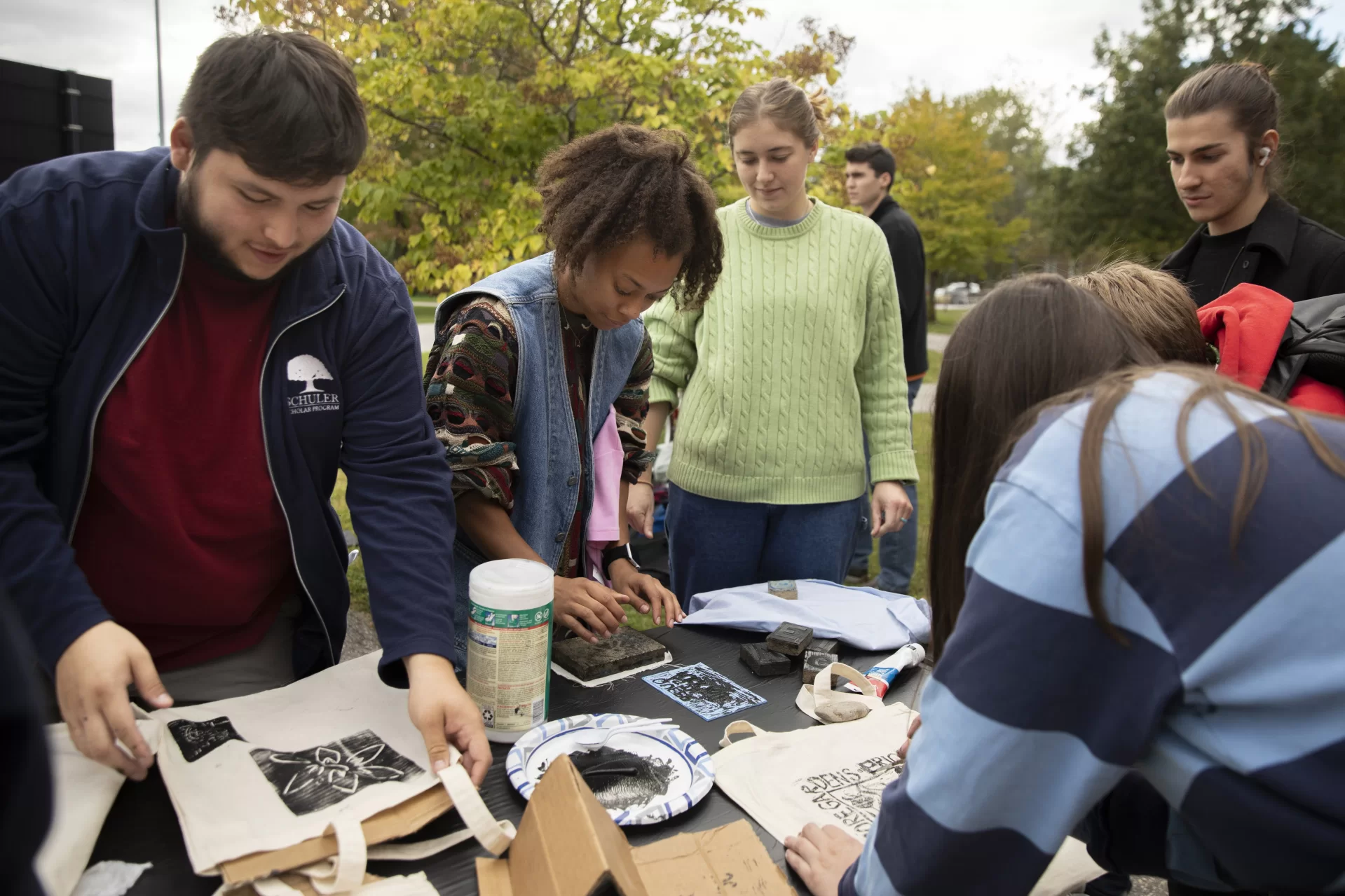 "I think that symbols are important," Georges said. "And I think this is an opportunity for people to put the symbols of what they believe up. It's kind of the same thing as hanging a flag; it shows what you believe in, so I hope people just make a bunch of shit and hang it everywhere, and it just becomes a part of the ethos of campus."
The print blocks are handmade by Bates students and given to the event. The general theme of "social justice" allows for artistic license, and means different things to different students. From images of trees evoking eco-justice, to phrases of self-empowerment and statements challenging social structures — "F— White Supremacy" — students shared their messages with each other and the Bates community.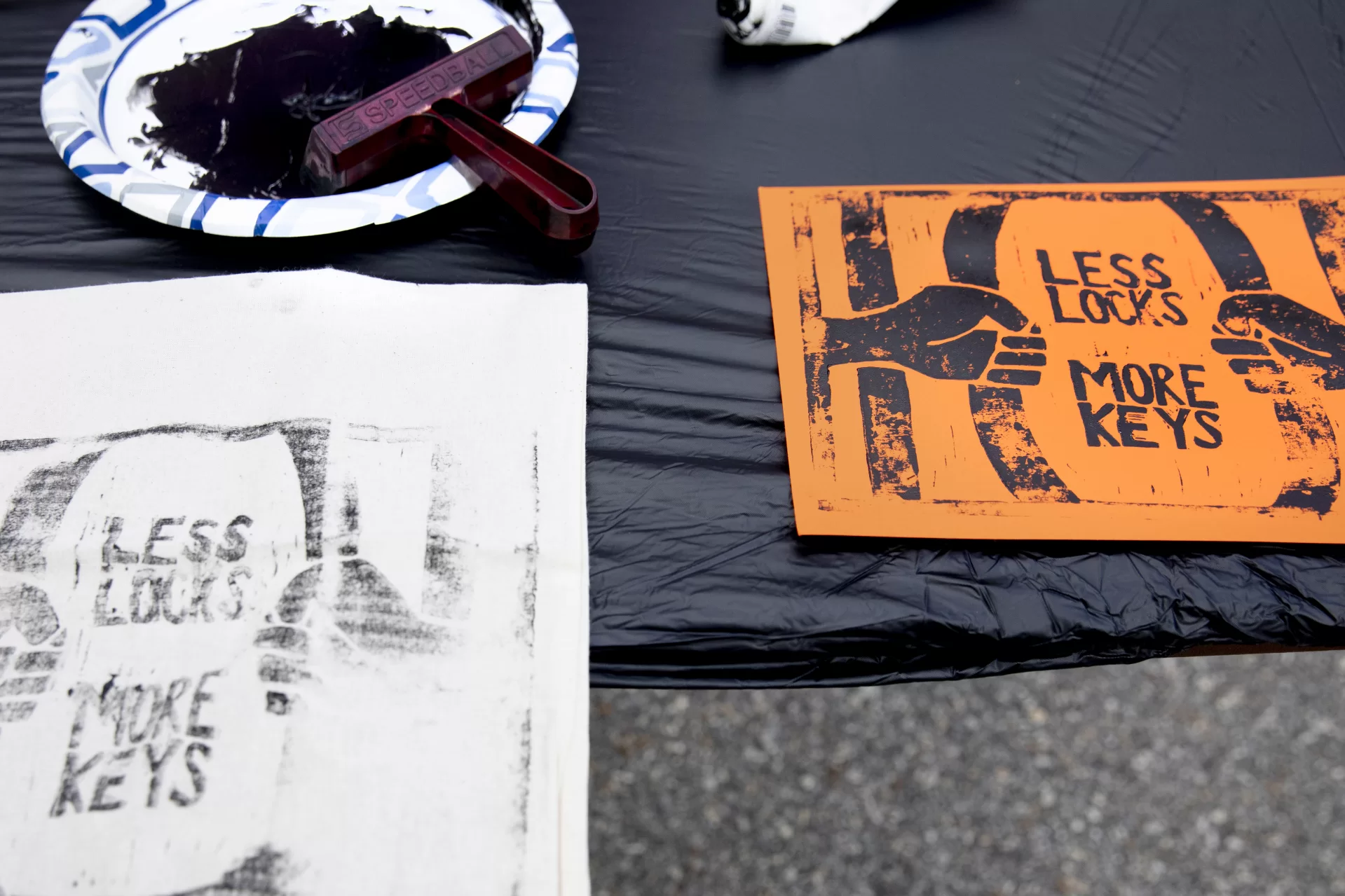 Stella Santucci '22, a psychology major from Falmouth, Maine, has participated in the event every year. "This is my favorite event on campus," Santucci said. "It's super fun, and it's artistic freedom. The topic is 'social justice' but it's up to you to kind of build an idea and execute it. I think it's a place for students to connect and help each other, and be activists together."
The Multifaith Chaplaincy provides the rubber blocks and tools to students, who then come up with a design to carve, and give the finished block back to the organizers for students to use.
Santucci makes a block for the event every year, and then always attends. "The fact that I get to just choose what I do and then come here and see everyone else's, I think is really amazing," Santucci said. "[It's] what Bates is really all about."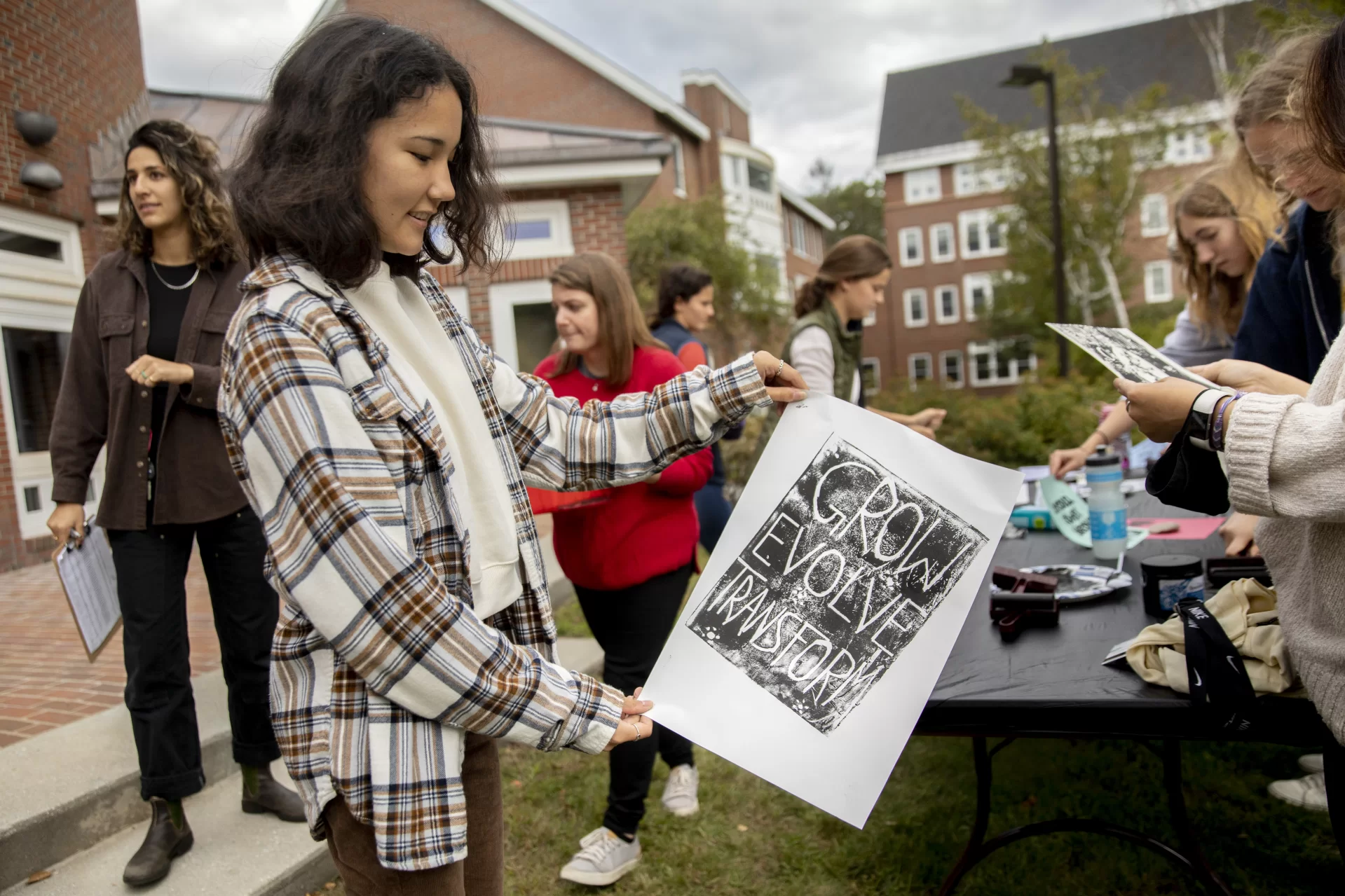 View Comments