Waxing all poetic in late September, Campus Construction Update noted that "the slow pivot from destruction to construction is beginning" in the renovation of Dana Chemistry Hall.
Well, pivot completed! A little more than a month after that post, the dust, disorder, and debris of demolition are just fodder for nostalgia, and new walls are rising inside the 56-year-old building that, when renovations are done next summer, will be known simply as Dana Hall.
The demolition that figured so prominently early on in the project was complete by the second week of October. Also finished is the abatement of hazardous materials.
Now the project team is devoting all its attention to constructive ends: prepping floors for their final surfaces, which we won't see for months; erecting partition walls; roughing in myriad utility connections; and commencing the installation of machinery, primarily HVAC, in the building's fourth-floor attic.
The crane and rigging experts from Cote Corporation of Auburn, Maine, will return to campus for that last category, likely around the end of the month. "It's a pretty big operation," says Chris Streifel, Bates project manager for Dana. While the attic will accommodate a variety of machines related to temperature and humidity in the building, the dominant unit will be an air handler so big that it will be loaded in piecemeal.
The largest component will contain an intriguing gizmo called an enthalpy wheel or energy recovery wheel. Both exhaust air from the building and fresh air from the outdoors pass through the wheel as it spins, and the wheel contains substances that capture heat energy and moisture and transfer them between the airflows.
Such transfers reduce the treatment required for incoming air, thereby lightening the HVAC system's workload. (As with the Bonney Science Center, the air in Dana will be continuously replaced.) So in summer, the wheel cools and dries incoming air, transferring heat and moisture to the exhaust. In winter, it applies heat and moisture from the exhaust to cold, dry incoming air.
Pretty neat.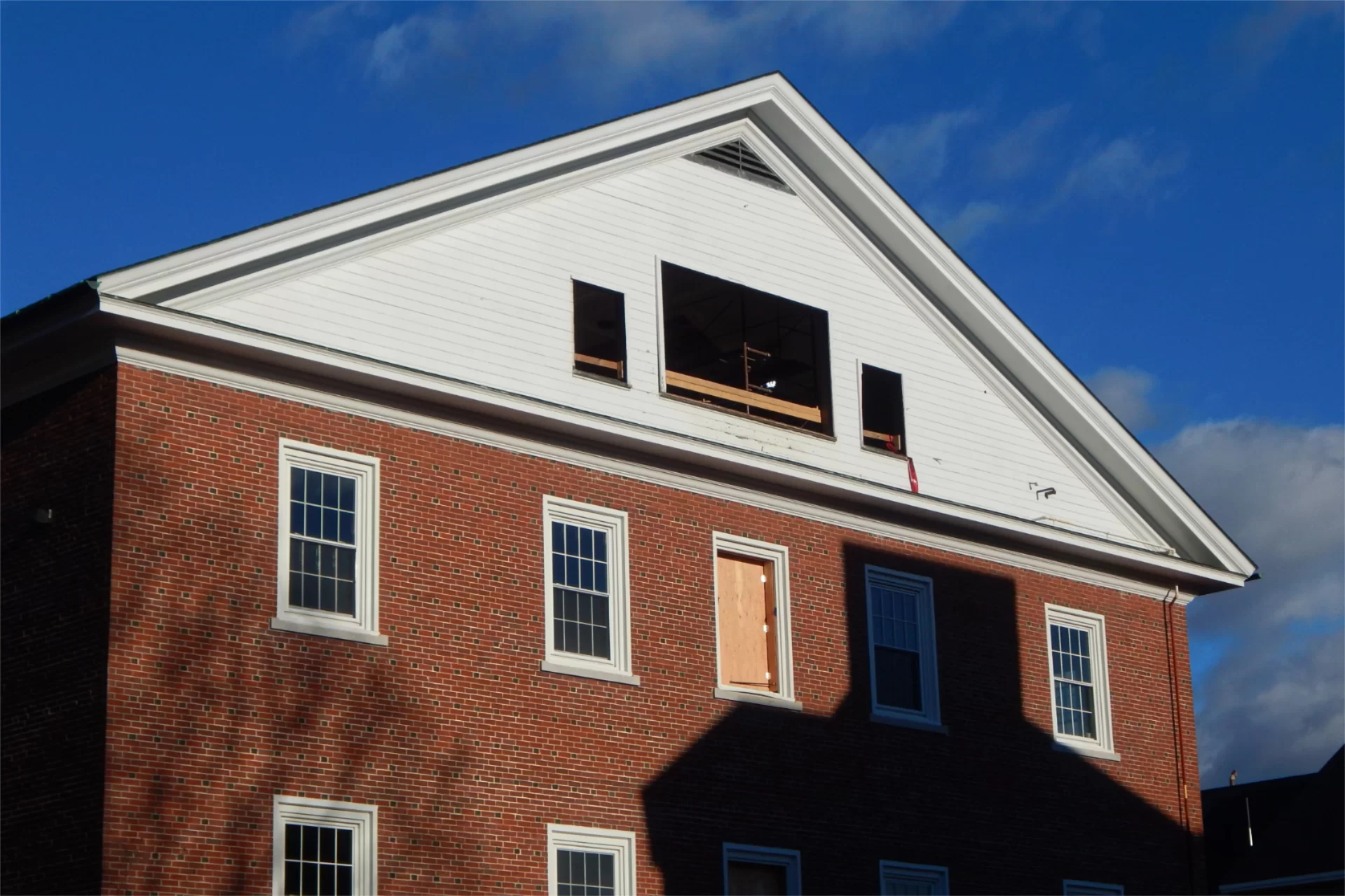 To get the air handler into the building, an existing opening (once and future site of a ventilation louver) that faces Hedge Hall will be embiggened. Yet, Streifel notes, "it's going to be a very tight fit, even then."
With that operation still weeks away, other chores in the attic are moving apace. Several parallel ribs in the new concrete floor will support the big HVAC unit. The old stainless steel exhaust stacks — a signature feature of the building's earlier profile — have been removed. And much new wallboard has been hung, again dividing up a space that for a few weeks would have made a great dance hall.
What about the building's three public levels? The floor prep is nearly done throughout the building, says Streifel. That prep, as we've reported previously, culminates in the placement of a cementitious self-leveling compound in a layer about half an inch thick.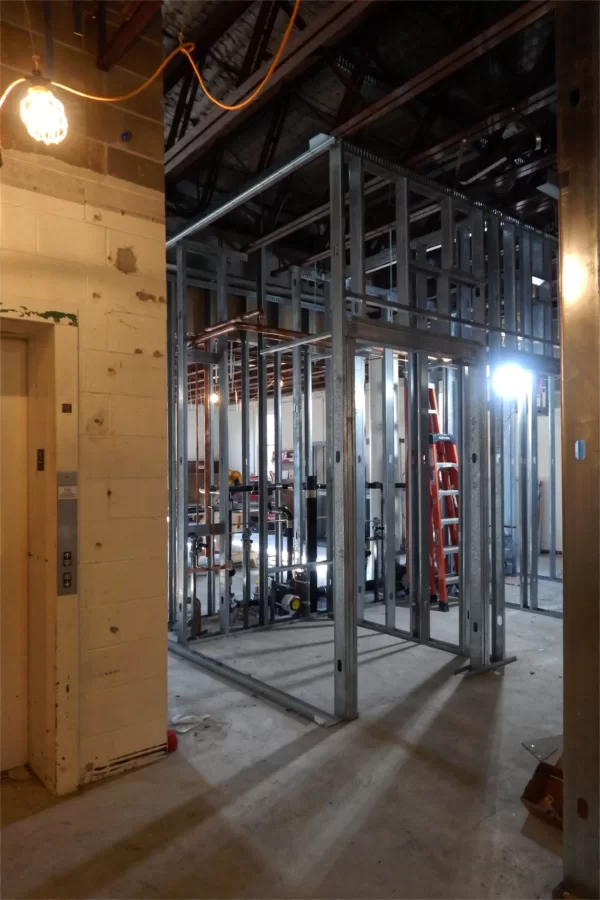 Preparation for the preparation, if you will, consists of grinding the old concrete slab more or less smooth, and sealing it with an epoxy mixture. (Some spots, such as former restroom locations and other concentrations of plumbing, have holes right through the old slab that have needed filling.)
In terms of all procedures, the second floor — that's where you enter from the Historic Quad — is the furthest along. So there, for instance, most wall studs are in place, affording an outline of the completed layout.
The third floor was the last to undergo demolition, so is bringing up the rear. And the first-floor footprint is about a third larger than the second and third, thanks to the single-story section adjacent to Alumni Walk, so there's been more to do.
Throughout Dana, mechanical-electrical-plumbing work is going strong. "They're hanging stuff all over the place," Streifel says. "Ductwork, electrical conduits, piping, fire protection — all of that is underway, particularly in the basement and first floors, but all floors, really."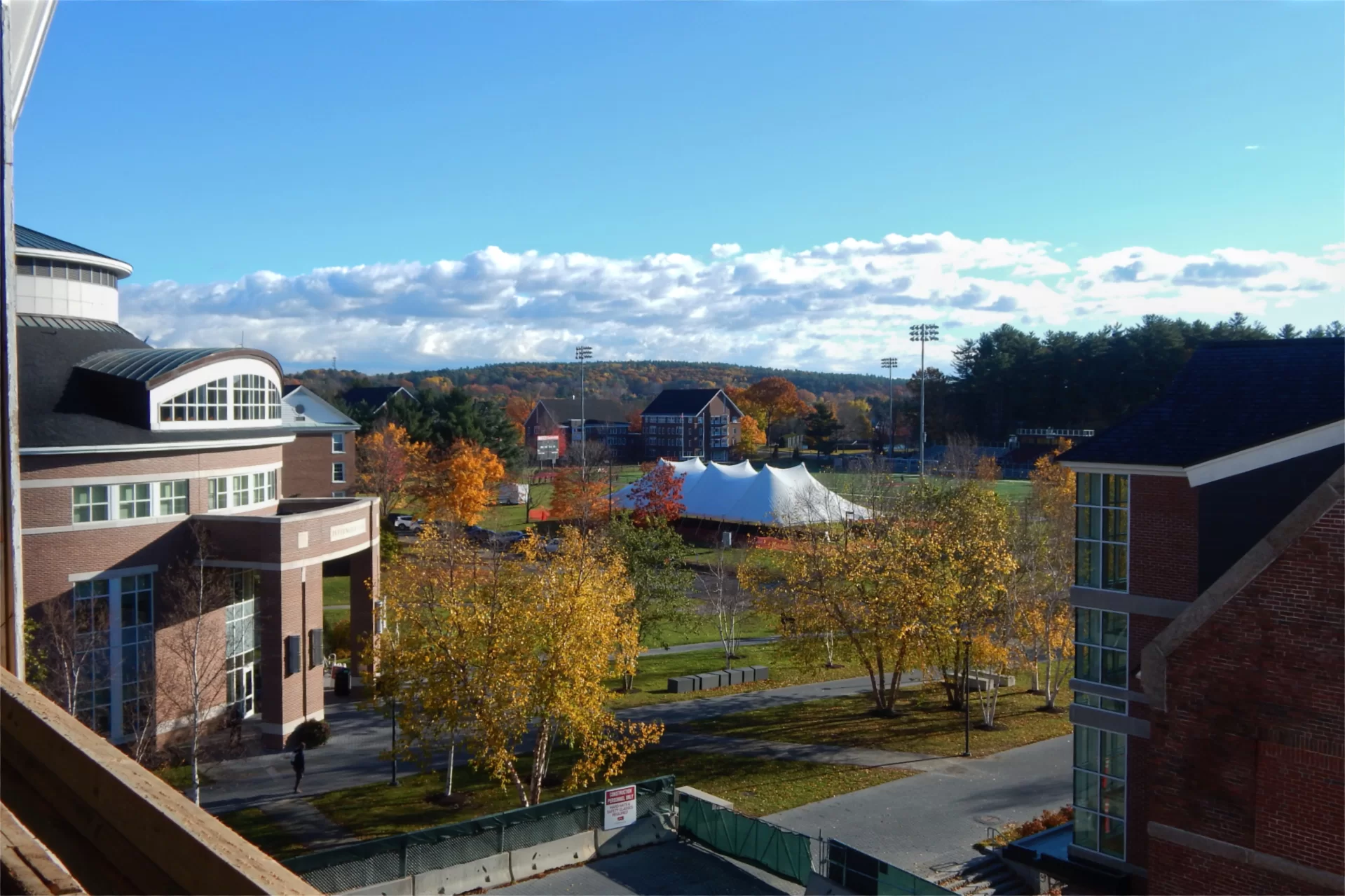 Looking ahead, he adds, "we're going to go from starting walls to talking about finishes in a few months. By March and April, we'll be talking about turning systems on, as opposed to a couple years," as was the case with the much bigger, built-from-scratch Bonney Science Center.
"I would expect that we'll be going through punch-listing and commissioning in June and July. There's a little bit of time in July to tidy things up, finish up punch-listing, and get new furniture in. We'll move in during August — relatively speaking, a much easier move than what we just went through" with Bonney. (Not least because so much stuff was moved from Dana to Bonney.)
Can we talk? Campus Construction Update loves to hear from you. Please send your questions, comments, and reminiscences about construction at Bates College to dhubley@bates.edu, with "Campus Construction" or "Would more personal enthalpy make me more popular?" in the subject line.