It's been said that the truth is in our trash, and one finding from the 2021 Trashion Show is that we're in a pandemic. Still.
A novelty just two years ago, face coverings are now ubiquitous, in the waste stream too, so it's little surprise that masks were a go-to accessory for most outfits in this year's Trashion Show.
This year's show, filmed in Commons and presented online, was hosted by Marcos Pacheco Soto '24 of Santiago, Chile, and Kush Sharma '23 of Dehli, India.
Organized by the student EcoReps, the Trashion Show is fun with a purpose: to highlight the amount of trash generated by the college. In that spirit, the hosts, who are Bates Student Government co-presidents, delivered a public service message about campus recycling.
As with many communities, campus recycling faces the problem of contaminated items in the recycling stream, whether that means materials sorted into the wrong recycling bin or soiled items put into a bin.
"We are causing overwhelming levels of contamination in our recycling bins," said the Trashion Show hosts. "When a recycling bin is over 5 percent contaminated, all its contents must go into the landfill."
Here's a good rule of thumb for us all, dependent on your own community's rules of course: Focus on making sure cans, bottles, and clean paper/cardboard go in the recycling. Let everything else go in the trash.
PSA now concluded, here are this year's creative teams — models and designers — photographed by Bates Communications multimedia producer Theophil Syslo, with some insights about each outfit from the creative teams.
In the Clutch
Designer: Yueh Chuah '22 of Petaling Jaya, Malaysia
Model: Sandia Taban '22 of Changshu, China
Signature Use of Trash: Clutch bag made out of tea packets, bubble-wrap envelopes, and a soda can tab
What the Designer Said: "Made from mochi packaging, tea packets, and elastic strings from face masks, the see-through mask offers better accessibility for people to read facial expressions and read lips. The black trash bag shawl is decorated with chocolate-wrapper butterflies, a symbol of hope, perfect for early fall or late spring weather in Maine."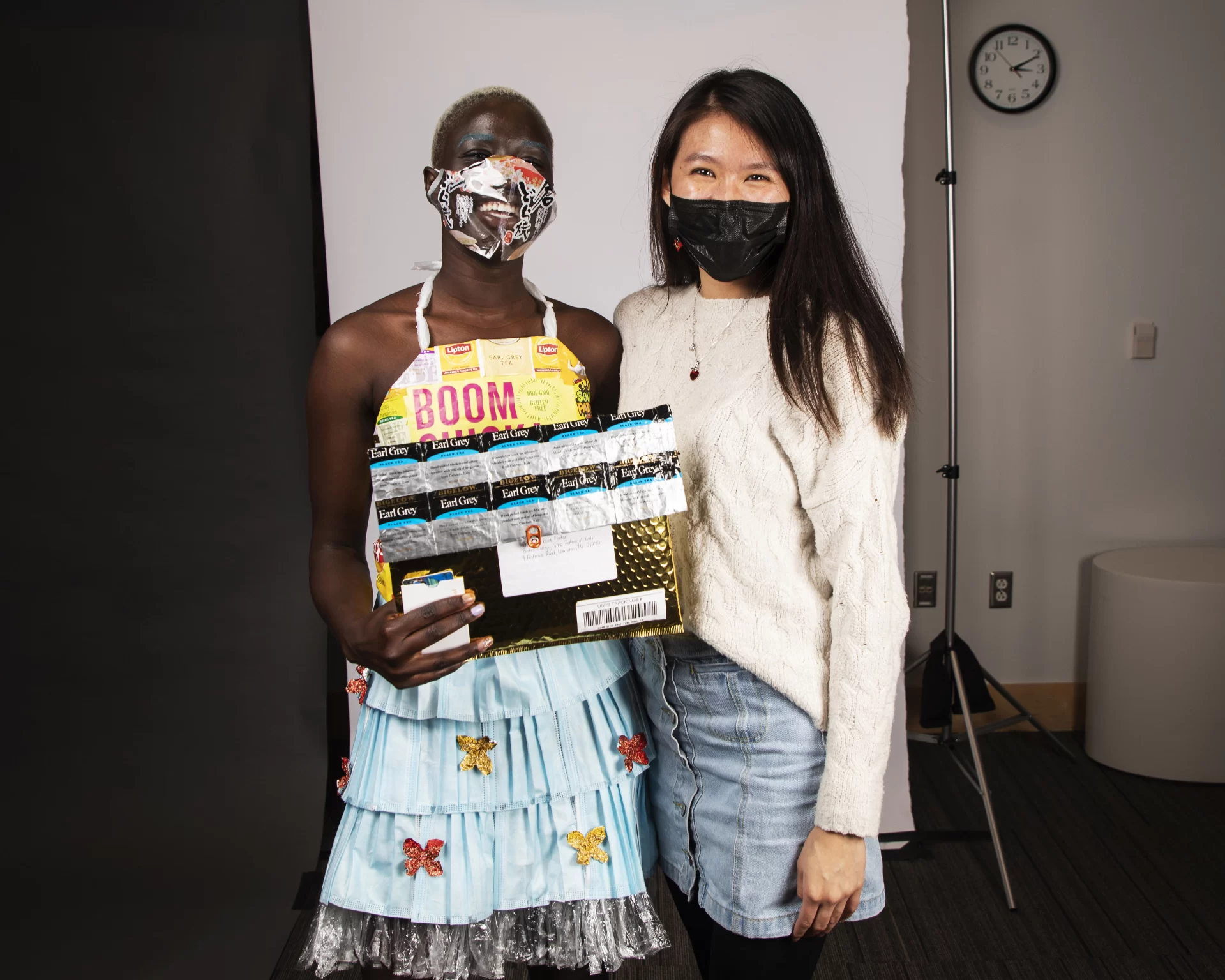 ---
Sunbelievable
Designer: Adelle Welch '25 of Livingston, Mont., and Izzy Borah '25 of Needham Heights, Mass.
Model: Maria McEvoy '25 of Missoula, Mont.
Signature Trash: Sun Chip bags
What the Designers Say: "As the days shorten, and the sun dips lower in the sky, what do we need? Sun Dress! Stepping out from behind the gathering winter gloom, Sun Dress is inspired by heart-healthy snacks, patchwork, and Sloan Phillips '25 — who, with several other friends, contributed to our supply of Sun Chip bags."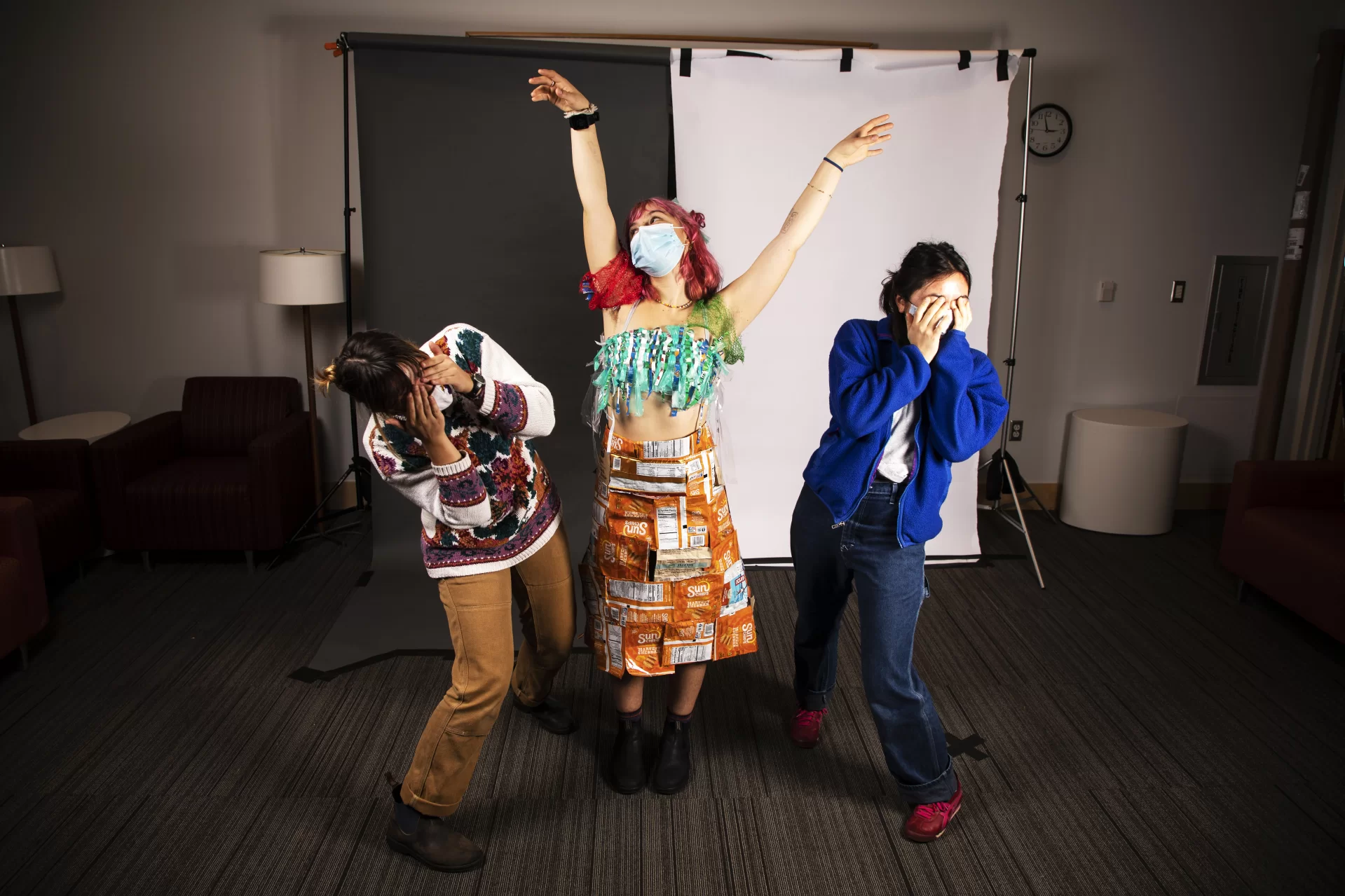 ---
Tush to Tutu
Designer: David Bilbrey '22 of Charlotte, N.C., and Hannah Webster '22 of Shelburne, Vt.
Model: Essie Martin '22 of Newcastle, Maine
Signature Trash: Wrappers from Who Gives a Crap toilet paper rolls
What the Designers Said: "Off-campus living has taught us what it is to stock and clean a bathroom, so our dress this year focuses on the fusion of the messy with the delicate. We call it 'Paper Ballet': From your tush to my tutu, we have created the ideal gown, for evenings practicing plies to mornings when the coffee kicks in. It's elegance and comfort, function to fashion — the whole kit and kaboodle, a real royal flush."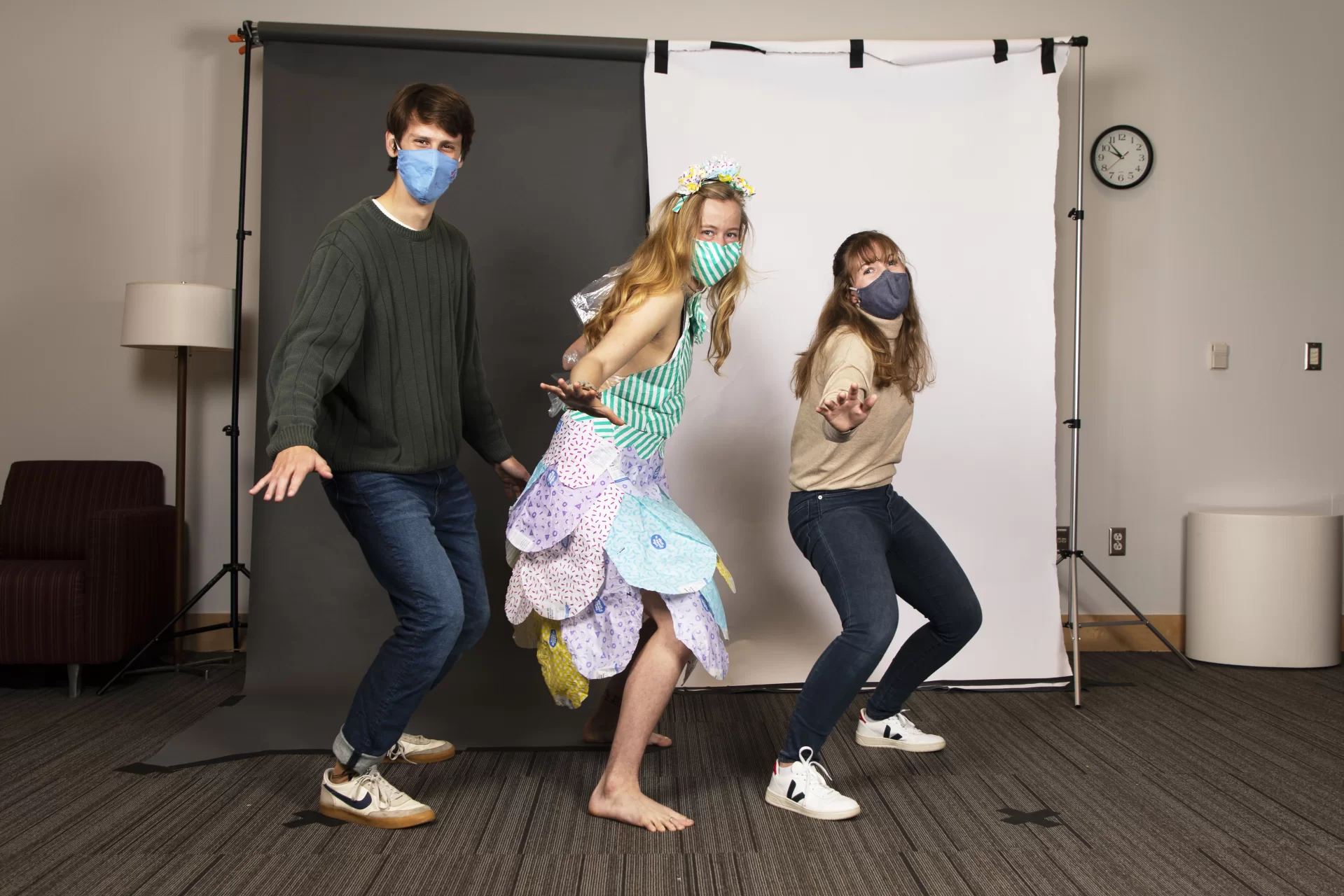 ---
The Masked Scholar
Designer: Professor of French and Francophone Studies Kirk Read, tailored by Assistant Dean of the Faculty Kerry O'Brien
Model: Kirk Read
Signature Trash: 152 face coverings
The Designers Say: "Dr. Read will see you now. This masked man wears the premiere collection of COVID loungewear from the House of Read–O'Brien — Nous nous masquons donc nous sommes, 'We mask, therefore we are.' Light. Breathable. Yet every pore protected. Stitched completely from discarded campus face coverings. Your shame is our fame."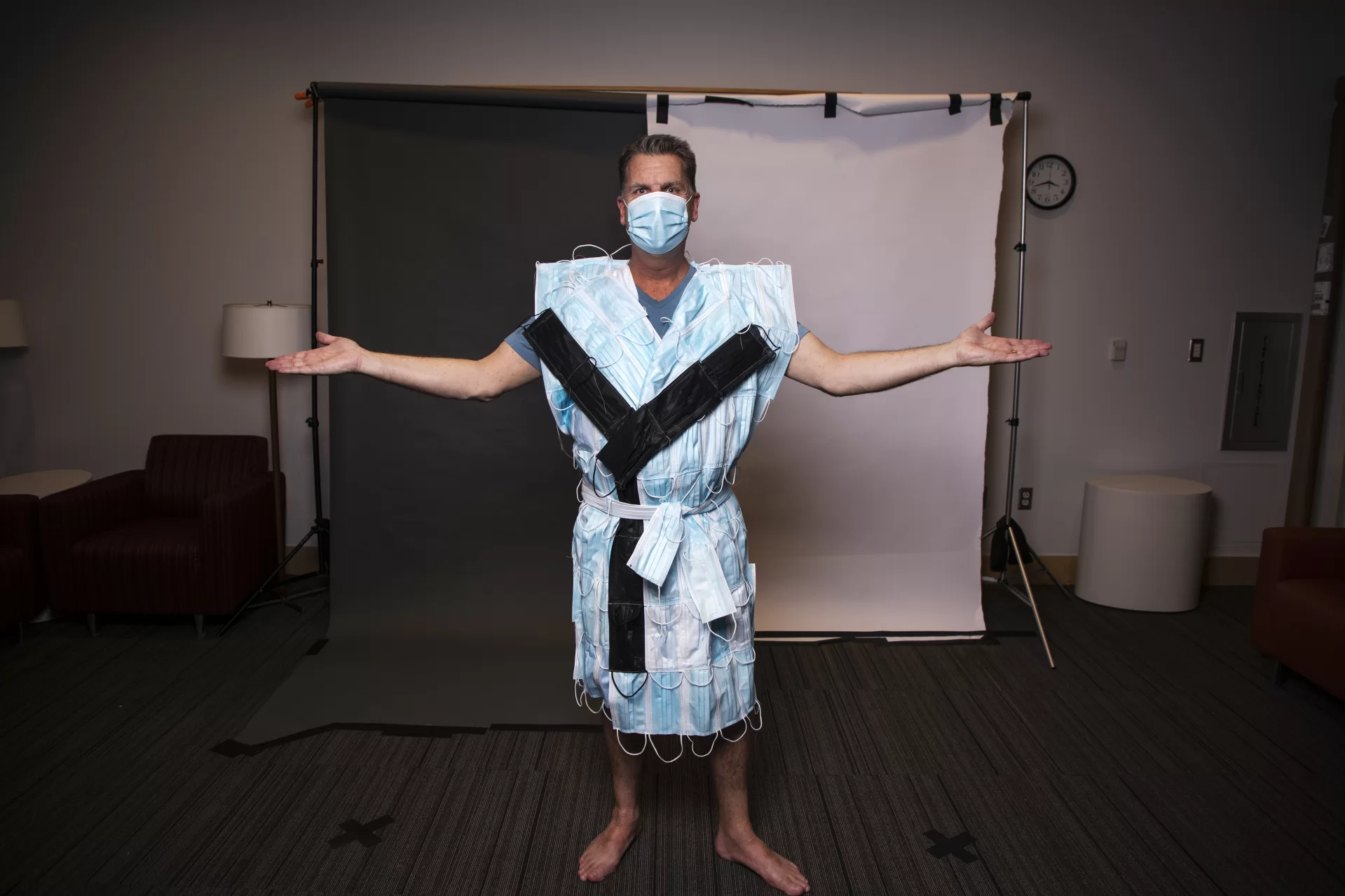 ---
Top Dressing
Designer: Carter Fay '24 of San Francisco
Model: Josie Levey '24 of London
Signature Trash: Empty chip bags
The Designer Says: "The crocheted top is made from plastic utensil wrappers from Commons collected during just a few meals, by asking people for the trash they had on hand."