We're off and running in 2022. Our new year began with a week of remote classes followed by a collegewide observance of Martin Luther King Jr. Day. Mid-month frigid weather kept the campus community moving quickly through studies, sports, and scenics. Yes, we're at full throttle and all warmed up, as we lunge into February. Stay tuned, but first, check out This Month at Bates.
Never Mind the Weather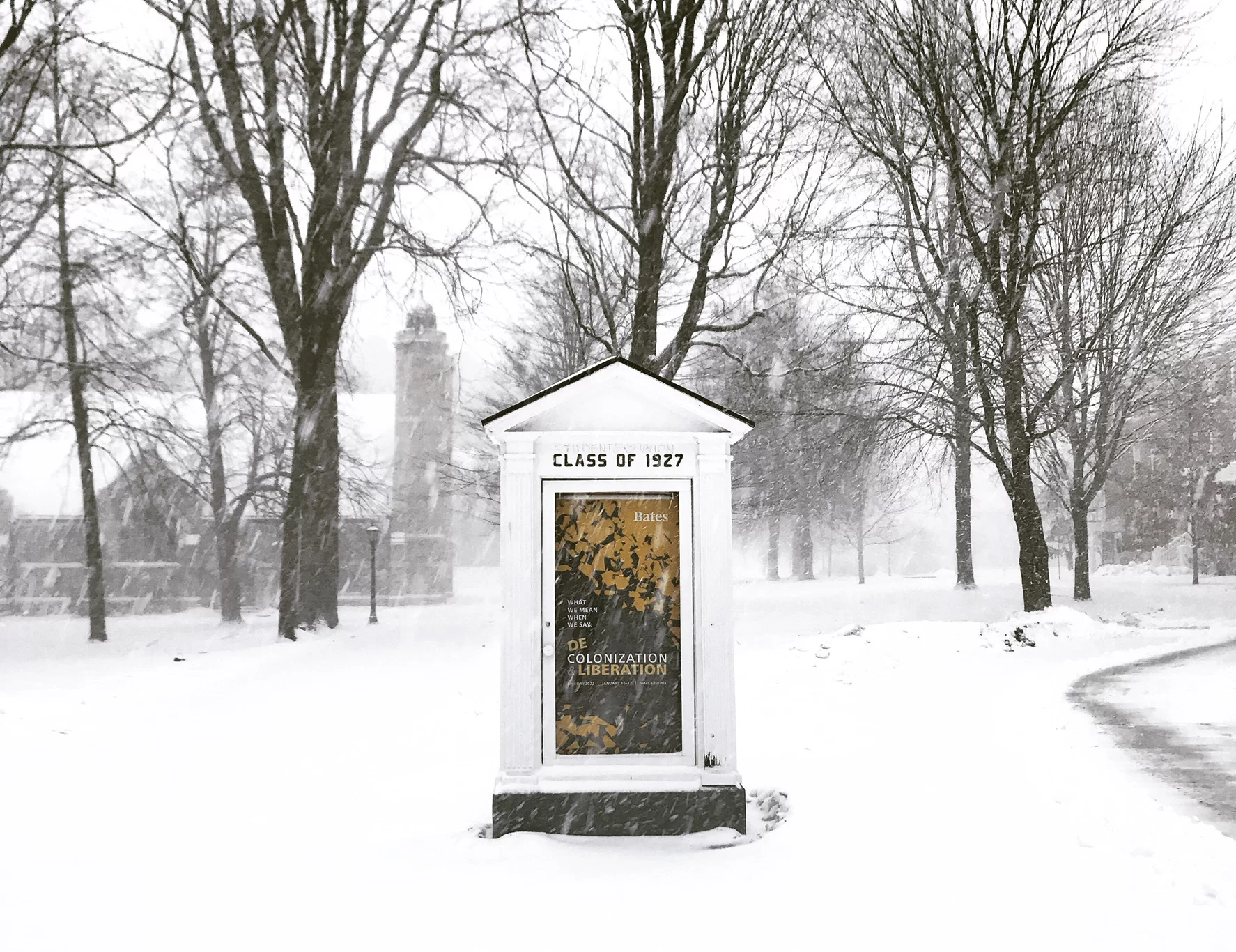 Weren't we lucky that the 2022 Martin Luther King Jr. Day observance was virtual? As sloppy snow-to-rainstorm precipitation swept through campus, more than 500 viewers easily attended the keynote panel on decolonization and liberation.
---
In the Stacks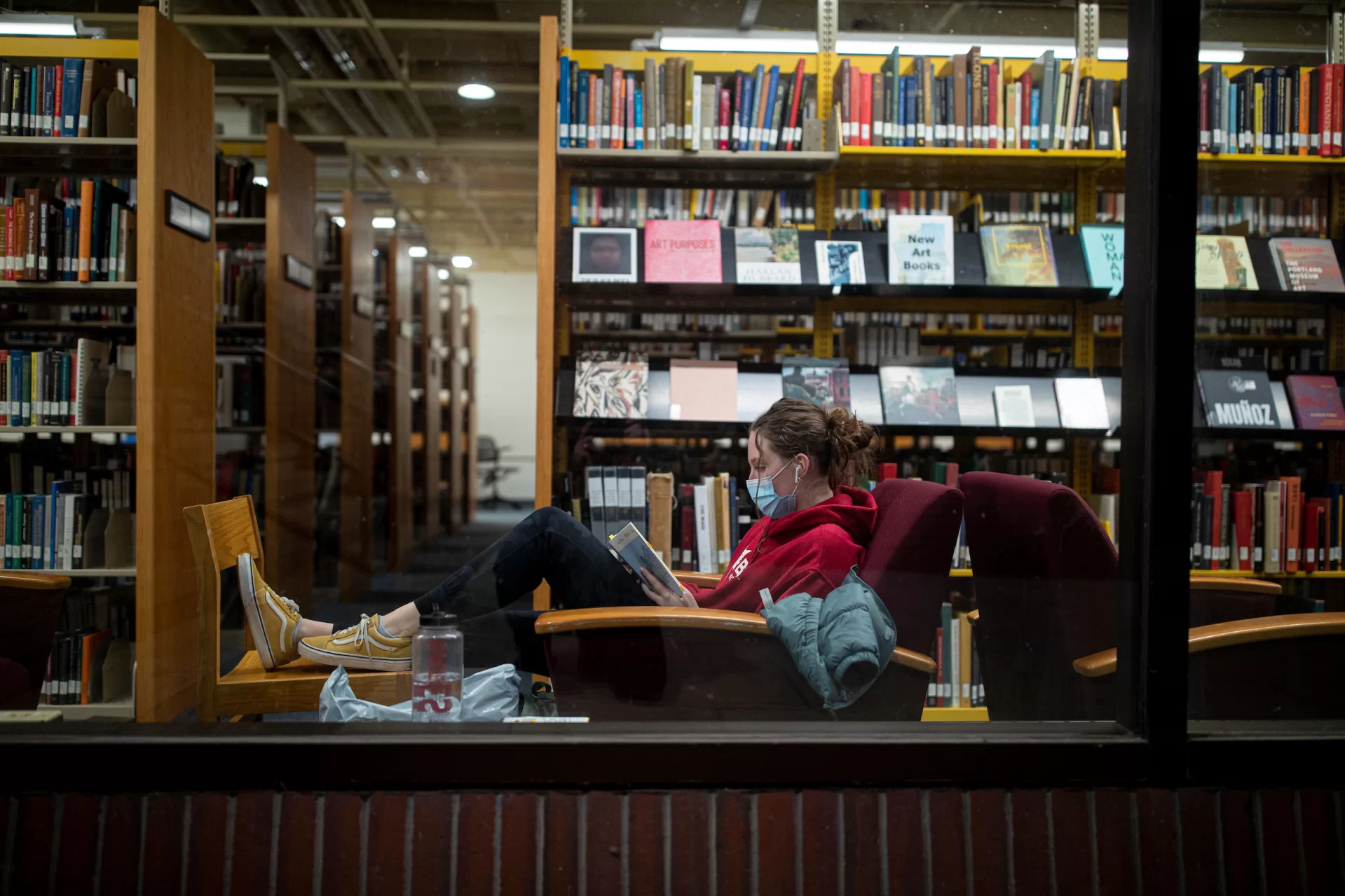 After a three-hour lab in her course on earth surface environments and environmental change Julia Neumann '25 of Norwell, Mass., found a warm and cozy spot on the ground floor of Ladd Library to read Shakespeare's Much Ado About Nothing for a course taught by Assistant Professor of English Katie Adkison.
---
A Special Season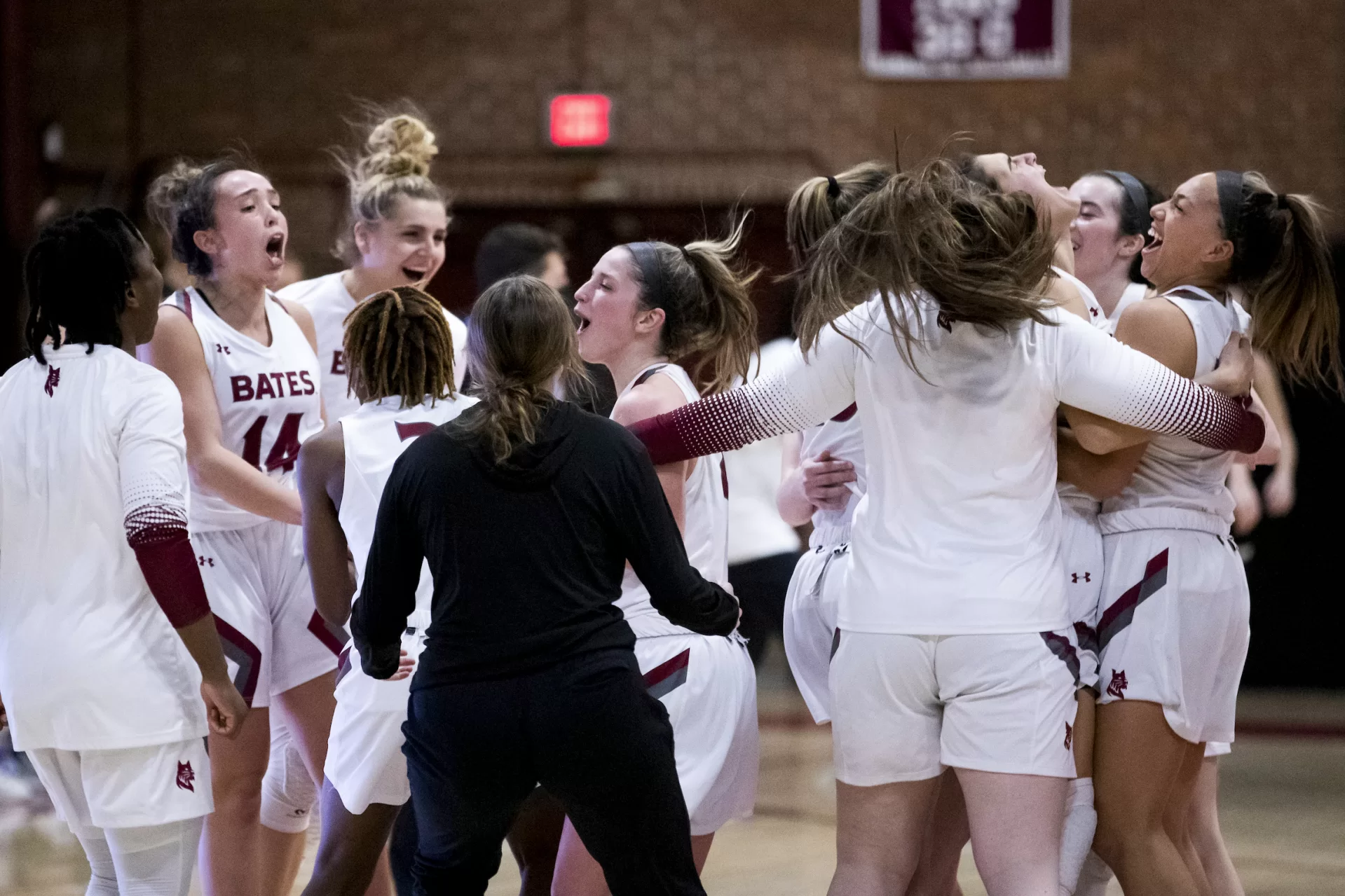 Mia Roy '22 (middle) of Bedford, N.H., and the Bates women's basketball team celebrate a win over then-No.3 nationally ranked Amherst. With impressive wins over ranked teams this season, "Bates has taken its game to another level," the Portland Press Herald recently noted.
---
Field of Birches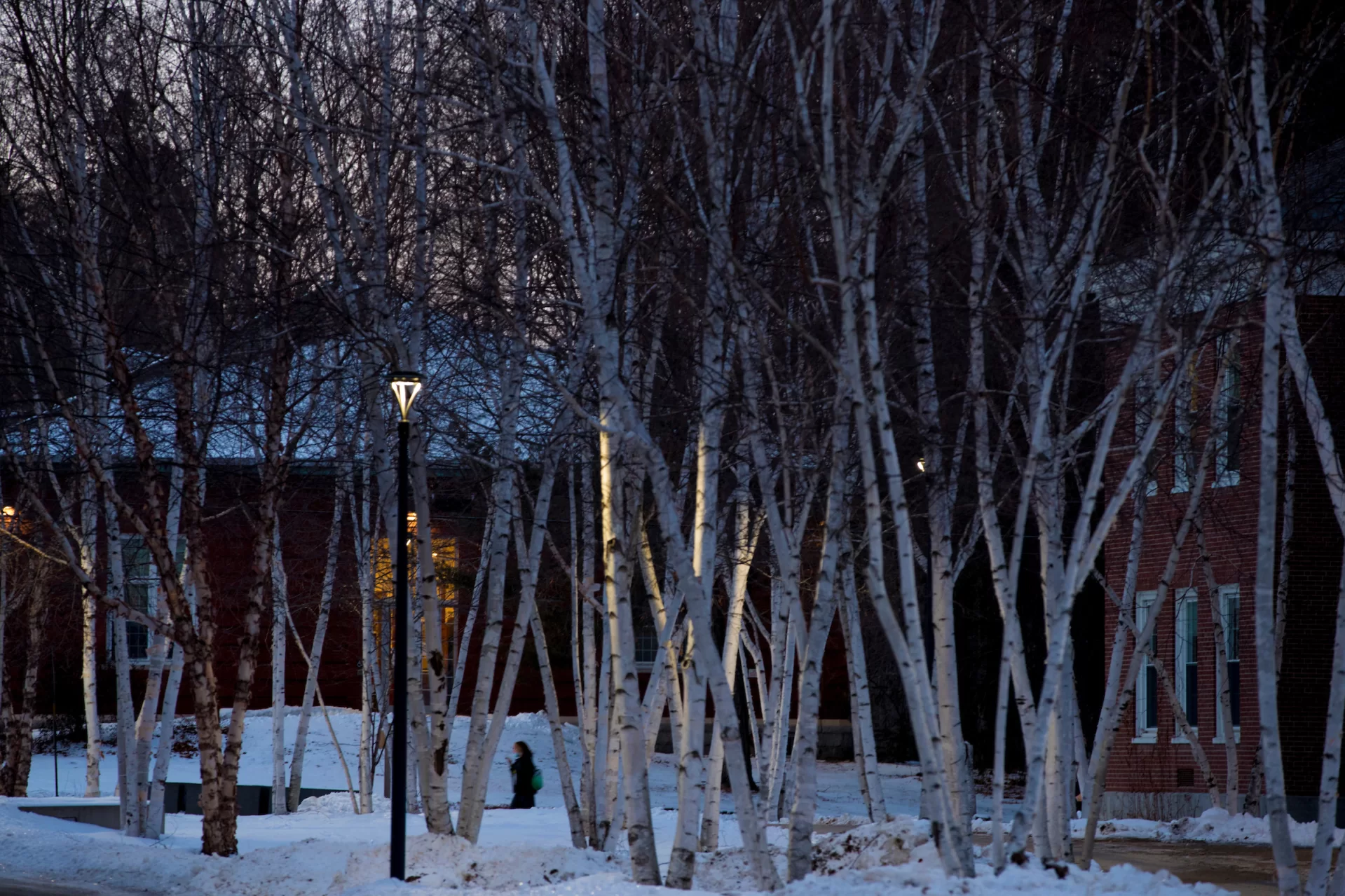 A compressed view of the birches on Alumni Walk, looking toward College Street.
---
Through a Glass Wall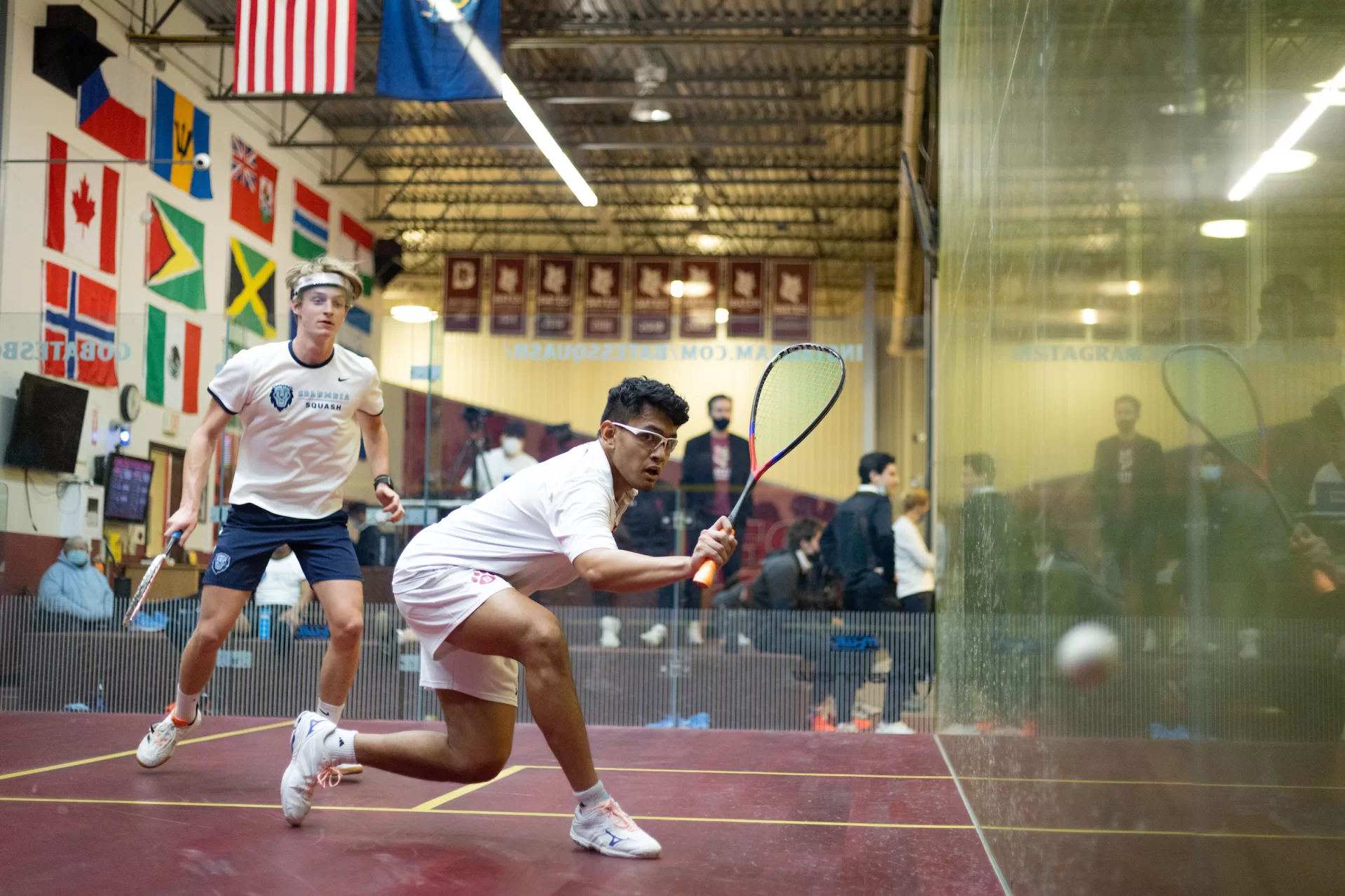 Harris Ramlee '25 of Dengkil, Malaysia, takes on his opponent from Columbia University in a men's squash team's match at the Bates College Squash Center.
---
Golden Hour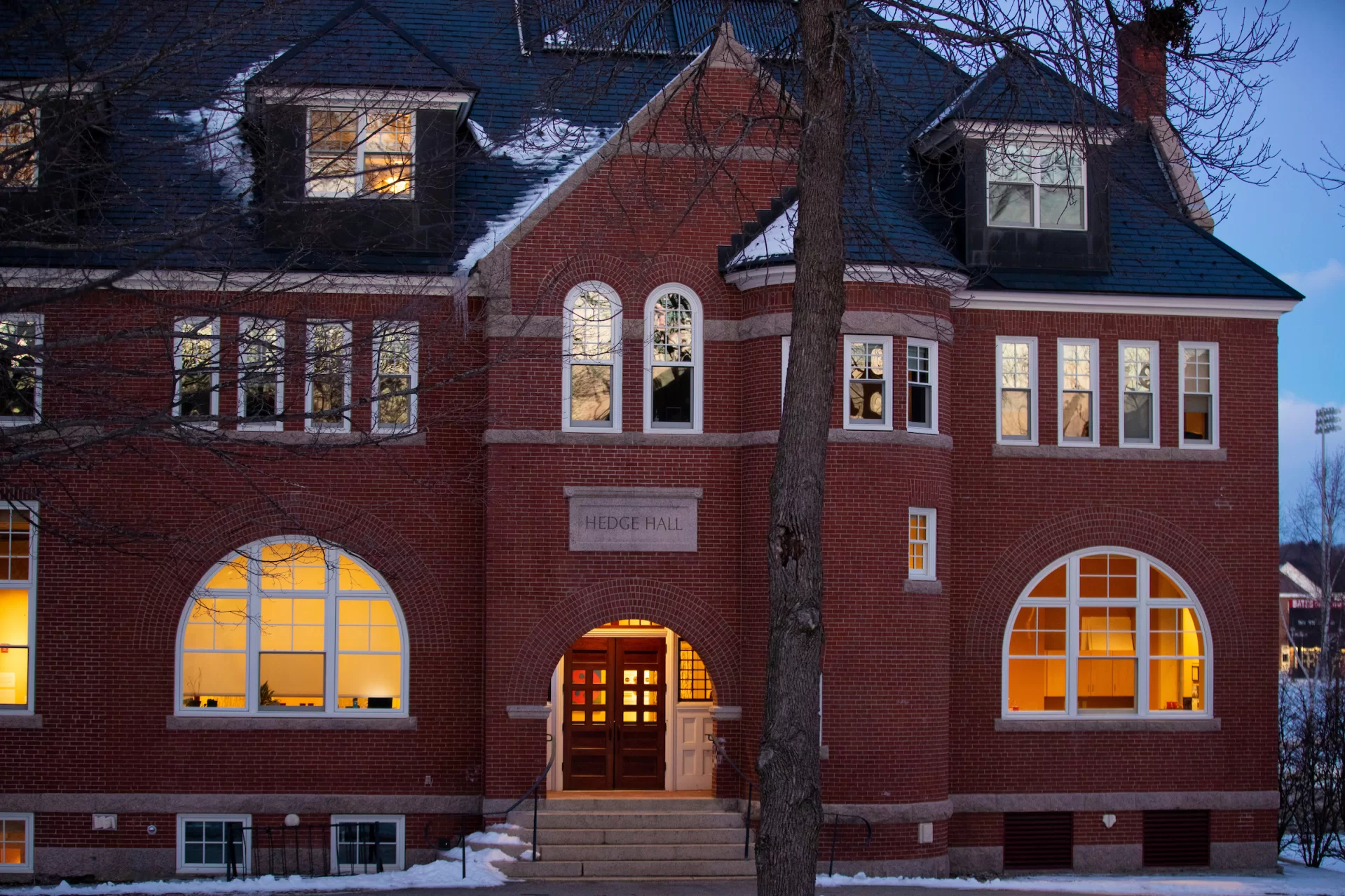 The lights in Hedge Hall classrooms are on as dusk settles on campus.
---
Hands On Assignment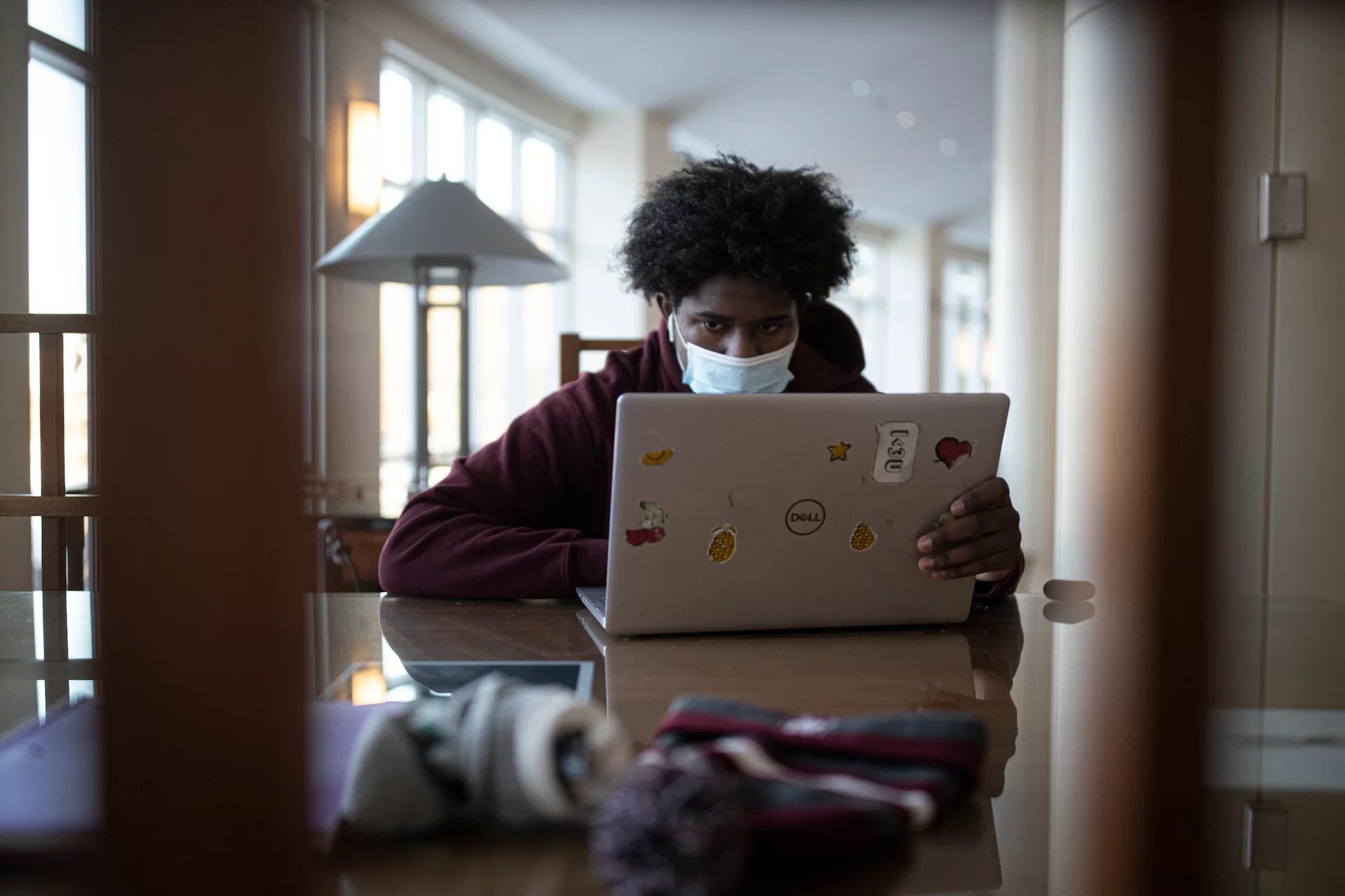 At a Perry Atrium table overlooking Lake Andrews, Modou Sissoho '24 of the Bronx, N.Y., studies for his education course.
---
By Leaps and Bounds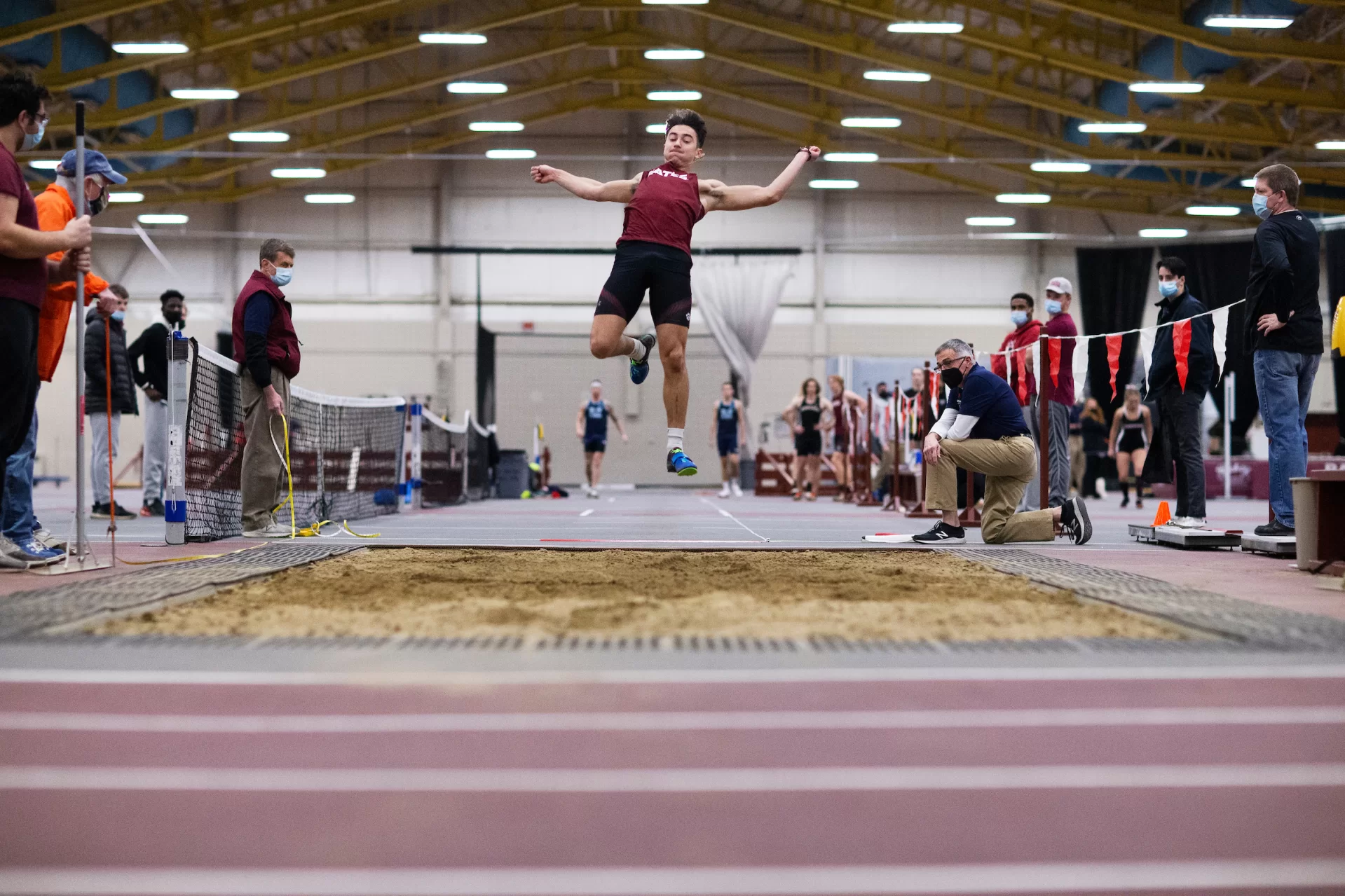 Men's track and field's Evan Koch '23 of Shelburne, Vt., competes in the heptathlon at the Bates Invitational in Merrill Gymnasium.
---
'Bonkers' Over Ruby Jean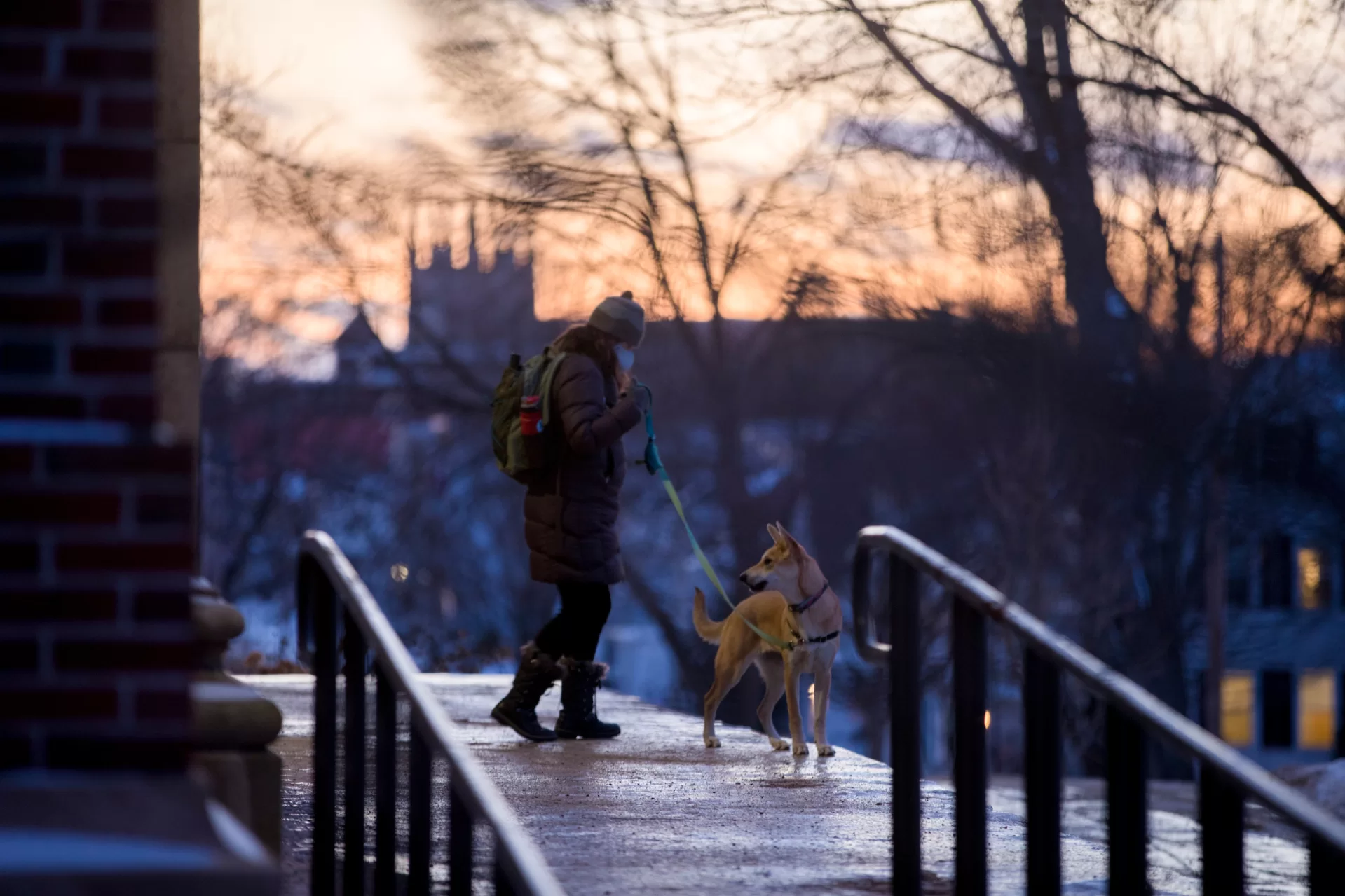 Ruby Jean and Bridget Fullerton, lecturer in humanities and acting director of writing, go for a twilight walk on the Historic Quad. Ruby is an 8-month-old Chinook, a rare breed of sled dog developed in New Hampshire. "I'm a little bonkers over this unique breed," Fullerton says.
---
Upside Down in 2022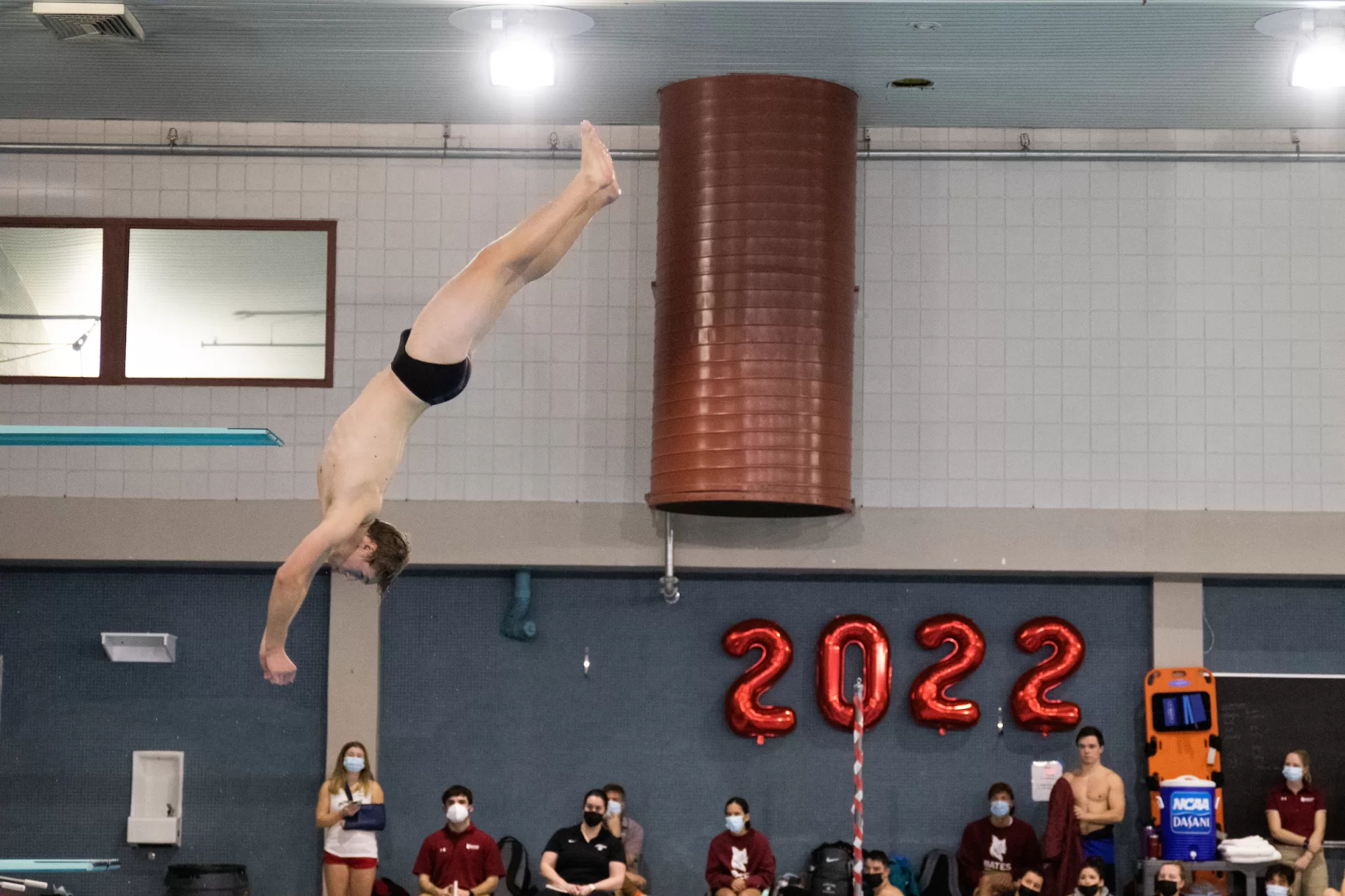 Diver Connor Sahs '24 of Miami, Fla., competes in the first home dual meet of his career as the Bates men's swimming and diving team defeated Bowdoin at Tarbell Pool.
---
A Bit of Outside Indoors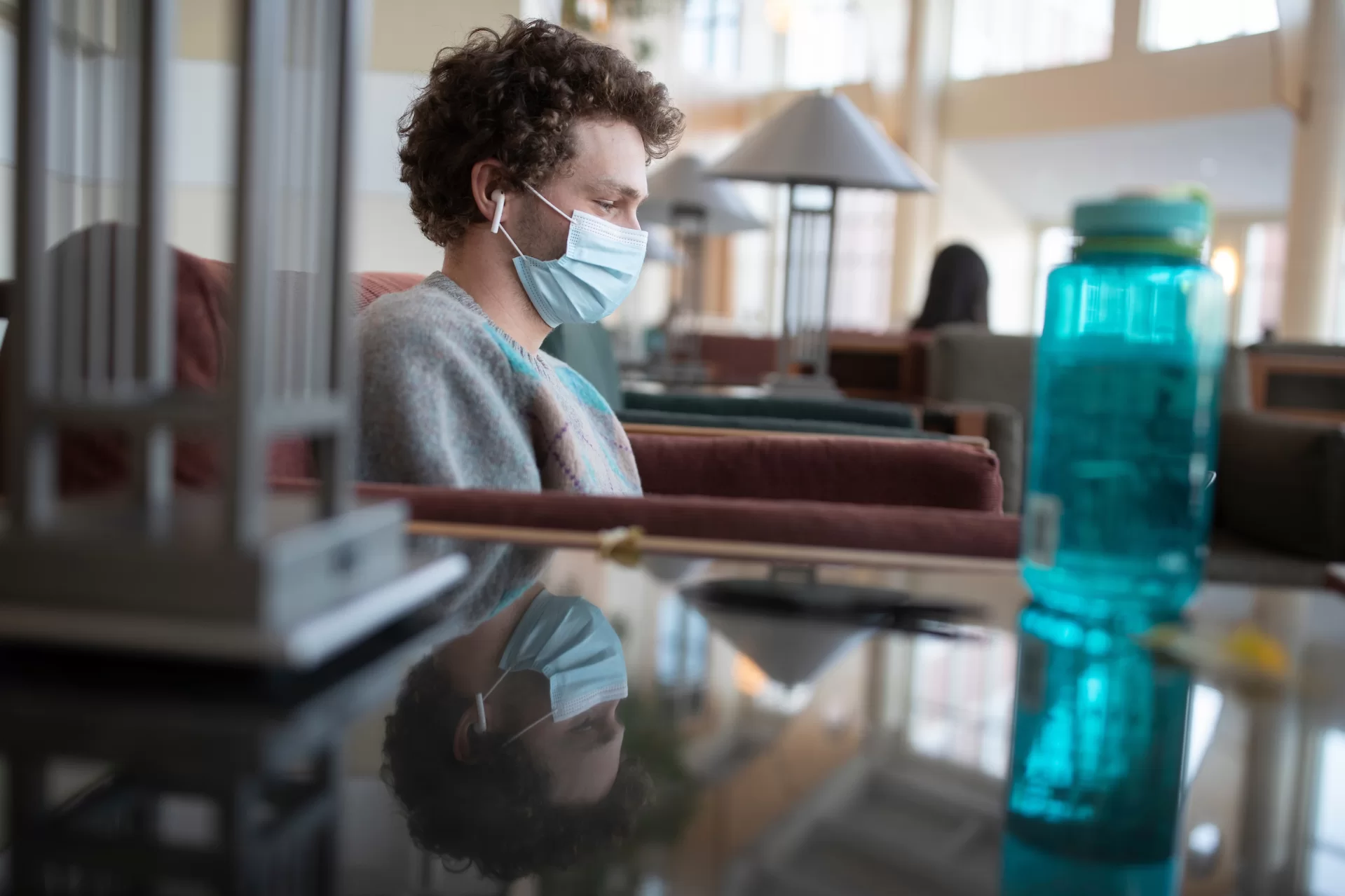 Jack Johnson '22, a neuroscience major from Brewster, Mass., reads in Pettengill Hall's Perry Atrium for his "Culture and Interpretation" course taught by Visiting Instructor in Anthropology Jen Hughes. "I like P'gill for its big windows, excellent lighting, and indoor trees," he says, referring to the room's two ficus trees that reach two floors high.
---
Hoop Attack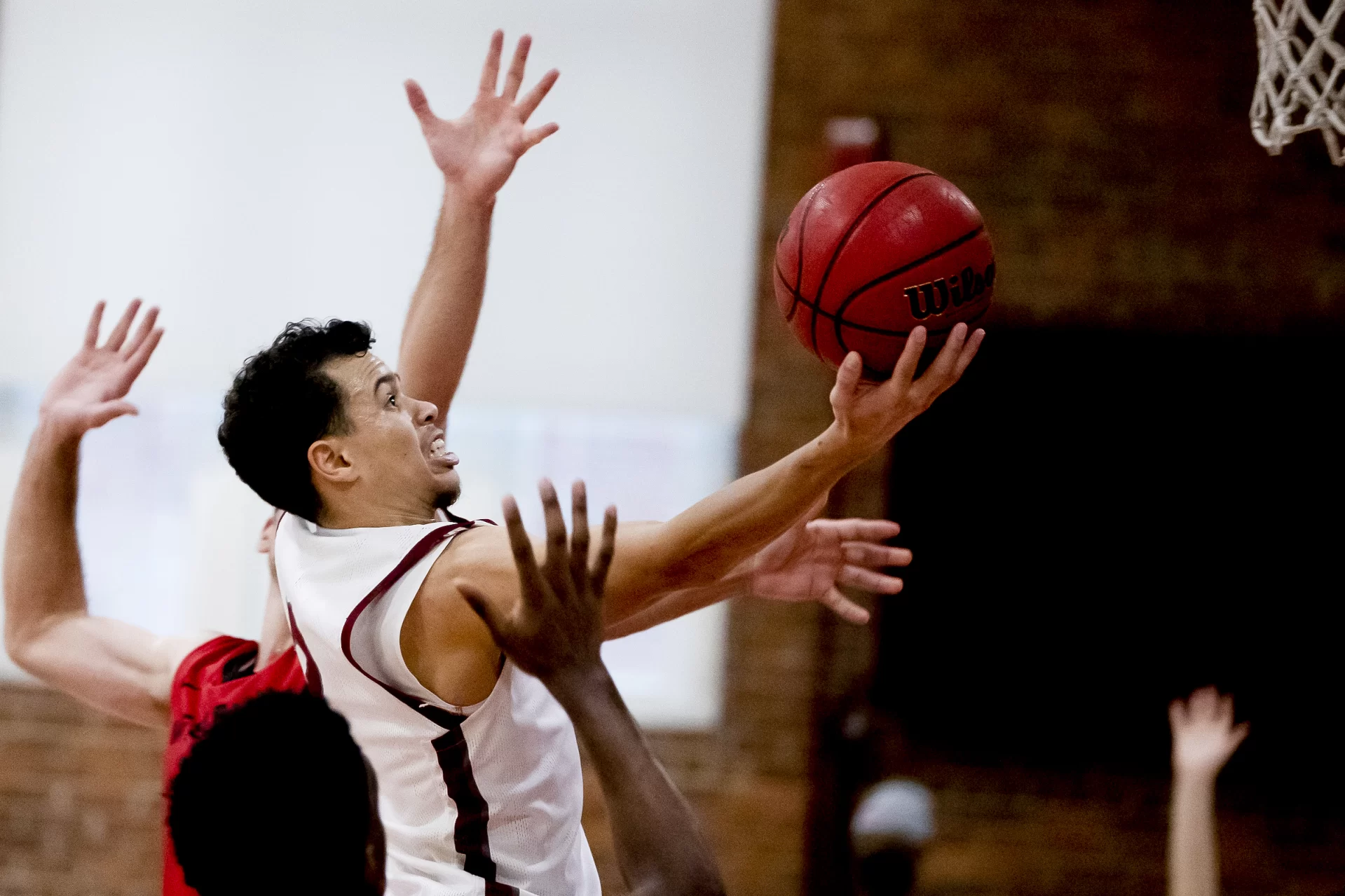 Men's basketball captain Stephon Baxter '23 of Worcester, Mass., attacks the hoop on his way to a game-high 29 points against nationally ranked Wesleyan at Alumni Gym.
---
A Warm Moment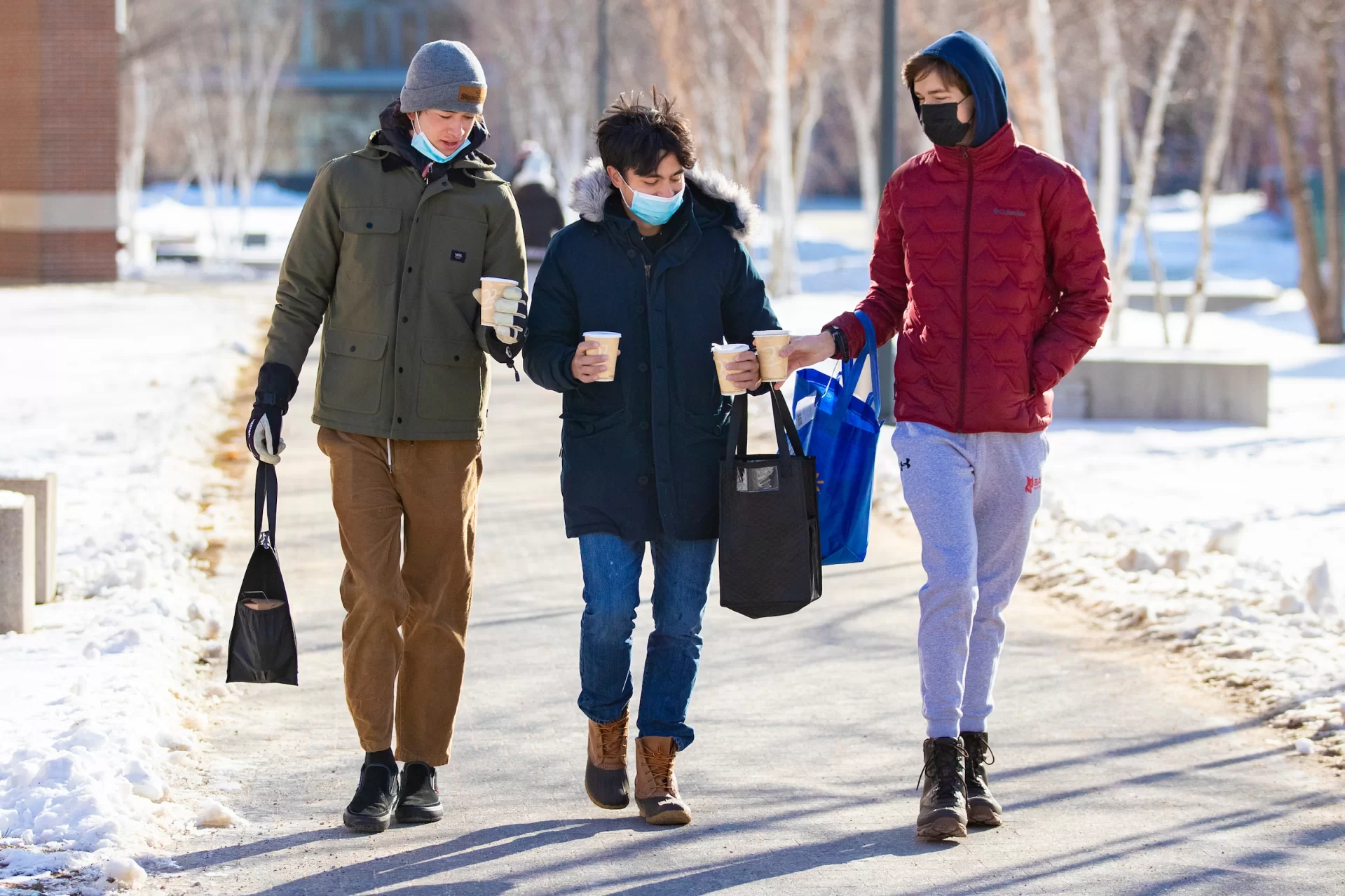 Nick Brown '25 (right) of Hopkinton, Mass., uses his coffee cup to warm the bare hand of Aidan Rooney '25 (center) of Bay Shore, N.Y., as this trio makes its way down Alumni Walk on a frigid January morning. At left is Calvin Capelle '25 of San Juan Capistrano, Calif. Temperature: 0° Fahrenheit. Windchill factor: Yikes.
---
Senior Gauntlet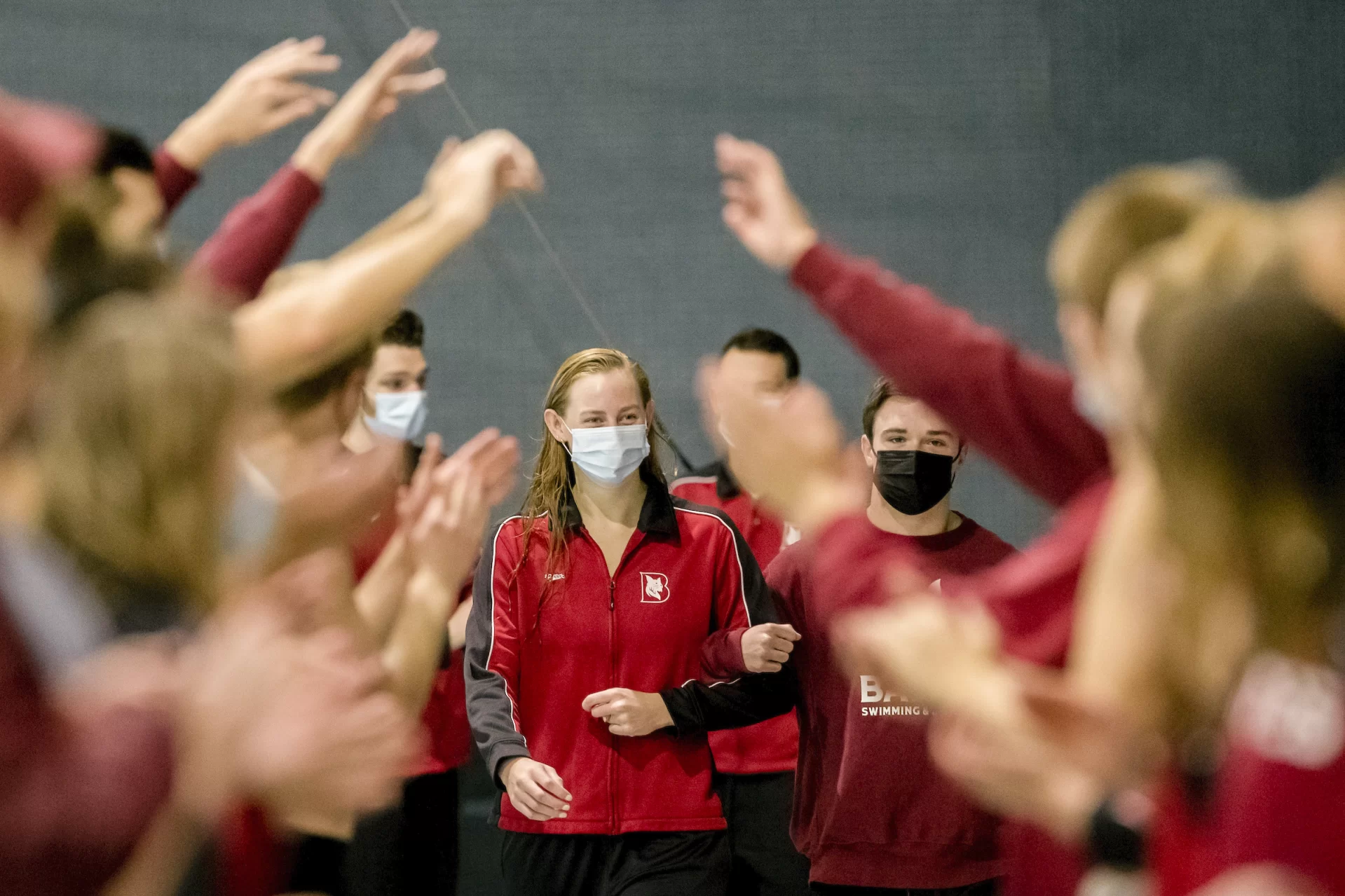 Suzy Ryckman '22 of Riverside, Conn., was one of 17 Bates women and men honored during the swimming and diving team's Senior Day at Tarbell Pool prior to their dual meet against Bowdoin.
---
All Iced Up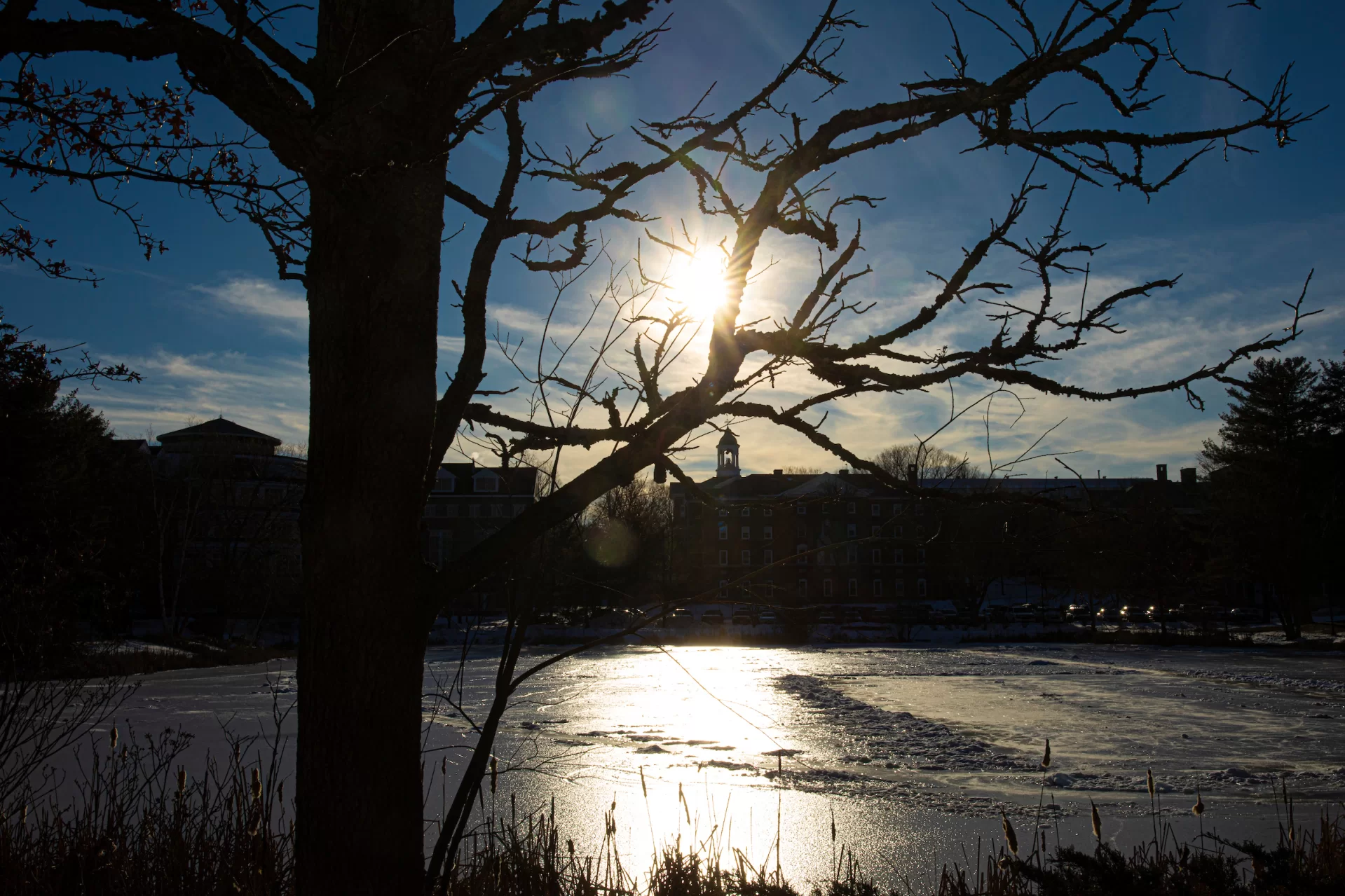 Lake Andrews is all iced up. Be careful out there.
---
Surf's Up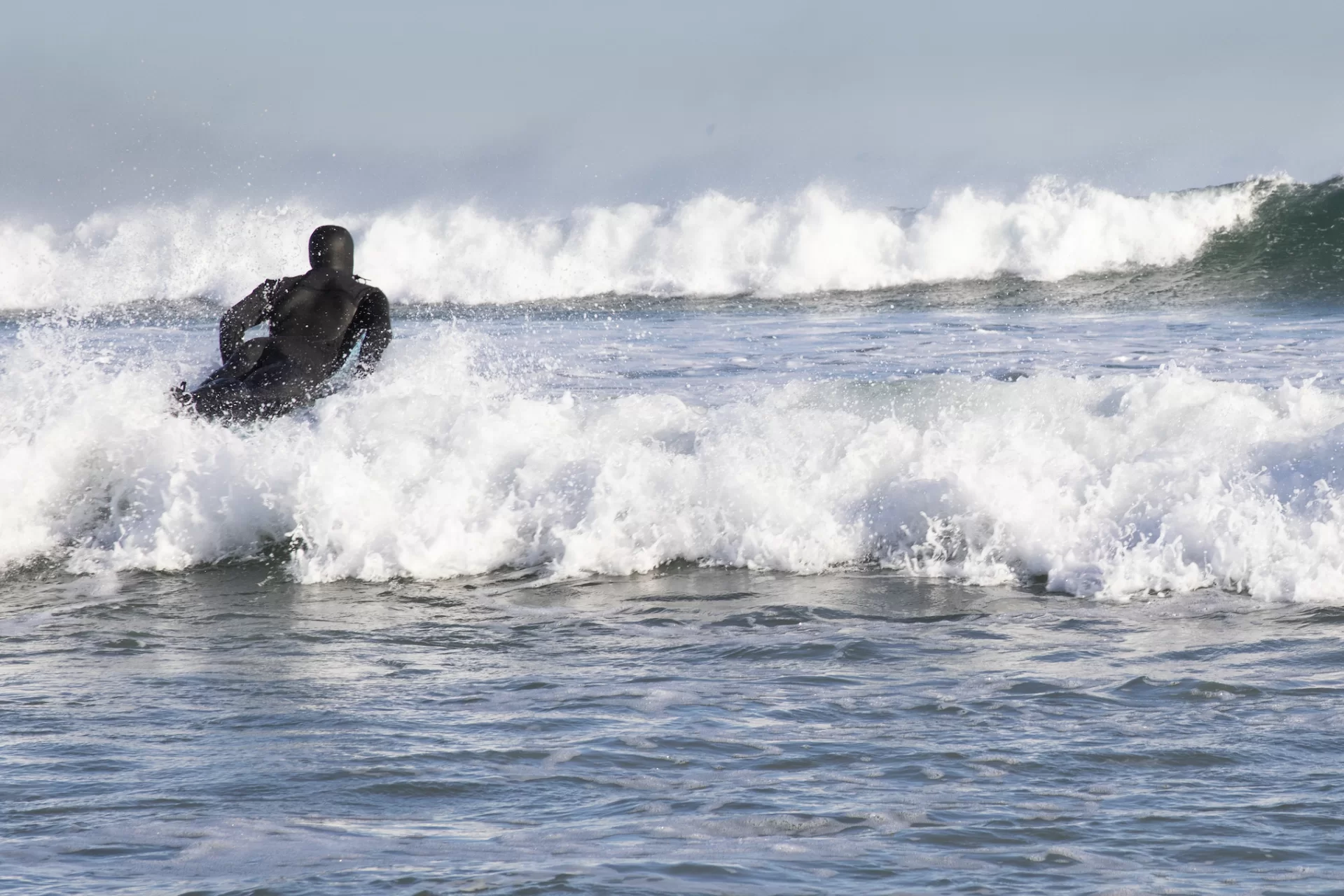 "Extra effort is needed to surf Maine in the dead of winter, but the experience can be very rewarding," said Nash Holley '24 of Freeport, Maine, as he took advantage of some beautiful Maine surfing conditions at Old Orchard Beach.
---
Let It Snow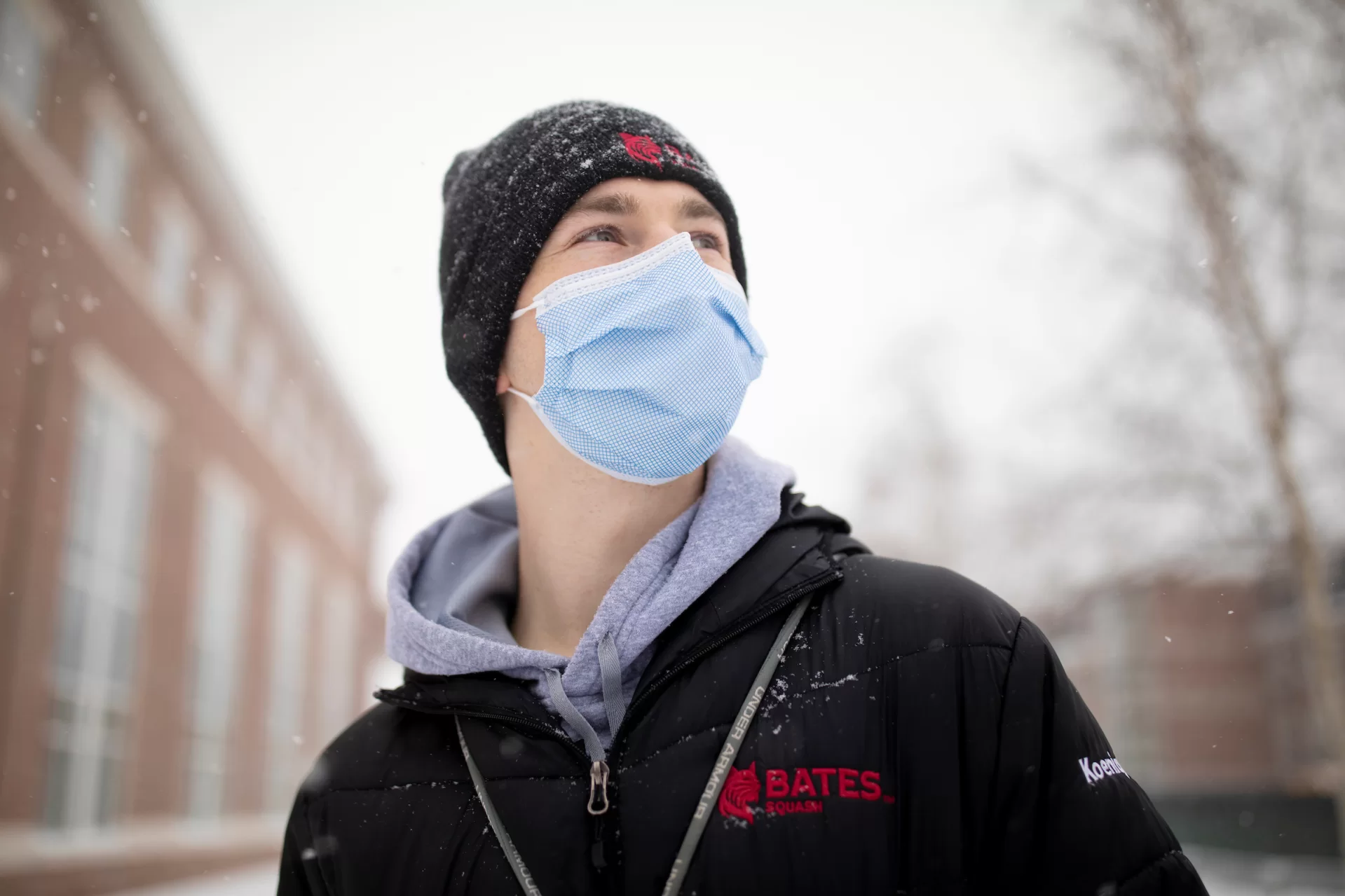 "It's about time," said Tad Koenigsbauer '24 of Seattle, walking along Alumni Walk in early January as light snow accumulated on campus. Until then, the weather had been mild and benign.
---
Hurdles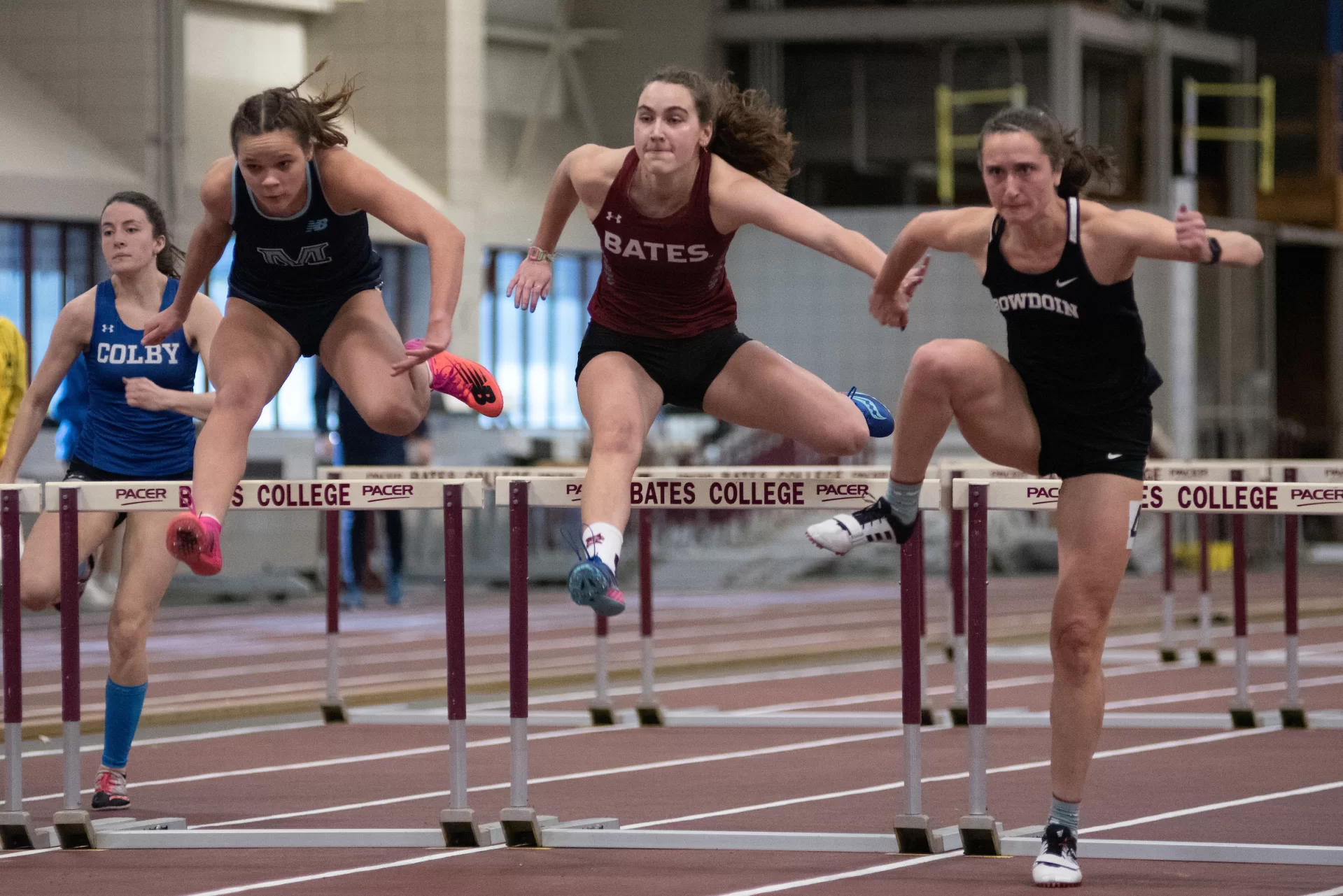 Women's track and field captain Amanda Kaufman '22 of Somers, Conn., races to the finish in the 60-meter hurdles at the Bates Invitational at Merrill Gymnasium.
---
To A Fine Dust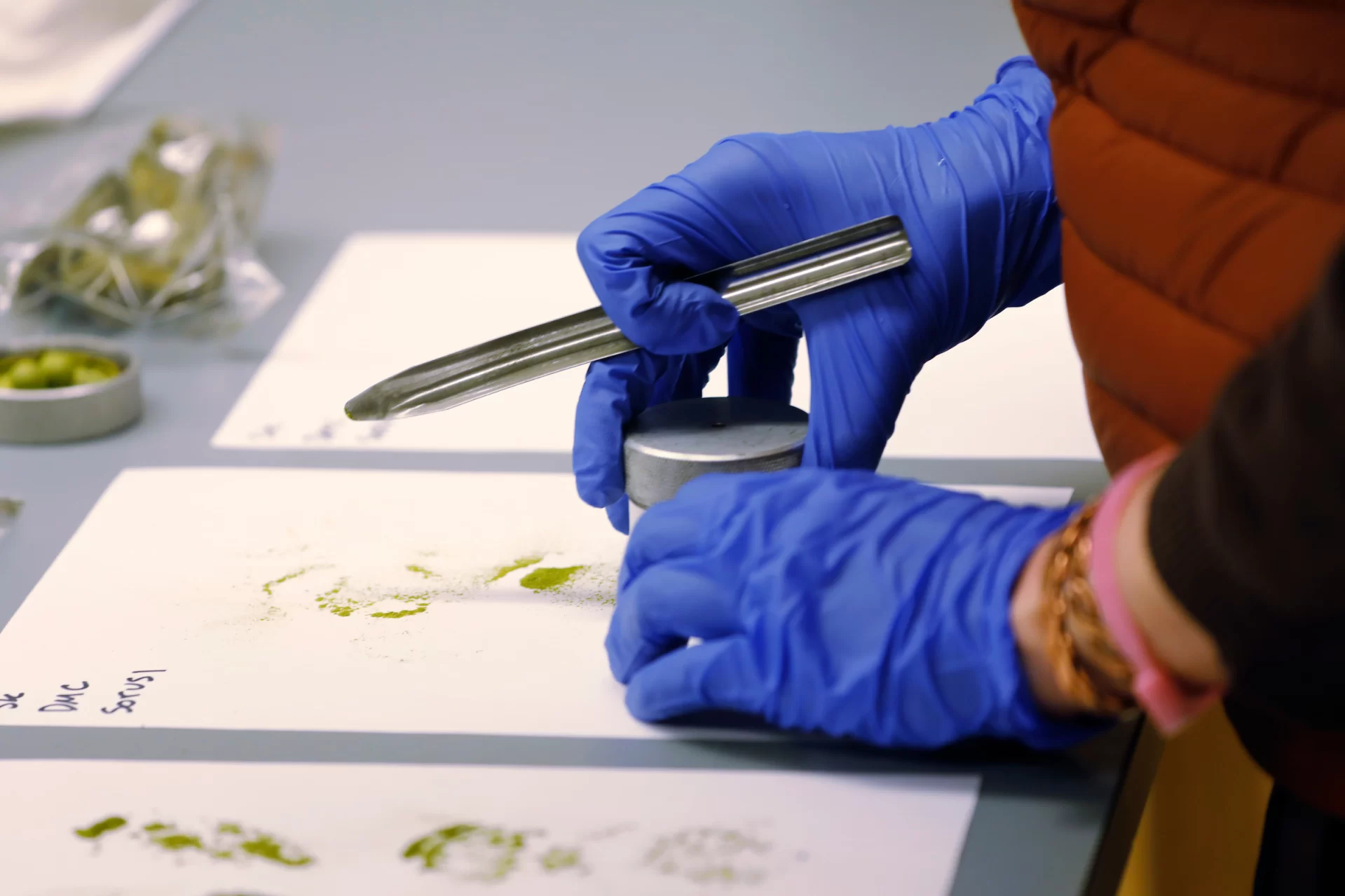 As part of her senior thesis, Essie Martin '22 of Newcastle, Maine, prepares samples of dried kelp in a Carnegie Science laboratory, where she ground the substance down to a fine dust in preparation for isotope analysis.
---
Light Show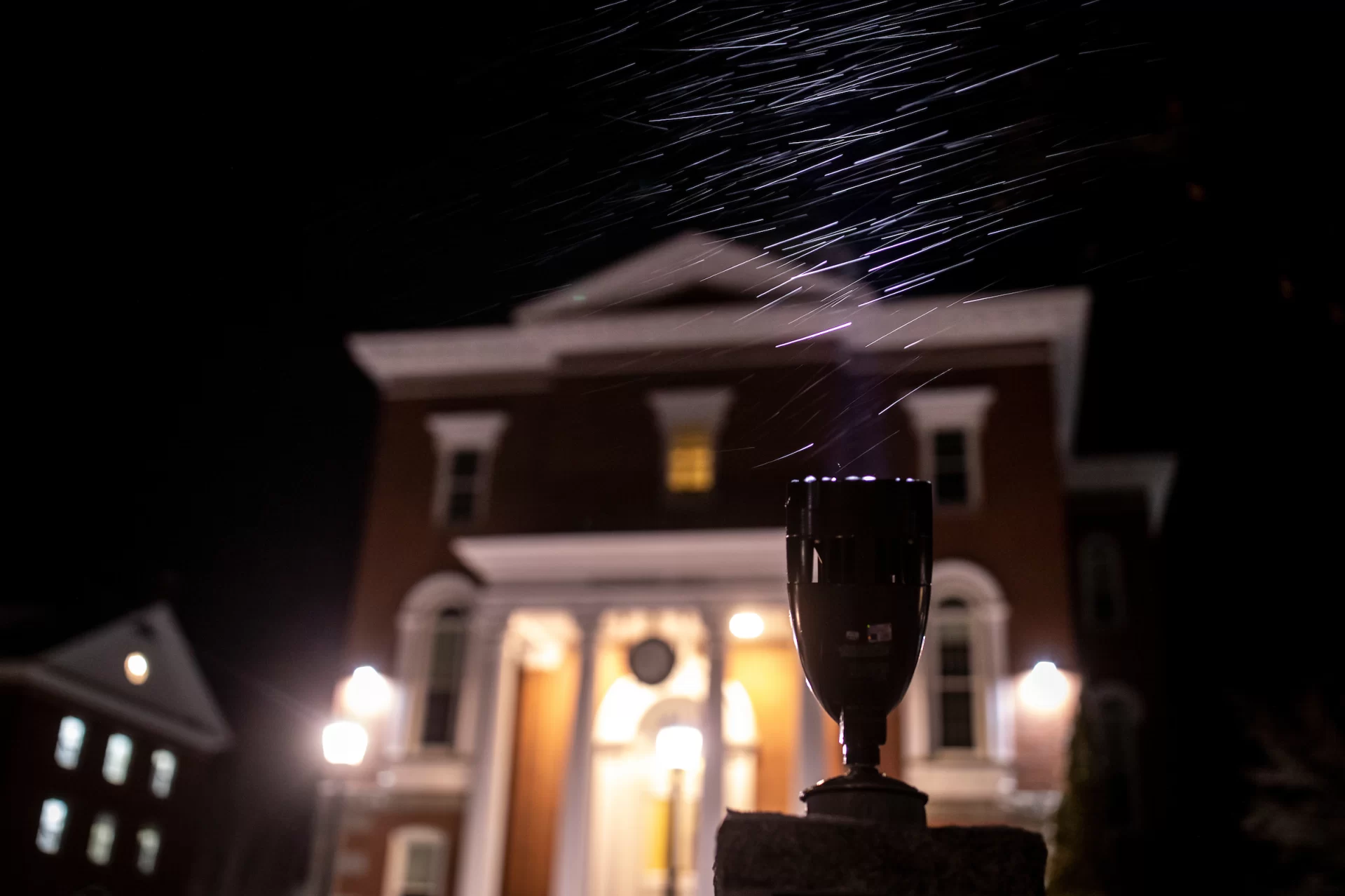 A spotlight at the base of the campus flagpole on the Historic Quad, with Hathorn Hall in the background, captures a mixture of falling snow and rain.
View Comments