Anticipation for spring metamorphosis builds in March as we edge closer to new beginnings. There are no promises for immediate change, but we like to engage as if anything's doable. We offer these photographs as a tribute to what's possible, what's happening, and how we can shape something admirable with our collective spirits.
A Wonderful Walk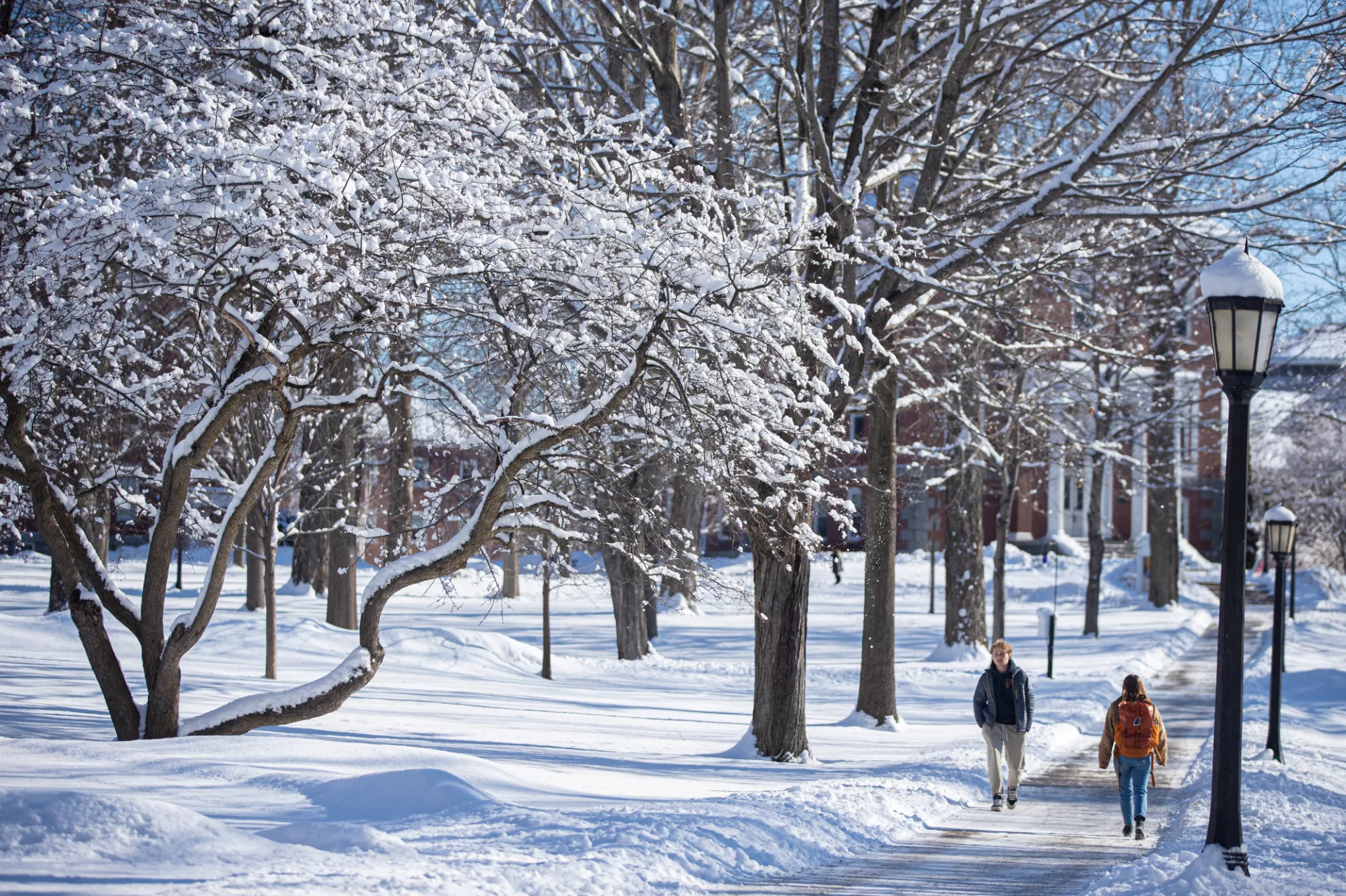 Brilliant sunshine and two fresh coats of snow turned the second and third days of March into a delightful outdoor experience.
---
And They're Off!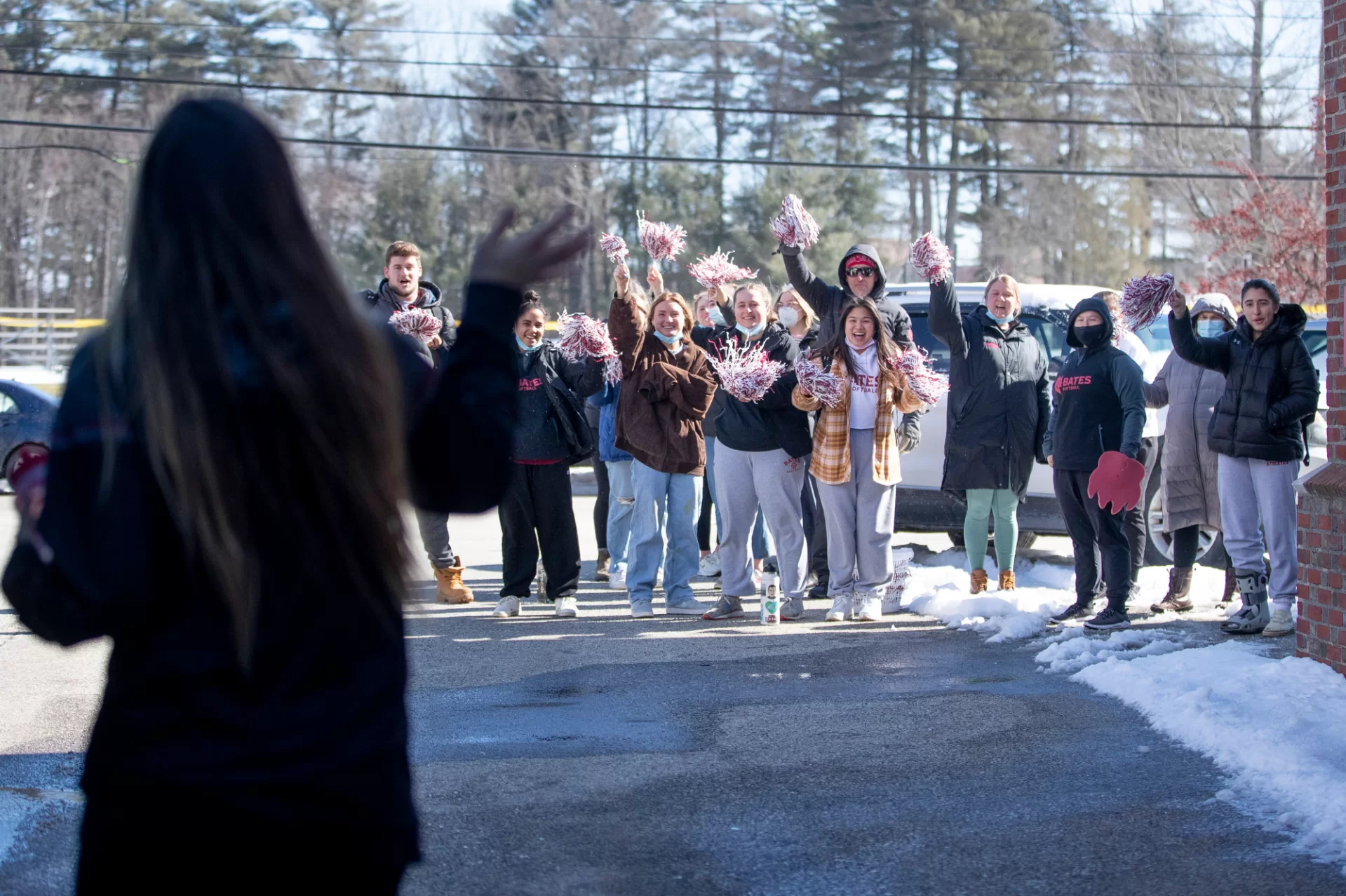 Team captain Meghan Graff '23 of South Portland, Maine, waves to Bates fans who gave the NESCAC champion women's basketball team a sendoff outside Alumni Gym as the Bobcats headed to New York City for the NCAA tournament. The Bobcats won their first-round game over Roger Williams in dramatic fashion, in overtime, 68–64. Graff was named a Second Team All-American by D3hoops.com.
---
'Hold Still and Focus'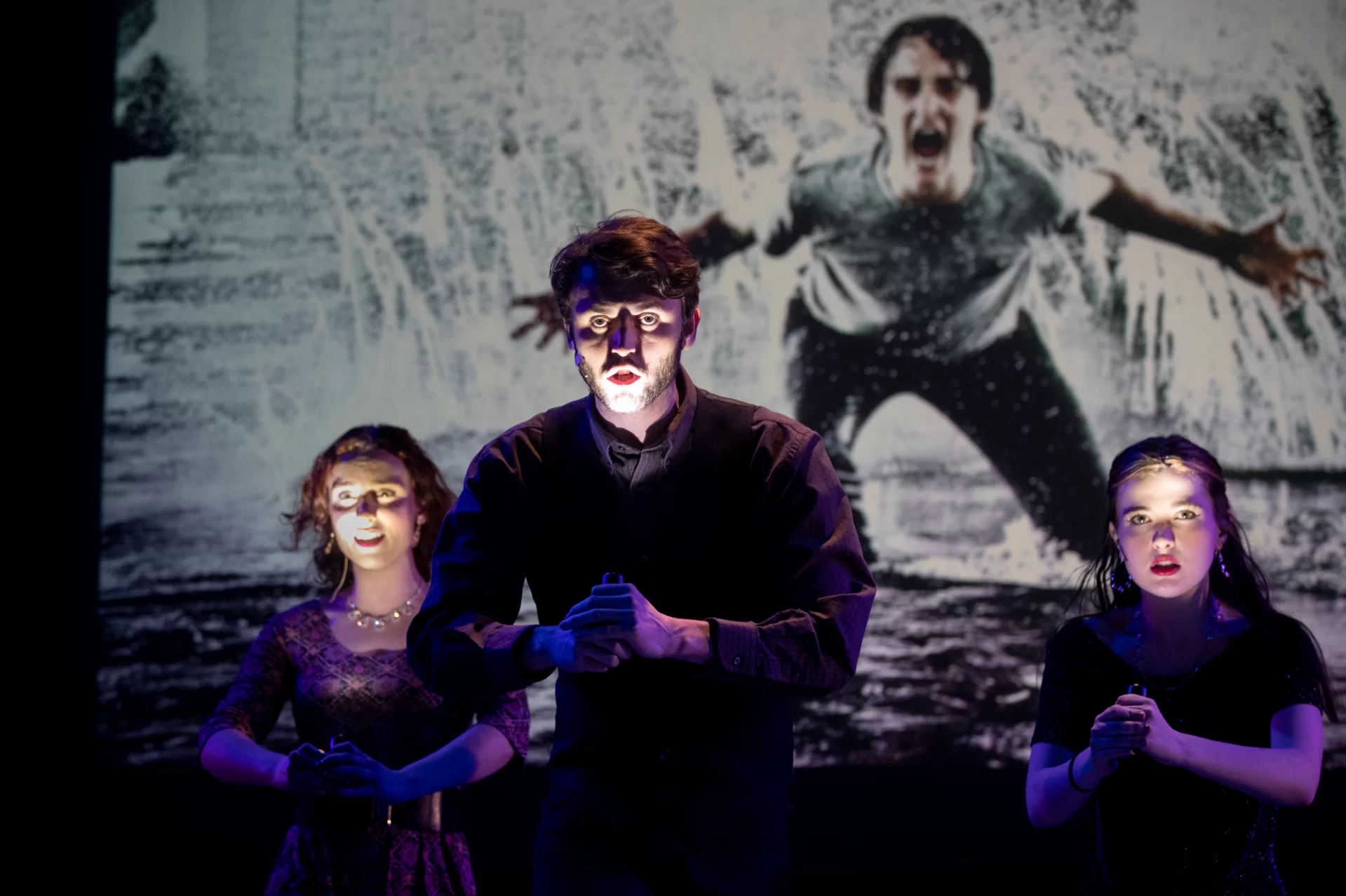 Students perform in 35mm: A Musical Exhibition at Schaeffer Theatre. The Bates production was a senior thesis project in directing for Noah Pott '22 of Great Barrington, Mass., a double major in theater and music, and a senior thesis performance in acting for Max Younger '22 of Orinda, Calif.
---
Insights into an Invasion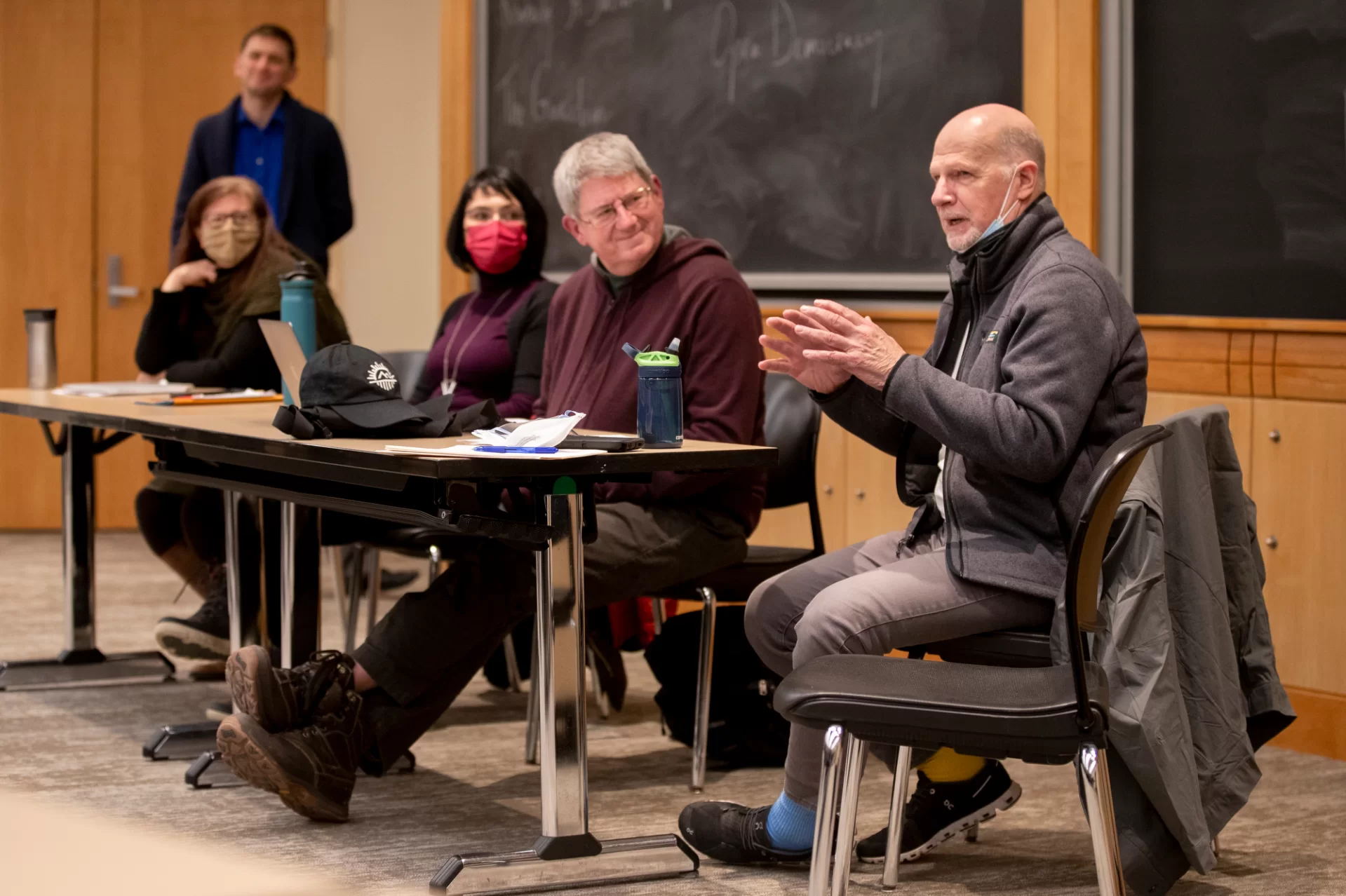 From left, lecturers in Russian Cheryl Stephenson and Marina Filipovic, Professor of Politics Jim Richter, and Professor Emeritus of Russian Dennis Browne, weigh in on Russia's invasion of Ukraine during an interdisciplinary panel discussion held in Pettengill Hall's Keck Classroom on March 11.
---
Puddles on the Puddle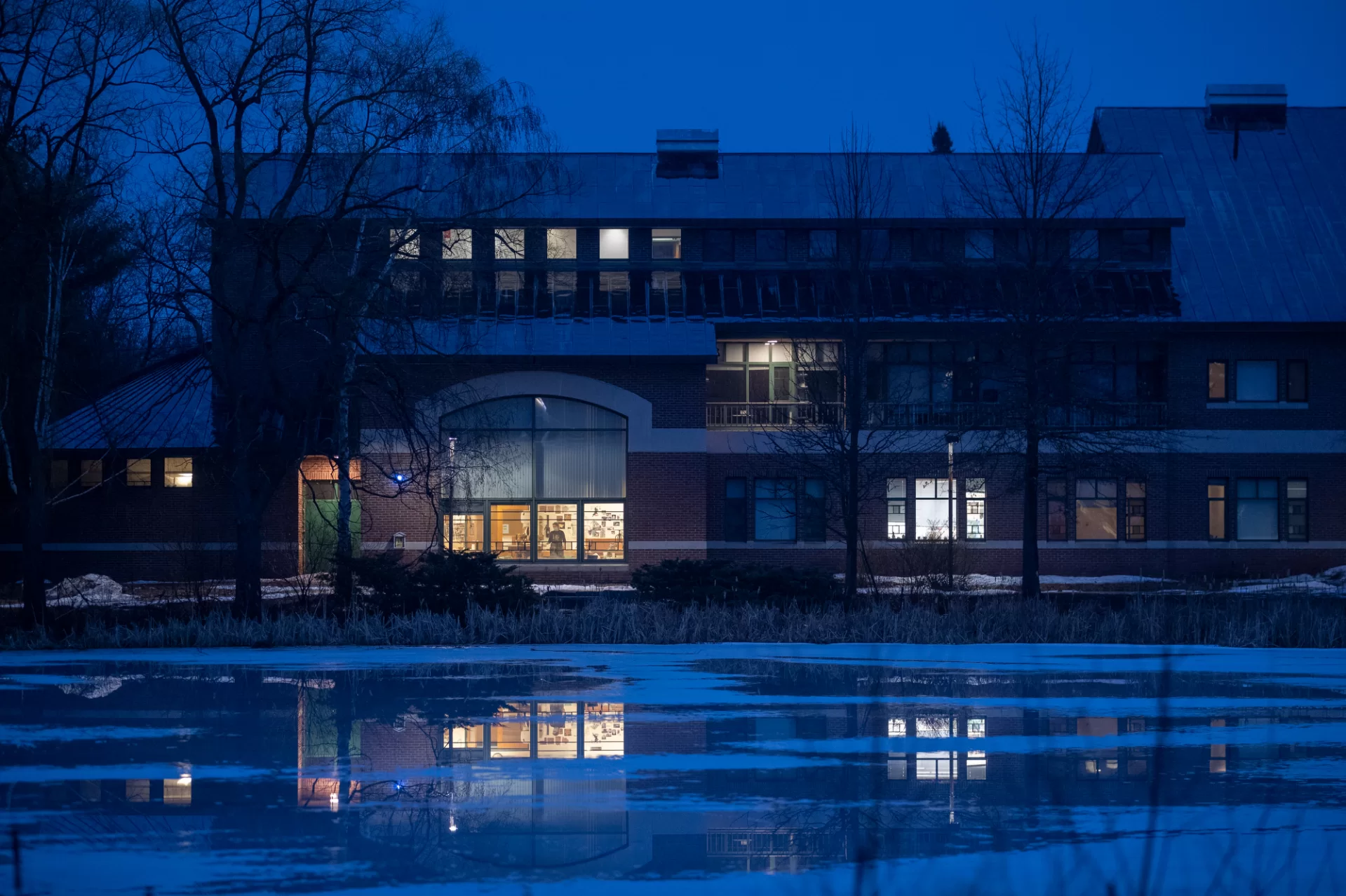 Puddles on the ice-covered puddle reflect light from the Olin Arts Center.
Dancers at a Standstill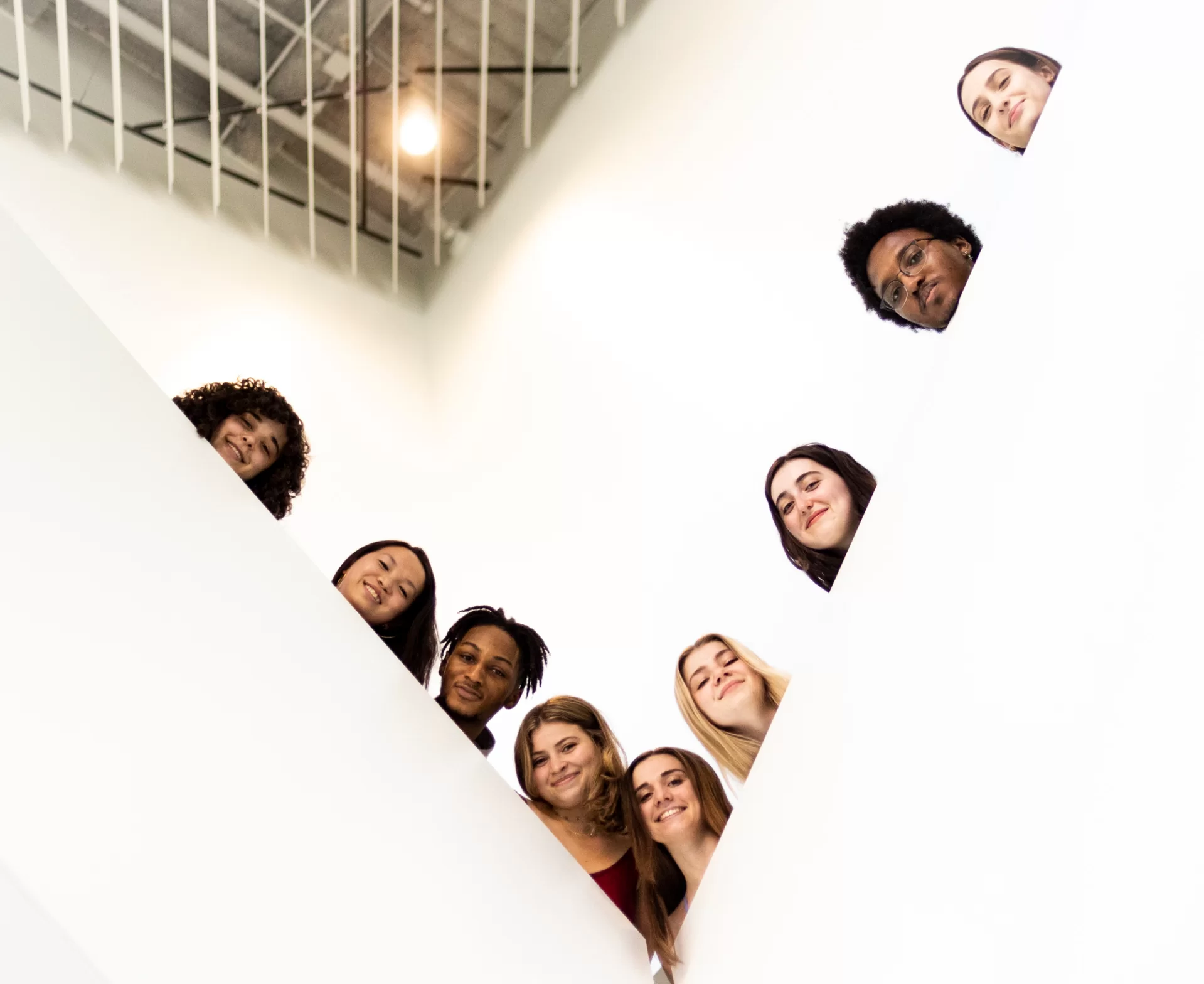 It's not just for science. In Bonney Science Center, students who will perform in April's Spring Dance Concert pose for photographer Matt Hamilton '25, who was creating images for event posters.
From left, Anntonia Taylor '24, Celia Tolan '24, Osceola Heard '22, Talia Kurlansky '22, Maya Golden '23, Isabel Honigman '22, Katherine Buetens '24, David Allen '24, and Ava Thomas '22.
---
Through Rain and Snow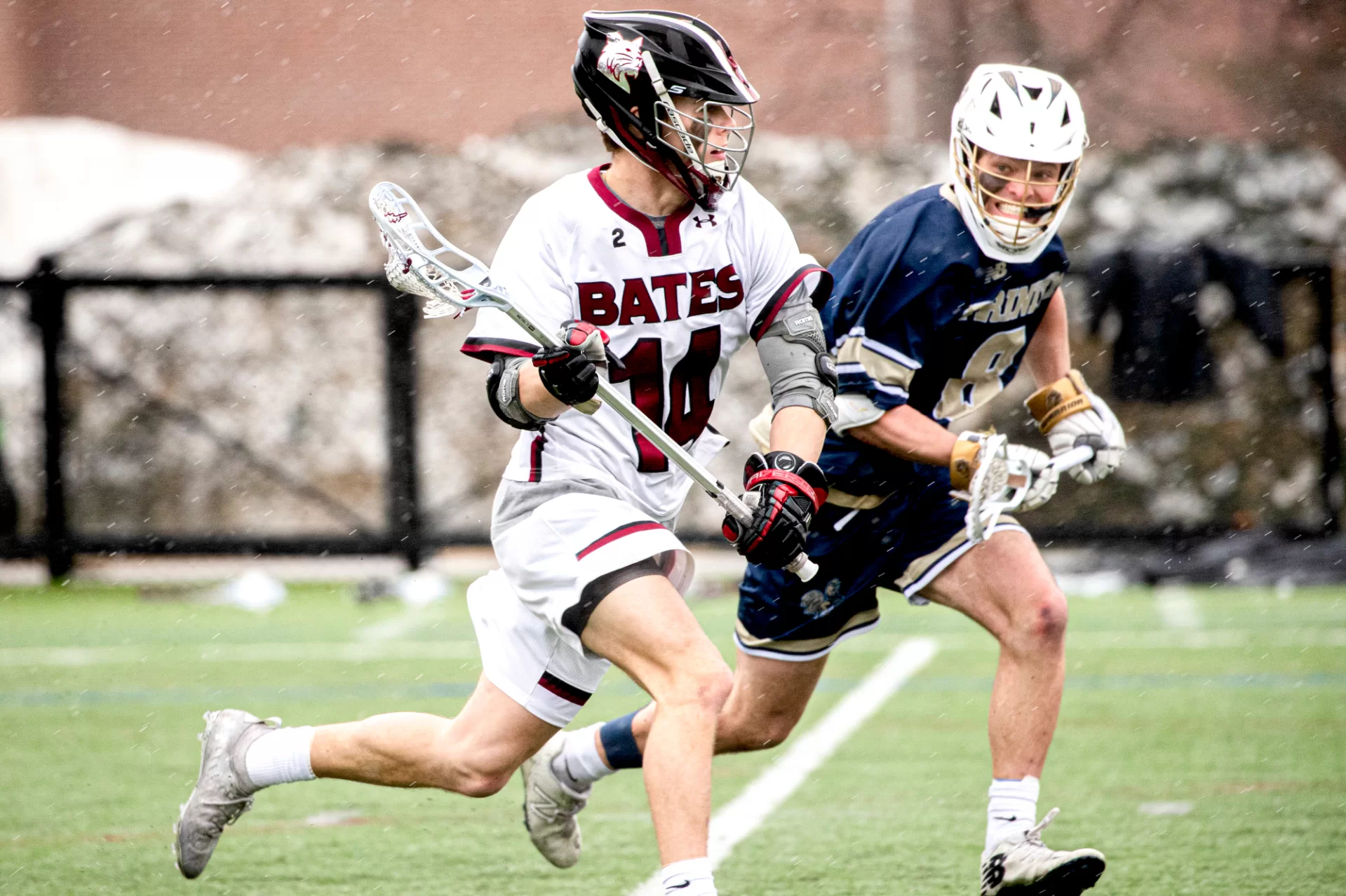 Jake Johnson '24 of Lake Forest Park, Wash., battles the rain and Trinity competitors at Garcelon Field. Johnson has six goals and two assists through seven games for the Bates men's lacrosse team.
---
Commons Community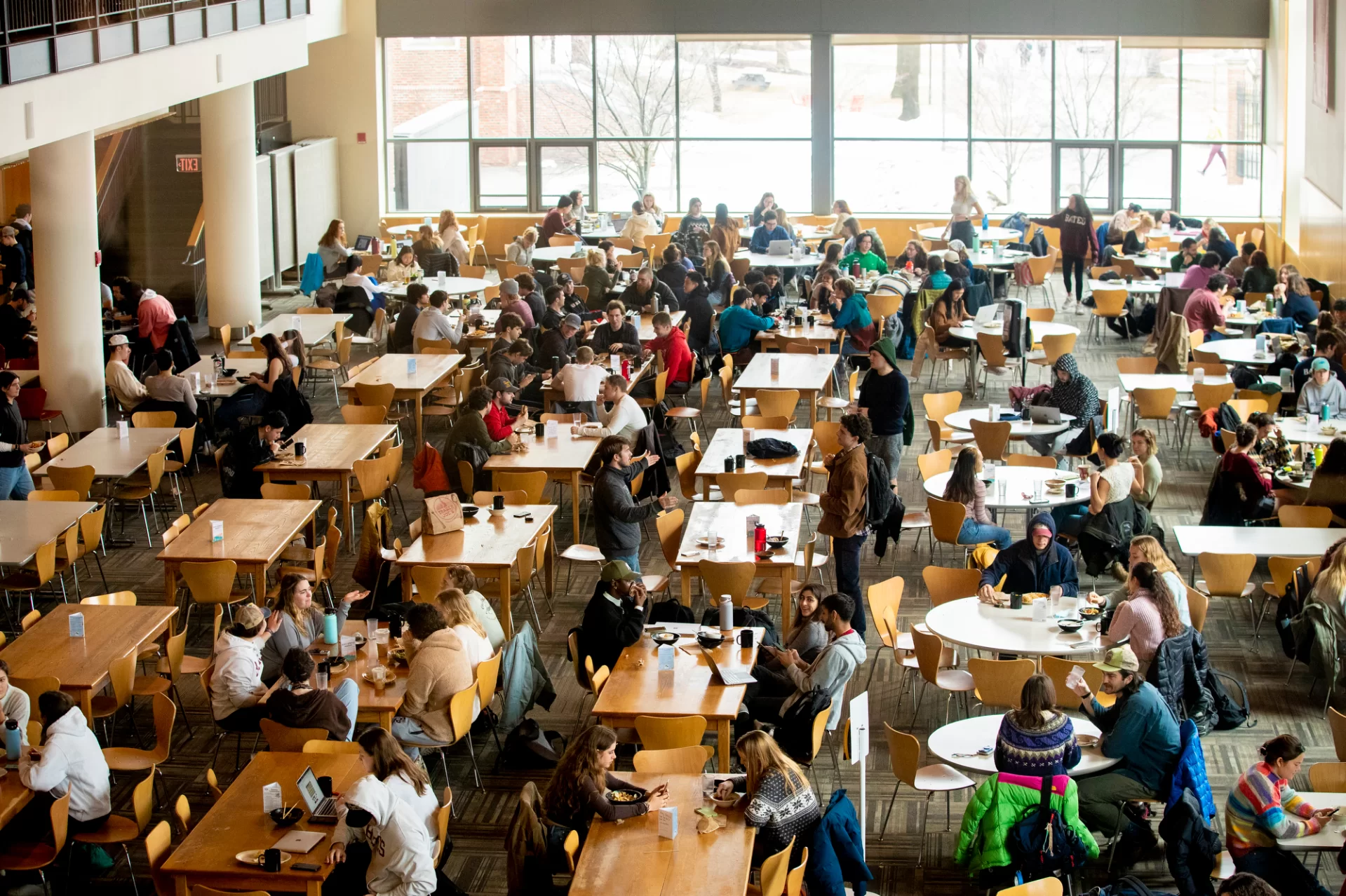 The opportunity for the whole Bates student community to dine together under one roof is on full display during lunch.
---
Ready and Waiting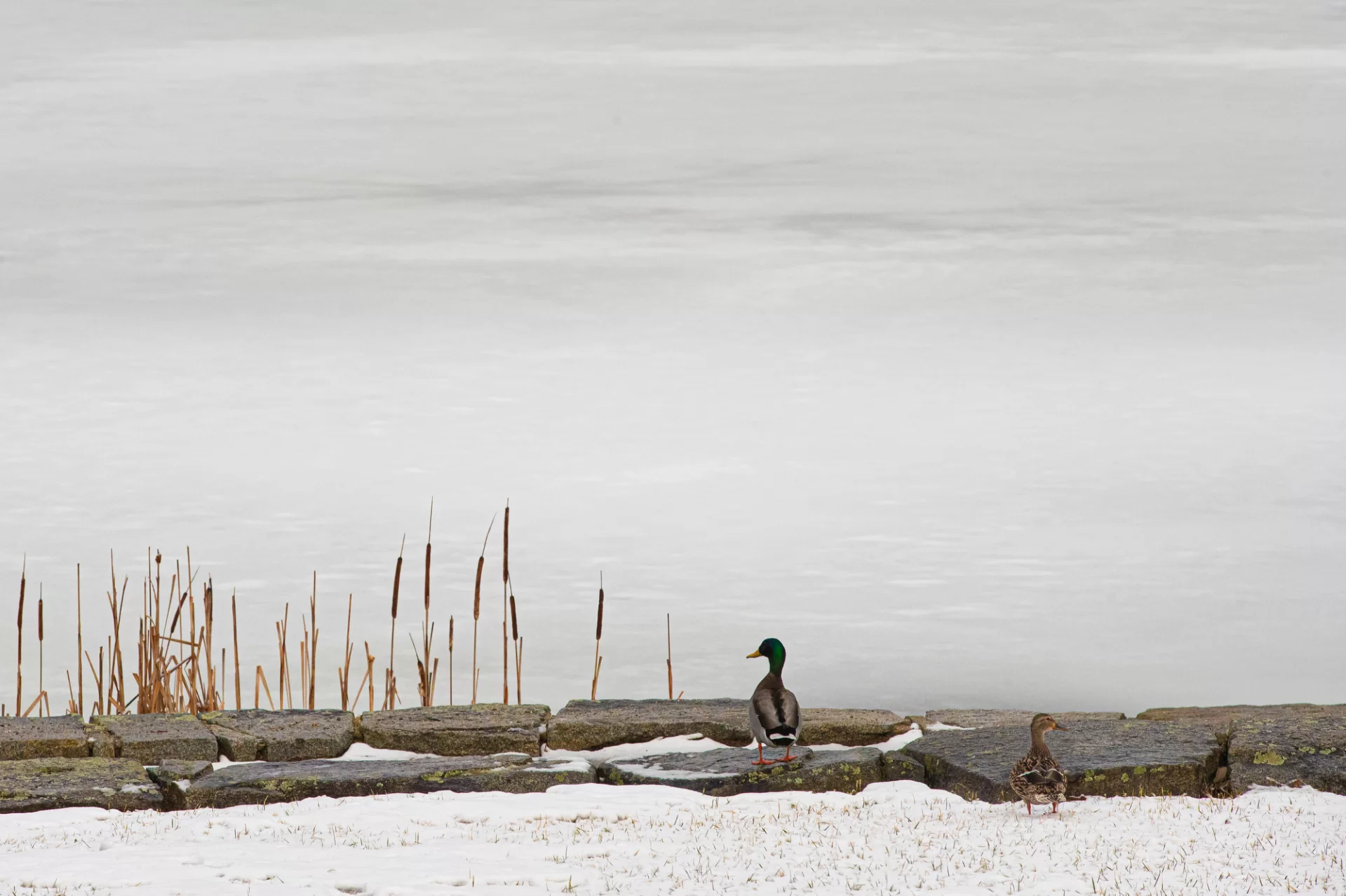 Two ducks survey the still-icy landscape at Lake Andrews in mid-March. Ice out at the Puddle came on March 26.
---
The Art of Framing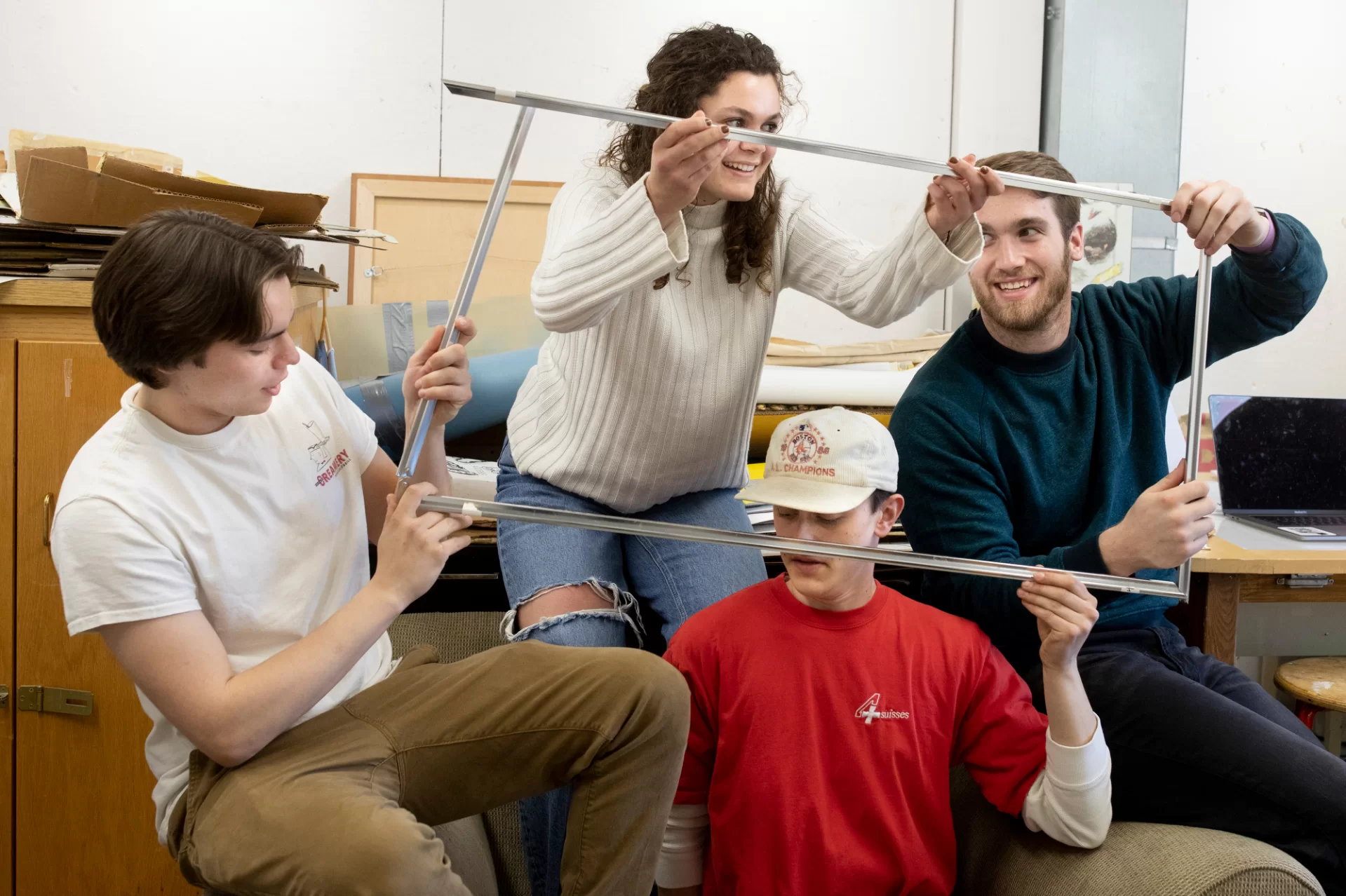 Fifteen students who are majoring in art and visual culture, with a concentration in studio art, work in their Olin Arts Center studios in preparation for the 2022 Senior Thesis Exhibition. The four seniors shown here are Nick Charde, Jack Fruechte, Anna Gouveia, Johnny Loftus, Michael Morgan, Jack Ryan, and Kate Weinberg.
---
Friendly Fundraiser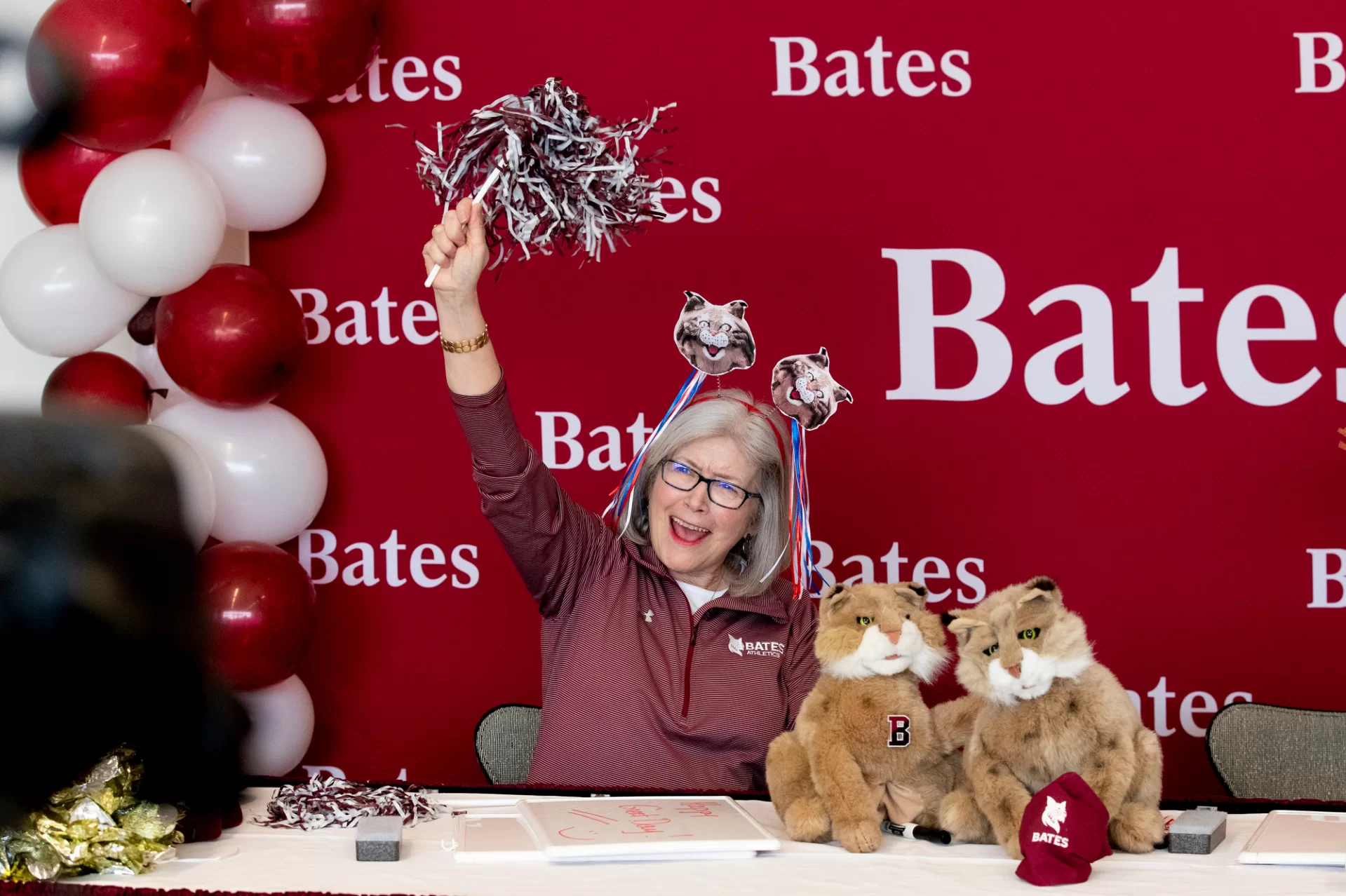 Vice President for College Advancement Sarah Pearson '75 is in her element — thanking Bates folks for their support — as she does a stint in front of the camera on the Great Day livestream in 2022. Pearson, a nationally recognized leader in higher education fundraising and the architect of the record-setting Bates Campaign, will retire on June 30 at the campaign's conclusion.
---
Change Happens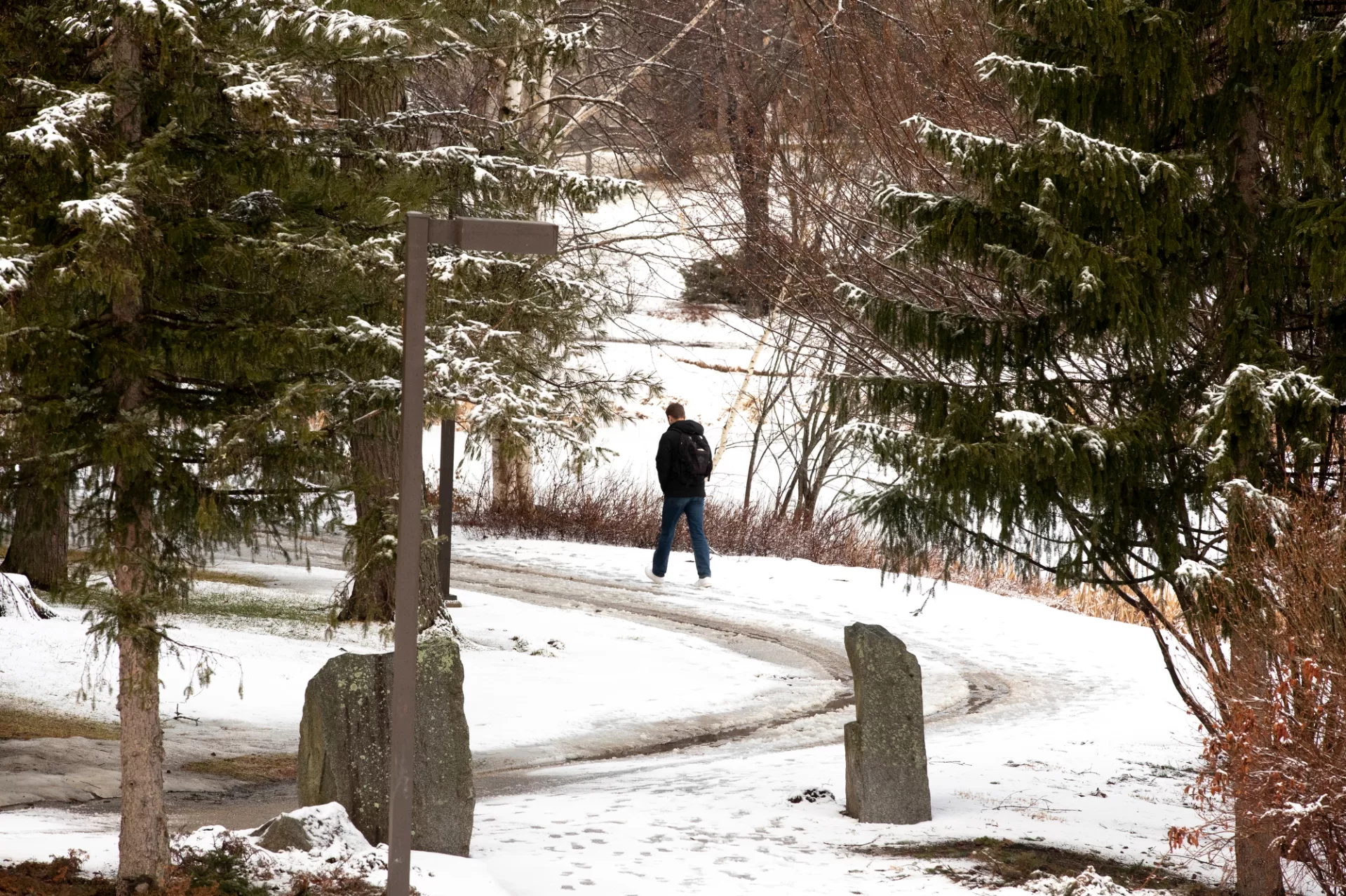 A walker around the Puddle early one morning this morning encountered cold and slush. Seven hours later, a runner in shorts navigated a clear path. See below.
---
Warmer Weather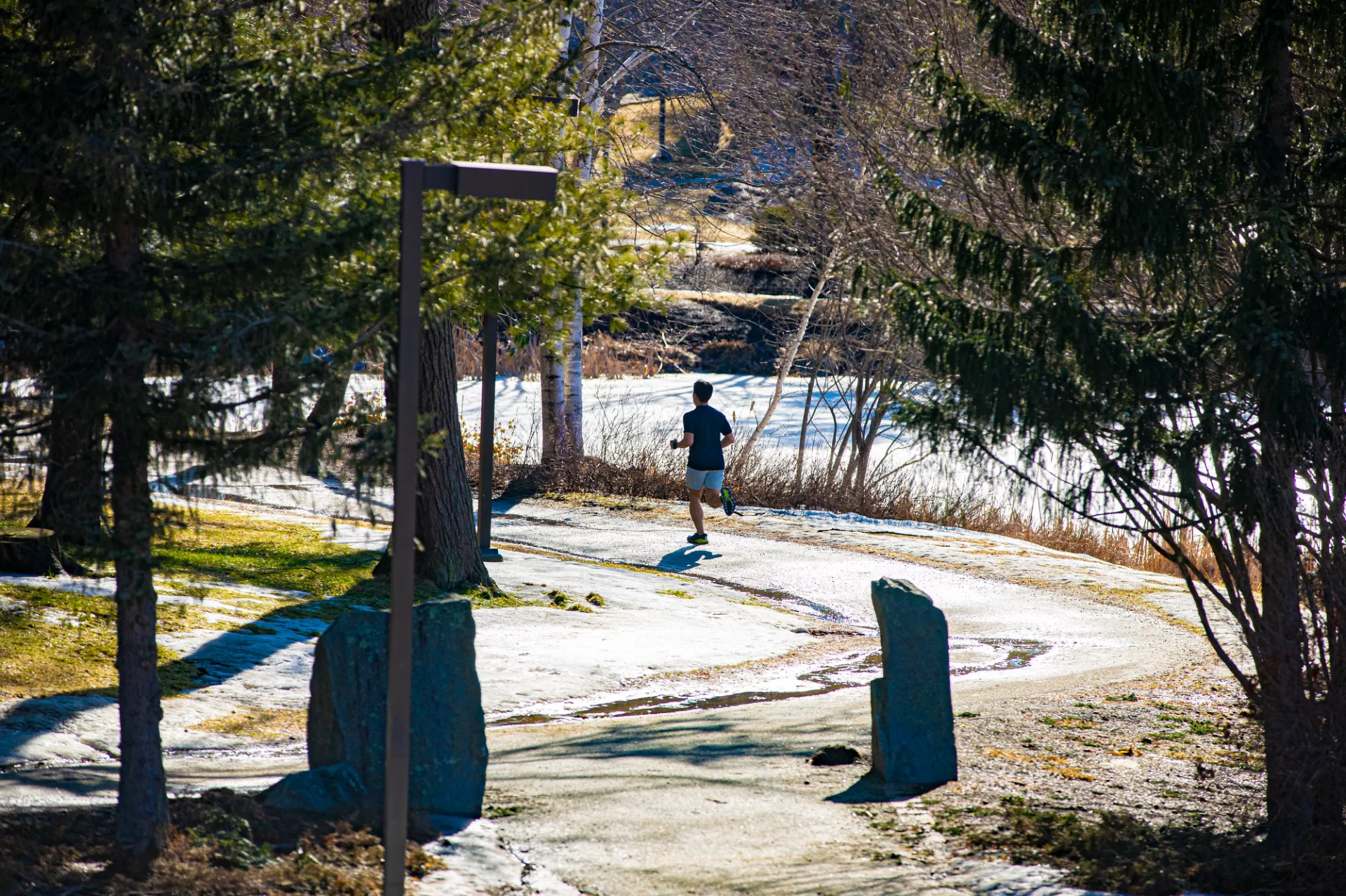 Same path seven hours later. See above.
Whip Your Hair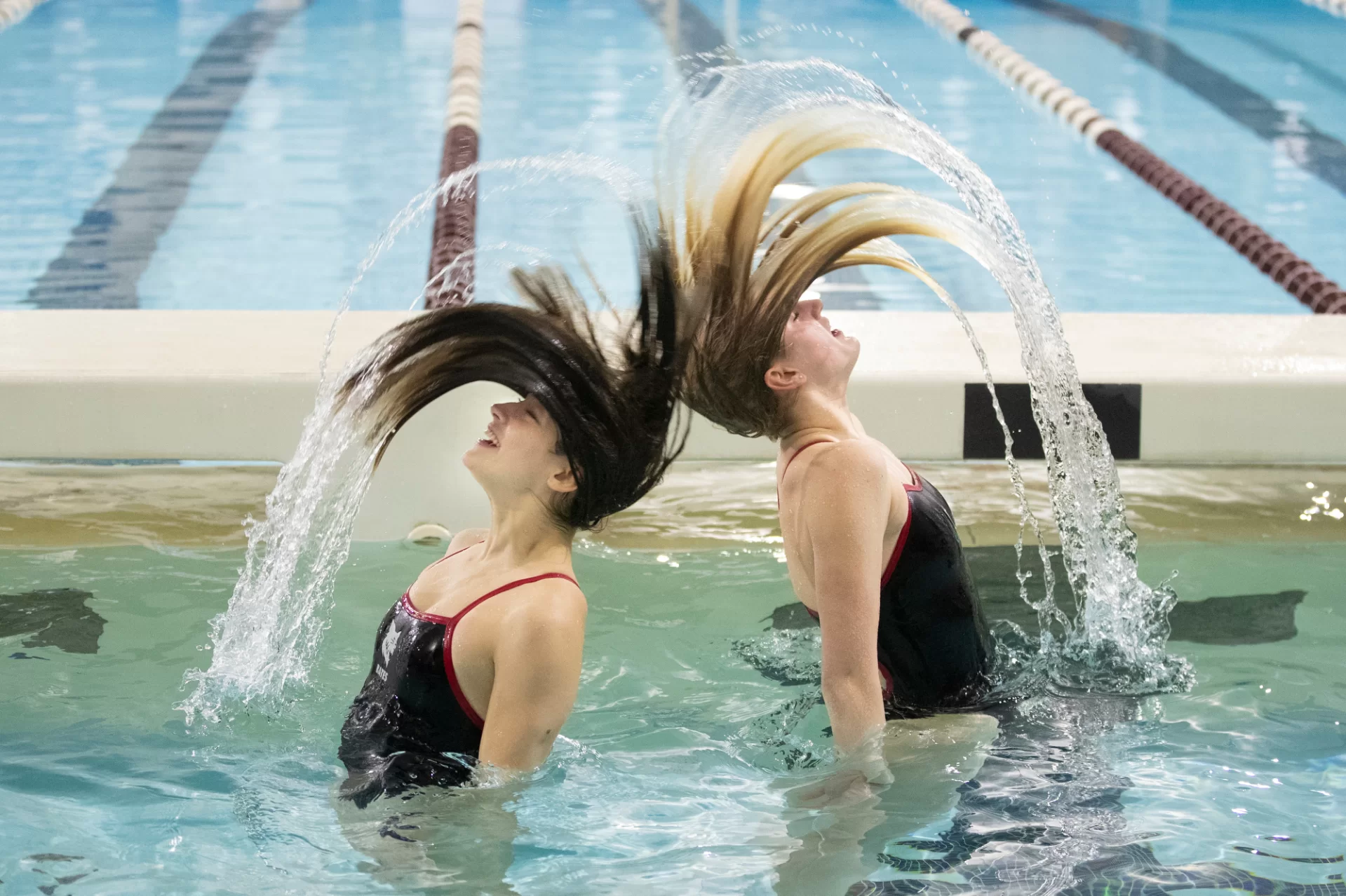 Stephanie Tropper '25 (left) of Solon, Ohio, and Julia Johnson '24 of Cleveland Heights, Ohio, flip their long locks during a media day photo shoot at Tarbell Pool. The pair were among 13 swimmers, the most in program history, who qualified for the NCAA Championships in Indianapolis. The Bates women finished 14th in the country while the men placed 24th.
---
Another Kind of Sight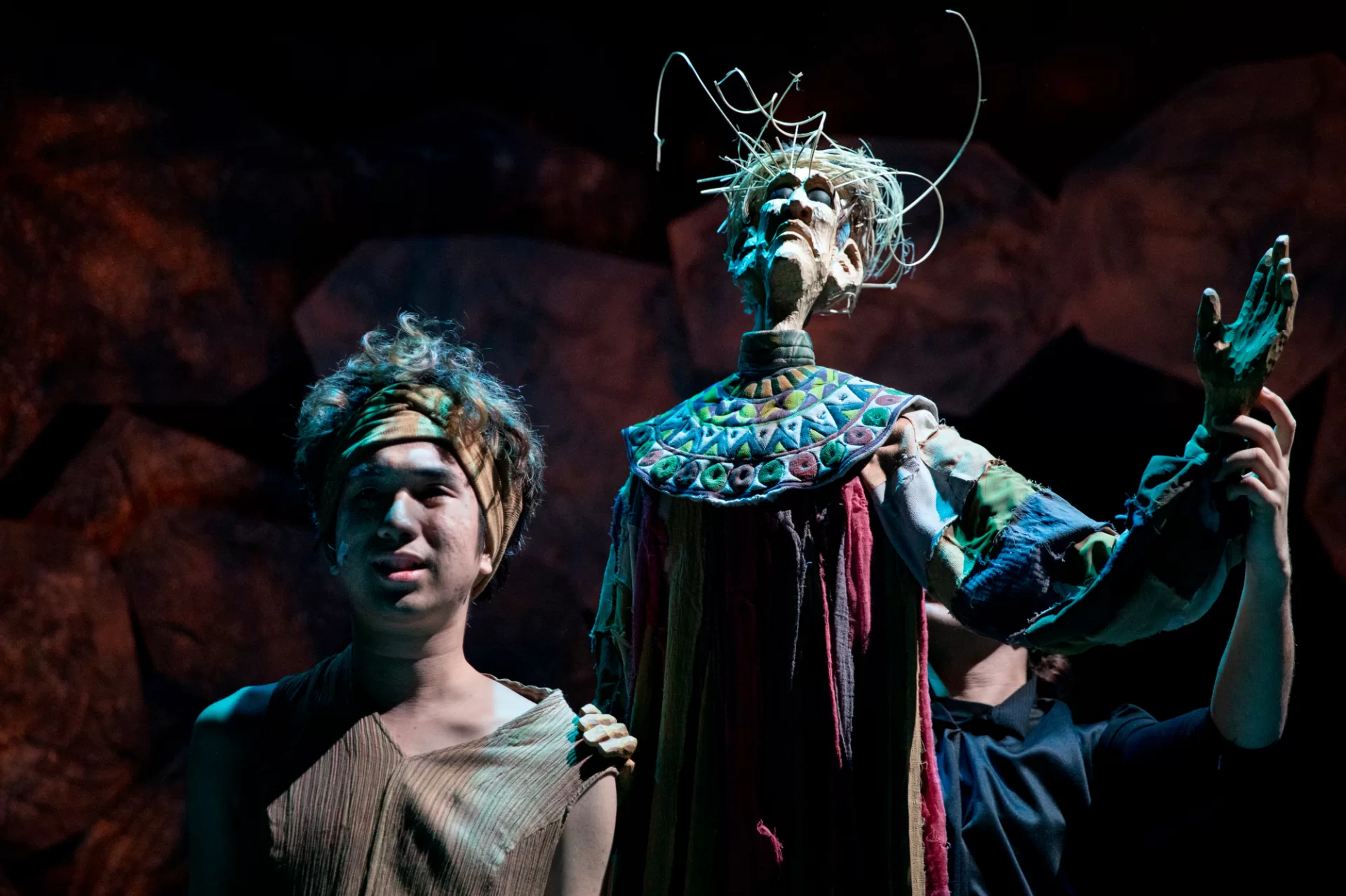 Joaquin Torres '25 of Silang, Philippines, plays the Boy who guides and speaks for Tiresias in the Bates production of Antigonick, an adaptation of Sophocles' Antigone.
The Bates production added its own theatrical elements, including some amazing puppetry and shadow theater produced by Figures of Speech Theatre of Freeport, Maine, which is affiliated with the Department of Theater and Dance.
---
Jersey Sure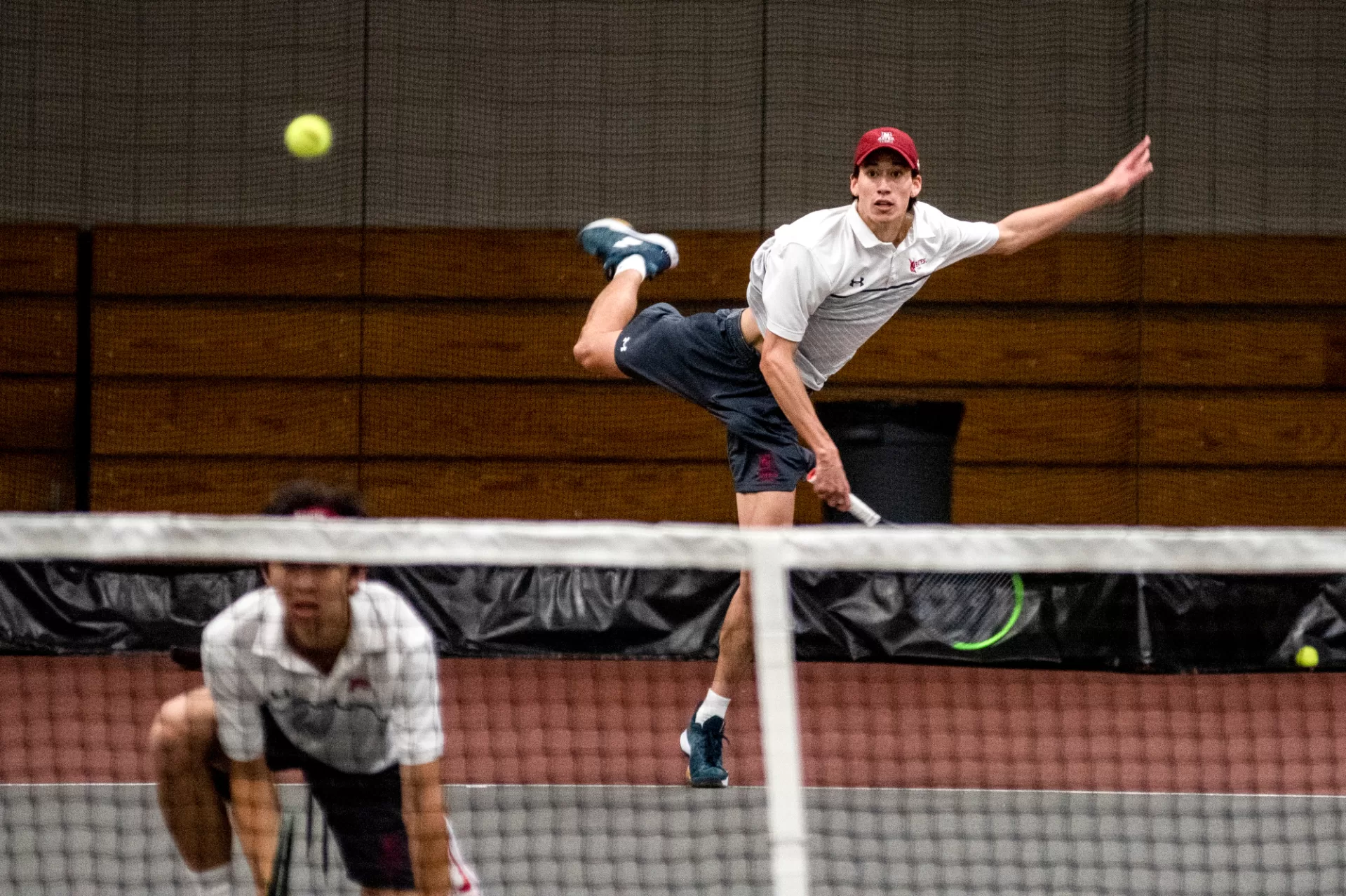 Leo Kupferman '23 of Montclair, N.J., delivers a serve in his doubles match against visiting MIT at Merrill Gymnasium. He and partner Teddy Koide '23 of Morristown, N.J., defeated their opponents, 8–3. Kupferman also won his singles match and the Bates men's tennis team defeated the Engineers 6–3 to remain undefeated at home this season.
---
Attentive Artist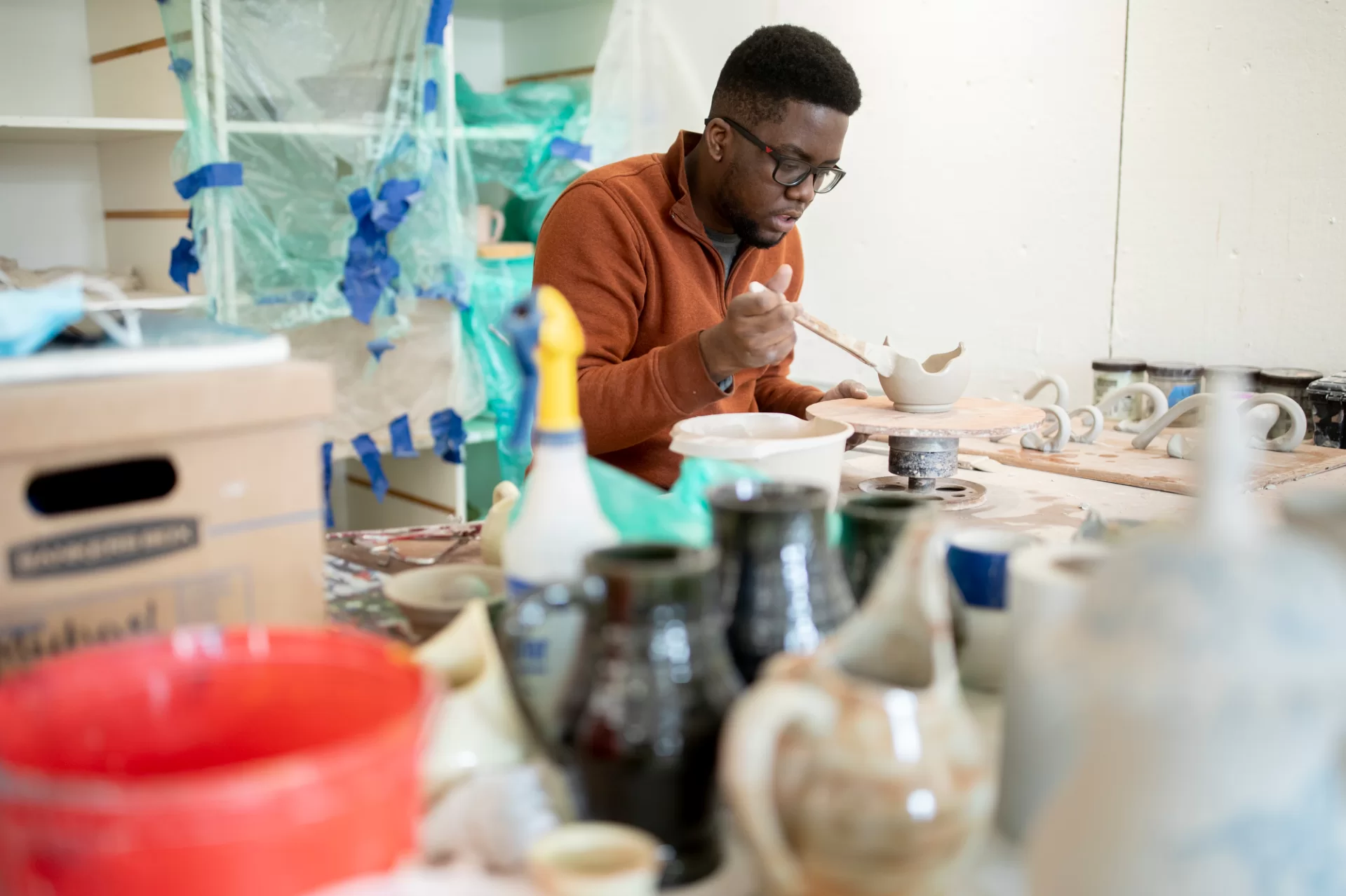 In a shared Olin Arts Center studio, Michael Morgan '22 of Kingston, Jamaica, works on his highly stylized stoneware ceramics influenced by both European and ancient Islamic forms. He hopes his art feels "familiar and inventive at the same time." In April, Morgan and his 14 fellow art and visual culture majors present their work at the Senior Thesis Exhibition at the Bates Museum of Art.
---
Frye Street Light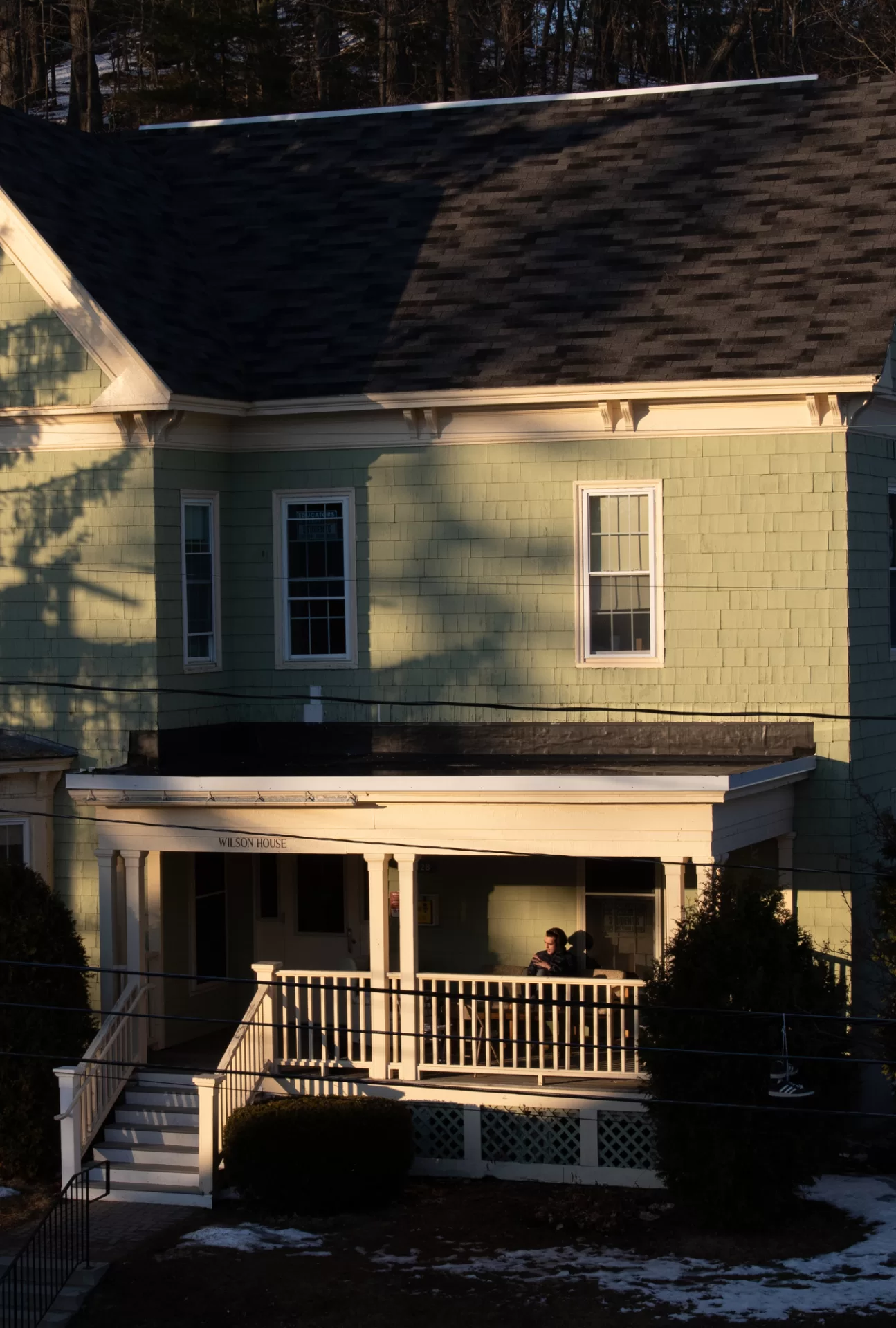 Joel Hallkaj '24 of Tirane, Albania, gestures on the porch of Frye Street's Wilson House during the "golden hour" of a late-afternoon day in early March.
---
Water Polo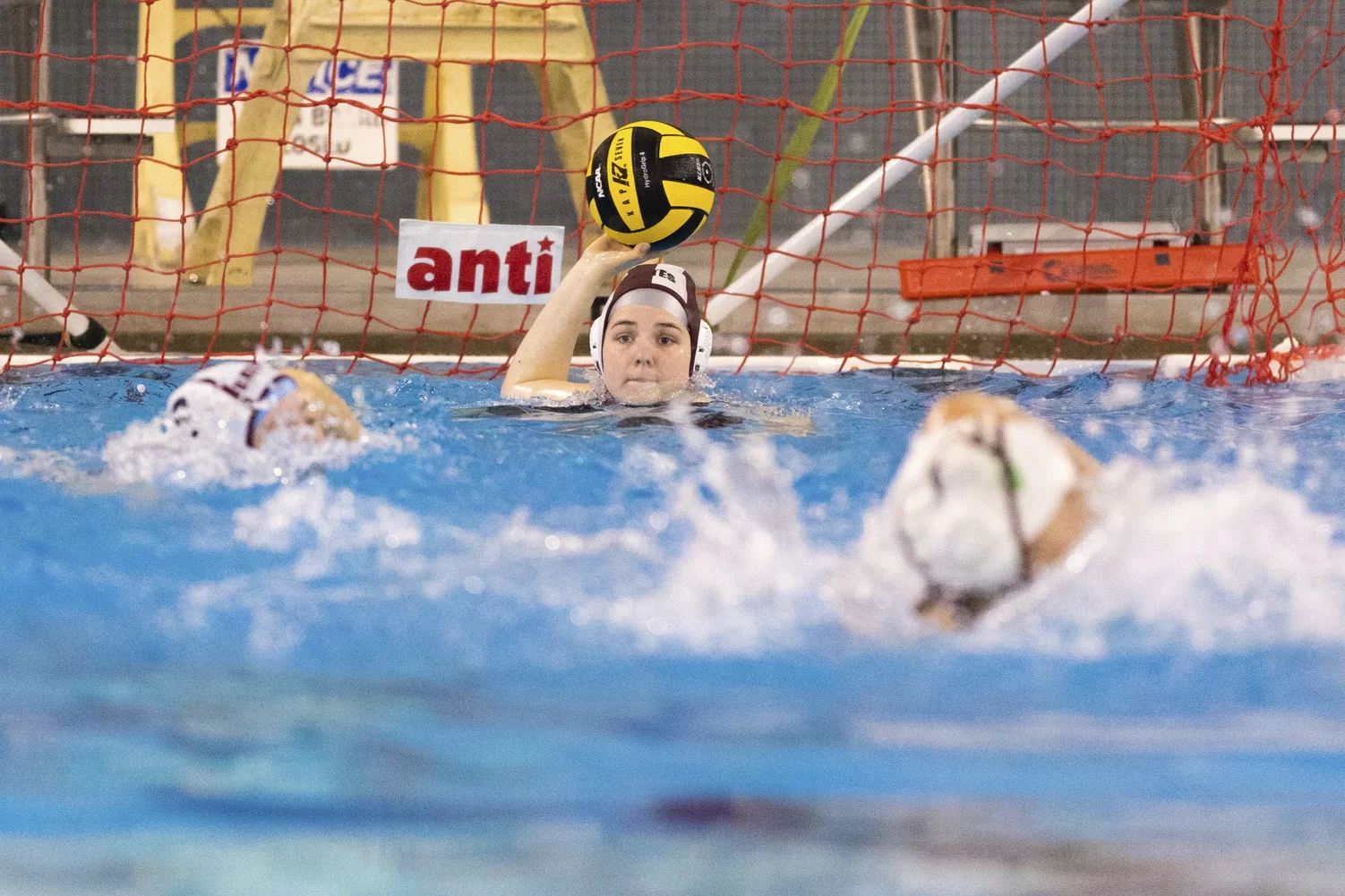 Goalie Lucy Hensley '25 of Fredericksburg, Va., sets Bates women's water polo up for a win vs. Wellesley at Tarbell Pool. Bates supports 13 student-run club sports.
---
Curating a Festival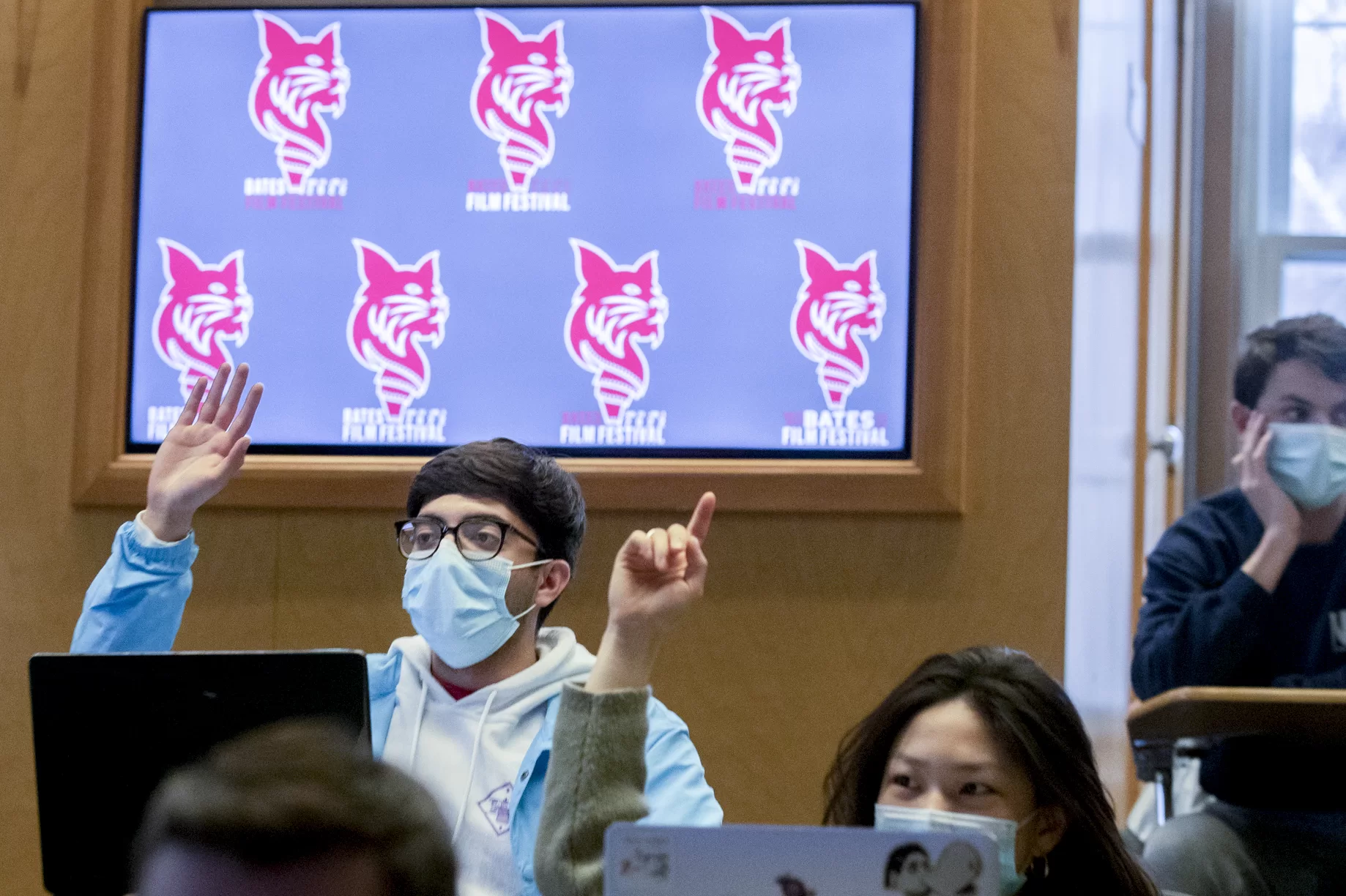 Students vote whether to accept a film for screening at the 2022 Bates Film Festival. The multi-day festival, now taking place with film screenings at Bates and in Freeport, Maine, is the product of the course "Film Festival Studies" taught by Associate Professor of Rhetoric, Film, and Screen Studies Jon Cavallero.
Students vote on logos, discuss merch (every festival needs a hat), and tackle the complexities of scheduling a slate of more than two dozen feature and documentary films and Q&As with visiting stars like John Turturro and John Shea '70. Plus booking panels and making popcorn. These Batesies do it all.
From left, Rabih Chughtai '23 of Farmington, Conn., Gene Chen '22 of Beijing, and Max Younger '22 of Orinda, Calif.
---
Surfside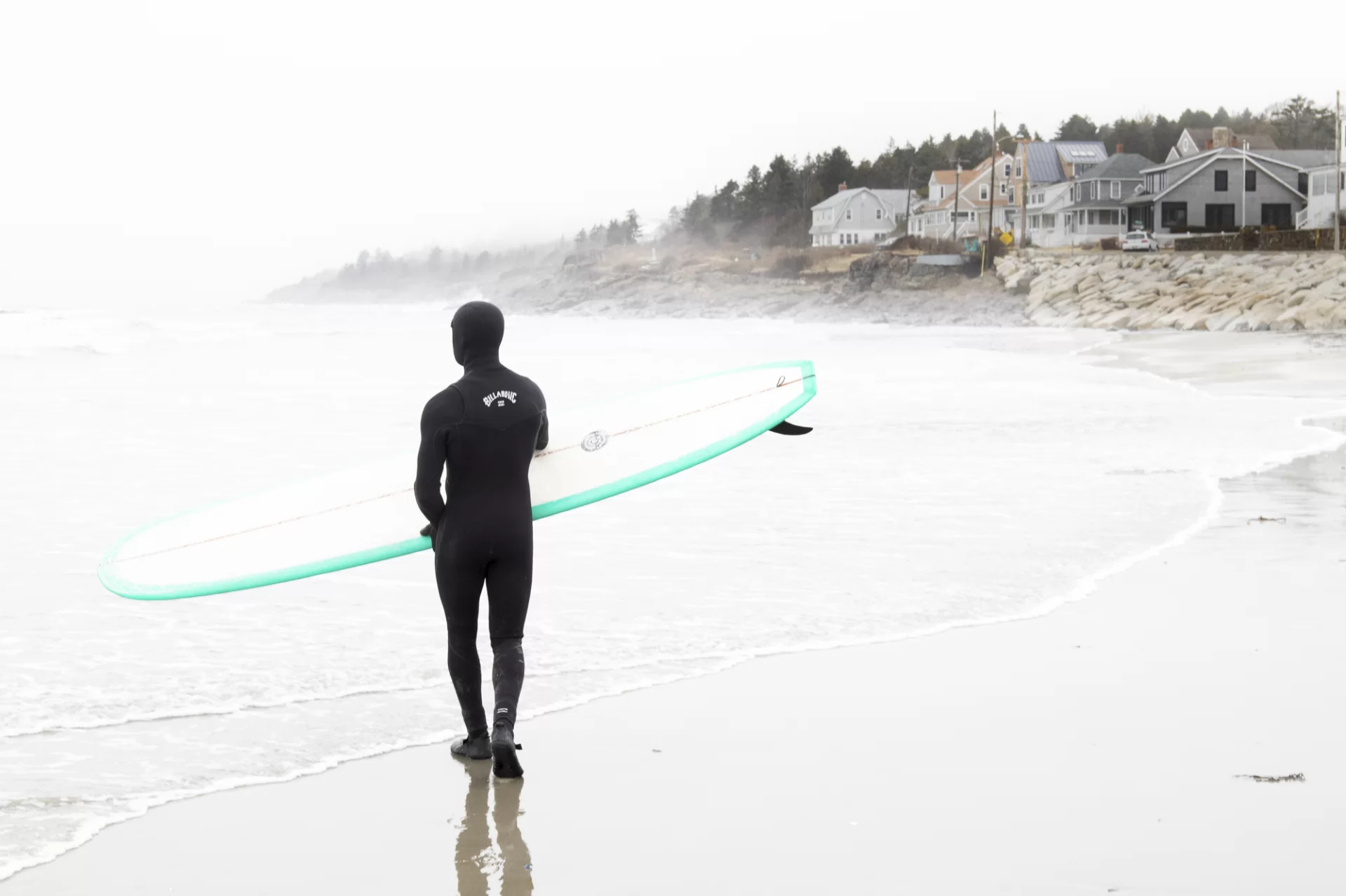 "A small spring swell hits Higgins Beach, in Scarborough, one of Maine's most popular surfing beaches," says Huck Triggs '24 of Malibu, Calif., who photographed Matt Freund '22 of Newfields, N.H., as he surveyed the scene before entering the water. While the air is getting warm, the water is still cold, explains Triggs, "so we still gotta pack on as much rubber as we can."
---
A Bevy of Bassists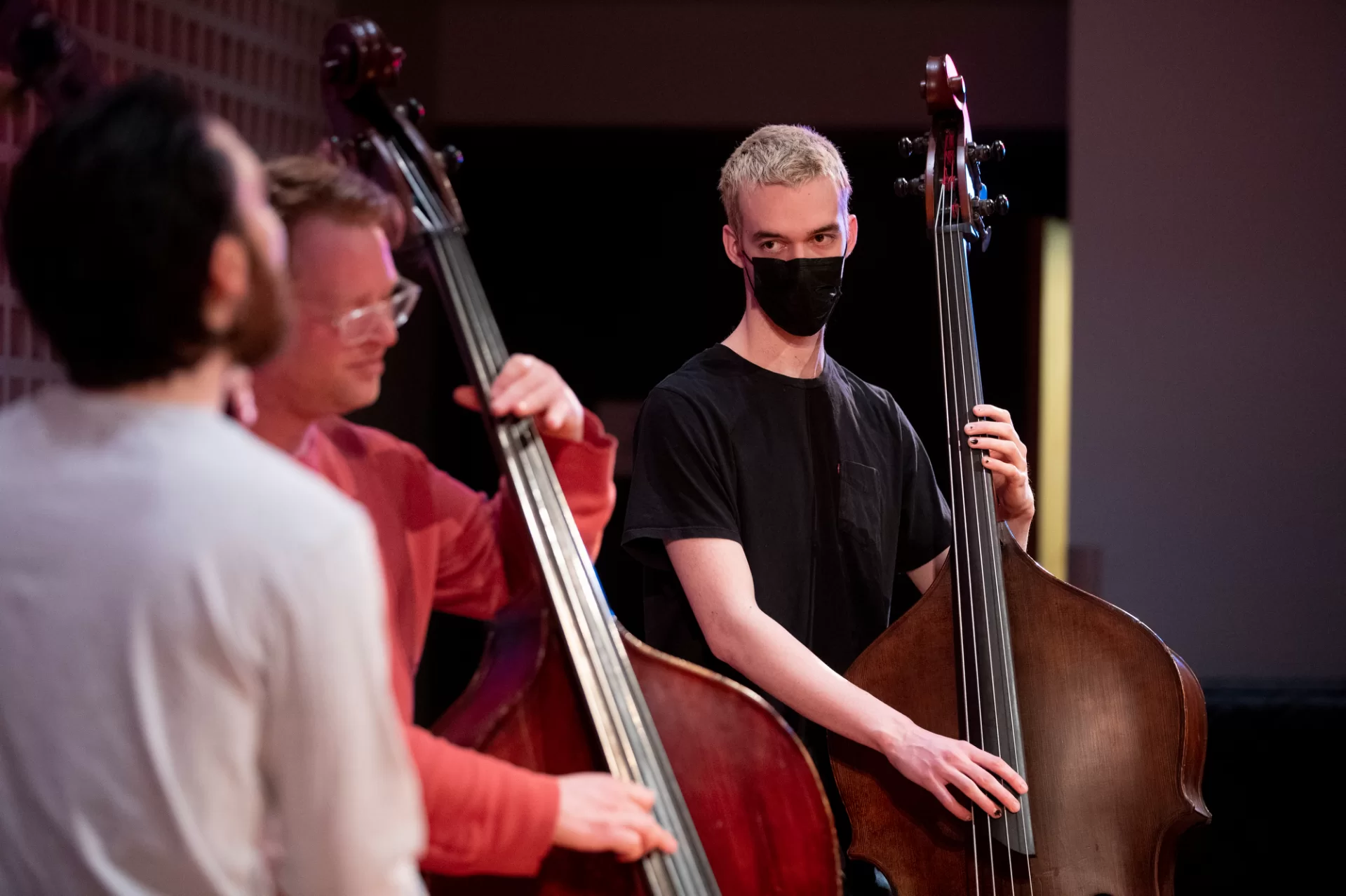 Jeremy Brogan '24 of Freeport, Maine, joins visiting artist Andrew Ryan and Stuart Gurley of Bates in an informal gathering on the stage of the Olin Arts Center.
Speaking with a small group of bass players, Ryan and Gurley discussed the role of the bass player in an ensemble. "Finally we did some improvisational exercises; most of the students had been looking at pentatonic scales this semester," Gurley said.
The manager of the Olin Arts Center, Gurley is a member of the applied music faculty member for bass, double bass, and jazz piano. Ryan is a member of 9 Horses, an improvising chamber ensemble.
---
First in Points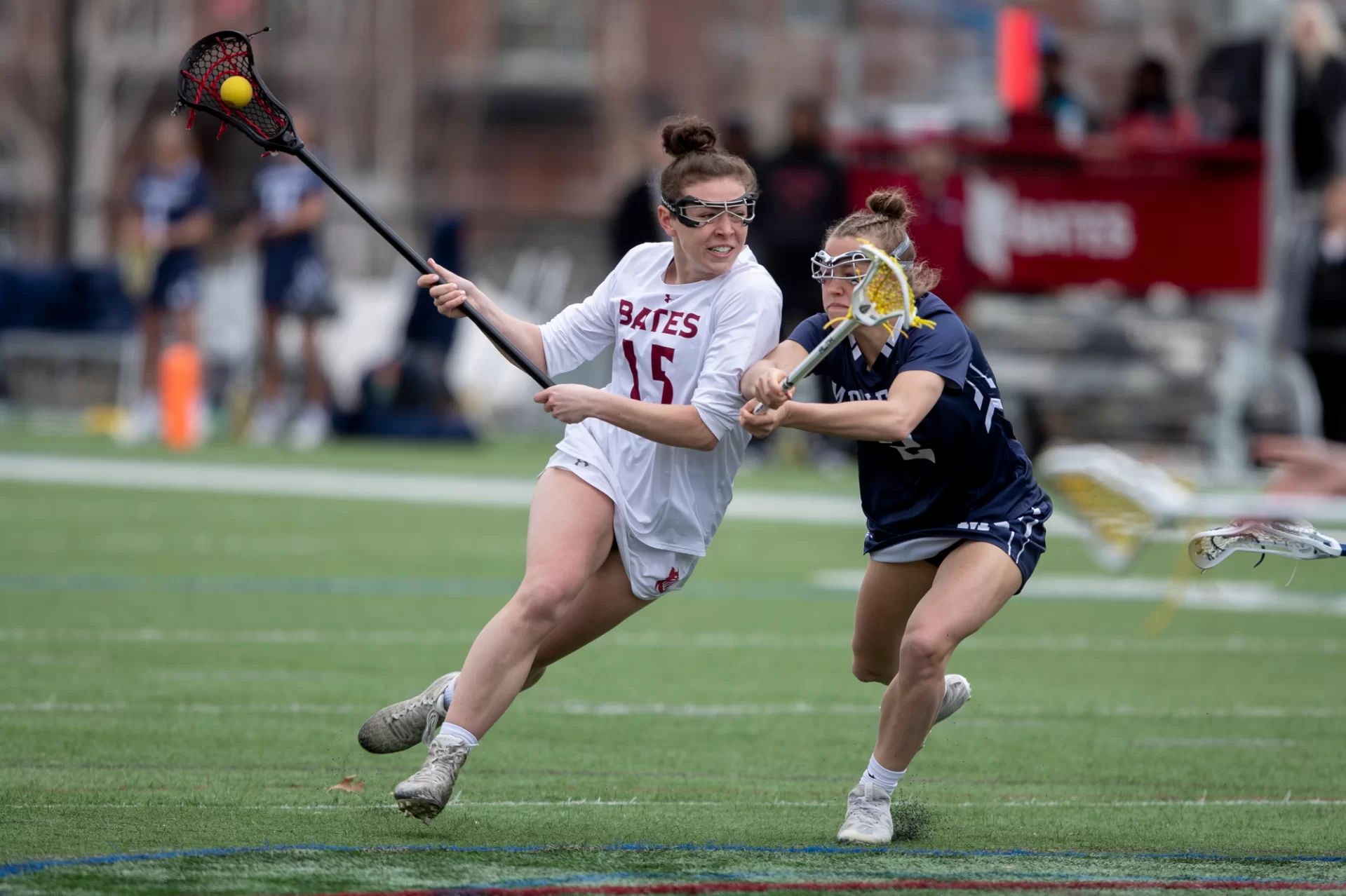 Jordyn Tveter '22 of Topsfield, Mass., attacks the net against Middlebury at Garcelon Field. Tveter ranks first on the women's lacrosse team in points through seven games with 14.
---
Soft Sculpture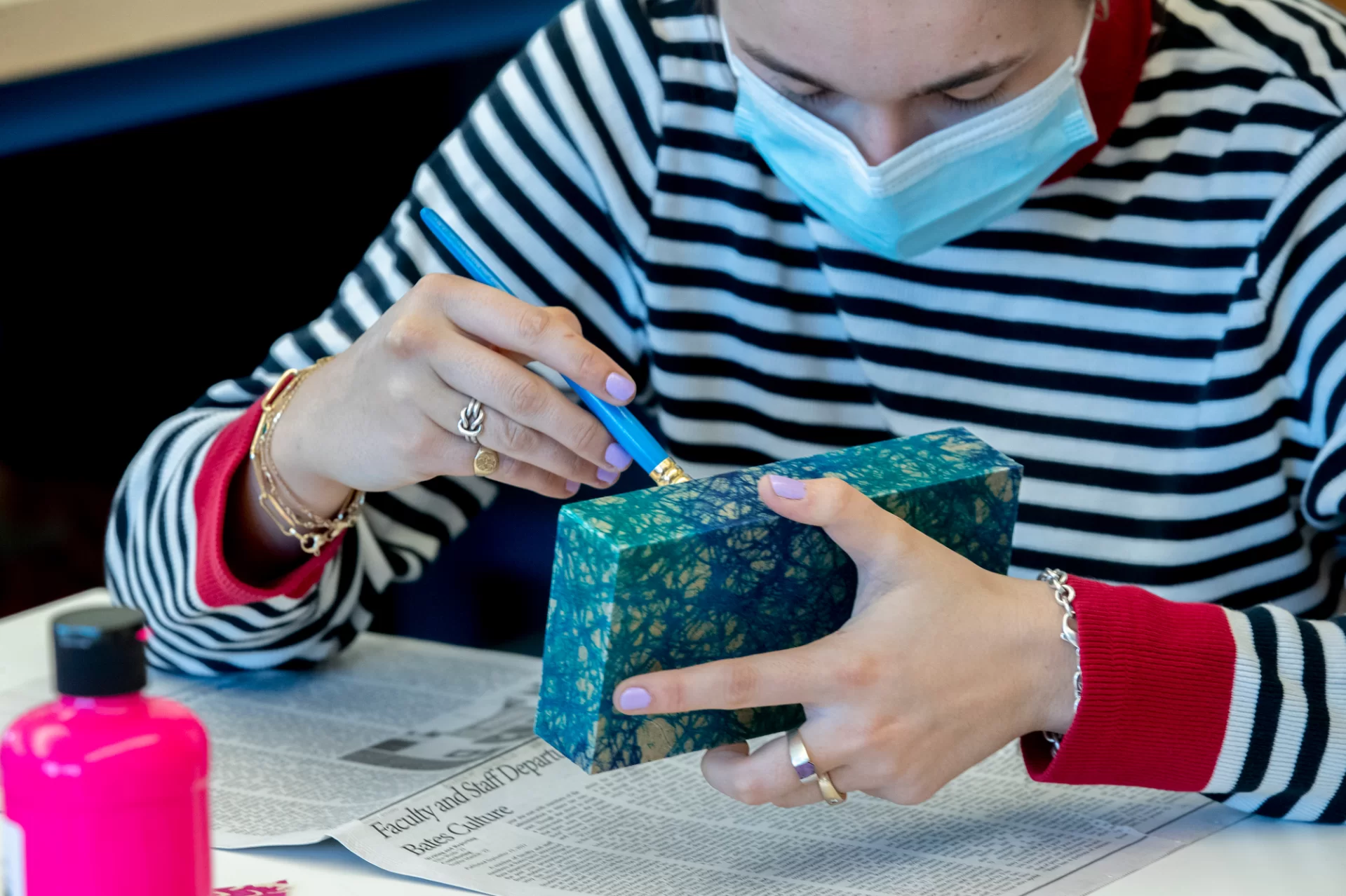 Lily Ritch '25 of Cincinnati creates a box for "Soft Power: Soft Cultural Objects and Installation," an interdisciplinary course that asks students to explore soft sculptural techniques.
The course introduced students to Bukola Koiki, a Nigerian-American transdisciplinary artist who "strives to collapse the single story of the immigrant experience" in various creative ways. At Bates, Koiki taught students to use fibers — textiles, paper, flexible plastics, and alternative materials — to create objects, installations, and props and wearables for performance.
---
A Celebratory Moment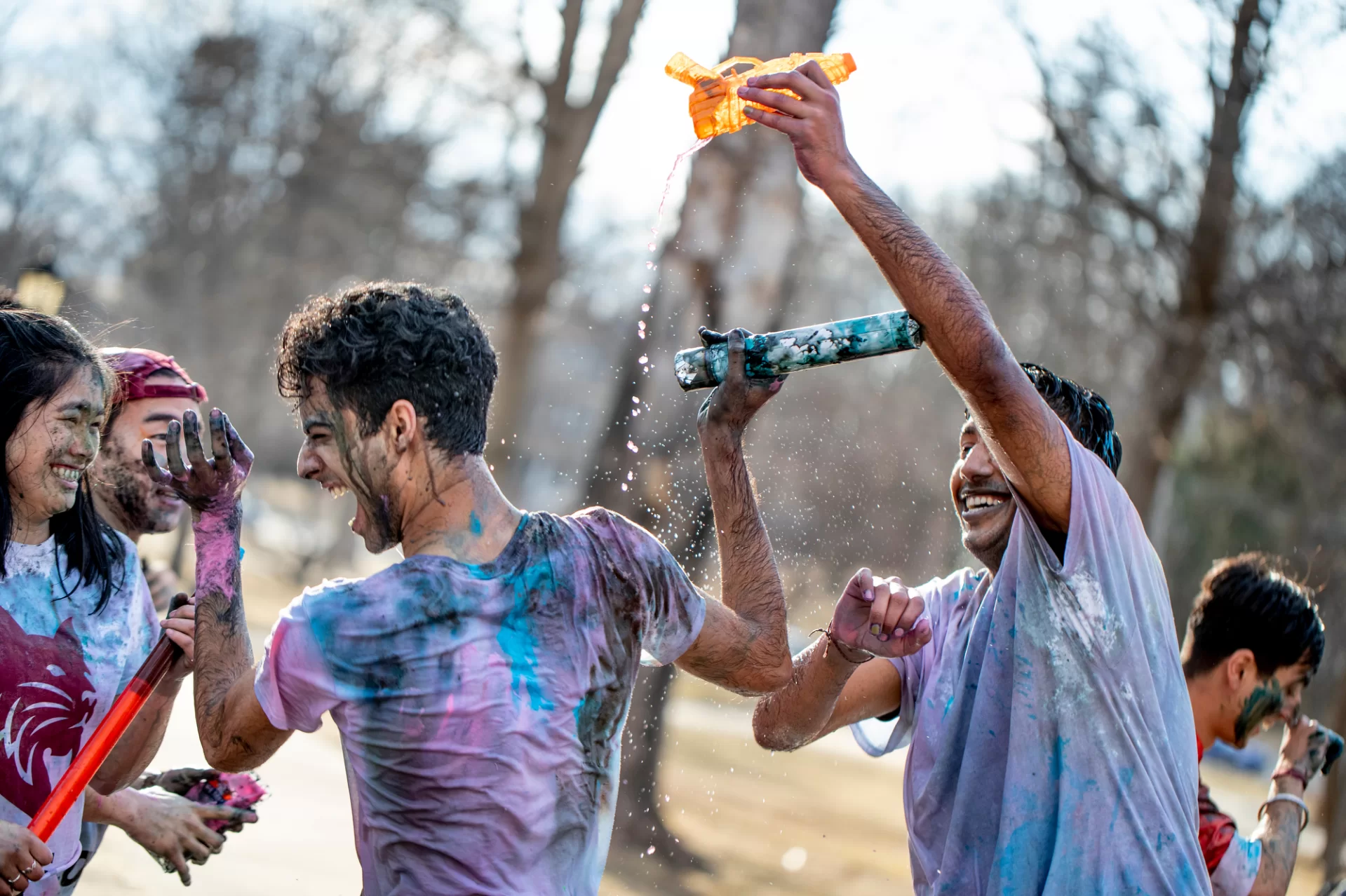 Members of the South Asian Student Association gathered in front of Hathorn Hall on March 18 to celebrate Holi, a festival of colors symbolizing the beginning of spring and the victory of good over evil. From left, Miranda Eisenman '25, Phil Han '25, Krishna Kakani '25, and Hark Lally '22.
COVID-19 prevented up-close-and-personal campus Holi celebrations in 2020 and 2021, thus it was "so special to be able to bring a piece of our culture to Bates and express the love and joy we have in our community and friendships here," said SAGA co-president Sanika Shah of West Harrison, N.Y., a double major in psychology and rhetoric.
View Comments