From weather swings to amazing basketball moments. From the engagement of the classroom to triumphs on the stage. The last 28 days have provided a bit of everything, none of which we'll forget. See what you think with the latest edition of This Month at Bates.
Net Gain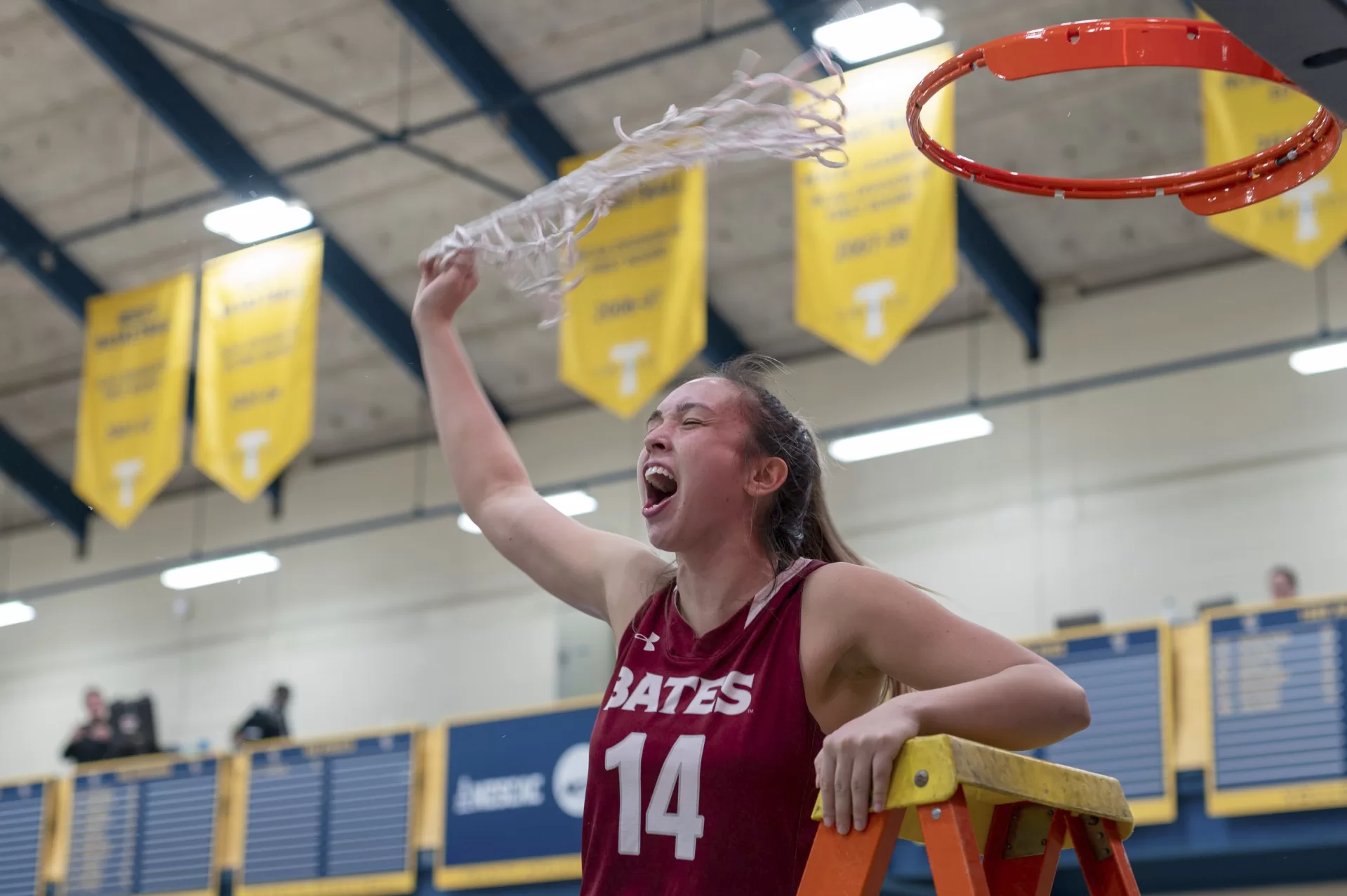 An iconic moment of a basketball championship: waving the net for all to see, made especially sweet when history is made. Here, captain Meghan Graff '23 of South Portland, Maine, does the honors. Graff, the NESCAC player of the year, and her underdog Bobcats became the lowest-seeded team ever to capture the NESCAC women's basketball title by defeating Amherst College in Hartford, Conn. on Feb. 27. Bates takes on Roger Williams in Brooklyn, N.Y., in the first round of the NCAA tournament on Friday, March 4 at 5 p.m.
---
Snow Blown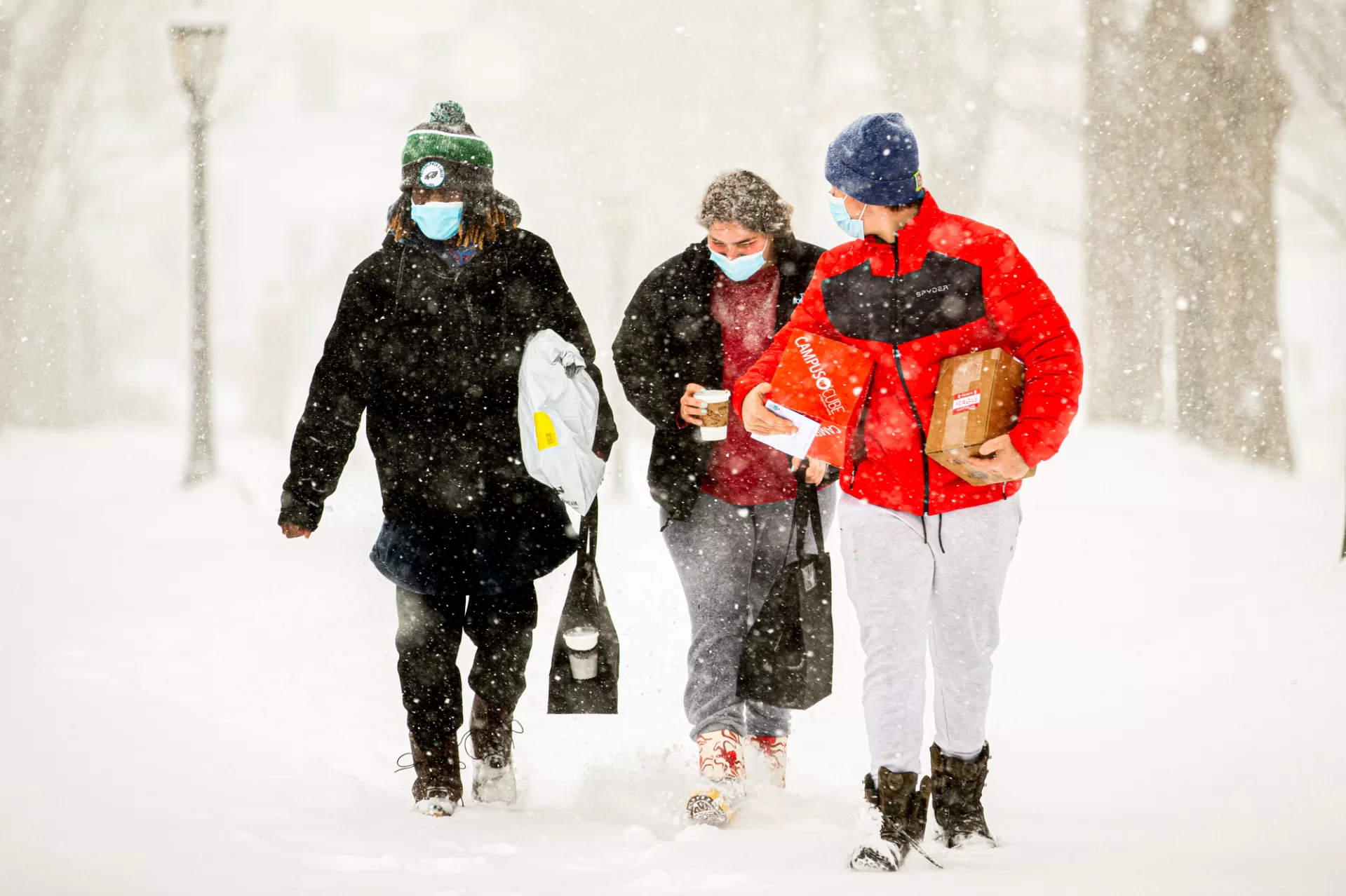 A little February snow doesn't interfere with our ebb and flow.
---
Kelp Can Help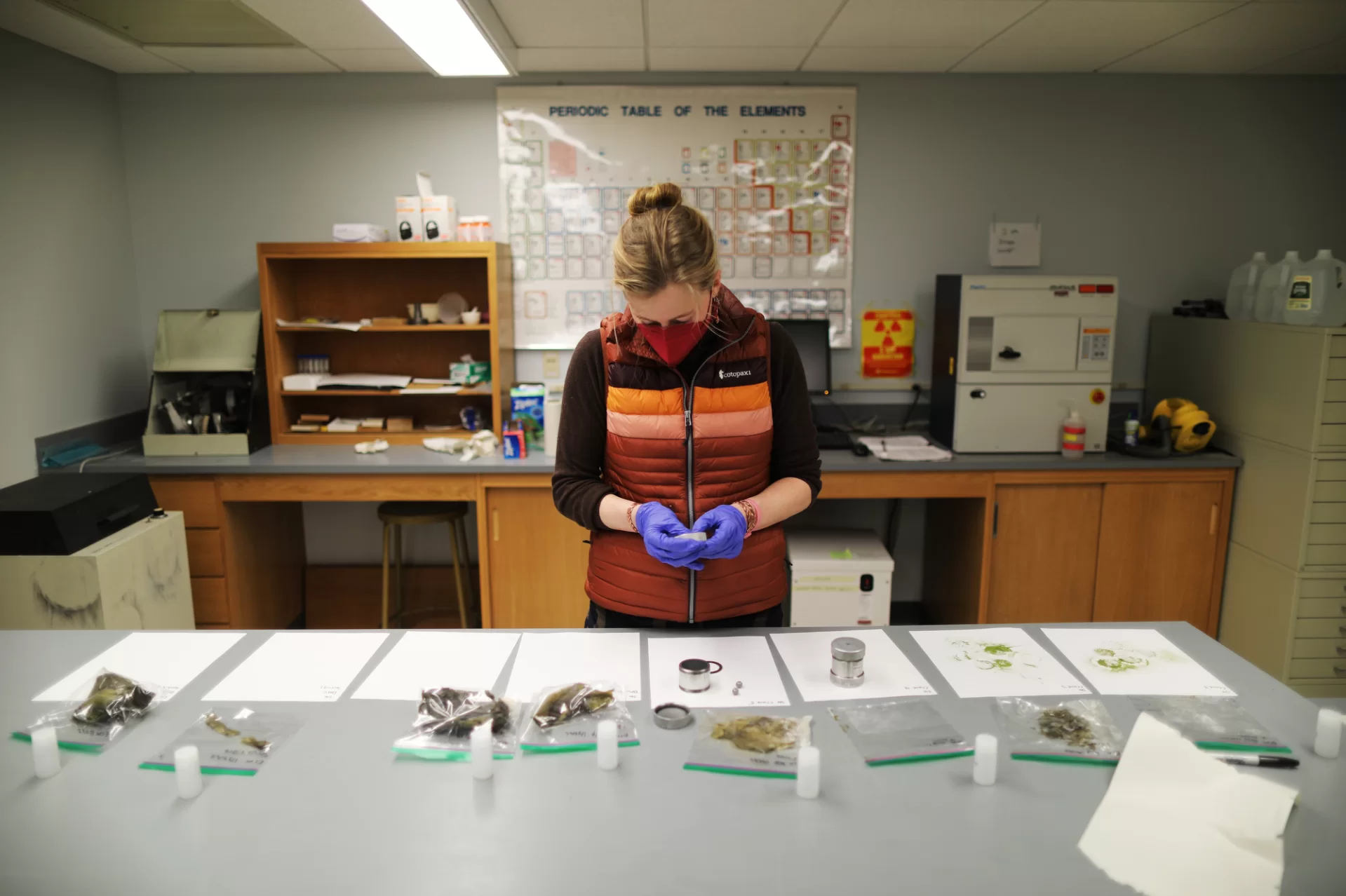 Essie Martin '22 of Newcastle, Maine, is hoping kelp can help fight the climate crisis, and she's using it to fuel her dream of becoming a natural scientist. She's studying the ability of kelp to sequester carbon for long periods of time, and whether she's out on the water, arms-deep in mud, or in the lab studying isotope samples, she's determined to help figure out climate solutions.
---
Winter's Warm Weather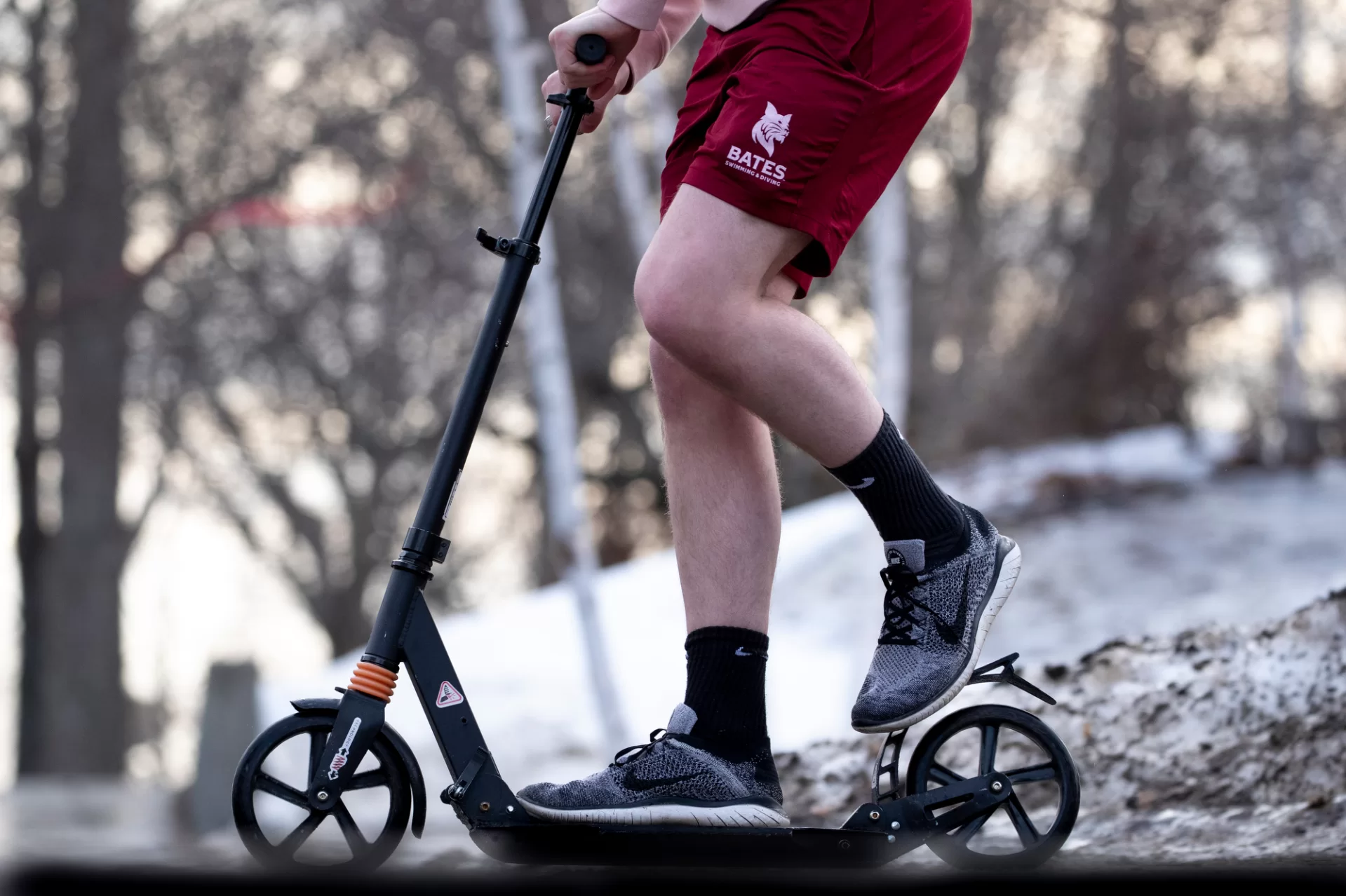 "It's a good day to be outside," said psychology major Ben van Paassen '22 of Goshen, N.H., as he navigated Alumni Walk on his scooter on a 55-degree February day. (Twenty-four hours earlier, it had been 50 degrees colder.) With the warmth, we noticed an uptick in student activity…and a little more Bobcat skin showing around campus.
---
Hitting the Books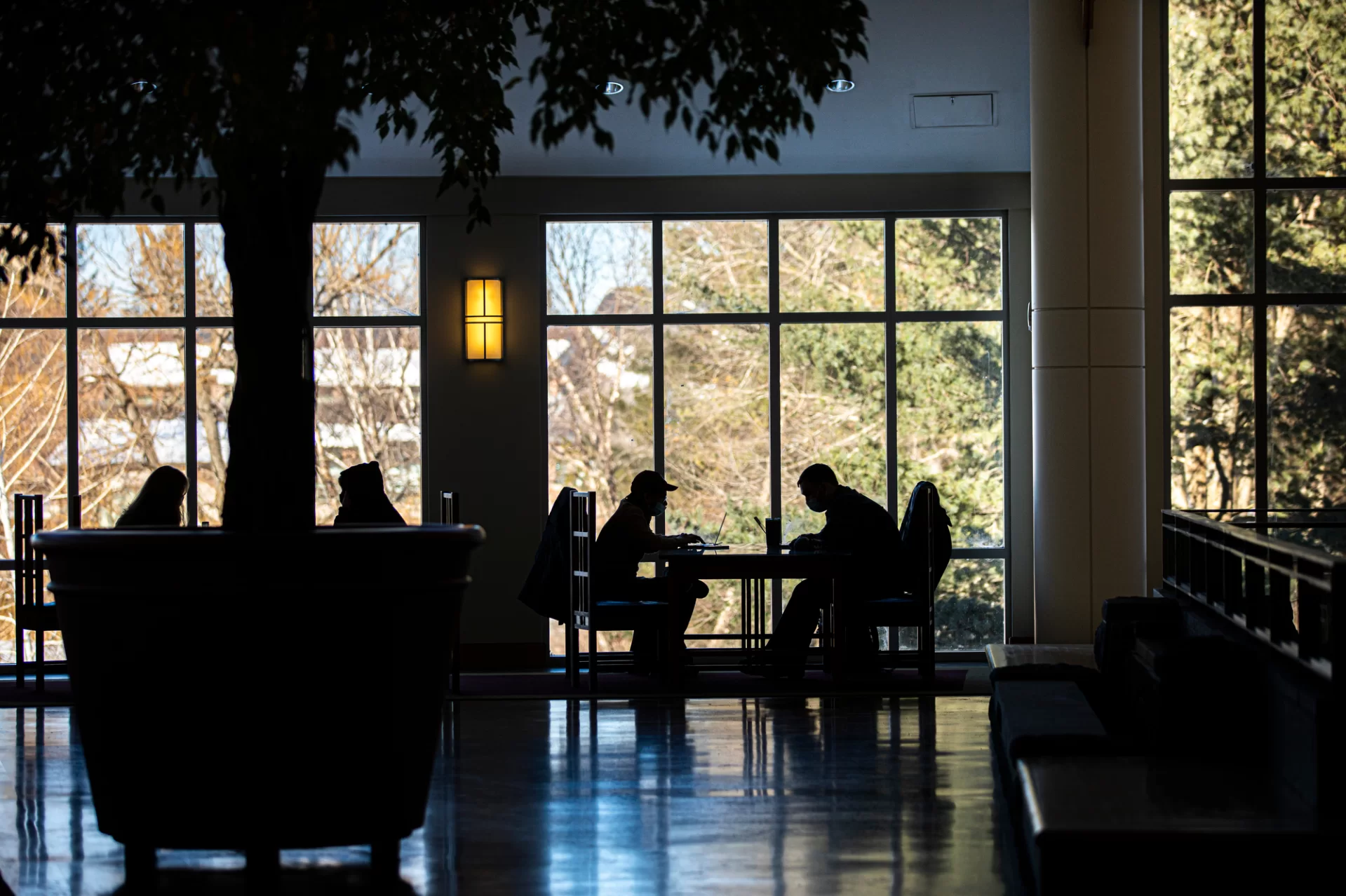 Bobcats are back on campus and hitting the books in Pettengill Hall's Perry Atrium on the last day of February.
---
Happy Lunar New Year!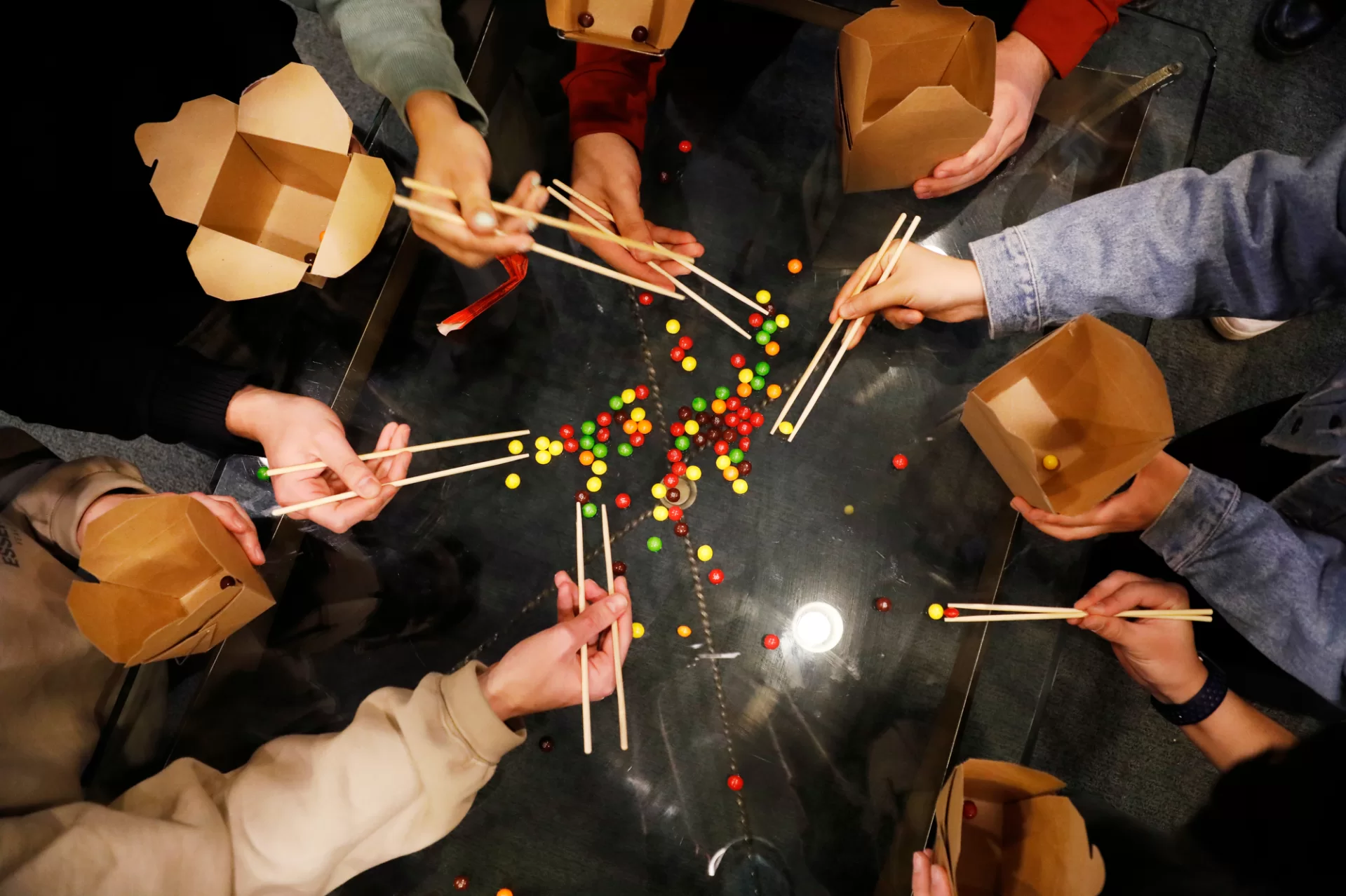 The Chinese zodiac tells us it's the Year of the Tiger, and to celebrate, Sangai Asia and AASIA held a gathering at the Office of Intercultural Education that included crafts, candy, and games such as this timed chopsticks competition during which contestants placed Skittles into takeout boxes.
---
Winningest Coach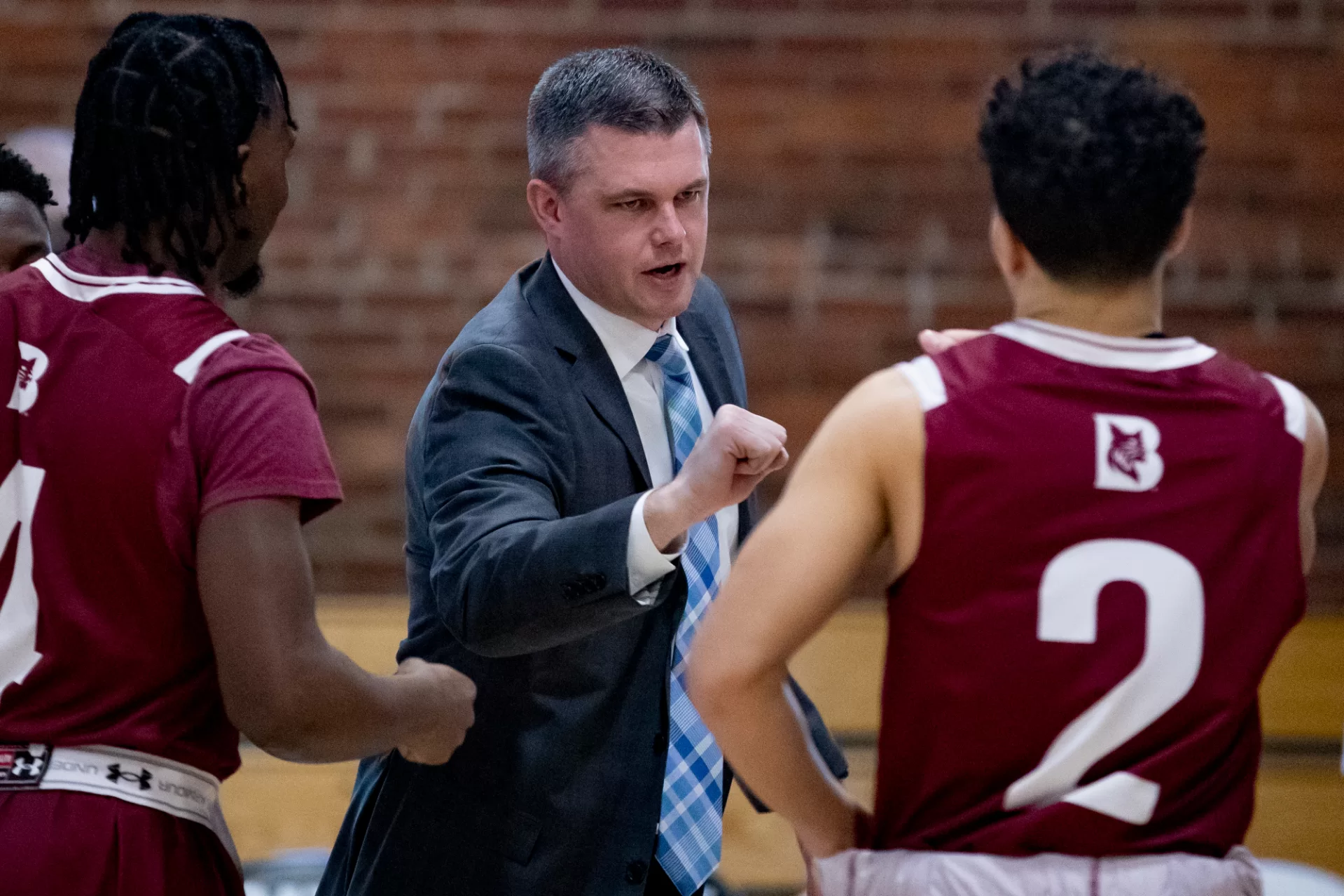 Shown here coaching his squad against Trinity, men's basketball head coach Jon Furbush '05 became the winningest coach in program history when his Bobcats defeated the University of Maine–Farmington on Feb. 7. Furbush has 159 wins in his time at the program's helm.
---
Lime Light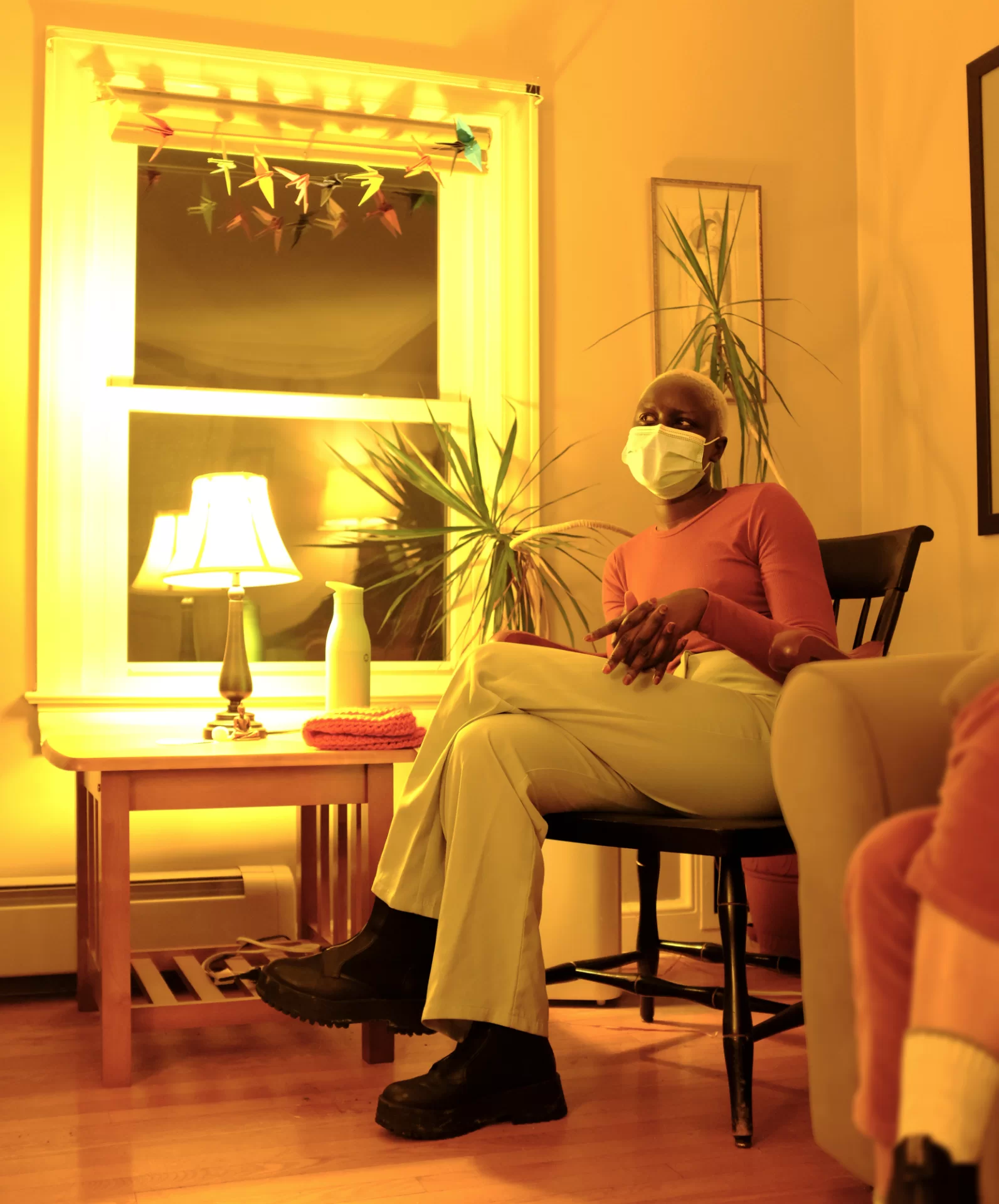 Warmth and light — and good company — embrace Sandia Taban '22 of Changshu, China, who attended the Multifaith Chaplaincy's first Hearth gathering of the semester. Hearth meets every other week and provides food, friends, and space to reflect and share.
---
'Rapture, Blister, and Burn'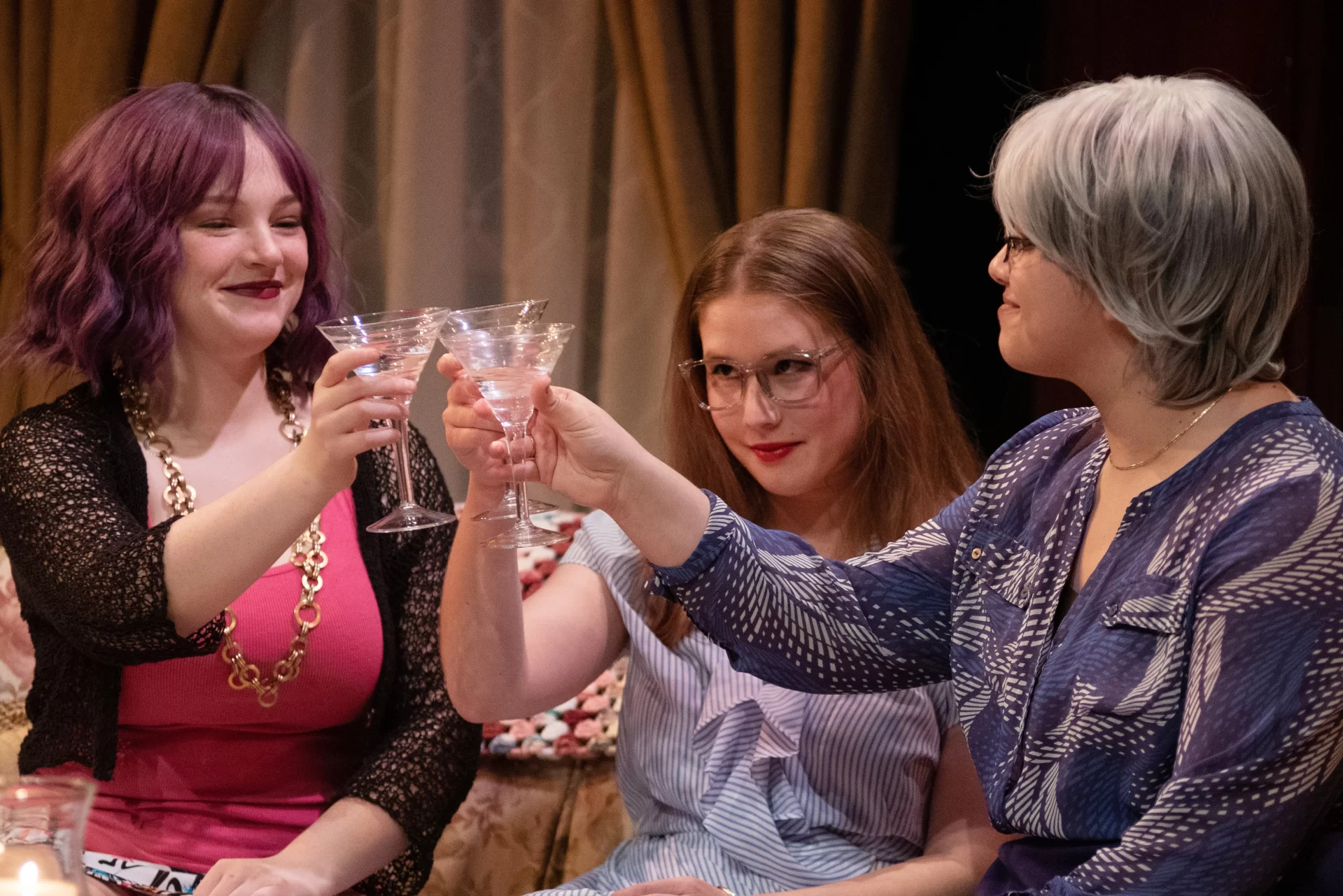 From left, Alison Robelen '25, Paige Magid '24, and Dianna Georges '22 huddle during a dress rehearsal of Gina Gionfriddo's play Rapture, Blister, Burn, directed by Olivia Diamond '22. This performance was offered in partial fulfillment of the requirements for a senior thesis in directing and acting.
---
Wild Winds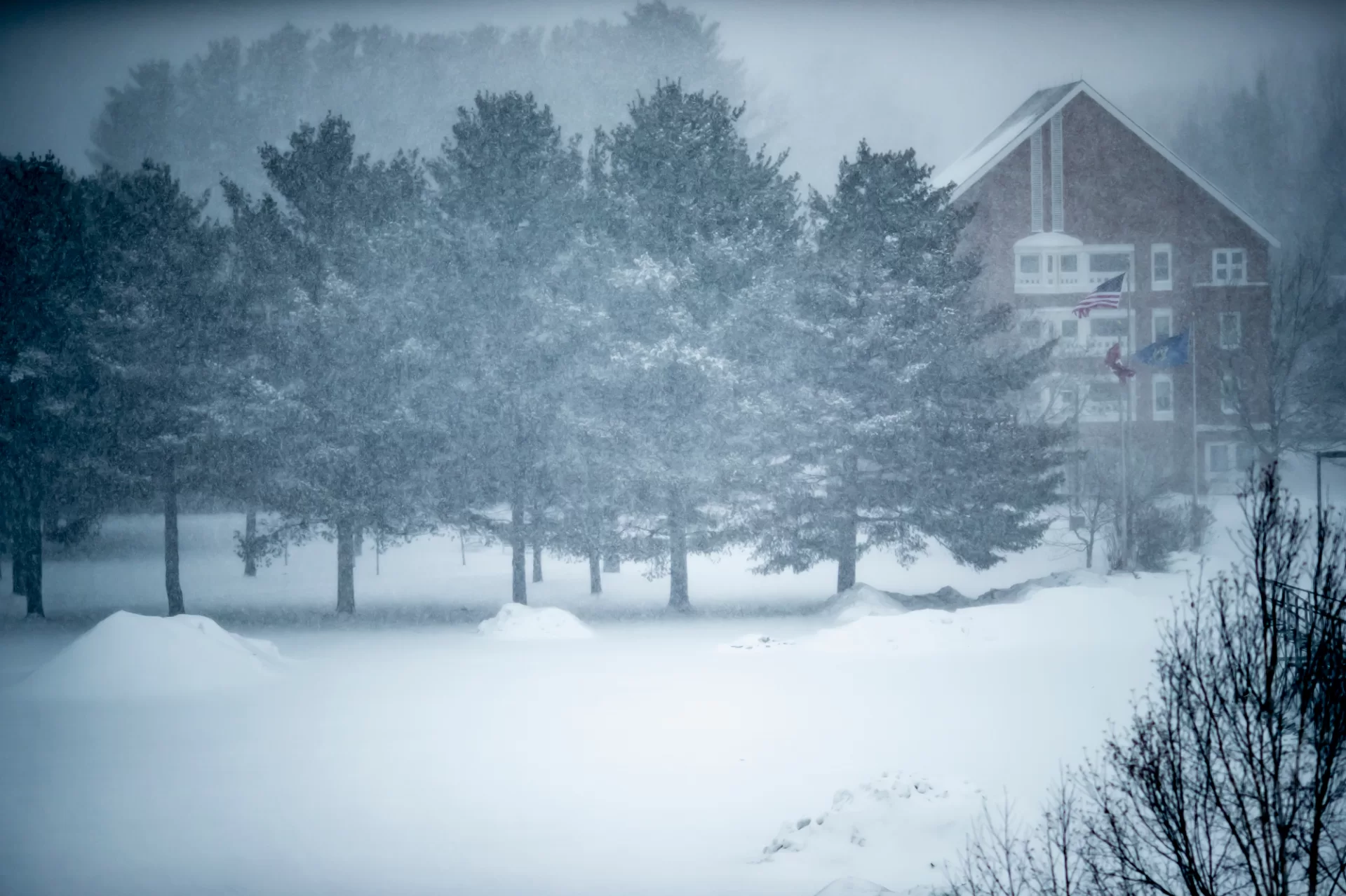 Late-February snow and wind, observed from inside a Roger Williams Hall window pane, blows and howls over the landscape around the Residential Village.
---
He's There to Help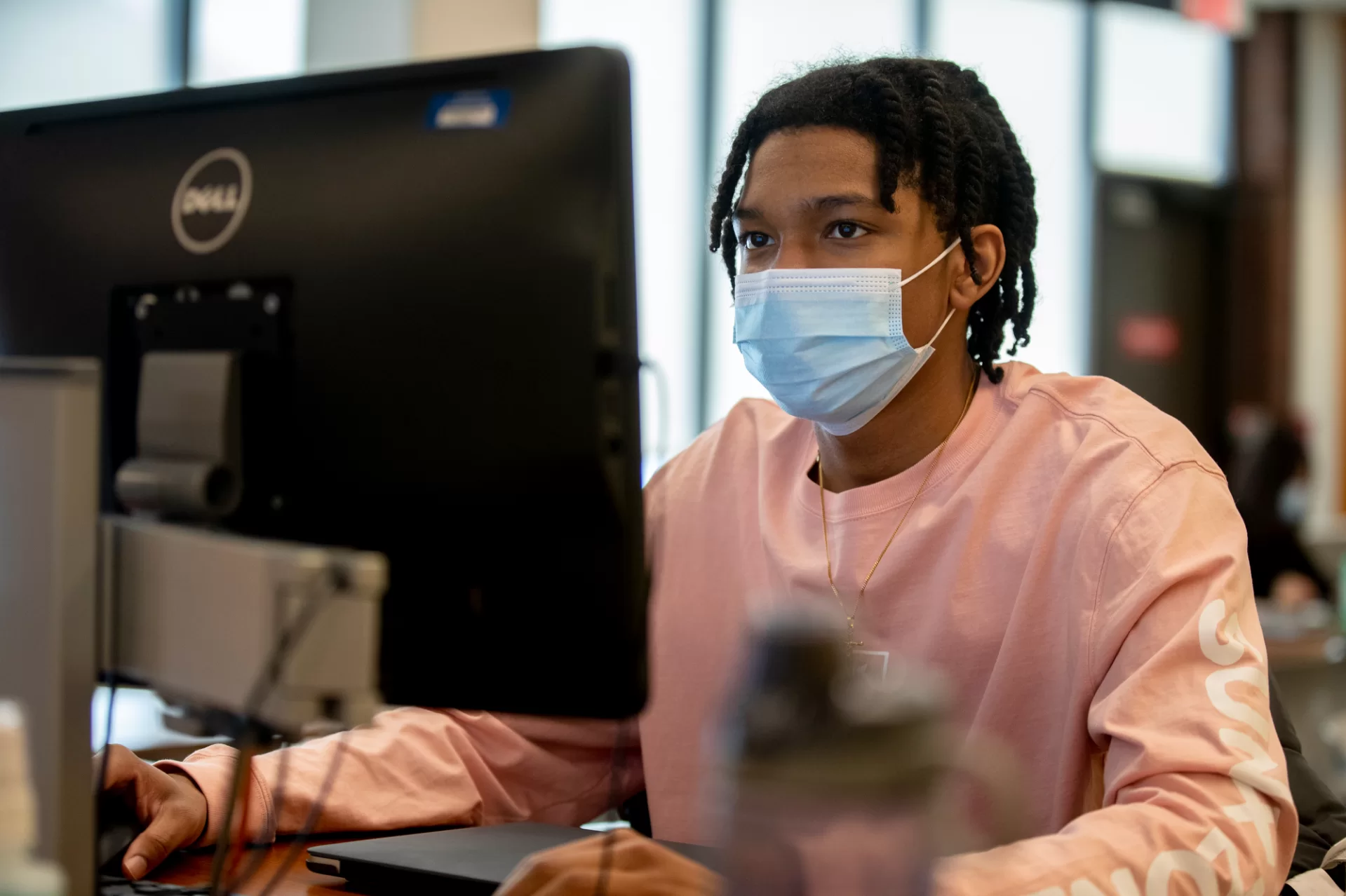 Davonte Fuentes '25 of Brooklyn, N.Y., works at a computer station as the sign-in monitor for the Academic Resource Commons at Bates. ARC empowers Bates students to succeed and excel in their studies. Students can make an appointment to work individually with a tutor, or stop in during a drop-in lab to work on writing, language learning, or coursework in the sciences.
---
Gridiron Interview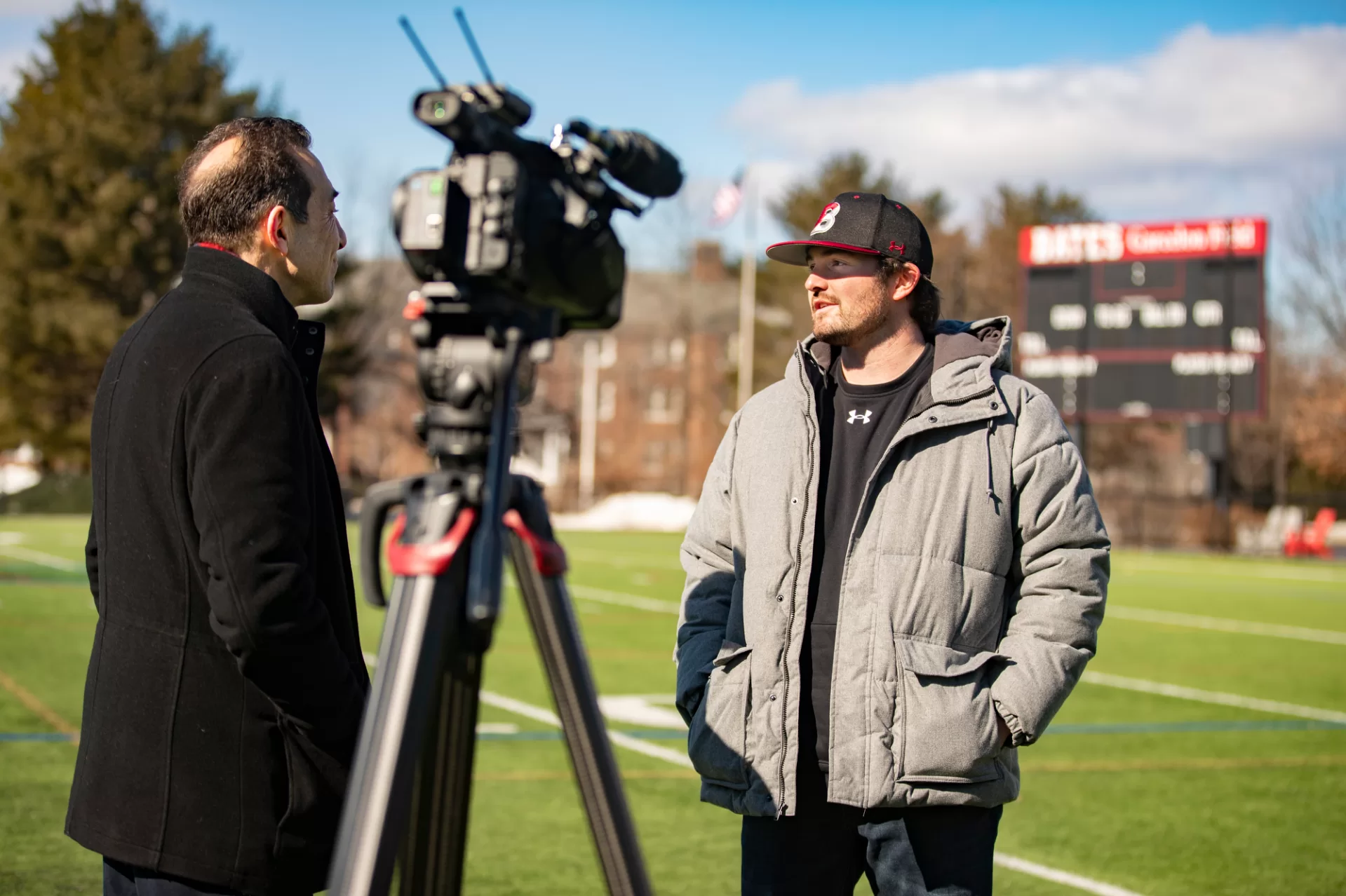 His appointment announced in February, Matt Coyne is the 22nd head football coach in the program's 127-year history. Here, Coyne is interviewed at Garcelon Field by Dave Eid of WGME-TV.
A 2012 graduate of Wesleyan University, Coyne most recently served as an assistant coach for the Cardinals. His NESCAC experience — as a player and coach, coupled with his strong football knowledge, "impressed everyone on the hiring committee, from students to coaches to alumni," said Director of Athletics Jason Fein. "His ability to inspire and lead makes him the perfect person to take Bates football into the future."
---
Splendid Surroundings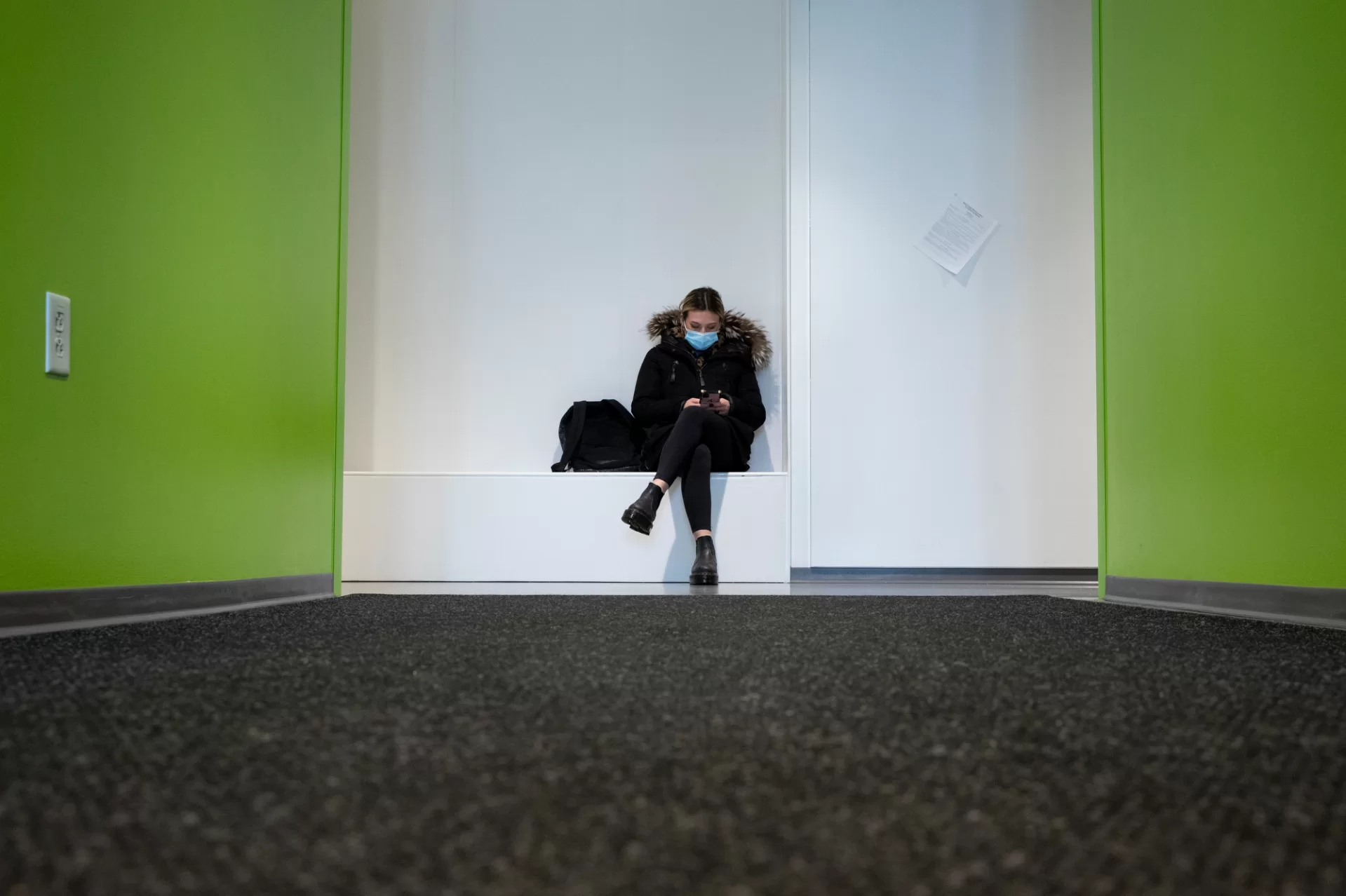 "This is my first time in this building. It's beautiful," said Tess Cotu '22, a double major in English and sociology from Coventry, R.I., as she sat in a first-floor hallway of the Bonney Science Center during the few minutes she had before the start of "Prejudices and Stereotyping, " a course taught by Visiting Assistant Professor of Psychology Jennifer LaCosse.
---
Torch Light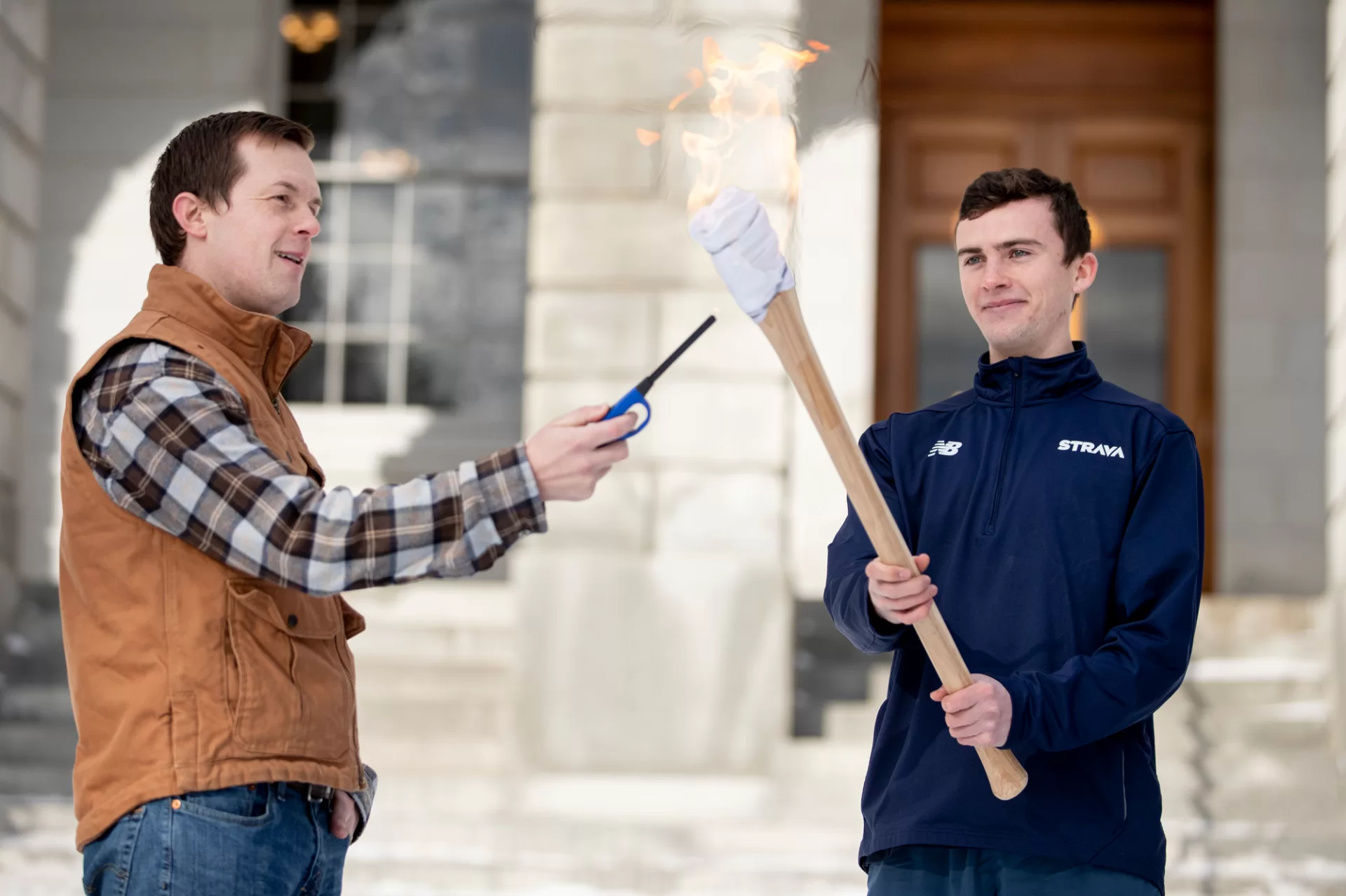 A Bates Outing Club tradition was reignited on Feb. 11, 2022, as U.S. Rep. Jared Golden '11 lit a ceremonial Winter Carnival torch outside the Maine State House in Augusta. The Bates torch-lighting tradition was begun in 1958 when then-Maine Gov. Ed Muskie '36 lit a torch to kick off that year's Olympic-themed Winter Carnival.
---
A Bates Tradition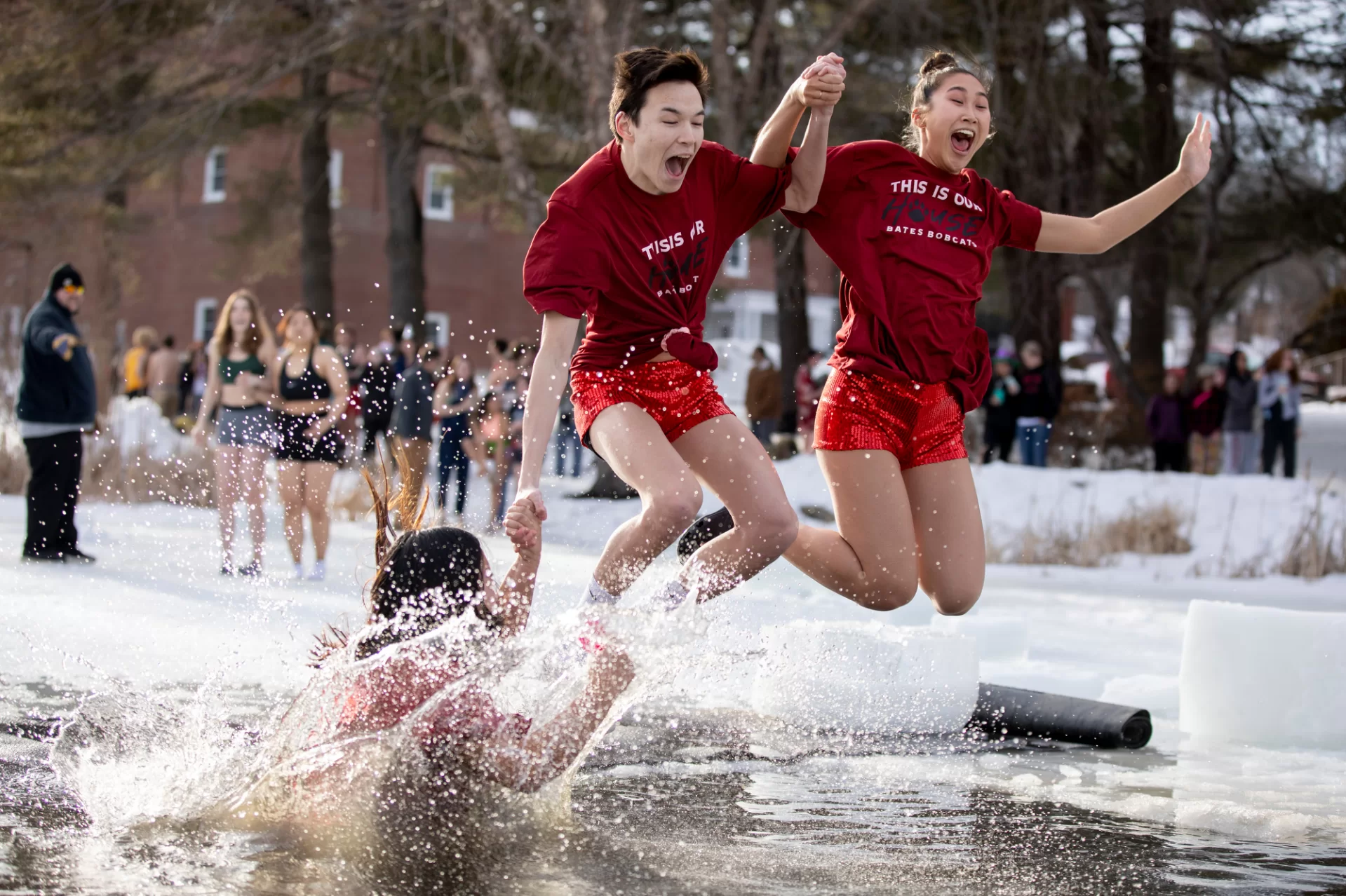 Nick Gajarski '24 of Dublin, Ohio, Nina Greeley '24 of Scarborough, Maine, and Sofia Hahn '24 of Tuxedo Park, N.Y., leap into Lake Andrews during the annual Puddle Jump. After a year's hiatus, the Outing Club–sponsored tradition, in all its icy glory, returned on Friday, Feb. 11, 2022.
---
Talent on Display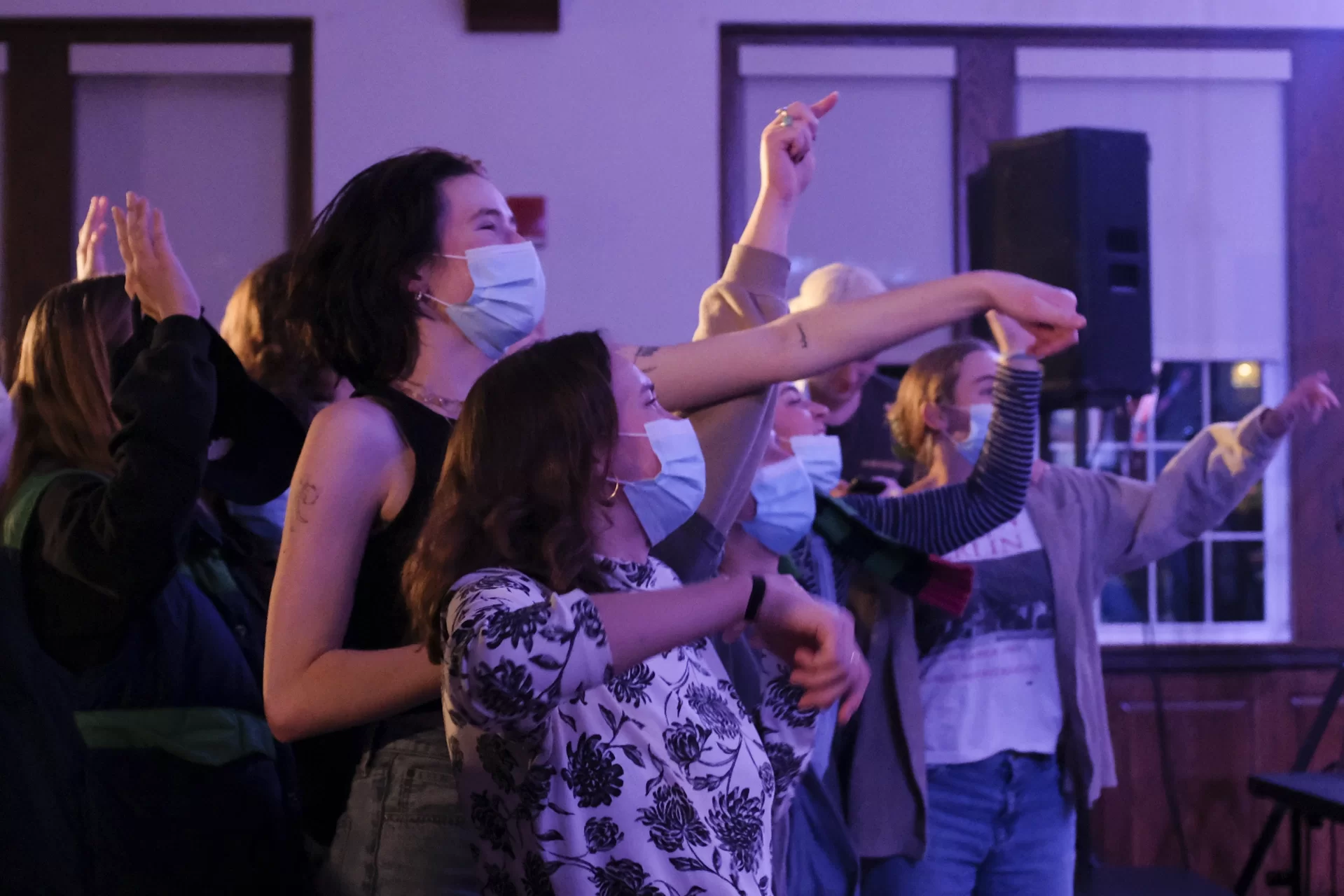 The Winter Carnival Student Showcase, held in Memorial Commons, warms up the evening repertoire with singing, rapping, and poetry, and, of course, a lot of dancing.
---
Pacing Alumni Gym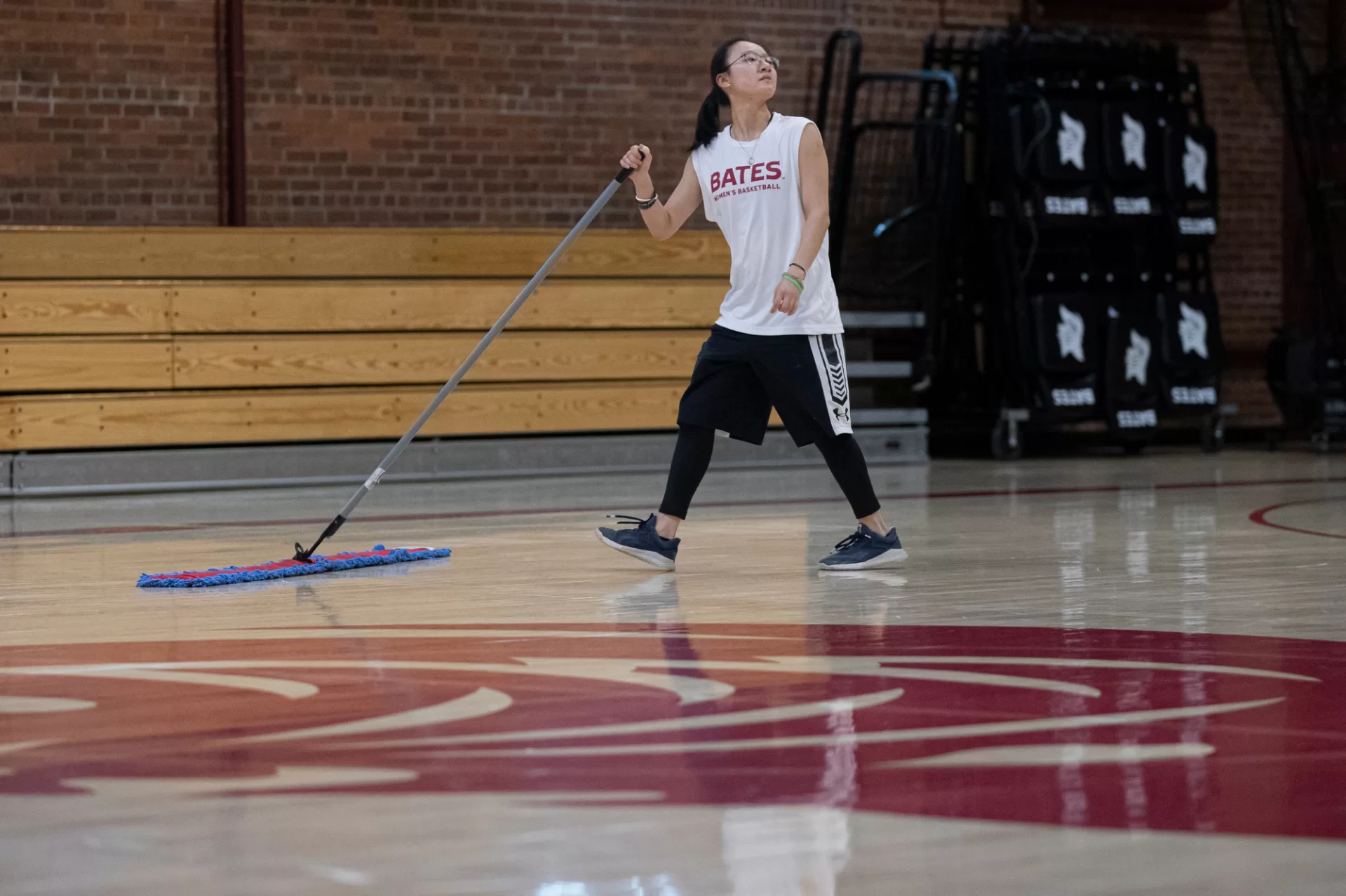 Hermione Zhou '22 of Shenzhen, China, student manager for the women's basketball team, keeps an eye out for players and coaches as she preps the Alumni Gym court for their practice. A double major in environmental studies and sociology, Zhou keeps the official scorebook for the team during home games, attends all practices, and helps out wherever she's needed. "She's awesome," says women's head coach Alison Montgomery.
---
Have a Hat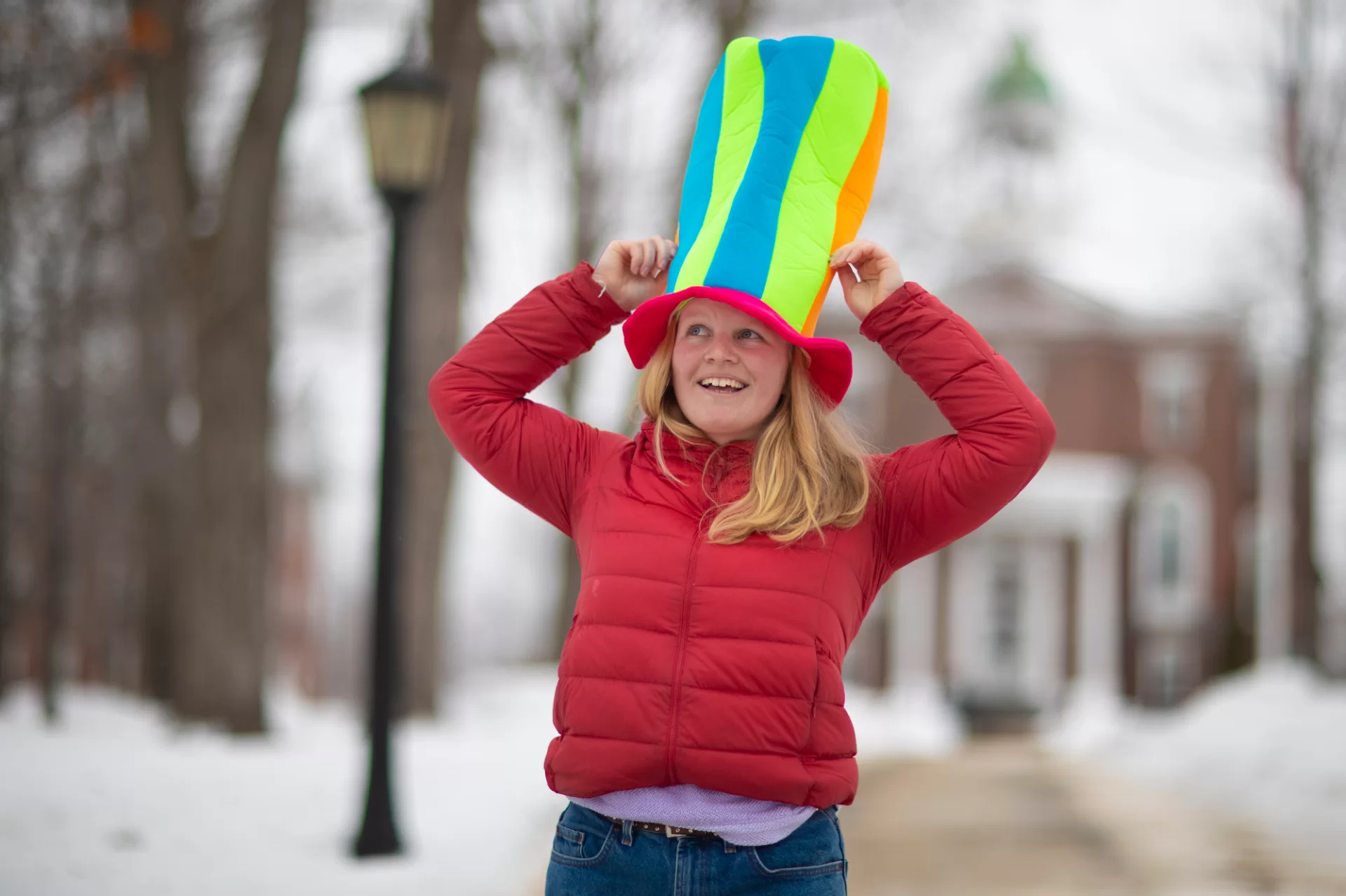 Daisy Kettle '24 of Homer, Alaska, got her multicolored stovepipe hat at Goodwill in Auburn for $2. "It reminded me of my childhood dream to be in a circus." Kettle says. "The best part of my hat is that it's second-hand. Somebody before me loved and wore that hat for many grand occasions. Now I get to be its home and take it on fun adventures." The first adventure was a snowball fight during a recent snow storm. "The hat and I are just starting to get to know each other."
---
Sliding by Ice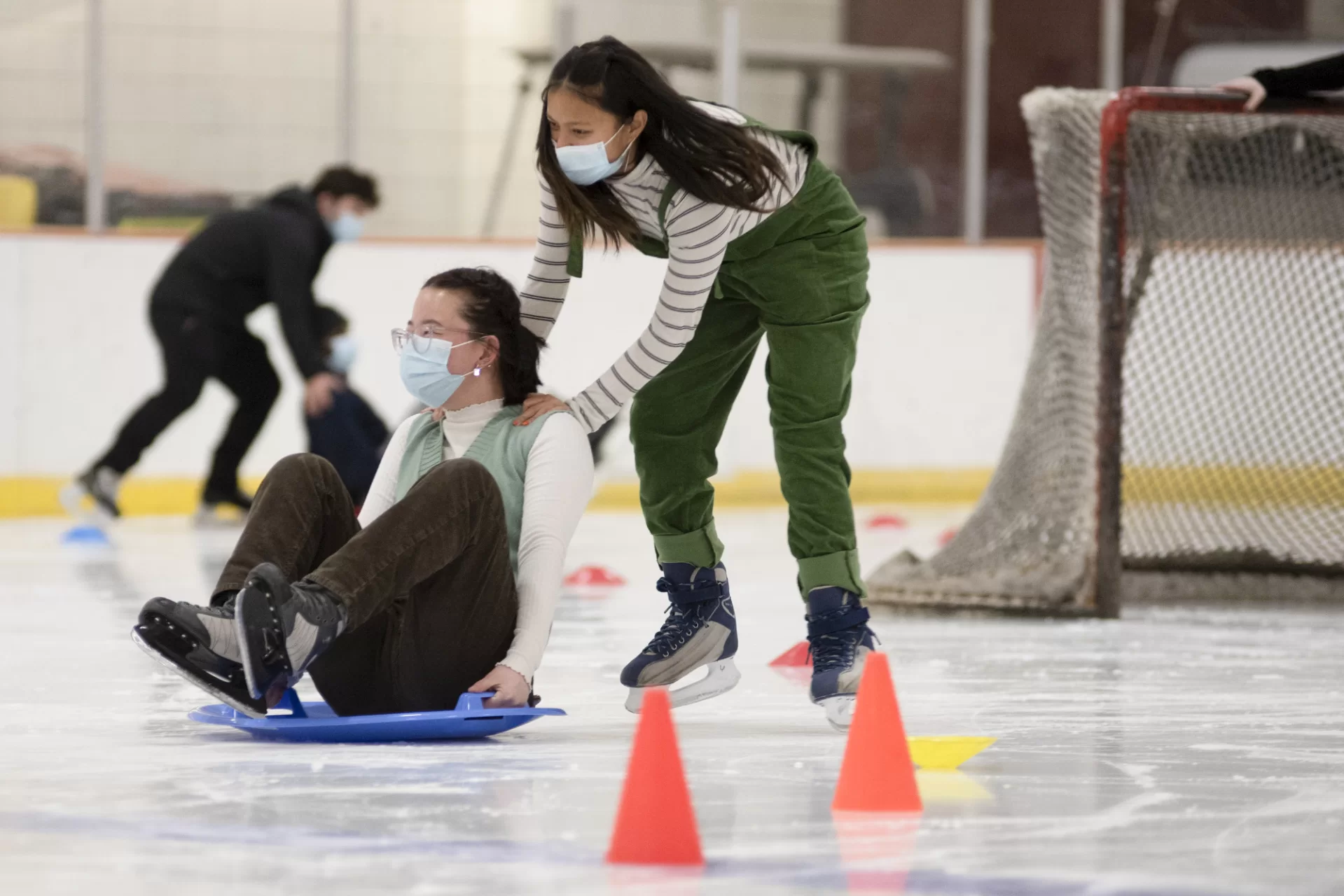 Risah Horiuchi '25 of Oakland Gardens, N.Y., and Sophie Hafter '25 of Brooklyn, N.Y., circle Underhill Arena during Winter Carnival's ice skating party, just one of many events taking place during the college's weeklong 2022 celebration.
---
Mountaineers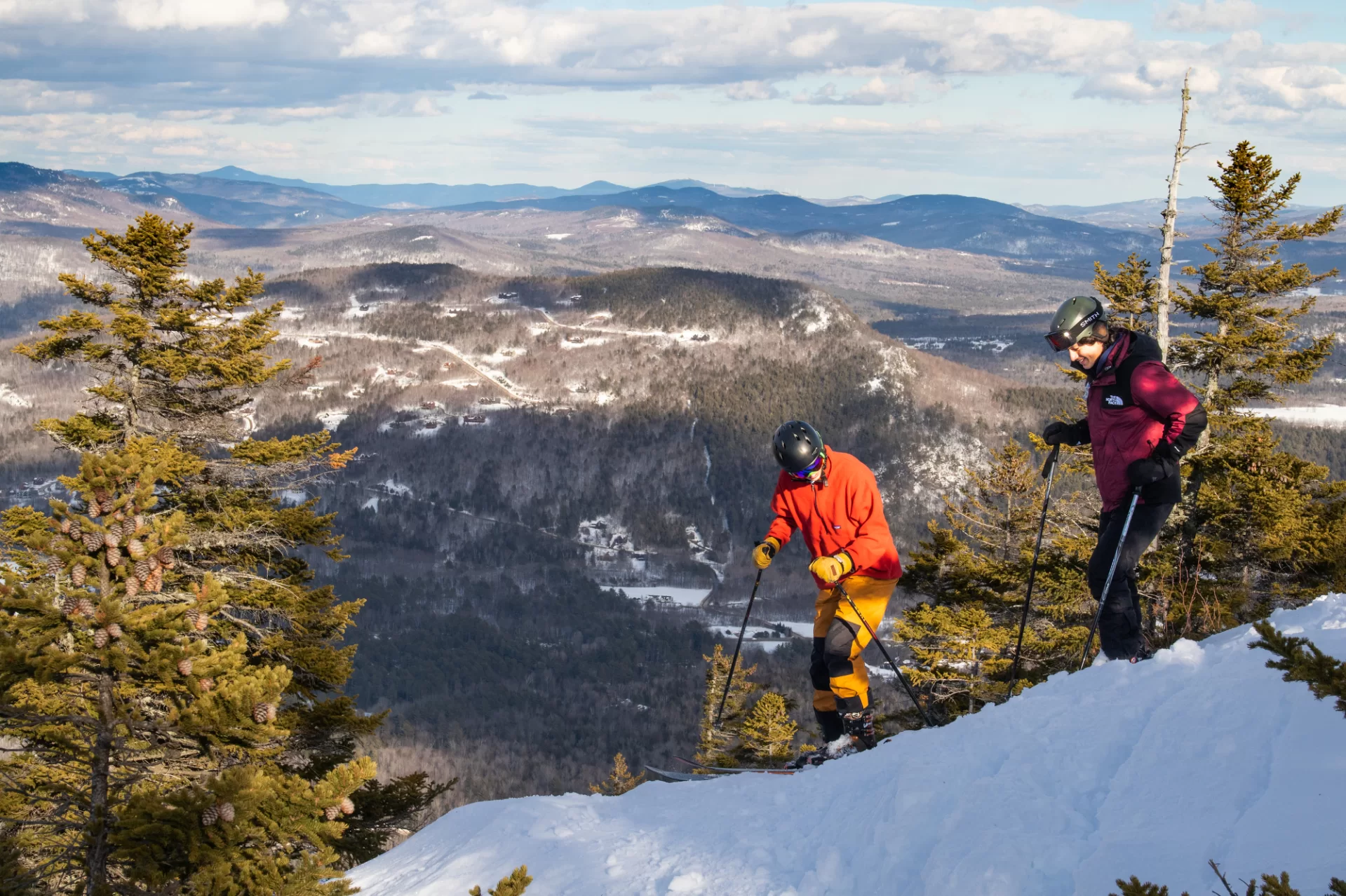 At Sunday River in Newry, Maine, Jack LaCasse '24 (left) of Watertown, Conn., and Jacob Raynes '24 of Dover-Foxcroft, Maine, ski through trees, with Mount Blue in the distance.
---
Constant Conversation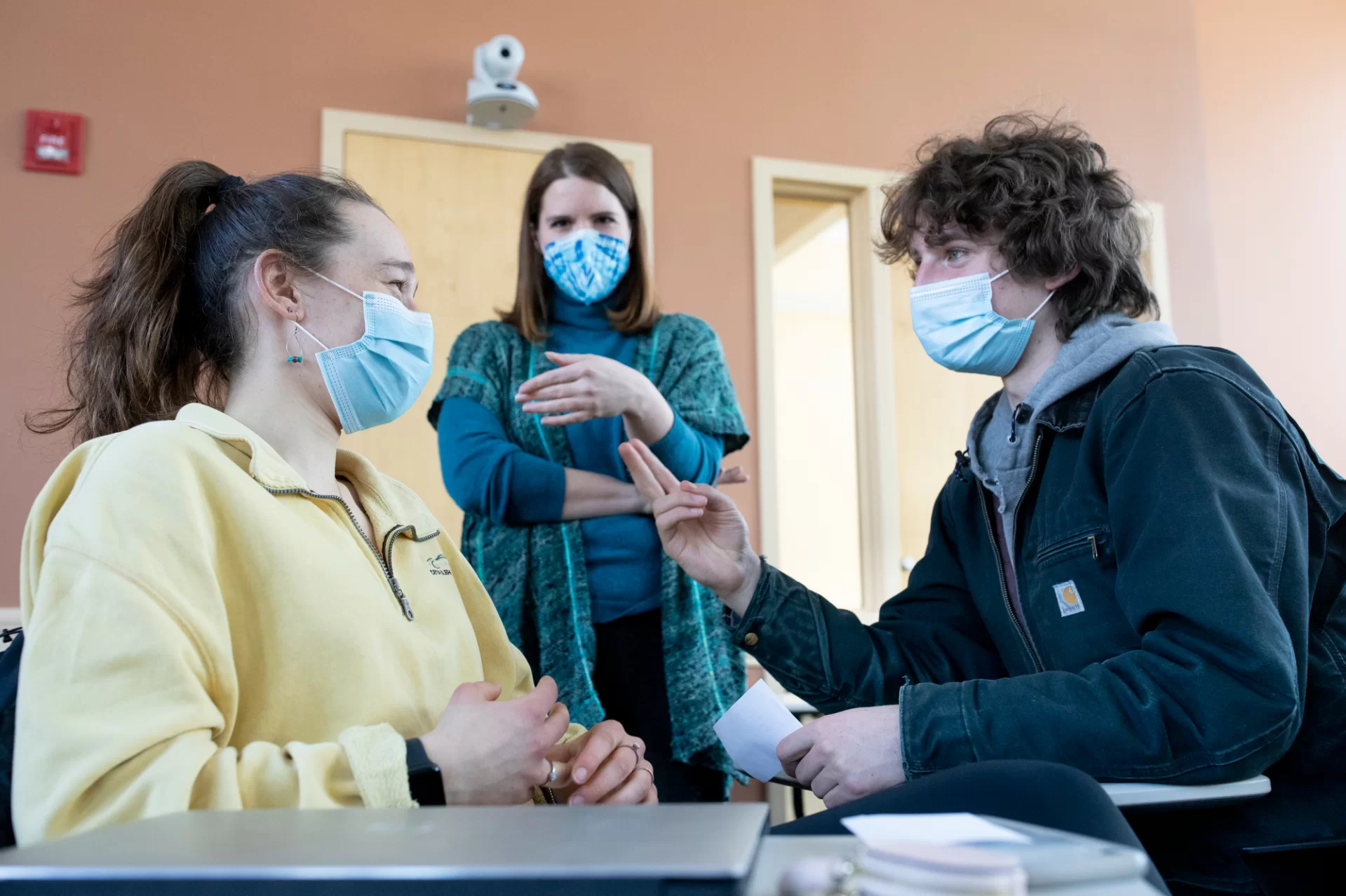 Under the watchful eye of Assistant Professor of Hispanic Studies Stephanie Pridgeon, Heidi Nydam '25 and Zach van Dusen '25 engage in animated conversation during Pridgeon's intermediate Spanish class in Hedge Hall. With a focus on learning relative and subjunctive clauses, the students tackled a variety of interesting topics including, "What will the world look like in 2050?"
---
Fresh Snow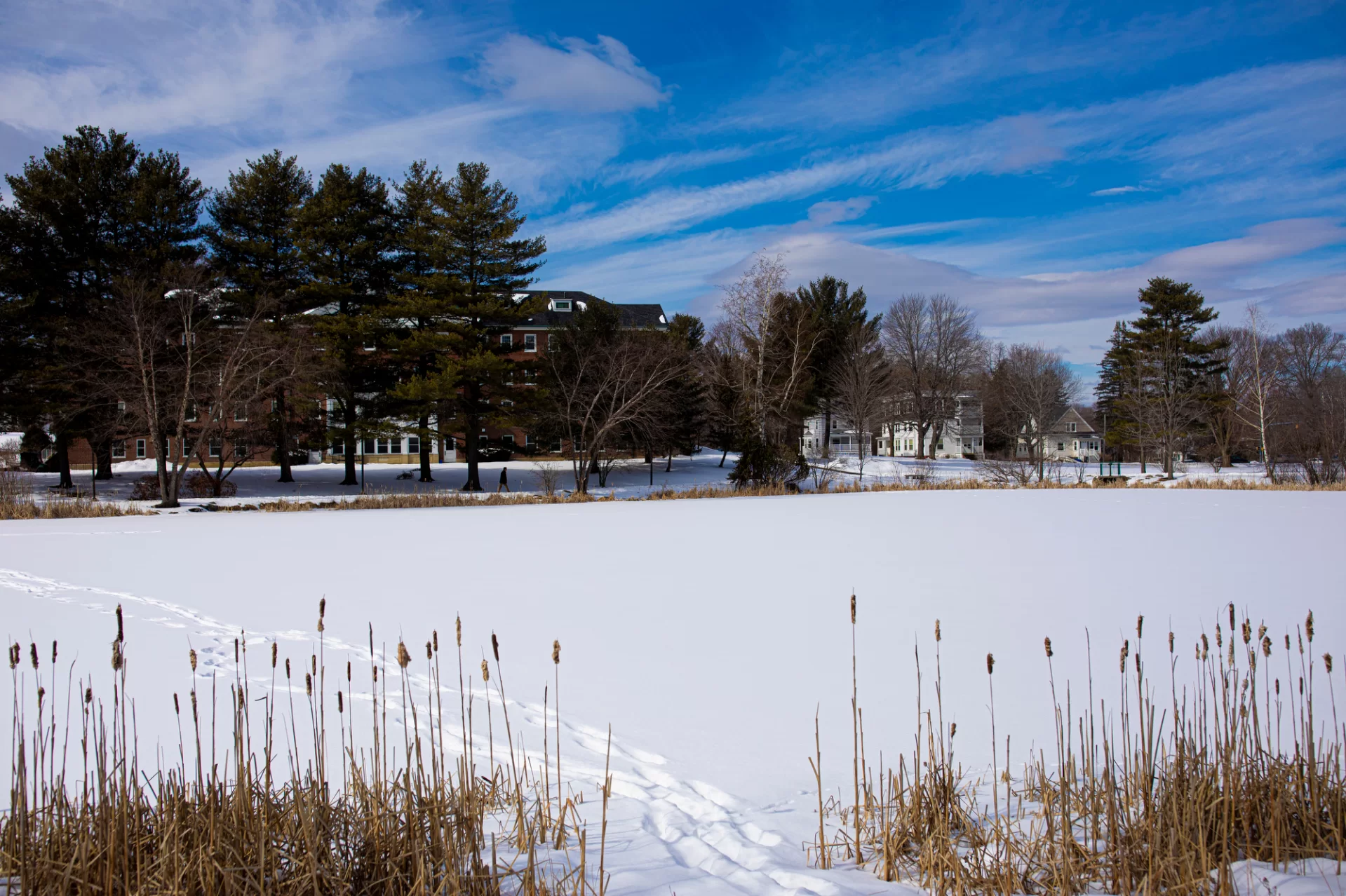 A blanket of freshly fallen snow covers Lake Andrews in early March.
---
Artists at an Exhibition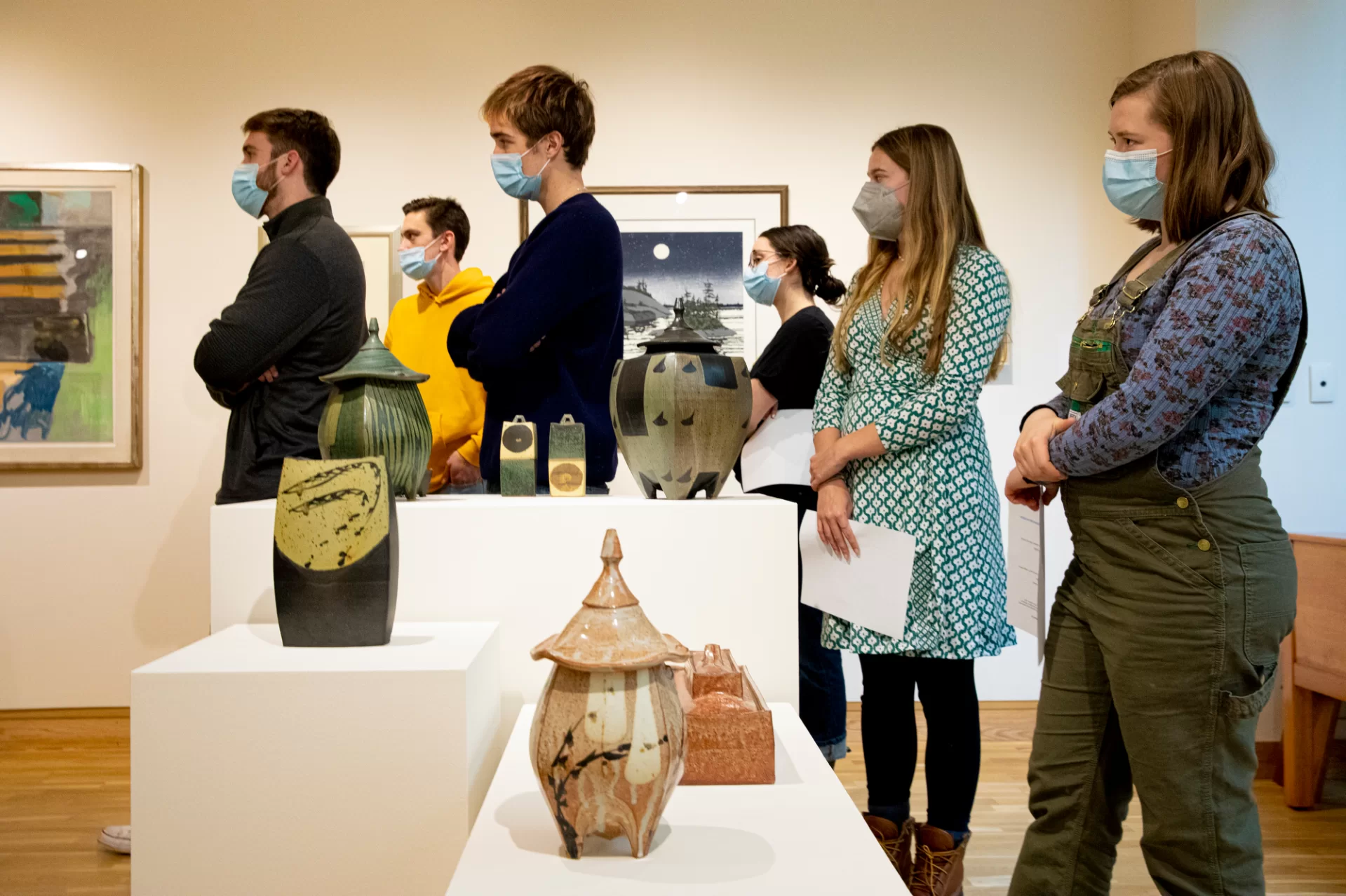 Art and visual culture majors visit the exhibition An Adventurous Spirit: The Jane Costello Wellehan Collection in the Lower Gallery of the Bates Museum of Art. These 15 majors, all on the studio art track, participated in a training session, led by museum staffers Michel Droge and George Walsh, on how to prepare and install their artwork for this year's Senior Thesis Exhibition, which opens April 15.
View Comments