Slideshow: Bates Class of 2022 caps off graduation with creative mortarboard art
With a nod to the past and a look to the future, the Class of 2022 marched through Commencement in style — with a few personal touches.
Here are 11 members of the class who made their regalia their own, from painted mortarboards, to flowers and appliqués, to memes.
'New growth'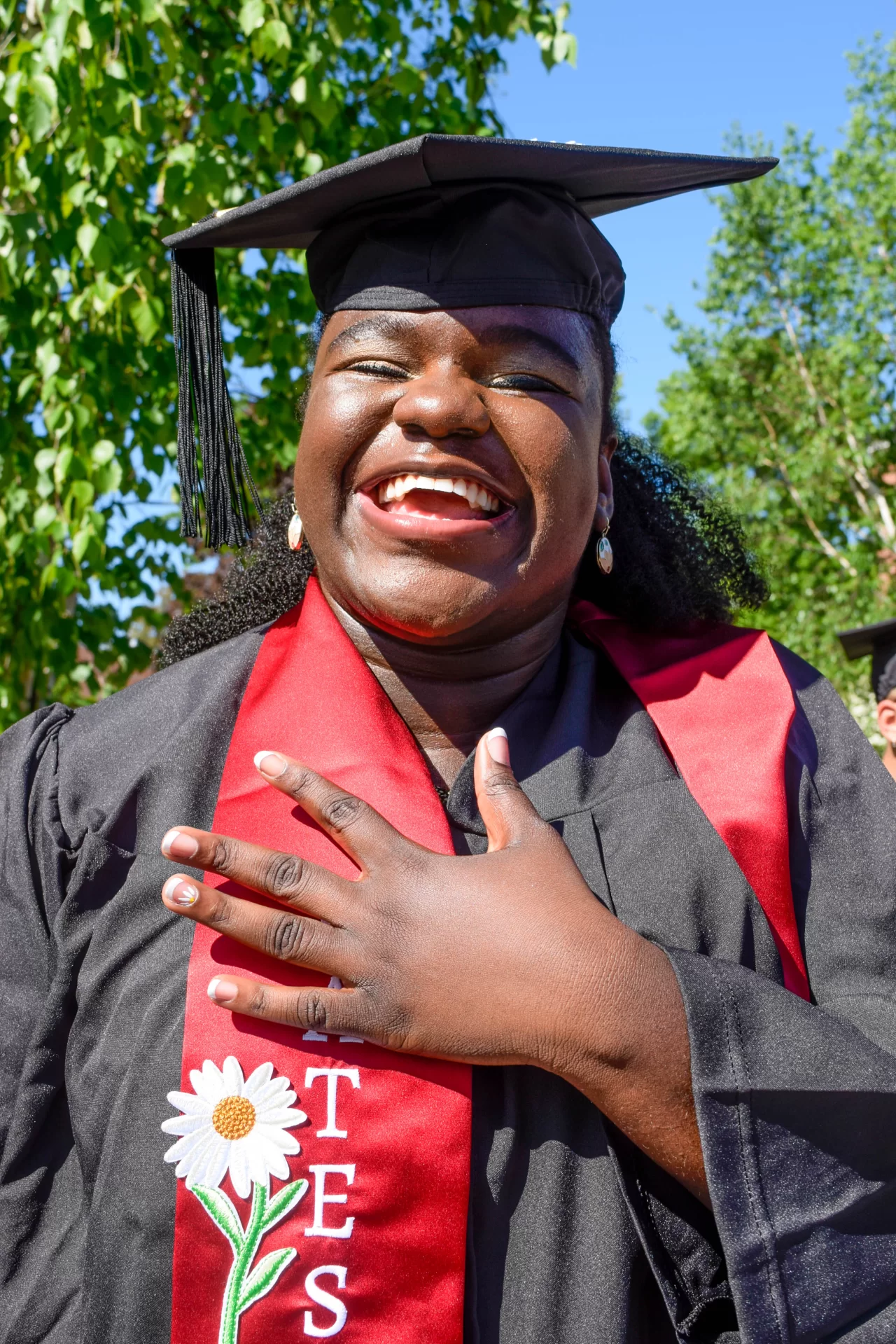 Daisies were the theme of the day for Ojochenemi Maji '22 of Ikoyi, Nigeria. Her cap, stole, and nails all featured the wildflowers.
"I had the Nigerian flag on it this morning, but it fell off," she said. "I like daisies a lot, but I really just like flowers. They're free. And it's the same with butterflies. It feels like freedom, and I feel like that's what's happening today, like I'm discovering a new part of myself, like new growth, like a caterpillar becoming a butterfly."
---
'Adventure is out there'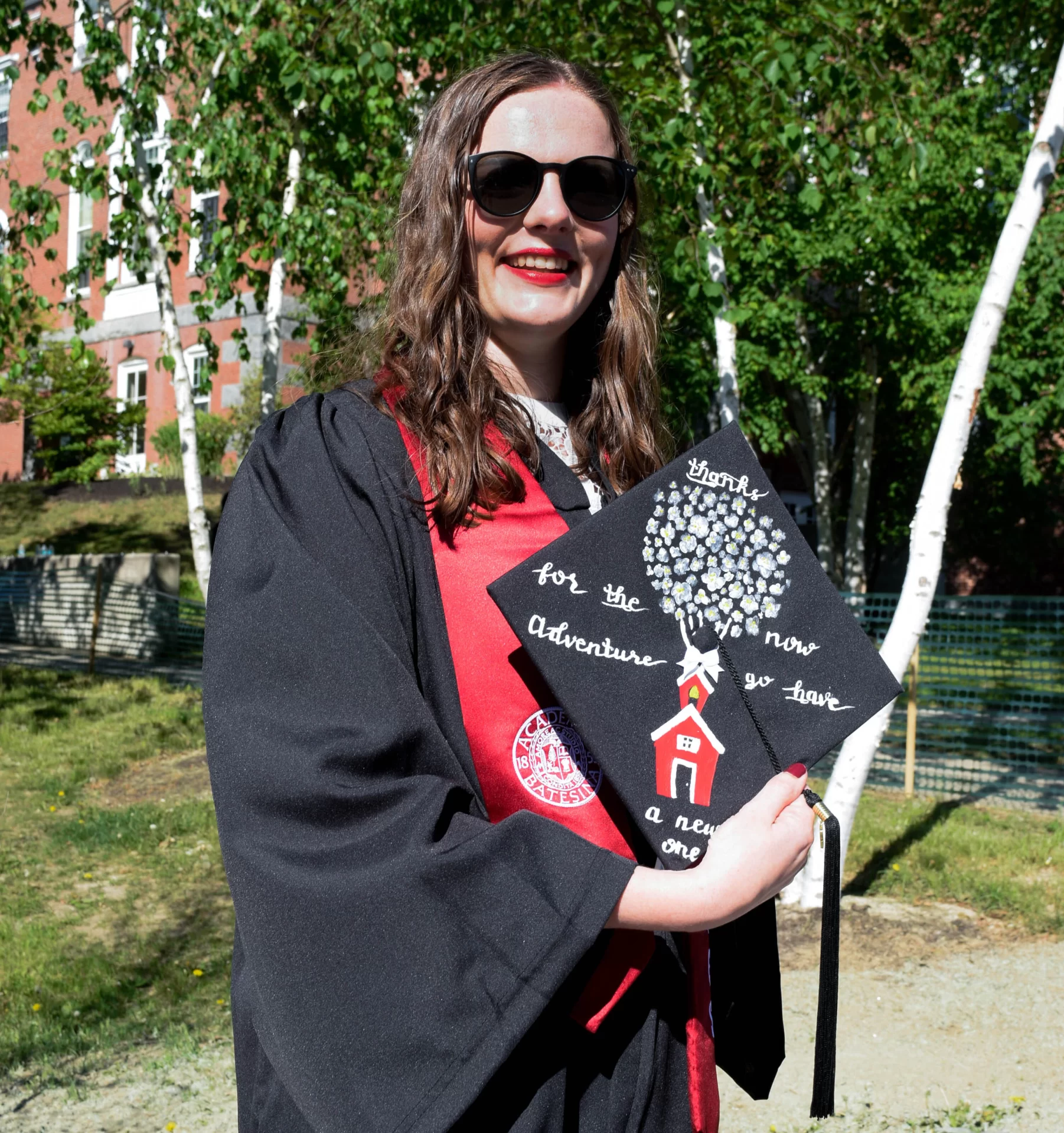 For her high school graduation, Rebekah Vaules '22 of Pittsford, N.Y., decorated her graduation cap with a painting of the house from 2009 animated film, Up, with the quote, "Adventure is out there!"
Vaules will teach French at Lewiston High School this fall, so she painted a little red schoolhouse floating in the air, held up by "balloons" of white apple blossoms, and another quote from Up: "Thanks for the adventure; now go have a new one!"
One thing she's gained in college? "Confidence. I'm focused on doing what I want, instead of being worried about what others are thinking."
---
Las tres graduadas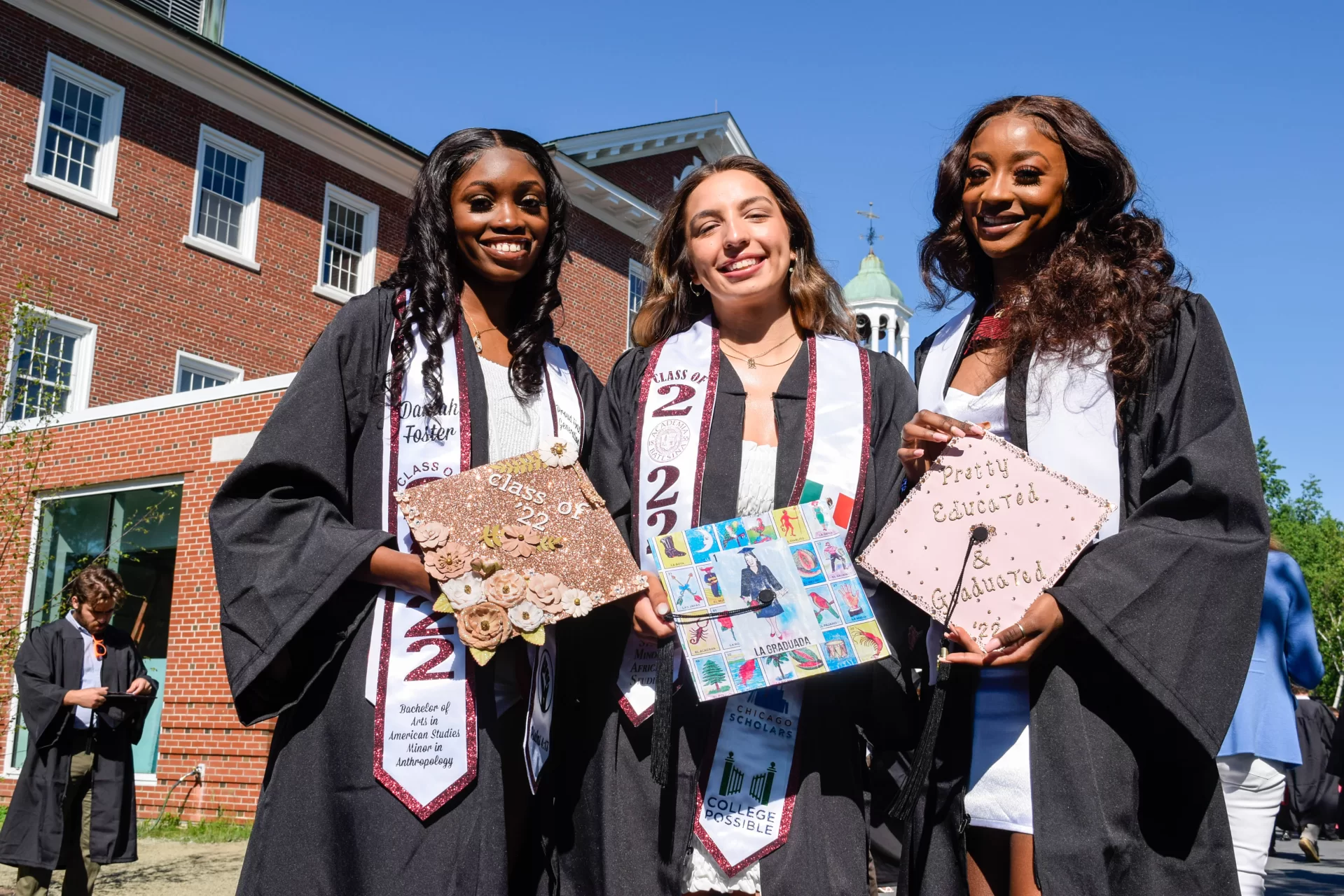 These three friends spent the day together, and all took different themes with their caps.
Daniah Foster '22 of Shelton, Conn., wanted to match her cap and shoes, glitter and all. "They're all neutrals, which I love." Pink, gold, and white flowers and leaves frame "Class of '22" on her cap.
Rachel Retana '22 of Chicago, Ill., printed out a lotería board to put on her cap. Lotería is a game of chance, "like Mexican bingo," she said, but it's played with boards and a deck of cards with pictures instead of number balls. "I'm Mexican, and my family emigrated here when I was a kid, so I wanted to have something that is kind of sentimental to them."
Adama Diaby '22 of New York City bordered her message with rhinestones ."I was trying to go simple, so it's all things that I am: pretty, educated, and graduated."
---
'Sexy scholar gig'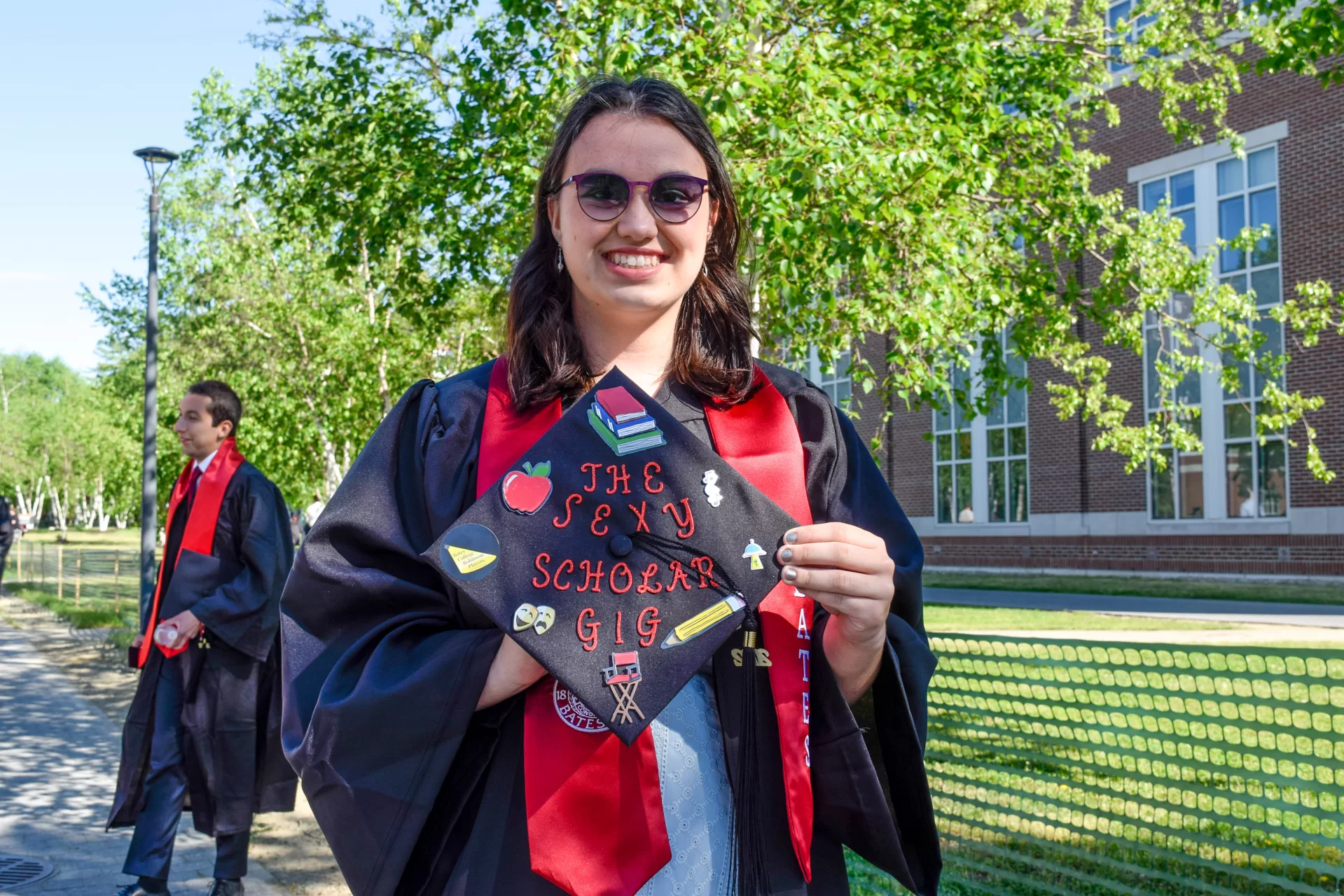 With a director's chair, sock and buskin theater masks, pencil, UFO, and waving green alien, Olivia Dimond '22 designed her cap to illustrate major themes of her time at Bates.
Hailing from Henrico, Va., theater was a huge part of her college career. As a member and artistic director of the Robinson Players, she directed an out-of-this-world play — The Gap — that "sort of dealt with alien abduction?" She laughed.
The quote on her cap, "the sexy scholar gig," is a line from another play she directed as her senior thesis, Rapture, Blister, Burn, in February. She also loves to write, and wrote for the student newspaper, The Bates Student.
---
Blossoming future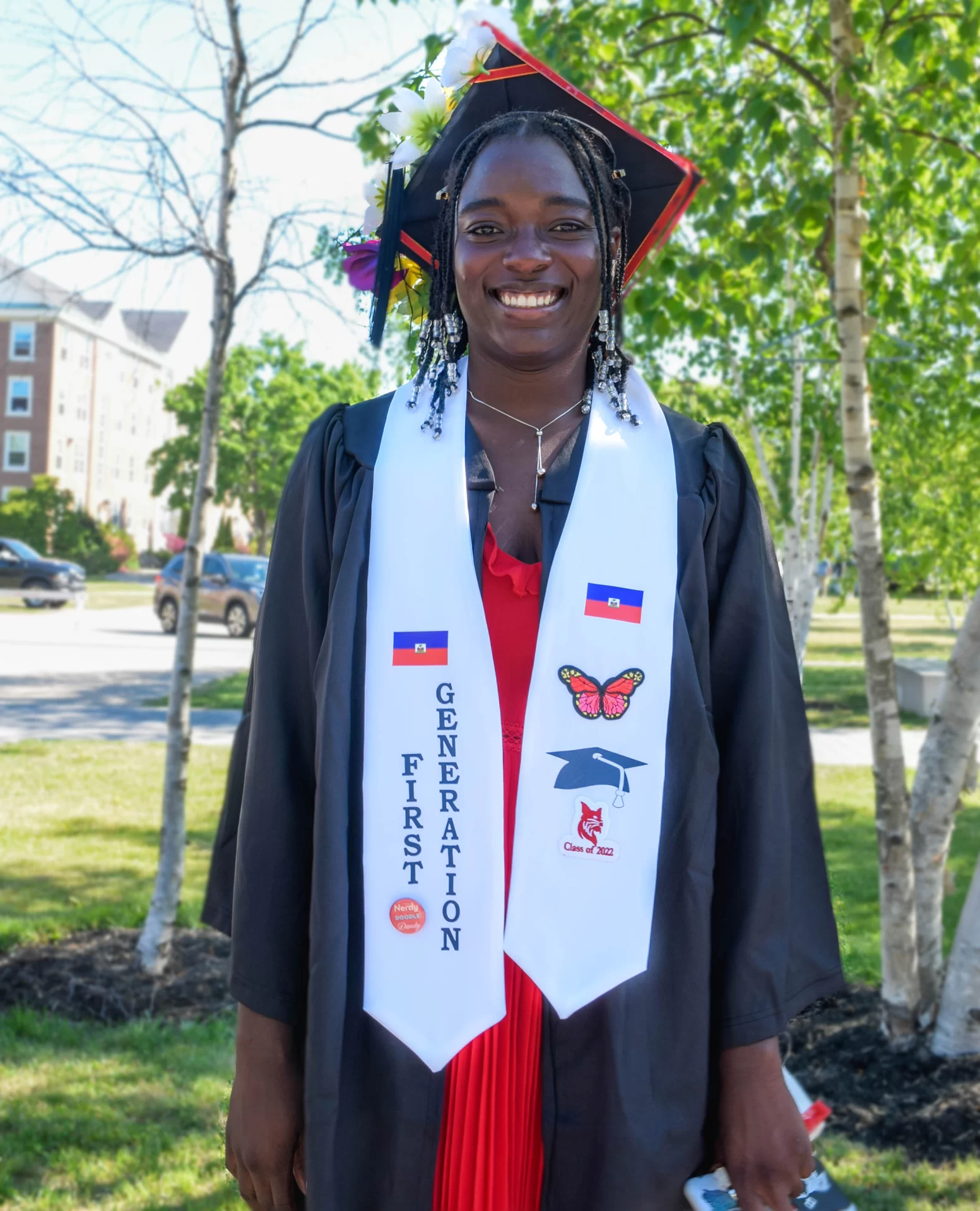 After seeing her friend using flowers to decorate her cap, Jenniflore Beaubrun '22 of Hyde Park, Mass., decided to follow suit, gluing and sewing flowers and ribbons onto her cap.
"I started doing this last night, and I realized I had the wrong glue, so I was sewing it in, but then I just got my nails done, so it was a little hard to sew it."
---
'It's over, it's done!'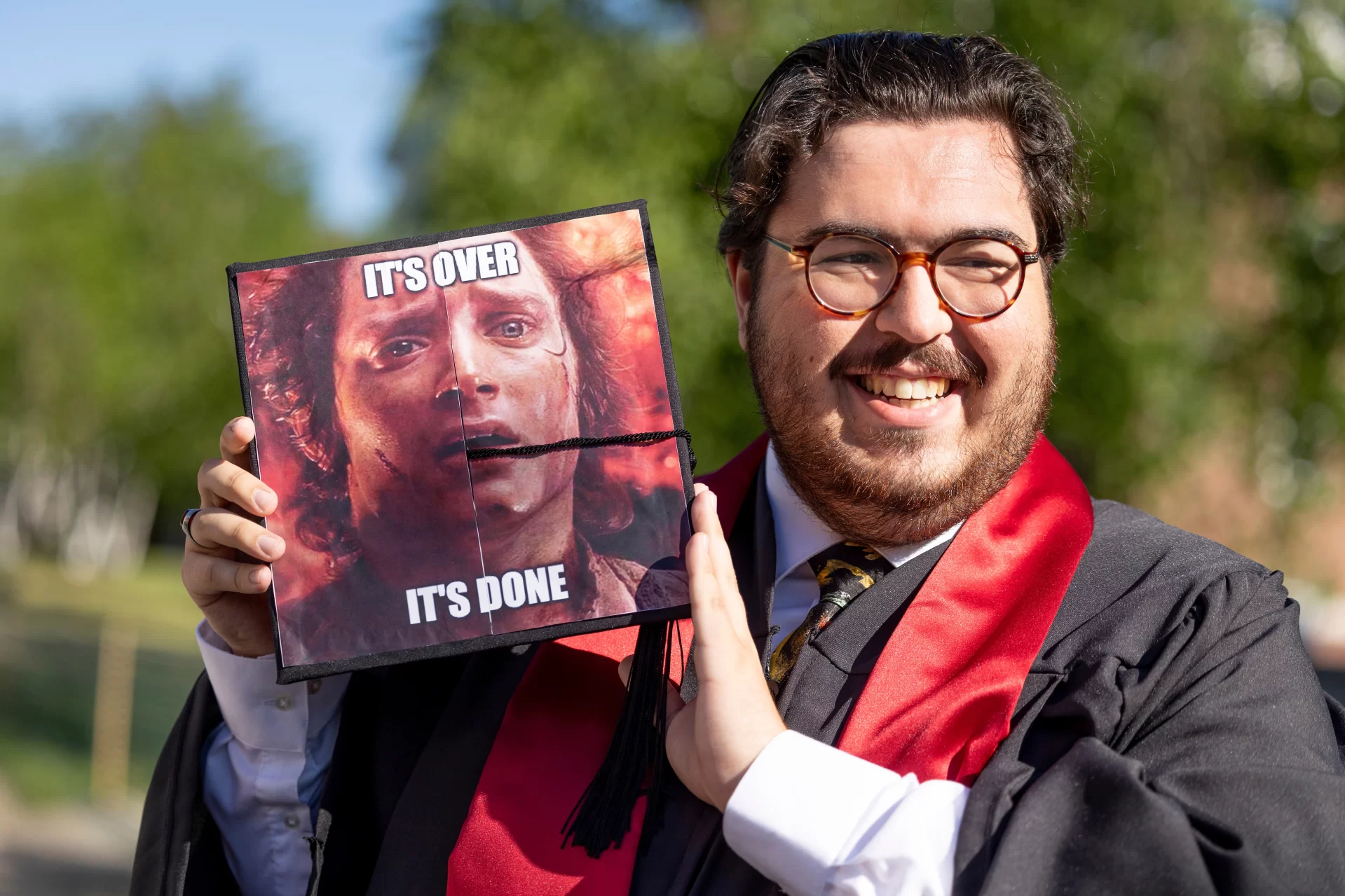 Zane Rahabi '22 of Westwood, Mass., displays a meme that he printed and affixed to his cap, depicting a moment from the final installment of the Lord of the Rings trilogy, The Return of the King.
"I say it a lot, like whenever I finish something," he says. "When I finished my thesis, I said, 'It's over, it's done!' and I just thought it was a fitting thing to put on the cap."
(The meme, he says, is a bit of a misquote of Frodo Baggins, whose actual gasping words after finally flinging the One Ring into the bubbling lava of Mount Doom, are, "It's gone. It's done!" To which his faithful companion, Samwise Gamgee, replies, "Yes, Mr. Frodo, it's over now.")
For Rahabi, "it's been a long and arduous journey. I haven't had to climb any volcanoes or anything or throw anything into them, but I feel like it's a similar vibe."
There's another similarity between Rahabi's journey and Frodo's: Good fellowship and friends along the way.
---
'A little bit of home'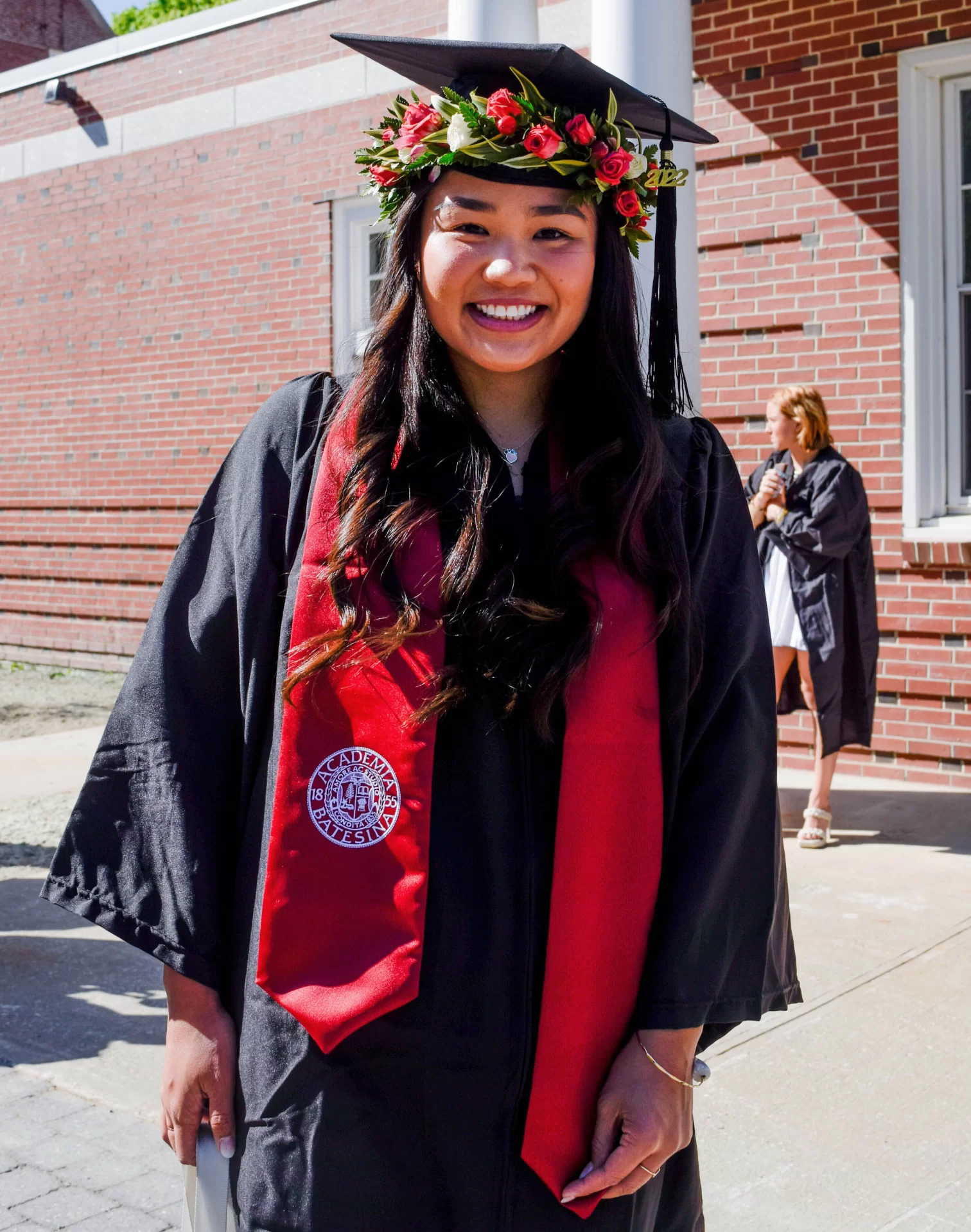 Wound around her head, Janell Sato '22 of Honolulu, Hawai'i, wore a haku lei, which she made herself, with red roses and raffia, to bring "a little bit of home" with her.
"You just get some hay — it's called raffia in Hawai'i — and wind it around some different leaves and roses. It's a common thing that happens during graduation in Hawai'i."
Her mother, who came to watch her walk, wore a matching haku lei.
'Keep moving forward'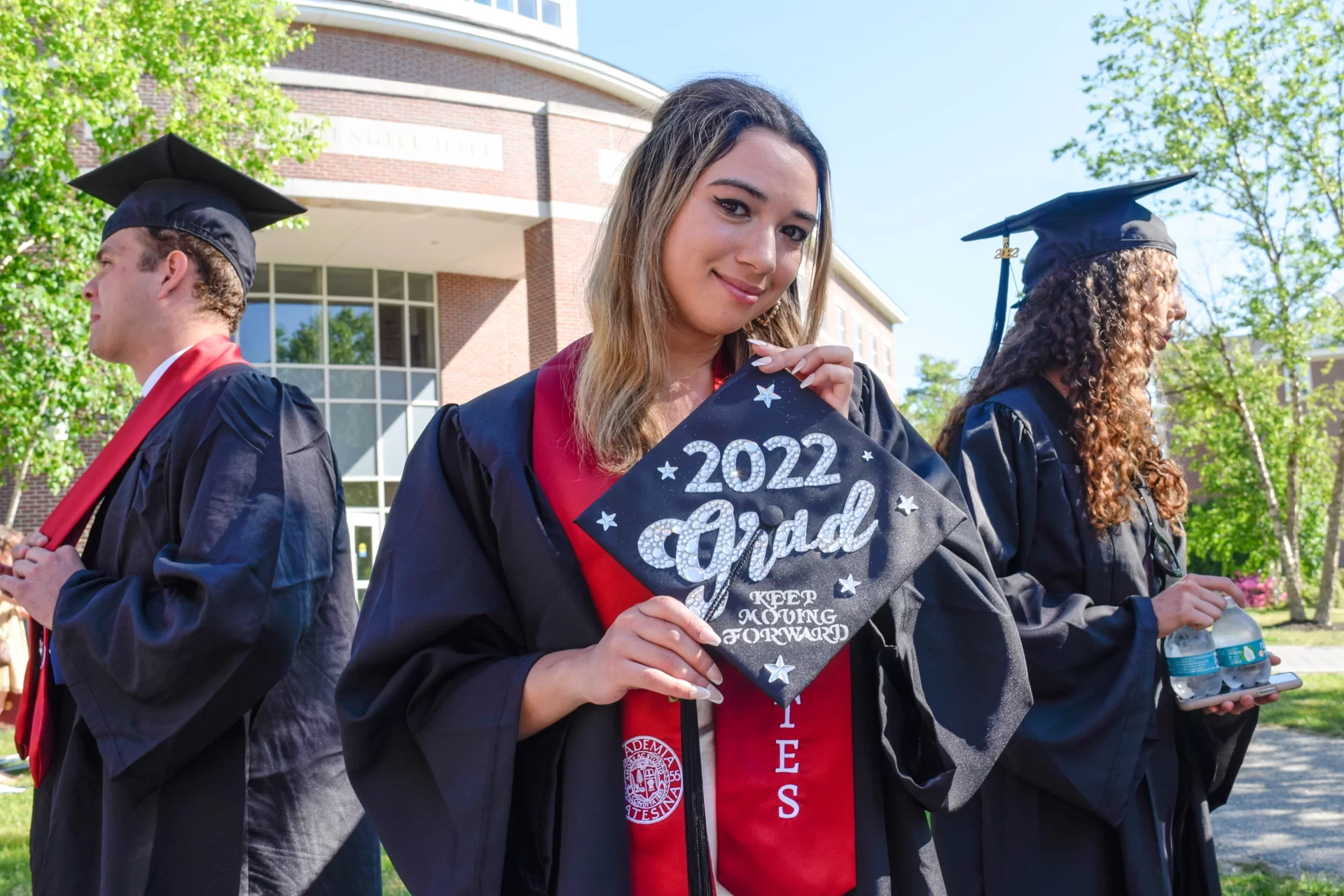 Isabella David '22 of East Elhurst, N.Y., wrote a quote from one of her favorite movies, the 2007 animated film, Meet the Robinsons.
"The movie's about finding your family, even in turbulent times, and persevering through it. It's been a little bit of a turbulent year."
And the most recent turbulence? Last week she got her laptop stolen, and got COVID for the second time, making her miss senior week.
"You gotta just keep going through it," she smiled.
---
All eyes on you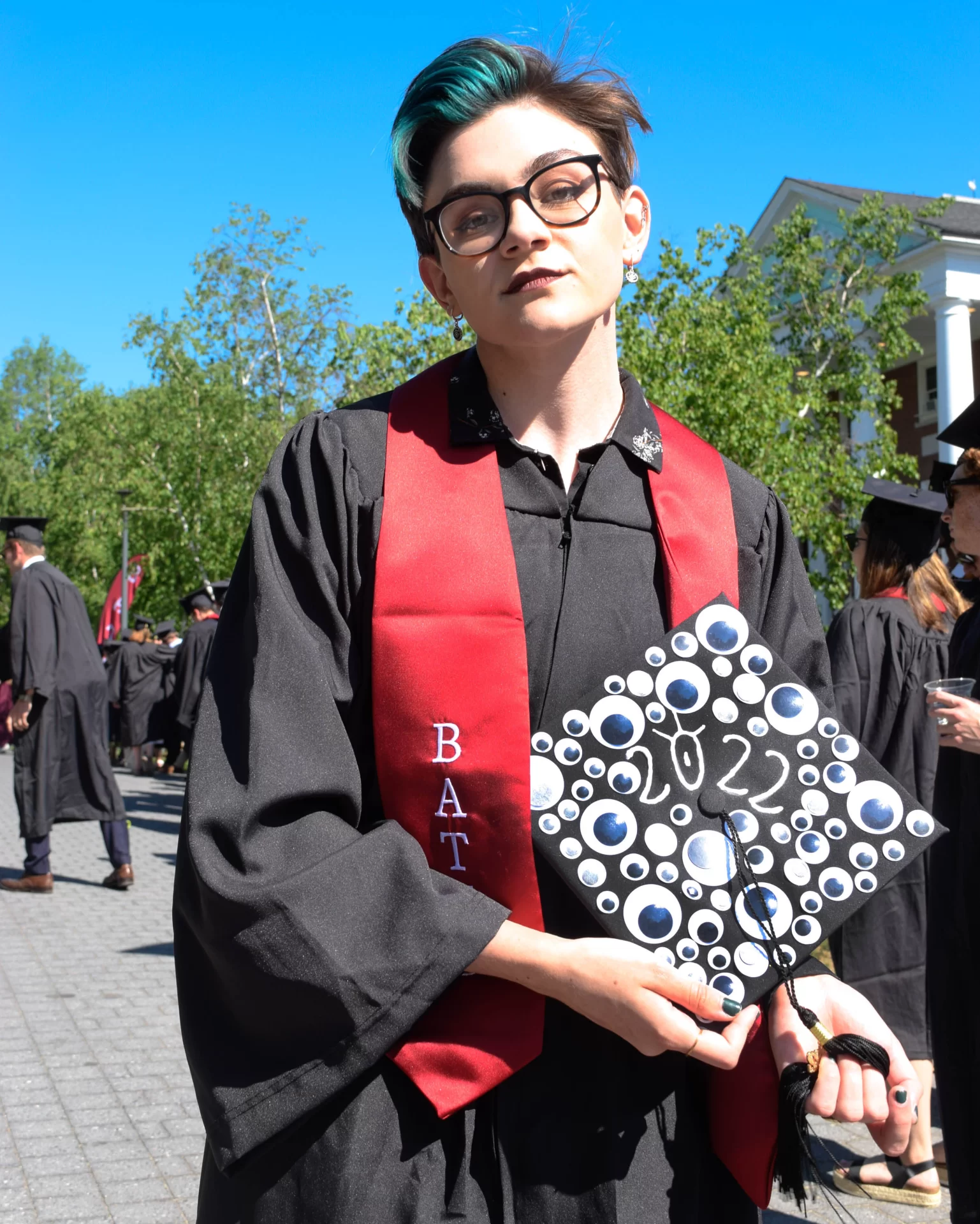 "I really like eyes," explains Alex Teplitz '22 of New York City. As a member of the Discordians, Bates' tabletop gaming club, they have a dungeons and dragons character who is themed around eyes, "Since my freshman year of college, getting involved with the Discordians, I have always had this sort of fun fascination with them."
Teplitz knew they wanted the cap to represent their interest in tabletop RPGs, but the googly eyes weren't the first option.
"I was going to put some dice on it, but then the eyes are just fun to look at, and they're all jiggly, and I looked at it and thought: biblical angel, makes people stare at it, fun."
View Comments