A selection of recent mentions of Bates and Bates people in the news.
Katy Rodden Walker '07
Six art-school stars from around Boston to watch in 2022 — The Boston Globe
The Boston Globe featured Katy Rodden Walker '07 in its annual spotlight of artists who received master of fine arts degrees from area colleges.
Early in the pandemic, Rodden Walker had a new baby, a grandmother had died, and she was trying to continue her art. "I was being pulled in a lot of different directions. I wanted a material to express some of those ideas," she said. One material was gauze.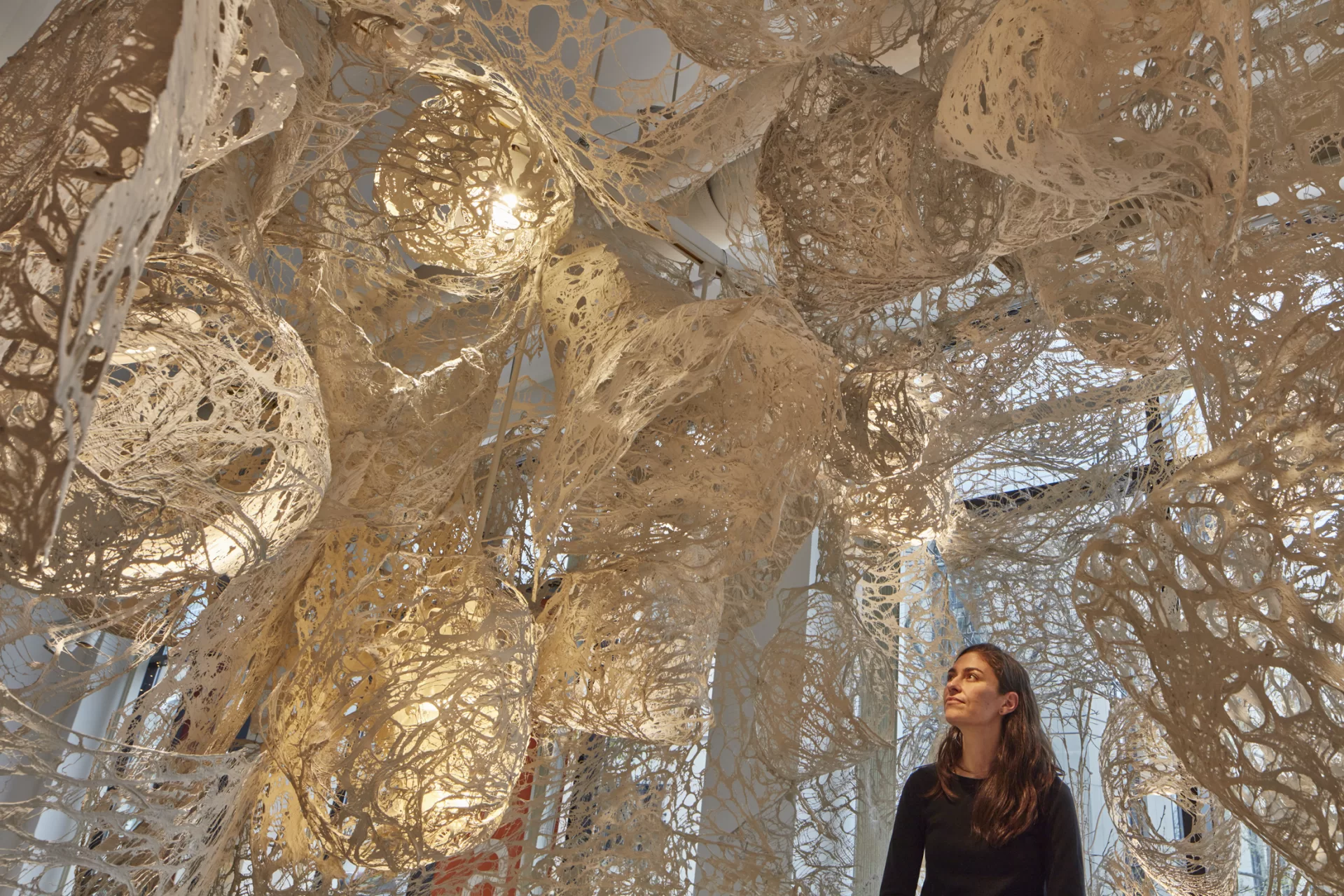 Rodden Walker's installation Enmeshed "reflects her longing for community," says reporter Cate McQuaid. "Made of gauze, clay slip, and glue, it hangs overhead in a sheltering embrace. It was inspired by the interconnectivity of rhizomes and mycelium."
"What would a rhizome feel like at a grand scale?" asked Rodden Walker, who earned her masters degree from the University of Massachusetts, Dartmouth. "I wanted to try to put somebody inside of that."
---
Her Vang '22
Pit stop in Eau Claire: biking from Maine to Minnesota for charity — WQOW-TV
Three months before Commencement, Her Vang '22 hit the road, biking from Bates to St. Paul, Minn., to raise funds for his charity, Givers of Dreams, which aims to increase access to education for children in his home country, Laos.
"A lot of things that I've learned in life is through the generosity of other people," Vang told television station WQOW. "So I just wanted to give back." This isn't his first biking trip: In 2019, Vang biked a loop through southeast Asia, from Laos, to Vietnam, Cambodia, and Thailand, ending again in Laos.
Vang's trip ended by raising $10,000, over four times his original goal of $2,500. He flew back to Maine in plenty of time for graduation. He's now back to Laos continuing his charity work on the ground.
---
Alisa Amador '18
Announcing the winner of the 2022 Tiny Desk Contest — NPR
In May, Alisa Amador '18 and her song "Milonga accidental" won NPR's annual Tiny Desk Contest.
Amador has "a powerful voice whose tender performance commands attention and fosters connection," said Bob Boilen, host of NPR's All Songs Considered.
Amador grew up in New England, Puerto Rico, and Argentina; her parents, Rosi and Brian Amador, play in the Latin-folk band Sol y Canto. She told NPR that the song is "an ode to in-between-ness, to having several identities at once, to feeling split between cultures and languages."
The song, said Boilen, is "so filled with passion. I often fall for a song because of the lyrics, and this is the first Tiny Desk Contest winner whose winning song is in Spanish. Despite the fact that I don't speak Spanish, I felt the conflict, the yearning and the song's questioning."
Late in May, Amador performed her Tiny Desk Concert, the first with an audience in over 800 days, "and Alisa's captivating music surely intensified our spinning emotions," Boilen said.
---
Lori Banks, biology faculty
'COVID-19 created the perfect storm' for superbugs, CDC report says — Lewiston Sun Journal
The Lewiston Sun Journal interviewed Assistant Professor of Biology Lori Banks to help explain a recent U.S. CDC report that the pandemic has "pushed back years of progress" in the fight against so-called superbugs, strains of bacteria and other pathogens that resist treatment.
Approximately 80 percent of patients hospitalized with COVID-19 received antibiotics. While antibiotics do what they're supposed to do — kill most bacteria — they also create a survival-of-the-fittest scenario, where the resistant bacteria, superbugs, end up surviving and can thrive, says Banks.
"You're selecting for or enriching the environment to allow for their survival. And so what we see is that in these repeat exposures to antibiotics we're actually creating the population that's dangerous."
---
J.J. Cummings '89
How the U.S. military gave notes on Top Gun: Maverick — GQ
GQ writer Aaron Hunter interviewed retired Navy Capt. J.J. Cummings '89 about the former Naval aviator's work to help filmmakers of Top Gun: Maverick balance realism and drama.
A key adviser to director Joe Kosinski and screenwriter Eric Singer, Cummings most recently served as the commanding officer of the aircraft carrier USS Gerald R. Ford, and, early in his career, flew the F-14 Tomcat in combat missions.
His advice touched on what happens during the movie in the air, aboard ship, and on shore. Take the name of the bar, which in the original screenplay was called The Captain's Mast. "Which is what the Navy calls its judicial proceedings," Cummings says. "No one wants to go to Captain's Mast because that is where you go to get punished." So it was changed to Hard Deck. "Good call."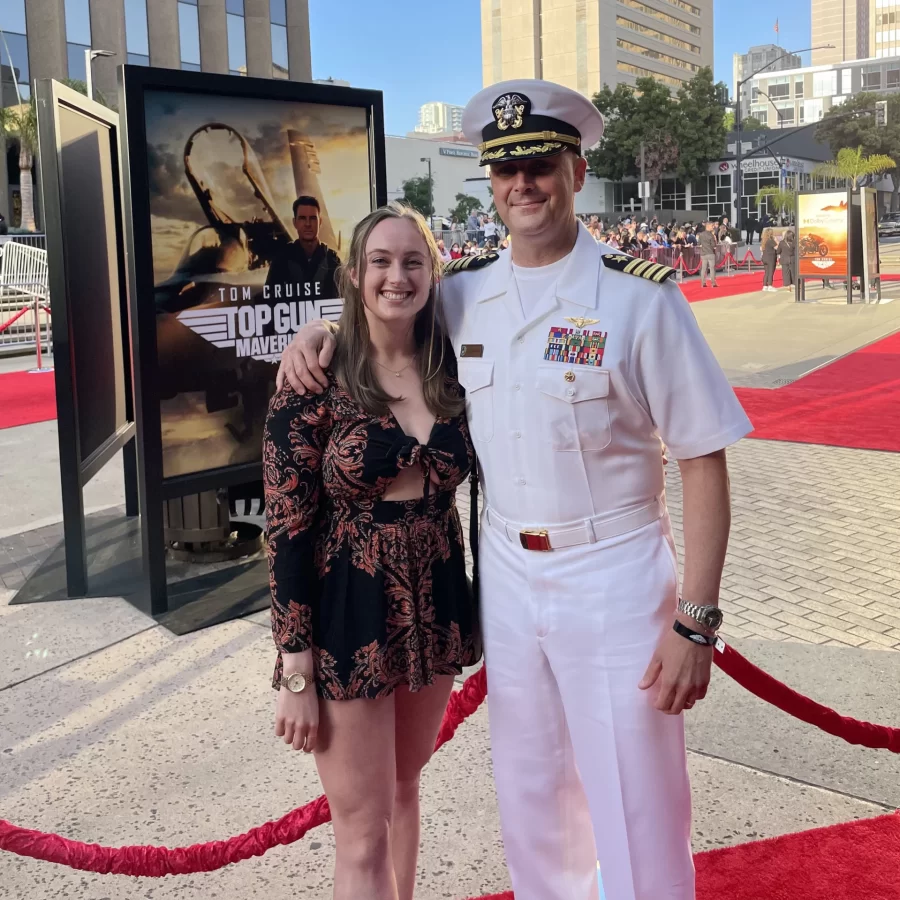 "I also asked them not to have romantic relationships between the aviators," Cumming said. "I requested that and some form of military bearing and keeping standards for Navy regulations for haircuts and uniforms. For the most part, they got it right."
The film's final mission has echoes of Luke Skywalker's mission to destroy the Death Star in the first Star Wars film. During a visit to the real TOPGUN school in Nevada, Cummings was worried how "a dozen salty F-18 pilots" would react to his idea for the final scene. "They all loved the idea"
The essential theme of the film rings true, Cummings told a reporter from the Daily Press of Norfolk News. "It's really a film about risk," he said. "That's what Naval aviation is all about: what are the risks of this, what are the costs and what do we gain. We're risk takers, but we're not gamblers."
Along the way, some of Cummings' words and phrases got into the script like when Rooster is dubious about whether an old plane can fly. "We don't even know if that bag of ass can fly." And when Maverick explains why he knows nothing about sailing a boat. "I don't sail boats. I land on 'em."
---
Sam Francis '17
This week in Bengals: Two analytics aces, Burrow's approach, Hendrickson's value — The Athletic
Sam Francis '17, the football data analyst for the Cincinnati Bengals spoke with The Athletic about what helps coaches make split-second play-calling decisions: Having watched hours of game film.
Faced with a decision, all those hours pays off. "We have talked through situations, watched them together and gone through them so many times it's really just communicating to him, 'Hey, remember this? This situation, this is what we do.' It ends there," Francis said.
The memorization helps when there isn't time to chart out a plan, Francis added. "These decisions need to be communicated and identified in five to 10 seconds, probably less than that. To pull out a chart, reference it, identify this is what we should do and then communicate that. Sometimes there is not time for that. These situations jump up on you and you have to be ready for them."
---
Beverly Johnson, earth and climate sciences faculty
How carbon sequestration in Maine can help slow climate change — Maine Public
Carbon sequestration, explains Bates faculty member Beverly Johnson, is "taking a gas that's in the atmosphere and turning it into a plant, effectively, through photosynthesis."
Johnson, chair and professor of earth and climate sciences, offered the explanation during a Maine Calling segment on Maine Public.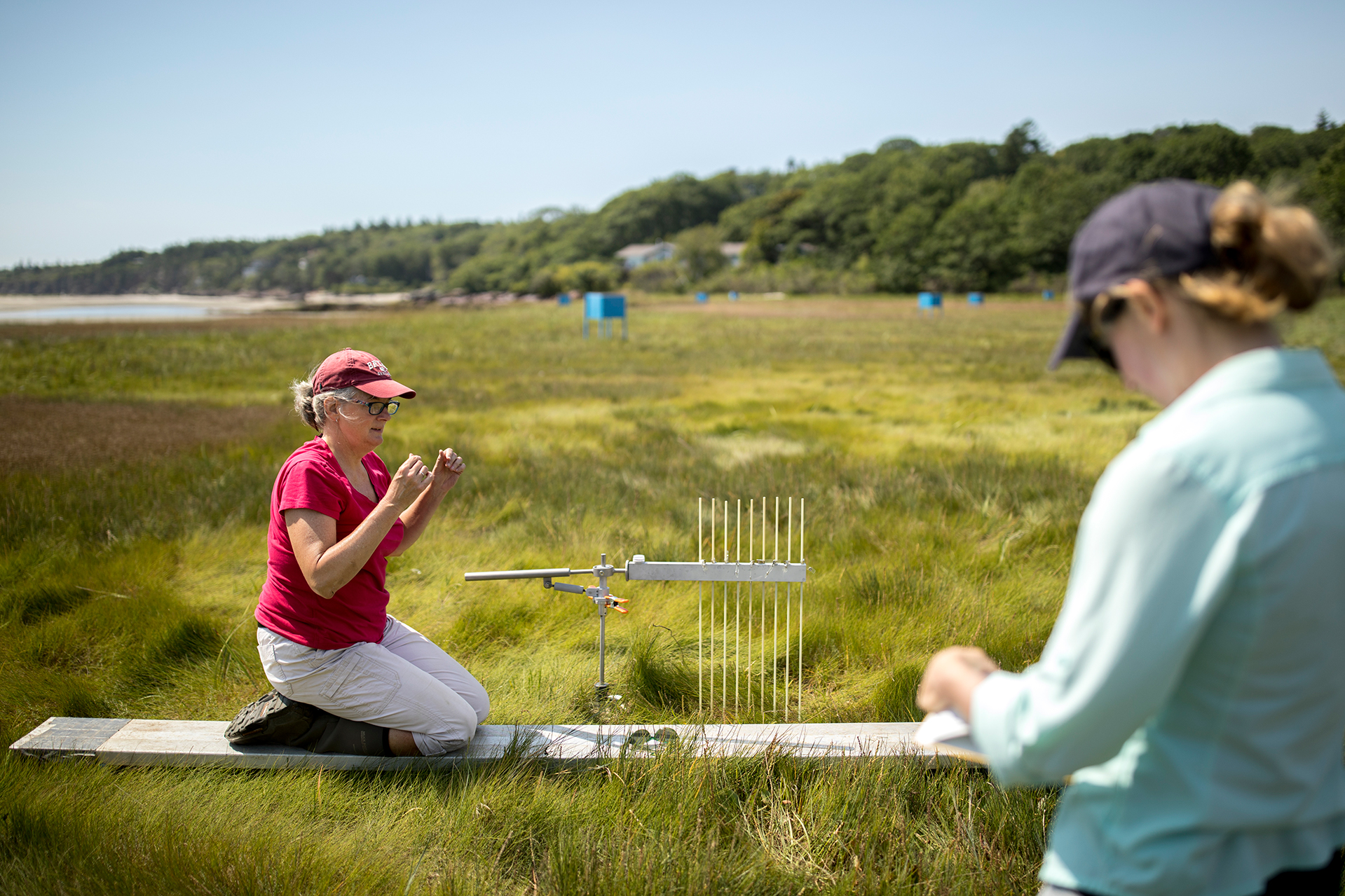 The slow rise of sea levels has been beneficial for carbon sequestration, since oxygen has less access to the sequestered carbon. But one of the big questions, Johnson said, is how fast the levels will rise. "We're right at this really important period of time where we run the risk of inundating the marshes with really high and rapid sea level rises and drowning them," said Johnson.
Anyone living along the coast can do their part to help preserve marshes reducing nutrient runoff. "If you're living adjacent to a salt marsh, please don't fertilize your lawns."
---
Julia McCabe '12
Lewiston's Julie McCabe hustles her way onto LA Maples' roster — Lewiston Sun Journal
In an article for the Lewiston Sun Journal, Julia McCabe '12 talked about returning to organized basketball as a member of the LA Maples, a semipro women's team in Lewiston, 10 years after tearing her ACL in high school, ending her hopes of playing at Bates.
"Being a part of the team camaraderie, even if you don't get a minute in the game, you can still be the loudest and most engaged person on the bench, so I think that was the draw (of playing for the Maples) to me," McCabe told the Sun Journal.
As for being the only Lewiston resident on the roster, "I came here to study at Bates College, and I loved Lewiston, that was a big draw for me," McCabe said. "I was from Brooklyn before Maryland, and I saw the similarities between the parishes in Lewiston and the parishes that I grew up playing basketball at in Brooklyn."
---
Monica Rodriguez '12
Monica Nichole Rodriguez encourages employees to be their authentic selves — Hispanic Executive
As legal affairs manager of labor and employment at United Rentals, Monica Rodriguez '12 is at the center of her firm's diversity, equity, and inclusion programs.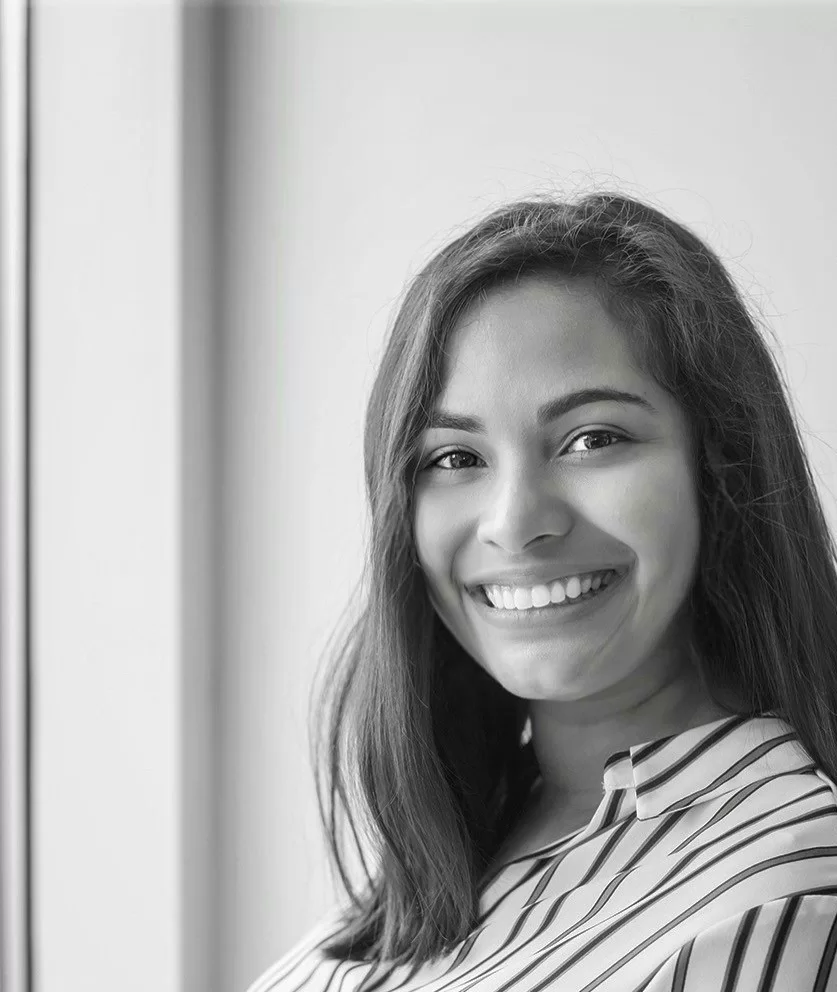 She tells Hispanic Executive that a big part of the work involves displaying empathy and allowing employees to be their authentic selves. "As a manager, if your employees feel comfortable enough to be their authentic selves because empathy is valued, you are going to have a better experience with your direct reports and with the company at large."
---
Maria Bamford '92
The compassionate, cockeyed comedy of Maria Bamford — The Boston Globe
In a feature for The Boston Globe, Maria Bamford '92 talks about doing comedy during the pandemic, and weaving irony, grief, and mental health into a comedy act people can relate to and find comfort in. "It's something that makes me feel useful," she said. "I know if I heard someone talking about intrusive thoughts and OCD, I would have felt…like, 'Oh my God, I'm not on my own.'"
Bamford spoke about a caricature she often embodies in her work; her own mother, Marilyn, who died from lung cancer early on in the pandemic.
"She was so great about talking about death," Bamford told the Globe, "and I was so super scared at the time. She said, 'You're going to be OK. Here's a list of women your father should date.' I don't believe in God or spiritual presences, but I do believe in the physics of memory. She's here in my head."
---
April Hill, Larissa Williams, and Paula Schlax, STEM faculty
The Excellence Experiment Episode 2: Bates College — American Association of Colleges and Universities
A podcast produced by the American Association of Colleges and Universities featured three Bates professors explaining how the college is working to build a more inclusive and equity-focused approach to teaching STEM fields.
At Bates, data has shown that BIPOC and first-generation students were, at high rates, giving up on their hopes to major in STEM fields. "It was traumatic data to look at," said April Hill, Wagener Family Professor of Equity and Inclusion in STEM.
"These were talented and brilliant students who had real aspirations for STEM. But we were finding that we were not providing the curriculum or the support that they needed," said, Stella James Sims Professor of Chemistry and Biochemistry Paula Schlax. "We recognized that we needed to make some pretty significant changes, both as individuals and in our broader curricula."
A "big transformation" is now underway, says Associate Professor of Biology Larissa Williams, "to reflect inward about what we weren't doing, and then start pivoting to what we could do. We are lucky that everyone was on board to sort of make those moves together and be vulnerable together and continue to do the hard work together."
---
Jared Cash '04
Commentary: Need for greater public and private investment in higher education's hidden costs — The Portland Press Herald
In a commentary for The Portland Press Herald, Jared Cash '04, explains there's more to lowering barriers to higher education than generous financial aid packages.
Cash is president and CEO of the Mitchell Institute, whose mission is to "support young Mainers as they aspire to, pursue, and achieve a college education."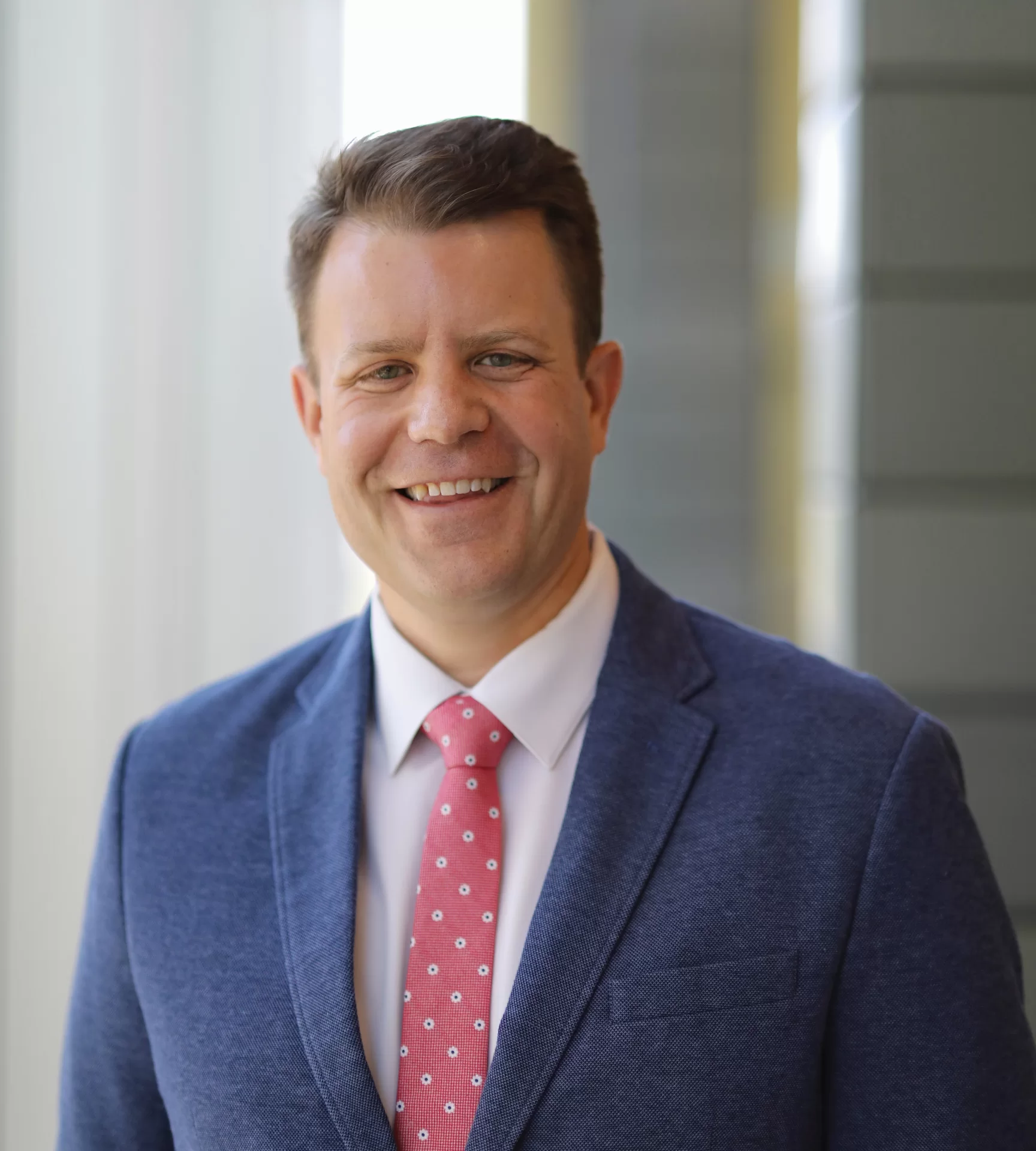 For example, a barrier faced by some high school students is that they are "important caregivers whose presence at home allows parents and guardians to work outside the home," he says. "In other words, a generous and thoughtfully prepared financial aid package may not cover students' true need."
The answer? "We…must create and sustain, within our communities and at colleges and universities, more funds to help students with supplemental expenses – things like medical bills, one-time program fees, rent increases, the escalating cost of utilities and professional certification and exam fees."
One way to better support Maine college students in reaching their education goals is through financial help from philanthropic institutions like the Mitchell Institute.
---
Anna Hogeland '11
Asking the hard questions about motherhood — The New York Times
The New York Times' Brenda Shaughnessy reviewed Anna Hogeland '11's debut novel, "The Long Answer," and called it a "crucial" collection of narratives about the "complex realities" of reproductive health.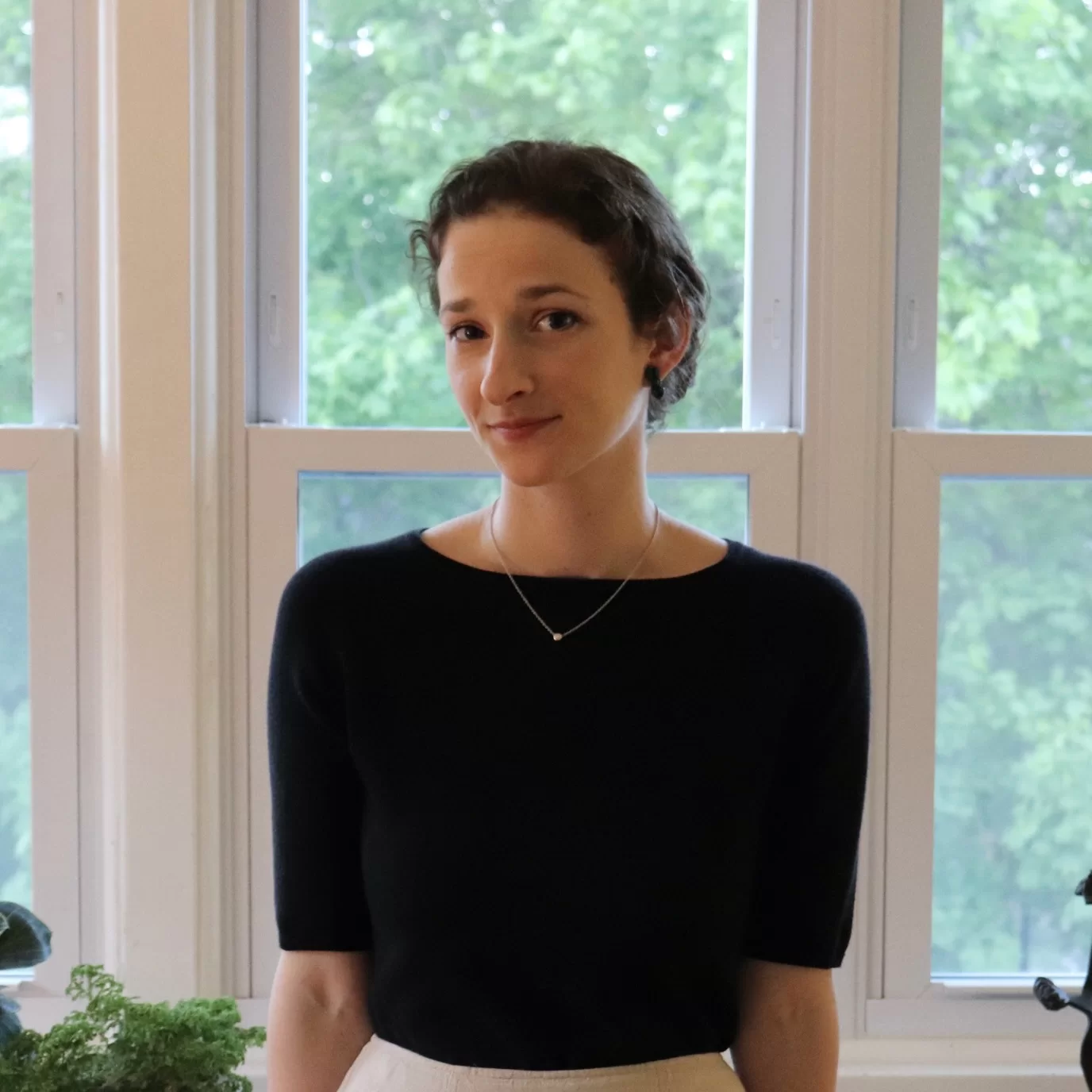 "This book addresses all those experiences, truly a breathtaking roundup of the many ways that women carry and lose babies and pregnancies, so many possible and impossible choices to be made, so many capitulations and coercions to be endured," Shaughnessy wrote.
"Whether or not this book brings together their voices harmoniously, it does clarify and reiterate that precious little stands between women and reproductive bondage."
---
Paul Christman '98
Mainer spent 20 years working to restore Atlantic salmon population — WMTW
WMTW-TV featured Paul Christman '98 and his decades-long work to restore endangered Atlantic salmon on Maine rivers, particularly the Kennebec.
A marine scientist with the Maine Department of Marine Resources, Christman recently received the 2022 Trout Unlimited Conservation Professional Award for his work. "The fact that we still have Atlantic salmon in the Kennebec River is largely a result of Paul's vision, tenacity, and hard work over the last 20 years," stated the nomination.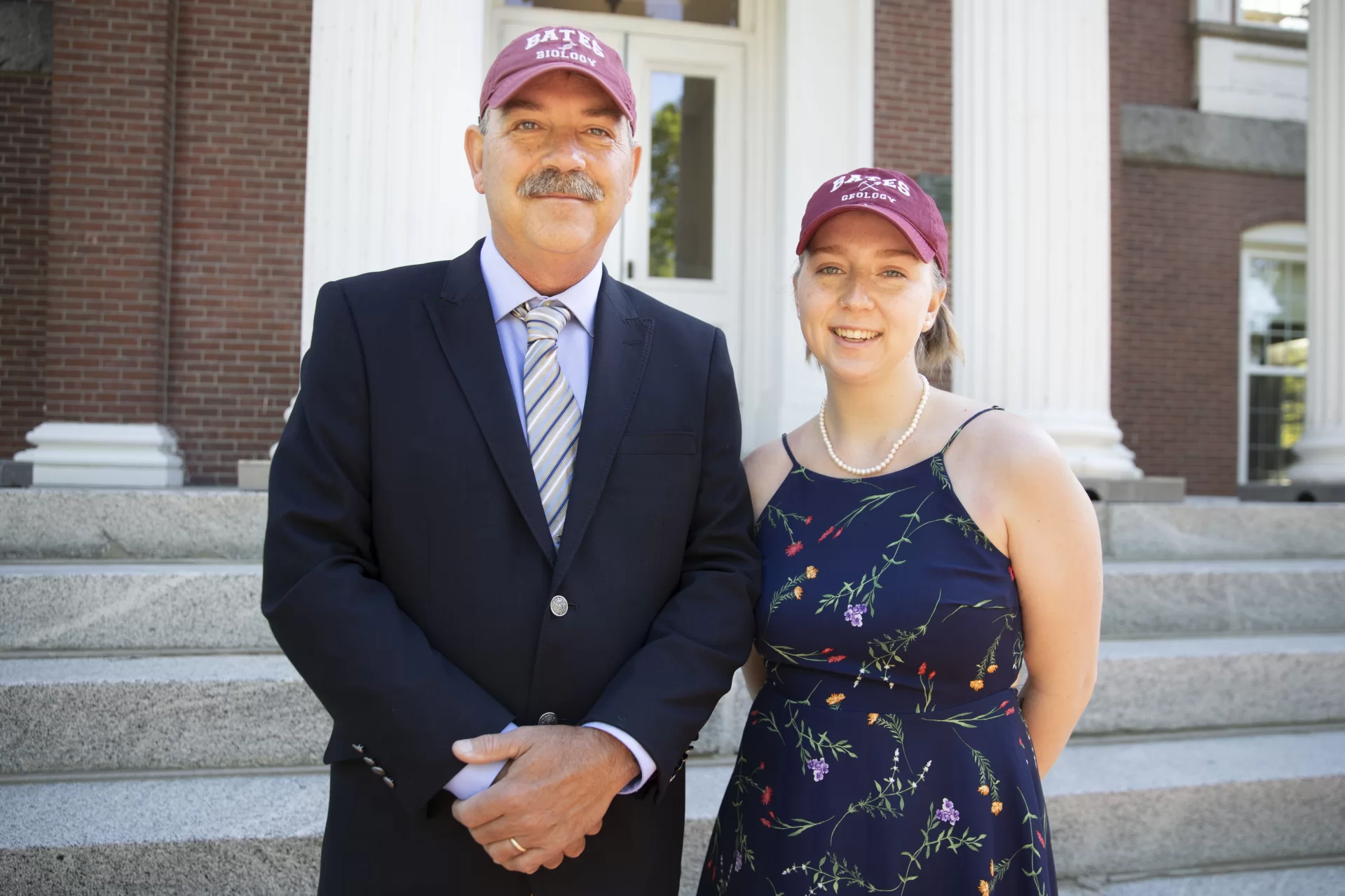 Instead of stocking the Kennebec with hatchery-grown salmon, Christman focuses on "getting Atlantic salmon in the watershed via egg," which means planting salmon eggs in the sediment of the Sandy River, a tributary of the Kennebec, each winter. He says that hatcher-grown salmon have less chance at survival than salmon that are born wild.
It's not only salmon that Christman and his team are working to bring back: "alewives, shad, blueback herring, lamprey — "all these species for the lager ecosystem picture."
"I did not do this alone," Christman told television station WMTW. "I have had a small but great crew," Christman said.
---