In no particular order, 10 words that explain why October, the 10th month, is so awesome at Bates: Foliage, sports, sunshine, laughter, silence, Halloween, friendship, learning, reflection, and dreams.
But, when it comes to the month of October in Maine, words fail us. So here's a selection of photographs that offers even more reasons to love This Month at Bates.
---
Fast Friends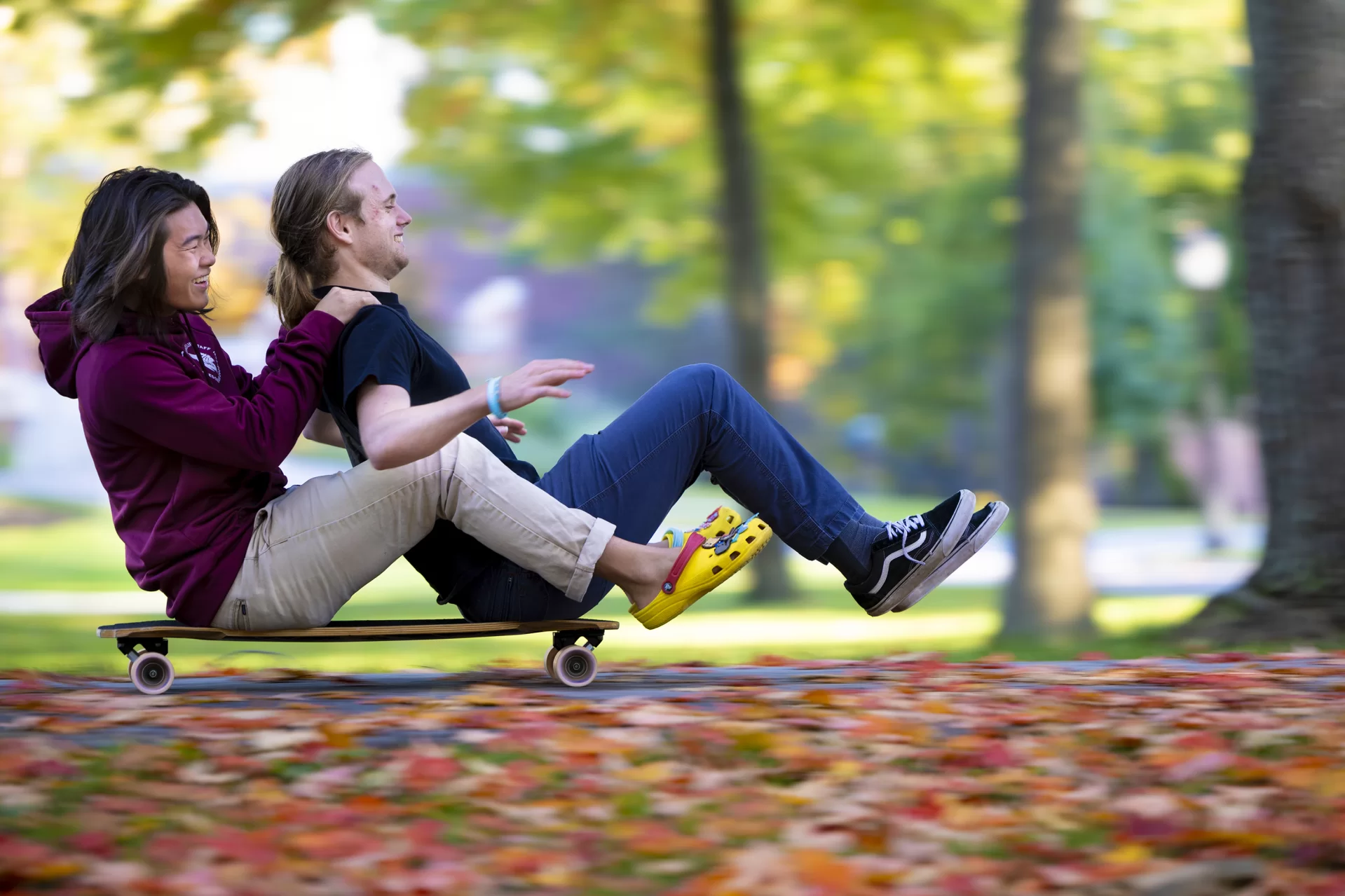 "Life's too short not to ride a skateboard with your best friend," said Nathan Huynh '23 (left) of San Diego, as he jumped on a longboard with Jack Cantor '23 of Chevy Chase, Md.
---
Over Arching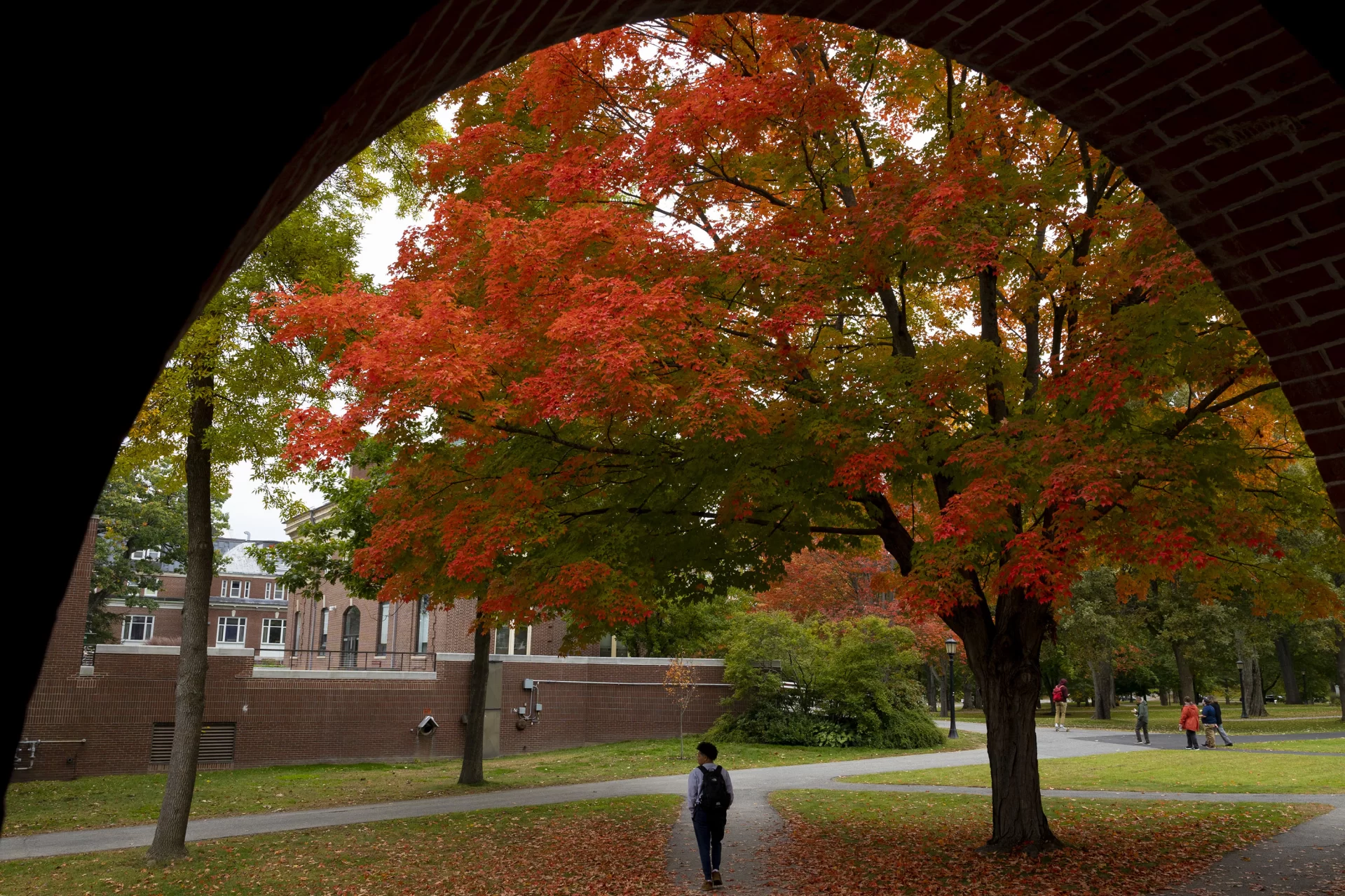 The Hedge Hall entrance arch frames the building's resident maple.
---
New England, New Students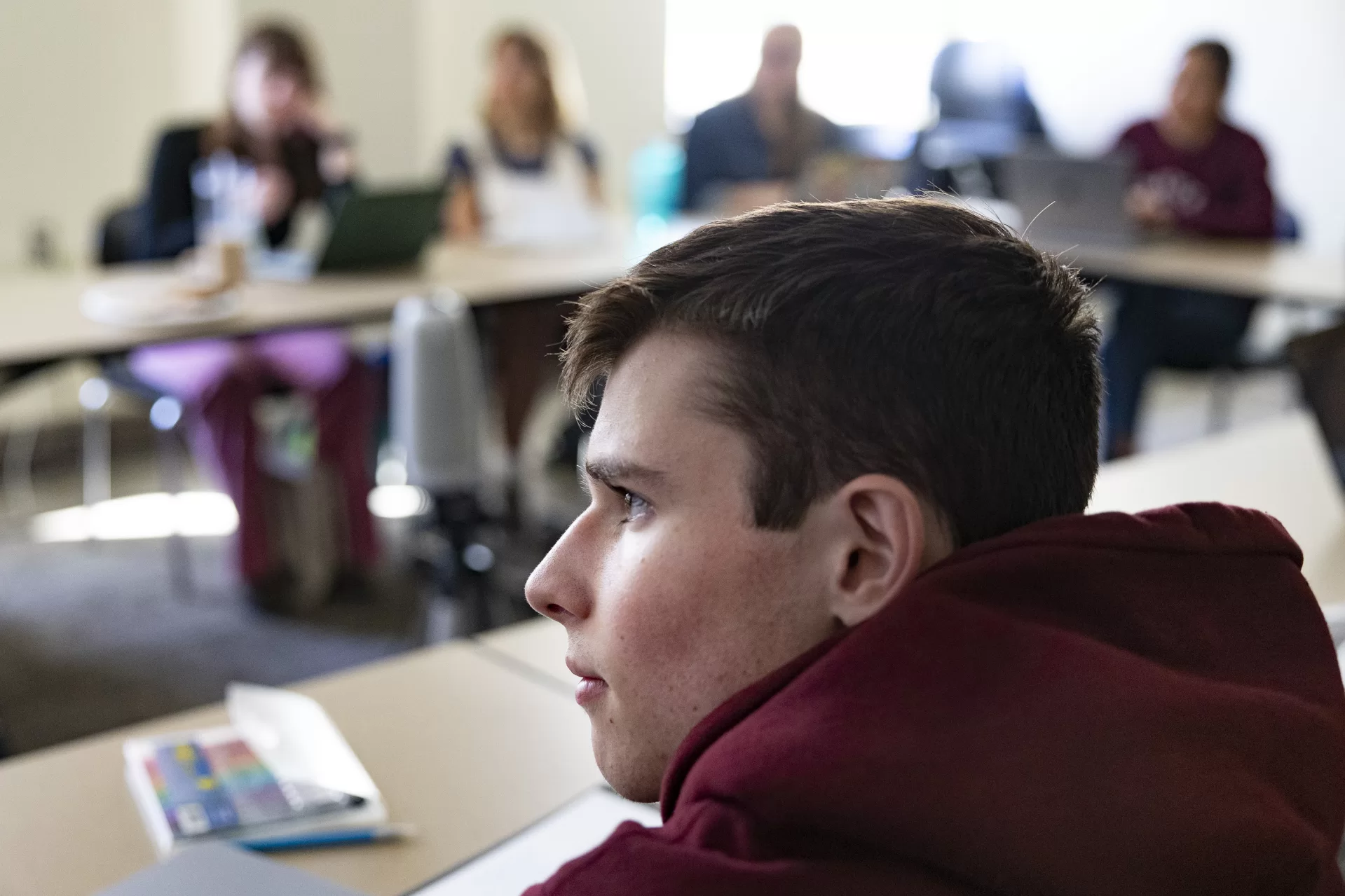 Jack Carrier '26 of Arlington, Mass., listens to Victoria Wyeth '01, the granddaughter of famed 20th century artist Andrew Wyeth, during a class meeting of the First-Year Seminar "Inventing New England: The World of the Wyeth Family."
Co-taught by Professor Emerita of History Margaret Creighton and Wyeth, the course explores the meaning of New England through the lens of the artists of the Wyeth family — N.C., Andrew, and Jamie — the most influential family of American painters of the 20th century.
---
Doubling Up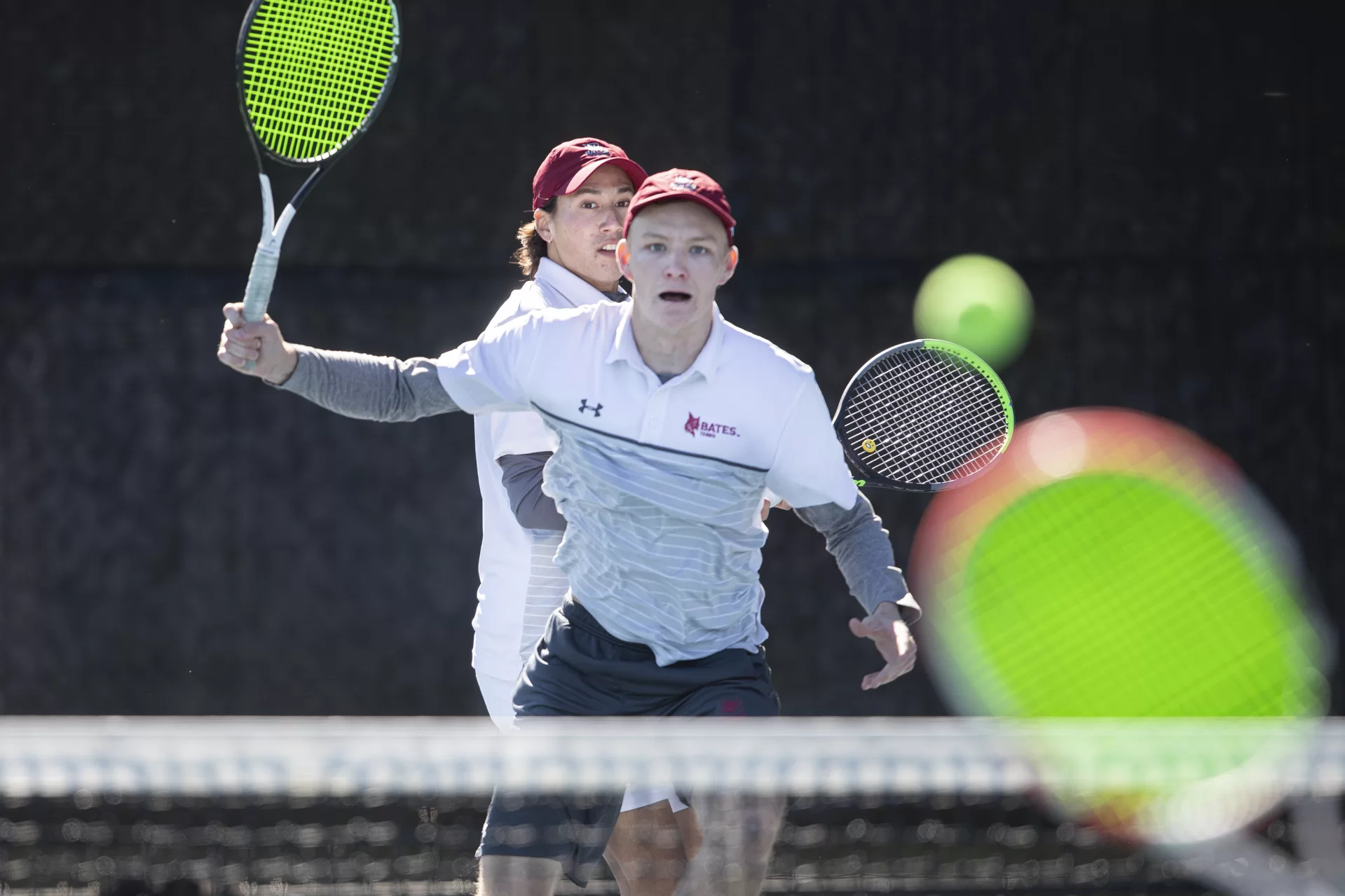 Matt Danielson '24 (foreground) of St. Petersburg, Fla., teamed up with Leo Kupferman '23 of Montclair, N.J., to advance to the quarterfinals in doubles play at the Wallach Invitational.
---
Victory!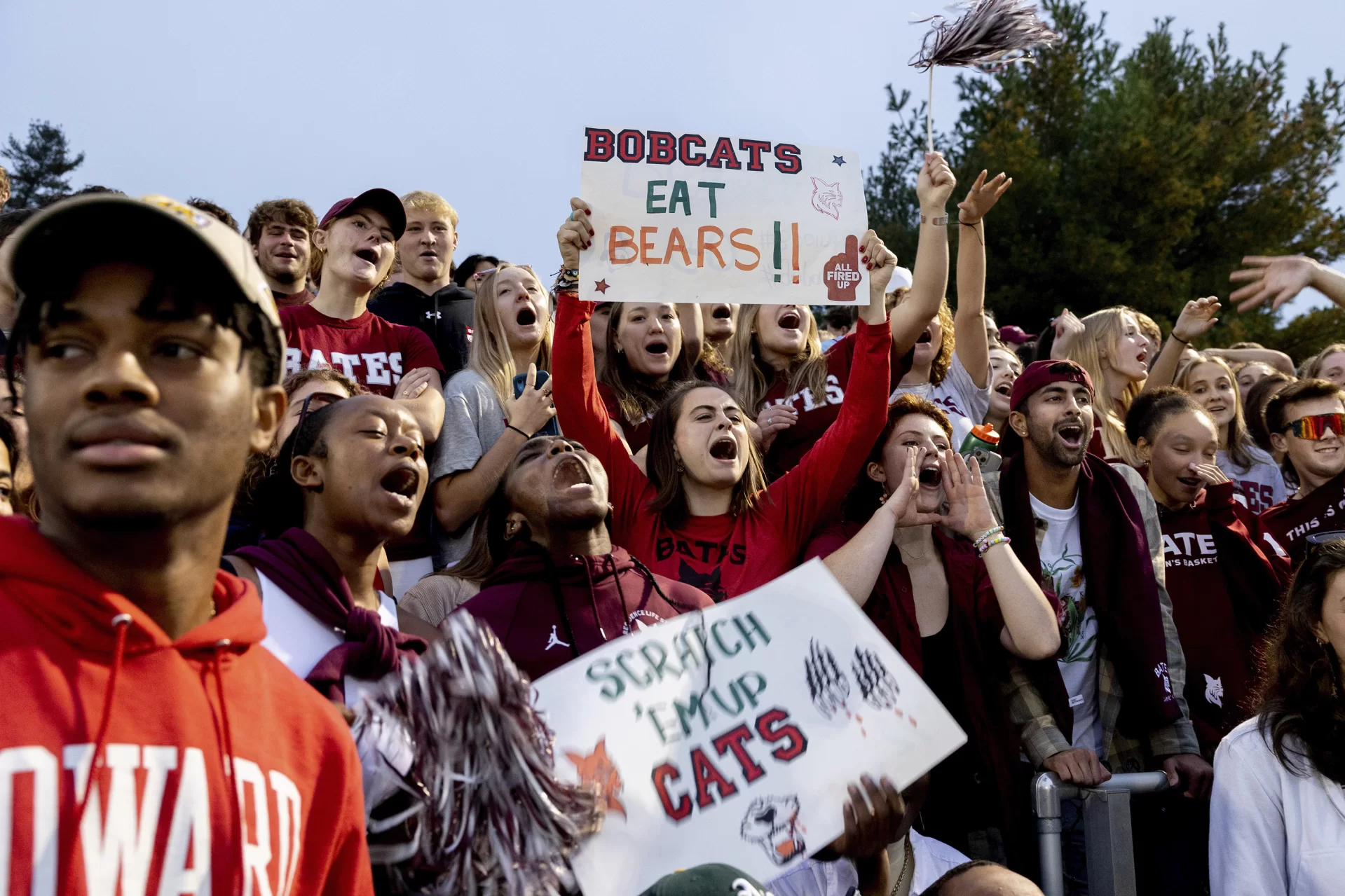 Bates defeated Bowdoin 21-14 at the Alumni Big Game Saturday, Oct. 15, 2022, and the Garcelon Field crowd went wild.
---
An Ideal Location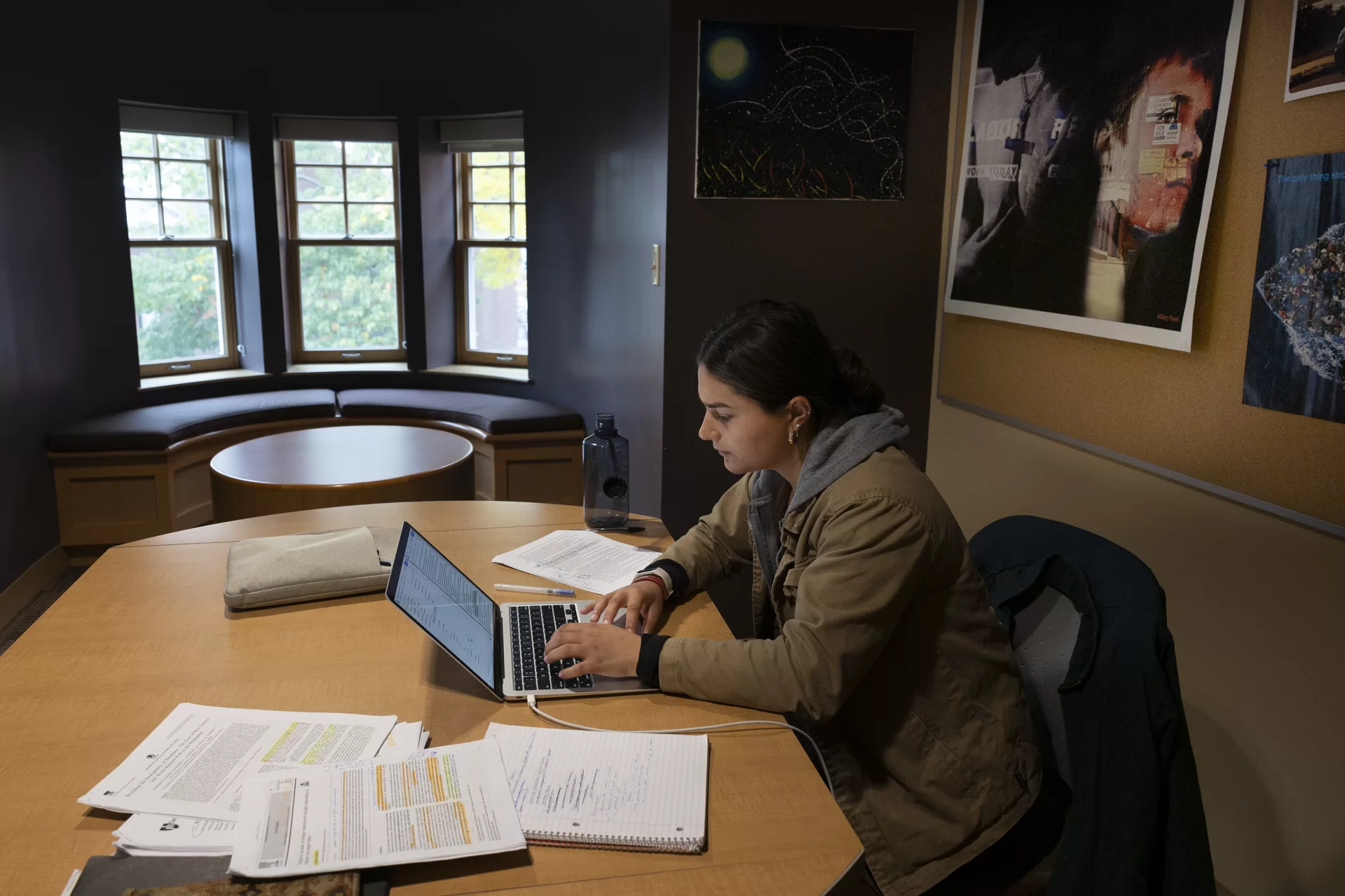 Environmental studies major Sophie Scola '23 of San Mateo, Calif., works on her senior thesis in the environmental studies lounge in Hedge Hall. Advised by Professor of Environmental Studies Sonja Pieck, Scola is exploring concepts of vulnerability and the politics of anticipation as it relates to drought in California.
---
Study Buddies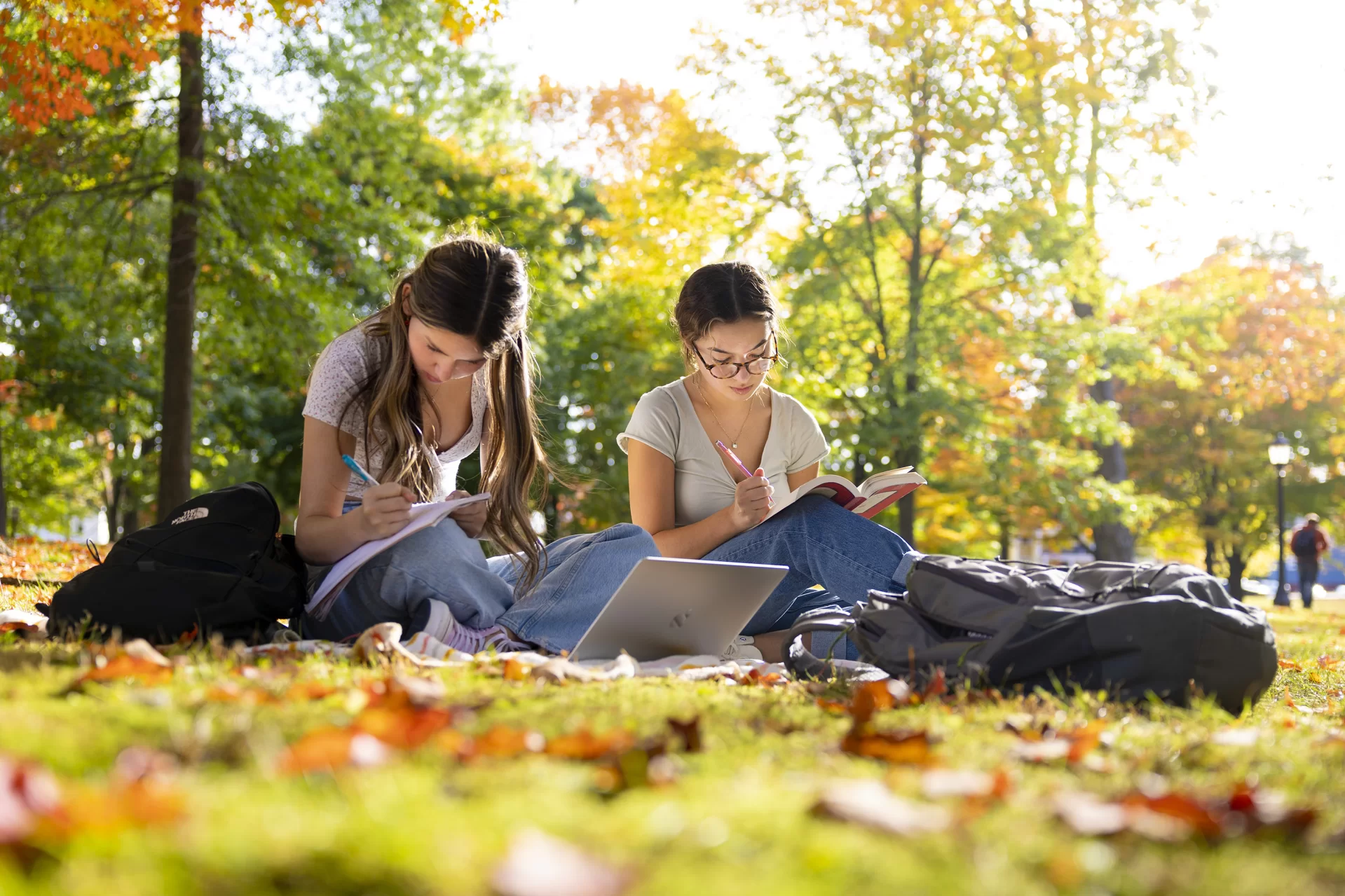 Lucy Green '26 of Upland, Calif., and Carley Freund '26 of Newfields, N.H., found a beautiful place to study on the Historic Quad. Green was writing an essay for a Latin American history course and Freund was completing an assignment for a First-Year Seminar on arts and spirituality.
---
All Thumbs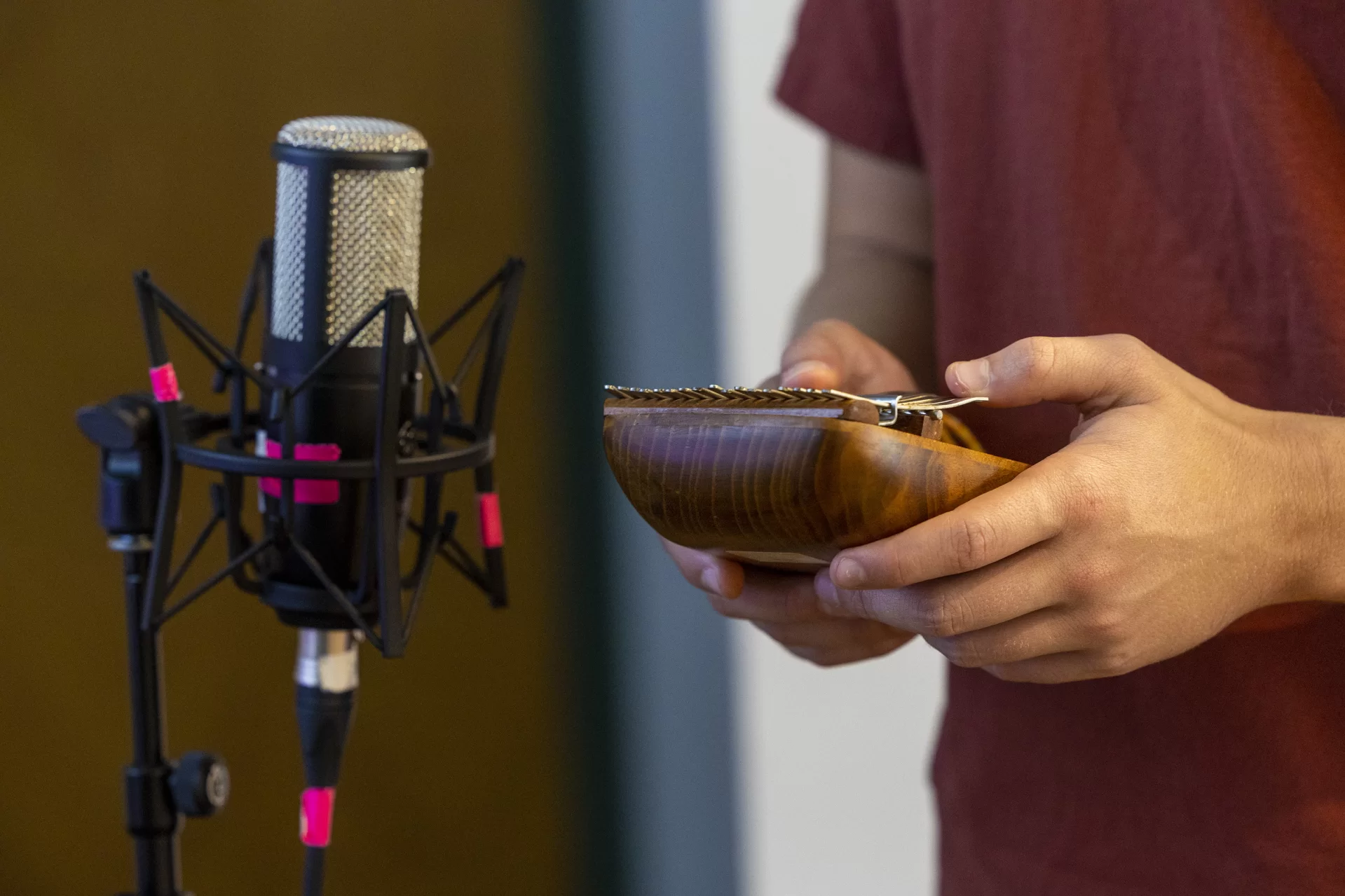 Jb Whiteley '25 of Tampa, Fla., uses a hand piano to create an audio track for the course "Soundscapes," taught by Assistant Professor of Music Asha Tamarisa. The course focuses on recording (both studio and experimental techniques) and sound design.
---
Setting the Scene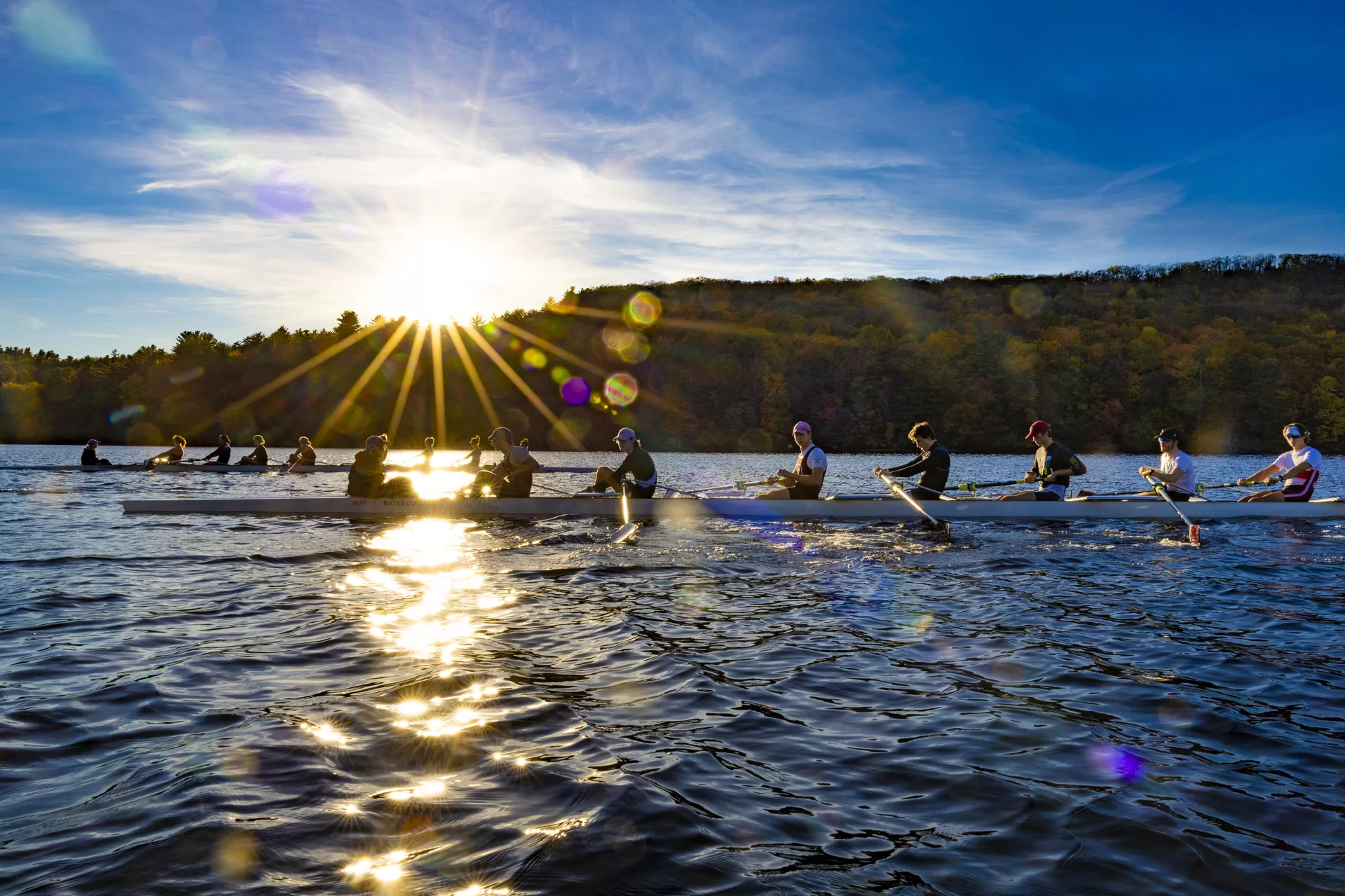 The sun begins to set as the rowing teams, after a day of classes, practice on the Androscoggin River in Greene .
---
Land and See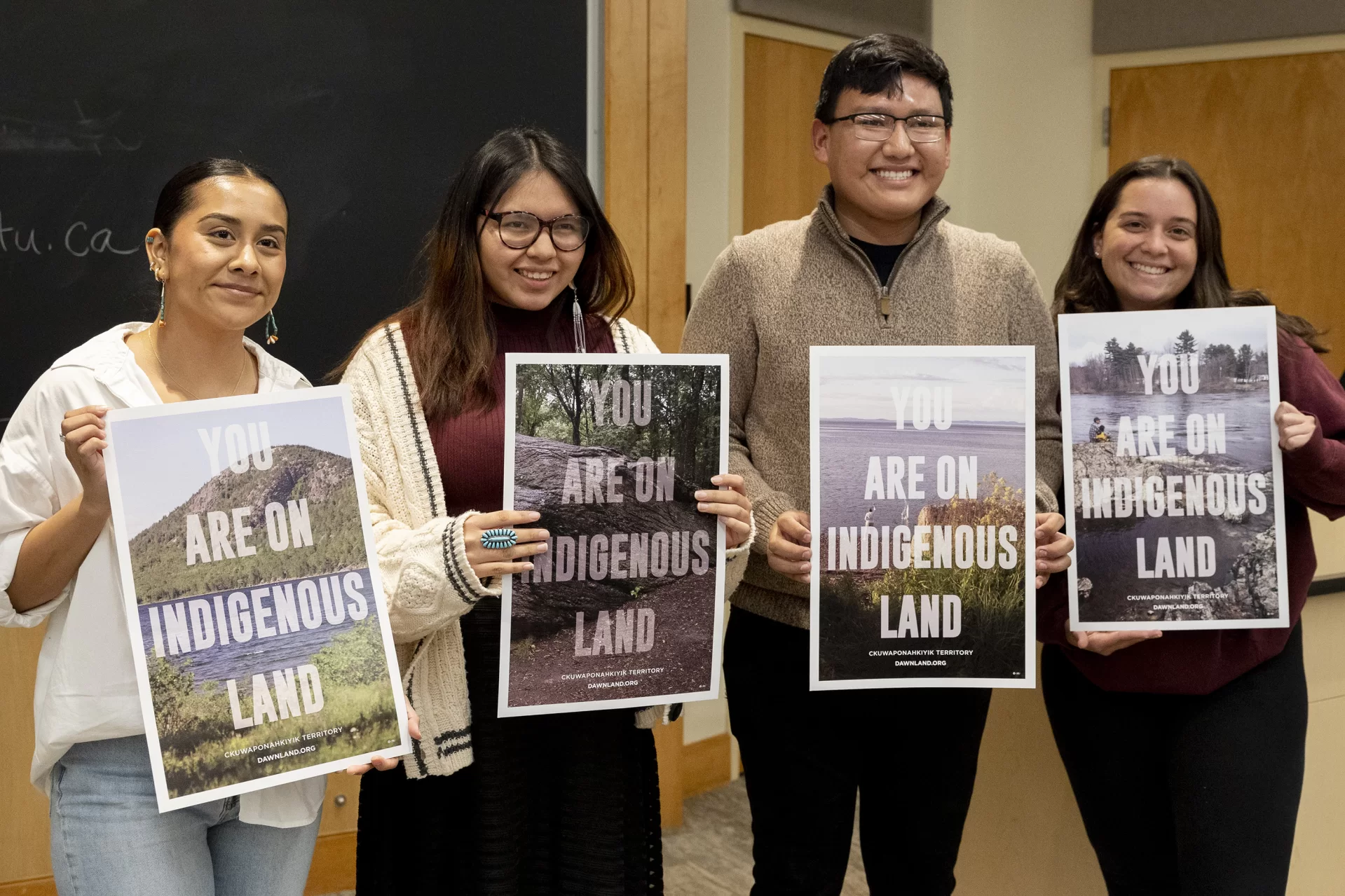 From left, Skye Brown '23 of Phoenix, Ariz., Christina Maldonado '23 of Gallup, N.M., Collin Madalena '25 of Jemez Pueblo, N.M., and Jade Pinto '25 of the Bronx, N.Y., pose with posters they received at the conclusion of an Indigenous Peoples' Day program held in Pettengill Hall's Perry Atrium that explored the "Legacies of Indian Residential Schools."
The presenters were Allan Tremblay, Wolastoqey teacher and elder, and Esther Anne, Passamaquoddy from Sipayik, a key figure in the historic Maine Wabanaki–State Child Welfare Truth and Reconciliation Commission.
---
Down Time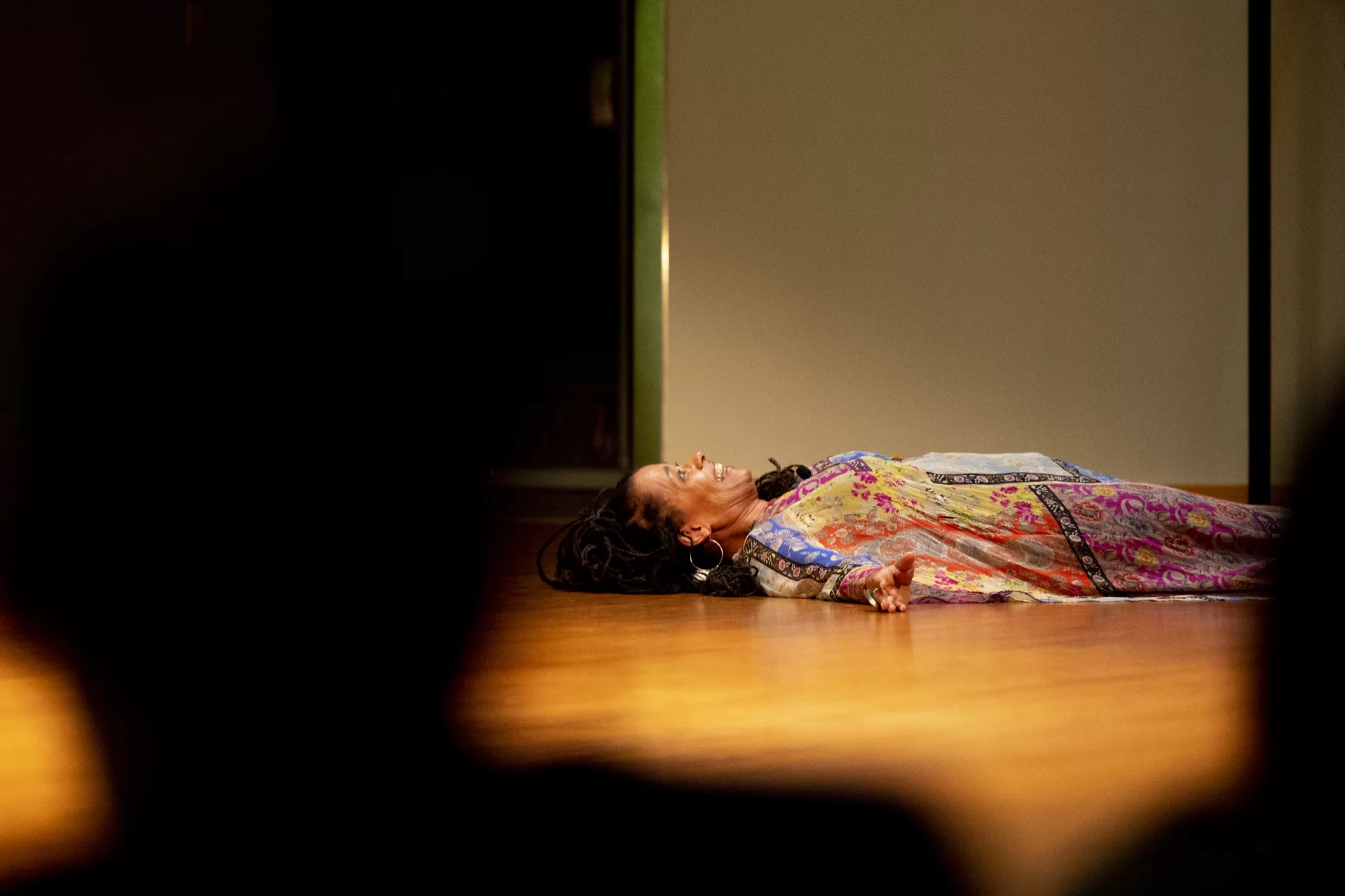 Responding to an audience question about how she handles Black fatigue, Carolyn Finney, who delivered the 2022 Otis Lecture in October, lies down on the Olin Arts Center Concert Hall stage and takes a deep breath. Though, as she told the audience with a laugh, "I'm not very good at resting. So do what I say and don't do what I do."
---
Goal Oriented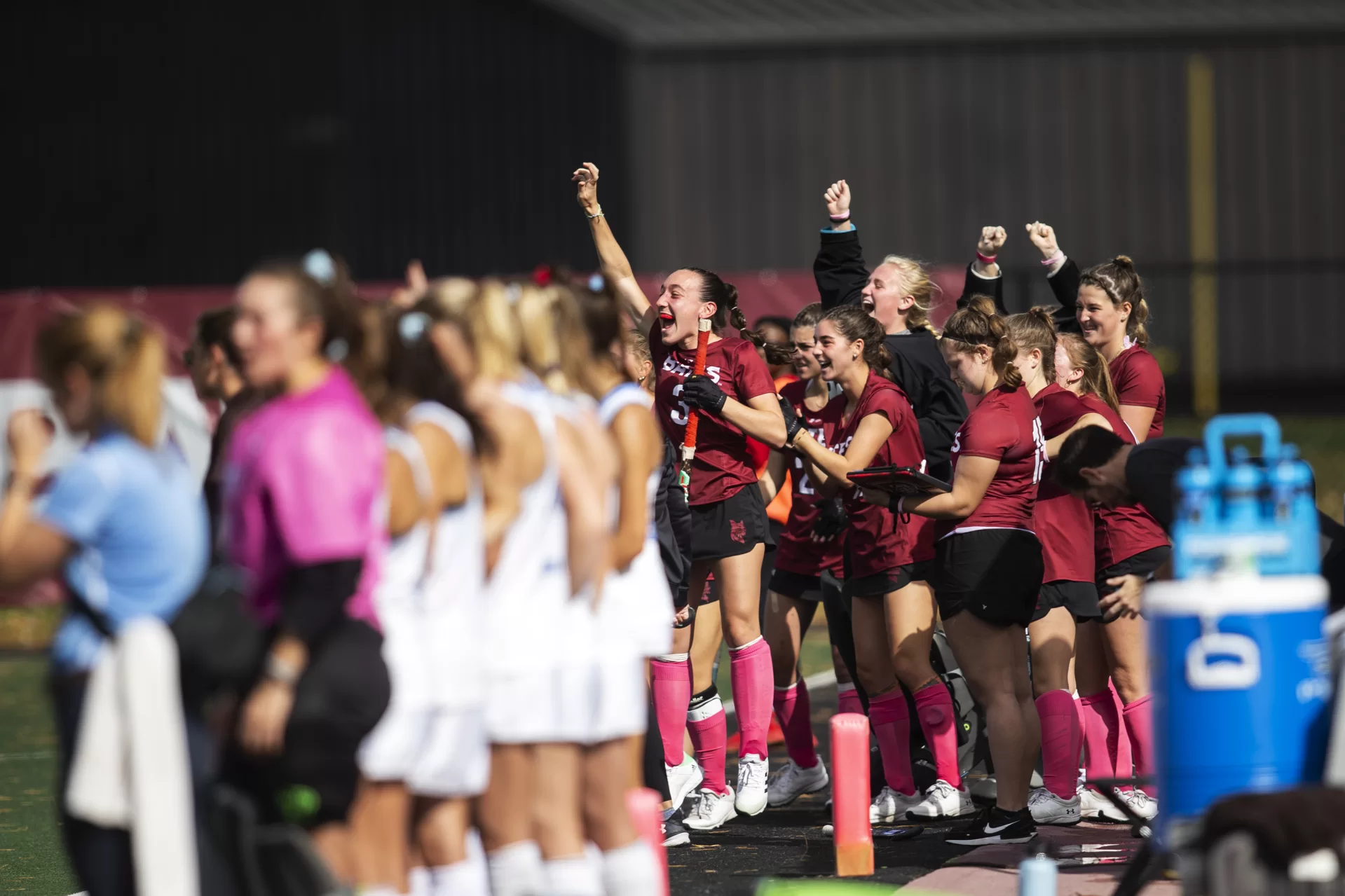 Ella Blum '24 (left) of South Salem, N.Y., and her teammates on the field hockey team celebrate a goal by Kami Lambert '24 against NESCAC foe Tufts at Campus Avenue Field.
---
Signature Moment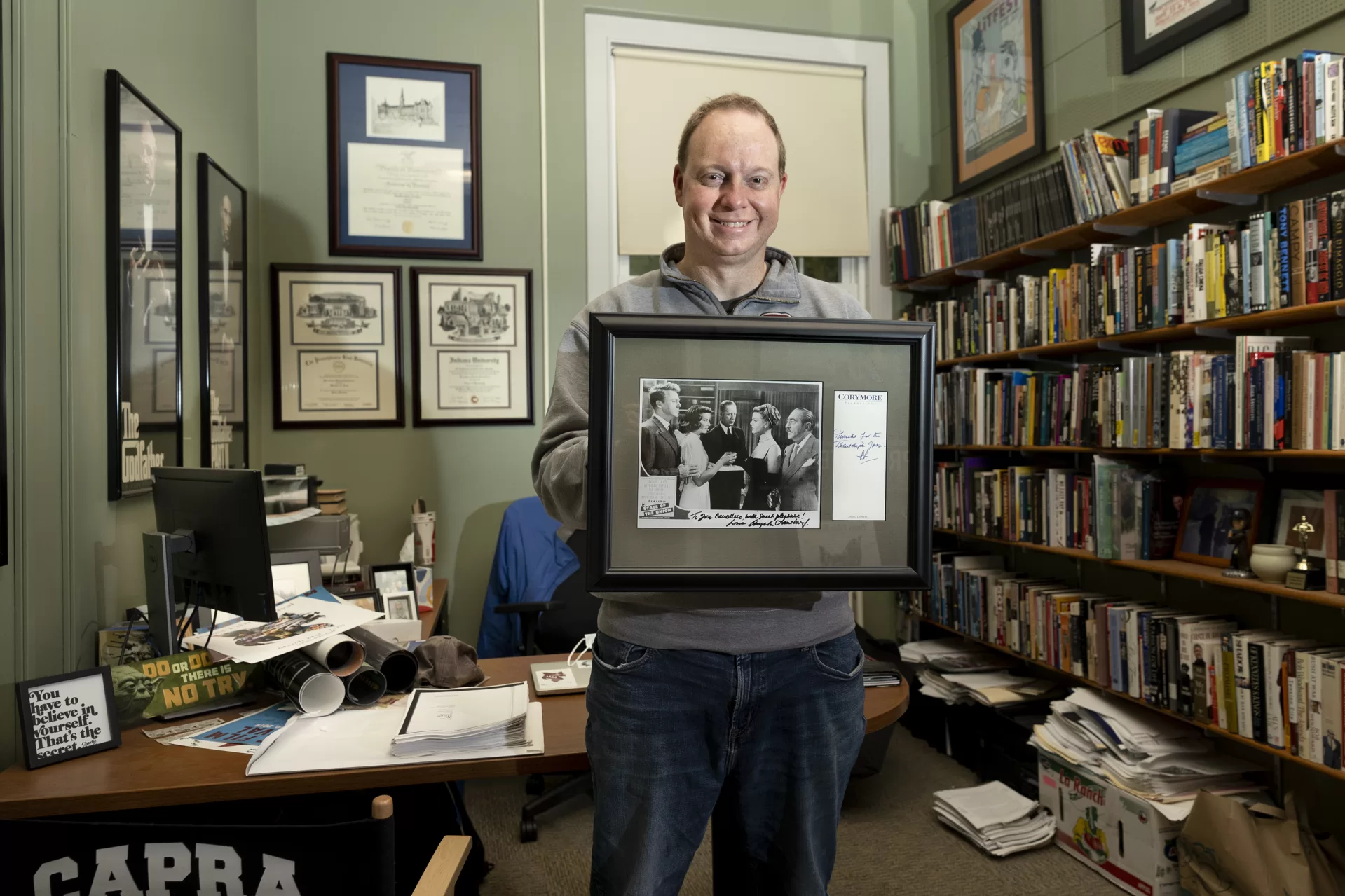 Associate Professor of Rhetoric, Film, and Screen Studies Jon Cavallero poses in his Pettigrew Hall office with a framed photograph signed by the late Angela Lansbury. In a recent essay, Cavallero recalls when he was a young scholar and had the chance to interview her by phone for his master's thesis, and how she inspired him to reach for the stars.
Lansbury died Oct. 11 at age 96.
---
Service with a Smile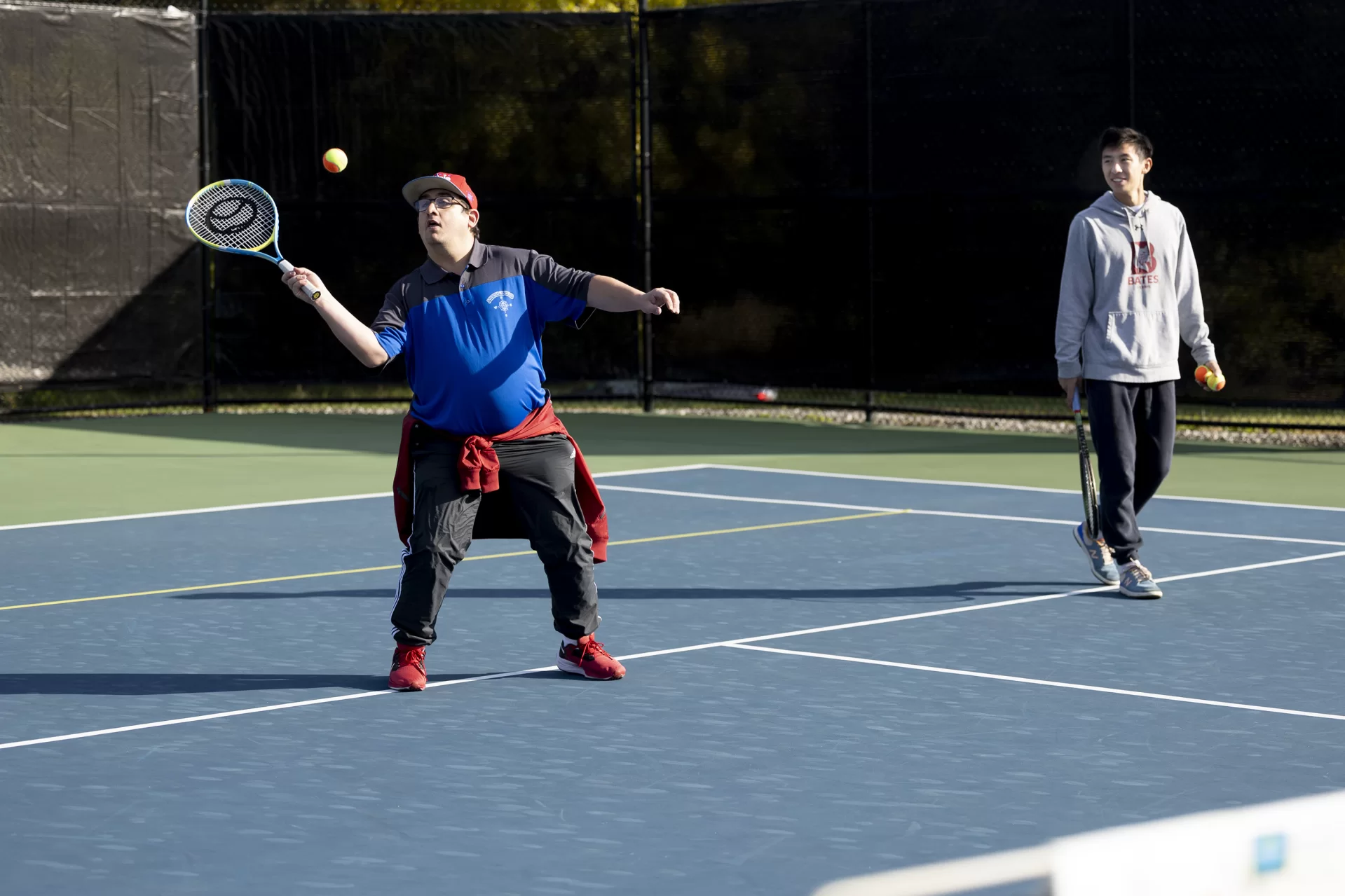 The tennis teams and the Bates Special Olympics Club partnered with the John F. Murphy Homes Navigators for a fun day of tennis at the Wallach Tennis Center. Teddy Koide '23 (right) of Morristown, N.J., watches one of the athletes from the Navigators deliver a serve.
Based in Auburn, JFM is one of the nation's premier providers of services for people with intellectual disabilities, other developmental disabilities, and Autism Spectrum Disorder.
---
Madder and Madder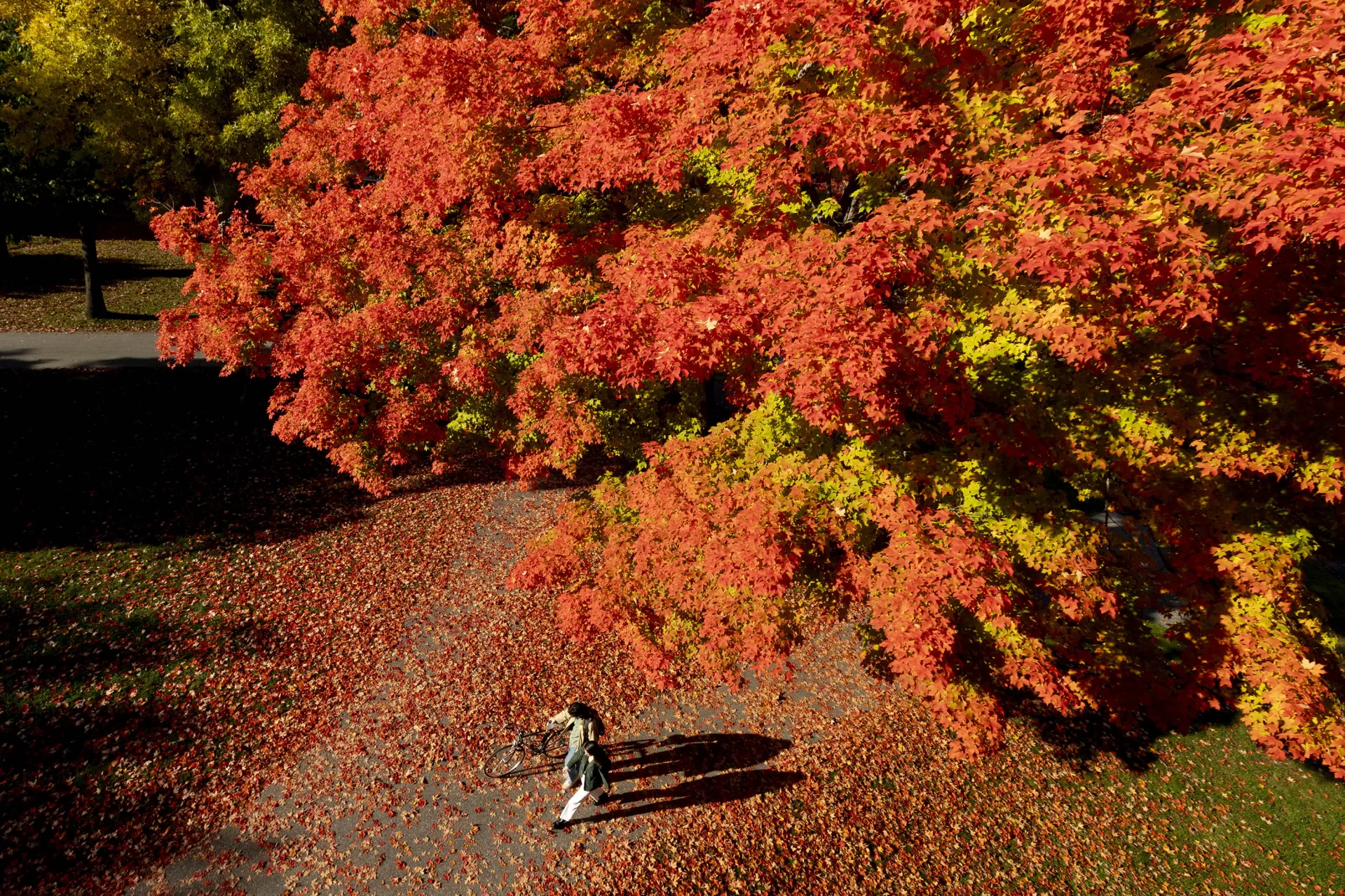 As usual, the Hedge Hall maple tree struts its stuff.
---
Drawing a Bead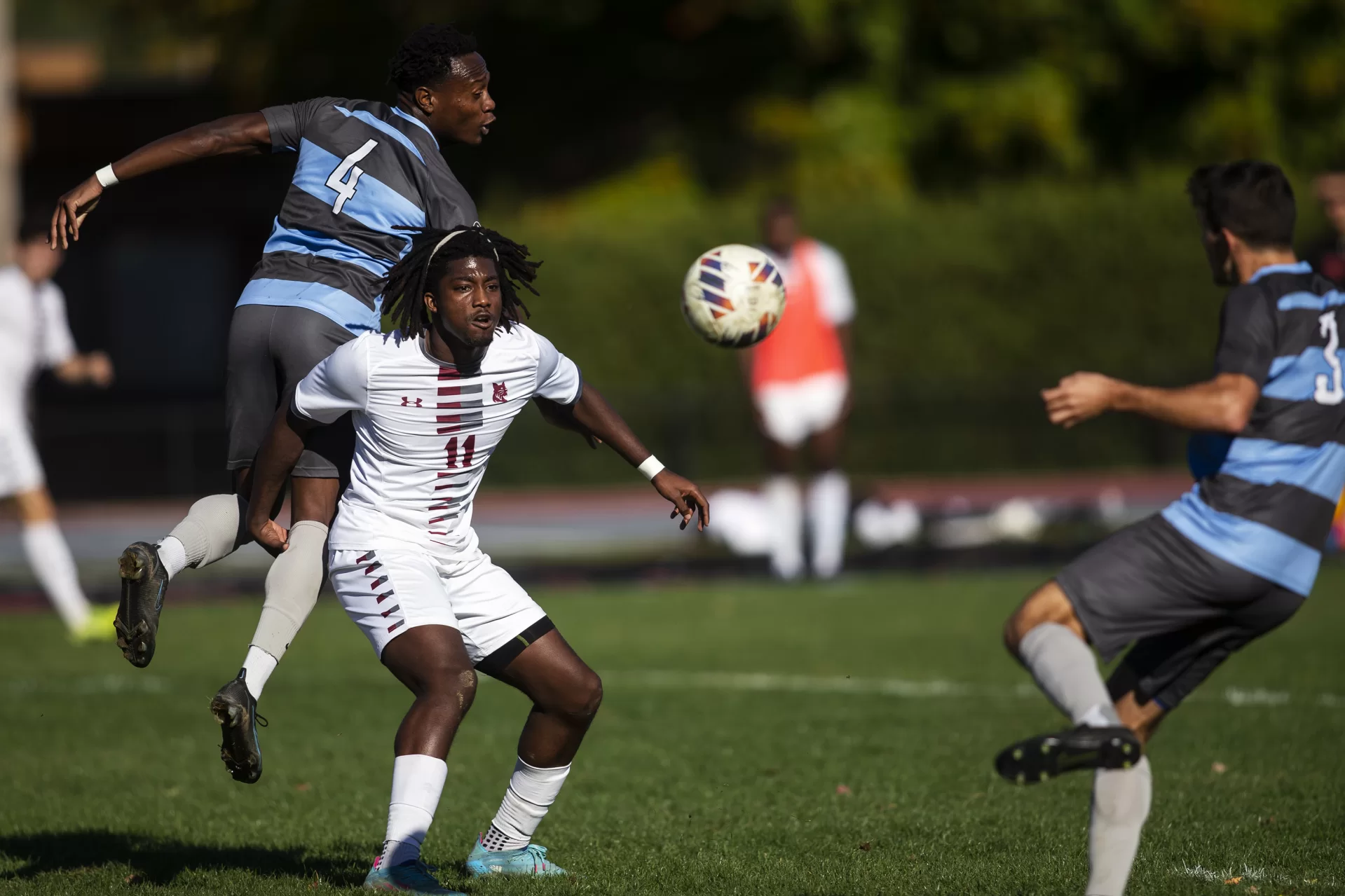 Tife Agunloye '25 of Monroe, Conn., battles for position with his Tufts opponent during a 0-0 draw for the Bates men's soccer team at Russell Street Field.
---
Upon Reflection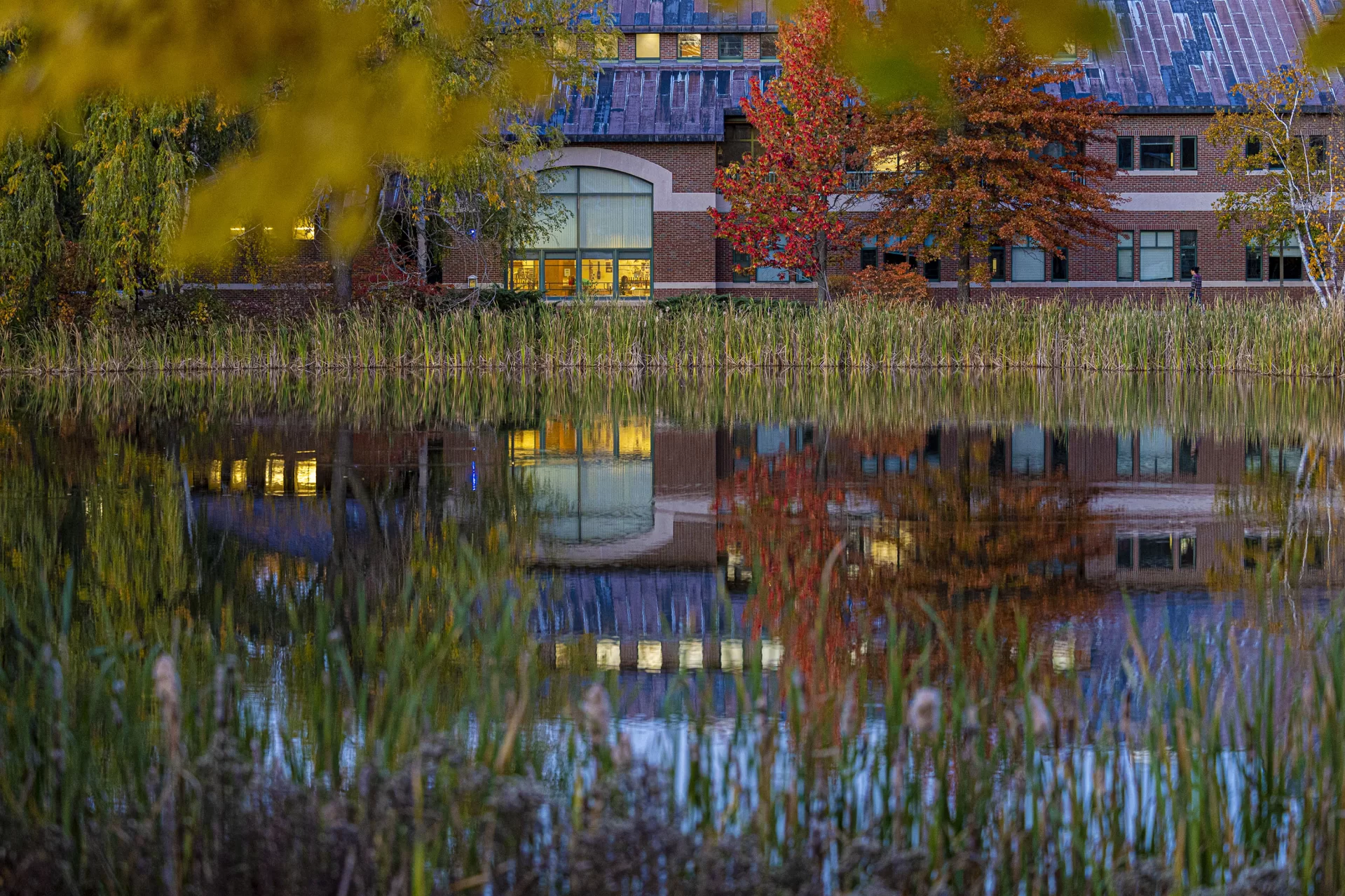 Viewed right side up or upside down, the view across Lake Andrews toward the Olin Arts Center is a stunner.
---
Point of Return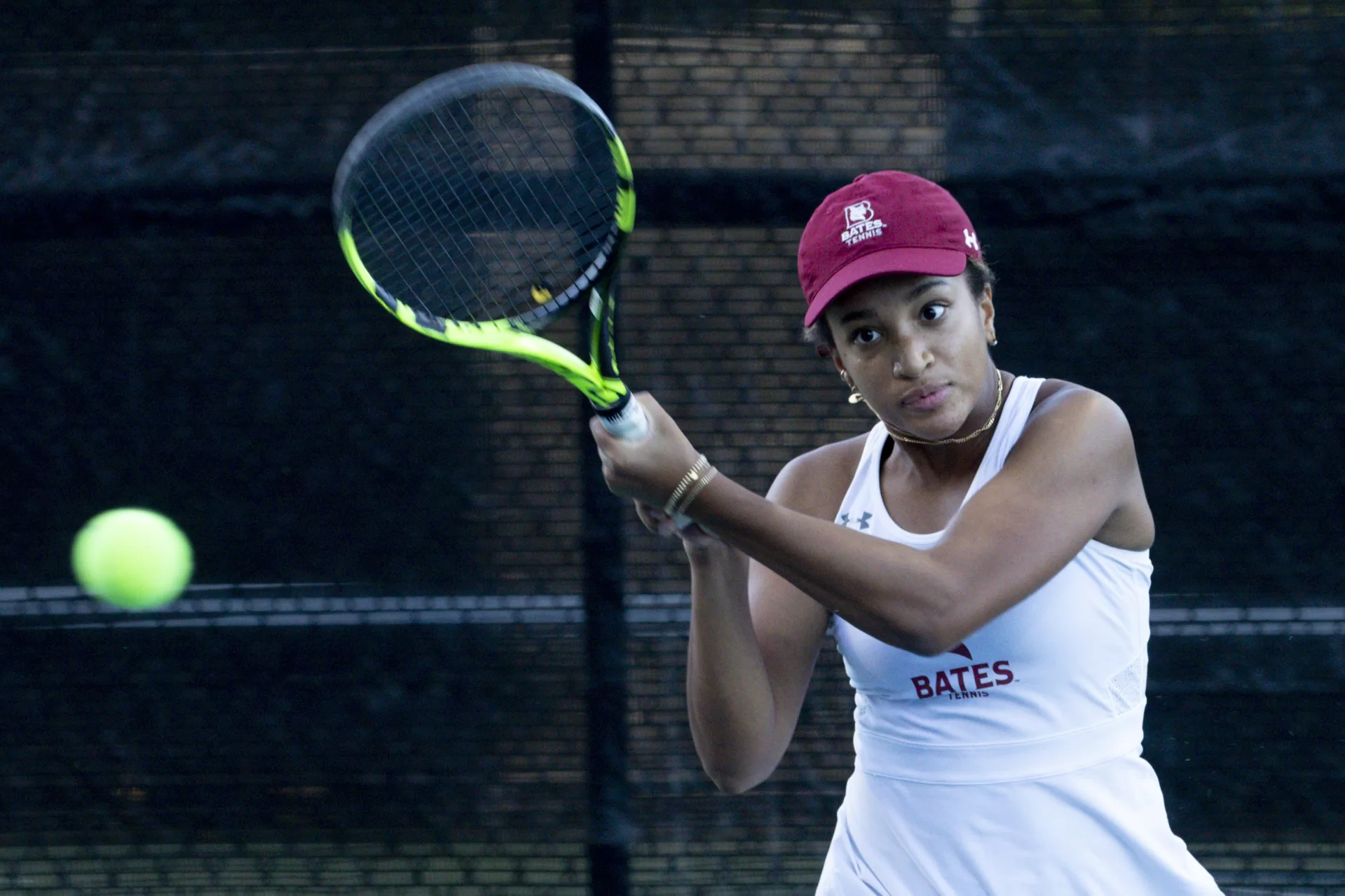 Joanna Atwater '23 of Short Hills, N.J. delivers a return during a 7-2 win for the Bates women's tennis team over Endicott at the Wallach Tennis Center.
---
Sum Total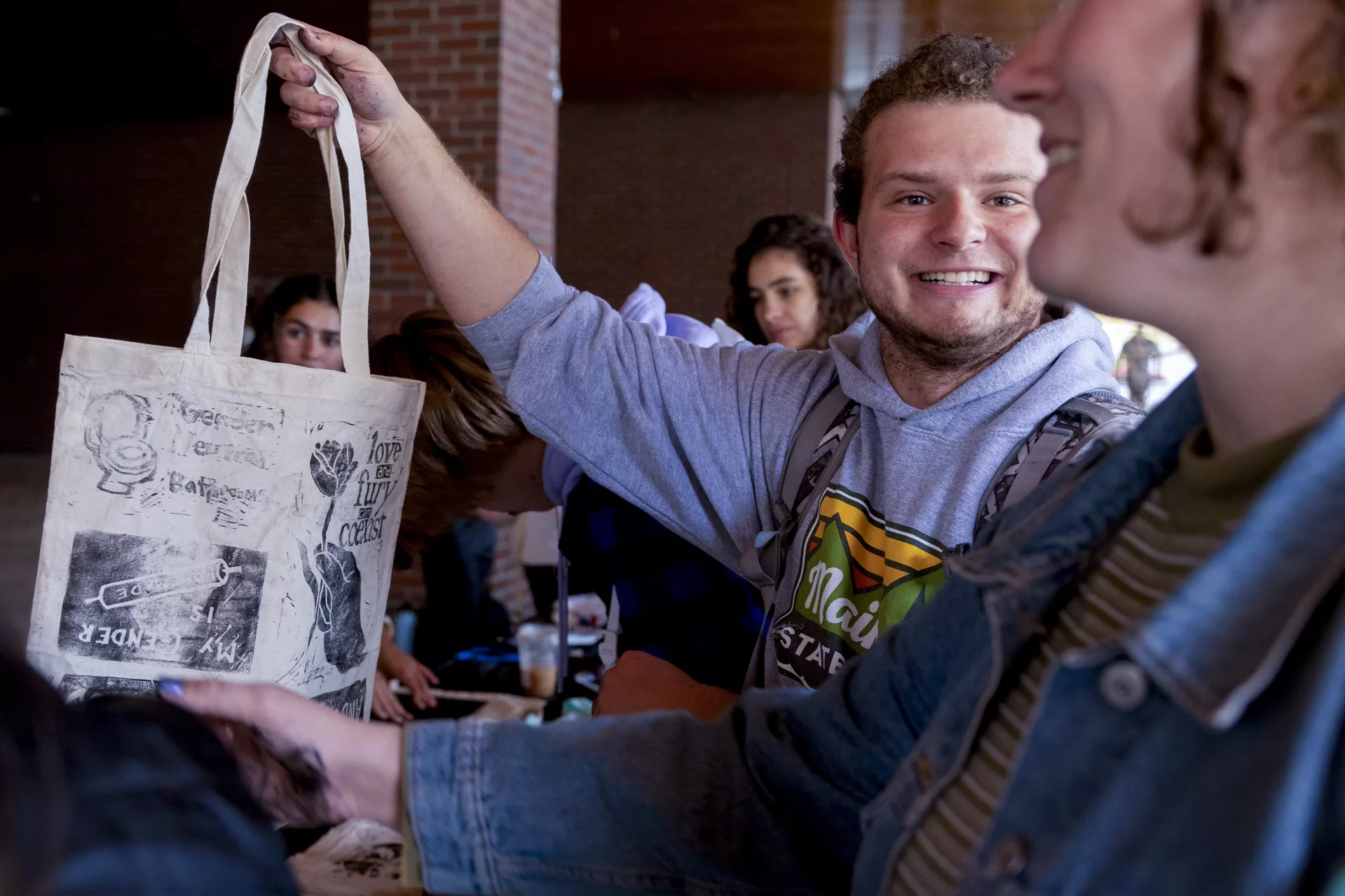 Mason Bunker '23 of New York City shows off the tote bag with a few messages, including "love and fury can coexist," that he designed for a social justice printmaking event at the Library Arcade. The annual event is organized by the Stringfellows of the Multifaith Chaplaincy.
---
Branch of Knowledge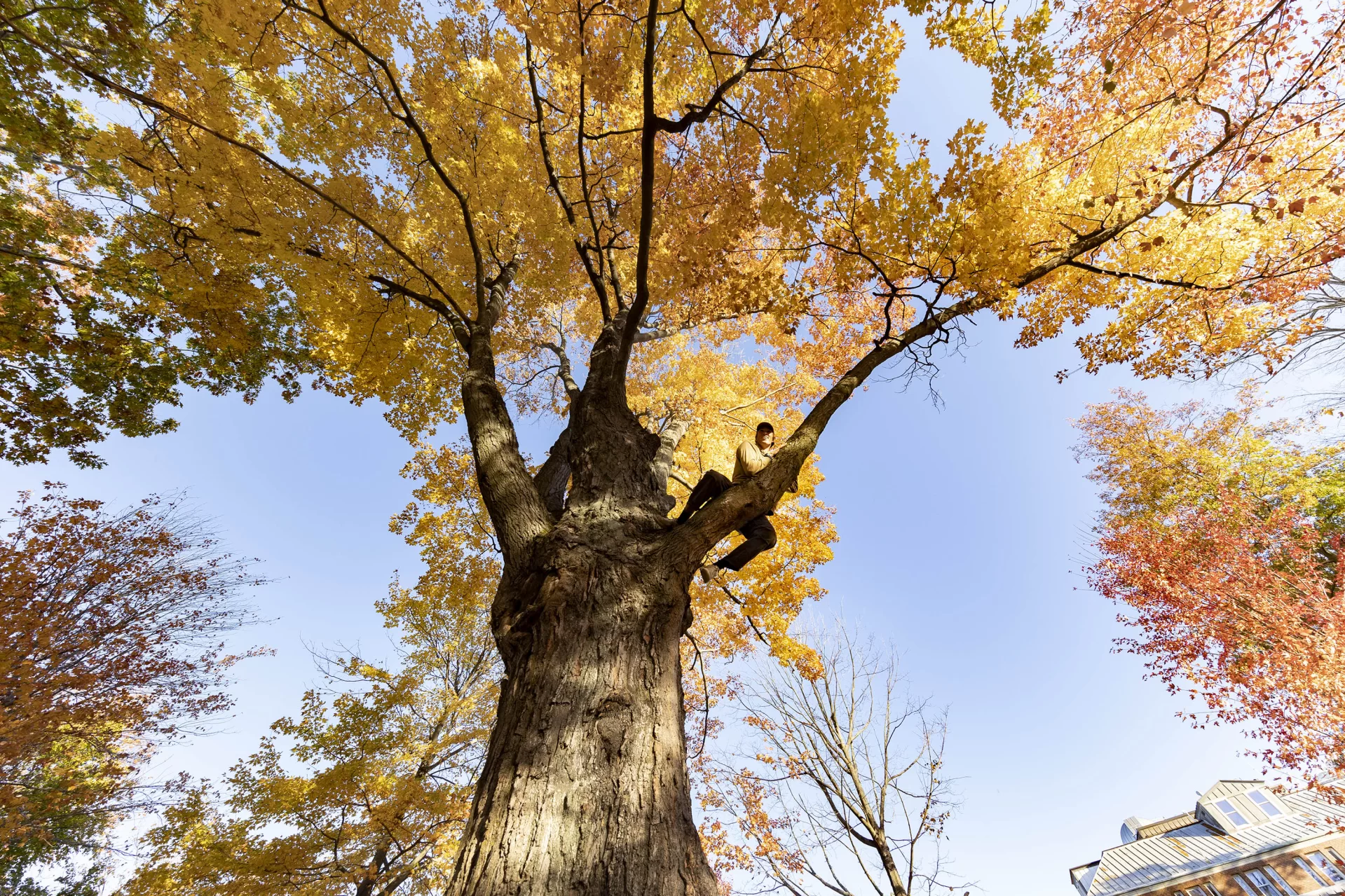 "You get a new vantage point and see the world a little bit differently," says Will Siebert '26 of Bainbridge Island, Wash., on the pleasure of climbing a campus maple tree.
---
Two Much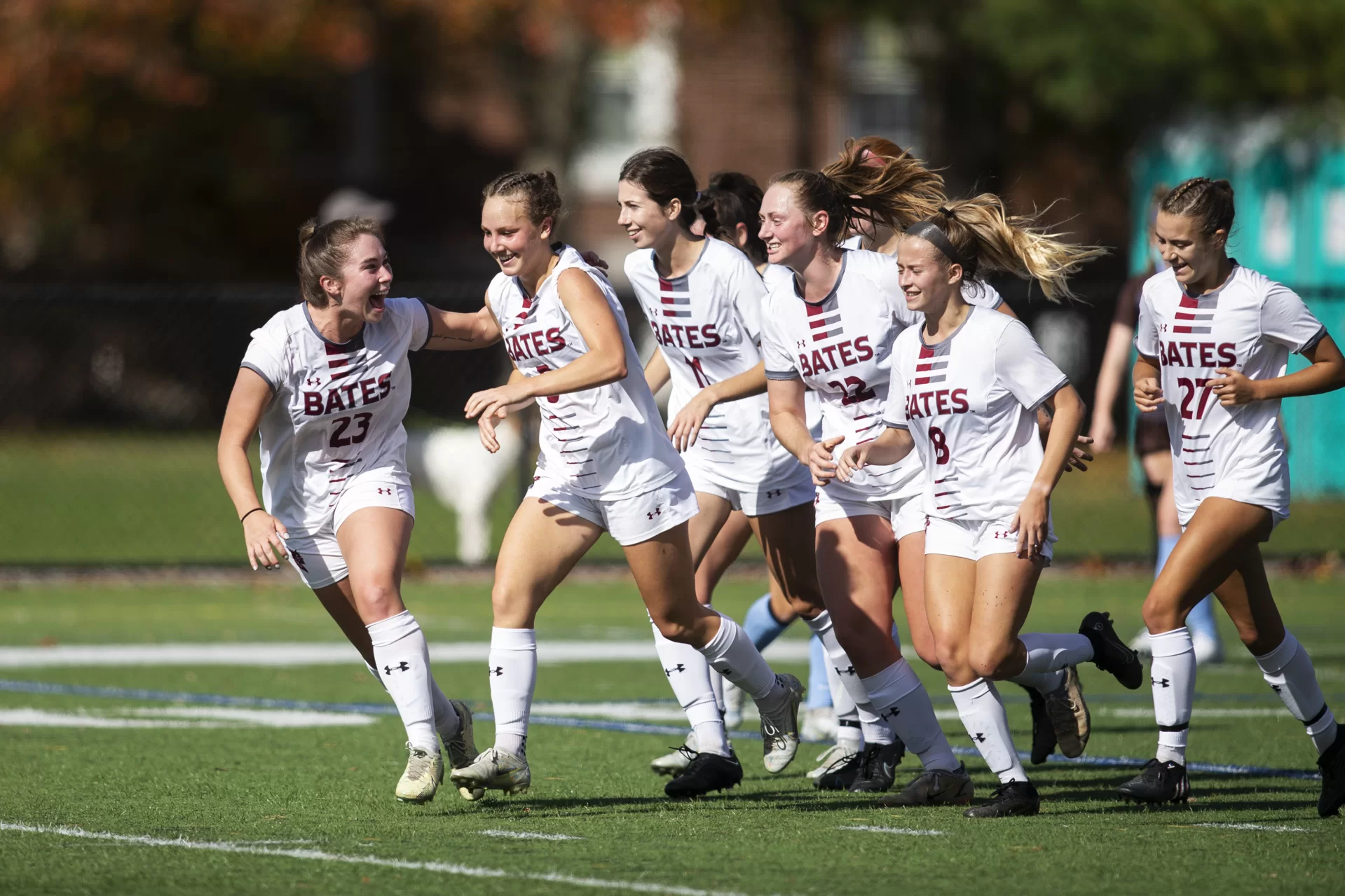 Teammates congratulate Elizabeth Patrick '23 of Cooperstown, N.Y., after one of her two goals in a 2-1 win for the Bates women's soccer team over No. 20 nationally ranked Tufts at Garcelon Field.
---
In Her Dreams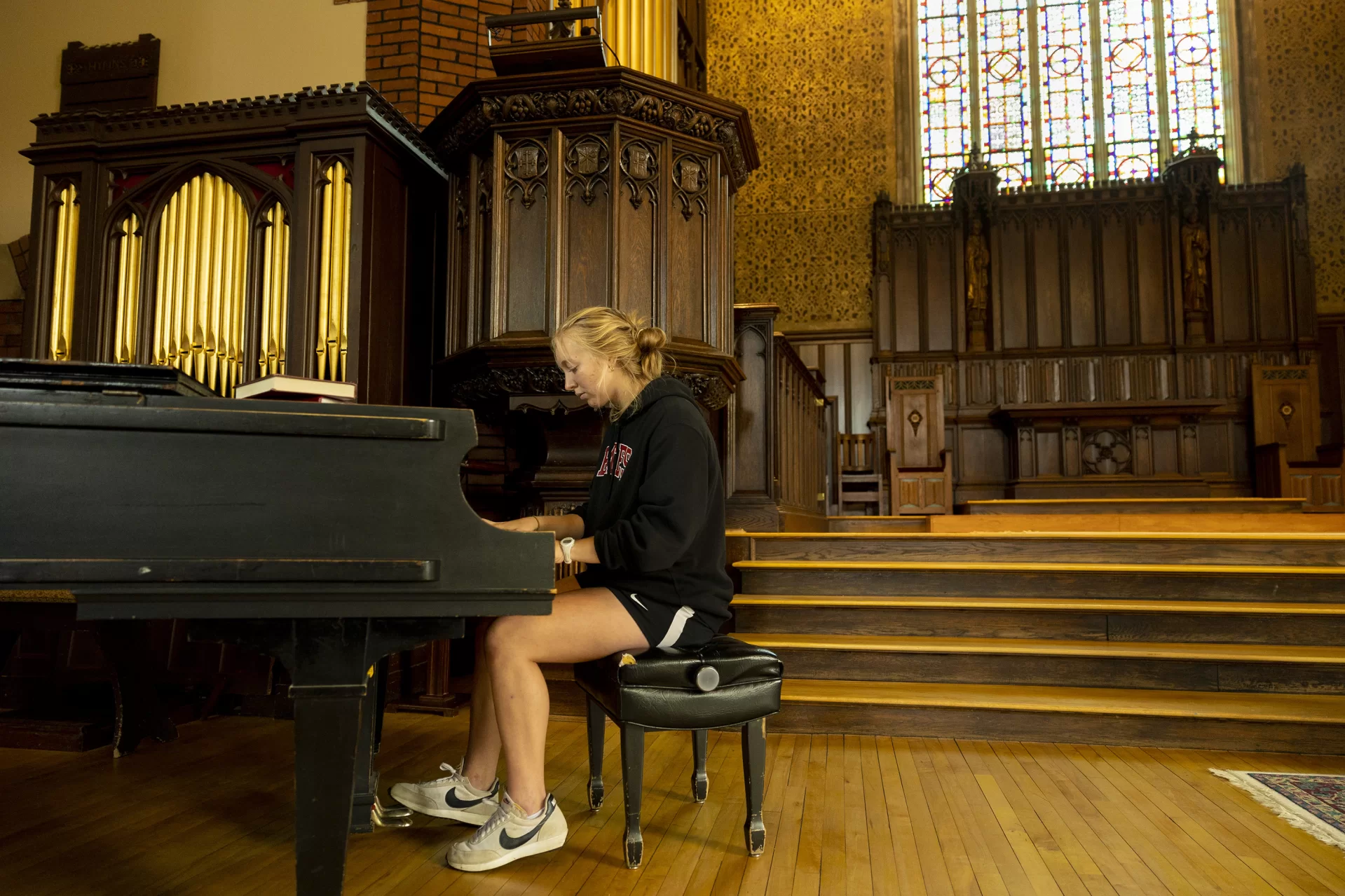 Olivia Smith '26 of Lafayette, Ind., plays "Cristofori's Dream," by David Lanz, on the piano in the Gomes Chapel. She repeatedly chooses a song that has "made its way" into her dreams. Smith remembers, as a child, her mother playing the song in a room below her bedroom, "so I would hear the echoes of it in my dreams."
---
'Academic and Homey'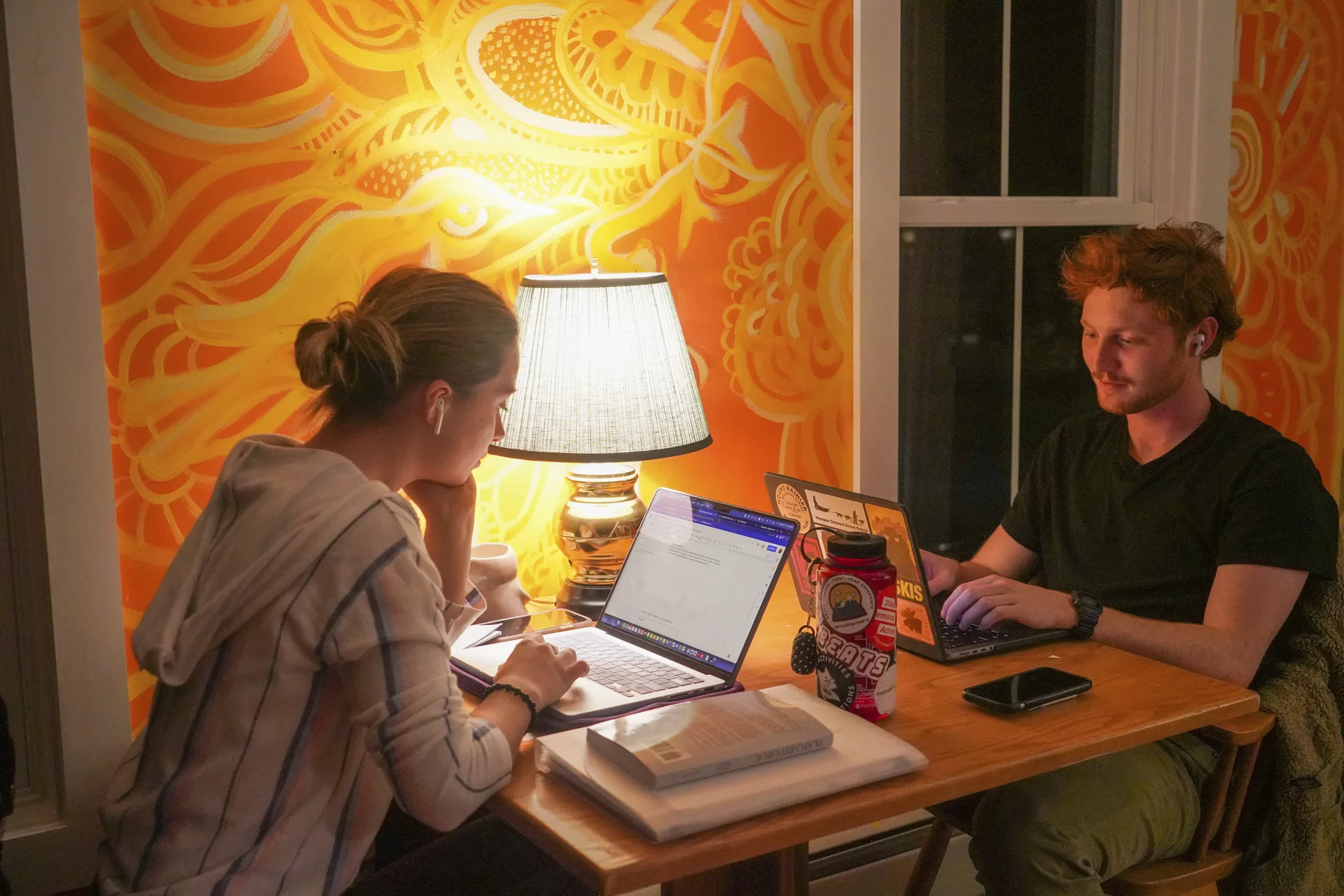 Linnéa Selendy '23 (left) of New York City says her most productive writing sessions are in the Ronj because "it's so cozy and peaceful. It's academic and homey at the same time." The Ronj, located in Ross House on Frye Street, features a cafe, study spaces, and a music venue for student bands. Her study partner, Mac Gaither '24 of Palo Alto, Calif., remembers that his last time to experience the Ronj was in his first year at Bates. "It's really nice to get back into it."
---
Scandal!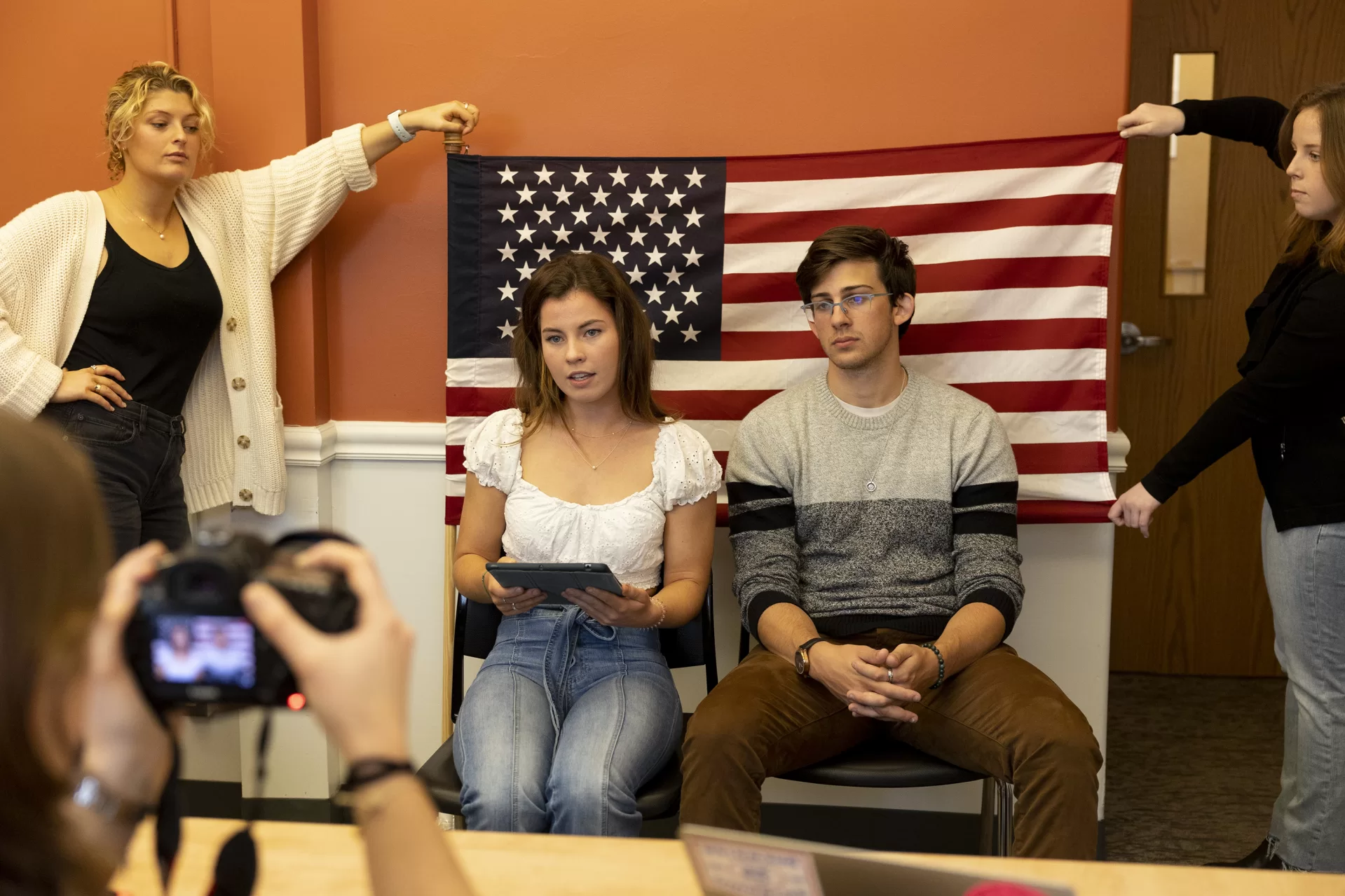 In October, accusations of malfeasance rocked the two mock presidential campaigns on the Bates campus. One scandal embroiled candidate Olivia Wells, played by Olivia Demerath '23 of St. Paul, Minn., who was accused of paying a tutor to take the SATs for her children Appearing with Demerath are Zach Mogul-Campbell '23 of Yarmouth, Maine, playing the role of her husband, Emme Pike '23 (left) of York, Maine, as the candidate's speech writer, and Christina Leonard '23 (right) of London as her campaign manager. Grace Biddle '23 (foreground) of State College, Pa., plays the part of embedded media..
The mock campaigns are a defining element of the course "Presidential Campaign Rhetoric," taught by Professor of Rhetoric, Film, and Screen Studies Stephanie Kelley-Romano.
---
Take a Bow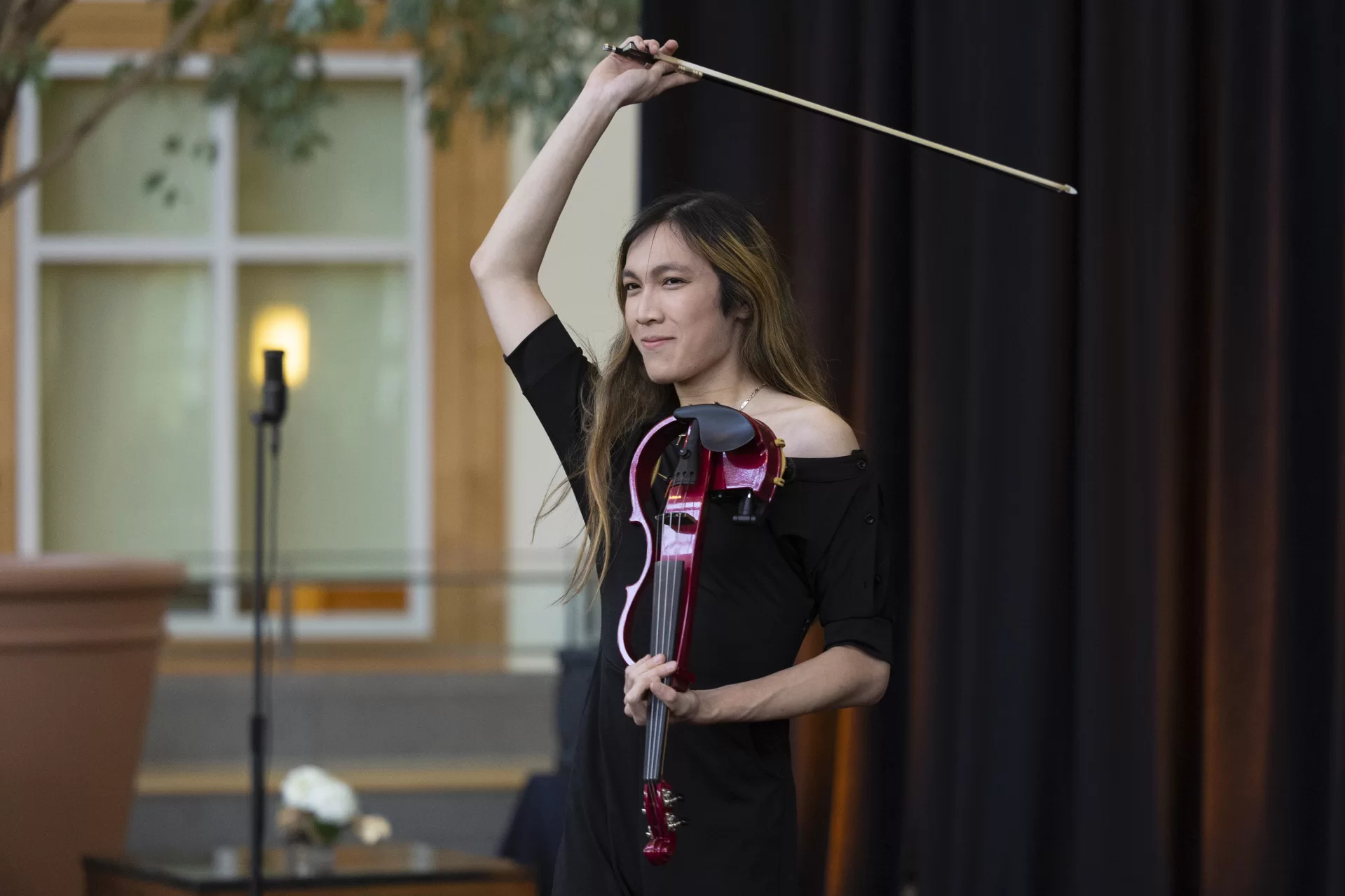 Mavy Ho '26 of Gorham, Maine, concludes her violin performance with a flourish of her bow during a campus celebration for the successful Bates Campaign, held in Pettengill Hall's Perry Atrium.
---
Trend Setter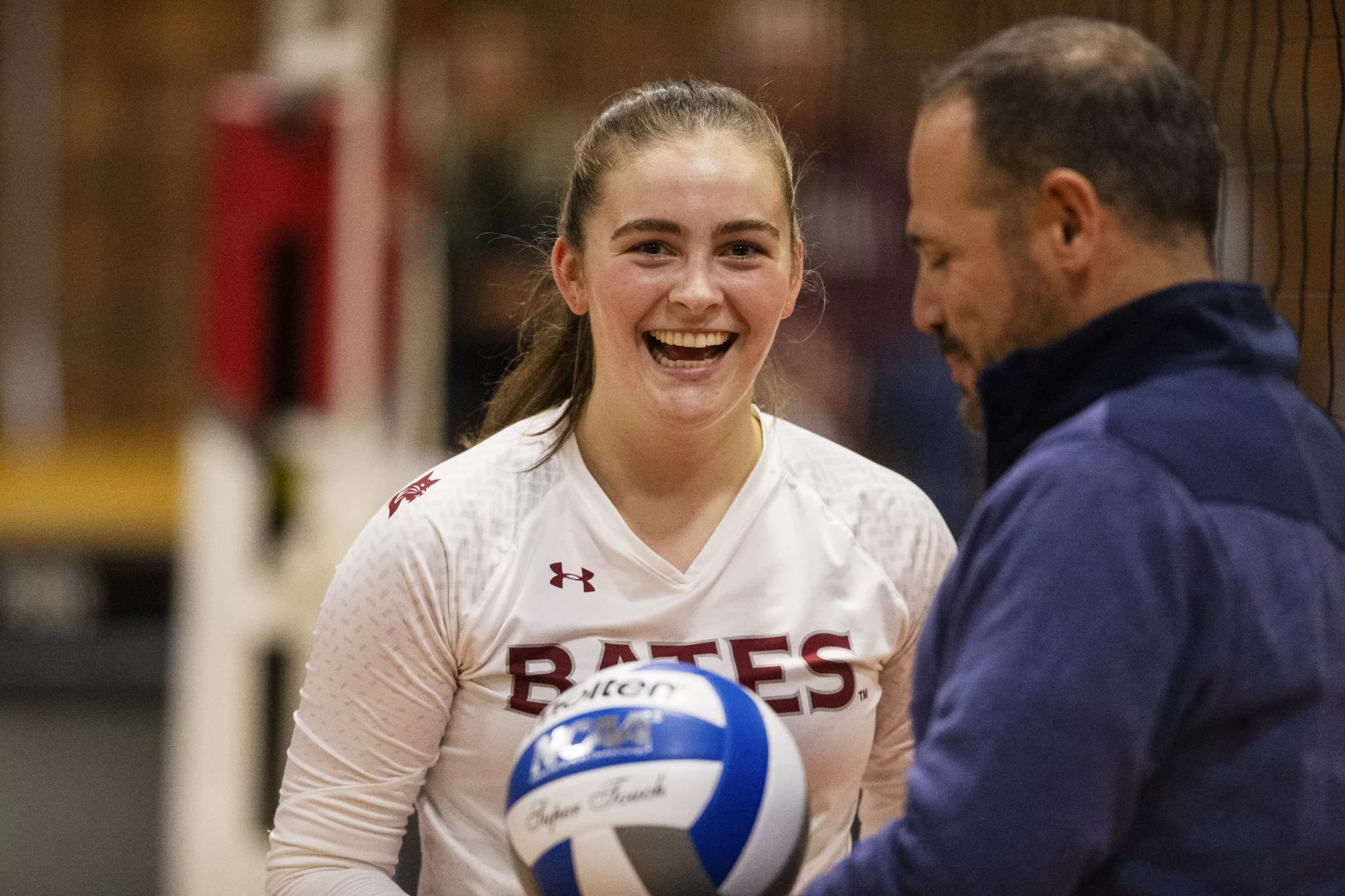 Emma Eide '23 of Ramsey, N.J., is presented with a commemorative volleyball by Director of Athletics Jason Fein for achieving 1,000 career assists as a setter for the Bobcats.
---
Wanderment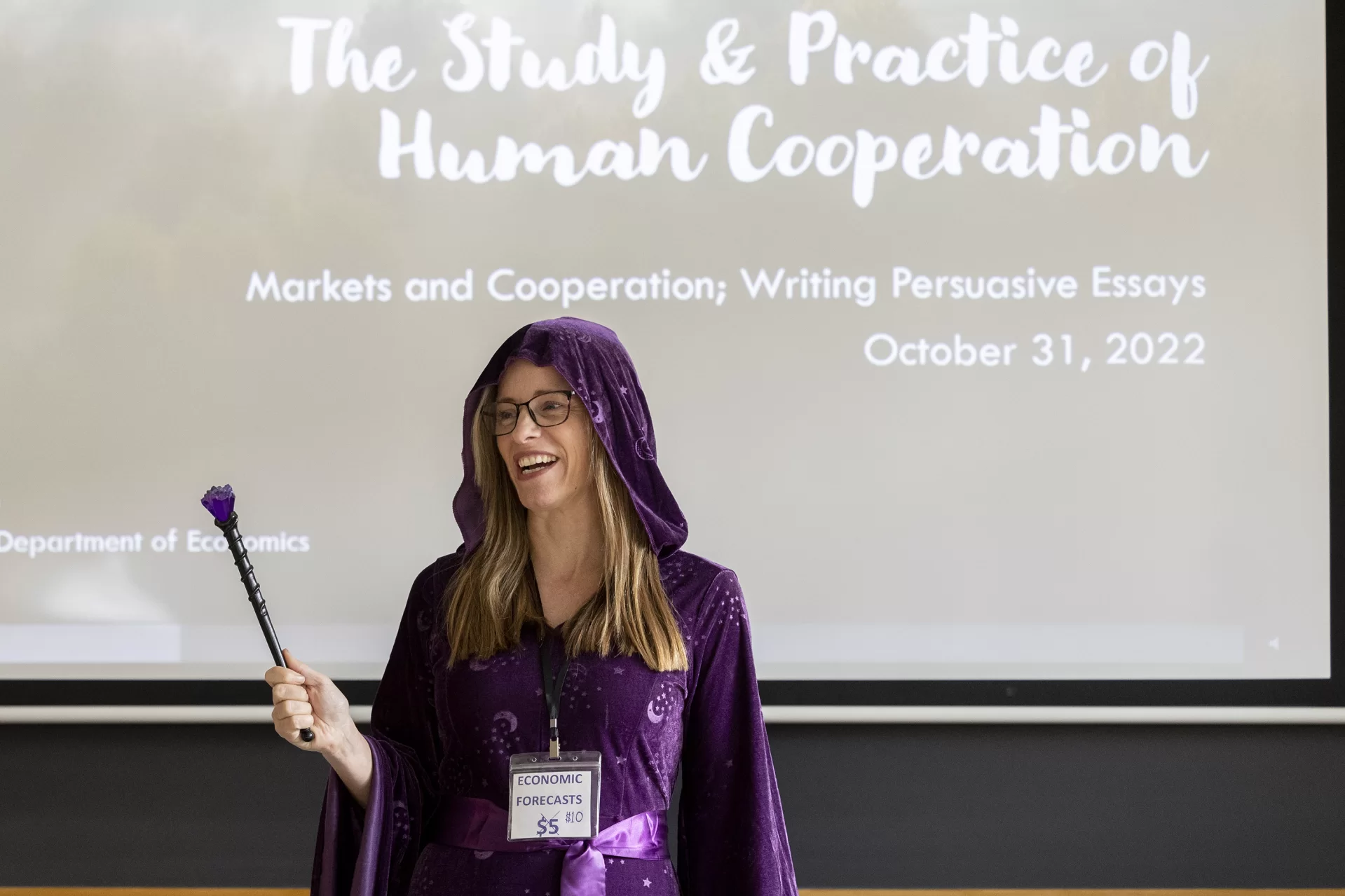 Magic wand in hand, Associate Professor of Economics Sandra Goff teaches her course on "The Study and Practice of Human Cooperation" on Halloween dressed as an economic forecaster.
And what about the price hike on her nametag, from $5 to $10? "Inflation," says the Forecaster. "But I'm clearly such a terrible forecaster that I failed to foresee the inflationary pressures, so I had to cross out the price — so maybe you don't want to hire me to provide forecasts?!"
---
Skipping School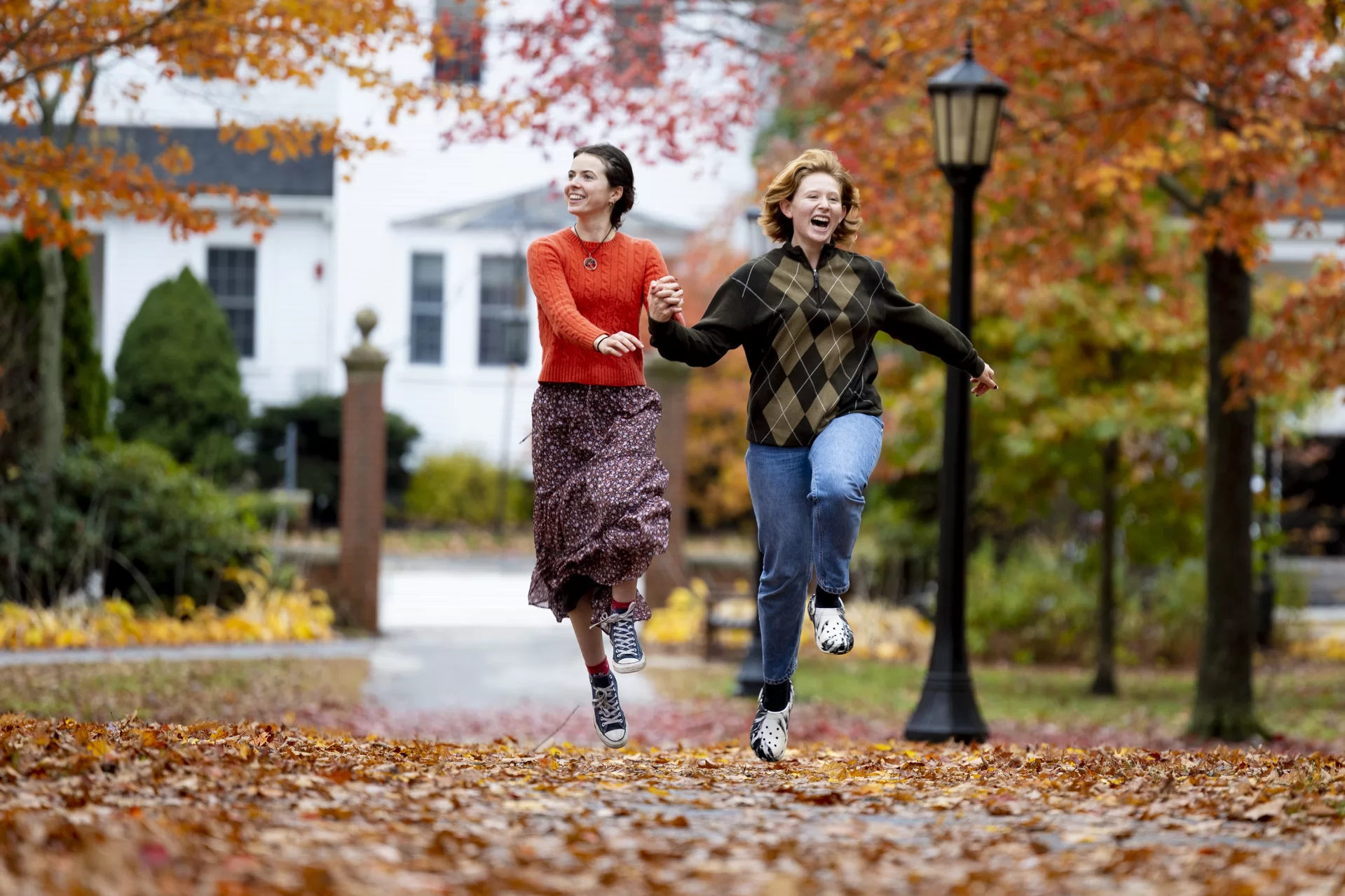 There's leaf learning. And then there's leaf leaping.
After chatting on the steps of Hathorn Hall, Lauren Cockrill '26 of Huntersville N.C., and Megan Billings '26 of North Andover, Mass., frolicked through a carpet of foliage on the Historic Quad.
View Comments