Three hundred miles away from the Bates campus, on a 12-acre estate in New York's Westchester County, a single weeping cherry tree drapes its branches over the side of a hill, surrounded by daffodils and grass.
For Carolyn Finney, a storyteller, author, and cultural geographer who delivered this year's Otis Lecture, the tree has complex significance, representing the connection her father and mother had to that land, the erasure of Black people's experiences from any aspect of environmental history, and the power of reparative gestures.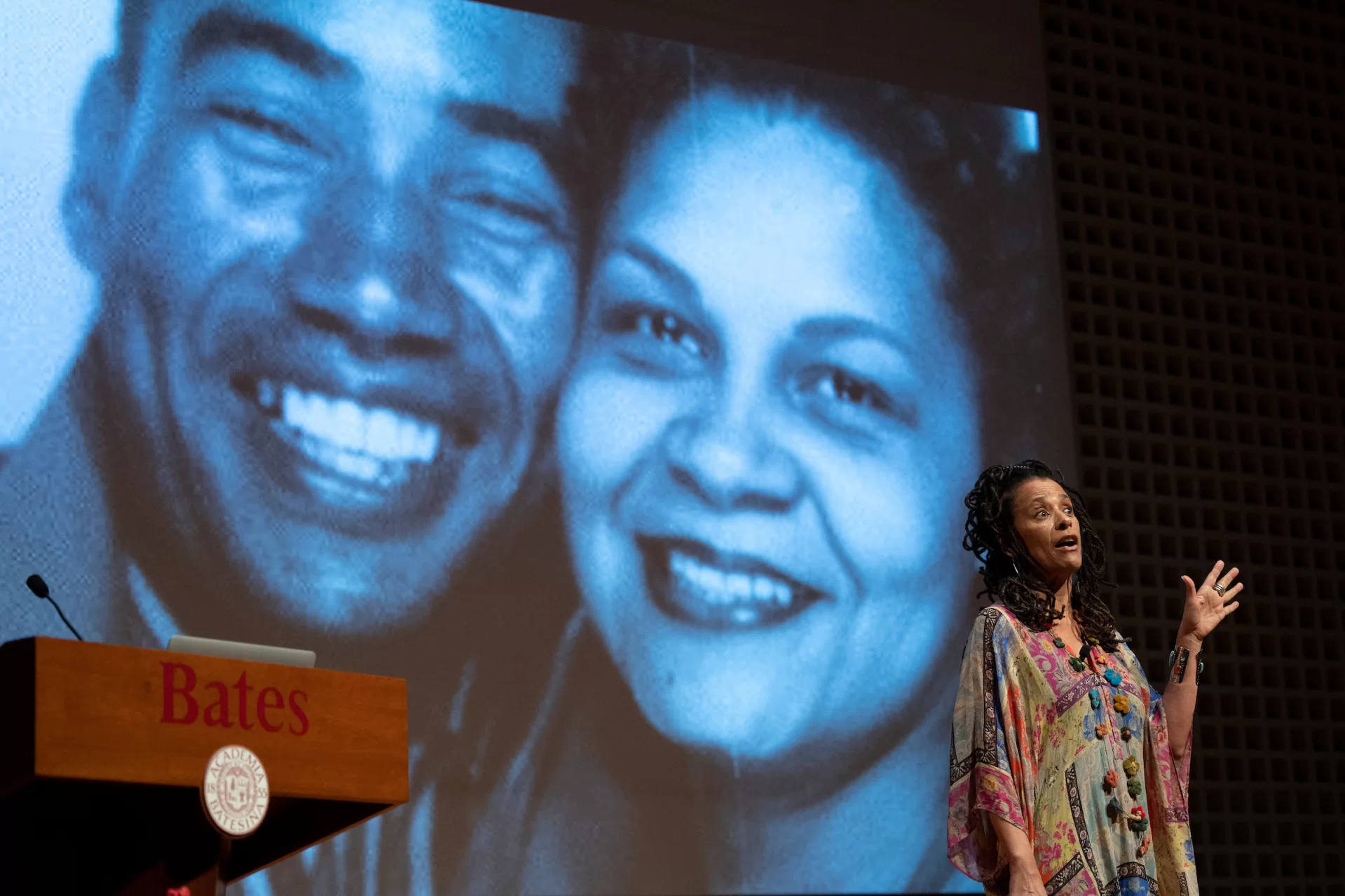 Speaking in the Olin Arts Center Concert Hall, Finney centered her talk, "Reparative Gestures: On Race, Redemption and (Re)making a Green World," around a story about her parents, who were caretakers of the Westchester estate and lived on the grounds in a gardener's house. It's where Carolyn and her two siblings grew up and where, some years later, her father planted a cherry tree as a gift to Finney's mother on their 40th wedding anniversary.
Then the estate was sold, and Finney's family moved to Virginia, leaving the tree, the land, and a piece of her father's heart behind. "I watched my father in particular get incredibly depressed," Finney said. "He talked about missing the land. He talked about missing place. He talked about the idea that they had no legacy, no money. And more importantly, they had no land."
A few years later, they learned that the estate had been put into a conservation easement with the Westchester Land Trust, which thanked the new owners for their conservation efforts. Nothing was said about Finney's parents, who had cared for the land for over 50 years. "And just like that, they were gone," she said.
It got Finney thinking broadly about how people's histories and experiences get erased "when we think about land, when we think about stewardship." Because land and place are tied up in "caring and engagement and stories and love…what we're talking about is love and connection and a sense of belonging. A place where you can stand, that you come to know, and what it's like when you can be erased, just like that."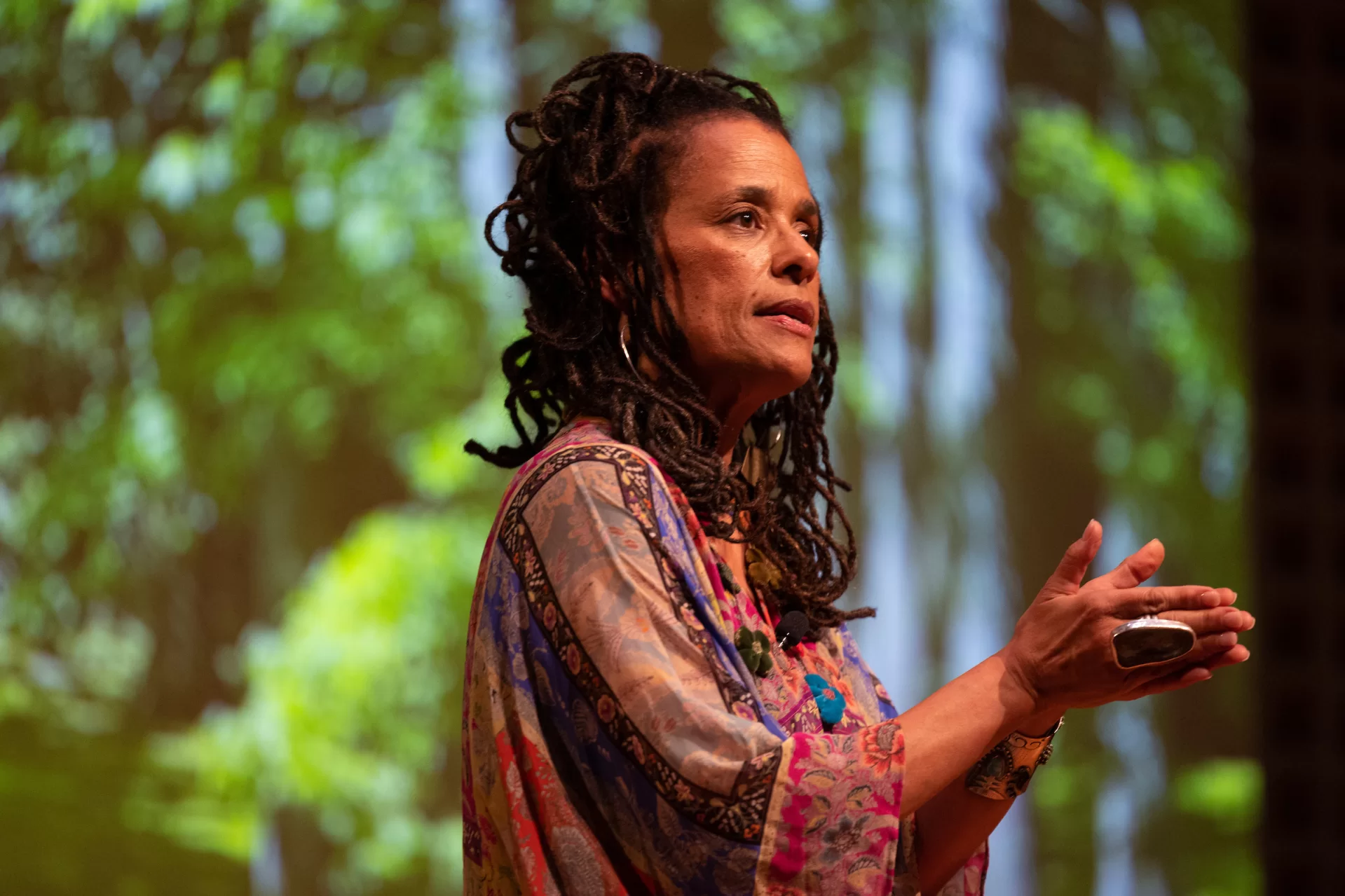 Around the same time, in 2003, Finney had hit a roadblock in her intended doctoral dissertation, and was looking to pursue a whole new topic. "And my professor had said, 'Look, you've been talking about African Americans and the environment. Nobody's doing it. Why don't you?"
She scoured the library shelves for anything about or by Black people in the environment, but found nothing besides "a few things on environmental justice and the bad things that happened to Black people. But we aren't only the bad things that happened to us," said Finney.
So she exited the library, exited the ivory tower, and headed out to do fieldwork. "It was some of the best research, in terms of the experience, that I've ever had," she said.
Finney interviewed people, mainly African Americans, and asked them for their stories. The most common answers she got were, "Oh, I don't have a story" and "No one's ever asked me that before." Those responses "really moved me," said Finney.
The fieldwork led to Finney's first book, in 2014, Black Faces, White Spaces: Reimagining the Relationship of African Americans to the Great Outdoors, which mapped out the ways in which Black Americans' experience has been excluded from discussions and concepts of nature and the environment in the U.S.
But what about her own family's experience of being erased from that Westchester land? Finney felt that pain, but didn't know what to do with it. Quoting Nadia Bolz-Webber, host of The Confessional podcast, Finney asked herself, "What do I do with my pain? Do I transmit it, or do I transform it?"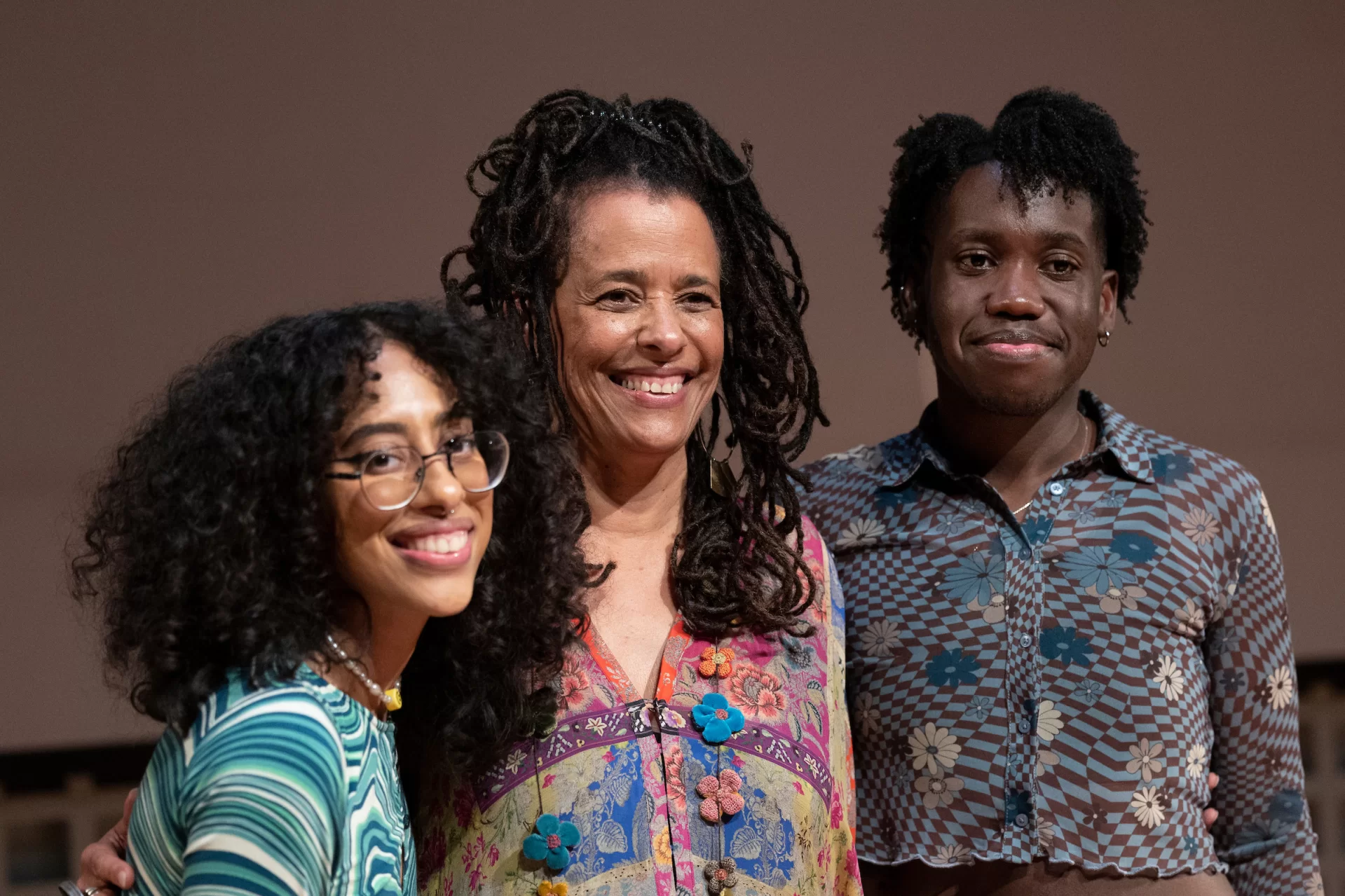 Plans had been made for Finney to team up with a documentary filmmaker to visit the estate and tell the story about her family and the tree. But then she learned that the tree was gone, removed during landscaping work at the estate. At first, she was hurt and angry. Then came the impulse to tell a story. "This is a story we have to tell because this is what always happens," she told the Bates audience. "I'm not blaming anybody, but this is the story we need to talk about."
So everyone got involved — Finney, the film crew, the land trust, the estate's owners — and came together on a sweltering summer day in 2021 to plant a new cherry tree. "It felt quite sacred to have everybody involved," she said.
It was a reparative gesture, a theme of her talk. "My parents' story is going to become part of their story. It's not simply my story, it's our story," Finney said. "Everybody becomes accountable for the story of the tree. Not simply me."
Sometime later, Finney received a picture of the new tree, and what she saw gave her joy. Not just the tree but also daffodils, planted by the homeowners. "What they didn't know is that daffodils are my father's favorite flower and I felt so moved by that."
Finney's joy prompted, during her Otis talk, a brief reflection on the concept of joy in the context of how we endure and fight the crises of our times.
"When we talk about climate catastrophe, or environmental and social justice, and democracy breaking down — all of it's hard," she said. "But we don't have to just do that and not have joy in our lives. You can do this work, you can care deeply, you can show up — and you can still be joyous doing it.
"That doesn't mean you're not angry. It doesn't mean you're not hurt. And it doesn't mean you're not scared. None of these things operate in the silo, but you can still have joy."
Near the end of her talk, Finney made a point of noting that a reparative gesture is at the heart of her Bates visit. The Otis Lecture is sponsored by the Philip J. Otis Endowment, established by his family in memory of the young Bates alum who died in 1996 while attempting to rescue an injured climber on Mount Rainier.
The act of establishing the endowment and the annual lecture is, for the family, perhaps the "ultimate reparative gesture," said Finney. "When I think of a family who lost their child in 1996, and how, every time there is an Otis Lecture, they elevate and celebrate and remember their son and everything that comes with that memory, I am humbled.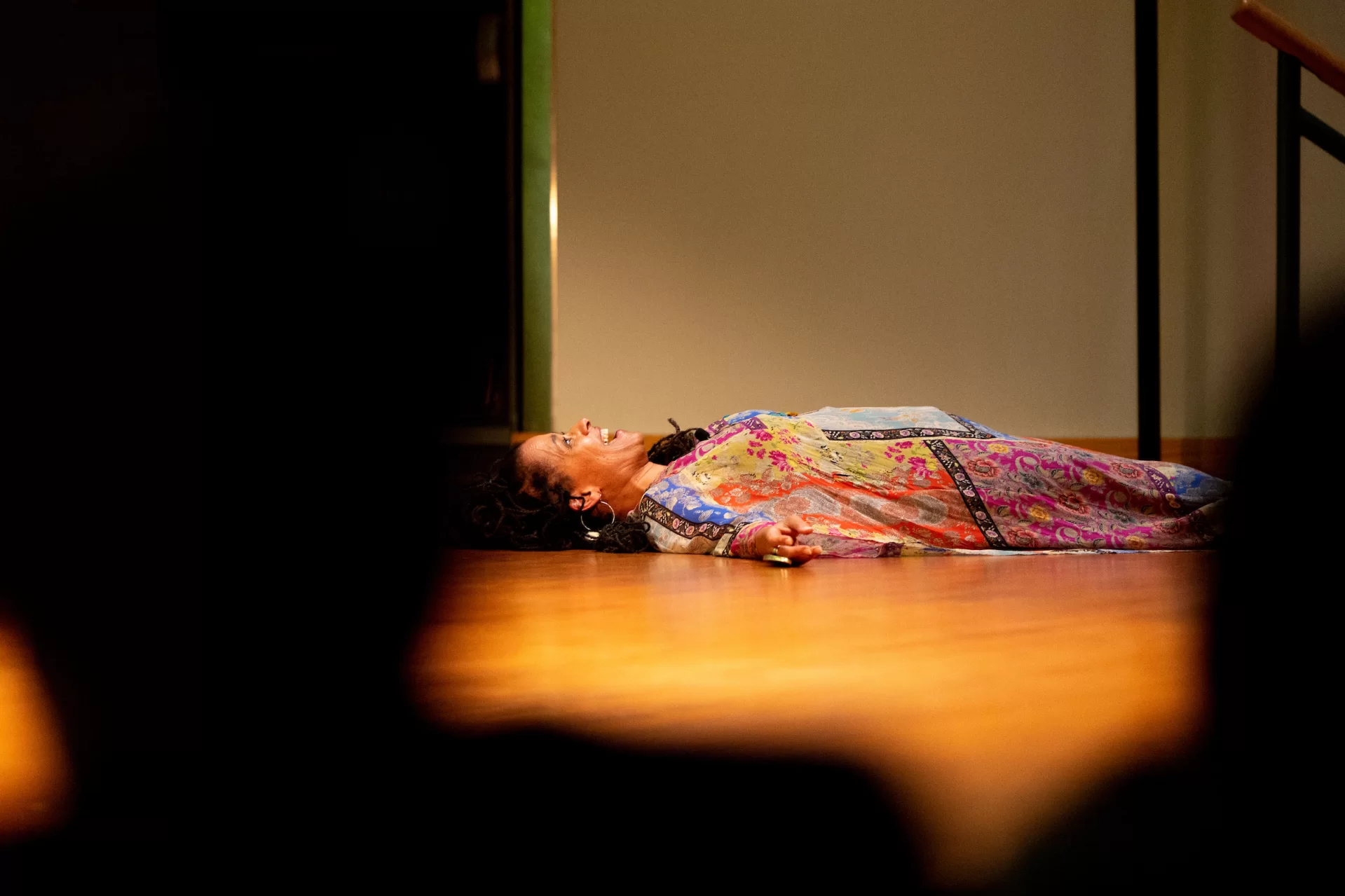 "The gesture is the choice," she said, "that possibility is revealed in the repetition of practice: the transformation of tragedy and trauma and pain."
Reparative gestures are "not about right or wrong. It's about an intention to do better, an intention to see better. It's about remaining curious and compassionate and empathetic and present while looking to the future."
View Comments