In Wasilla, Alaska, this summer, incoming Bates student Karsten Stiner '26 looked through the offerings for First-Year Seminars, and landed on one offered by Professor Emerita of History Margaret Creighton.
Called "Inventing New England: The World of the Wyeth Family," it promised a rich look at both the place he was moving to and three generations of American artists named Wyeth: N.C., his son Andrew, and Andrew's son Jamie. Stiner had never heard of them, and he mostly associated the words "New England" with a football team, the Patriots. "I'd heard the term like four times in my life," he says, smiling. "I didn't even know what states were included in New England."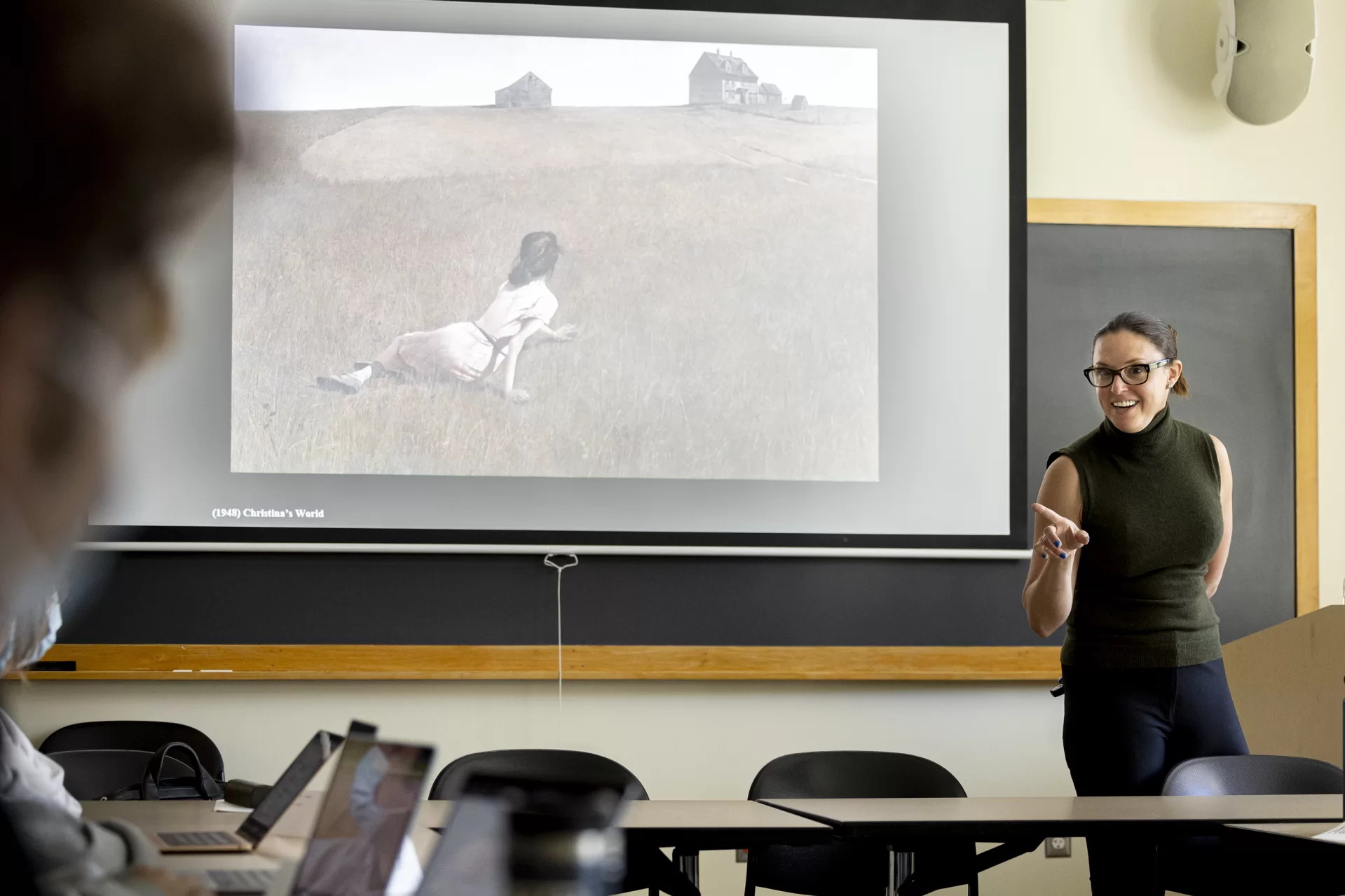 As he signed up, he did note that it was interesting that a Wyeth family member, Victoria Browning Wyeth '01, who is the only grandchild of Andrew and Betsy Wyeth, would lecture in the course, helping to answer sweeping questions like: What is New England? Who and what gets included in popular images of the region? How does New England differ from other imagined areas, particularly the American West?
But he didn't realize what having a Wyeth as a teacher would actually mean, or how deep of an insider's look that she would provide into Wyeth World, especially during the group's ultimate Midcoast road trip on an October day.
"I didn't know that this would all be involved," Stiner said as he walked through fields browning in the Maine autumn under gray skies, the tidal reaches of the Saint George River a few hundred yards away. He'd just come from a tour of a Wyeth family home in Cushing, with a window seat looking out over the very New England countryside.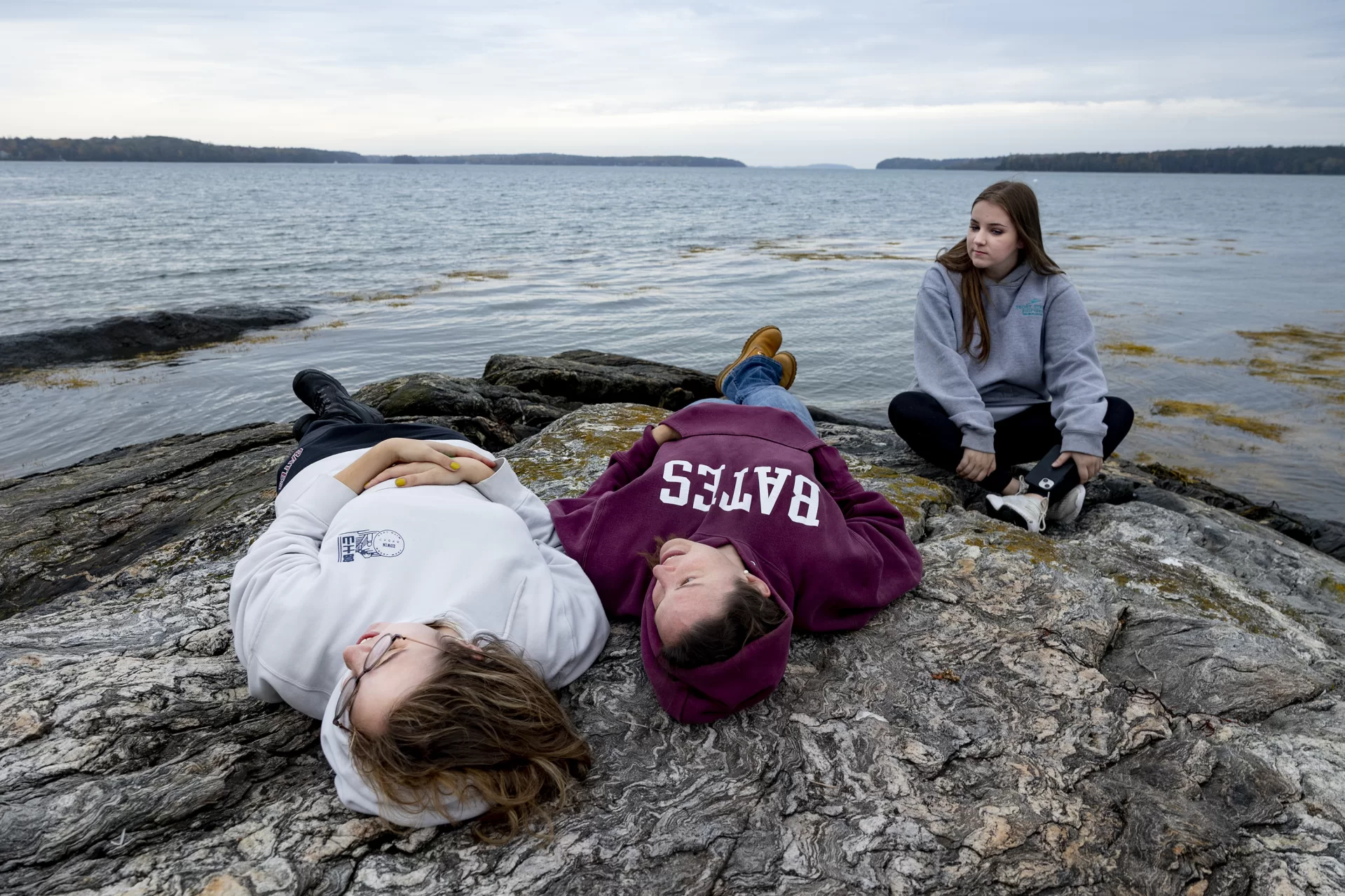 The group wrapped up the day at the famed Olson House in Cushing, the setting from many of Andrew Wyeth's works, a tour of his very last studio, and a visit to the grave of Andrew and Betsy Wyeth, where Victoria would leave a couple of pumpkins, in honor of the Wyeth family love of Halloween (and kiss her grandparents' tombstone, as she does on every visit).
There'd even been a guest star: one of Andrew Wyeth's models from the 1970s, who talked to the students about what it was like to pose for the painter of such works as the iconic 1948 work Christina's World, which hangs in the Museum of Modern Art in New York.
Walking ahead of Stiner on the dirt road were his classmates and both his teachers, who two decades ago were teacher and pupil. Creighton was Wyeth's thesis advisor when she was at Bates, and also her professor in a course that offered deep community engagement in Lewiston. Wyeth, who majored in American Cultural Studies, says today that Creighton was a vital part of her development as a Bates student, nurturing and mentoring her.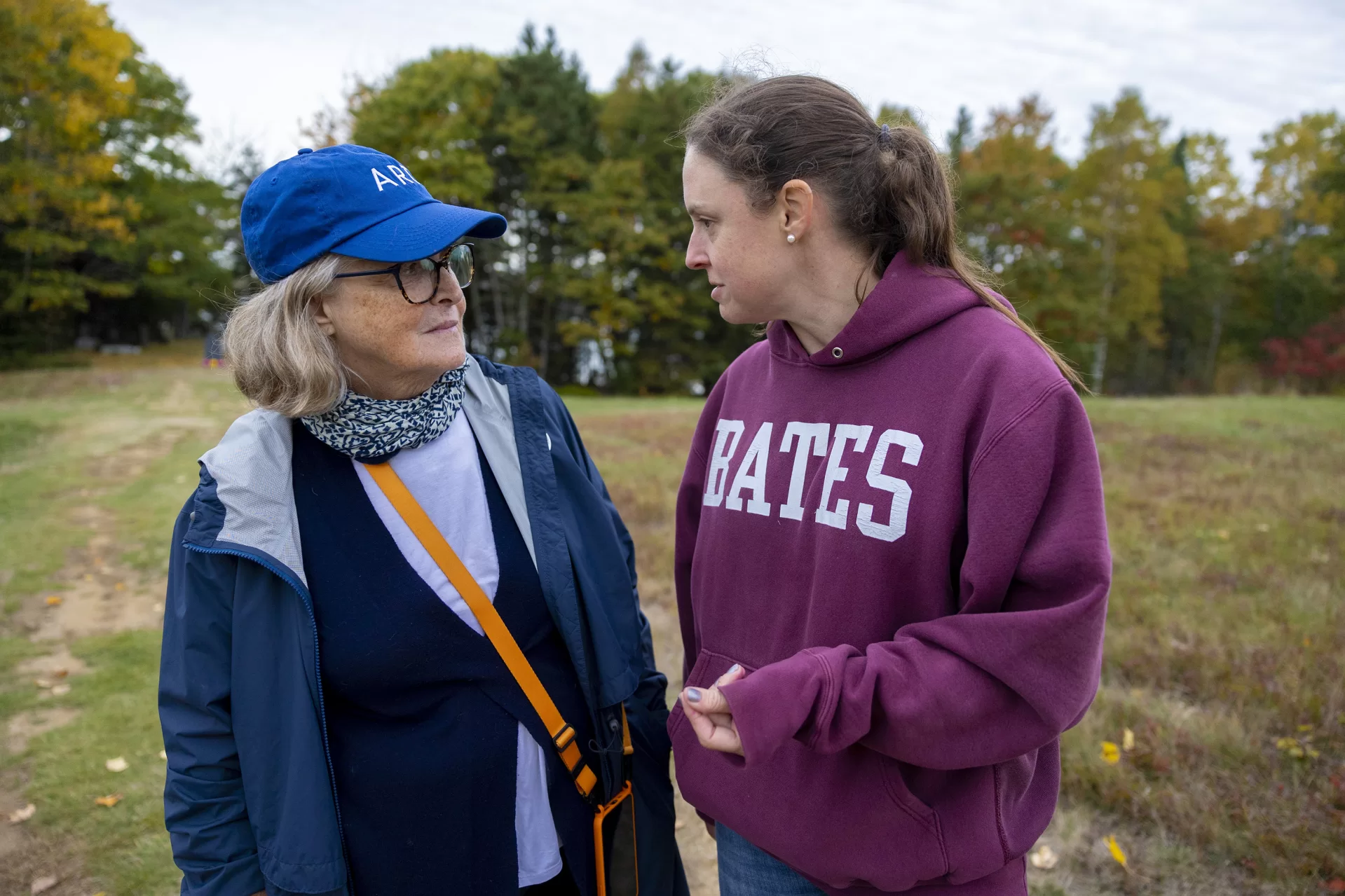 She and Wyeth began talking about co-teaching this First-Year Seminar last year. As Bates continues to improve and revamp its overall First-Year Experience program, both traditional and brand-new seminar offerings such as "Inventing New England" continue to play a key role in introducing students to Bates academics — close contact with professors, intensive writing and building both a real sense of community and of place.
In the case of "Inventing New England," a sense of place is particularly pertinent. The syllabus is filled with New England specific work, like Carolyn Chute's 1985 novel The Beans of Egypt, Maine, but also some classic Westerns, such as John Ford's Stagecoach, to provide perspective on how the American West is represented on screen or canvas.
"That was a good way to start talking about region and regional identity and how the West got imagined in dominant American culture," Creighton says. "And one of the advantages here is that N.C. Wyeth did a lot of Western paintings as well."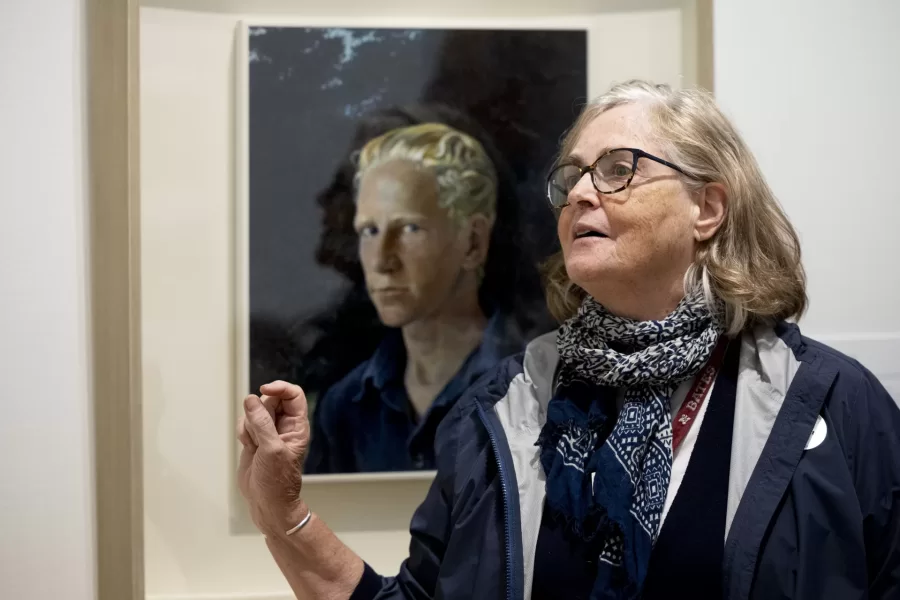 The field trip to the coast had started with an up-close and personal visit to the art itself at the Farnsworth Museum in Rockland, where artworks from all three generations of painters are well represented in the Wyeth Center. There, Victoria Wyeth, who knows the paintings the way others know a family photo album, led the students through multiple galleries.
She's a generous and ebullient lecturer, gesturing for emphasis, always inviting student input and sharing strong opinions about everything, from the media Andrew Wyeth used — on watercolors she says, "they control him, he doesn't control them" — to results. While talking the students through the composition of one study for a later work, she confides "I actually like this better than the final version." She also connects with her own Bates experience, readily offering up a tale of getting a B-minus in an art history class in the middle of the whirlwind of her highly personalized, expert crash course in the Wyeths.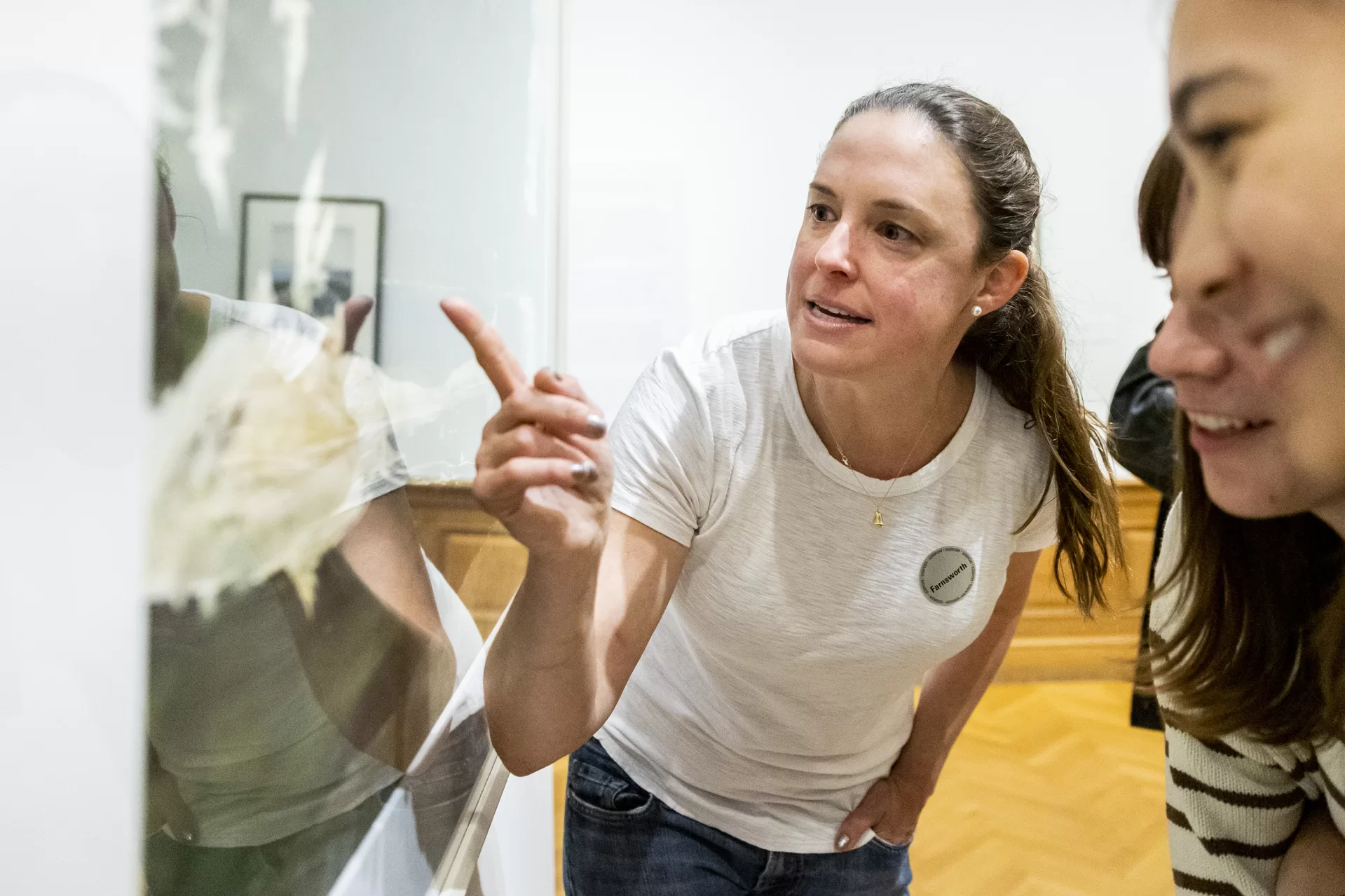 In one gallery, currently showing Islands in Maine, an Andrew Wyeth show of works from Muscongus and Penobscot bays spanning the period from 1939 to 2008, when Wyeth and his wife Betsy spent his last summer on Benner Island, Victoria Wyeth stopped in front of a 1999 study for Dock.
It shows a woman walking down a dock. The image of a woman walking away, straight-backed and somehow resolute, even from behind, conjures up a hundred possible stories for the imagination, but Wyeth knows the real one. "I always told you, he paints his life," she told the class. The woman is Ann Call, she explained, a frequent model, easy to recognize by her perfect haircut. Call worked with Wyeth's grandmother Betsy on Benner Island, but lived on nearby Allen. "So this is her getting ready to go on the boat for the end of the day," Wyeth said.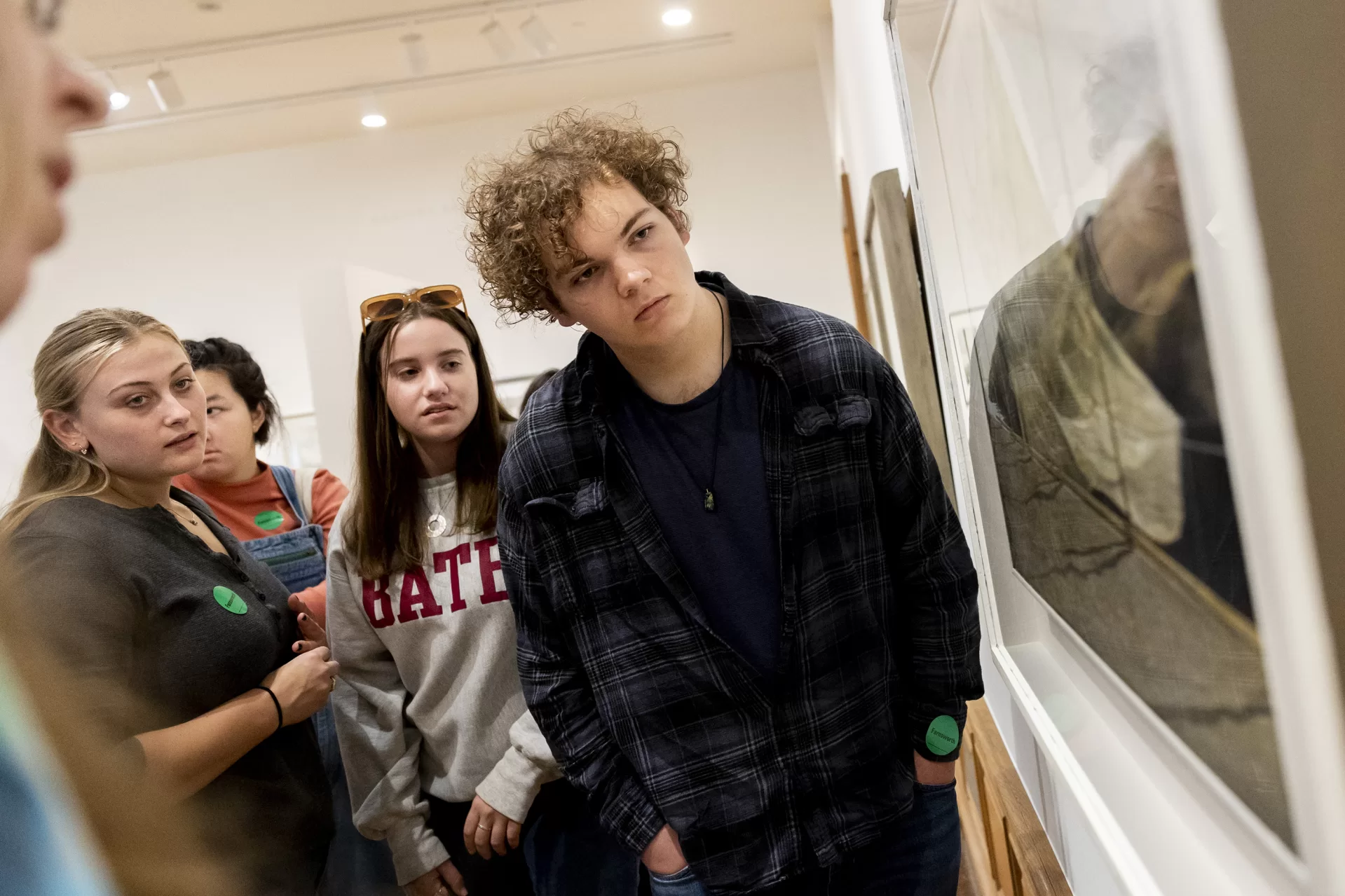 Wyeth lectures worldwide on the artists in her family. In 2011, she shared some of her never-before-displayed collection of family works in an exhibition at the Bates Museum of Art. As a student, she organized a 2001 show at the museum focused on her grandfather's process from a series of studies to the final painting, Her Room, which was the very first Wyeth painting acquired by the Farnsworth in 1964. (She's also a talented photographer, who has occasionally exhibited her work, including portraits of her grandfather.)
As the group moved around the galleries, Wyeth leaned into paintings and invited the students to do the same, to see all the little things that don't show up in digital slides quite the way they do in person, like the little birds, and the dry brushwork that sketches out a lichen-covered roof, or "just the feeling of this storm coming in." She knows the technical details of the works, like the way her grandfather came to use and cherish tempera as a medium, but also the emotional landscapes behind them.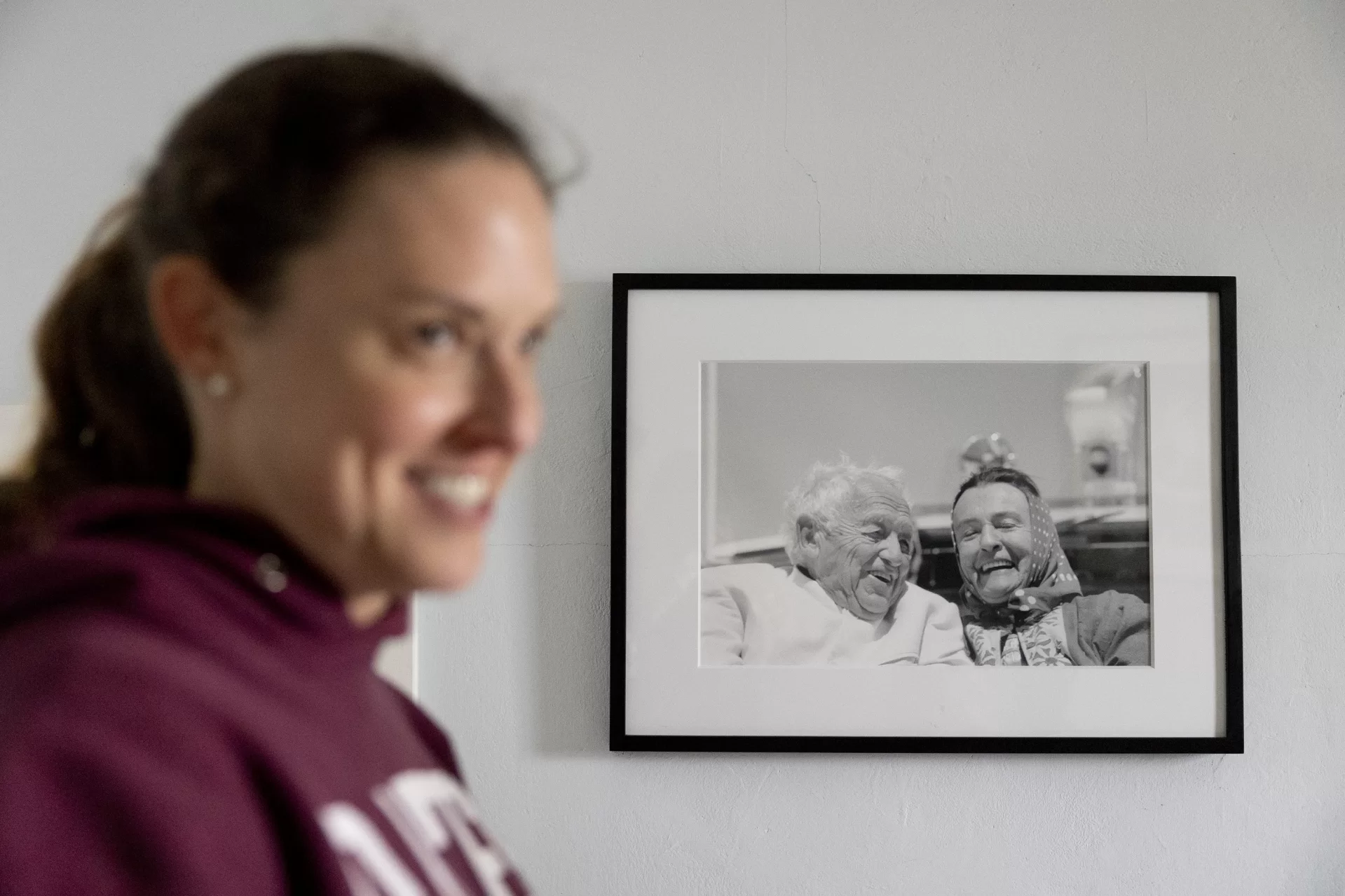 She drew the students in to look at the last painting Andrew Wyeth completed before his death in 2009. It's a view of a white building on the shore of Allen Island and its ghostly reflection in the water, and is called simply Goodbye. Wyeth reminded the students that her grandmother typically named her husband's paintings and then asked if they could tell which white parts of the painting were tempera and which were simply the white panel, left bare by the artist. Leah Belber of Washington, D.C., got right in, and she and Wyeth debated the topic before deciding neither one of them can tell for sure. But it was easy to agree that the painting is beautiful, a haunting farewell to a well-loved place.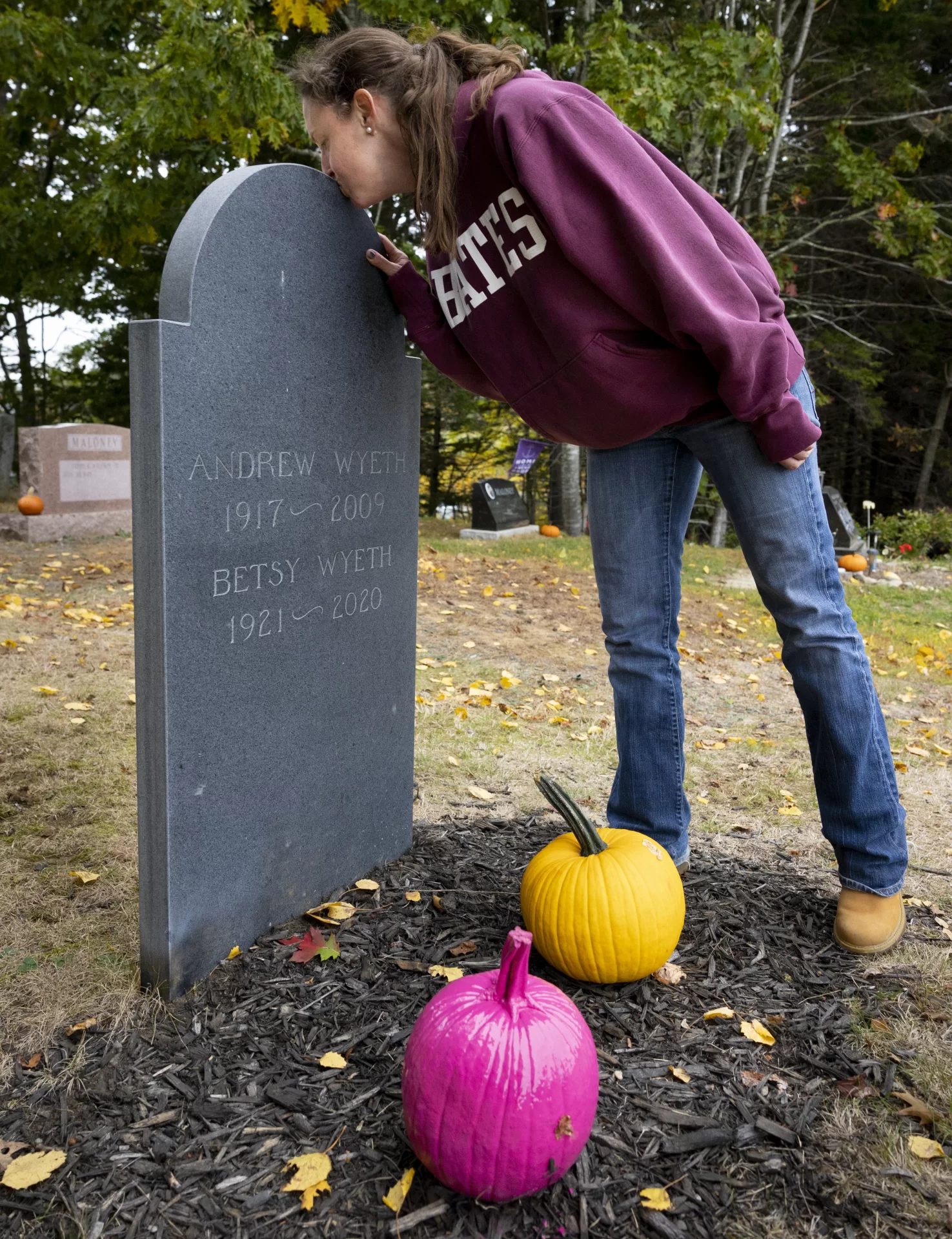 Belber was one of several students already well-acquainted with the concept of New England, and even the Wyeths themselves. She signed up for the course because "I love museums and I love looking at art." She's been relishing the interplay between Creighton and Wyeth. "It's definitely quite a class. They have a fun dynamic."
Josh Smith of Farmington, Maine, felt a pull to the class because in his family home, a print of Jamie Wyeth's Fog Bound Coast has long hung on the wall.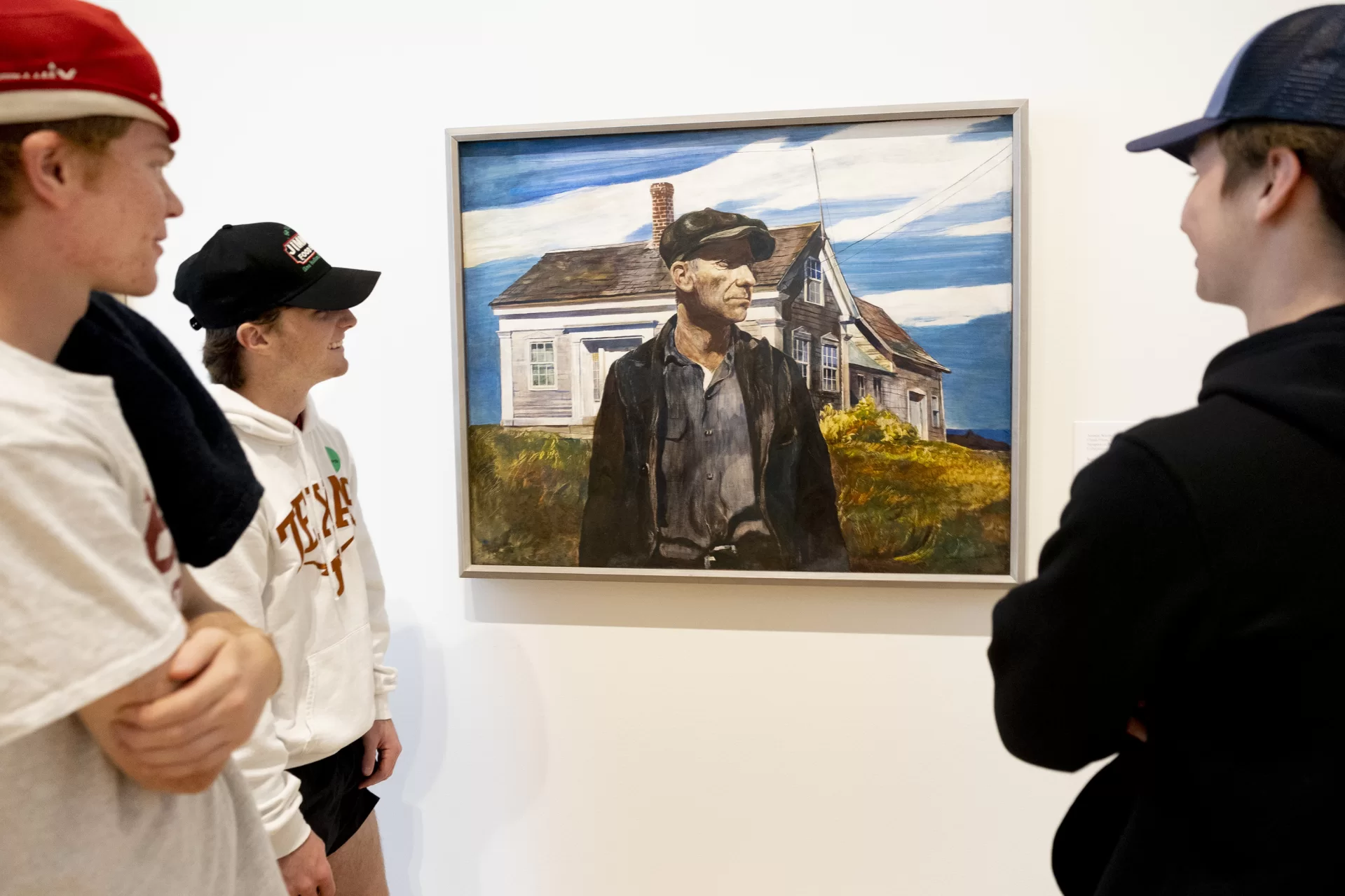 Riley Baker of Northfield,Ill., says she signed up because "I just wanted something different," but as with Smith, a specific piece of art sparked her connection. She attended St. Andrews in Delaware, where a giant mural by N.C. Wyeth covers the wall of a dining room. And that mural is featured in Dead Poets Society, a 1989 film shot at St. Andrews. Baker has watched it over and over again.
When Liam Shlager of Ross, Calif., signed up for the course, he, like Stiner, was a newcomer to the Wyeth mythology but was intrigued. "Then I walk in the first day and Miss Wyeth is there and I was like, 'Oh wow, this is going to be big.'"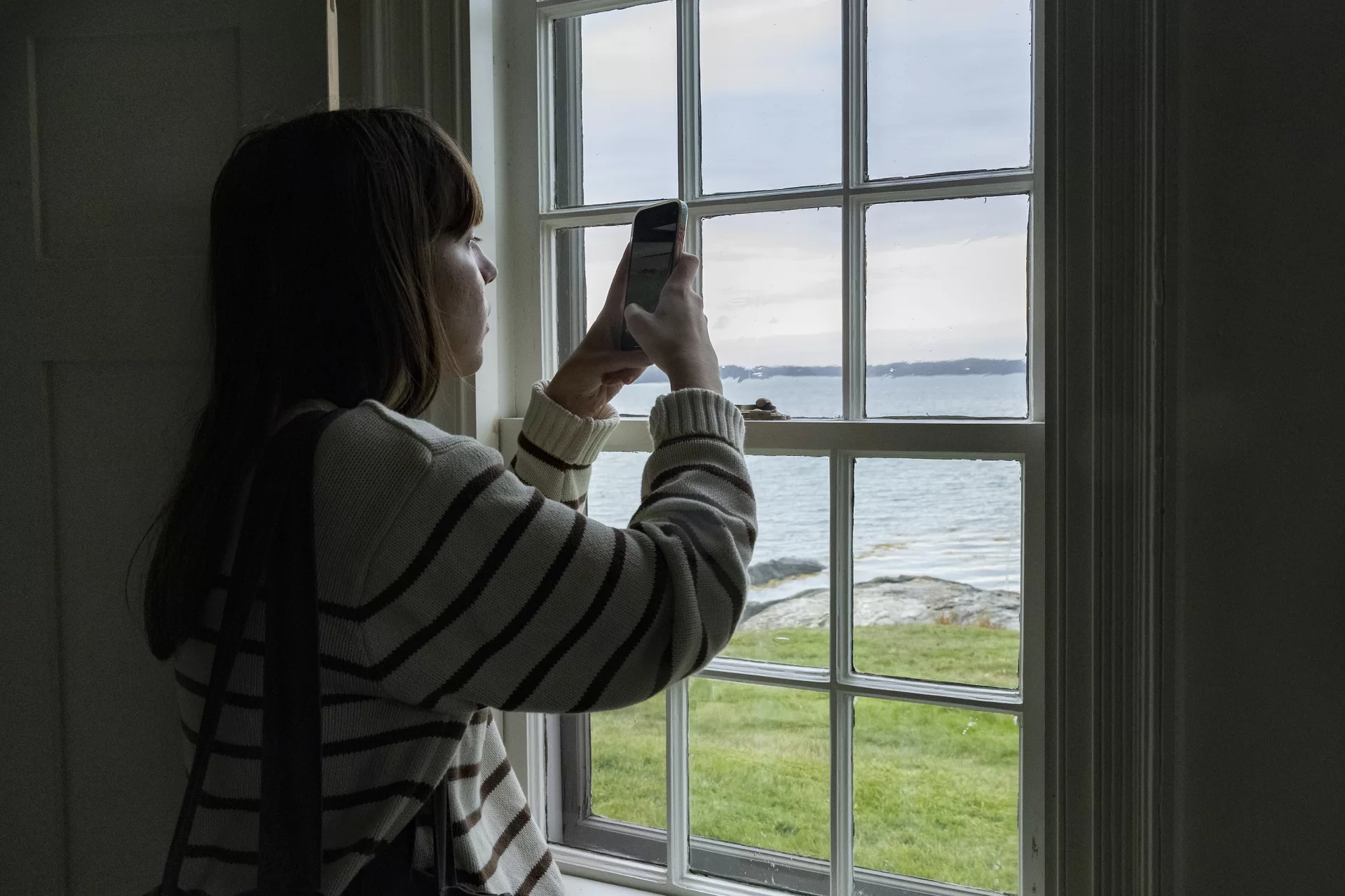 And it has been, from the lively classroom discussions about art to the history lessons and insider stories about growing up in the Wyeth family, where artistic talent tends to make itself evident by age 6, according to Victoria.
Getting to spend a day touring various Wyeth-related properties, and hearing from one of Wyeth's iconic models in person, standing in the exact spot in the farmhouse where Wyeth painted her as a teenager 50 years ago, only elevated the experience. "Like 100 percent," Shlager says.
The model, who asked not to be named, shared a detail about posing for Andrew Wyeth, about how he asked her to wet her hair every time she arrived to pose, and that detail caused Victoria to gasp. "You never told me this," she said. "I am blown away."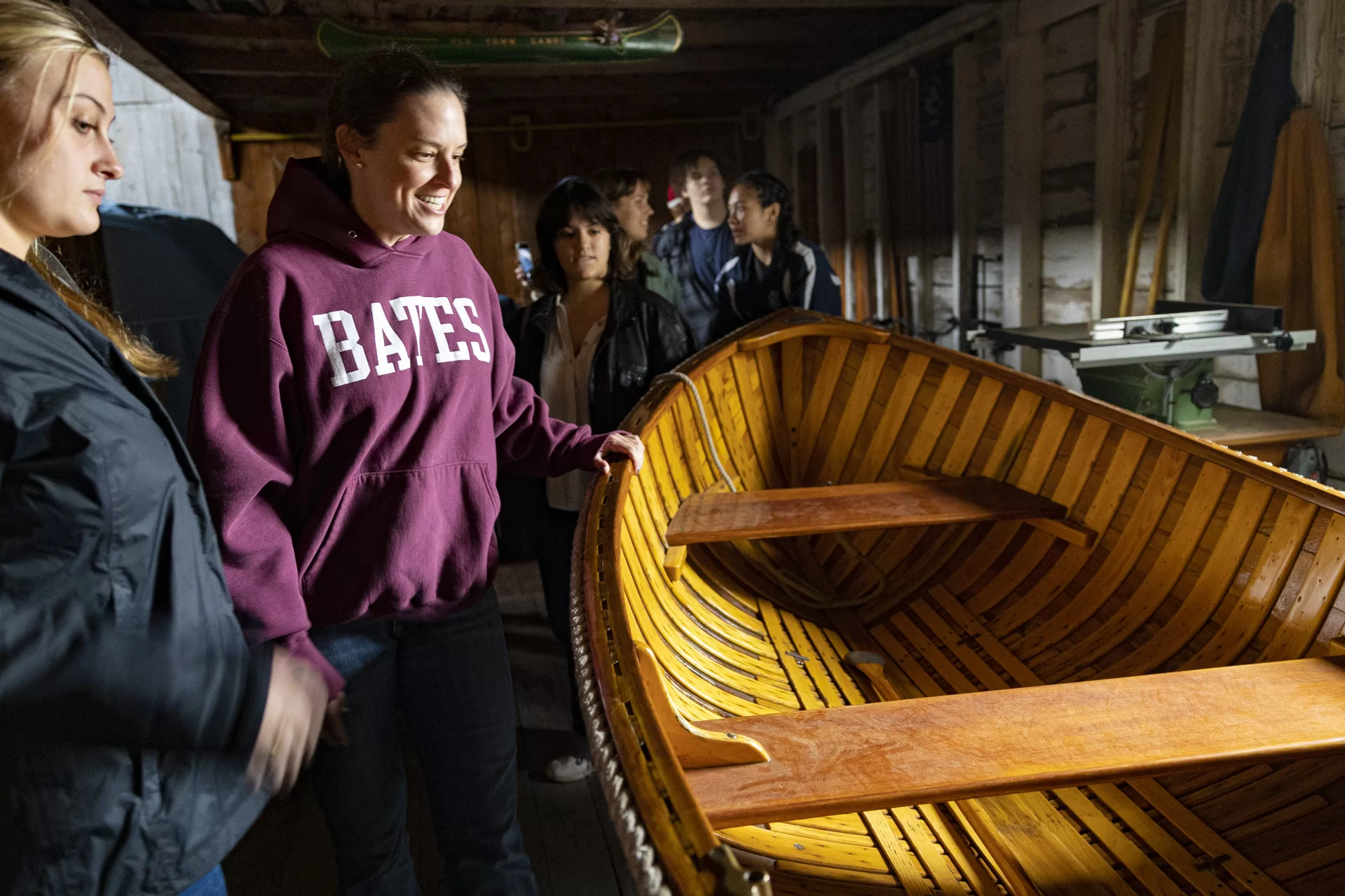 "This is so cool," Victoria went on. "That's how you guys are going to remember this. I mean, I know it's sinking in now, but I'm telling you, in 20 years? You're going to remember this."
For Wyeth herself, the excursion was equally joyful. "I was so thrilled to get to know my students on such a different level," she says. "We all had a blast on the bus ride to Cushing. I learned about their taste in music and some fun family stories. I can't quite put into words how much closer it made us as a class. We went from being a class to feeling like a family."
View Comments