From balmy skies to frigid snowscapes, we've enjoyed all kinds of experiences in January. We've clowned and celebrated, consulted at whiteboards, and put our heads together. We've run and read, knitted and debated, monitored water quality and scored our 999th point. What's next? Before we answer that, please explore This Month at Bates.
Shorts Weather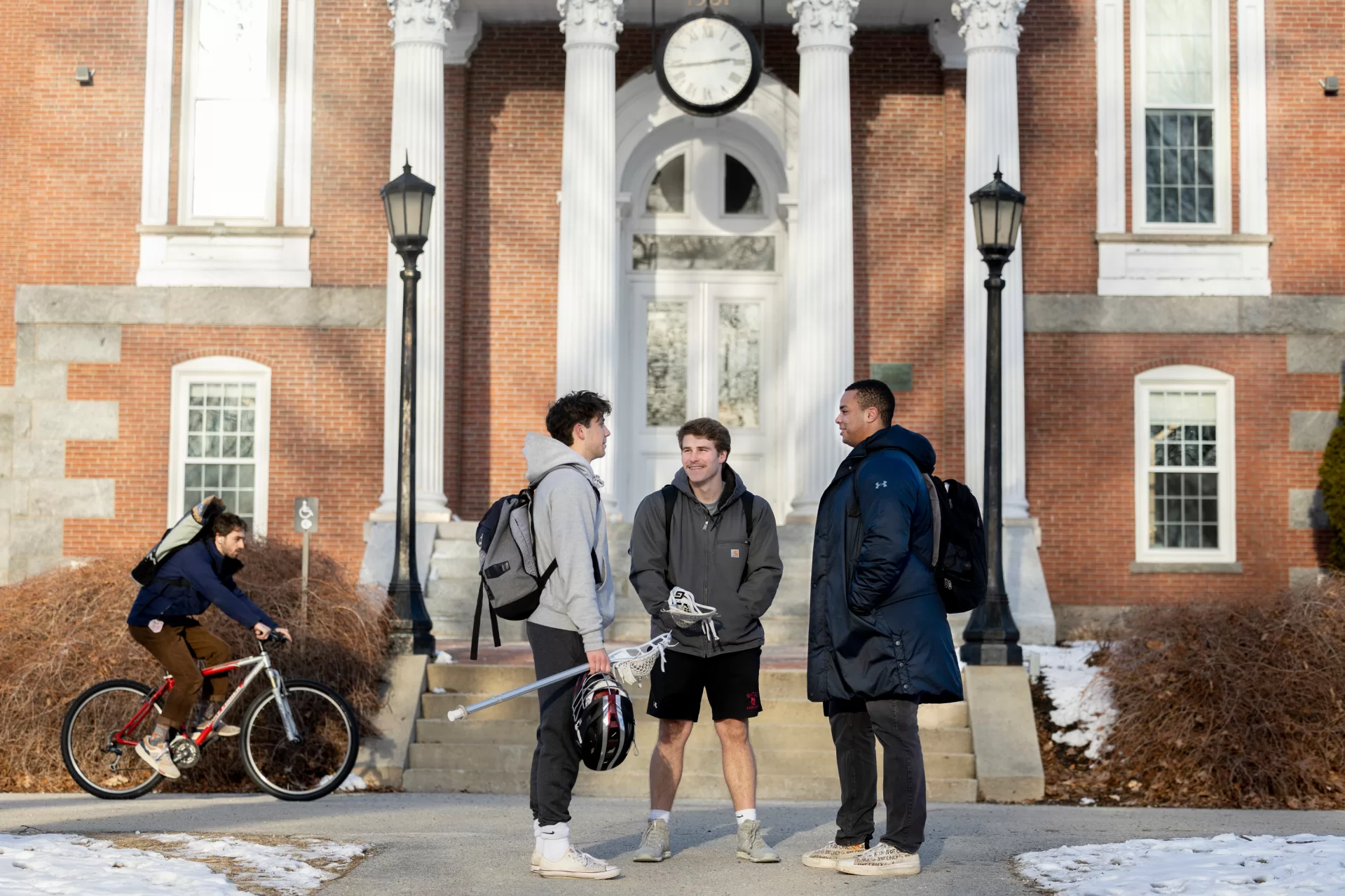 "It's nice to see a little snow on the ground," says junior Alex Horowitz of Manhattan Beach, Calif., on the first day of the winter semester as he reconnects with classmates and lacrosse teammates Jack Daoust of Needham, Mass., and Ryan Williams of New York City in front of Hathorn Hall.
Paws-itively chilly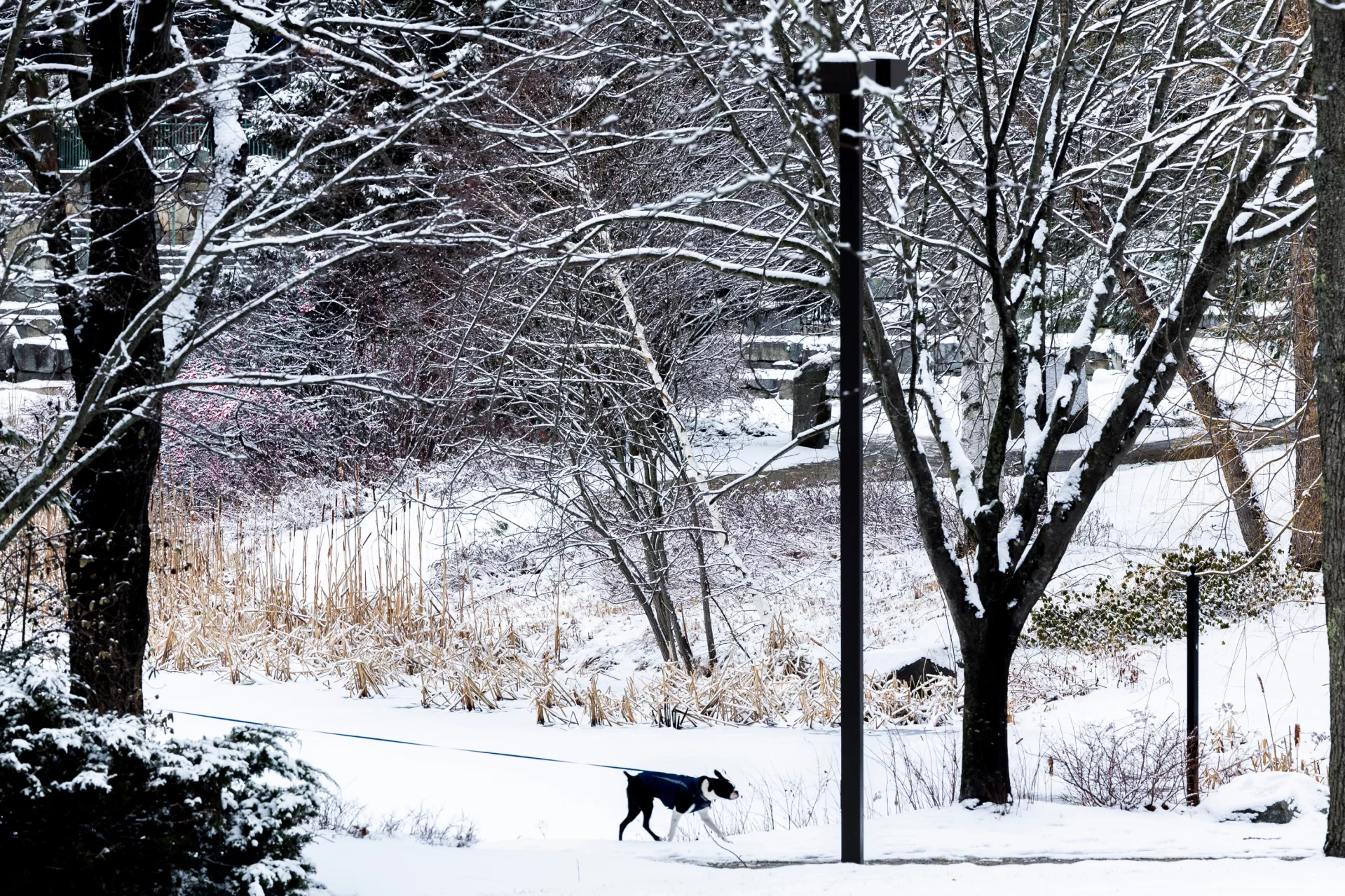 A fresh coating of snow makes for a chilly walk around the Puddle on Jan. 7.
---
Art & Activism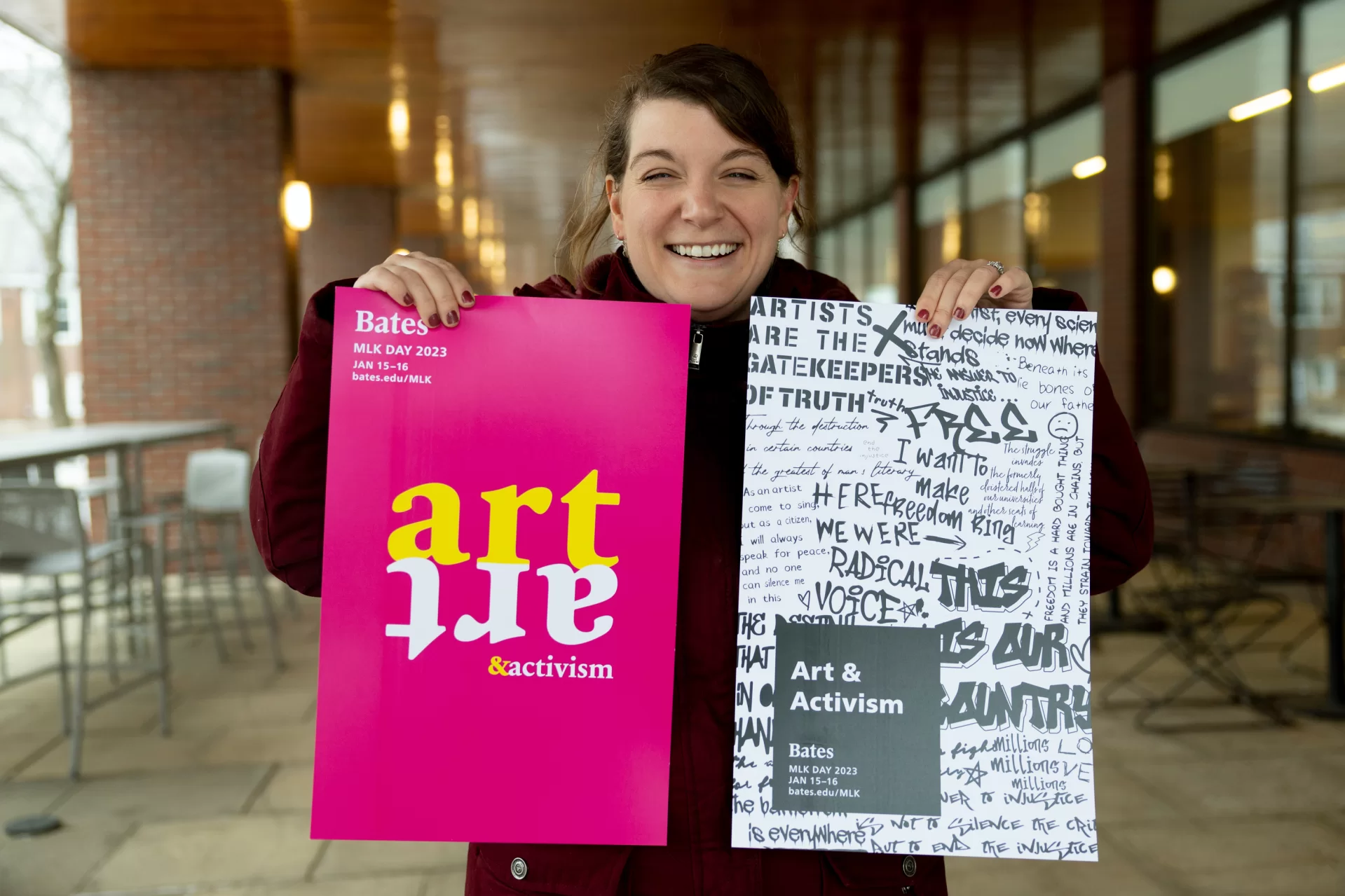 Multifaith Chaplain Brittany Longsdorf poses with the 2023 Martin Luther King Jr. Day posters, as she circulated them throughout campus. Celebrating the year's theme, Art & Activism, the eye-catching posters were designed by Bates Communications Office designer Olivia Orr.
---
Song of Invocation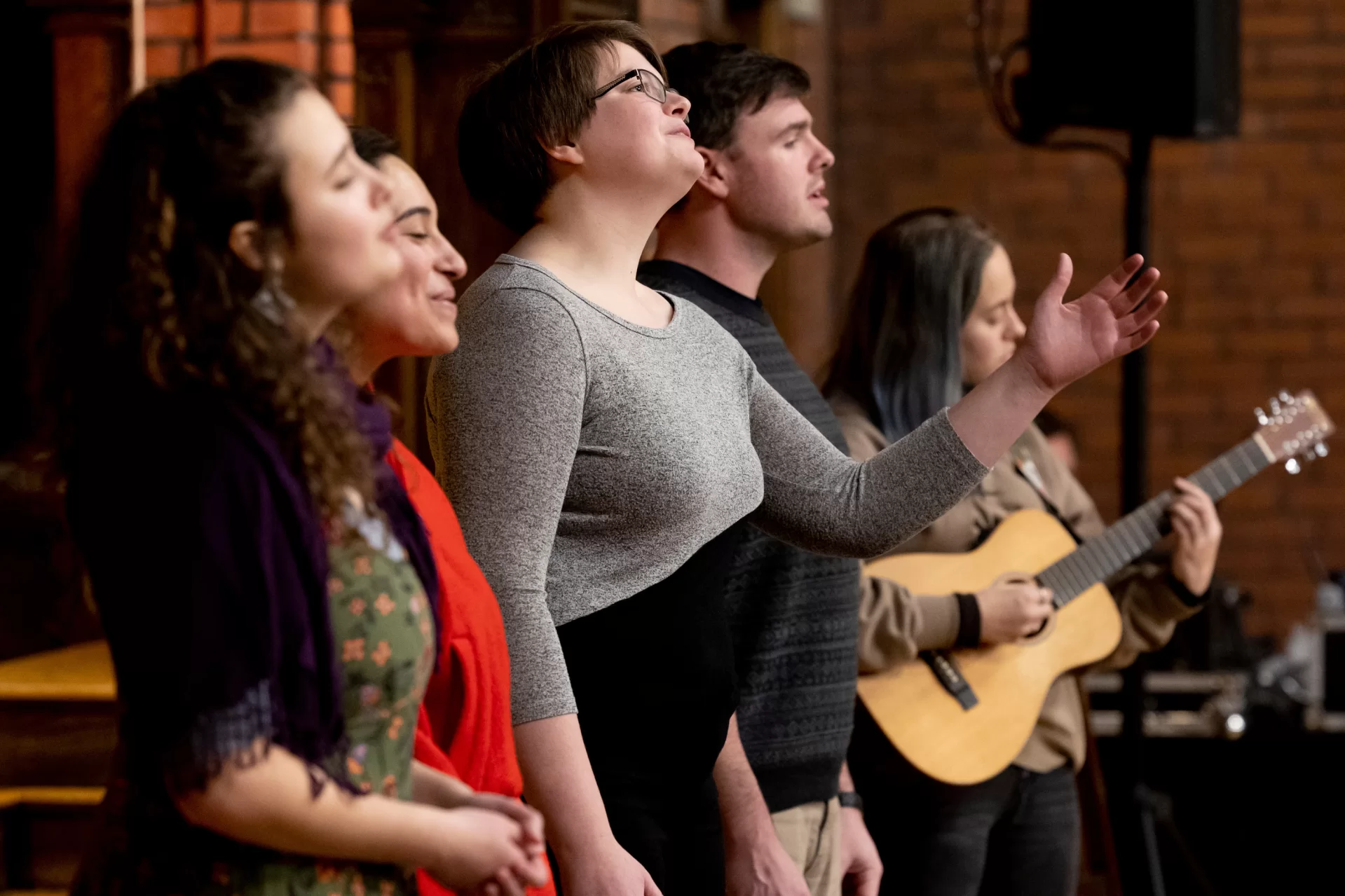 The Gospelaires, Bates' student-led gospel choir, sings "Holy Spirit," a contemporary worship song, as a song of invocation during the Martin Luther King Jr. Day Interfaith Service, held in the Peter J. Gomes Chapel on Jan. 15.
---
'Laughter is the Best Medicine'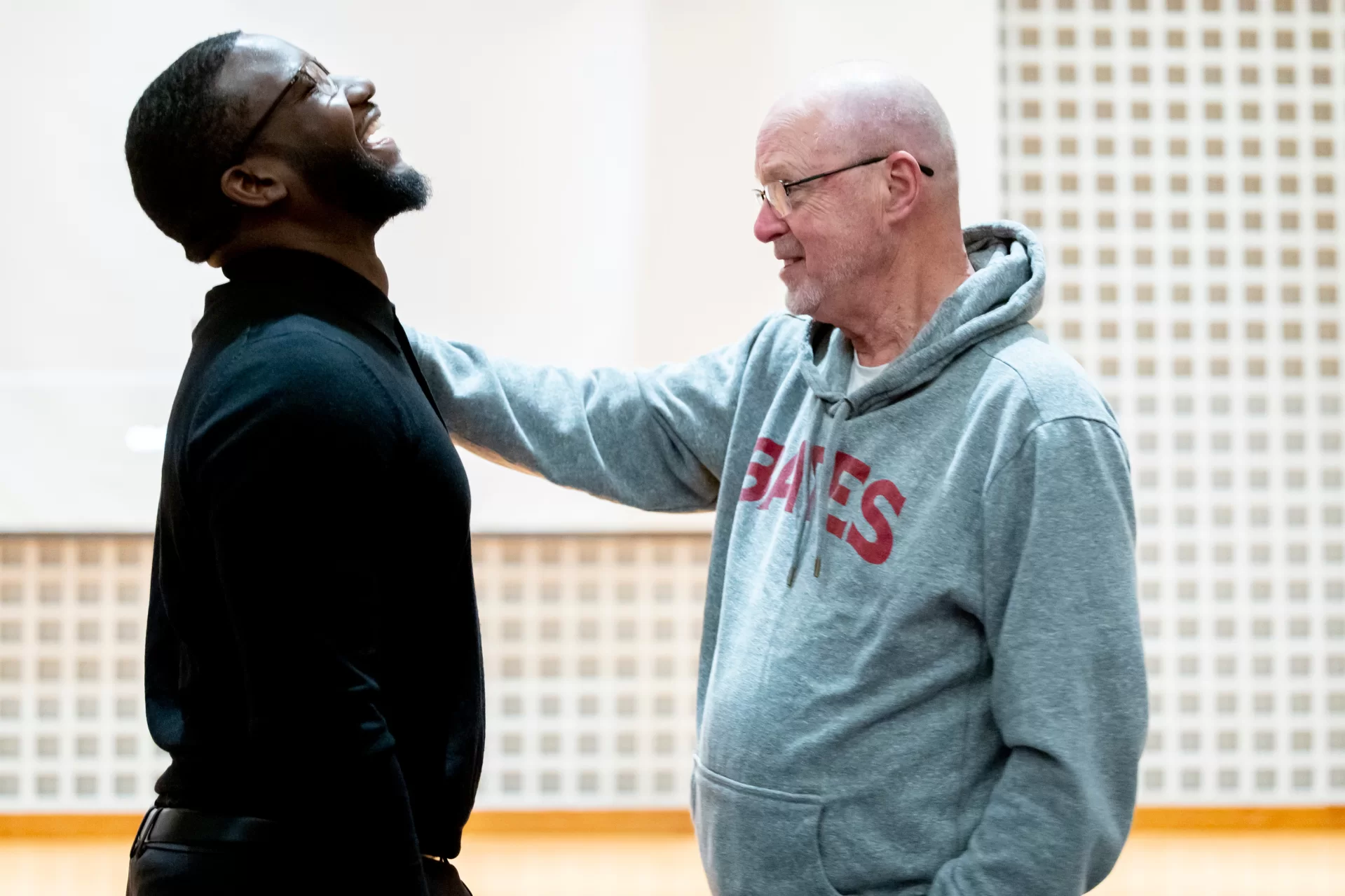 Marshall Hatch Jr. '10 (left) shares a laugh with Bill Hiss '66 before a screening of the documentary All These Sons in the Olin Arts Center concert hall as part of the college's MLK Day observance.
The film follows Hatch as he leads the MAAFA project in Chicago, a faith-based residential program in the West Garfield Park neighborhood for adult men of color who are at risk in some way, including some who are rejoining the community after incarceration.
---
Enraptured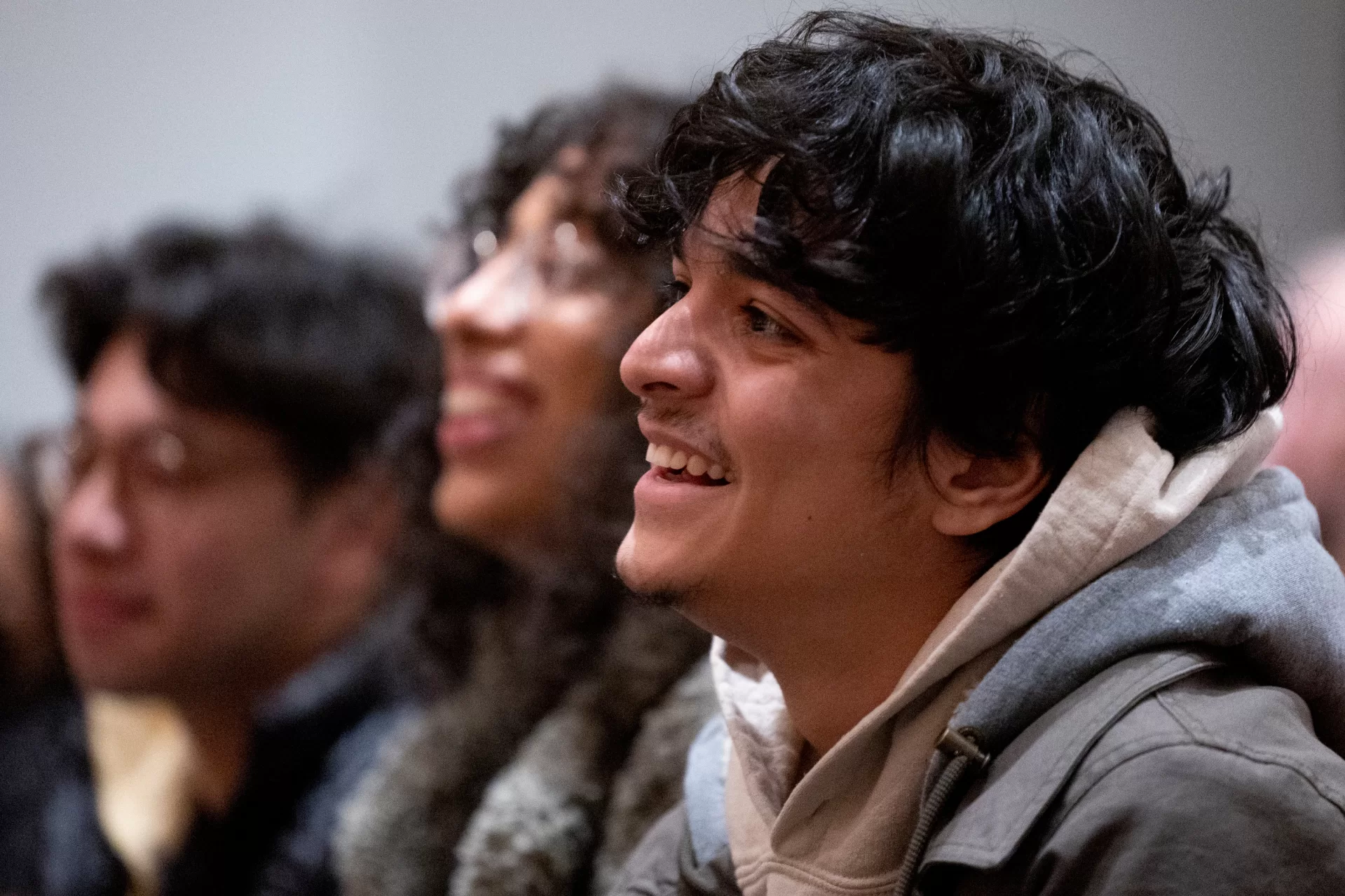 From left, Jeff Gao '23 of Cypress, Texas, Emily Diaz '23 of Corona, N.Y., and Jared Miranda-Ogaz '23 of Denver listen in appreciation as Marshall Hatch Jr. '10 responds to a question asked by Miranda-Ogaz after a screening of All These Sons.
---
Pink-Glazed Purple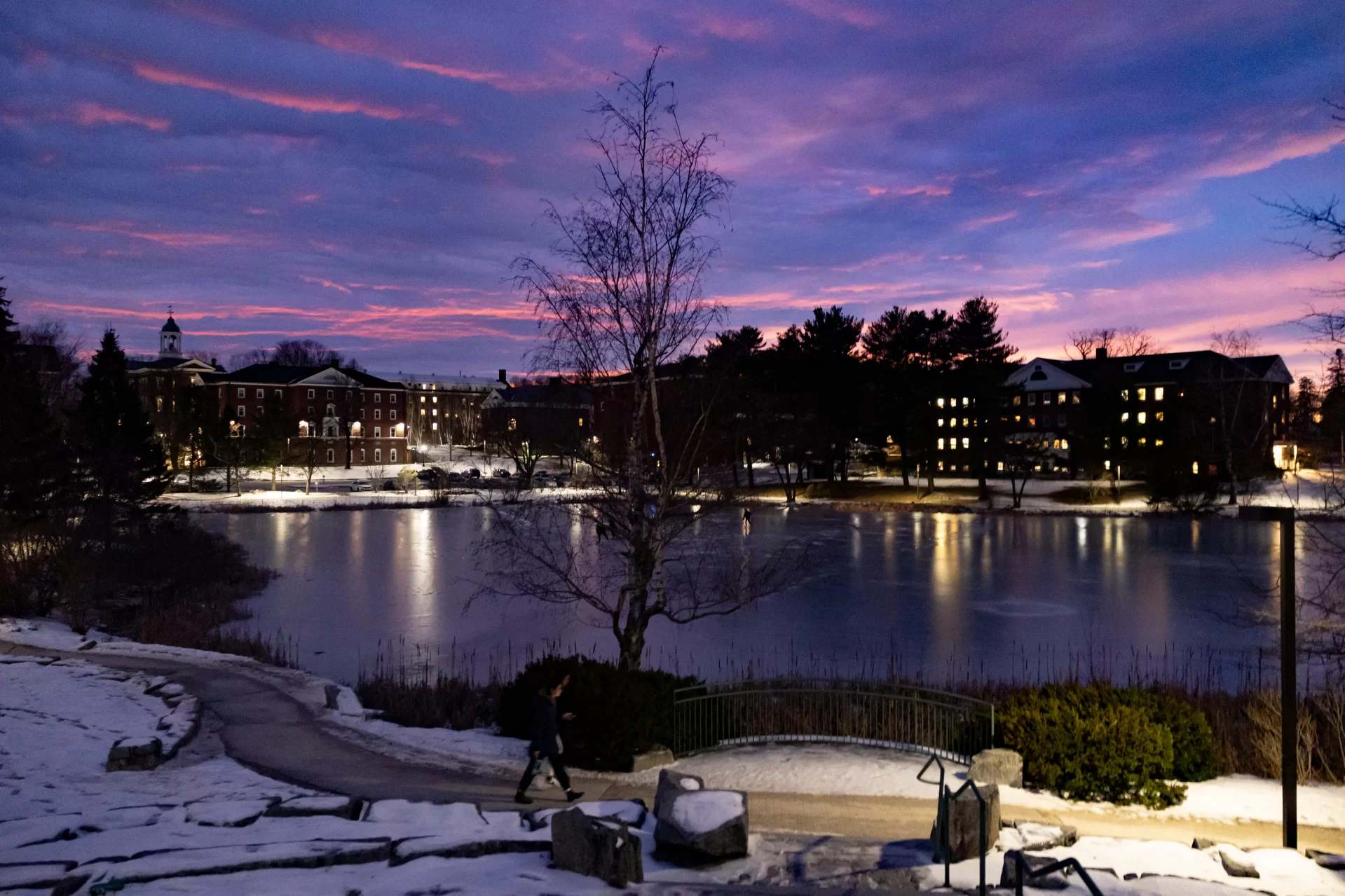 The last streaks of a gorgeous purple-and-pink sunset illuminates the sky, as the campus lights turn on, and Bates' winter nightlife begins.
---
Speak Your Purpose into Existence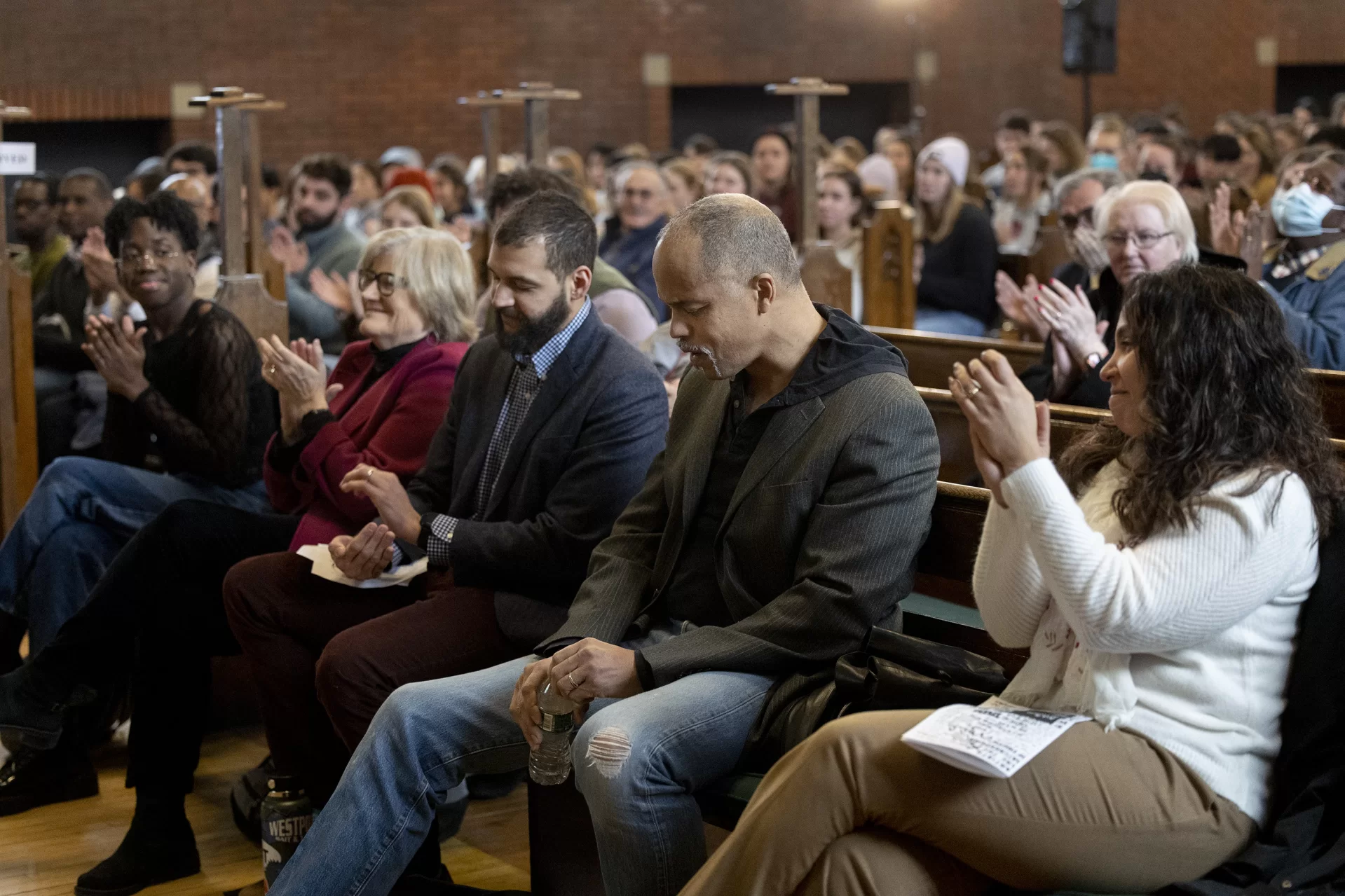 Keith Hamilton Cobb (second from right) takes in the applause from the Bates community gathered in the Peter J. Gomes Chapel after delivering the keynote address for the 2023 Martin Luther King Jr. Day observance.
Cobb exhorted his audience to "say yes" to the voice within us, asking us to step forward and be present "wherever you are wanted."
Saying yes is "your way of speaking your purpose into existence" as a creative activist capable of "applying your tools to a more socially conscious, more human-centric future."
Seated with and applauding Cobb are, from left, Sam Jean-Francois '23 of of Medford, Mass., President Clayton Spencer, Assistant Professor of Environmental Studies Tyler Harper, and Leana Amáez, the incoming vice president for diversity, equity, and inclusion.
---
Light Up the Room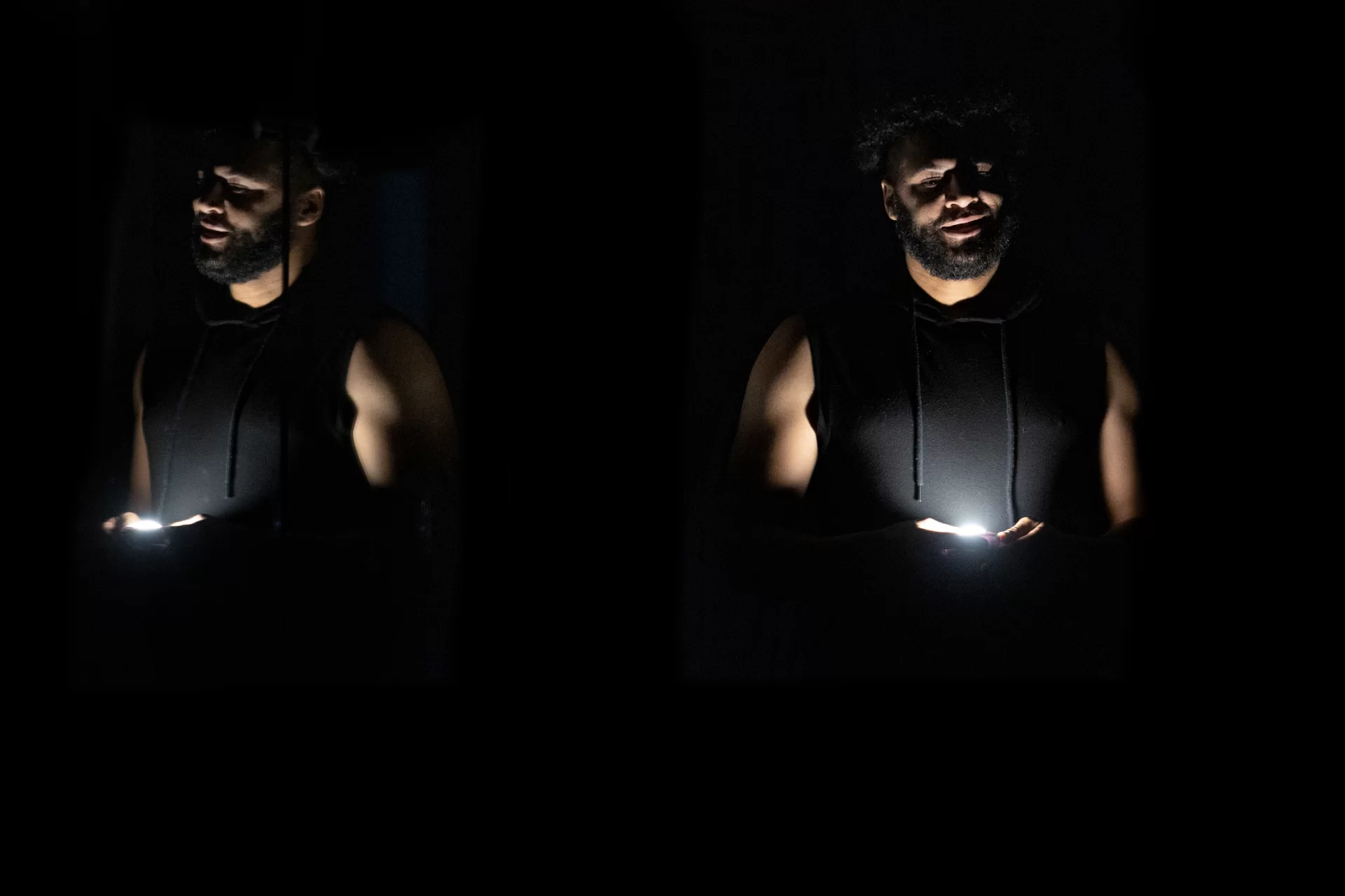 Assistant Professor of Dance Brian J. Evans presents his MLK Day workshop, "Do, Process: An Offering/Sharing of Embodied Authenticities."
Evans invited participants to engage with the question, "how do 'we' confront the implications that arise when one of the foundational documents of the United States of America does not equally protect all of its citizens, let alone those it deems illegal and foreign?"
---
'Reconsidering Othello'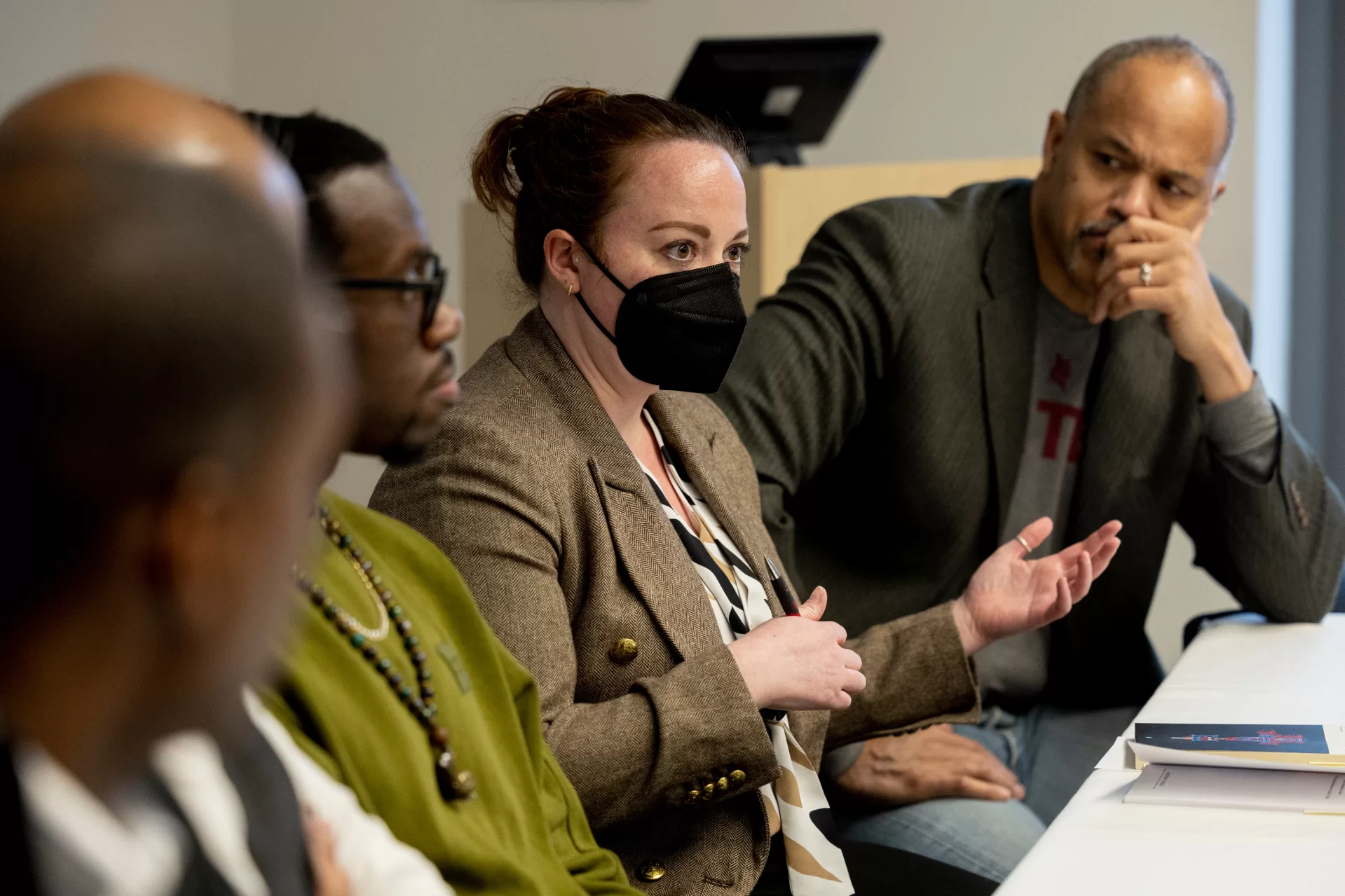 Katie Adkison (center), an assistant professor of English, speaks during a panel discussion and workshop led by Keith Hamilton Cobb, titled "Reconsidering Othello."
Cobb spoke about his ongoing "Untitled Othello Project," which is an attempt to "speak back" to the work and the institution of theater. He invited the audience to ask questions and share observations about the play, the project, and their personal opinions about the story and characters, and the social implications of the play.
Adkison and Cobb were joined by David Sterling Brown, an assistant professor of English at Trinity College; Robert Manning Jr., an actor playing the role of Othello for the project; and Terrell Donnell Sledge, an actor playing the role of Montano.
---
A Friendly Debate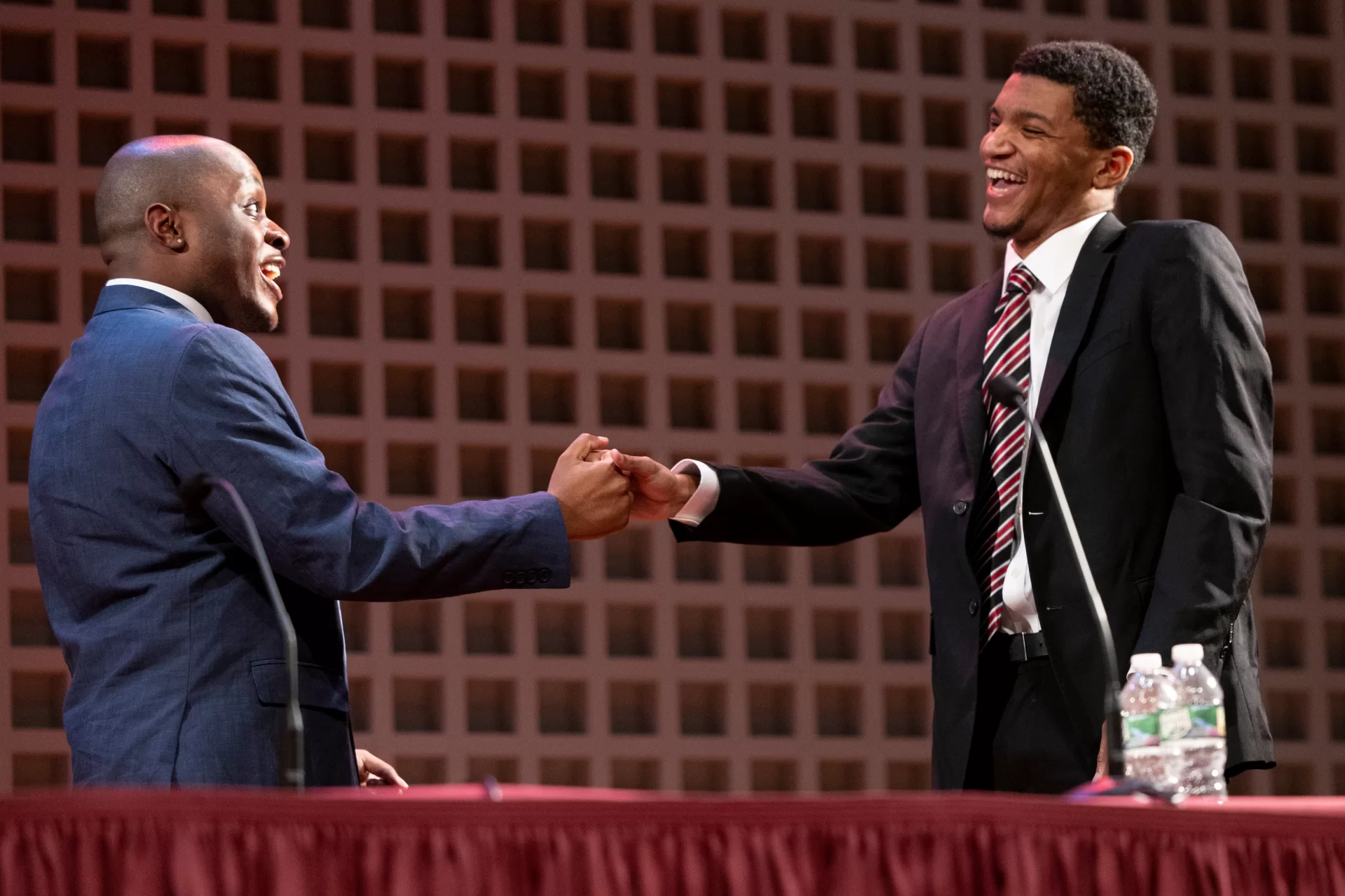 Morehouse College debaters Chijindum Dike (left) celebrates with John Curry after participating in the Rev. Dr. Benjamin Elijah Mays, Class of 1920, Bates-Morehouse Debate, a longtime feature of Bates' MLK Day programming.
The tradition honors Mays, who served as the president of Morehouse College for 27 years. King, then a student at Morehouse, referred to Mays as his "spiritual mentor."
This year's motion was, "This house believes that the targeting of iconic works of art to advance social justice is justified," and the debaters responded to each other and opinions from the audience.
---
Art in Motion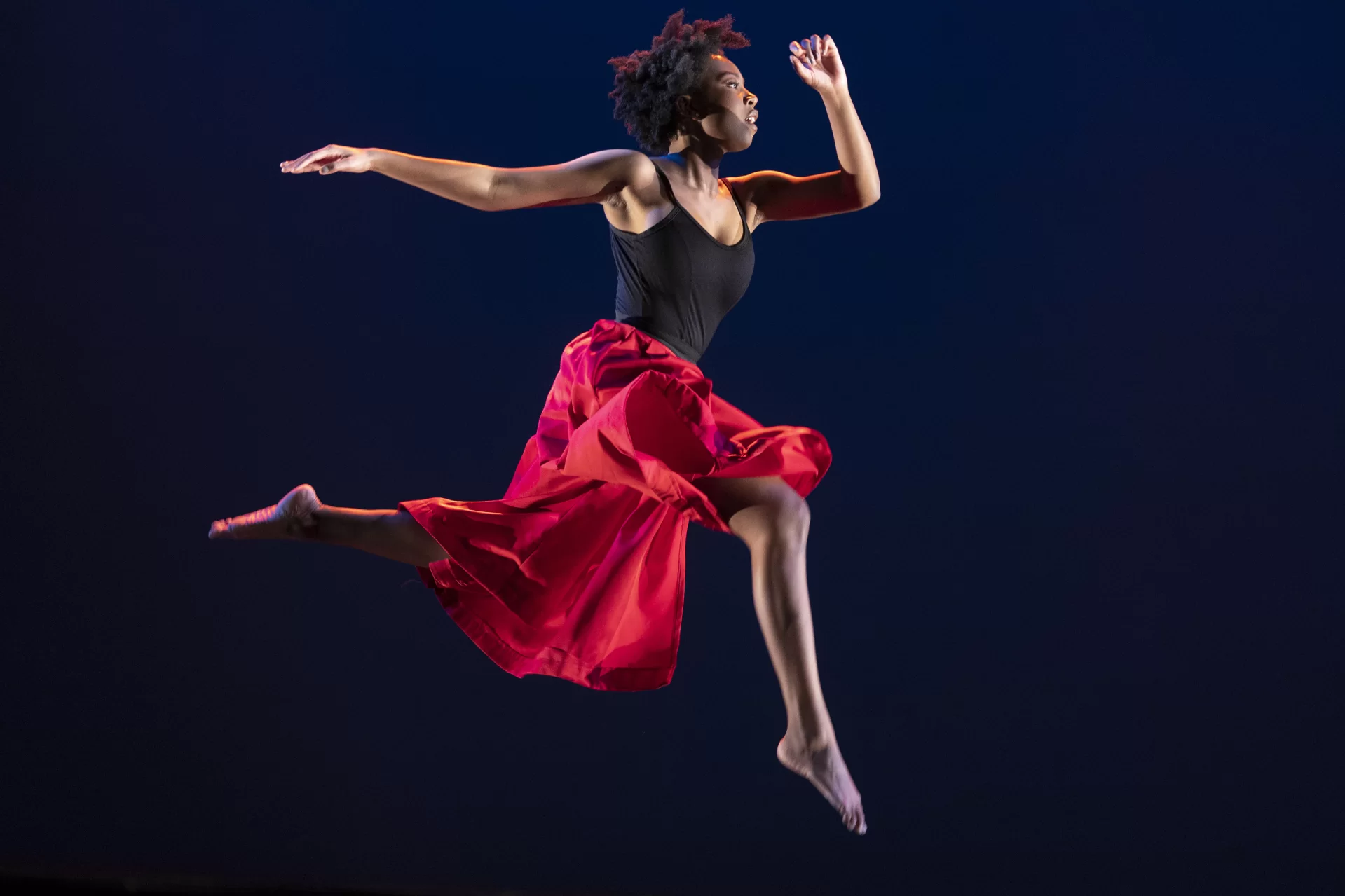 Lauren Reed '23 of Baton Rouge, La., leaps through the air during a solo dance she performed as part of Sankofa, the final event of MLK Day programming.
Representing remembrance, memory, and community, the annual student-produced Sankofa performance responded to this year's MLK Day theme, "Art and Activism," by reflecting Black grief, Black resistance, and Black joy through poems, dances, speeches, songs, and skits.
---
Winning Throw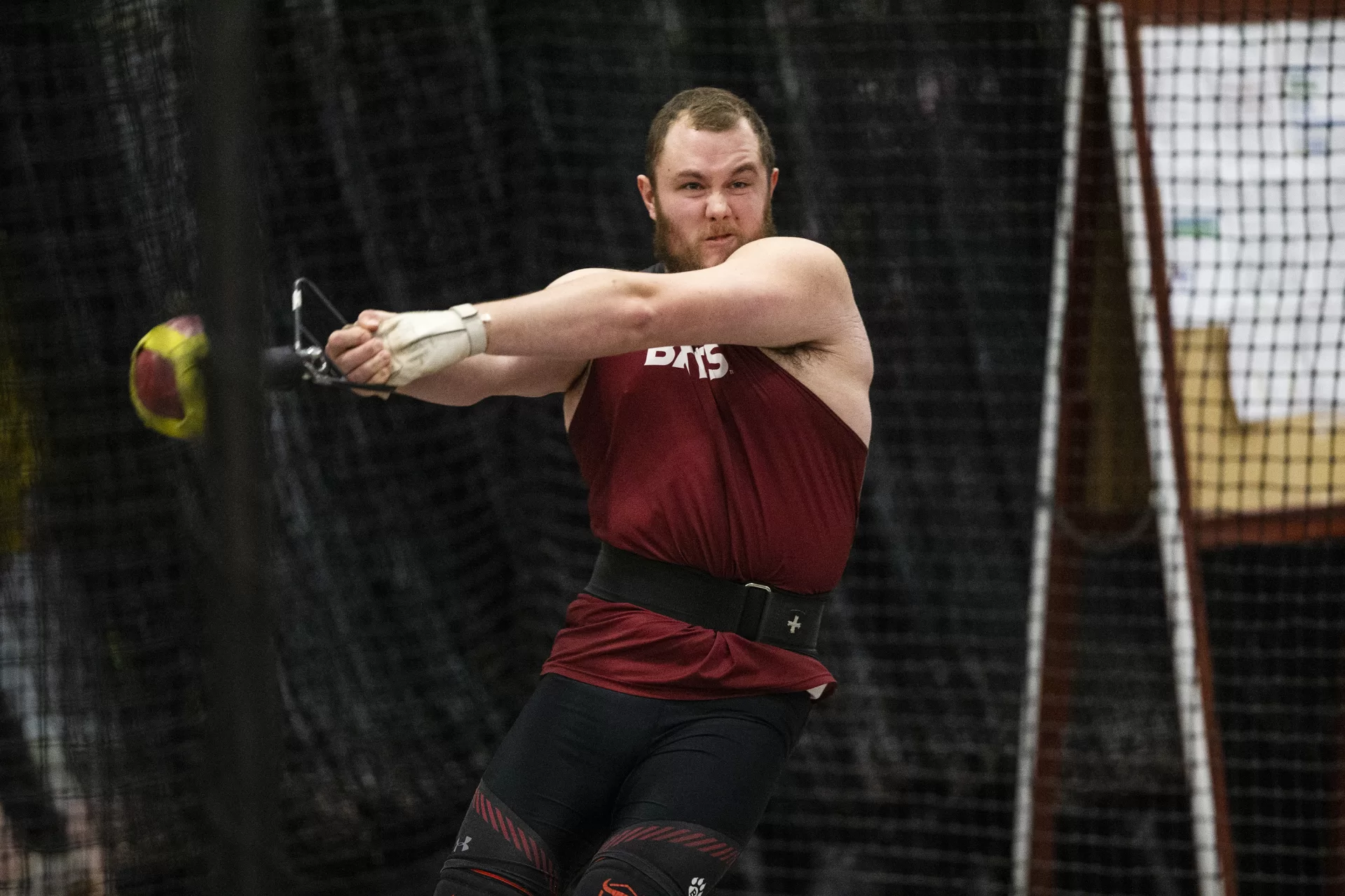 Men's track and field captain Liam Byrne '23 of Ridgefield, Conn., won the 35-pound weight throw with a top heave of 56 feet, 10.75 inches, at the Bates Invitational at Merrill Gymnasium on Jan 21.
---
California Snowin'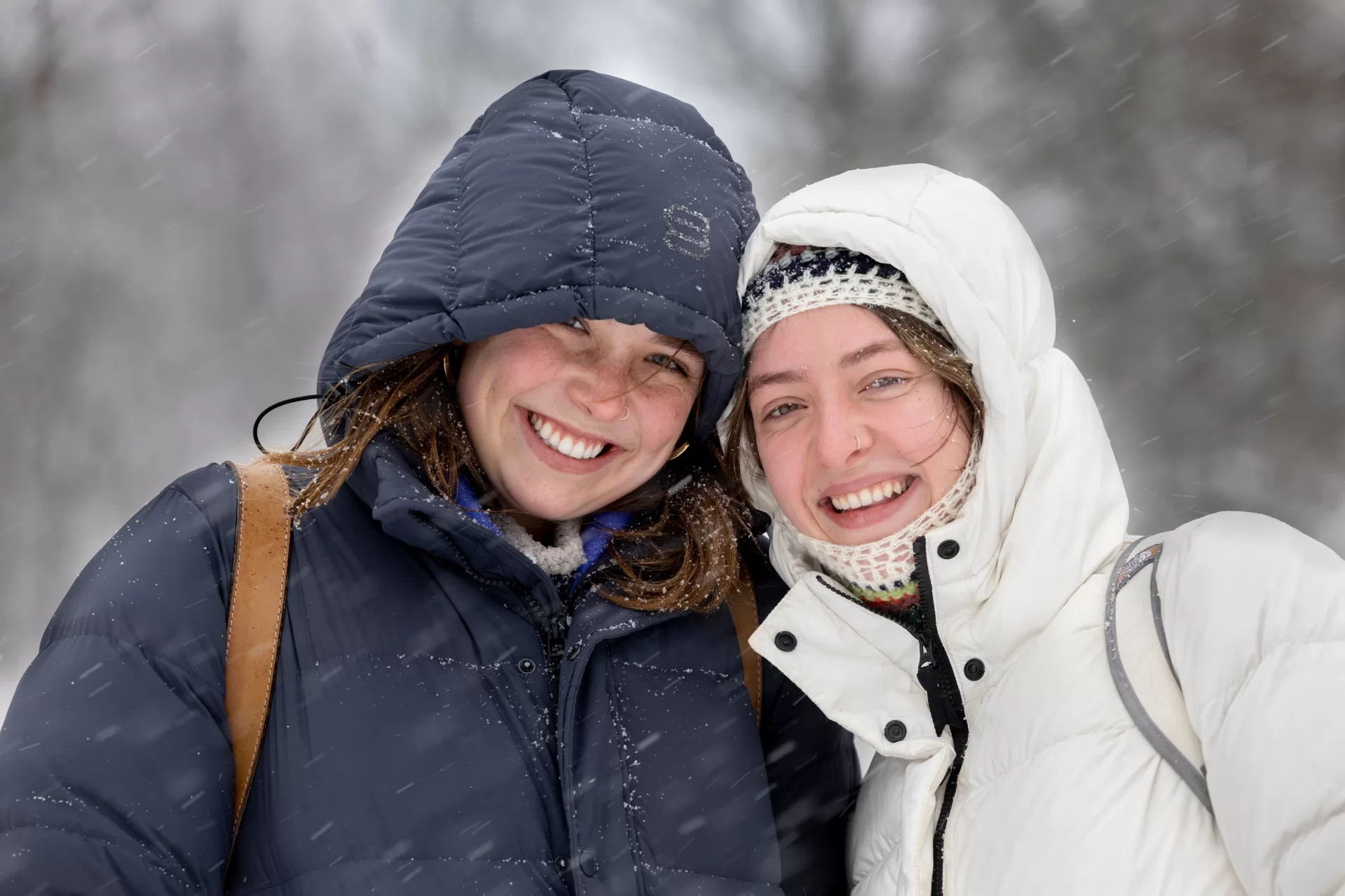 "Walking in the snow with someone who's from California is always fun because they're not used to it. It makes everything a little more beautiful," says Claire Kaminski '24 (right) of Montclair, N.J., experiencing a January snowstorm with her friend Josephine Woodruff '24 of La Crescenta, Calif. The storm blanketed the campus with 8 inches of fresh, fluffy snow.
---
Puddle Science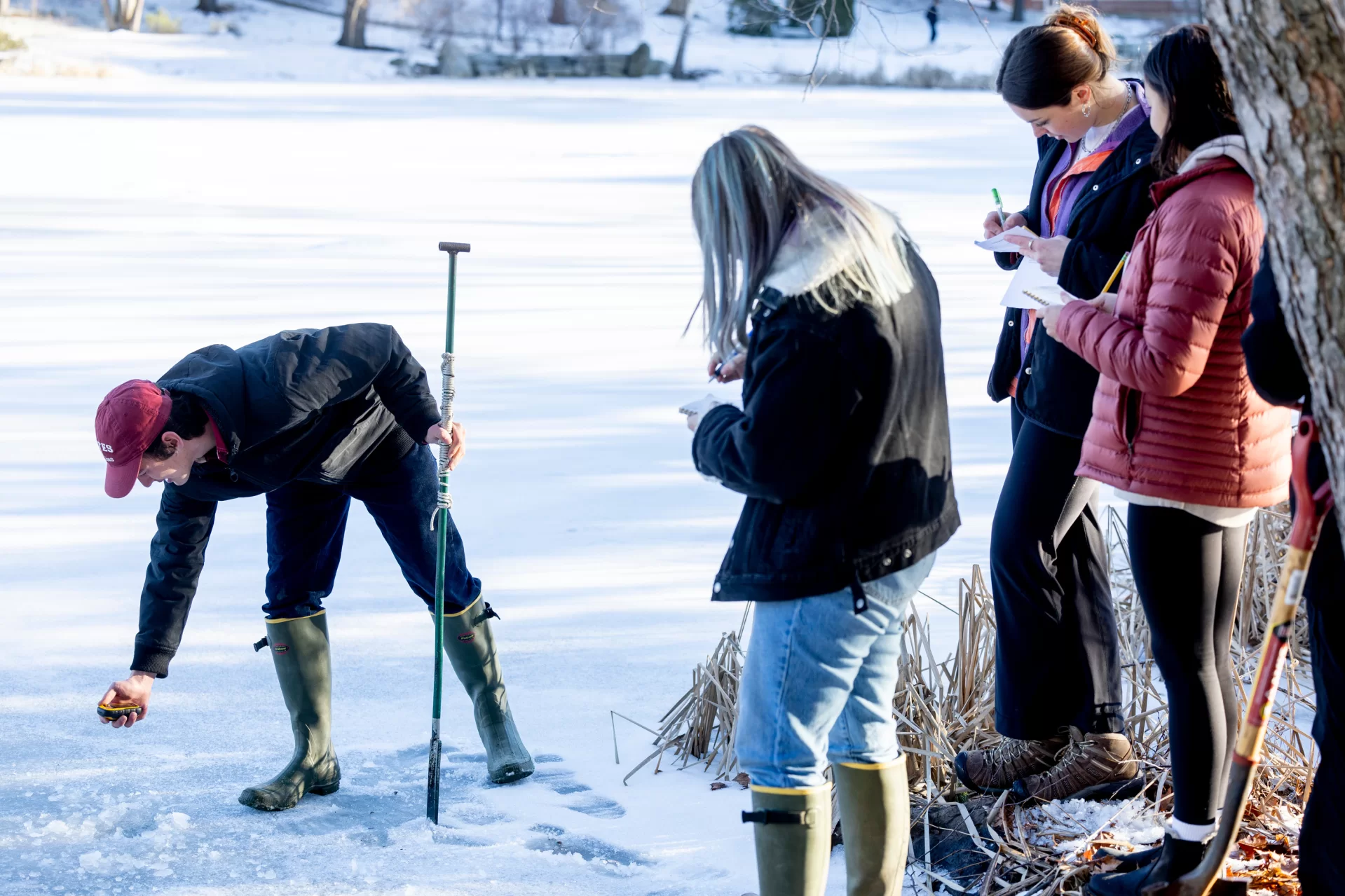 Colby Green '25 of Maplewood, N.J., takes a GPS "waypoint" — the coordinates of a specific location, such as latitude and longitude — of a water-sampling site at Lake Andrews
Green and fellow students of Visiting Assistant Professor of Earth and Climate Sciences Anne Fetrow ventured to the Puddle's shores in January for something of a lab 'n' learn session for their environmental geochemistry course.
"This is our first lab, and we're learning how to use our water-quality monitoring equipment and also how to work together in a field setting," explained Fetrow.
The geospatial information will complement geochemical data (i.e., chemicals in the water) collected from the samples.
Noting the data are, from left, Caroline Friedman '25 of Mercer Island, Wash., Livi Kozick '24 of Portsmouth, N.H., and Sophie Cassily '25 of Rye, N.H.
---
Team Spirit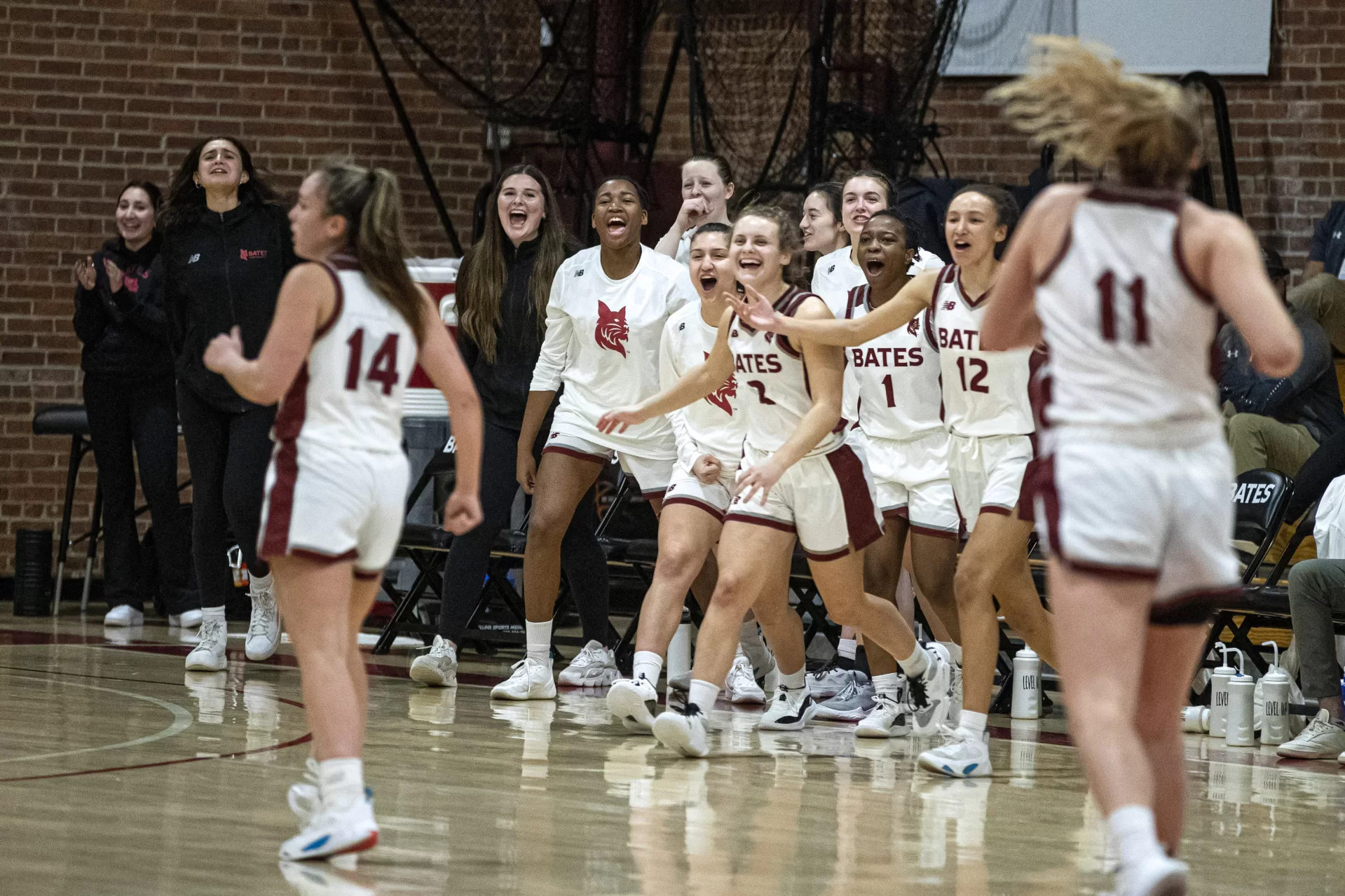 The Bates women's basketball team was hyped up from the beginning on their way to a 72–59 win over Middlebury at Alumni Gym in late January.
---
'A Change of Scenery'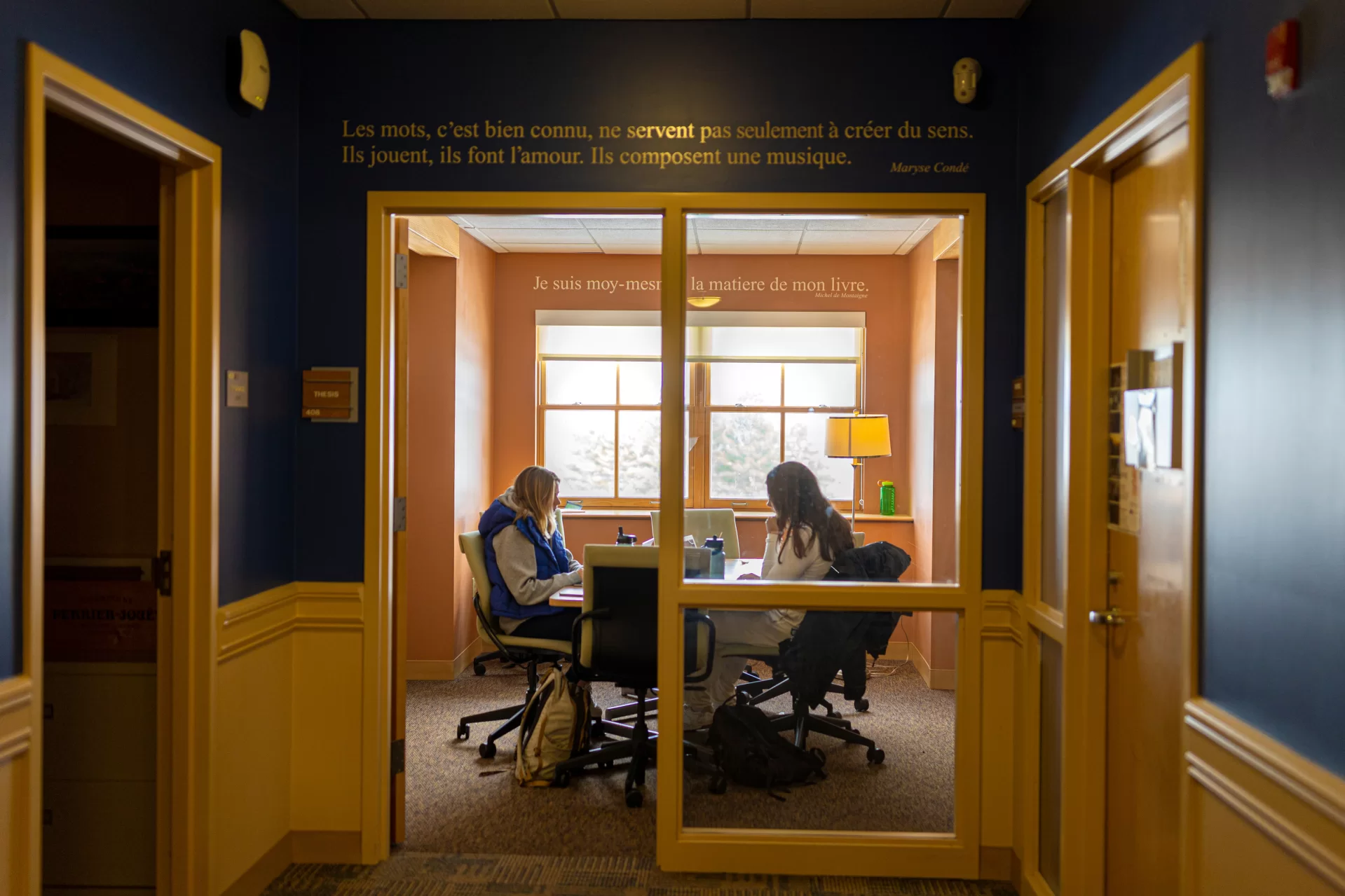 Biology majors Sophie Martens '23 (left) of Scarborough, Maine, and Cece Pilgrim '23 of North Kingston, R.I., found what they were looking for, "a change of scenery," in the Department of French and Francophone Studies' thesis lounge on the fourth floor of Roger Williams Hall.
Martens was working on an independent study focused the connection between diaper need and food insecurity — a continuation of her senior thesis completed in the fall under the supervision of Bruno Salazar-Perea, a lecturer in biology and faculty fellow for Medical Studies.
Pilgrim was at work on her yearlong thesis on how bumblebee age affects wing wear under the supervision of Assistant Professor of Biology Andrew Mountcastle.
---
Fly Like a Butterfly, Bite Like a Bobcat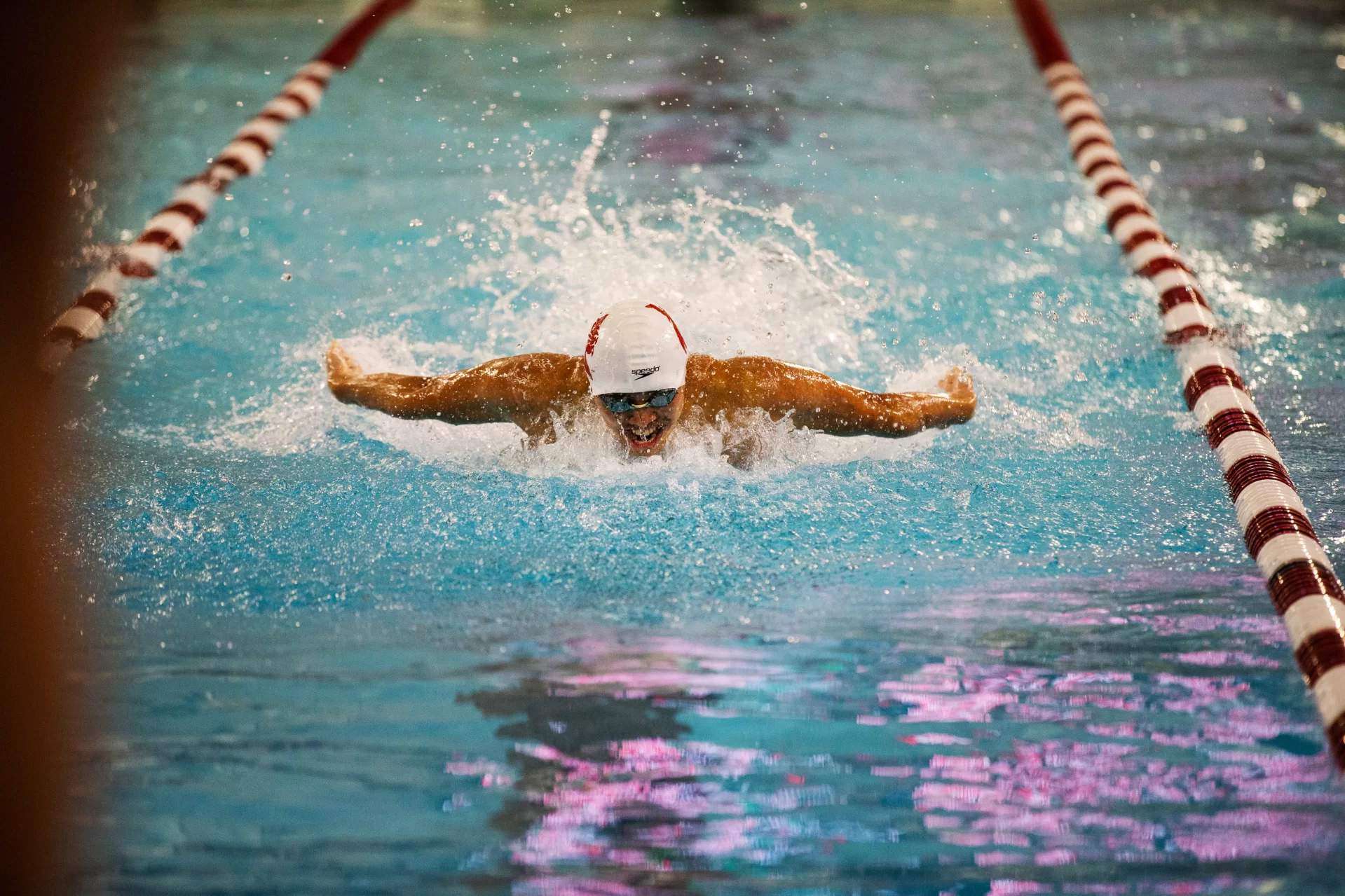 Men's swimming and diving captain Edmond Giang '23 of Wayland, Mass., competes in the butterfly against Dartmouth at Tarbell Pool on Jan. 7, 2023.
---
Walk a Mile in These Shoes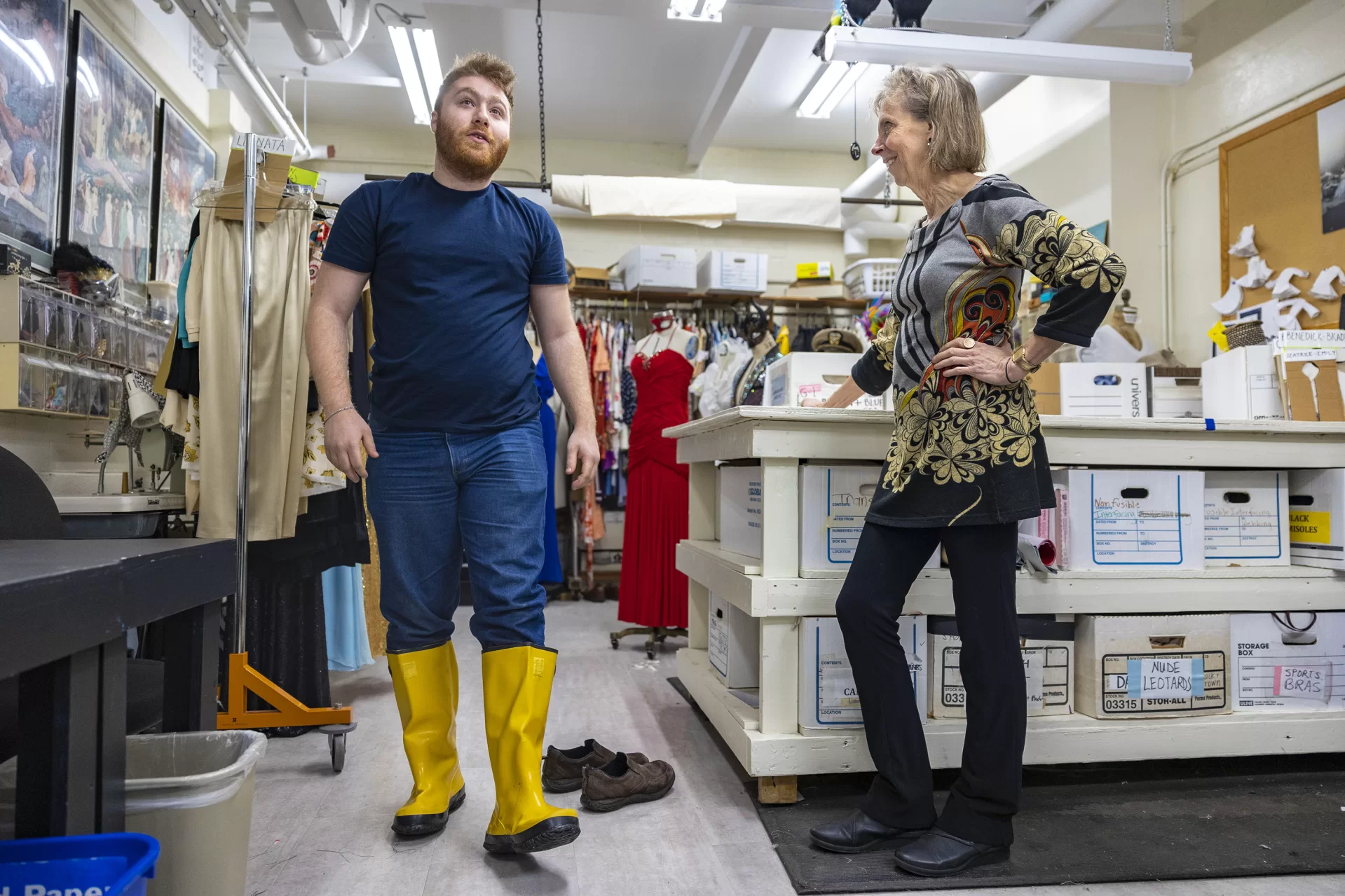 Brendan Fitzgerald '23 of New Rochelle, N.Y., tries on a pair of bright yellow rain boots under the watchful eye of Carol Farrell, supervisor of the costume shop.
Farrell is costuming the upcoming production of Shakespeare's Much Ado About Nothing, which will be set in Bar Harbor, Maine, in 1945. Fitzgerald is a cast member, playing a lobsterman, and very well might walk a mile in those boots, during rehearsals and performances.
---
Huddle Up!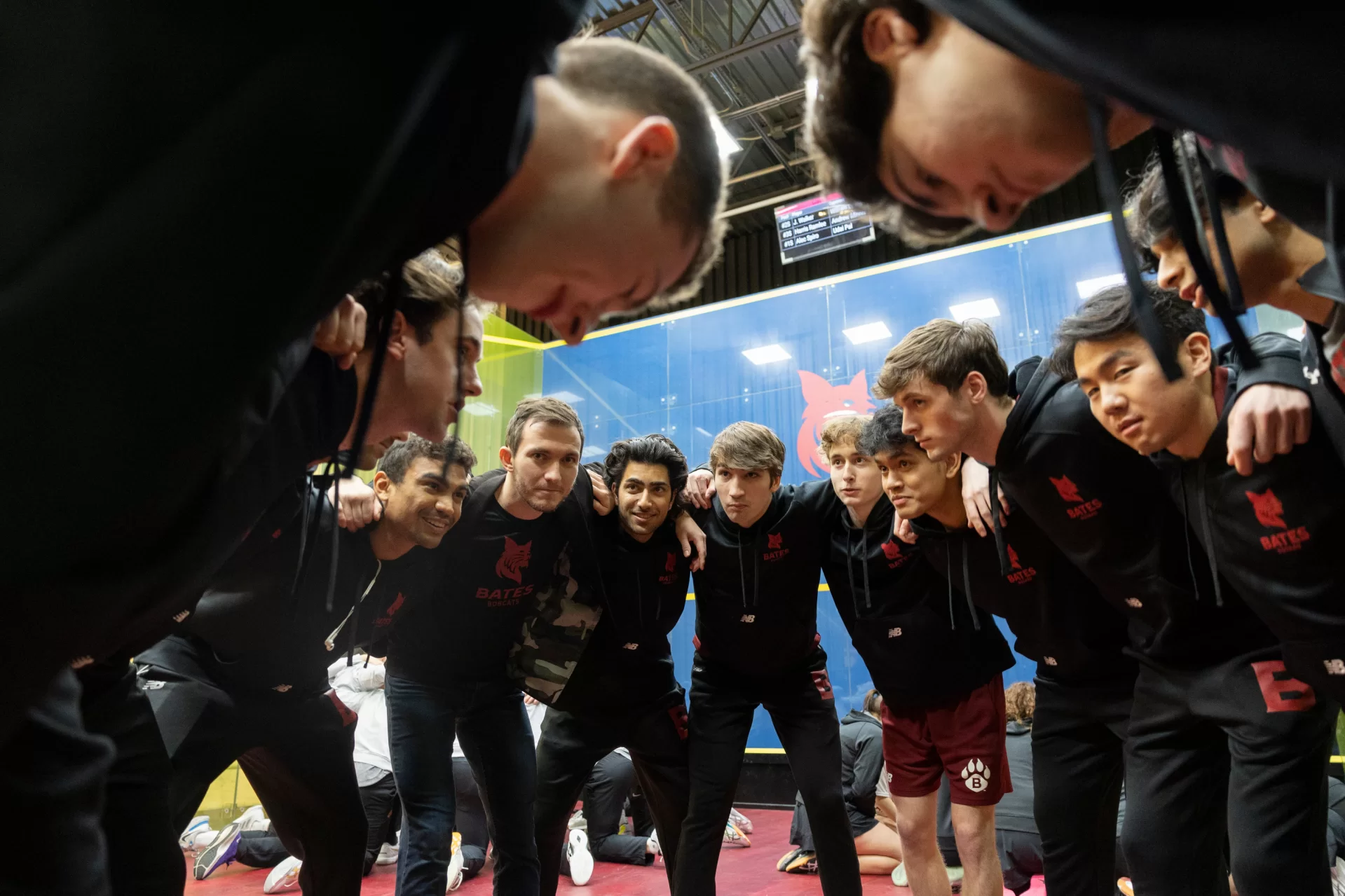 The men's squash team and head coach Rei Hergeth huddle up before taking on Williams at the Bates Squash Center on Jan. 13, 2023.
---
Perfectly Framed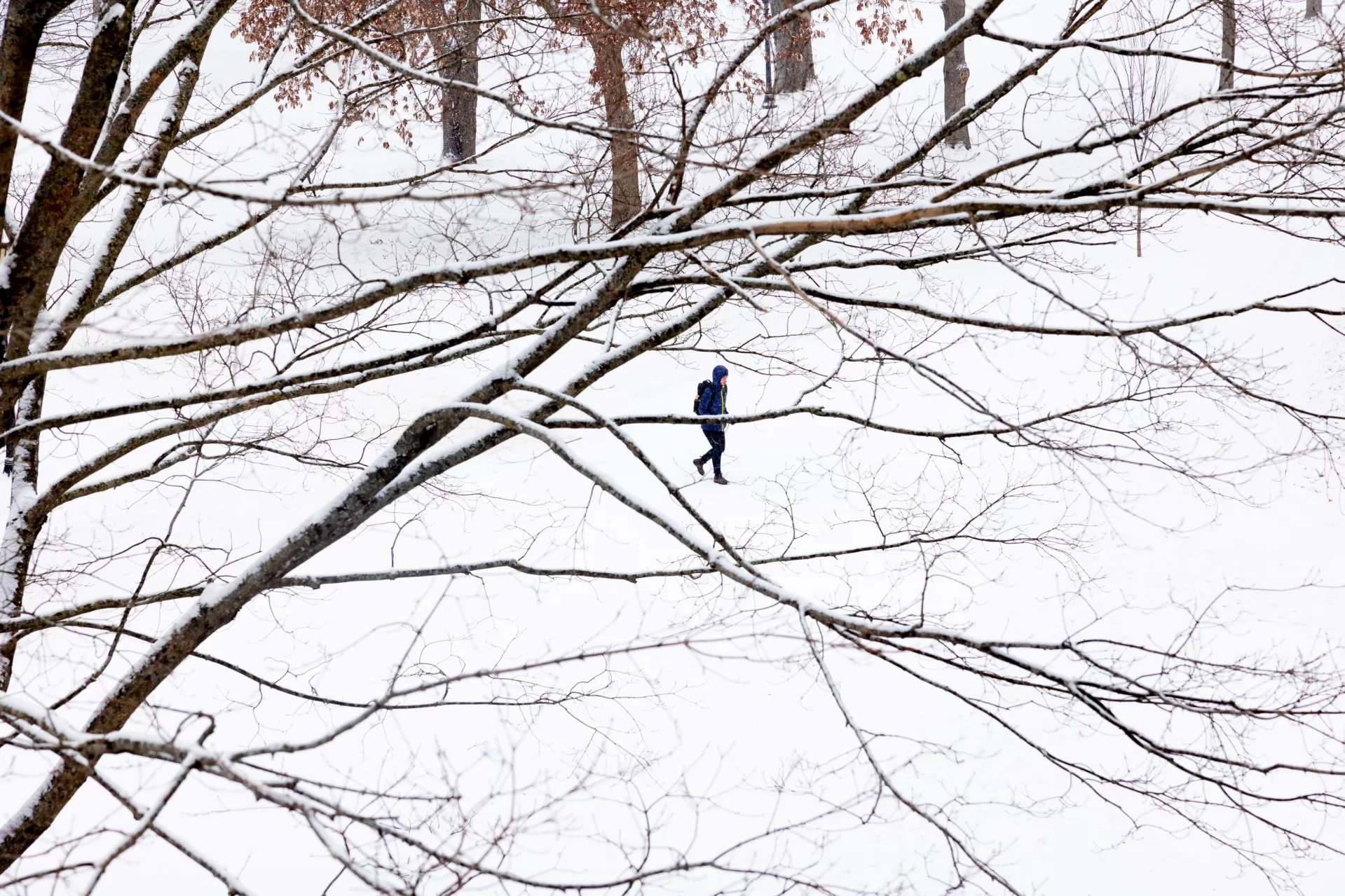 There was a constant coating of snow on campus throughout January, whether it was falling, melting, or freezing.
---
Senior Day Celebrations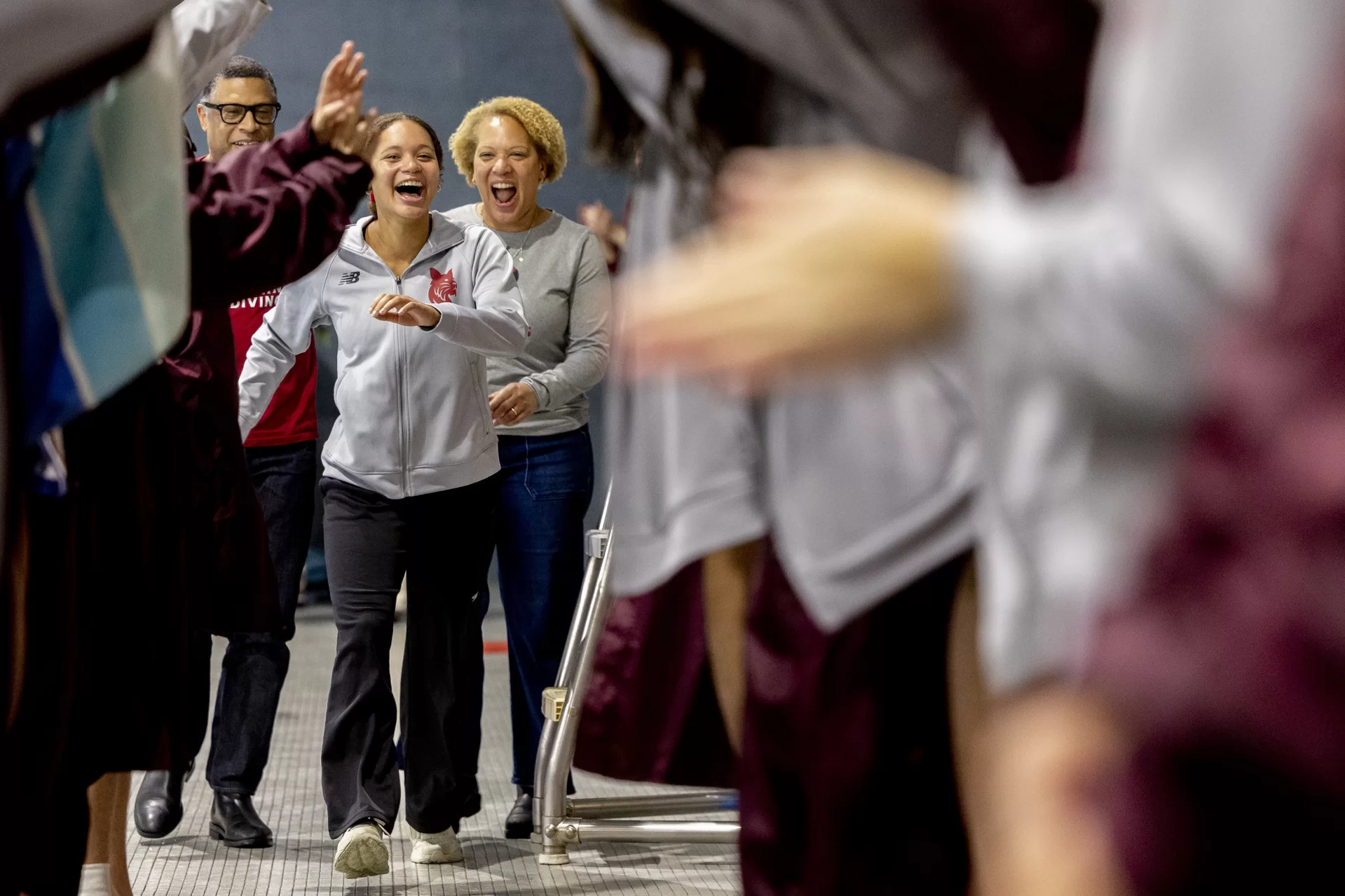 Women's swimming and diving captain Dylan McAfee '23 of Washington, D.C., is joined by her family on Senior Day at Tarbell Pool.
---
A Time to Shine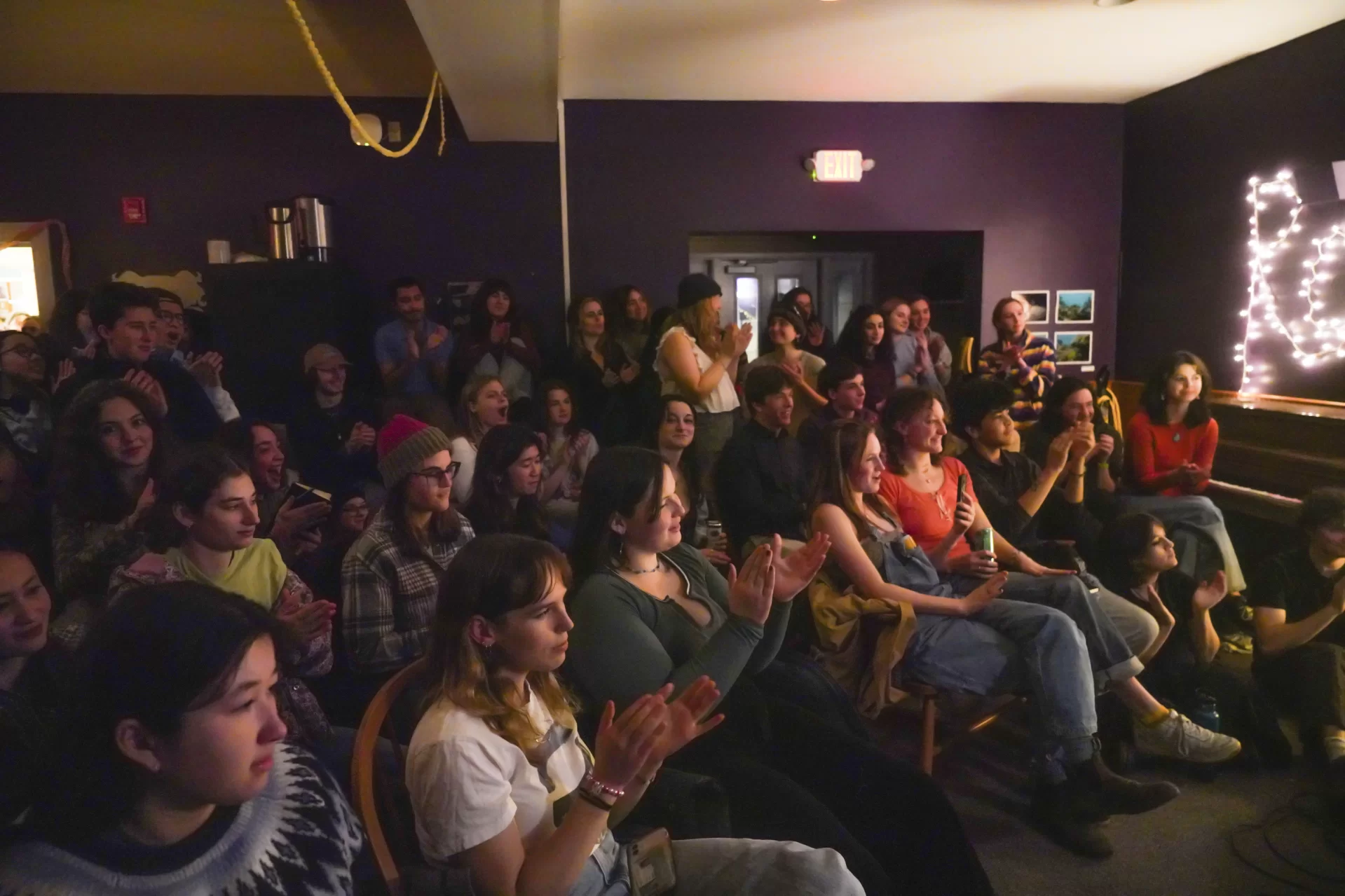 Open mic night at Le Ronj, Bates' student-run cafe, was packed, as students shared original songs, spoken-word poetry, and crowd favorite sing-a-longs.
---
They're Off!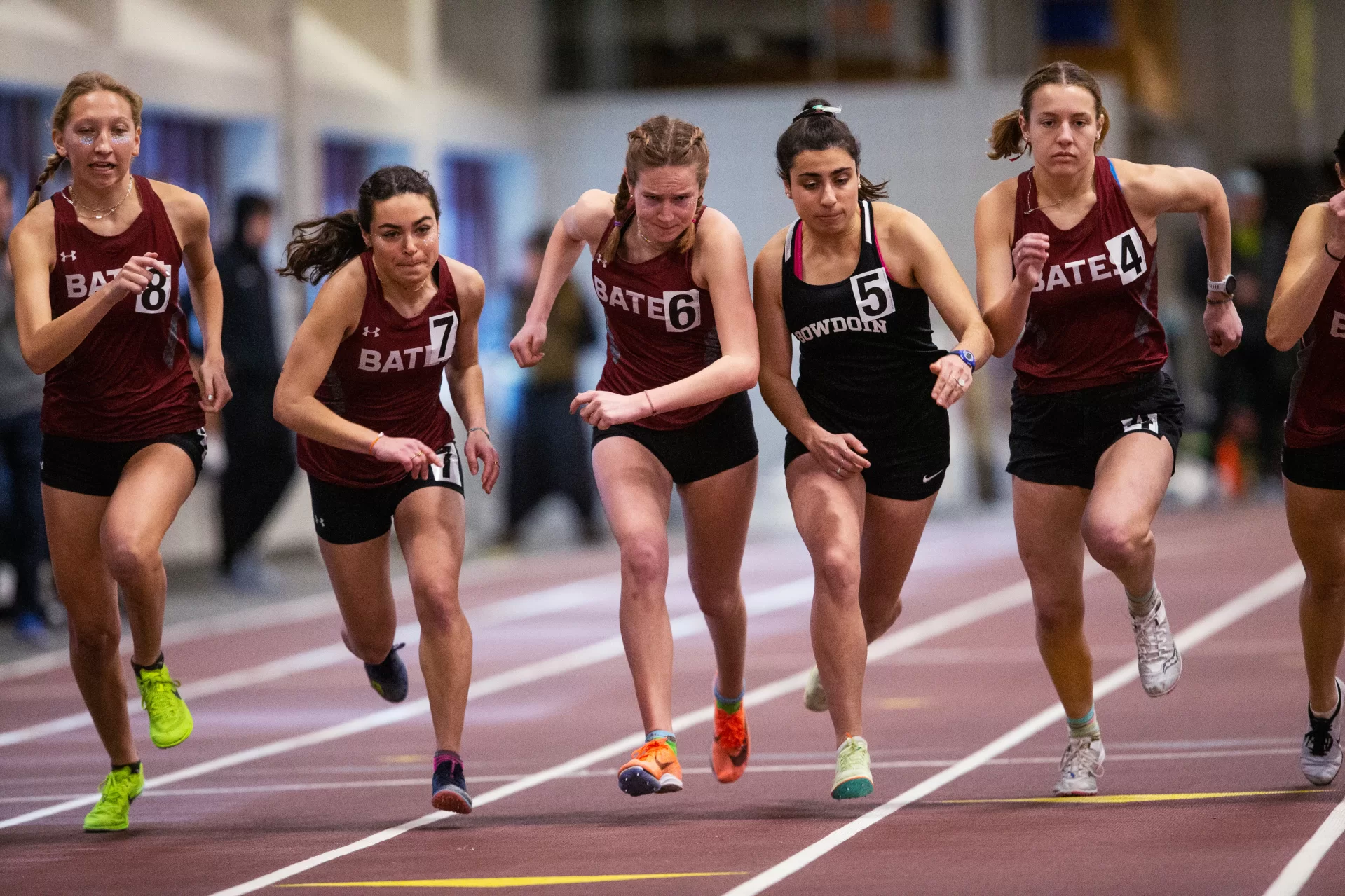 It's a good start for Bates milers, from left, Frieda Kickliter '23 of Mobile, Ala., Ilana Zeilinger '23 of Washington, D.C., Elizabeth Holcombe '26 of Ilchester, Md., and team captain Jordan Wilson '23 of Medfield, Mass., at the Bates Invitational at the Slovenski Track on Jan. 21, 2023.
---
Knit One, Purl Two…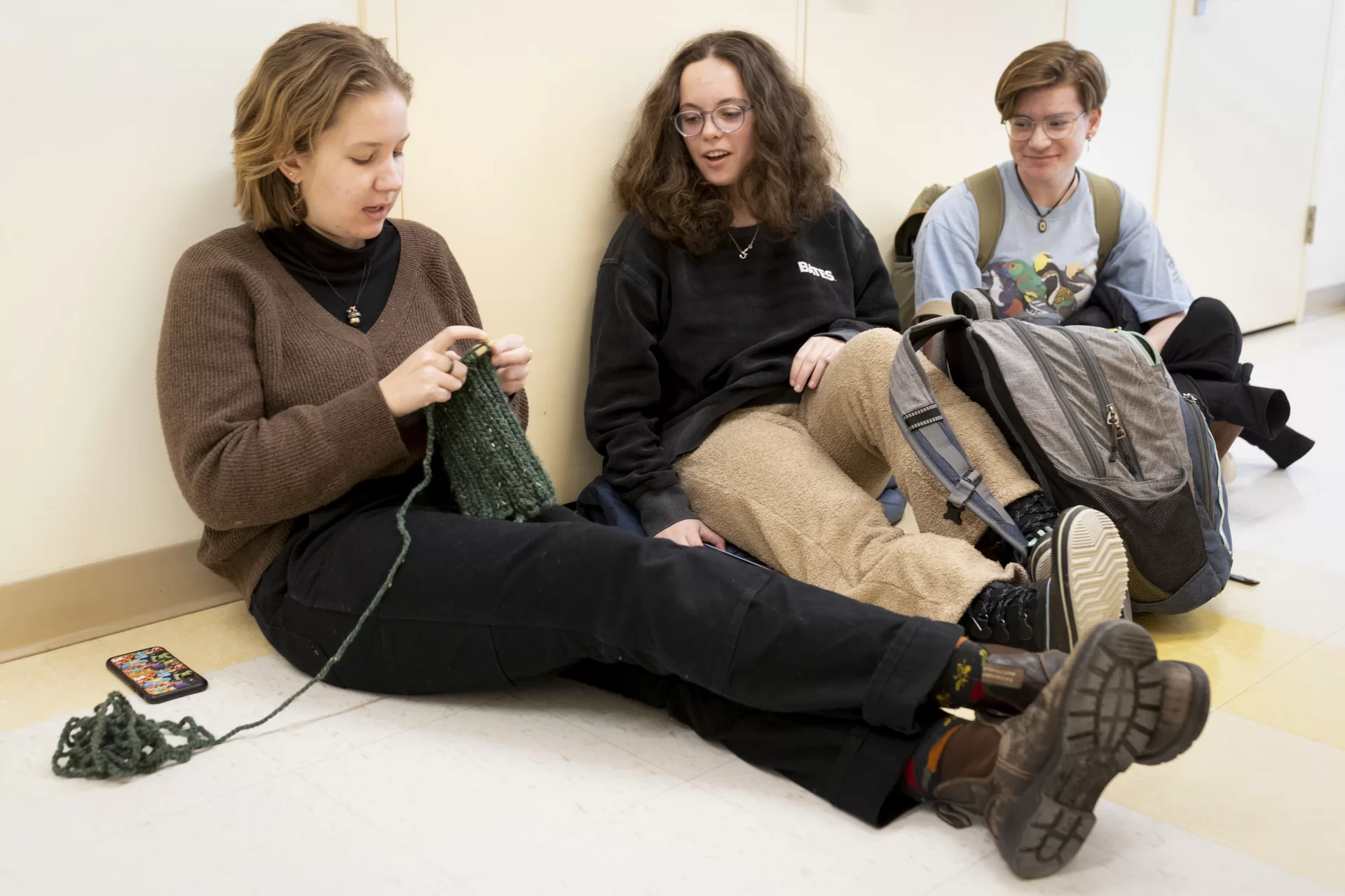 Lucy Whitelam '26 of Reading, Mass., knitting a hat as she waits her turn to have an office visit with Assistant Professor of Politics Seulgie Claire Lim on the first floor of Pettengill. Knitting, she says, helps her to focus when her hands are free.
Whitelam just recently learned how to knit hats, and is on her third one. "I've kind of been cranking them out." She makes them for friends, she says. Lucky friends!
She's with friends Caroline Mayer '26 (center) of Rye, N.Y., and Kai Harris '26 of Ridgefield, Conn. All three are in Lim's "Gender, Power, and Politics" course.
---
Rise to the Occasion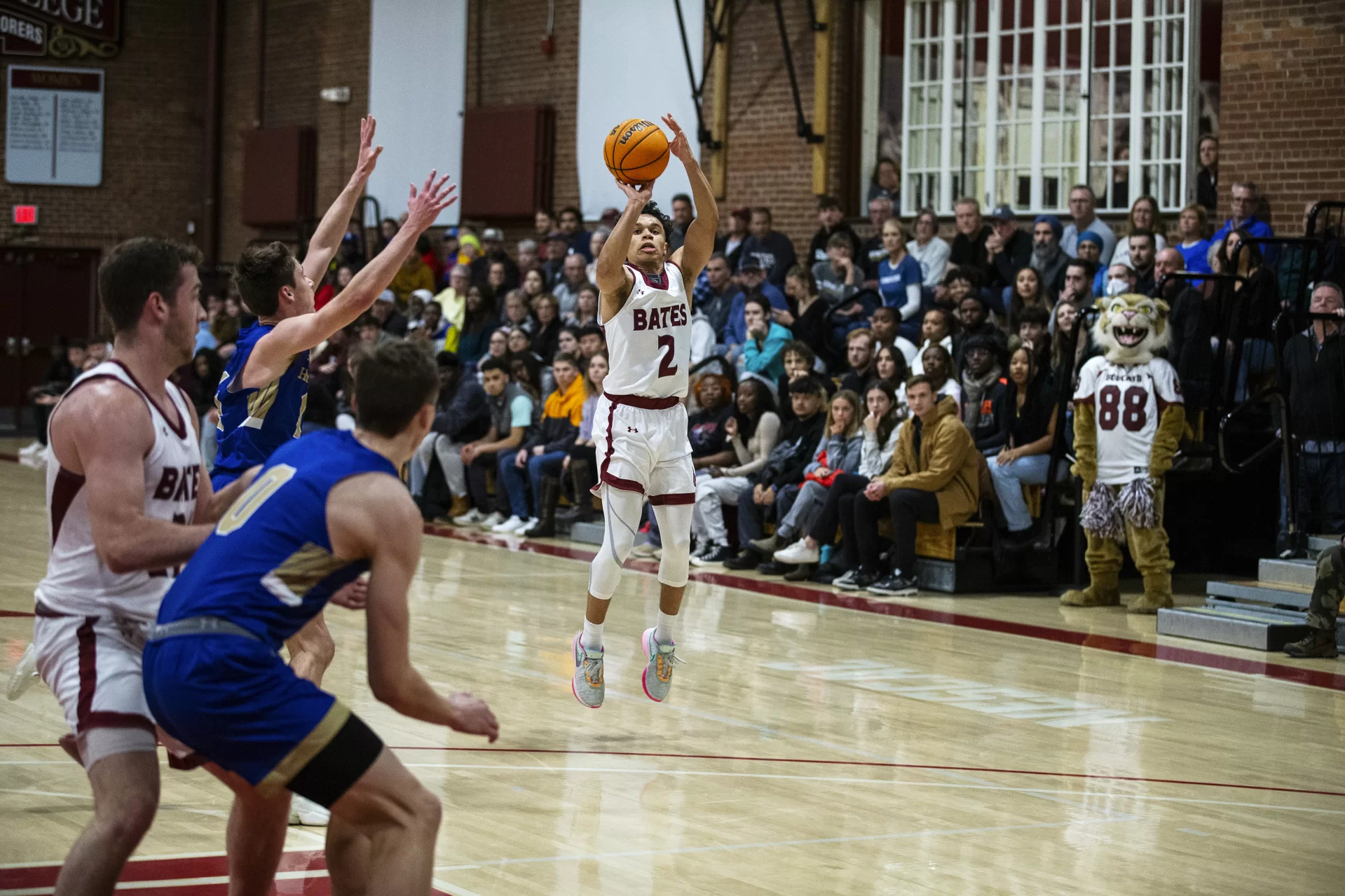 Men's basketball captain Steph Baxter '23 of Worcester, Mass., rises for a three-pointer against Hamilton on Jan. 13, 2023 at Alumni Gym. Baxter finished January with 999 career points.
---
(Not) Just Clowning Around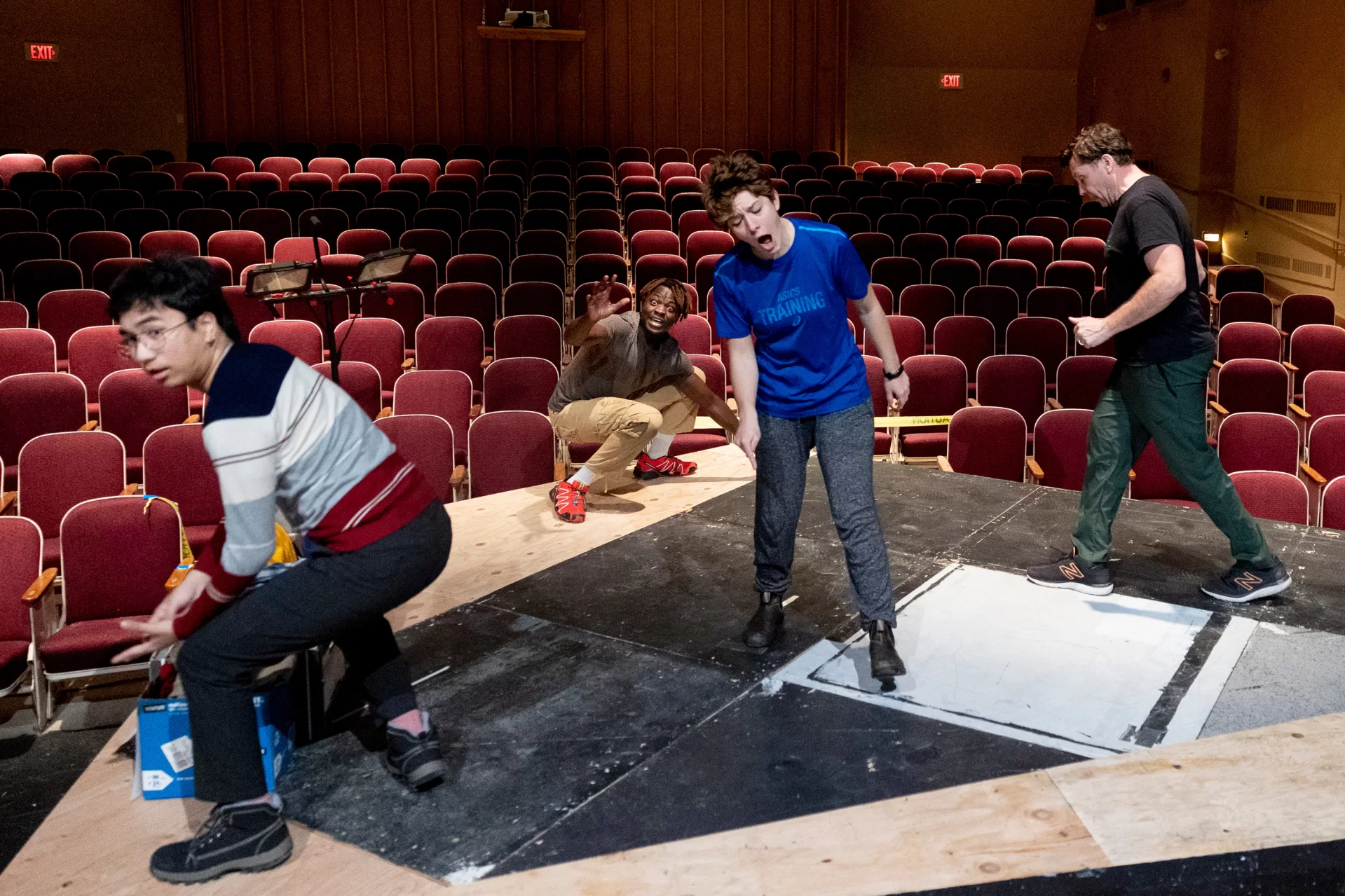 The cast of the Bates theater department's upcoming production of Much Ado About Nothing got to take a clowning class from Wesley Broulik, a performer, director, writer, producer, and educator.
From left, Joaquin Torres '25 of Silang, Philippines, Spencer Obiero '25 of Nairobi, Kenya, Caroline Cassell '24 of Woodstock, Vt., and Assistant Professor of Theater Tim Dugan spread out across the stage extender in Schaeffer Theatre.
---
Squashin' It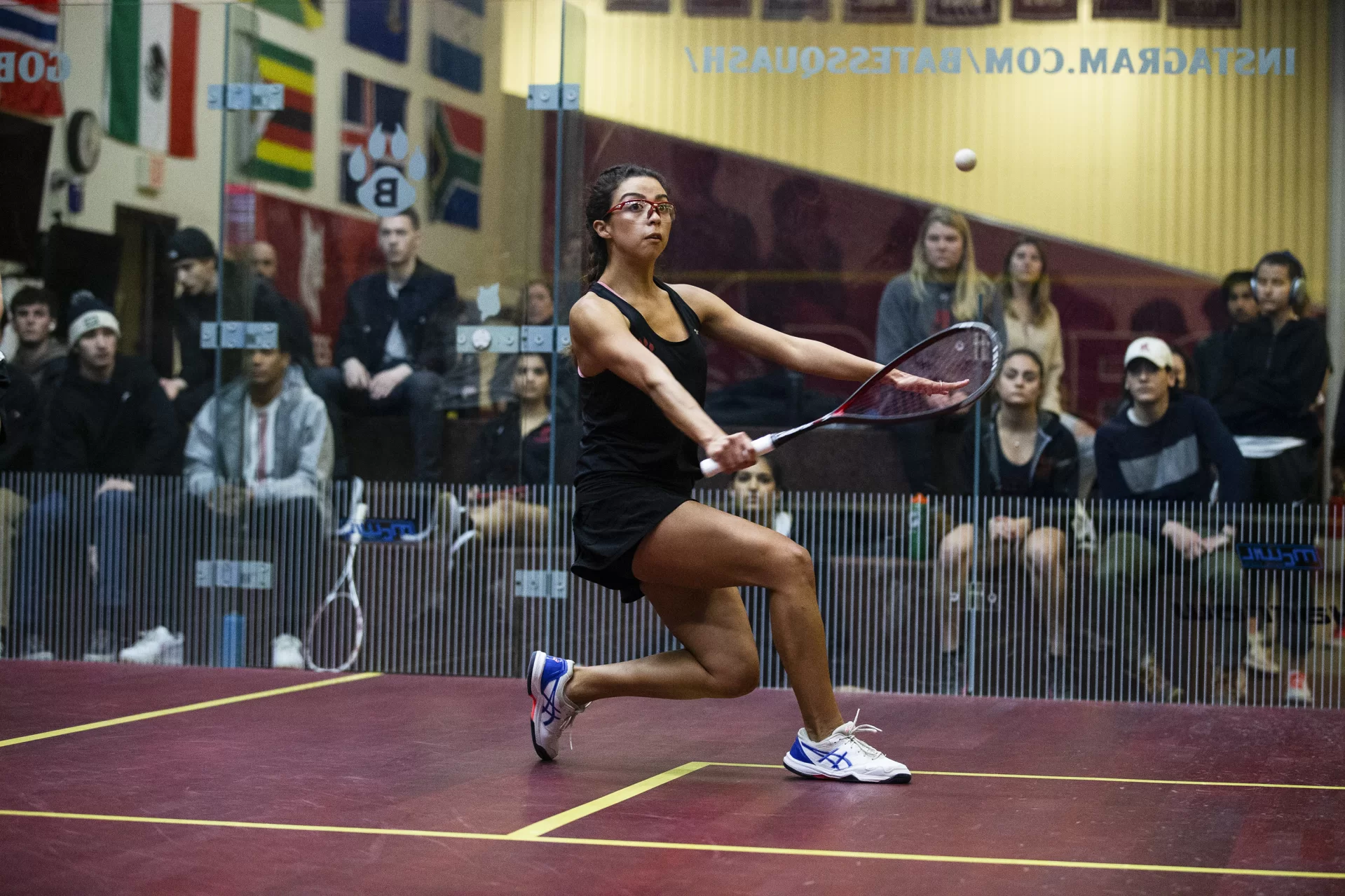 Andy Martagon '24 of Puebla, Mexico, competes against Stanford University in the Bates Squash Center's fan-friendly glass-walled court in early January.
---
Chem Lab Concentration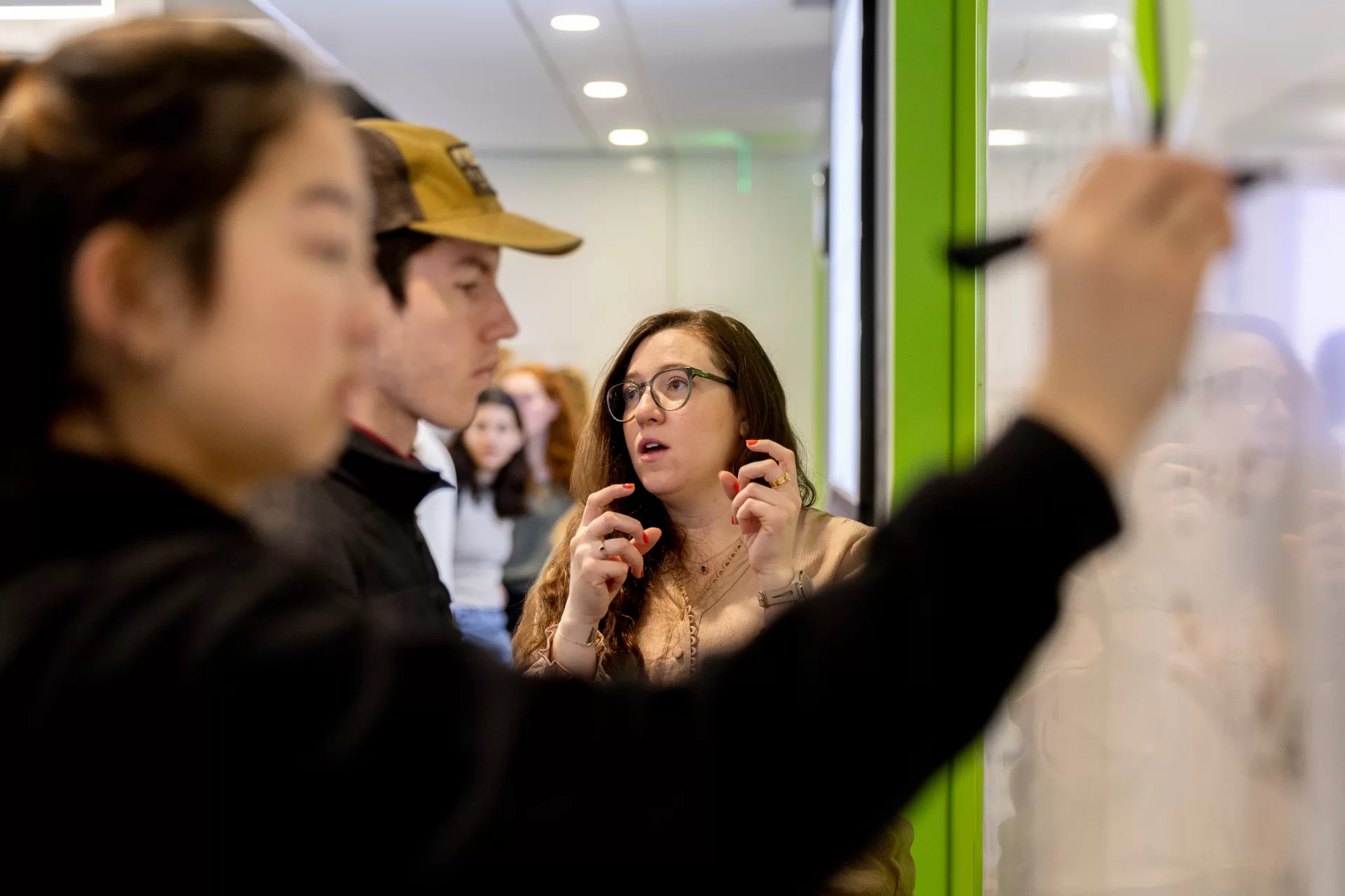 Assistant Professor of Chemistry Geneva Laurita helps Andrew Hoffman '23 of Oak Park, Ill., and Zoe Schaedle '26 of Philadelphia during her chemical reactivity course in Bonney Science Center. They're using a whiteboard to discuss and calculate the heat exchange that occurs when cold water is added to a hot water bath.
---
Lighting the Way Home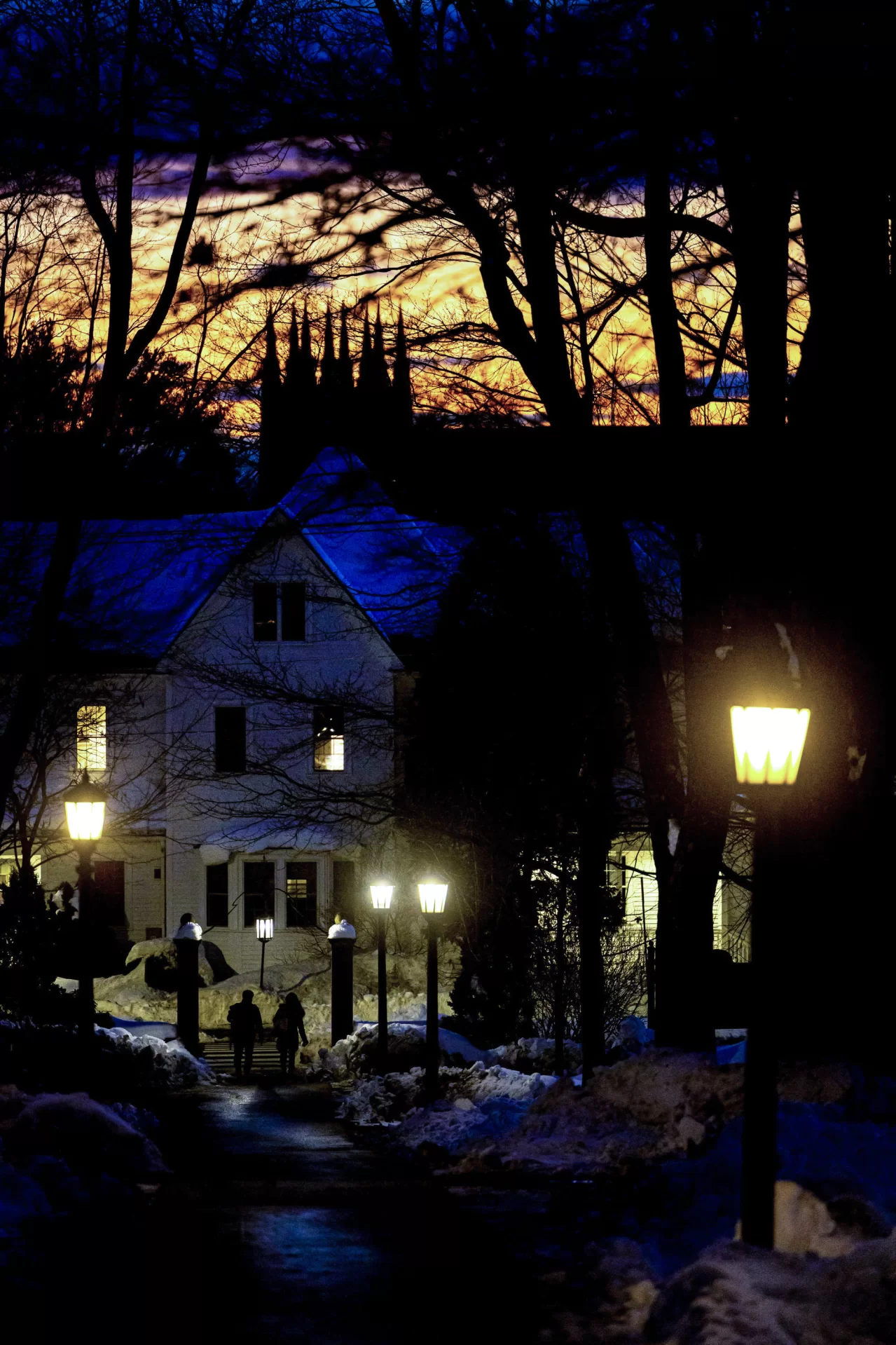 A golden sunset crowns the winter sky as lamps on a Historic Quad path and lights of Lindholm House beckon walkers. The spires of the Basilica of Saints Peter and Paul can be seen in the distance.