After taking peeks behind the Schaeffer Theatre curtain since January, exploring the preparations for an ambitious Bates theater production, the curtain has been raised.
And what a sight to behold.
From period costumes and a lavish set to comedic clowning and snappy wordplay (some in iambic pentameter!), this production of Much Ado About Nothing is a whirl of color, sounds, comedy, and music, recalling nothing less than the dazzling Technicolor splendor of a 1950s MGM musical.
And why shouldn't it? Director and Assistant Professor of Theater Tim Dugan decided to move the setting from Italy in the 16th century to a coastal estate on Maine's Mount Desert Island in the heady days right after World War II.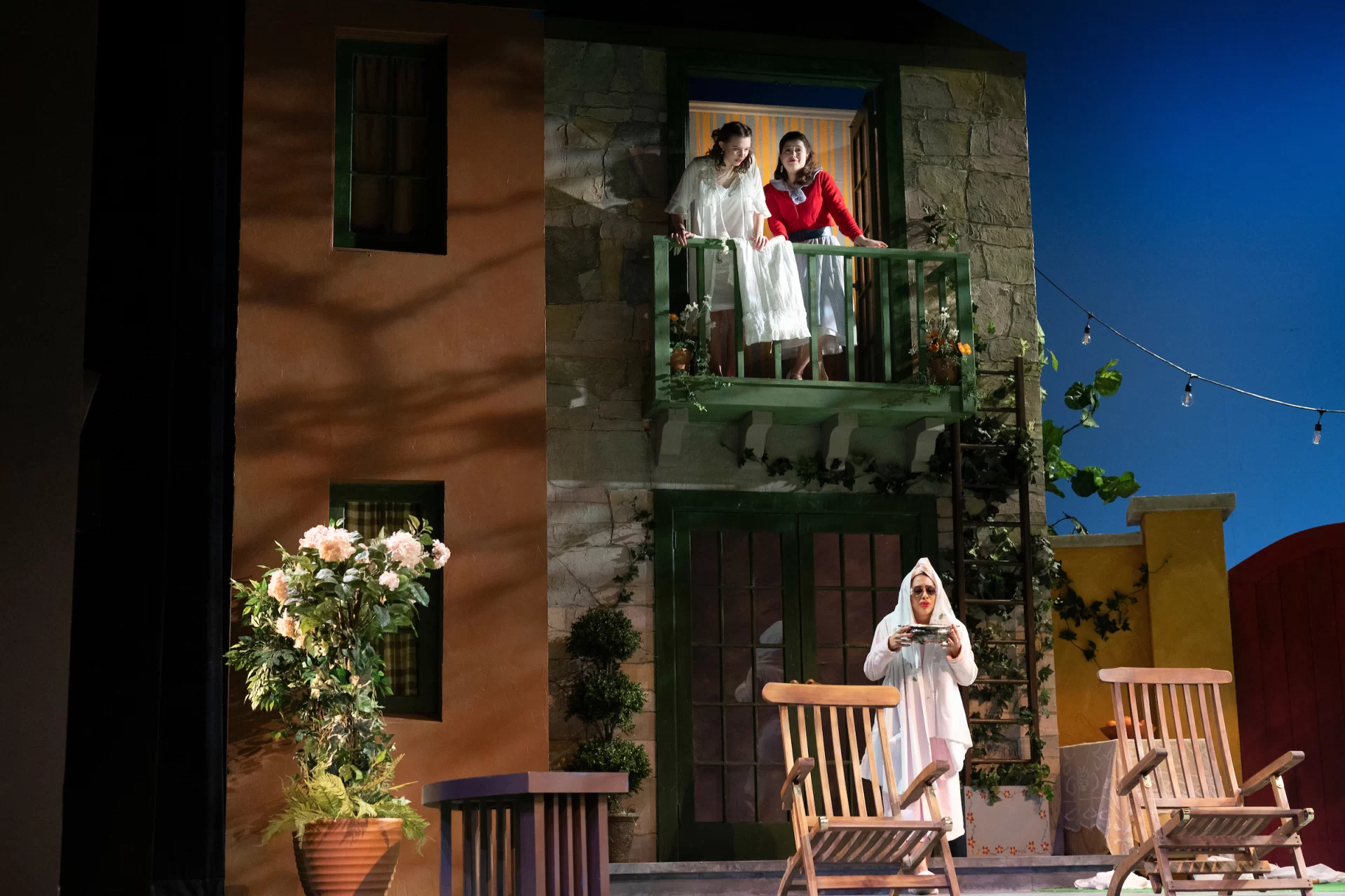 The Bar Harbor "cottage" is represented by a two-story facade complete with a balcony sturdy enough to hold multiple players. A lush backyard garden blooms onstage, complemented by sounds of ocean waves and birdsong, and a live, five-piece student band performing swing-era classics like Glenn Miller's "In The Mood."
A group of khaki-clad Army officers returning home from the war are quickly invited to spend a month relaxing at an oceanside estate by its wealthy owner, Leonata (not Leonato — more on that later).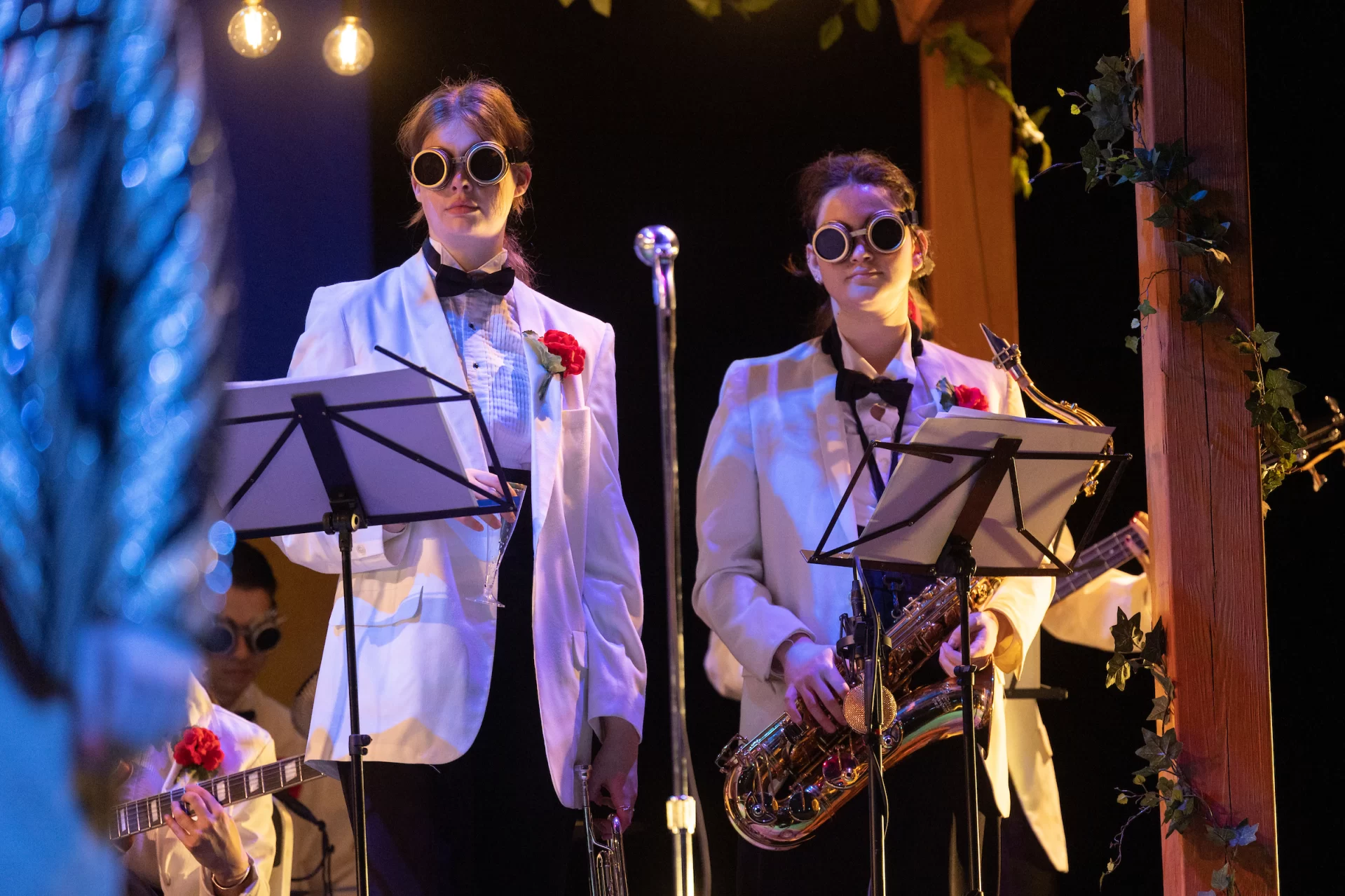 It's an especially alluring invitation: Leonata has a lovely young daughter, Hero, and an alluring spitfire of a niece, Beatrice, living in the house, and they've got female friends about as well.
Here's a plot summary:
The action involves two couples: Claudio and Hero, and Benedick and Beatrice.
Claudio and Hero fall in love, but the villainous Don John threatens their relationship by orchestrating a misunderstanding involving Hero's virtue.
Meanwhile, Benedick and Beatrice, who've known each other forever, do a lot of sparky bantering, spurring a side plot by their friends to lead each to believe the other is in love with them. Which leads to actual declarations of love.
The play ends with revelations and reconciliations; Claudio and Hero's relationship is successfully restored.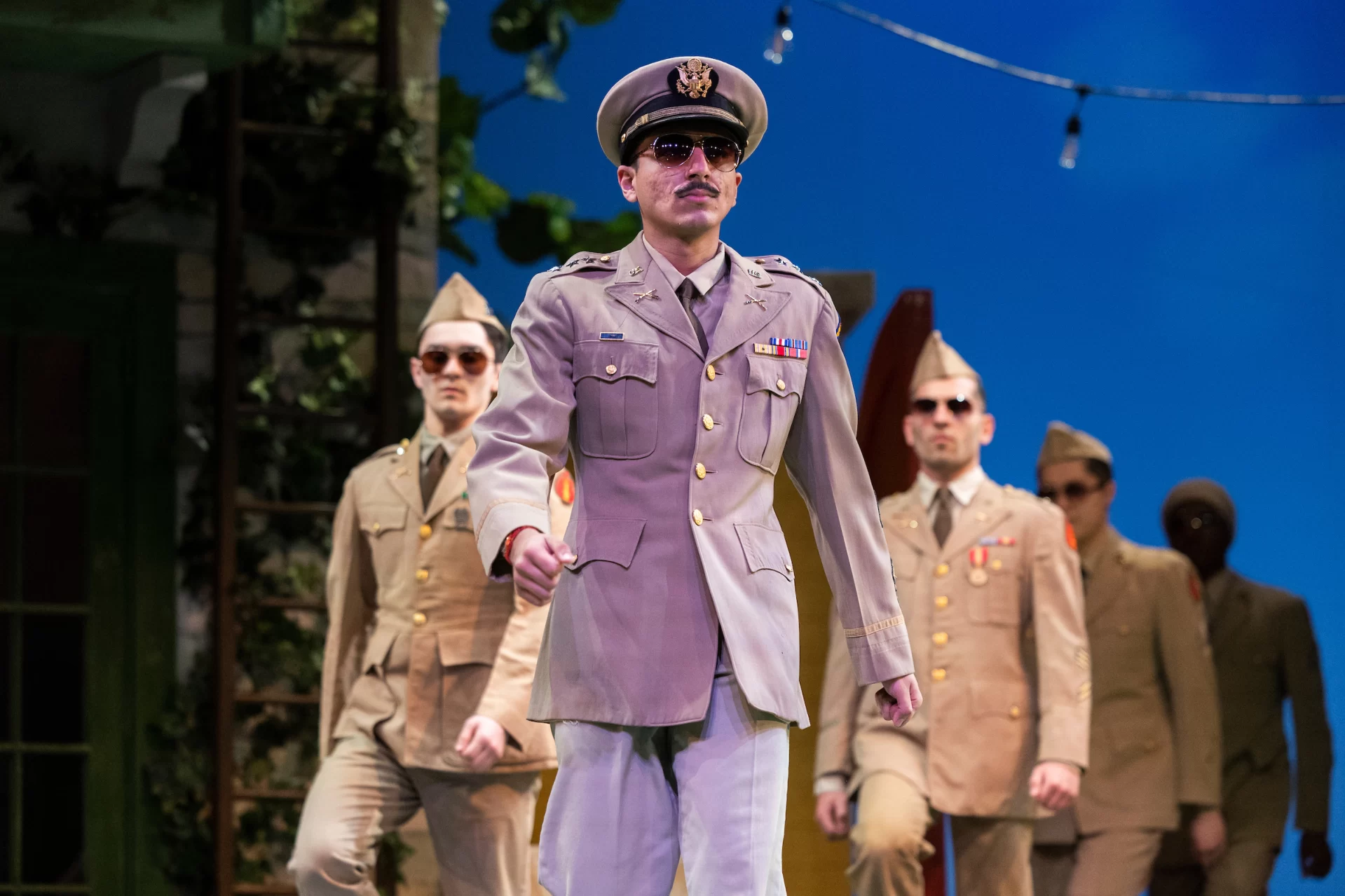 What bullet points don't tell us is that beneath these comic misunderstandings is an age-old Shakespearian theme of fragile masculinity: The men's sense of power depends on women being faithful and chaste; the men need to dominate the conversations, both intentionally and unintentionally, and the women try to be heard.
Over the last two years, especially coming out of the pandemic, productions of Much Ado have toyed with the time and place of the play, and also the play's gender dynamics. In the Bates production, a few characters' genders have been changed, inviting the audience to see how the emphasis changes with the perspective.
For example, the character of Leonato, male governor of Messina in Shakespeare's original, has become a woman, Leonata, a wealthy landowner.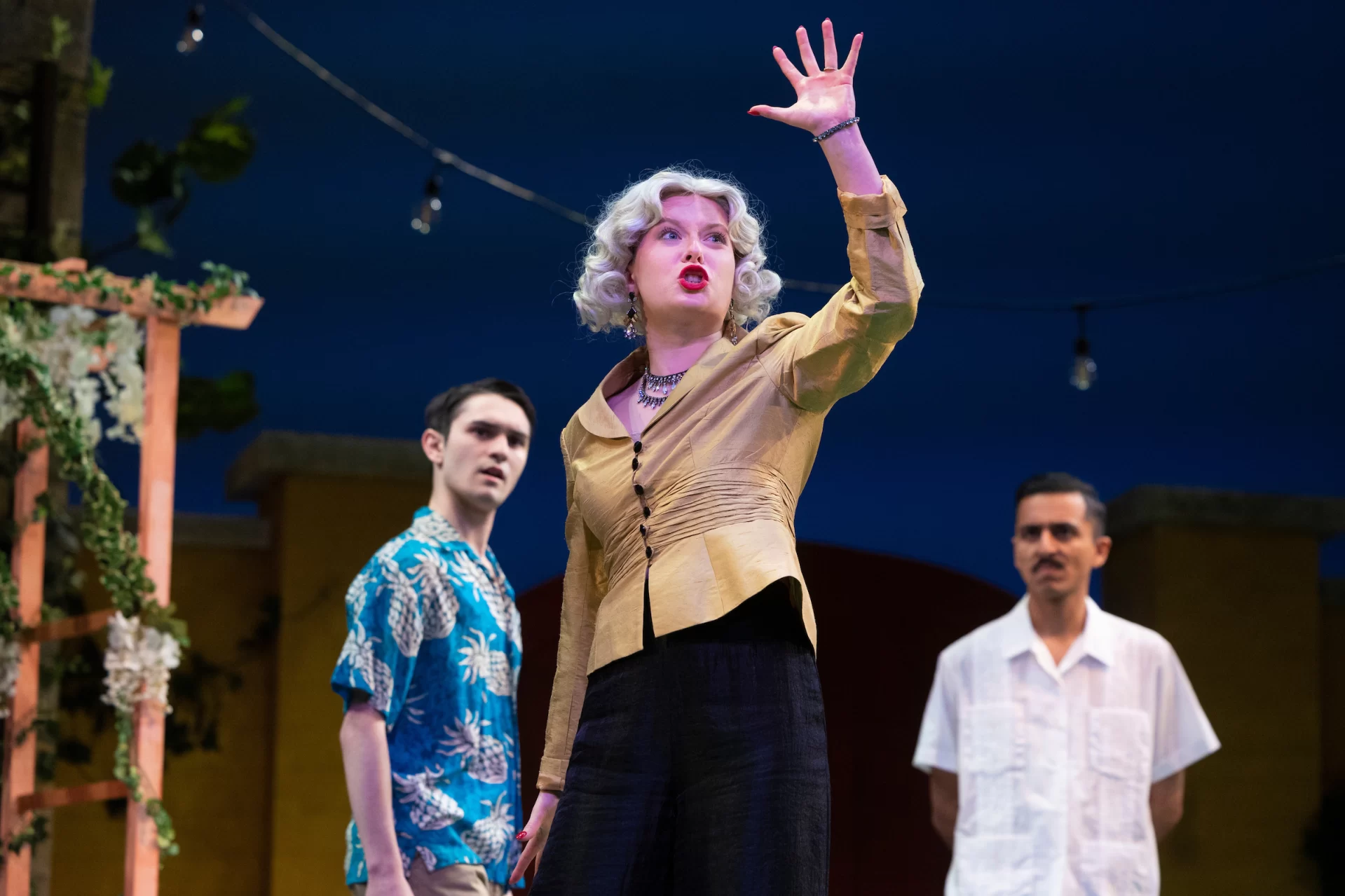 Traditionally, in Act 5, Scene 1, Leonato (as a man) confronts Claudio for telling scandalous lies about his daughter, Hero. Claudio, joined by Don Pedro, treats him like a doddering fool, ignoring his claims. "I will not hear you," says Don Pedro, which prompts Leonato to grumble, "I will be heard."
But in the Bates production, the response, delivered by the female Leonata, played by Sydney Childs '24 of Cohasset, Mass., is full of defiant rage.
In a panel discussion held a week prior to opening, Childs describes how she delivers the line. "I have to react to [Don Pedro's line], and I don't scream back immediately. I take a pause. We sit in silence; he has to realize that he just screamed at me in my house."
"It's one of my favorite scenes," said Katie Adkinson, an assistant professor of English and the production's literary consultant and text coach. "He doesn't get the last word in that scene."
Beatrice's and Benedick's love-to-hate-you dynamic weaves in and out of the main conflict, as Beatrice, played by Emily Diaz '23 of Corona, N.Y., unafraid to use her voice, finds herself at loggerheads with Benedick, who is maintaining his masculinity, fragile as it is.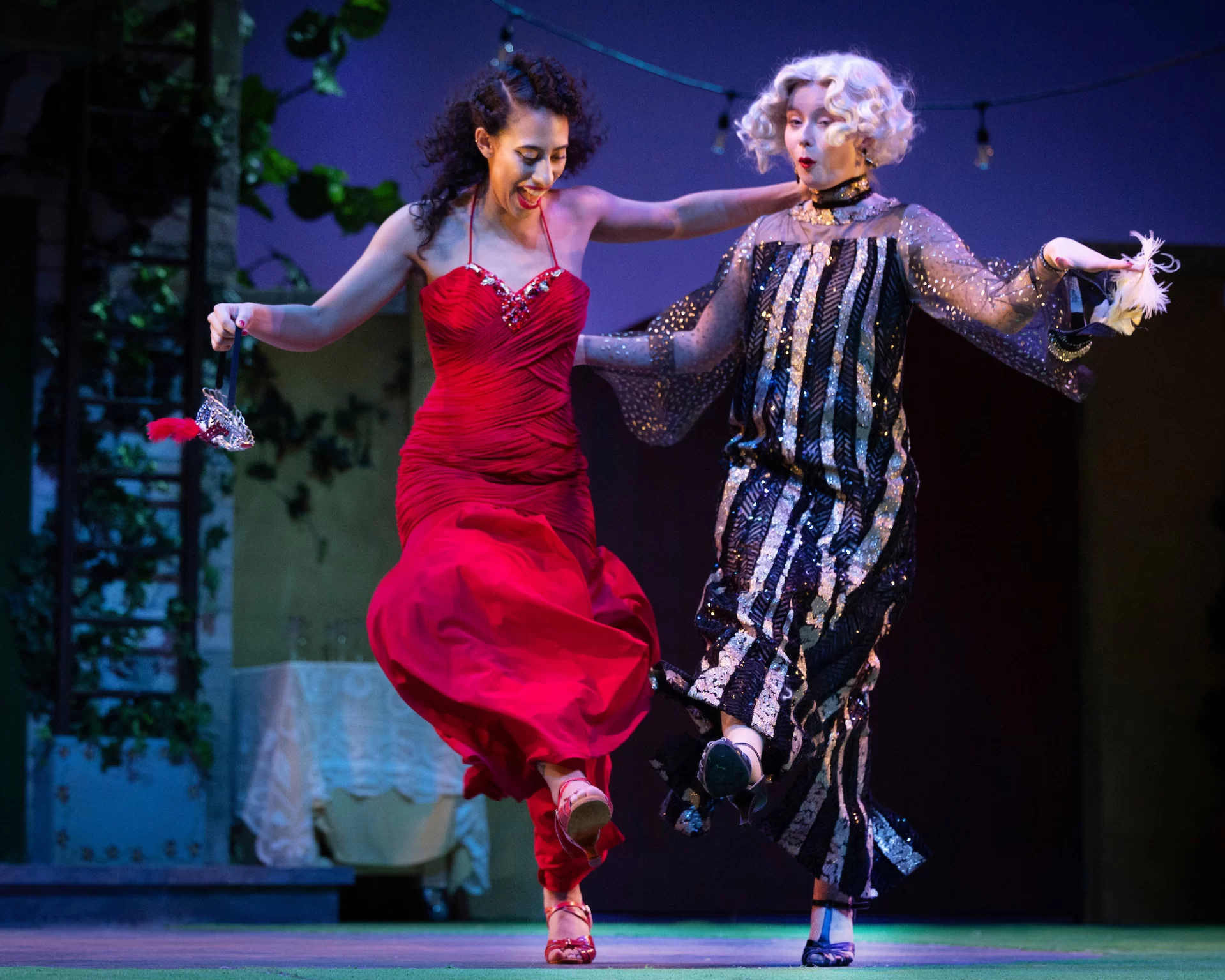 During the panel discussion, Diaz talked about the challenge of playing Beatrice, "who feels like such a fire in the beginning but then something dims in her when she gets with Benedick."
As they went through their weeks of rehearsals, Diaz came to embrace Beatrice. "She never shuts off — and she takes up space," she said with a laugh. "As a woman of color who's doing Shakespeare, it feels good to be talking a lot and to be taking up space and to be having fun with that space. She's saying whatever comes to mind because she feels like she's entitled to put it out there. And she is. And I love that."
One change they made that felt important for Diaz is at the end of the play: After Hero's name is cleared, Benedick and Beatrice finally publicly admit their feelings for each other, they embrace. But instead of Benedick finally "catching" Beatrice, Beatrice flips the script: grabbing Benedick and dipping him for a kiss.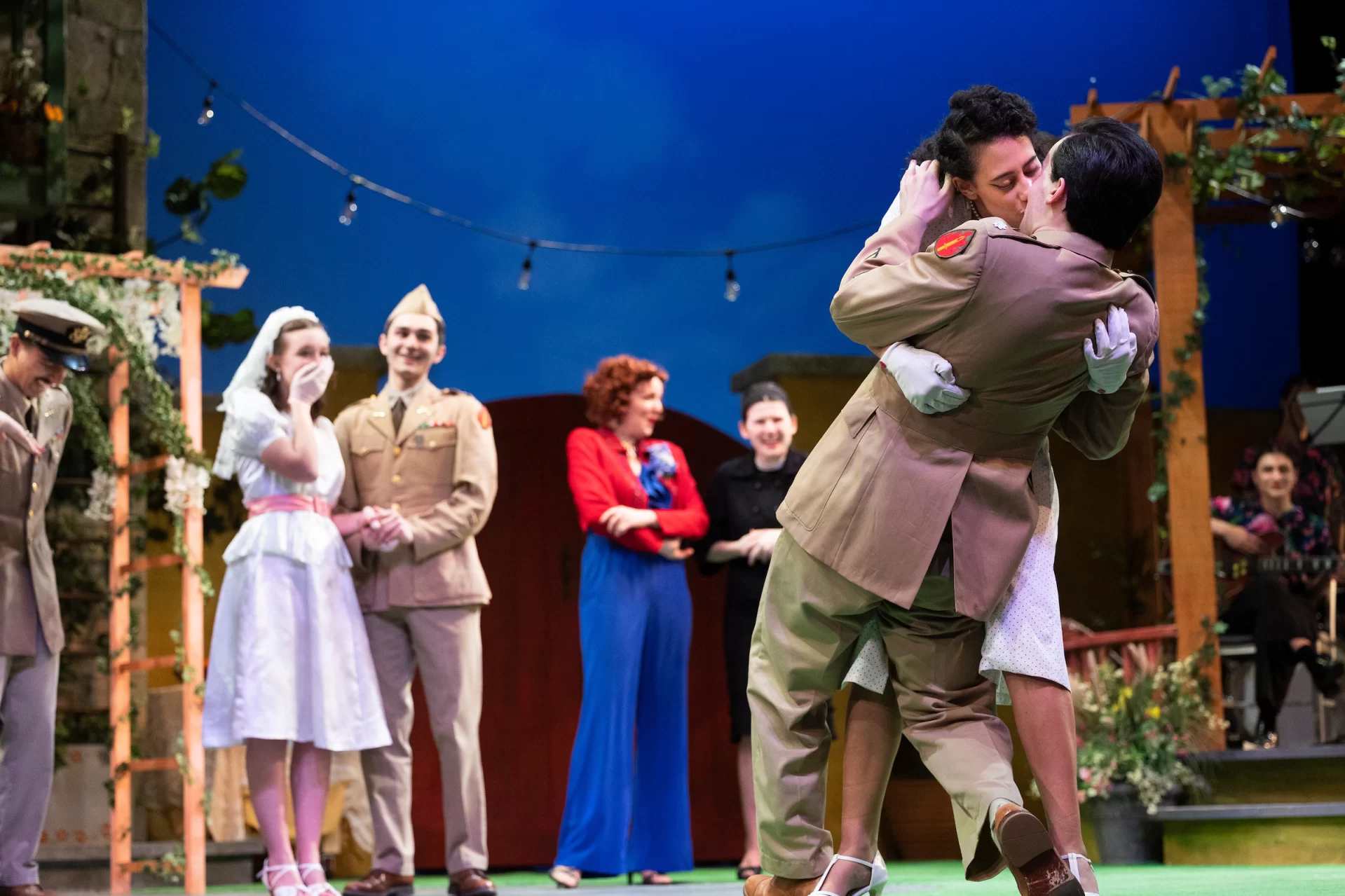 "It's so much fun and it's empowering," Diaz said. "Yes, he can say, 'Peace, I will stop your mouth with a kiss,' but who determines how that kiss is going to be executed? There's so much power in that and it helps us stay on the same playing field."
Dazzling dresses and sparkling suits swing across the stage during the masked ball scene, as Emma Seitz '25 of Brooklyn, N.Y., croons several tunes, accompanied by the band.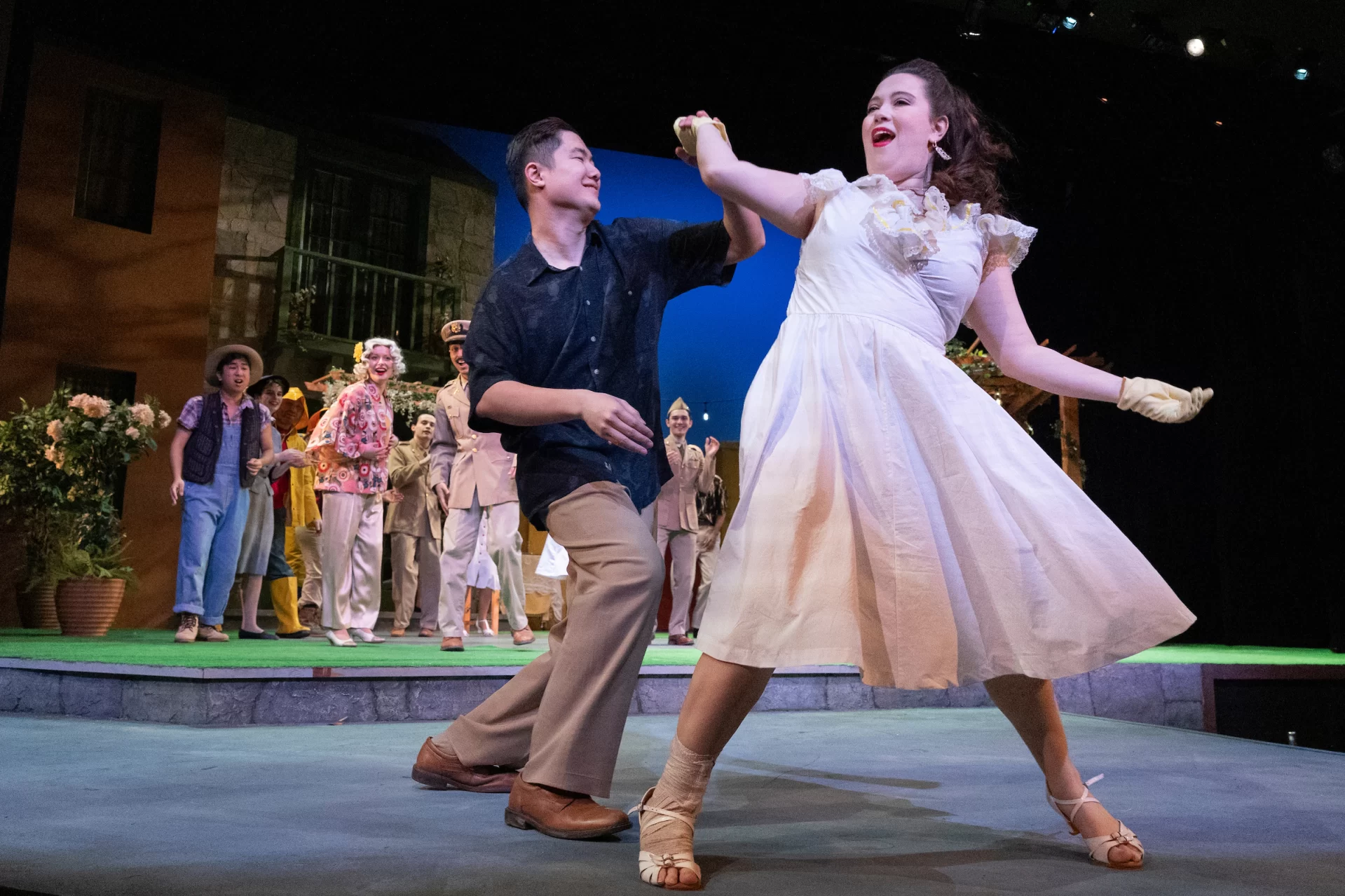 The most colorful (and loudest) part of the cast by far is the Watch, a group of Maine locals accompanying the local constable Dogberry (David Walker '24 of Canton, Mass.) and his second in command Verges (Joaquin Torres '25 of Silang, Philippines) as they patrol Bar Harbor, or as the group calls it, "Bah Hahbah."
Accompanied by a cacophony of noise at every entrance and exit, the Watch enter the story halfway through, providing instant comic relief in the midst of the tragic part of the play. 
John Wilkins '23 of Chevy Chase, Md., Spencer Obiero '25 of Nairobi, Kenya, and Brendan Fitzgerald '23 of New Rochelle, N.Y., are the fully upright members of the Watch.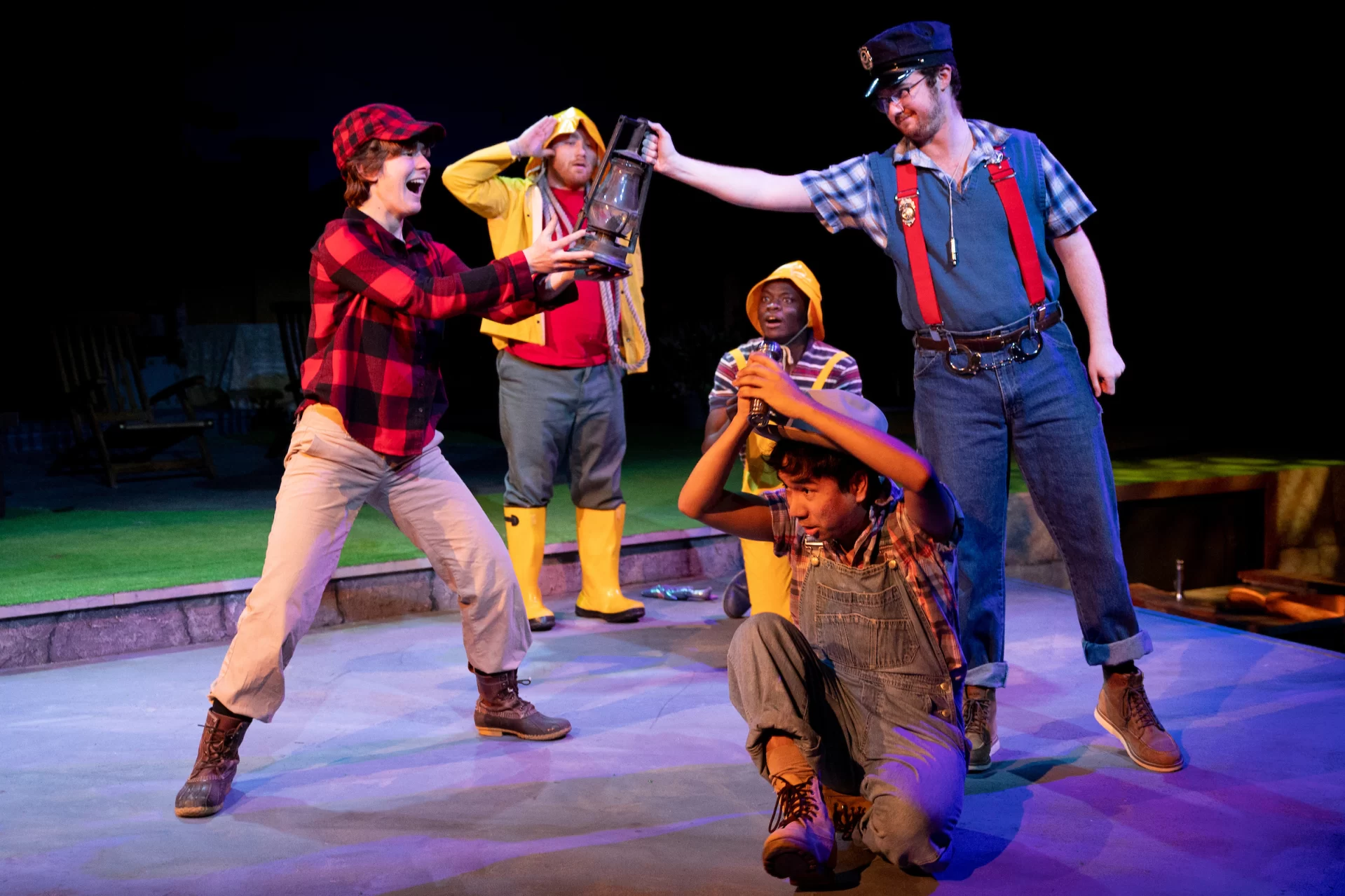 A fourth member, Caroline Cassell '24 of Woodstock, Vt., dressed in red buffalo plaid jacket and a matching cap, plays the part of an old Mainer in a scene-stealing, crouching crab walk.
Besides laughter and delight, a Bates audience might take away ideas about forgiveness, says Adkinson. Throughout Shakespeare, and in Much Ado, "you see women forgive men for these horrible things, and you ask, 'Why did you forgive them?'"
A play like this asks audiences to think about "what is required to live under certain social norms. Any relationship, specifically any relationship under a heteropatriarchy, relies on forgiveness. How often are women quietly forgiving men, because it is easier than picking a fight?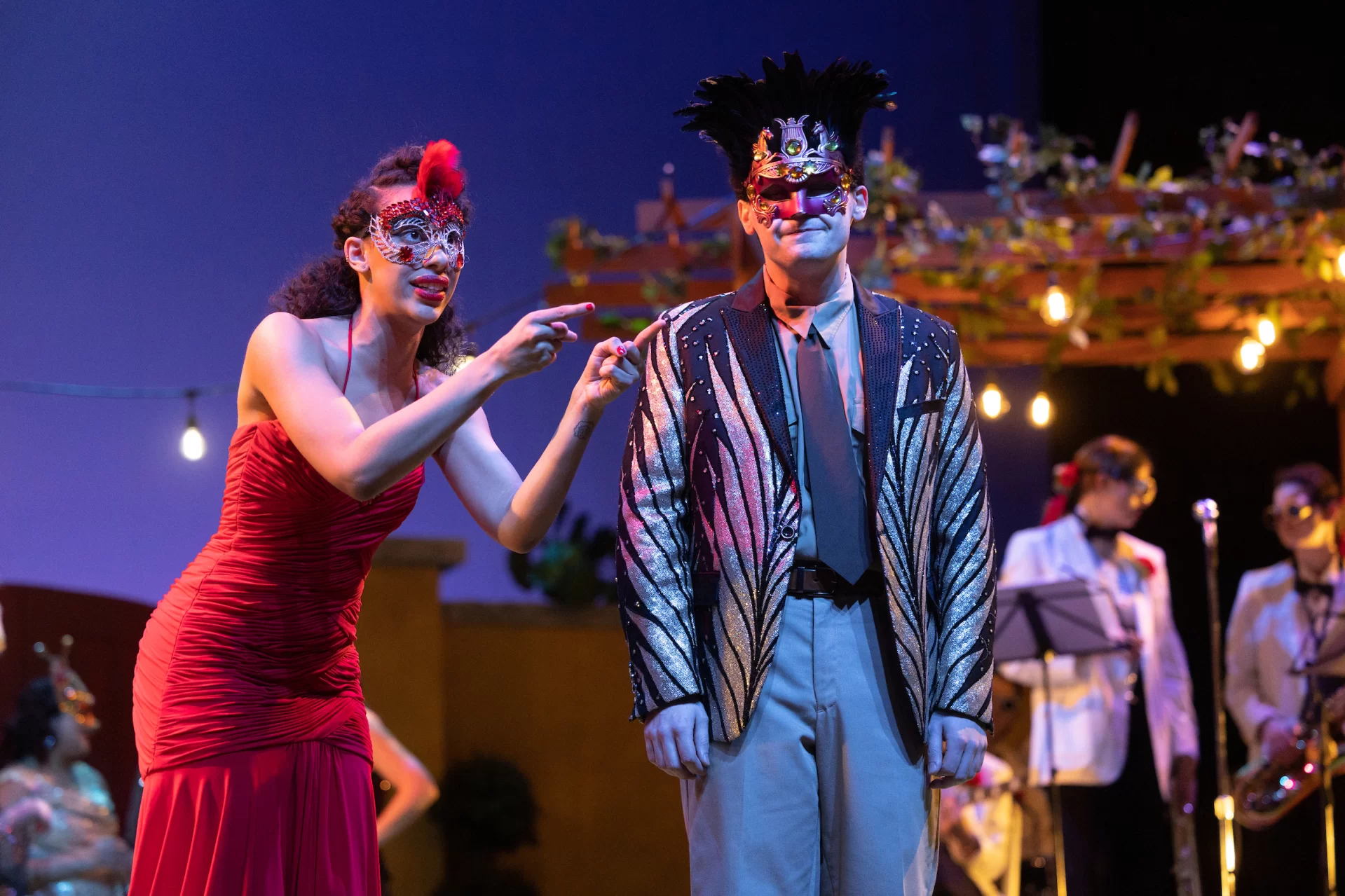 "In our relationships, we rely on forgiveness. But the tenor of that forgiveness also changes depending on who we are and how we embody ourselves in the world."
Also, there's solidarity in forgiveness. Beatrice helps to convince Benedick to choose solidarity with Leonata in support of wronged Hero.
"One of the things the play is teaching us that solidarity is still a choice. Beatrice gets Benedick to choose to place his solidarity with the women. To choose solidarity with the women — it's huge."