Spring at Bates is when seniors get proximate to their future professional selfs. They might present thesis research at off-campus academic conferences, or, in the case of studio art majors, present artwork here on campus at the Annual Senior Thesis Exhibition.
This year's exhibition opens today, April 14, in the highly professional setting of the Bates College Museum of Art and runs through May 27.
Approaching their primetime moment in the Bates museum, "our students are acting on that professional level" — meeting hard deadlines and taking guidance from experts — "just as they would out in the world," says Elke Morris, a senior lecturer in art and visual culture who advised the studio art majors during their year-long thesis efforts, along with Penelope Jones, a lecturer in art and visual culture.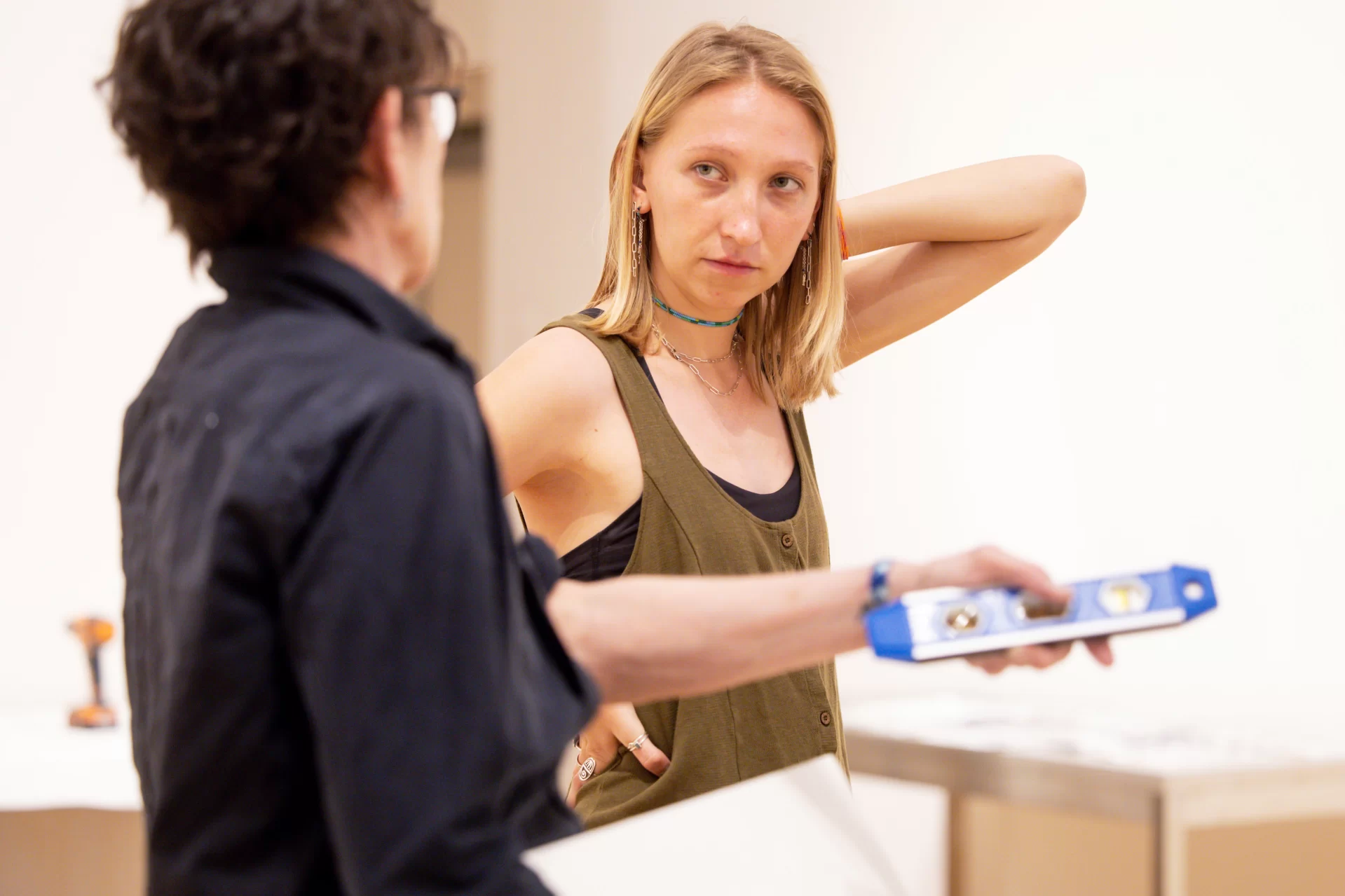 With expert support from faculty and museum staff, who help with the installation, lighting, and other elements, the end result "looks really great — a nice finish," Morris says.
Three studio art majors present distinctive works in this year's exhibition.
With a selection of drawn and painted portraits, Jordan Wilson '23 of Medfield, Mass., focuses on capturing moments in time and all the minute details within them.
Frieda Kickliter '23 of Mobile, Ala., is presenting large-scale colorful and geometric abstract paintings referencing architecture and nature, exploring the relationship between the tangible and the obscured.
A collection of ceramic dishes by Tricia Ballard '23 of Larchmont, N.Y., highlights the functionality expected of everyday tableware, and brings to mind the small joys of life.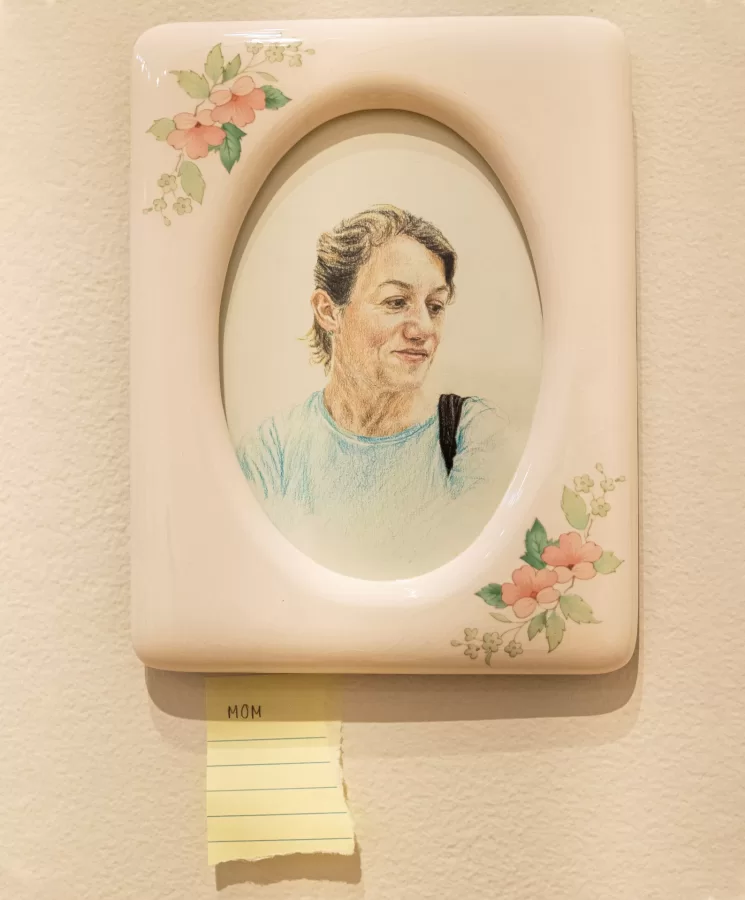 "Three different personalities, and of course different bodies of work," Morris says. "Each has real strength in particular areas, and they have been able to develop those, and push that forward. They listen to advice, take the work seriously, and put the effort in. And that's what you ask for."
Jordan Wilson
In her artist's statement, Wilson says her thesis is a reflection on moments in time "that came and went in passing, described by the impermanent details that made them."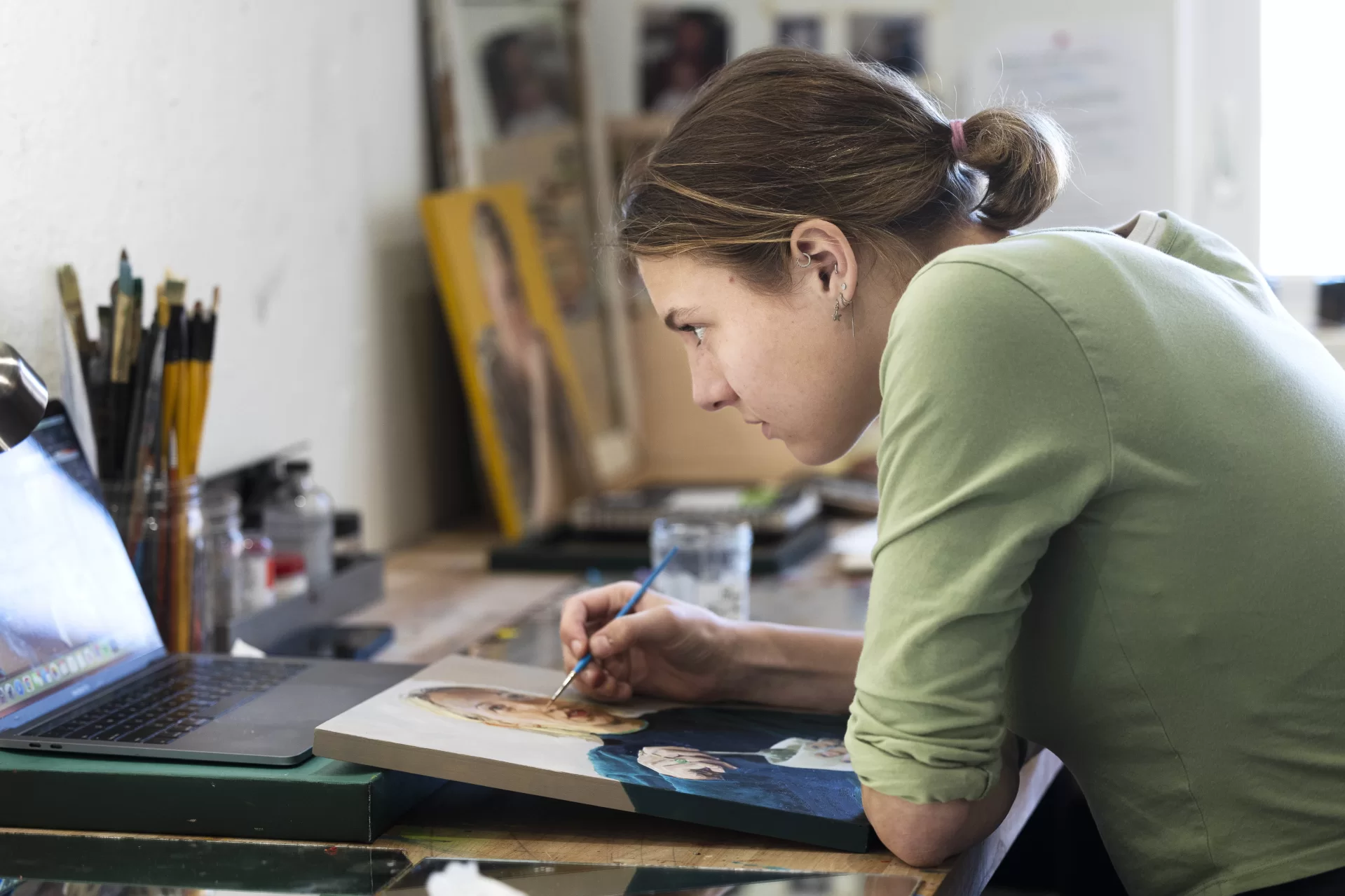 Using photos from her phone's camera roll as references, Wilson used graphite, colored pencils, and oil paints to create portraits of the people around her, "casual pictures that are not meant to be metaphorical, symbolic, or allegorical," she explains, but that capture that impermanence and uniqueness of a single moment.
"I like how pens and pencils feel as they glide across paper and how thick oil paint coats my metal knife when I drag it across glass to mix pigments until they're just right," says Wilson. "I like returning to the same image over and over again. In this way, my thesis is also the material byproduct of my time spent looking and thinking about these passing moments and what made them what they were."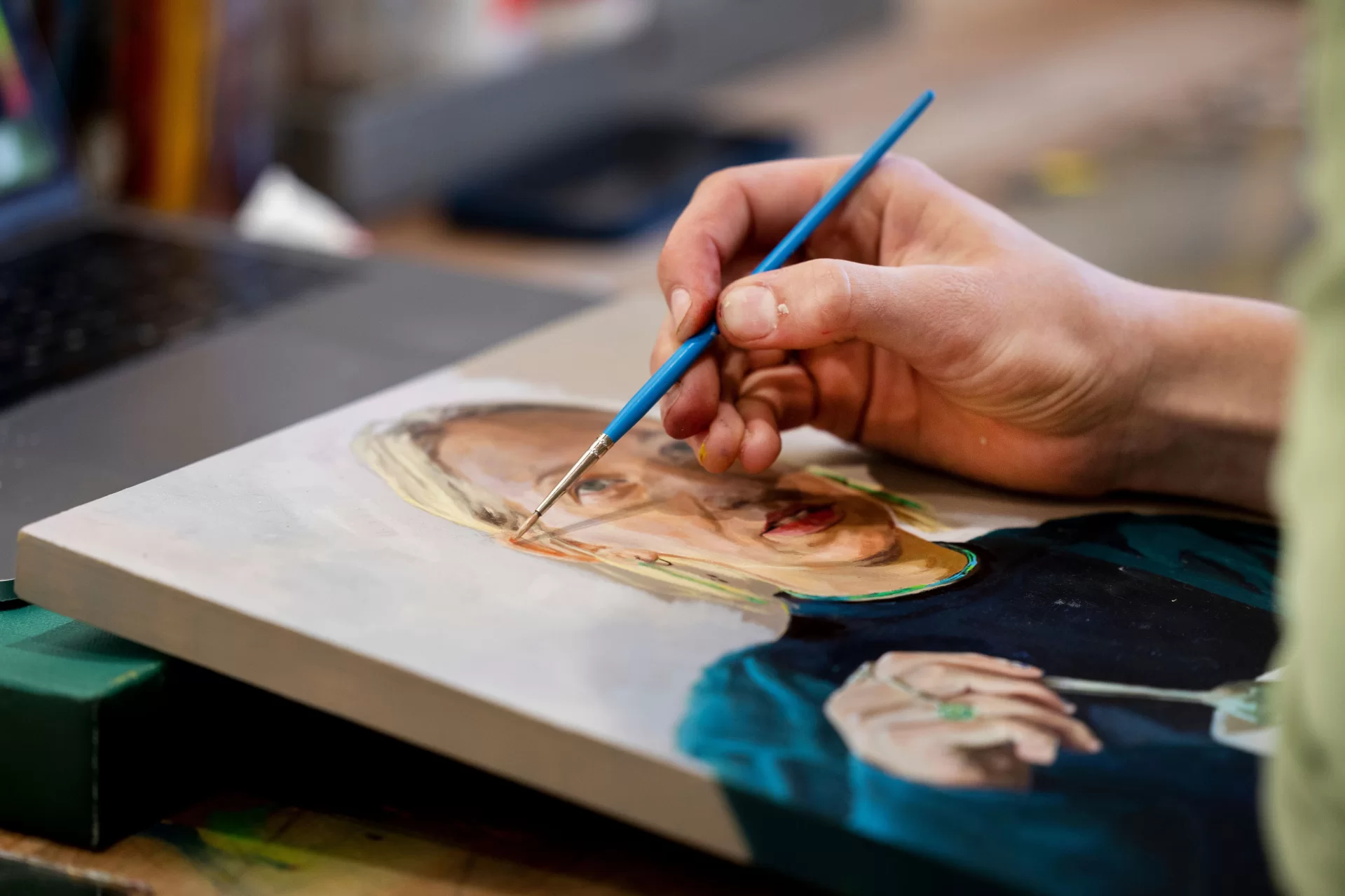 By focusing on the small details, like the fold of a sleeve, or the curve of an eyebrow, she found a sort of "stillness" that is simultaneously unsettling and comforting. That moment will never come again, but "without impermanence, time and space and life wouldn't exist in the first place."
Frieda Kickliter
Kickliter uses ink and oil paint to create large-scale abstract pictures. She references architecture, landscapes, and plants for her work "to signal a sense of familiarity with the tangible world," she says in her statement.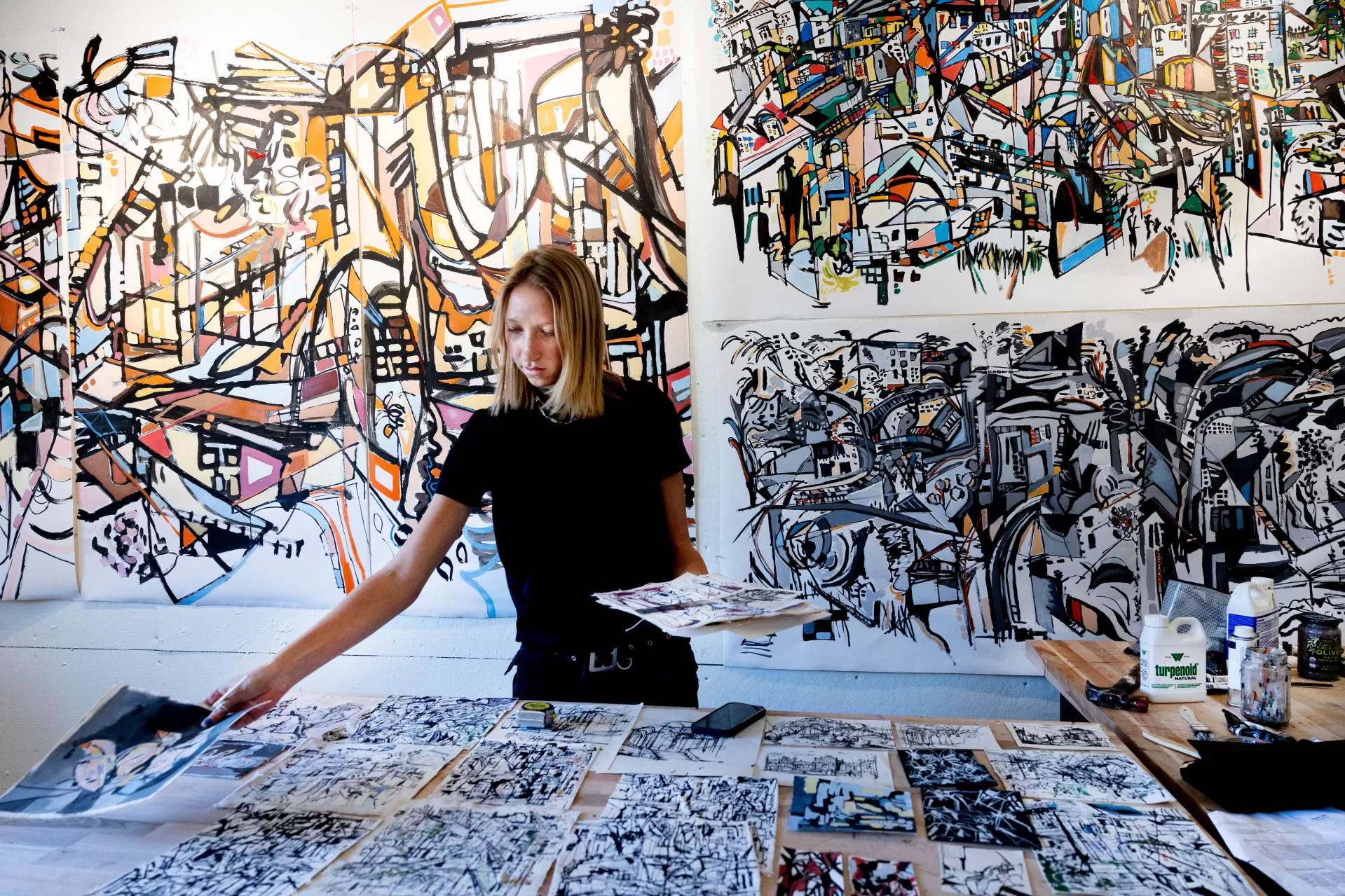 For her, the ink and oil lends an obscuring quality to the images; she paints lines over lines, never erasing anything, but layering the forms and perspectives, keeping "some areas more representational, thinking about the relationship between perceived, representational, and physical spaces."
"To me, the paintings are similar to obscured memories," she says. "They capture the fragmented recollections of multiple points in time and space." It's also a practice in expression, as she focuses on rhythm, movement, and "overlapping, isometric, linear, and irrational representations of space and form."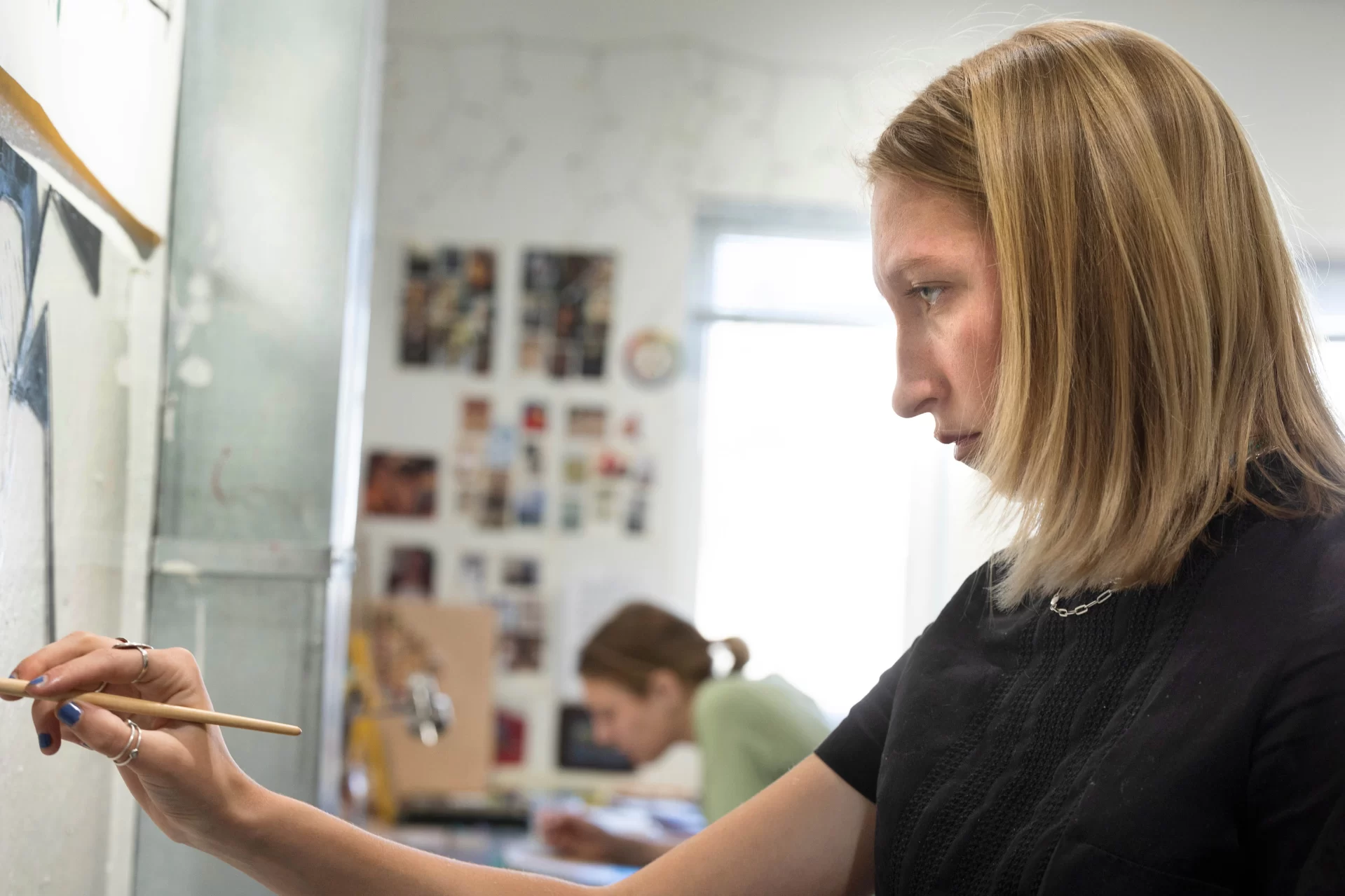 By blending organic and architectural shapes, she creates an "abstraction of a familiar world," leading her to "reconsider and think critically about my unique relationship and understanding of the surrounding environment."
Tricia Ballard
Ballard's thesis presentation is a collection of ceramic dishes, focusing on the functionality expected of everyday tableware, using white and brown stoneware fired in a reduction kiln.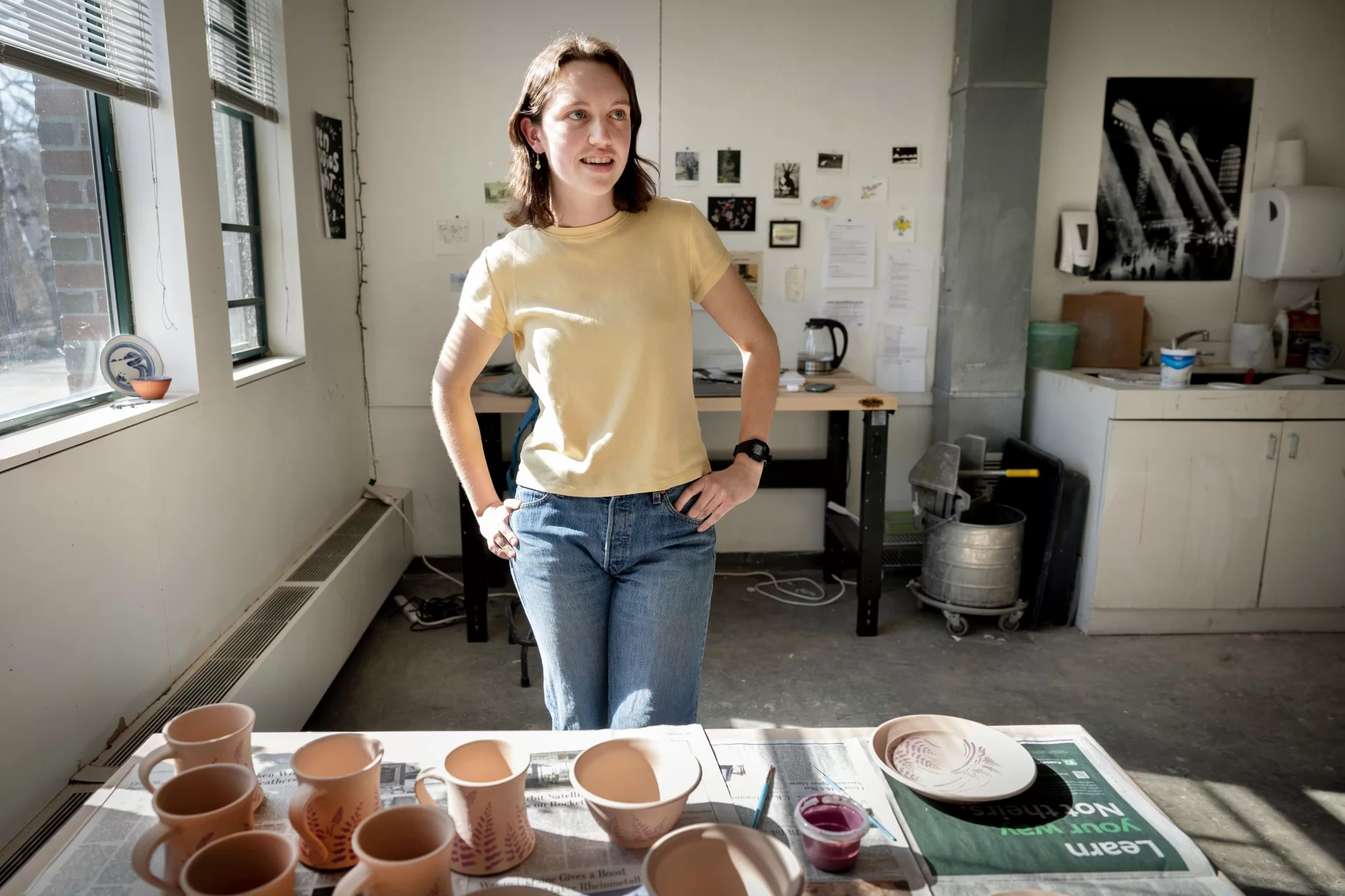 Inspired by the "generous handles, untrimmed feet, and thickly rimmed pots" in work by potter Clary Illian, Ballard wants her work to "appear refined, but I also enjoy leaving evidence of its handmade quality through a thumbprint at each handle's attachment," she says in her statement. "On some pots, I have drawn with slip or stain on their rounded surfaces. For others, a single glaze works best to highlight the underlying beauty of the throwing process."
Before Bates, she worked mostly with watercolors and drawings, and she has enjoyed the tactile experience of working with ceramics, and gained an appreciation for the "subtle delights that exist within a daily routine and am inspired by homes filled with personal art. I hope the utilitarian nature of my art invites others to appreciate the connection between pottery, food, and small joys hidden in the everyday."