Iryna Filkina was a heating-plant operator in war-torn Bucha, Ukraine, who wanted to find more beauty in her life.
Pushing her bicycle home one day in March 2022, she was shot to death by a Russian tank as she turned a corner. She was later identified by a friend, who saw a news photograph of her lifeless left hand and recognized her meticulously manicured nails, with a pink and purple heart emblazoned on the nail of her ring finger.
The image swept around the world, to be seen by millions, including Ruslan Peredelskyi, a Bates sophomore from Ukraine who grew up in the eastern part of his country, which has essentially been at war with Russia since 2014.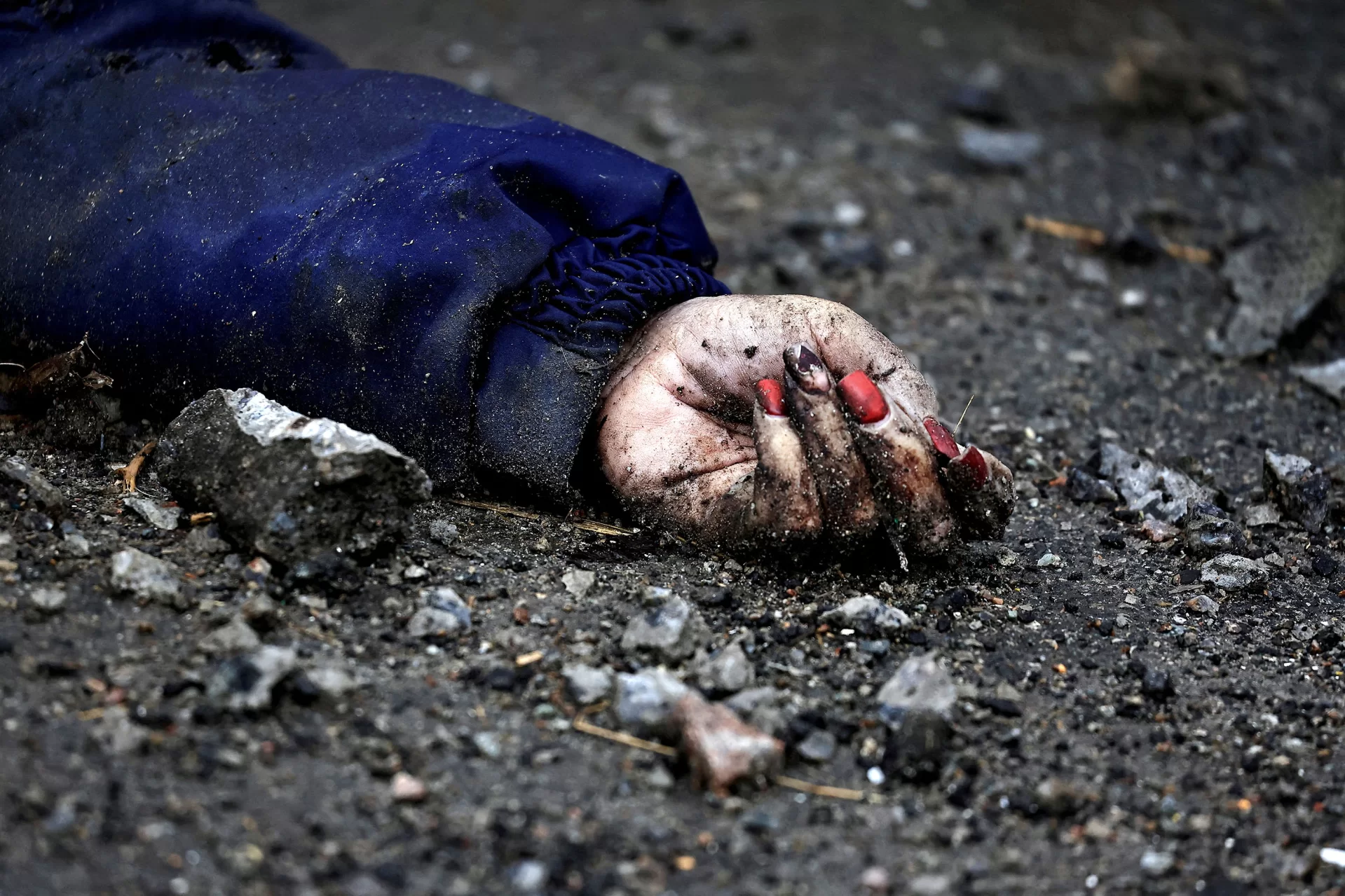 "We all saw this picture of just one hand peeking out the rubble and everybody was horrified," he says, "how this incredible desire to live and share beauty can be caught like this."
To express human hope in the face of war's inhumanity, Peredelskyi has used two of his immense talents, in dance and in writing, to create Dance for Peace, which weaves together modern dance, spoken word, and music to tell stories about human loss from war, such as the killing of Iryna Filkina.
"I want to concentrate on individuals: their mental states and emotions, humility with the loss of loved ones, the bitterness of loss and grief, the trauma left by the war," says Peredelskyi. "The dances seek to convey both the darkness of these emotions and the hope for the light of the future."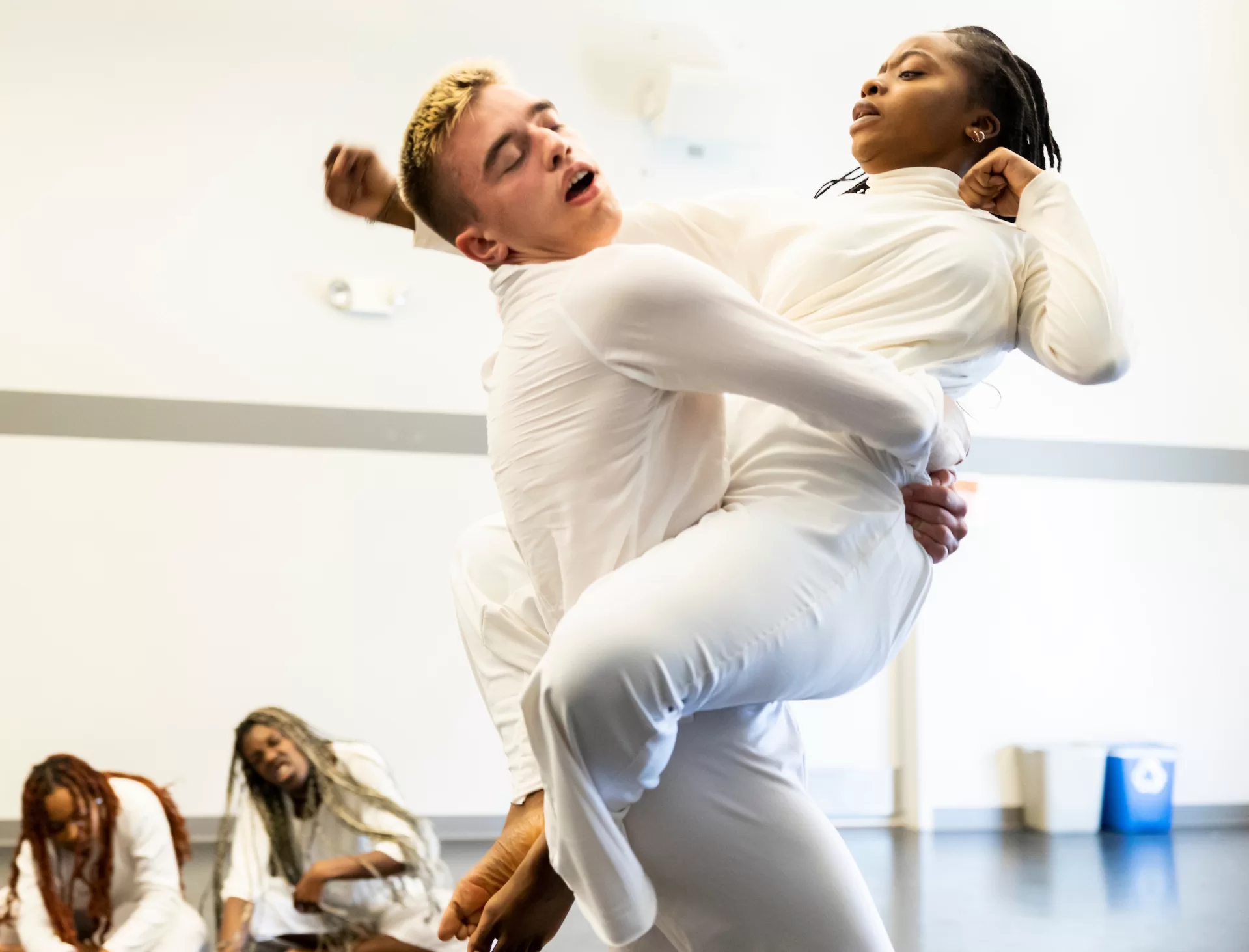 Supported by a cast of 10 Bates student dancers recruited and taught by Peredelskyi, with support from Assistant Professor of Dance Brian J. Evans, Dance for Peace was performed in March before the congregation of Temple Beth Elohim in Wellesley, Mass.
The performance was partly a fundraiser to support the temple's work to bring Ukrainian refugees to the U.S., but mostly Peredelskyi's personal thank you to the congregation for its support to bring his mother and grandmother to the U.S. last year (his father remains in Kyiv; men from age 18 to 60 are not allowed to leave the country).
"I really wanted to give something back," said Peredelskyi, who is a double major in dance and politics at Bates who trained as a ballet dancer at the famed Kyiv Choreographic College before coming to Bates.
When a member of the congregation invited Peredelskyi to give a dance performance, his first thought was, "Wow — I definitely need to involve my incredible Bates dance community." Creating a work together would be that much more powerful, a gift not just from him, but from his Bates community. "The idea of dance gets matched with the opportunity to help others."
In 2014, when Peredelskyi was 11 years old, he experienced war for the first time. He and his family were living in the eastern city of Donetsk, in the Donbas region of Ukraine, when Russian-backed rebels clashed with Ukrainian forces. He recalls sheltering in his home, watching the bombs fall from the sky.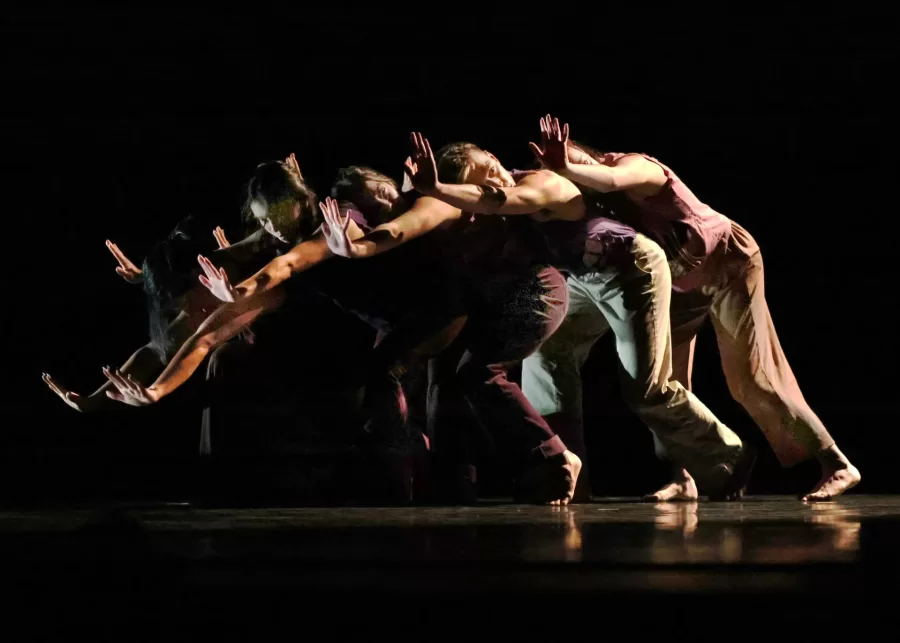 His family soon fled Donetsk for Kyiv, where Peredelskyi went to high school and studied ballet. That's how he learned about Bates, through the global reputation of the Bates Dance Festival. At the same time, he was pursuing creative writing, including writing a novel, which won a new-writer award in Ukraine. "And I saw that Bates provides the opportunity to do all of that," he said. "And I was like, 'Wow, this is like a dream.'"
At the heart of Dance for Peace are two literal war stories that have become part of the collective memory of Ukrainians, who share and reshare intense war stories, however horrifying, as a way to feel more alive. One is the story of Iryna Filkina. The other is the story of a woman who cannot sleep at night because, as shared in a monologue spoken by Verina Chatata '26 of Lilongwe, Malawi, "all she sees is the body of her younger sister pulled from under the rubble…. Burnt family photographs, burnt childhood toys, burns memories. Ruin, ruin, ruin."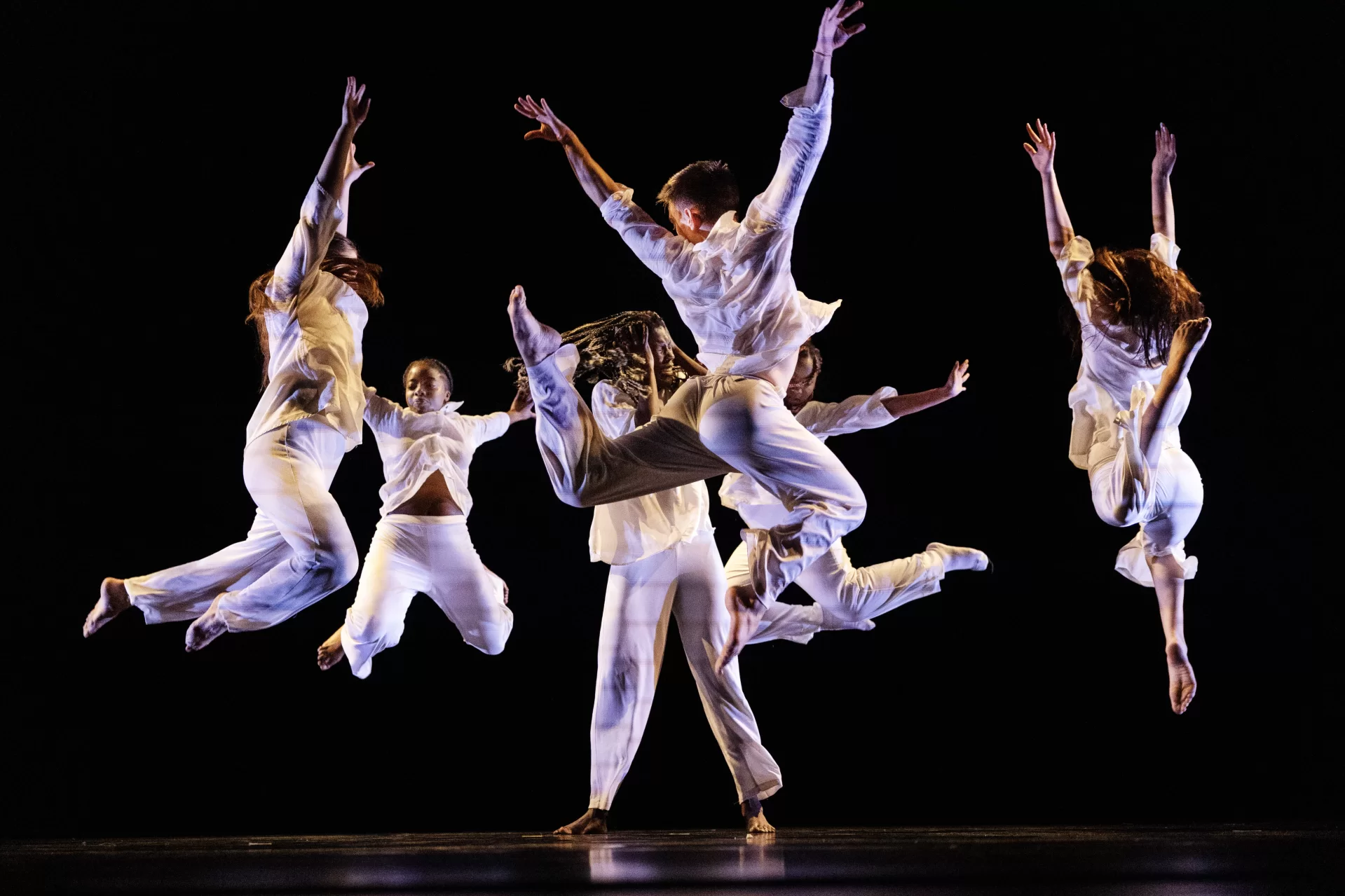 "My parents, my relatives, my friends just shared with each other stories of people who just had something so intense, so horrifying that I never read in any book," Peredelskyi explains. "So horrifying that it's hard to imagine, hard to describe in words, hard even to imagine what the person feels at that moment."
Telling the stories "is a type of Ukrainian folklore," he adds. "Storytelling helps emphasize the value of life and love in times of darkness."
"Dance for Peace confronts the visceral reality of loss," explains Brian Evans. "Not simply a material loss but the inability to express one's being in any capacity." Faced with catastrophic loss, finding "hope through love, conveyed by artistic expression, may be the only tangible apparatus left to save the world."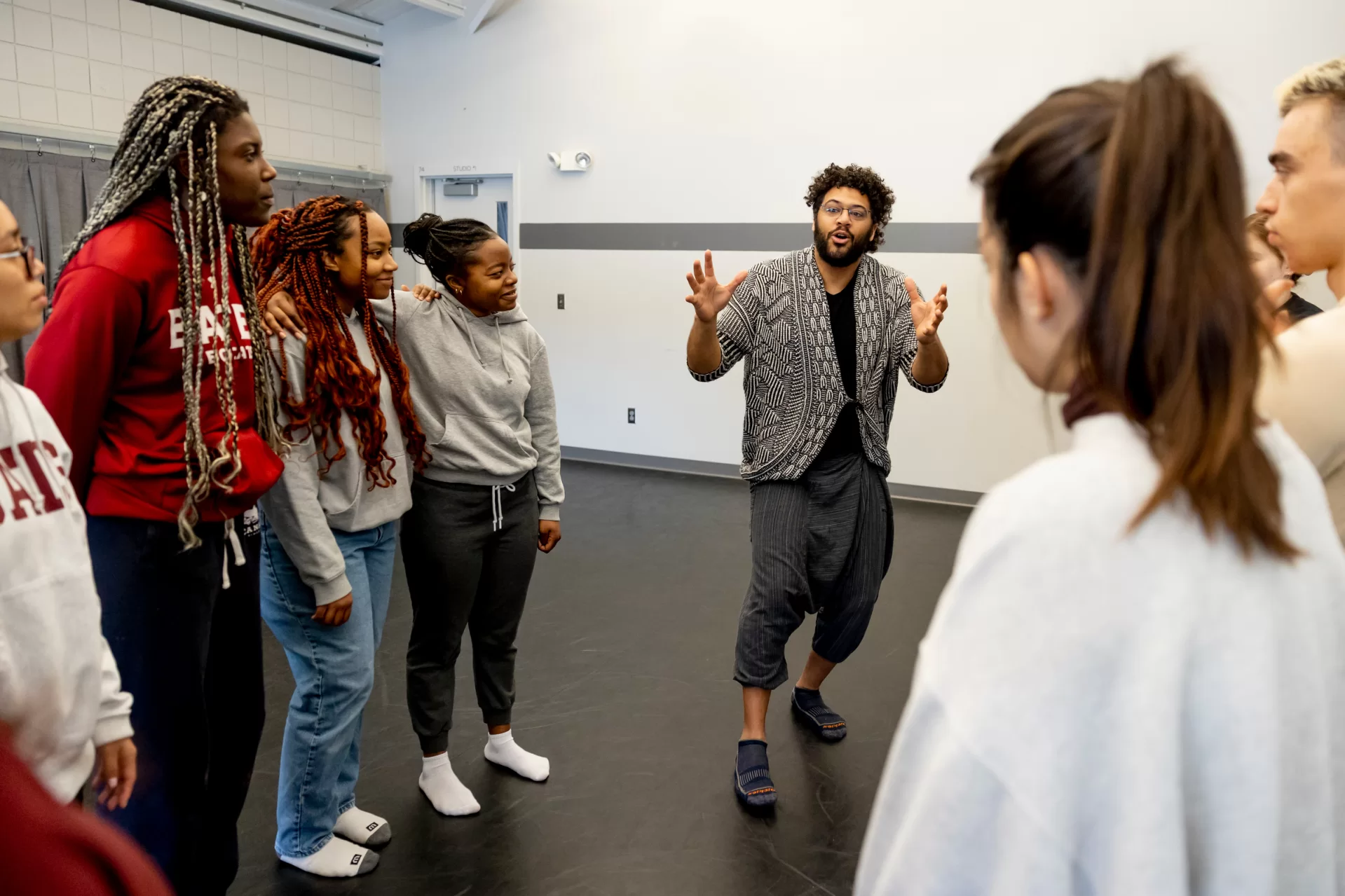 Iryna Filkina was 52. She wanted to become a makeup artist, to help others feel beautiful, decorated as she decorated herself, her fingernails expressing a sense of fun and love. "You need to love yourself and live for yourself," she told a friend. Her death was part of what is now considered a mass murder of Ukrainian civilians and prisoners of war by Russian forces in early 2022. The number killed stands at 458.
In telling her story, Peredelskyi wants to prevent the horrors of war from being cleansed into a statistic. During the Vietnam War era, CBS television news anchor Walter Cronkite reported on the number of enemy dead every night. The number was known as the "body count."
Little has changed about that scorekeeping model. "When I see a conversation about people affected by war, it's about statistics," says Peredelskyi. "It's about how many millions of dollars were spent on tanks, or about how many people died. It's a really dry, casual number."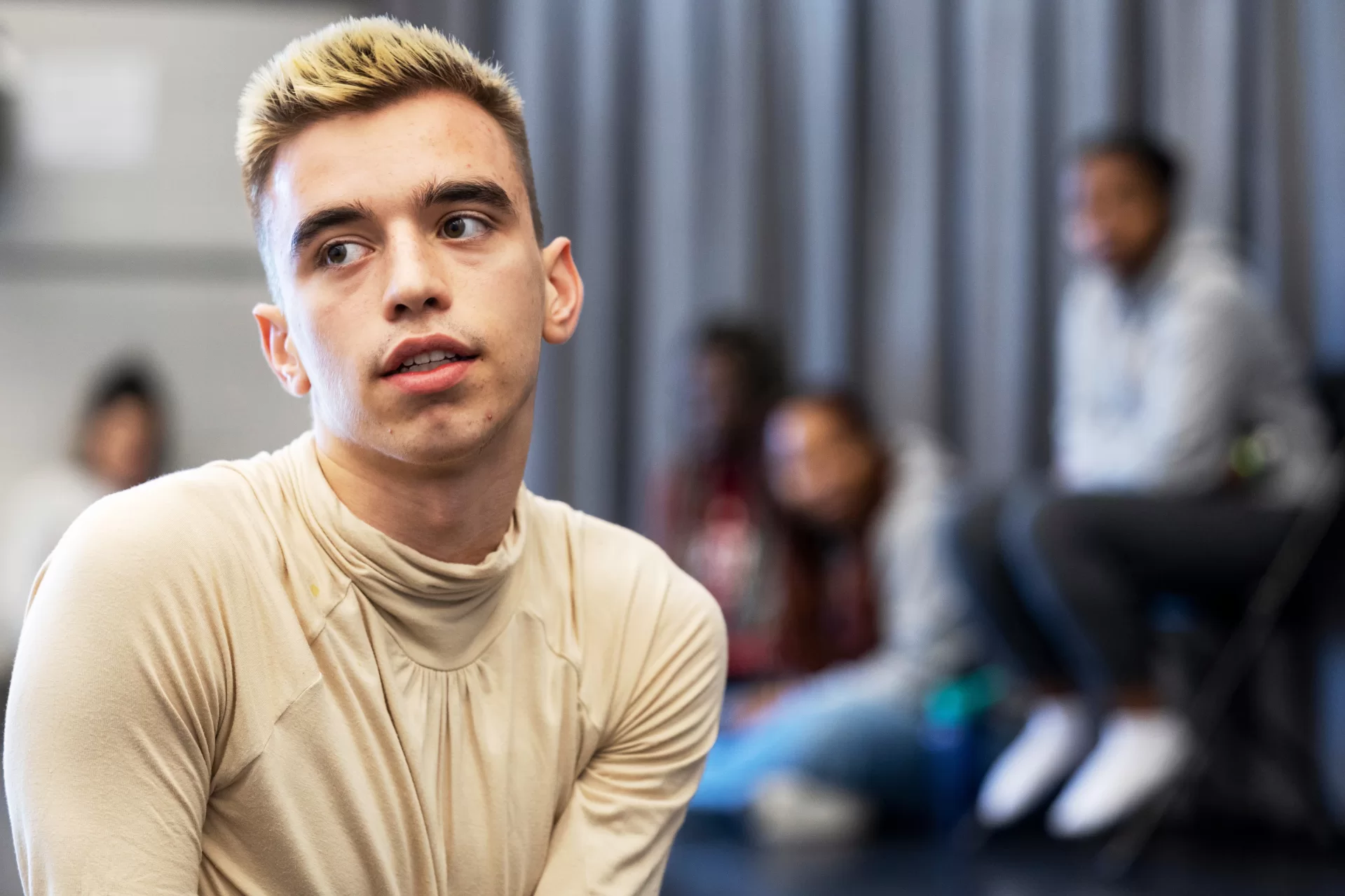 For the performance of Dance for Peace at the synagogue, Ruslan also created and performed a solo dance, to the song "Anneini," composed by Noah Aronson, who is an artist-in-residence at Temple Beth Elohim. "A beautiful, incredible musical piece. I just fell in love with it," said Peredelskyi. The temple performance also included Evans performing a piece he created titled "Yoke," plus a reading of "My Testament" by Ukrainian poet Taras Shevchenko.
In creating Peace for Dance, Peredelskyi says that the varied dance abilities of his fellow students fit perfectly with his vision of dance. "For us, the beauty of dance lies in its accessibility for everyone who wants to move and share their passion for movement."
(In a sweet moment during the post-dance Q&A at the synagogue, a student said that her most memorable moment during rehearsals was when her feet ended up, accidentally, under Peredelskyi's. "I don't know how pointed the feet are supposed to be in ballet, but they're really pointed, so I'm not forgetting that anytime soon!")
In writing the speeches, he focused on themes and motives "that would be intense," he says. "Then, I was trying to jump into Spotify and Google to find music that would match this energy, not take away from this specific Ukrainian story, and also would be familiar to an audience for contemporary dance in the U.S."
For the dance story about Iryna Filkina, titled "Manicure," the music comprises a mix of four songs, all with heavy, sometimes hurried beats, and a sort of tense energy to them, which fit with the "horror, thriller-like" style of the choreography, he said.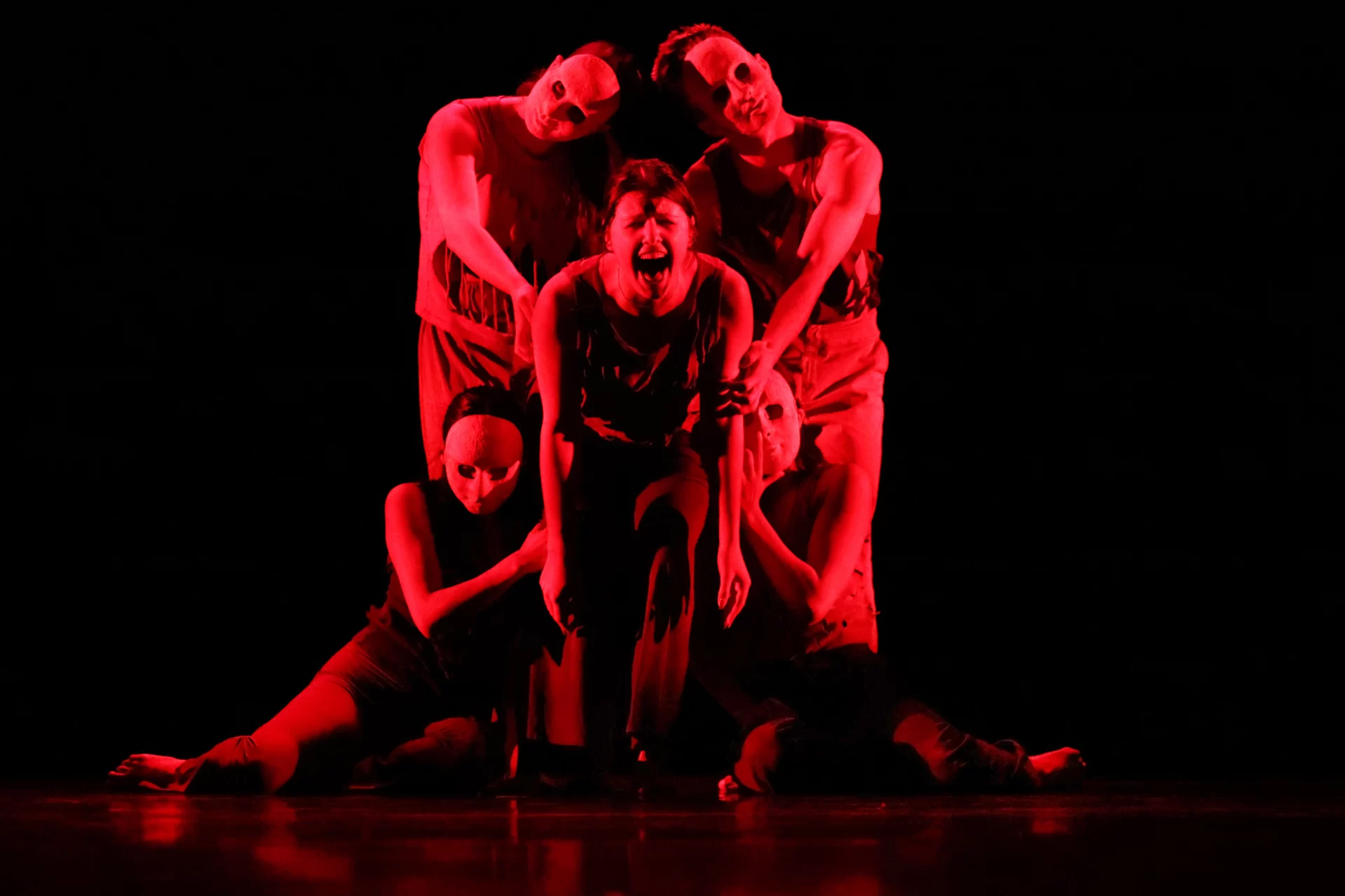 Peredelskyi knew he wanted to mix contemporary Western music with Ukrainian folk music, which is how the traditional Ukrainian folk song "Oh, Christ Sat to Have a Supper" got mixed with "Your Body Changes Everything," a 2020 release by Perfume Genius.
"Manicure" does not shy away from expressing pain and grief — the dancers' movements feel dark and macabre at times, and set to a beat that feels relentless. Yet, ultimately, the piece creates space for hope and healing, while commemorating the joy that Filkina took in recognizing and expressing beauty.
Marin Ackermann '26 of Mount Kisco, N.Y., delivers one of the monologues written by Peredelskyi. She asks the audience to imagine what happened to Filkina's soul.
Do you really think this passion for life, all this life, goes nowhere? Do you really believe that all these souls are gone? Do you believe that they are among us, that their love is still among us? This love cannot be killed with just one shot. It stays here. These souls will live forever.
Peredelskyi is a trained ballet dancer, but Dance for Peace is hardly classical ballet. As he anticipated performing it at the synagogue, he wondered if his audience might be put off by its intensity. The first part of the program was a poem, "Ode to Kyiv," and from the stage he could see "a lot of sadness," on their faces.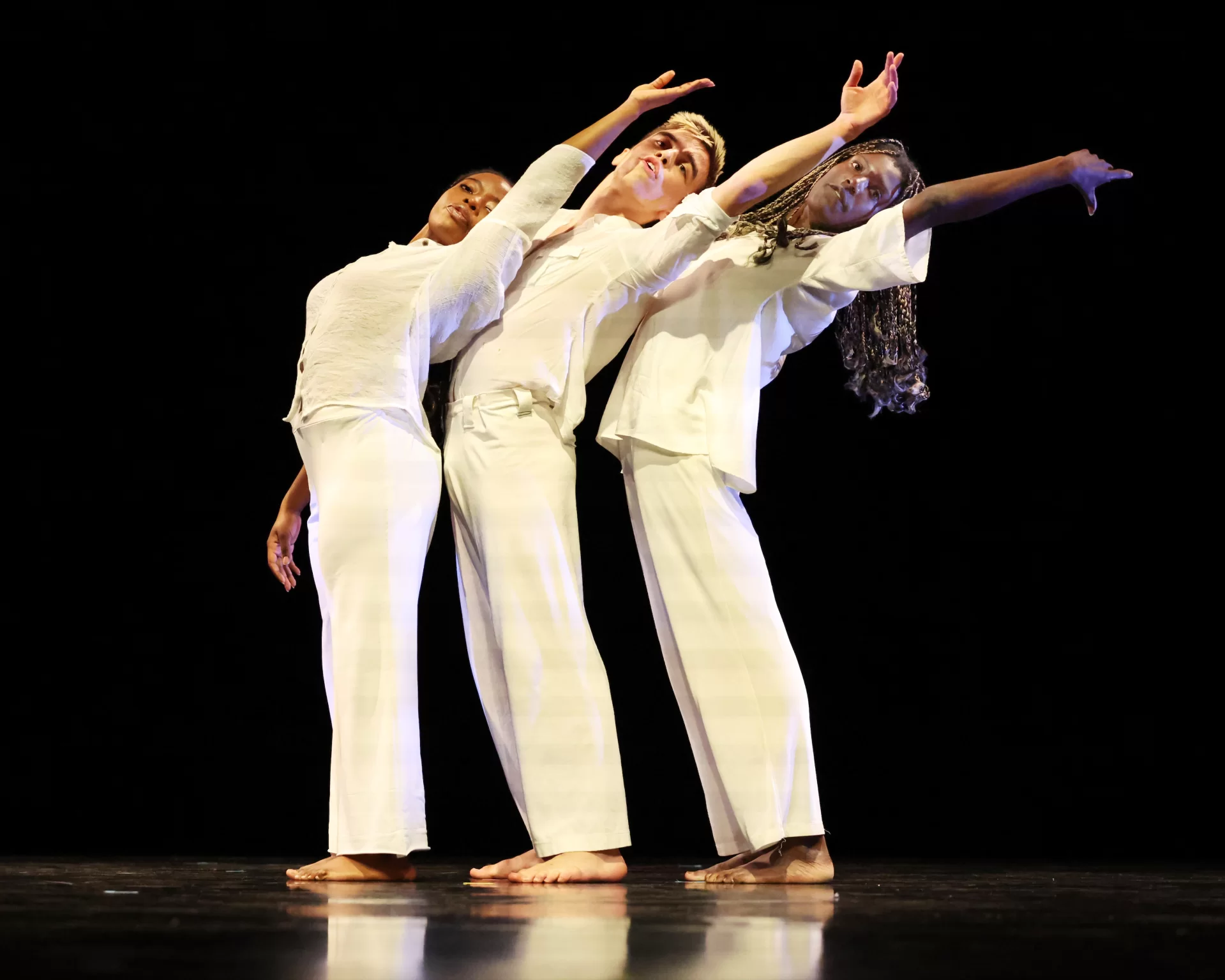 But as the program went on, he saw the audience engage with the storytelling. During the Q&A at the end, audience members said they were humbled, awed, and inspired by the performance by the Bates students.
"I want to thank you for shattering my perception of people your age," said one man, as the audience laughed. "A dinosaur like me thinks you're all involved with Instagram, TikTok and YouTube. But you have given me hope."
---
Additional reporting by Bates Communications staff writer Freddie Wright.
Dance for Peace
Ruslan Peredelskyi '25 of Kyiv, Ukraine
Marin Ackermann '26 of Mount Kisco, N.Y.
Adya Agarwal '24 of Kolkata, India
Verina Chatata '26 of Lilongwe, Malawi
Jane Drumm '25 of Oak Park, Ill.
Abbey Ende '23 of Asheville, N.C.
Nina Gonzalez '23 of San Francisco, Calif.
Mariana Kaluba '25 of Lusaka, Zambia
Olivia Krug '26 of Fryeburg, Maine
Francisca Rocha '24 of Porto, Portugal
Sarah Senator '25 of Pacific Palisades, Calif.