Bates College Board of Trustees elects two new members
Bates College has announced the election of two new members to its Board of Trustees, effective July 1, 2023:
Pranav Ghai '93, P'26, analytics professional and financial-data platform co-founder
Marc Jaffe P'25, attorney specializing in corporate finance and corporate law
"On behalf of the board, I want to extend deep appreciation to Pranav and Marc for their willingness to contribute to Bates in such a fundamental and important way," said John Gillespie '80, chair of the board. "From their respective professional fields, Pranav and Marc are sure to bring deep knowledge and sharp insights to the board, enhancing our capacity to achieve our fiduciary duties and ensure that the college is fulfilling its mission."
Pranav Ghai '93, P'26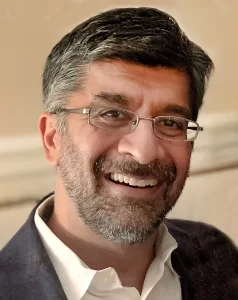 Pranav Ghai is the CEO of Calcbench Inc., which he co-founded in 2011 with Alex Rapp '93. Headquartered in New York City and Cambridge, Mass., Calcbench is a financial data platform that provides subscribers with a systematic and instantaneous way of accessing data from financial statements. Prior to co-founding Calcbench, Ghai was a senior analyst at Cura Capital Management and vice president at Morgan Stanley. He is a member of the Corporate Disclosure Policy Council of the CFA Institute, addressing issues affecting the quality of financial reporting and disclosure worldwide, and serves on the board of XBRL US Inc., a nonprofit promoting XML business reporting standards. He is a former member of the Technical Computing Advisory Board at Microsoft.
Ghai majored in mathematics at Bates and holds an M.S. in applied mathematics from New York University. At Bates, he served as a Junior Advisor and Resident Coordinator, and was a member of the Asian Society, Chase Hall Committee, International Club, Mathematics Council, Physics Society, and Politics Club. In April, he served as a volunteer judge on campus for the 2023 Bobcat Ventures pitch competition. He is married to Laura Marianne Gellert, and the couple lives in New York City with their two children, Kylor Gellert Ghai and Tamrin Gellert Ghai '26.
Marc Jaffe P'25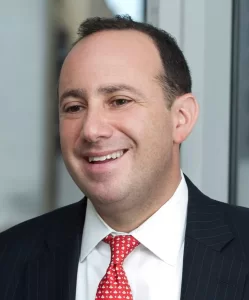 Marc Jaffe is the managing partner of the New York office of the global law firm Latham & Watkins, specializing in representing prominent companies, investment banking firms, and investors in public and private equity and debt offerings, with extensive experience across sectors, including technology, entertainment, retail, financial services, gaming, hospitality, manufacturing, energy, and media and telecommunications. He also advises companies on general corporate and securities matters. Jaffe previously served as global chair of Latham's Corporate Department and global co-chair of the Capital Markets Practice.
He has been named a Distinguished Leader by the New York Law Journal and twice named Dealmaker of the Year by The American Lawyer for representing Manchester United in its landmark initial public offering and for representing Rivian Automotive in one of the largest technology IPOs in history. The Legal 500 US named Jaffe to its Hall of Fame, describing him as "pre-eminent in the capital markets space." Jaffe received his A.B. from Harvard University, majoring in government, and his J.D. from the University of Chicago Law School. He is married to Tracy Jaffe, and the couple lives in Scarsdale, N.Y., with their three children, Hayley, Daniel, and Noah '25.