As students return to campus, and the 509-member Class of 2027 take their first steps as Bobcats, some things are new, some old things have been updated, and others have been moved, renamed, or remixed — but it's all still Bates!
To help our Bates community of alumni, parents, friends — and the campus folks too! — navigate these changes, here is a comprehensive A to Z list. And no fair scrolling to see what's Z!
A
The college's Annual Entering Student Orientation Program, AESOP for short, kicks off on Saturday when the 509 members of the newly arrived Bates Class of 2027 head out on 57 three-day trips led by 114 student trip leaders across Maine and into New Hampshire.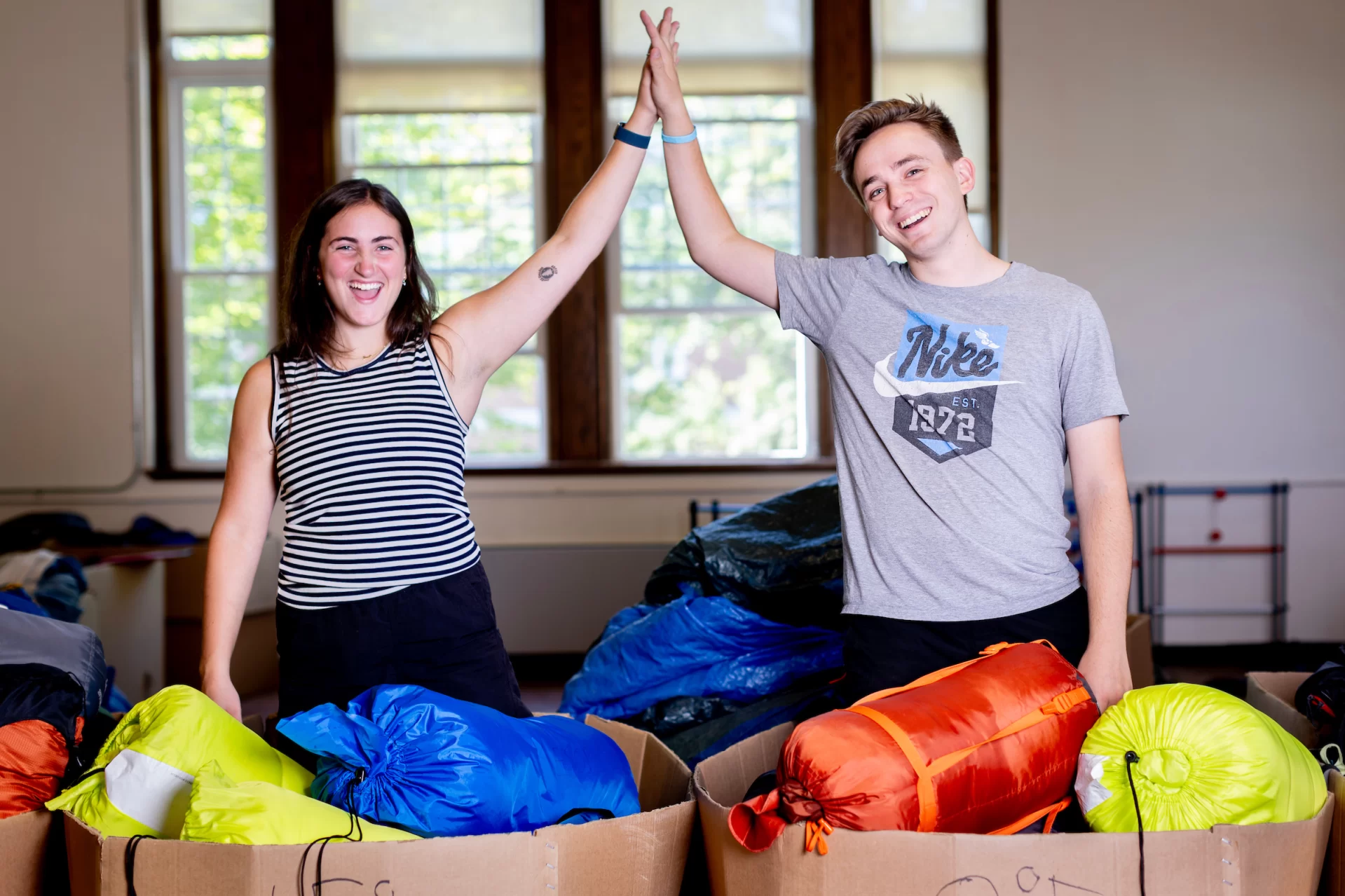 What's new with AESOP is a much more intentional effort to make the trips fun and accessible for all students by offering a wider variety of trips, from the Maine coast to the mountains and also near campus in and around Lewiston-Auburn.
B
New and returning Bobcats stepped onto a new surface at Garcelon Field. A product called Legion, made by Shaw Sports Turf, the new artificial turf replaces the surface that was installed in 2010 and had reached the limit of its useful life. Our Campus Construction Update reports on the final steps of the installation.
Then
Now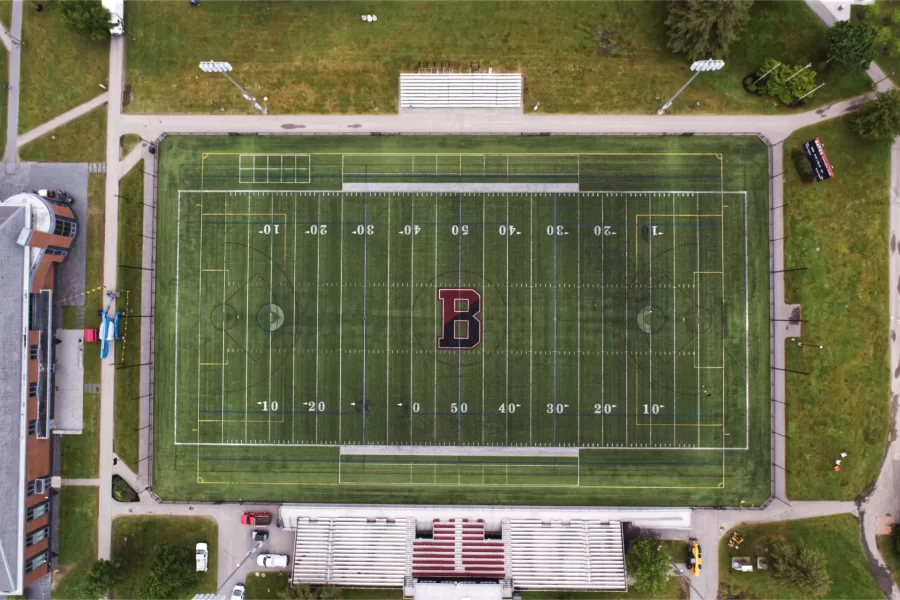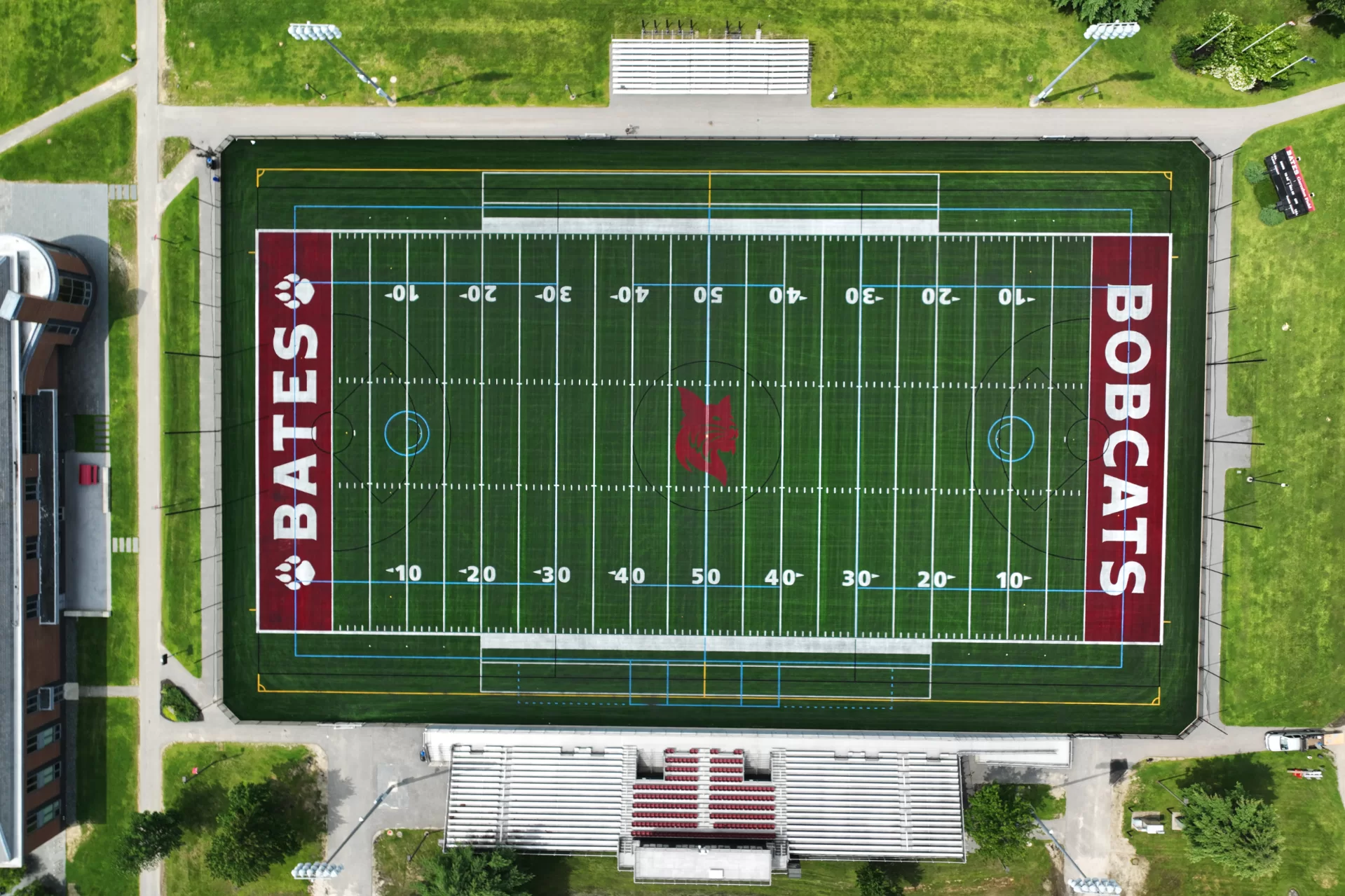 An aerial view of Garcelon Field before and after its turf replacement. Use your mouse to grab the slider (or swipe your finger if on a phone or tablet) to reveal more or less of each image. (Branden Rush/Bates College)
C
After a yearlong renovation, Chase Hall has reopened as a significant new resource for the 2023–24 academic year. Dedicated in 1919, the historic campus building has been transformed into a vibrant hub for student programs and services, plus the venerable Bobcat Den. The Chase Hall reopening signifies an exciting chapter for the institution, offering enhanced resources and a dynamic environment for the Bates College community.
Also new: the renamed student leadership position Community Advisor, formerly Residence Coordinator. Why the name change? "Because creating community is what these students do," explains Jimmy Riley, director of residence life and community standards.
The renaming also includes an expansion in health education work and health education programming responsibilities for their residential communities each semester. "In addition, they will also support one large programming week per semester, in which larger-scale programs will be open to the entire student body."
D
After being closed for a year during the major renovation to Chase Hall, the Bobcat Den is reopened for business. The Den isn't new, but "we've got a new smoothie machine," reports Christine Schwartz, assistant vice president for dining, conferences, and campus events. "And the smoothies will be made with natural juices," adds Cheryl Lacey, director of dining services.
E
New electricity for Maine, thanks to a solar array in Skowhegan created in partnership with ReVision Energy, a leading solar facilities provider in Maine, to establish a photovoltaic array on more than 20 acres of countryside in the town of Skowhegan. The array, which will begin feeding current into the grid on Sept. 5, comprises nearly 18,500 panels that will generate 7.131 megawatts of direct current, or DC, which will be converted to alternating current, or AC, for grid distribution to businesses and residences.
F
Underscoring a rarity in higher education, the college's career program, the Center for Purposeful Work, has a strong presence in the curriculum, including this fall's new First-Year Seminar, "Purpose, Work, and College: A Holistic Introduction to Purposeful Work at Bates," taught by Bates alum Marianne Nolan Cowan '92, associate director for program design with the center.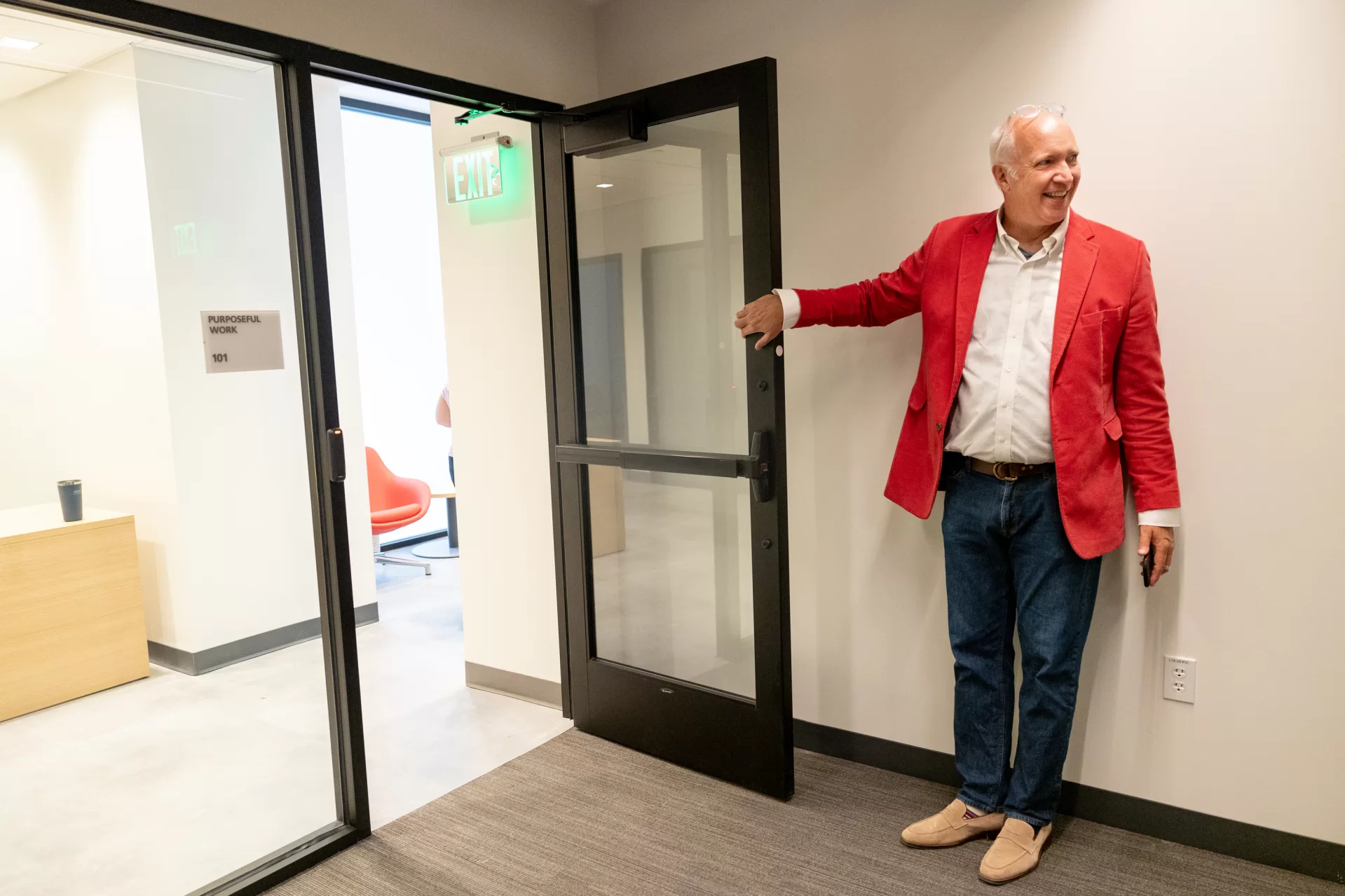 "Very, very few of our peers have any connection between the curriculum and discussion of work, especially if it comes from the college's career program," says Senior Associate Dean Allen Delong, who oversees the center.
G
Take a bite of this, Bobcats! Coming in hot for its first academic year on the prowl is Bates' new food truck, the Grab 'n Growl, featuring aesthetics lovingly designed from bumper to back door, a marvelous menu to tempt any hungry student, and a curated music playlist (not unlike an ice cream truck's) to beckon Bobcats from every corner of campus.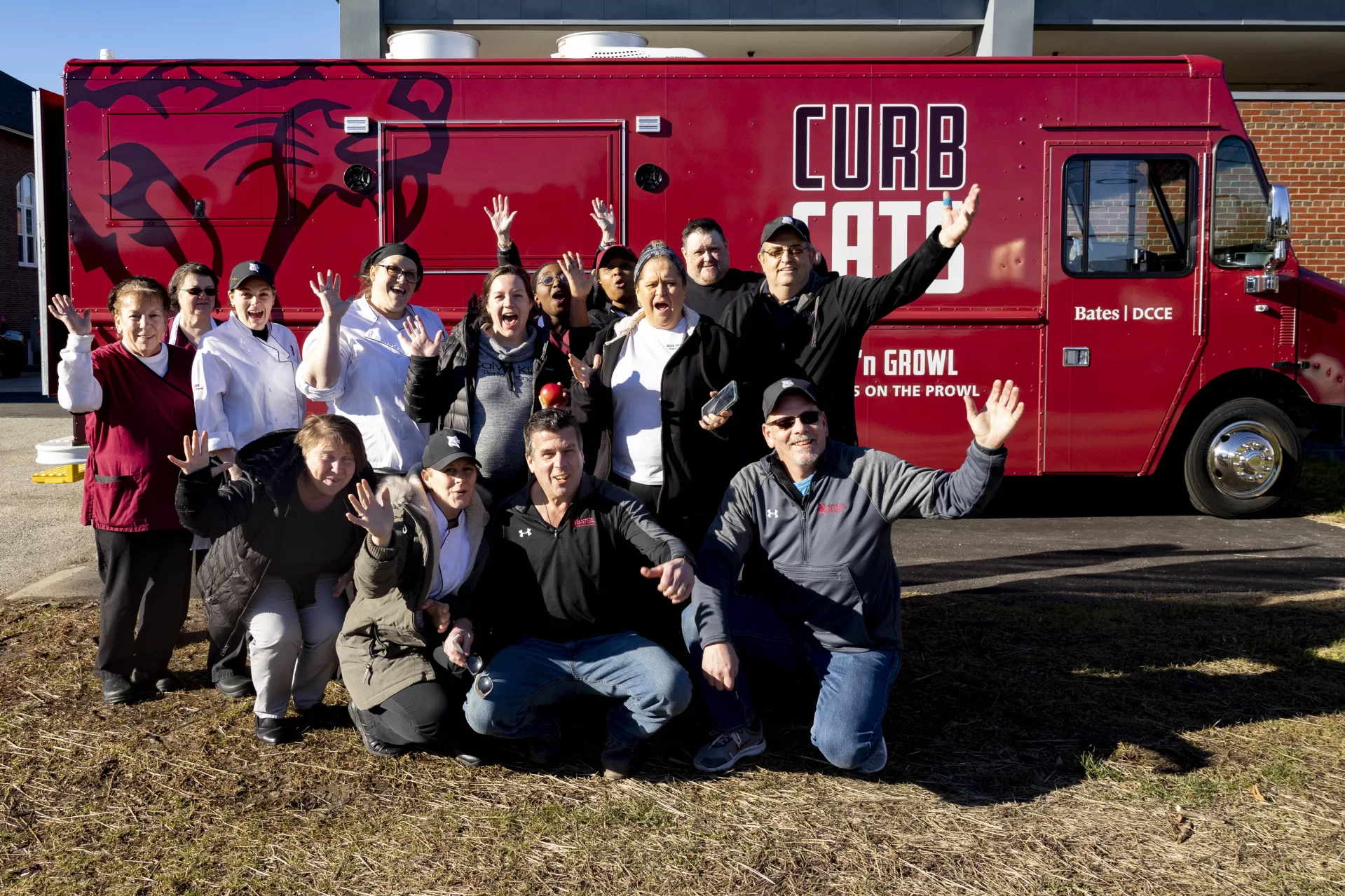 H
The reason for improvements to Hathorn Hall's third floor and attic will eventually ring clear. Easier access to that building's belfry will create a path toward fixing the historic bell's electric ringing mechanism, which has become unreliable and potentially hazardous in recent years.
I
The new Immersive Media Studio, located in a former classroom and computer lab in Coram Library, is close to completion. Funded by a $500,000 grant from the Sherman Fairchild Foundation, the facility will support instruction in and production of high-tech performances and installations incorporating sound, live action, and projected imagery.
J
As of the publication date of this story, Garry W. Jenkins has been president for 62 days, 10 hours, 32 minutes. But who's counting? At yesterday's Opening Day, he welcomed the new families. "Hello!" he boomed from the lectern. A parent, from far back under the shade of maple, boomed a response: "Hello!"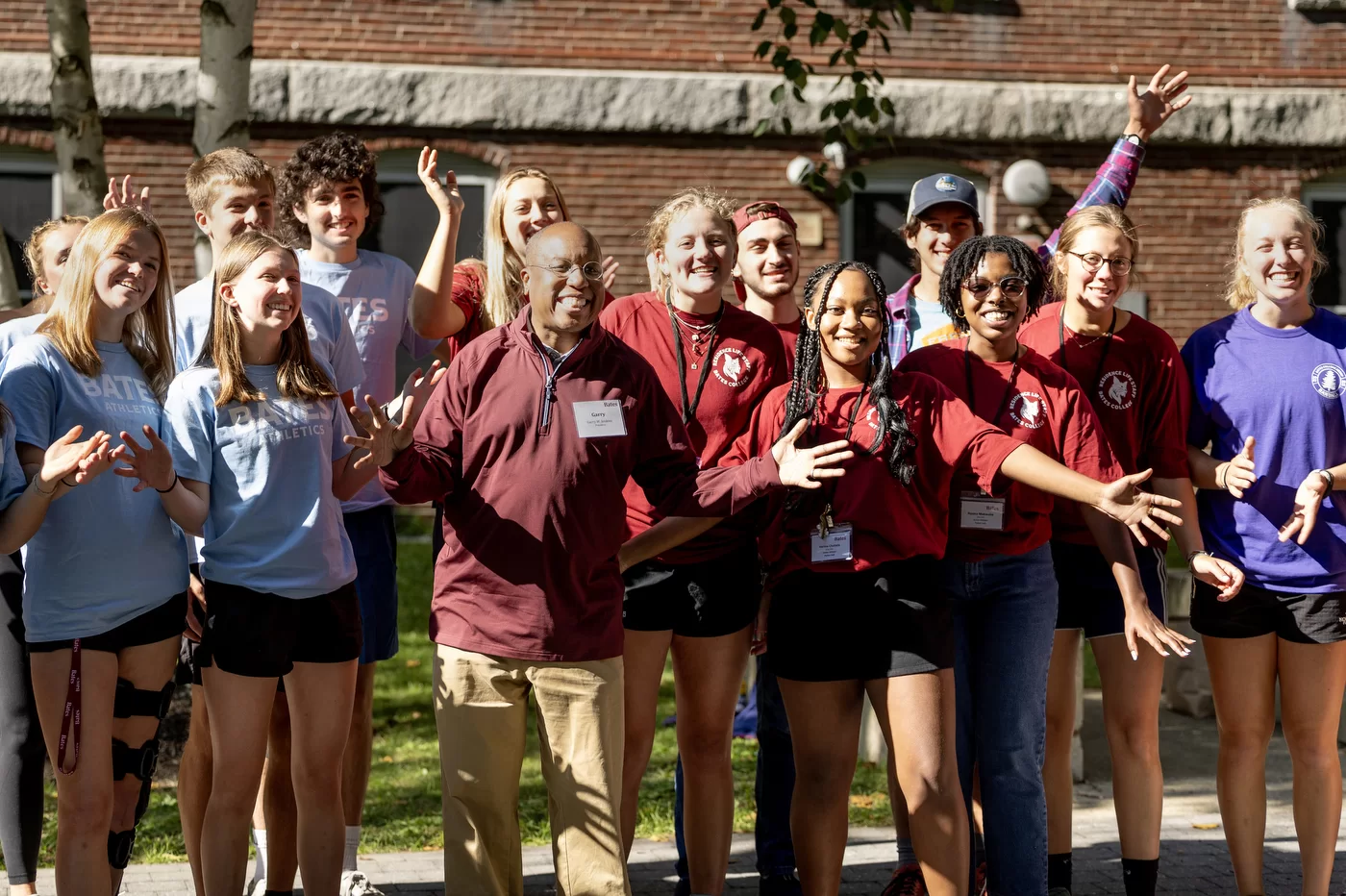 K
Funded by an important grant, the college's new first-generation program, the Kessler Scholars Program, seeks to "provide holistic support for a diverse community of high-achieving students who are the first in their family to pursue a four-year college degree."
L
As the venerable card catalog recedes further into the past with an updated online library search engine, sensibly named LibrarySearch is now "up and running," says Ben Peck, associate college librarian for research services. "The new system will provide many improved services, notably the ability to discover materials from our database subscriptions and our print and ebook holdings simultaneously, faster search results, a mobile-friendly interface, and additional search features and filters for precision search strategies."
M
Bates welcomes seven new George J. Mitchell Scholars in the Class of 2027. Named for the former longtime U.S. senator from Maine, who was born in Waterville, scholarship program has a central tenet that mirrors Bates', that "no Maine student with the qualifications and ambition to pursue a college education should be denied that opportunity due to limited financial resources."
Also new: a beloved campus landmark, the Mouthpiece bulletin board, was replaced with a new version handcrafted by the Bates carpentry shop to look just like the old one, which had succumbed to the ravages of time (and ants).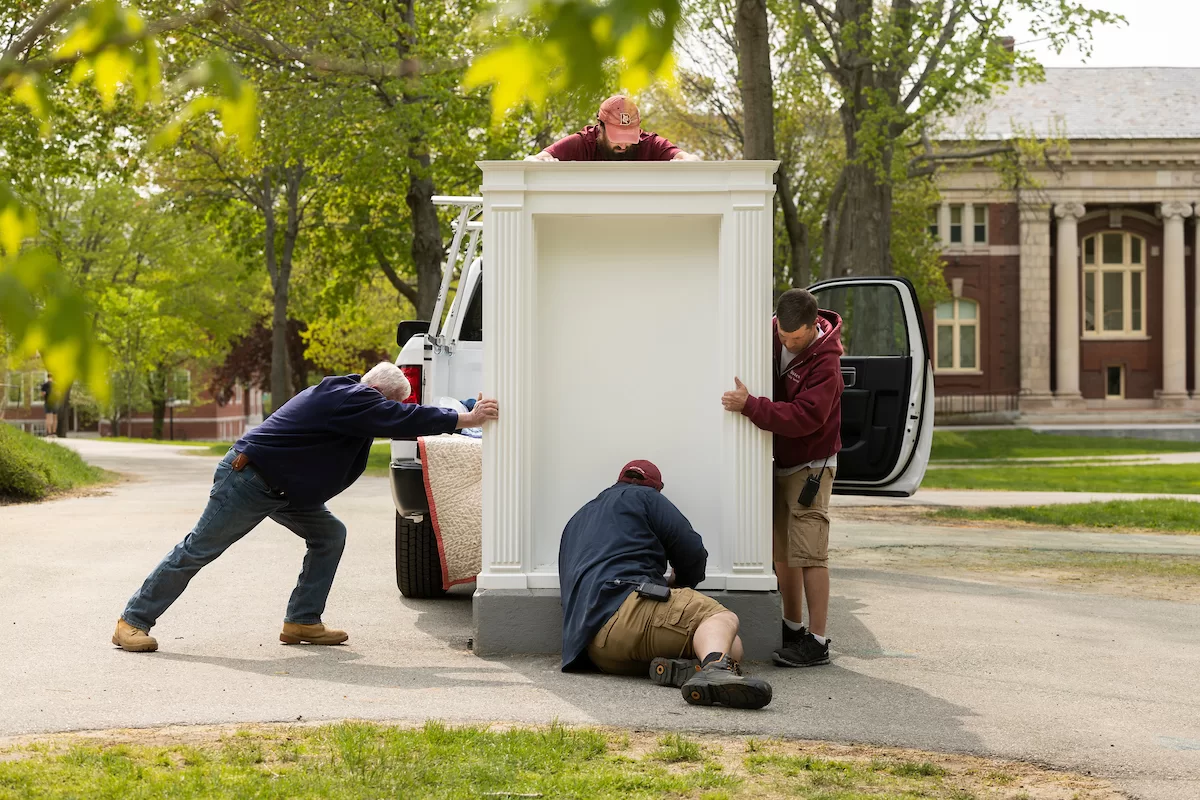 N
There's a new name for a building that's been around since 2007. Long known simply by its street address, 280 College Street, the residence hall next to Rand Hall is now Gillespie Hall, honoring John Gillespie '80, whose engagement with Bates spans more than four decades and two generations, including 20 years on the Board of Trustees and four years as chair. 
O
The Overnook is a signature feature in the newly remodeled Chase Hall. With a counter and seating that overlooks the building's first-floor lobby, it's both a cozy nook in which to chill and a great vantage point on Chase traffic.
P
The two programs to support student learning have a new space and name: the Peer Learning Commons on the ground floor of Ladd Library.
The commons simplifies and creates a single home for two student-focused programs. One is the Student Academic Support Center, which offers peer tutoring in mathematics, statistics, quantitative social sciences, computational studies, and the natural and physical sciences. Grace Coulombe leads this facility. The second is the Student Writing and Language Center, led by Bridget Fullerton.
"Now students can really come to one place for everything they need — a one-stop shop," says Eric Dyer, assistant director for learning strategies with the Student Academic Support Center.
The tutoring and peer learning programs at Bates date back to the early 1980s with the creation of the Writing Workshop. In those days, tutoring programs at Bates and elsewhere often had a deficit model: students were bad writers. Today's PLC focused on growth and support — "the value of helping others and seeking help when needed," says Fullerton.
Q
Bobcats headed to Merrill Gymnasium for a swim can expect to step into shiny new changing quarters by mid-October, with a revamp of the locker rooms, featuring expanded spaces, new lockers for general community use, and increased accessibility to the gender-neutral bathroom.
R
Bobcats can look forward to pumpkins surprises at the Ronj this fall. The student-operated cafe, located on Frye Street, says the surprise specials are still under wraps but the Bates community can "look forward to grabbing an autumnal latte" soon.
S
Not necessarily new, but newly revitalized, study abroad participation did a nosedive during the pandemic. In 2020–21, just 32 Bates students were able to go abroad. "But we're completely back now," says Darren Gallant, associate dean and director of the center for global education.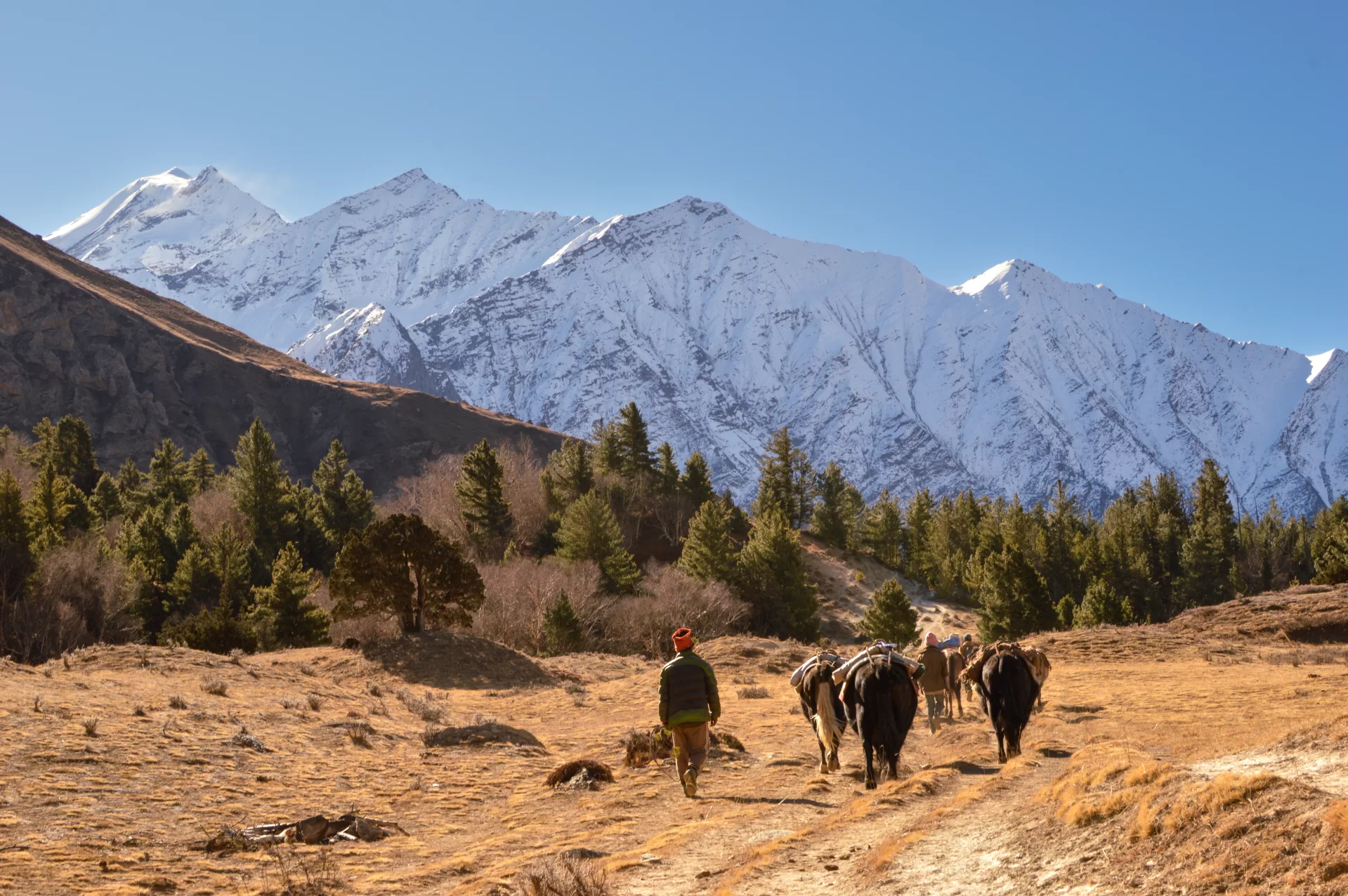 "During the 2022–23 academic year, 214 Bates students studied off-campus. In 2023–24, 334 Bates students plan to study off-campus. While off-campus study never stopped at Bates, students are excited to re-engage with the world in higher numbers."
T
Trees, which Bates routinely replaces, when they're diseased. For example, along Alumni Walk, defined by its grove of white birches, the college's landscapers are slowly replacing those birches — which have been susceptible to birch borers, a pesky wood-boring beetle — with hardier river birches.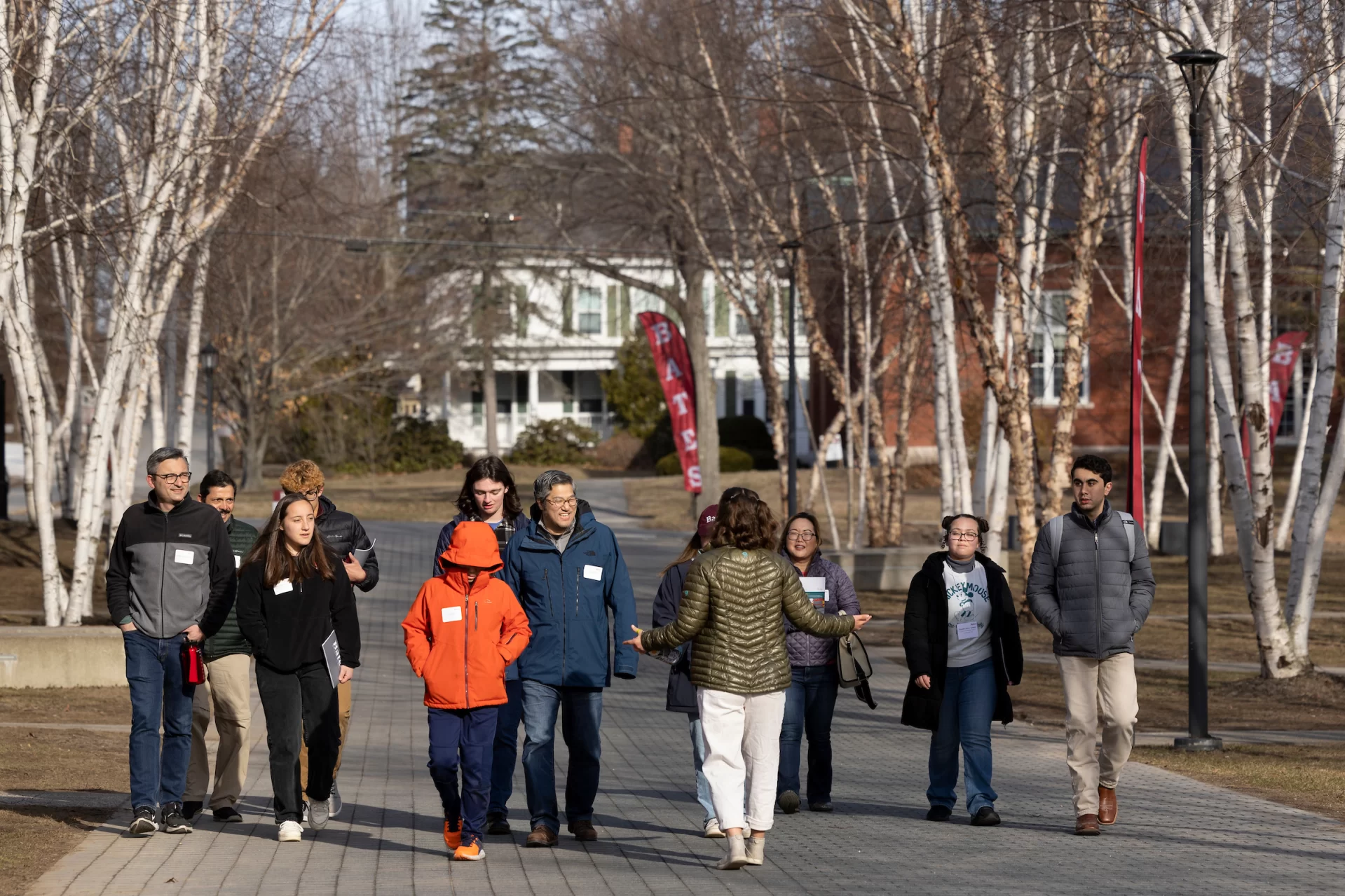 U
From the College Store, a new item: biodegradable Bates-branded utensils. Made from wheat straw polypropylene, the sets of collapsible forks, knives and spoons are biodegradable, sustainable and renewable — and gluten allergen friendly!
V
At the college's Post & Print operation, a robust new wide-format printer, Roland, can output 54-inch products for many applications such as banners, stickers, die-cut vinyl, interior and exterior signage.
W
During the first week of autumn, Bates will offer Well-Being Week, a new effort geared to providing students with resources that support their physical, mental, and emotional health.
X
The campus looks gorgeous after a summer with above-average rainfall, which also means lots of hours on the campus lawnmowers. Luckily, the grounds crew has just taken delivery of a new 60-inch zero-turn mower from eXmark.
Y
Another new item in the College Store, a Bates-branded yo-yo: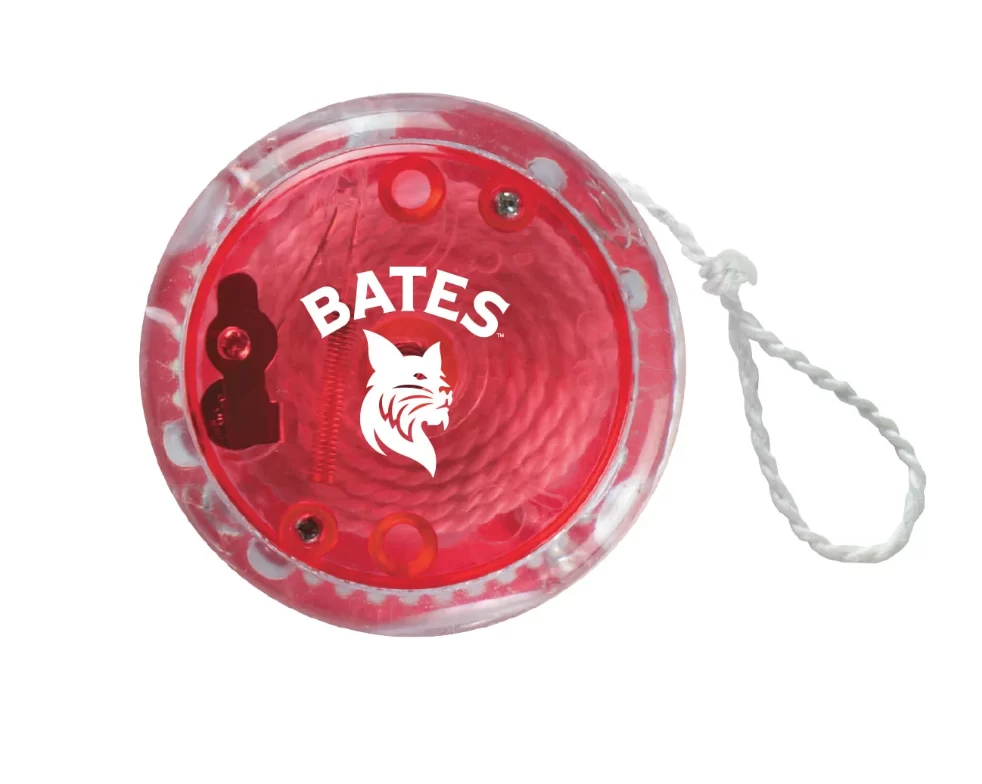 Z
Zoom isn't new, we know. At Bates, we're at more than 3.9 million Zoom meeting minutes since the start of the calendar year, generated by 25,500 meetings. As far as what's new? Our favorite new feature is the ability to use PowerPoint presentations as virtual backgrounds. Feel free to geek out on these release notes.