Starting with summer, and ending with fall (but it still feels like summer), we've traversed the map, with stops in the wilderness, on the playing fields, in our classrooms, and back outdoors. From faculty, students, and staff to feathered friends, we've curated candid moments and posed portraits for your appreciation. We do hope you will enjoy This Month at Bates.
Backpacking in Baxter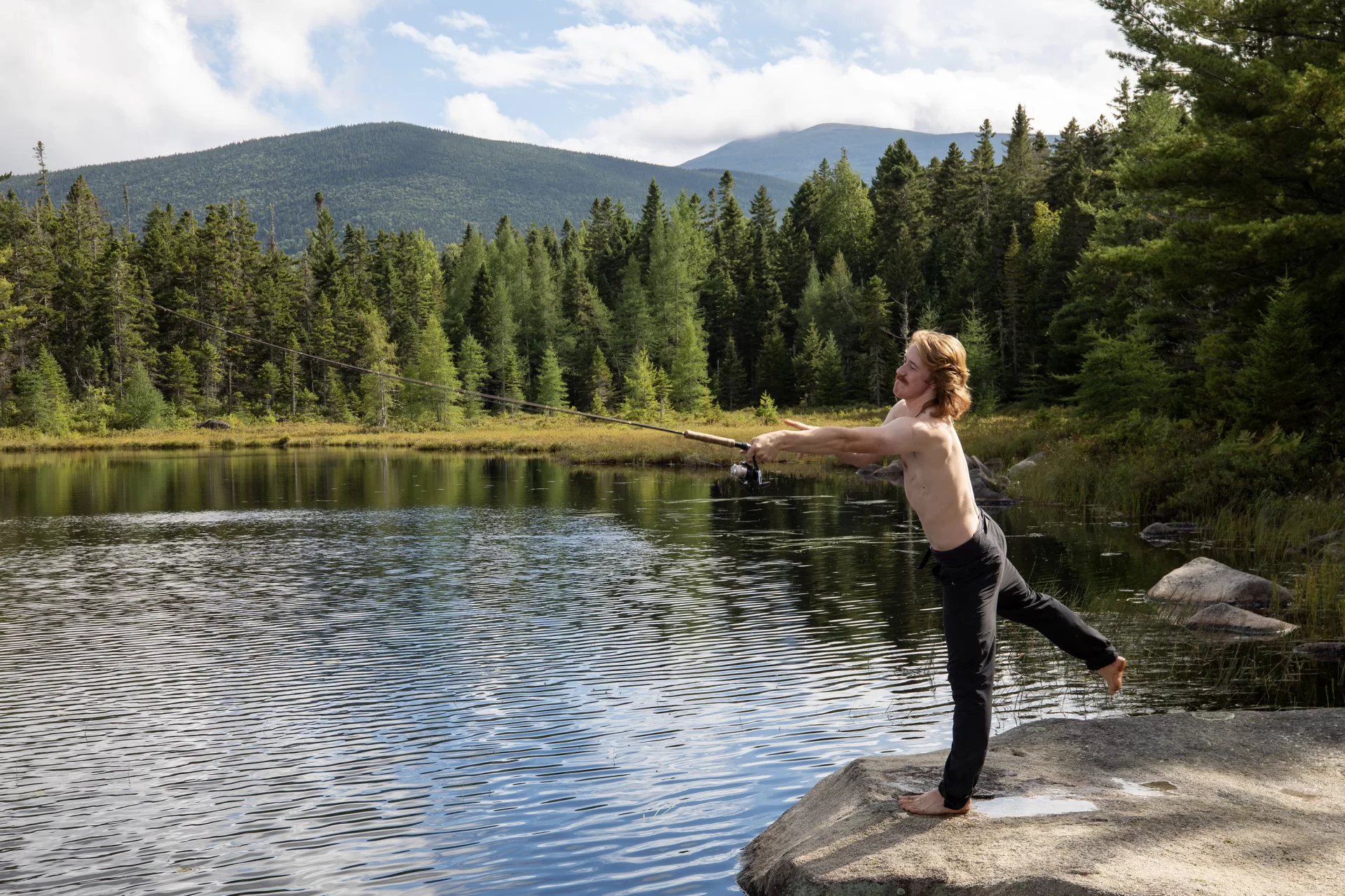 Nash Holley '24 of Freeport, Maine, casts his line on Aug. 30 during a three-day backpacking trip to Baxter State Park with Bates friends. "It was kind of like getting our AESOP that we lost to COVID," said Huck Triggs '24 of Malibu, Calif., who took this photograph.
---
An Annual Adventure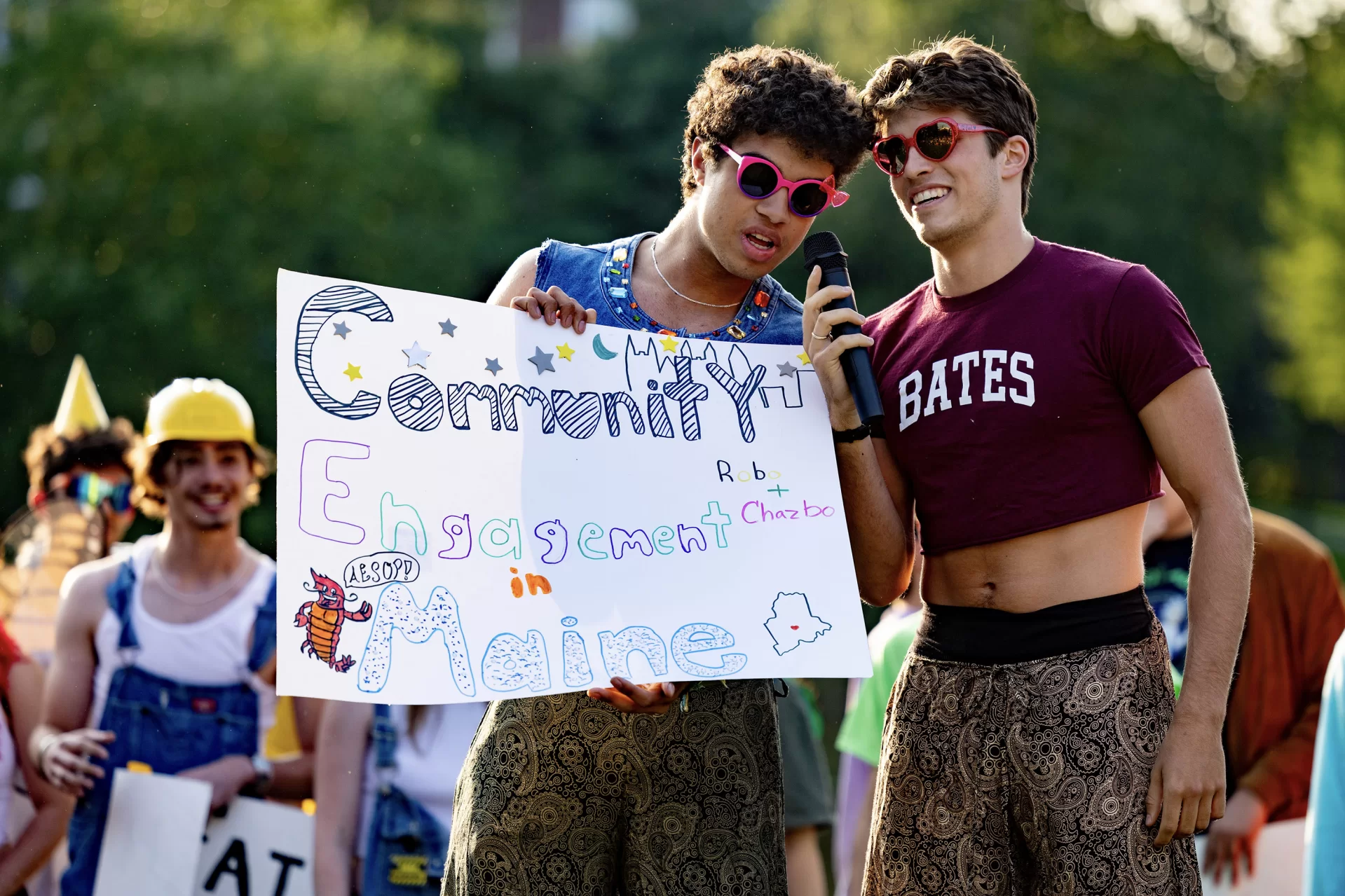 Reuven Frye '26 of Montclair, N.J., and Tyler Stearns '26 of Walpole, Mass., announce their orientation trip to first-year students during the raucous kick-off costume party at the Keigwin Amphitheater. The two led their first-year students on an exploration of opportunities for community engagement in Maine.
This year's edition of the college's Annual Entering Student Orientation Program (AESOP) offered 57 trips around Maine and New Hampshire to the Class of 2027, giving the new students a sense of their place on campus, in Lewiston, and in Maine, and to help them feel an integral part of the Bates community.
---
Tight-knit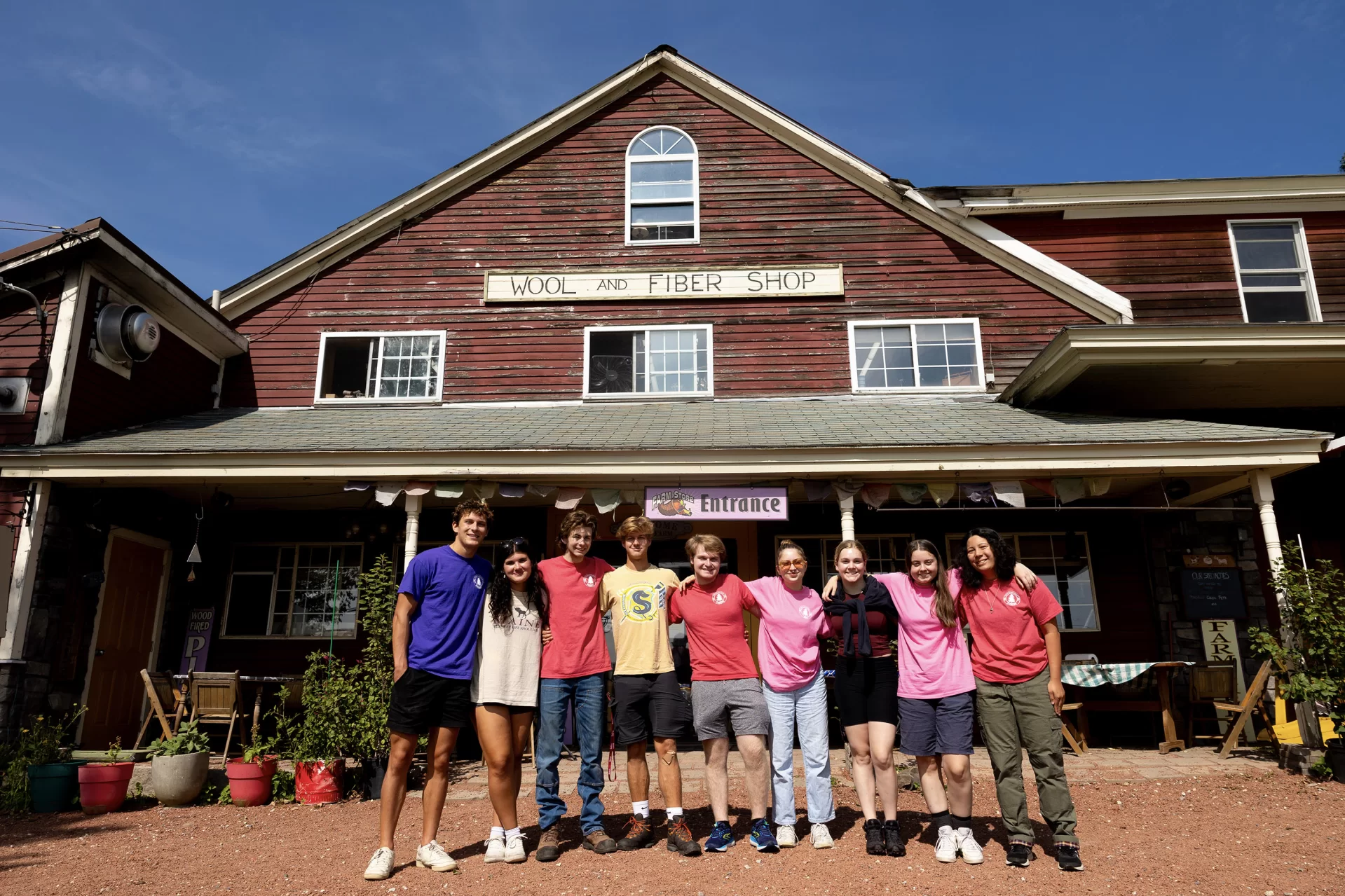 Among this year's AESOP trips was an excursion to Nezinscot Farm, a diversified family farming operation in nearby Turner. Here, students and leaders on the "FarmSOP" trip pose outside the farm's yarn and fiber studio.
The farm comprises 250 acres of organic farmland and farm animals; a gourmet food shop, cafe, and bakery; and a fromagerie and charcuterie.
---
Colorfully Cooling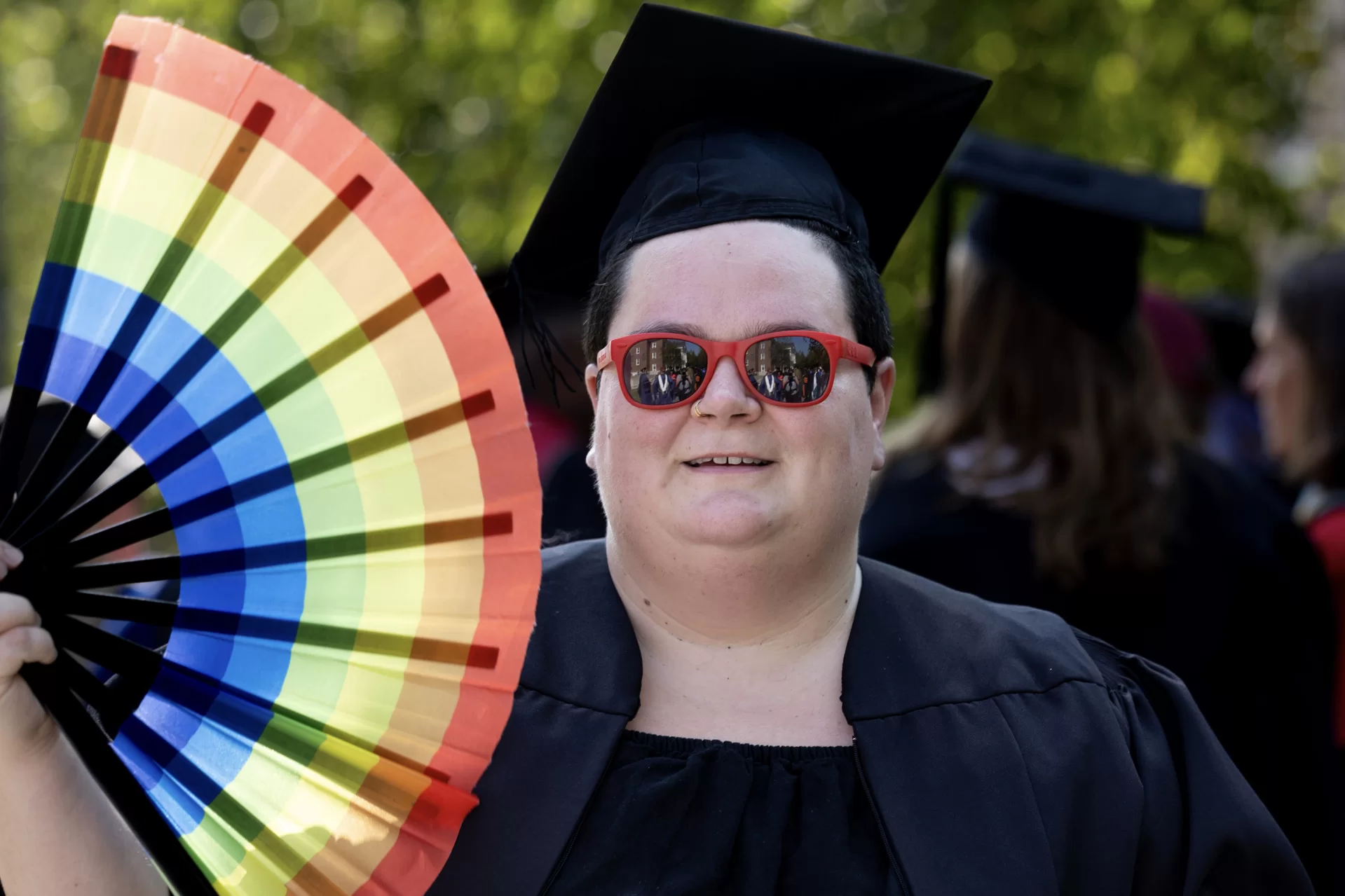 Opening Convocation this year was a hot and humid day, with the morning temperature soaring to 80 degrees. So folks like Visiting Assistant Professor of Biology Kat Anderson found ways to stay cool.
---
Bobcat Welcoming Bobcats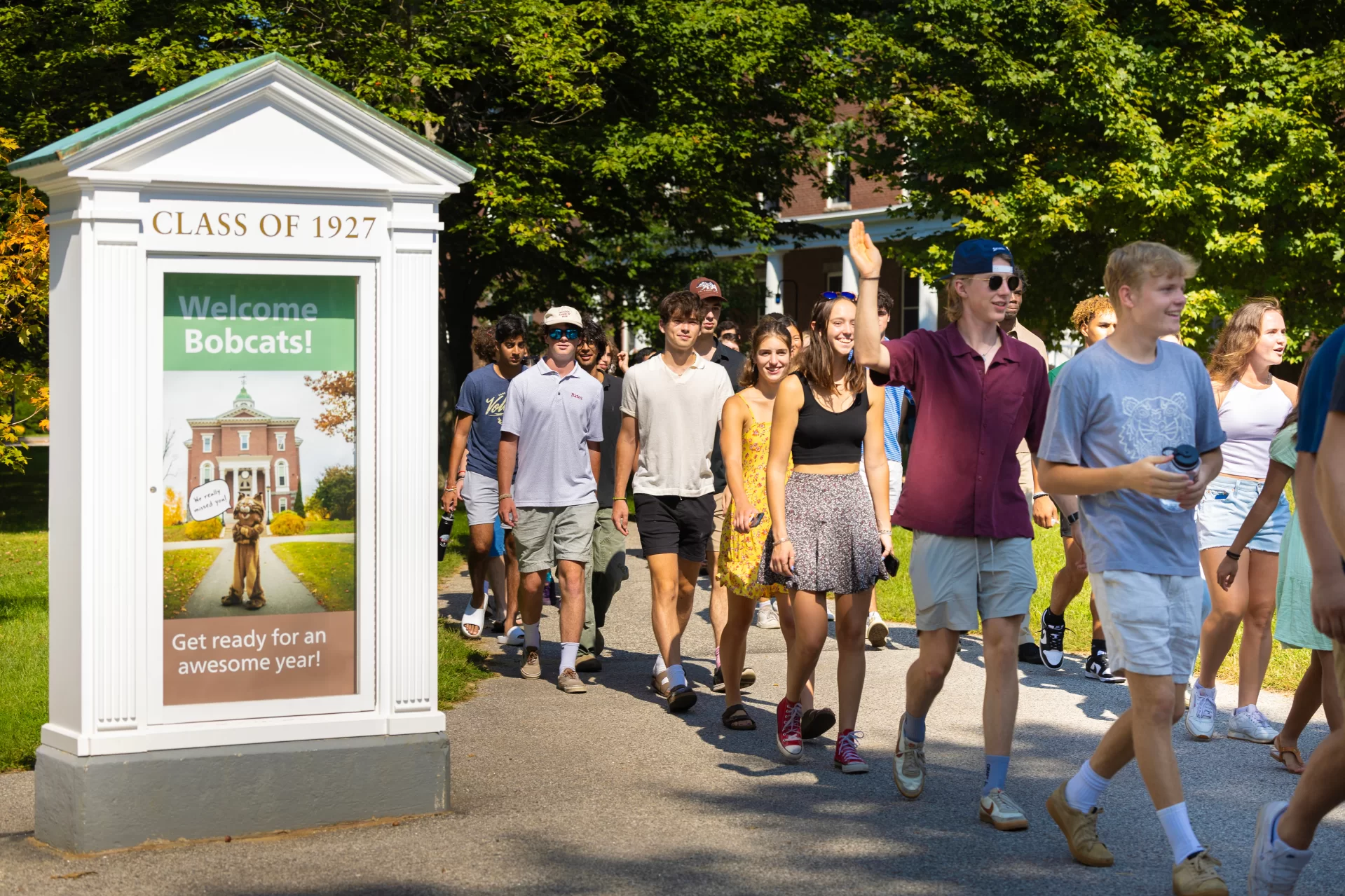 On their way to Opening Convocation, members of the Class of 2027 stream past the Class of 1927 Mouthpiece, where a poster of the Bobcat welcomes students back to campus. "We really missed you," says the Bobcat's thought balloon.
---
Class Conversations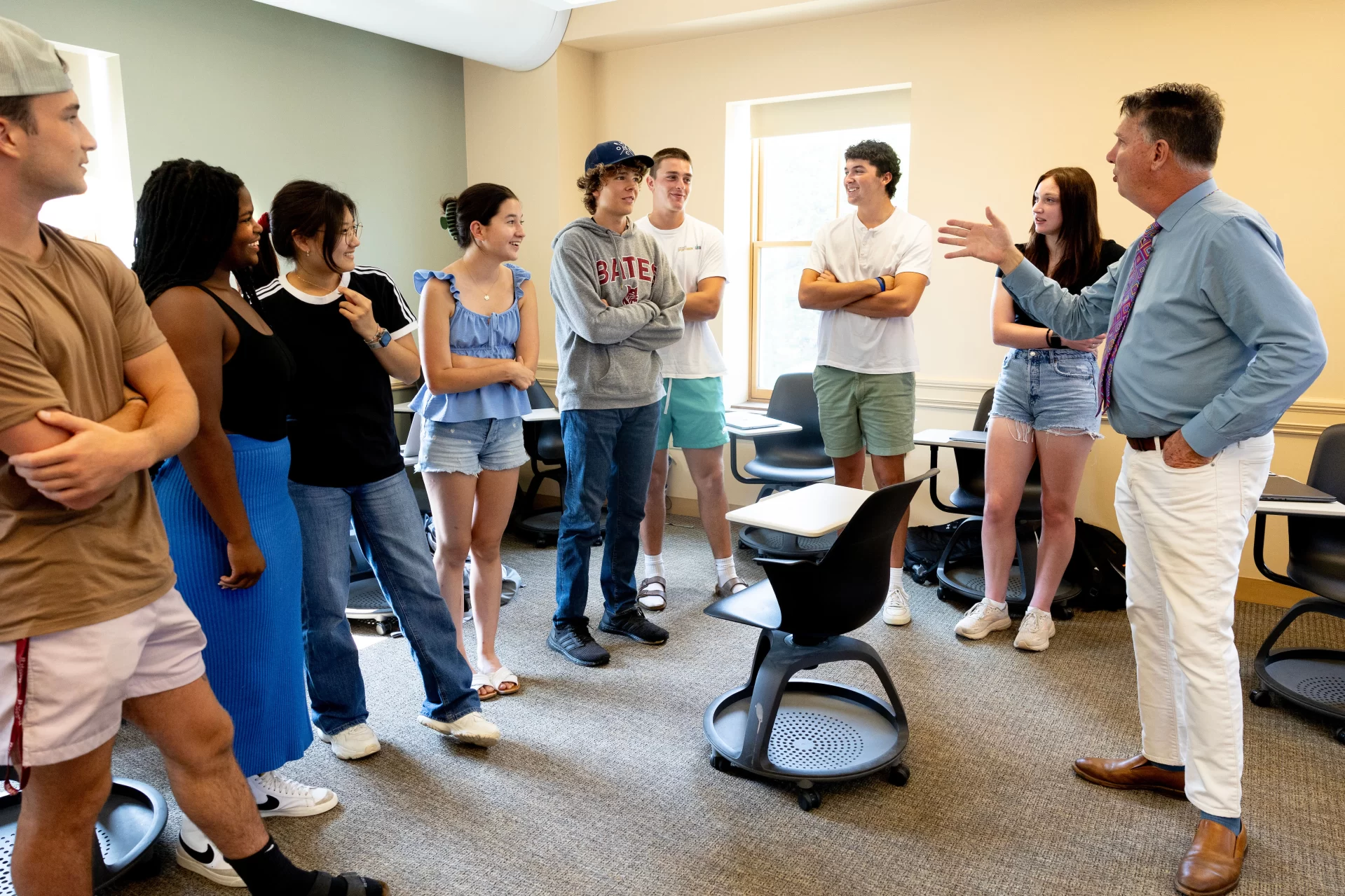 This semester, Professor of French and Francophone Studies Kirk Read (right) is teaching the First-Year Seminar "Family Stories," which kicked off on Sept. 6 with a rousing series of conversations in his Roger Williams classroom. "It's my absolute favorite class to teach," he said.
The course's theme, he says, is about family, connection, kinship, belonging, and cultural specificity — which "is ripe fruit" for students in their first months at Bates, he says. "We read stories from a variety of cultural viewpoints, with some 'grounding voices' on storytelling (Adichie), intersectionality (Crenshaw), and displacement (Baldwin), that hopefully resonate with lived experiences or concerns around the room."
---
Breakfast Buddies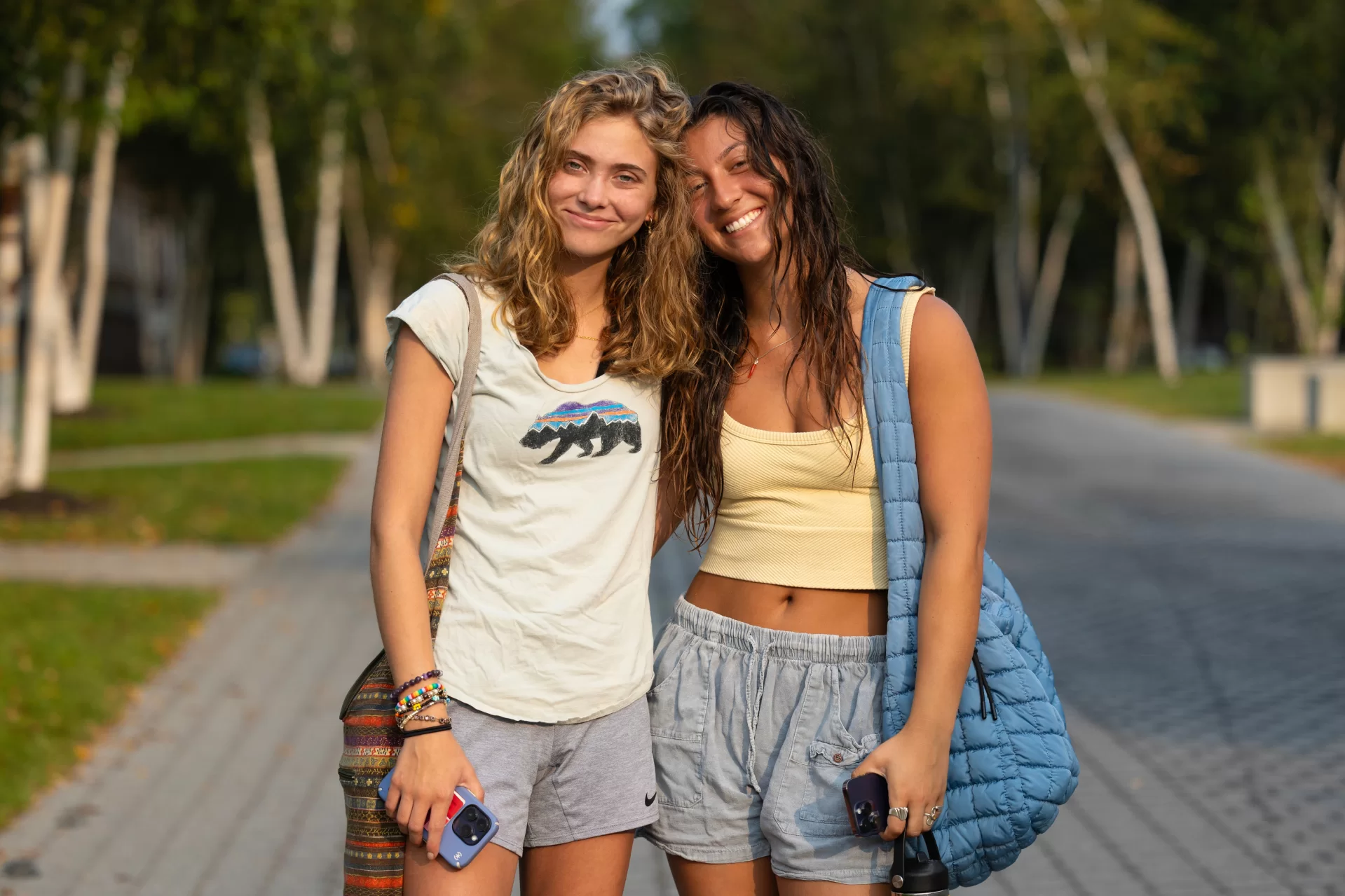 First-year students and new friends Lucy Sarno (left) of York, Maine, and Simona Muscarella of Buffalo, N.Y., head to breakfast in Commons on Sept. 6, the first day of classes. They met because they live across the hall from each other in Kalperis Hall. "I'm excited. It's going to be good to have a routine," Sarno said.
---
Cutting to the Chase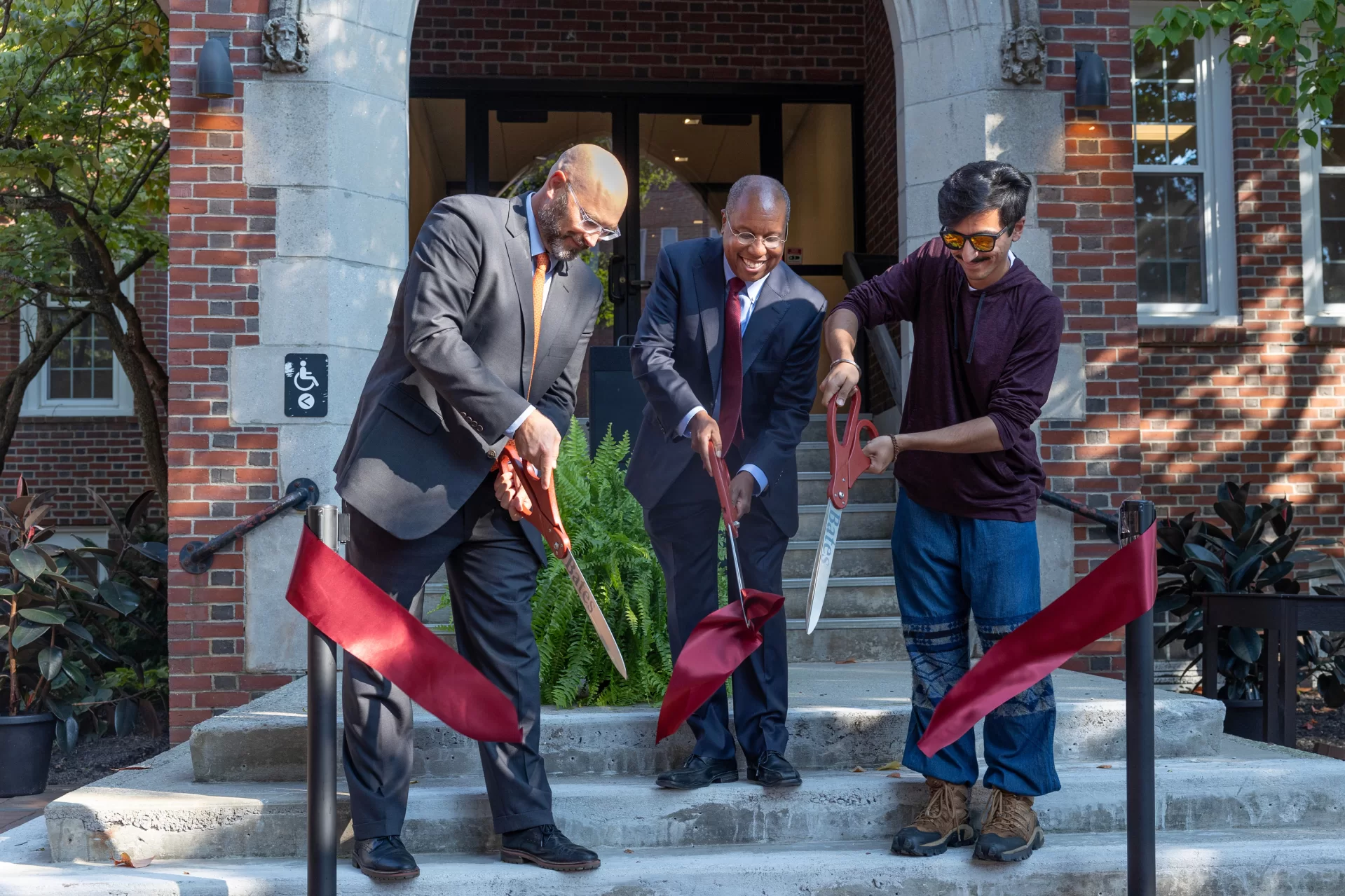 And with a snip of some big Bates scissors, historic Chase Hall is now (re)open for business.
From left are Vice President for Finance and Administration Geoff Swift, President Garry W. Jenkins, and Bates Student Government Co-President Dhruv Chandra '25 of Kolkata, India.
Chase reopened after a year-long renovation project to provide better and more convenient access to student-services.
In his remarks, Jenkins said that he has noticed a frequent theme in chatting with members of the college community: their warm feelings for 104-year-old Chase Hall. "They tell me about special, unforgettable moments that happened here," Jenkins said.
Even as longtime services were relocated from the building in recent years, leaving students fewer reasons to visit, there was "still something about Chase that made it part of the beating heart of this campus," he said.
---
Arm's Length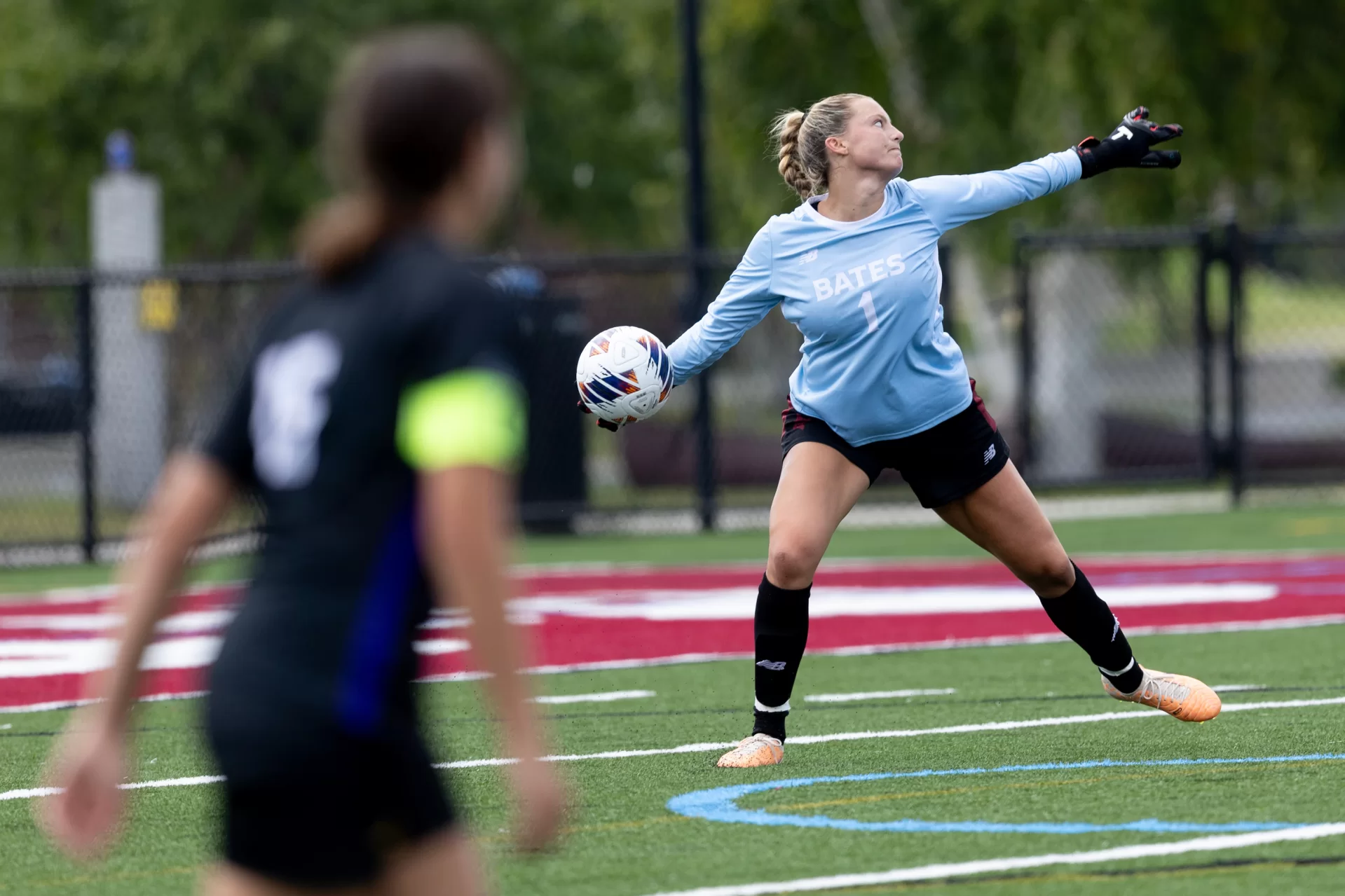 Goalkeeper Ruby Reimann '25 of Oak Bluffs, Mass., clears the ball during the women's soccer team's home opener against Emerson College on Sept. 9.
---
'My New Spot'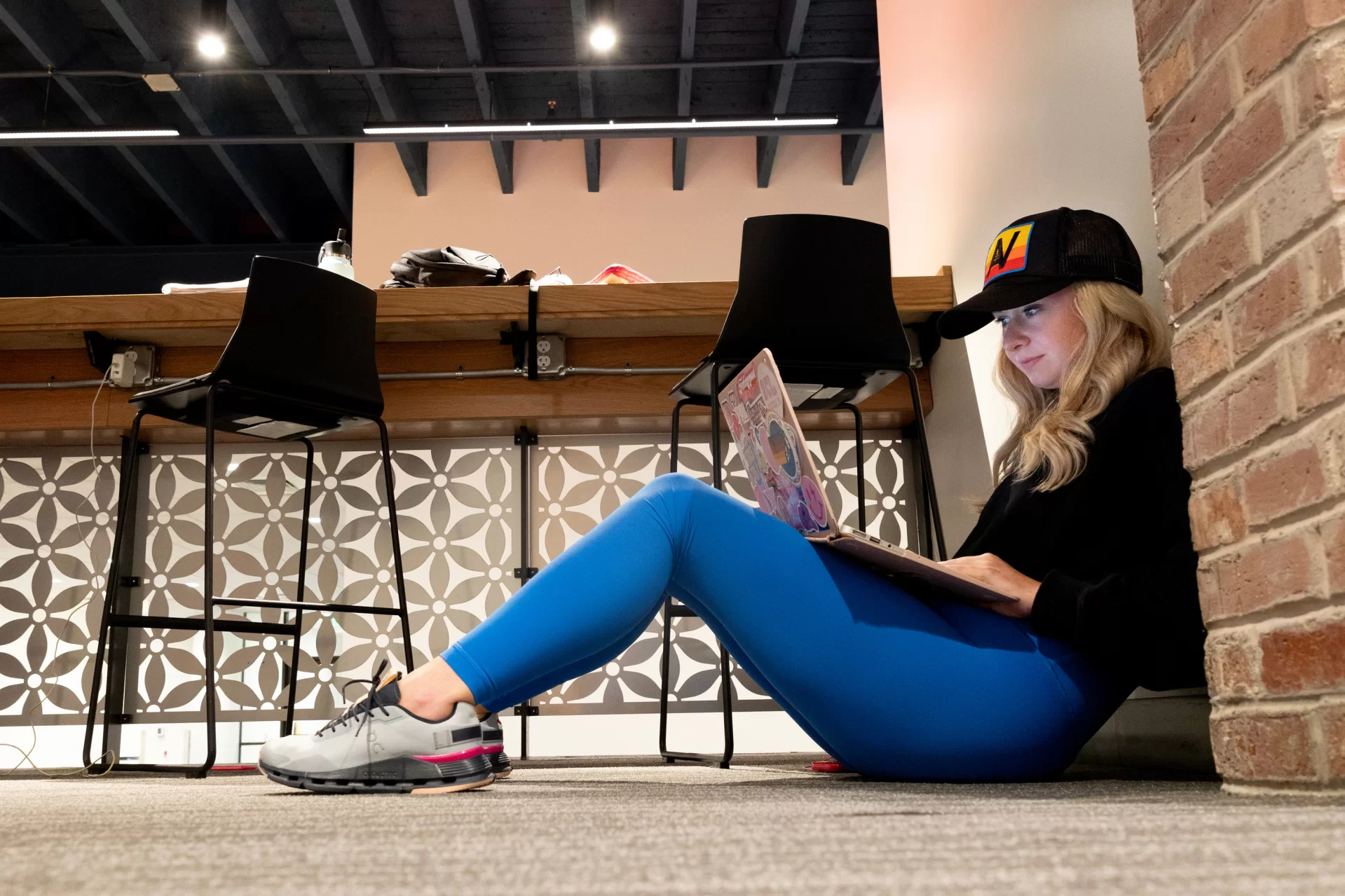 It didn't take long for students to prowl newly renovated Chase Hall, searching for new favorite study spots.
"I used to study in Pettengill but this is going to be my new spot," said Isabelle Baumann '26 of Falmouth, Maine, seen working on an organic chemistry assignment. "I love to study here."
---
On the Ball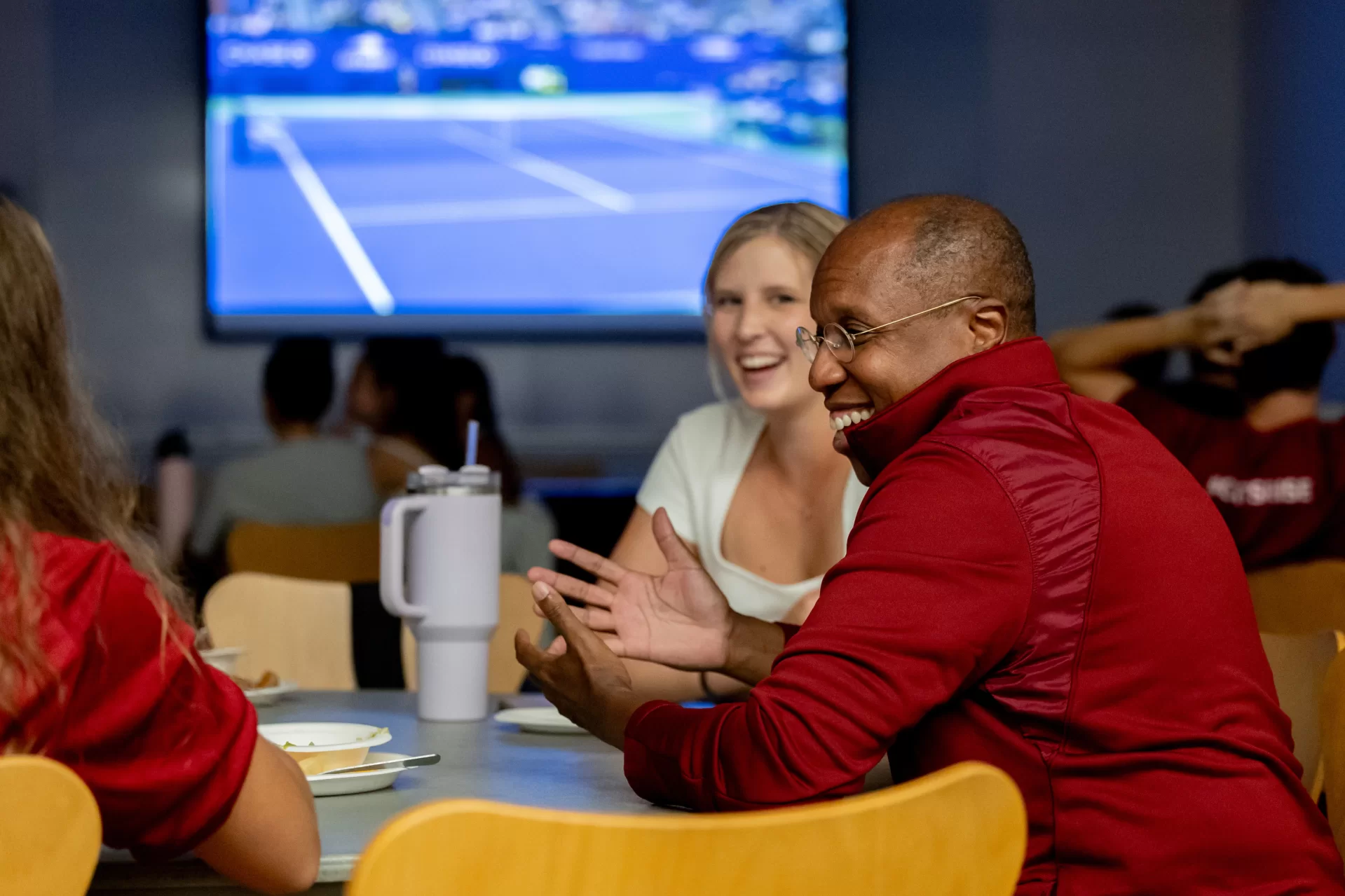 President Jenkins, an avid tennis player, joins a U.S. Open watch party hosted by head coach Paul Gastonguay '89.
---
A Night to Remember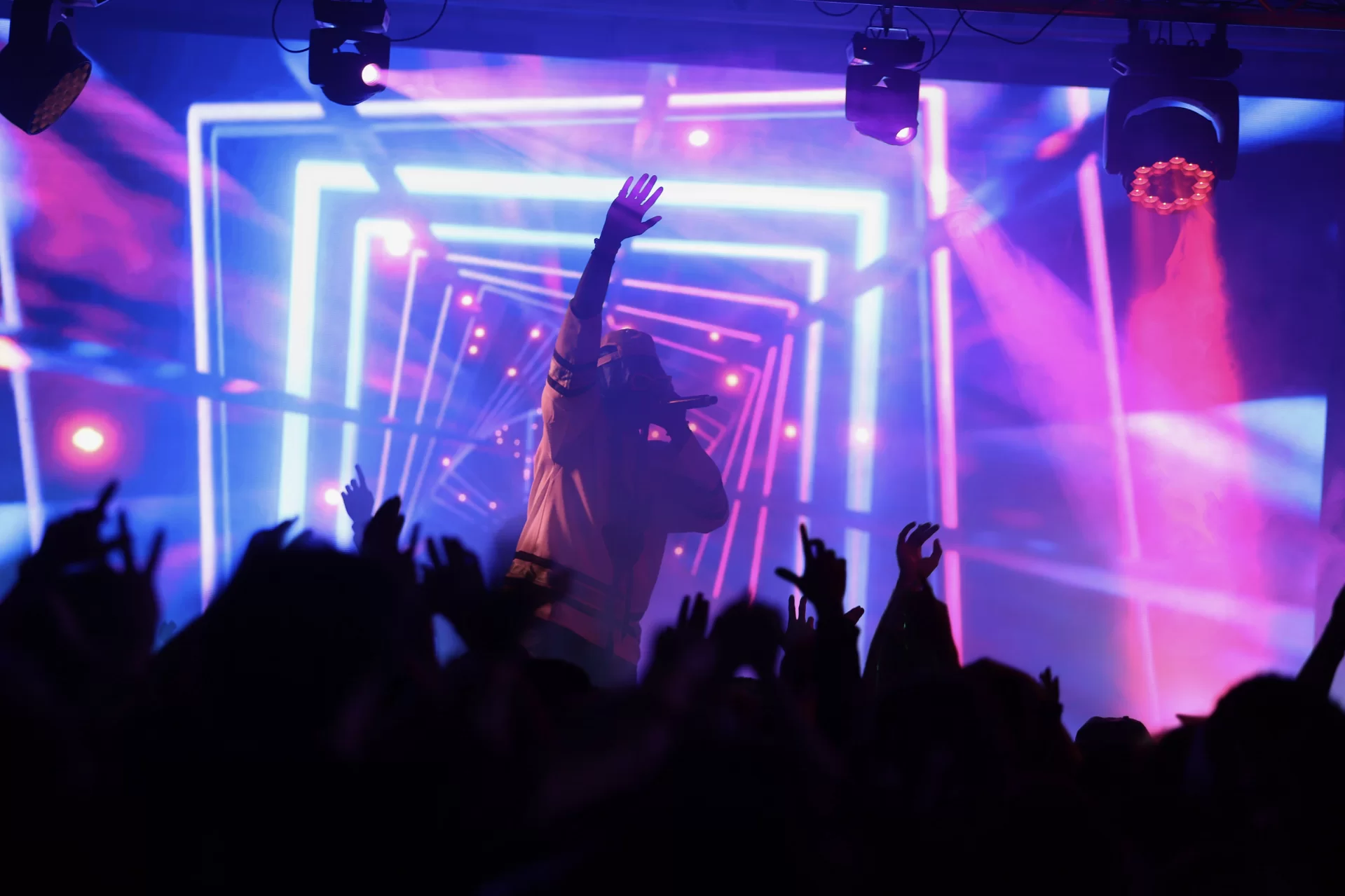 Uche Anwanyu '25 (aka Uche the Chomp Man) of Brooklyn, N.Y., performs at BatesChella, an outdoor music and fun bash held on a recent cool September evening.
"Whether students came straight from doing homework or other social gatherings, they provided so much energy for the student artists to feed off of," said Carly Philpott '27 of Centennial, Colo., who took this photograph. "It felt like a really happy environment in the midst of academic work, and it was a lot of fun!"
Also performing were DJ Drod (Daniel Rodriguez '24 of Longboat Key, Fla.) and MAVY (Mavy Ho '26 of Gorham, Maine).
---
Developing Skills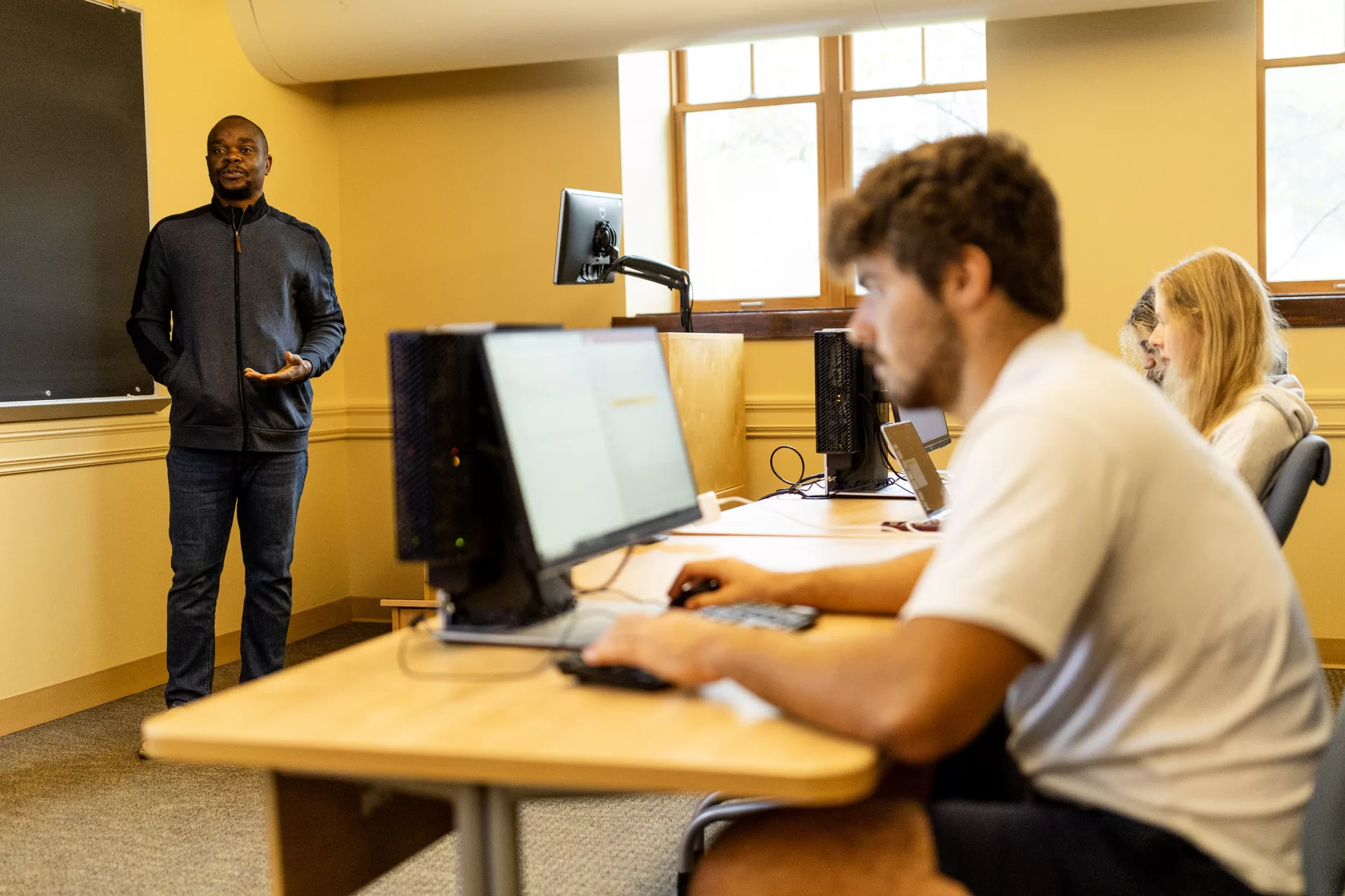 Visiting Professor of Digital and Computational Studies Chris Agbonkhese teaches a course introducing students to computer science for software development in Hedge Hall.
For students interested in broadly applying computing and software solutions across a range of disciplines, the course is geared toward problem solving and developing computational thinking skills.
---
Diving Head-First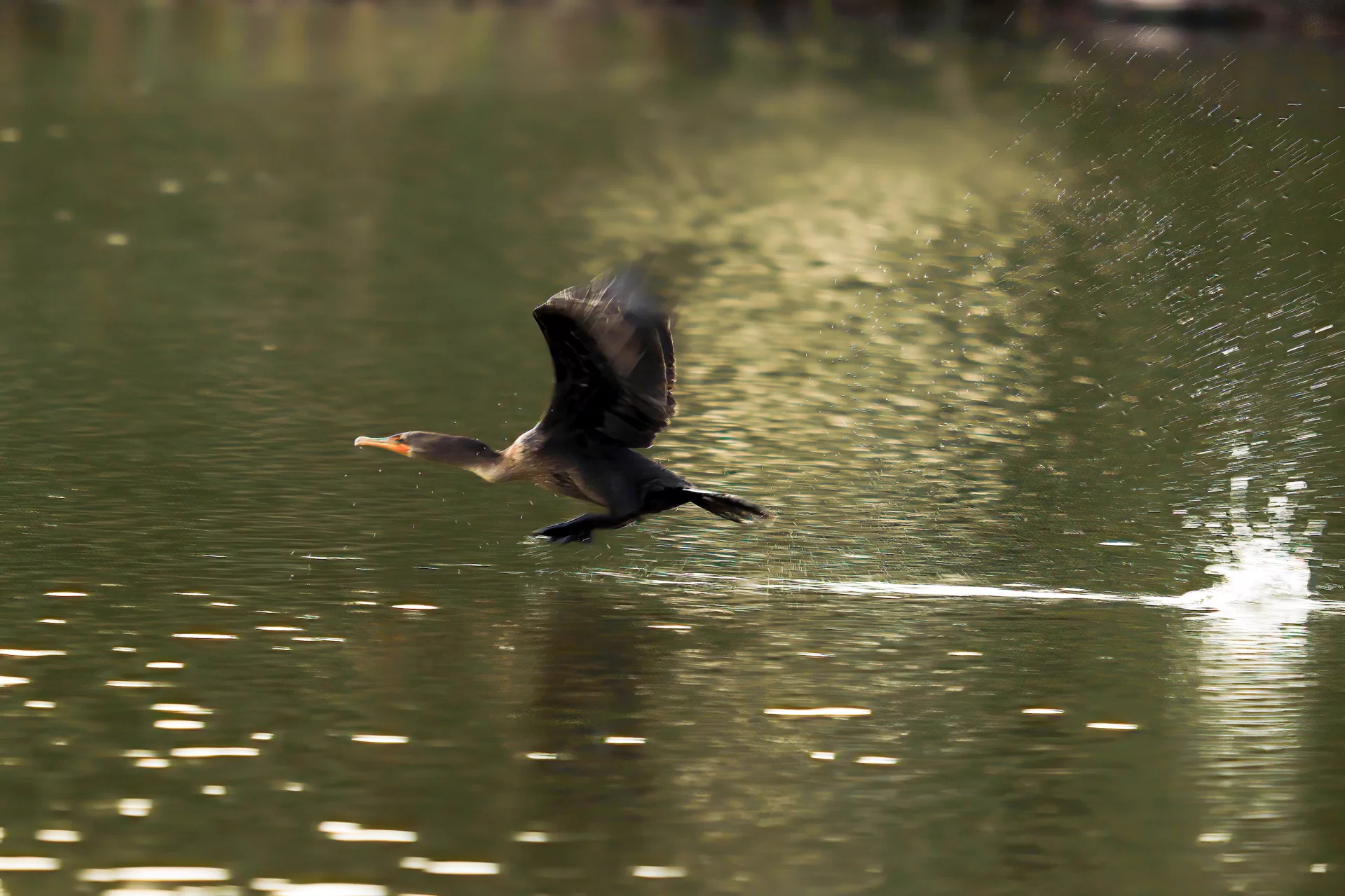 "Even as summer draws to a definitive close in Maine, creatures are still out and about," said Carly Philpott '27 of Centennial, Colo., an avid amateur naturalist. At Lake Andrews, those creatures include double-crested cormorants (seen here) and Eastern painted turtles.
Cormorants are fishing birds that forage for fish underwater, and are capable of holding their breath for two minutes and diving nearly 150 feet deep. "If you watch them for long enough, you'll see them emerge from the water with wiggling fish," Philpott says. "Pretty soon, they'll fly south until next year."
---
Spreading Awareness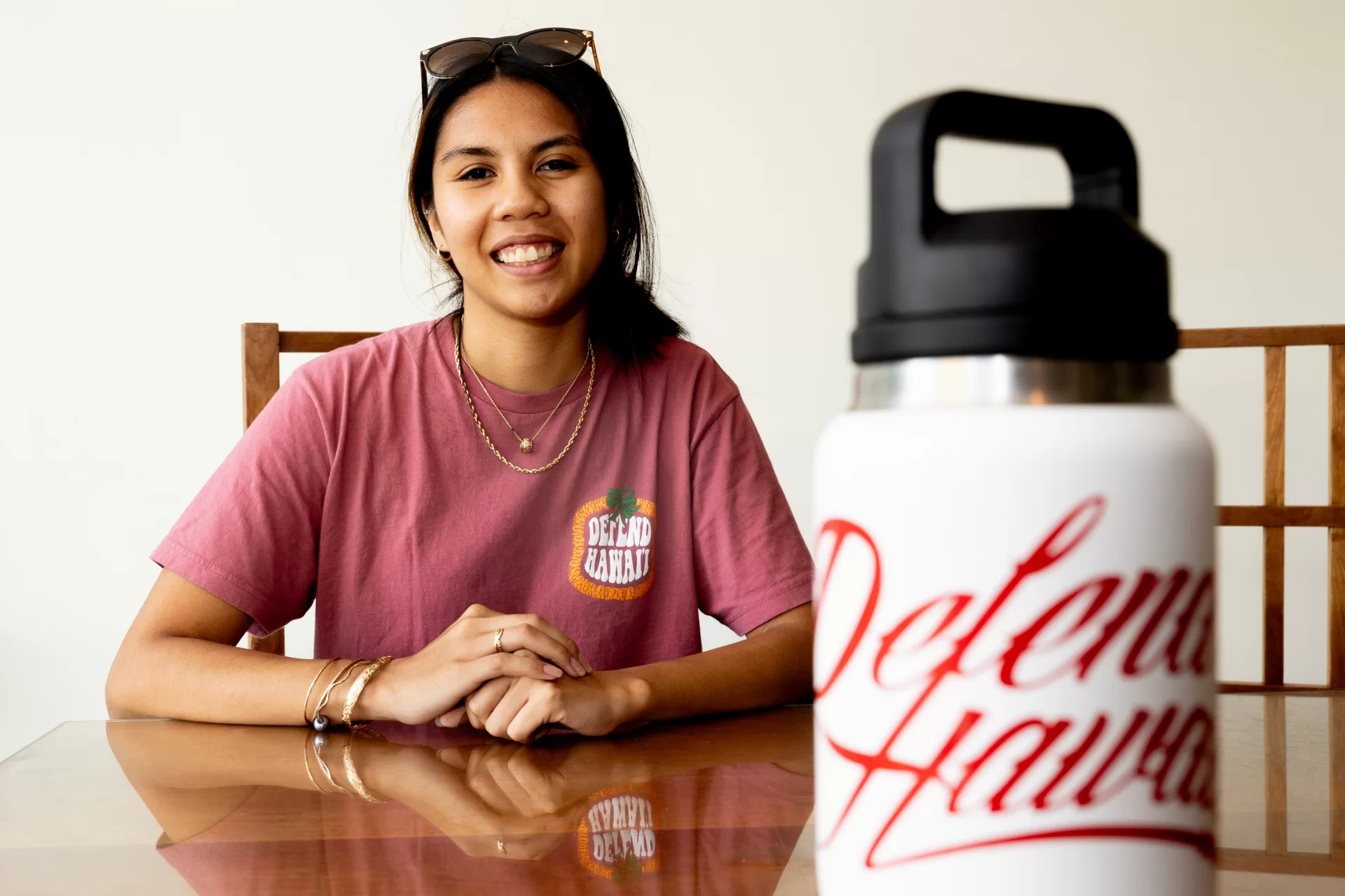 Unlike many students starting college for the first time, Logan Yogi '27 of Kaneohe, Hawaii, didn't want to leave her home on O'ahu to come to Bates last month.
That's because the deadly wildfires that consumed nearby Maui in early August left her shaken, worried about the friends and family in her close-knit Hawaiian community, and feeling she needed to do more.
So she arrived at Bates with a goal: "to bring awareness…because every little bit helps." She has worked with her volleyball teammates, including two others who are from Hawaii, to hold fundraisers for the Hawaii Community Foundation, which supports the relief efforts through the Maui Strong Fund.
---
Walk and Talk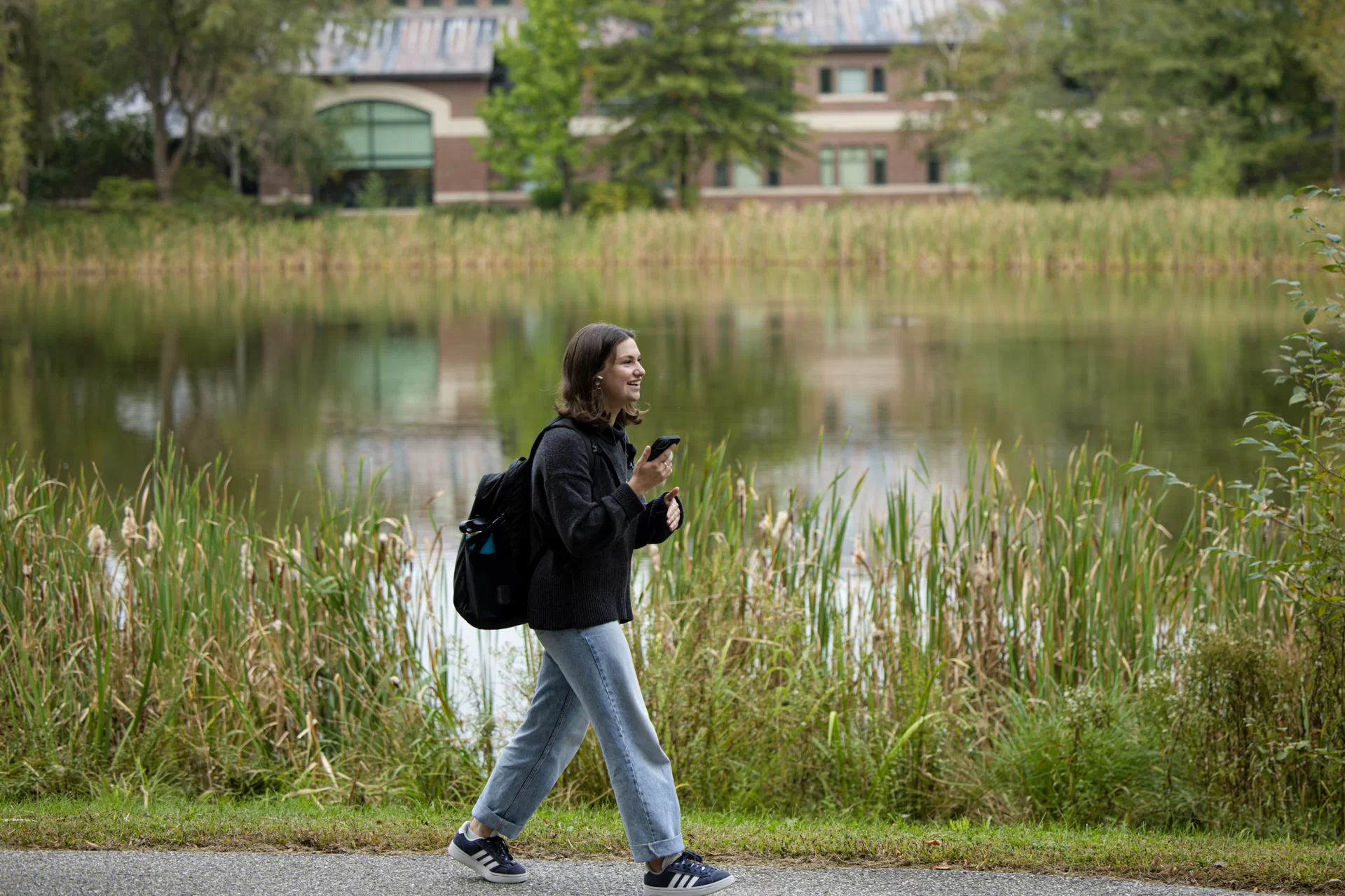 Lexi Inger '26 of Yarmouth, Maine, talks to her brother, Joe Inger '21, during her daily walk around the Puddle on the afternoon of Sept. 28.
Last year, when things didn't start out that swell for Inger, she would take a walk around Lake Andrews as a daily meditation, one that included a call to her supportive big brother. She's continued the tradition this year.
---
Defending the Den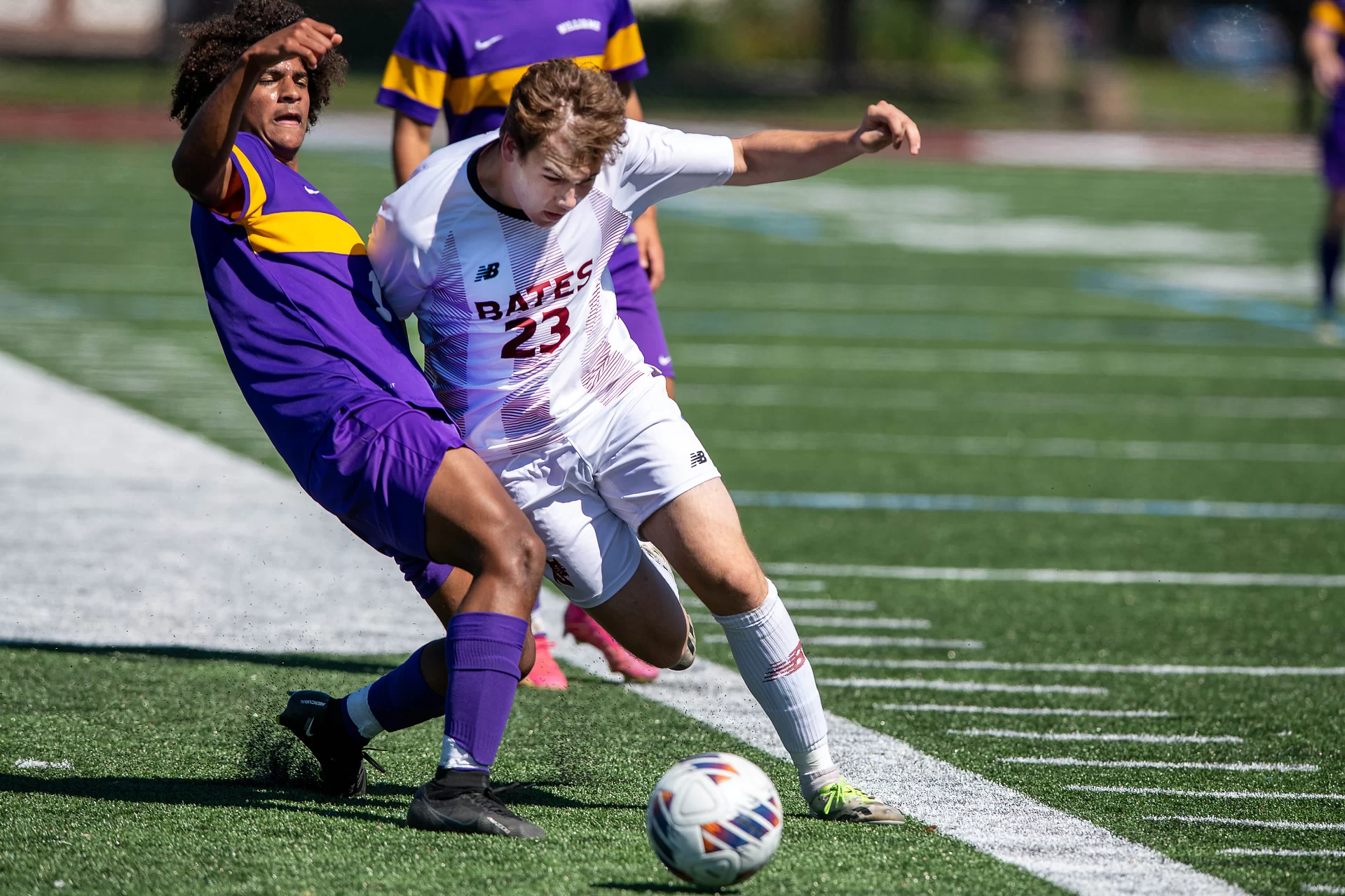 Forward Rawson Welch '24 of Denver, Colo., battles a Williams defender during the Bobcats' home opener on Garcelon Field.
---
Kessler Kick-Off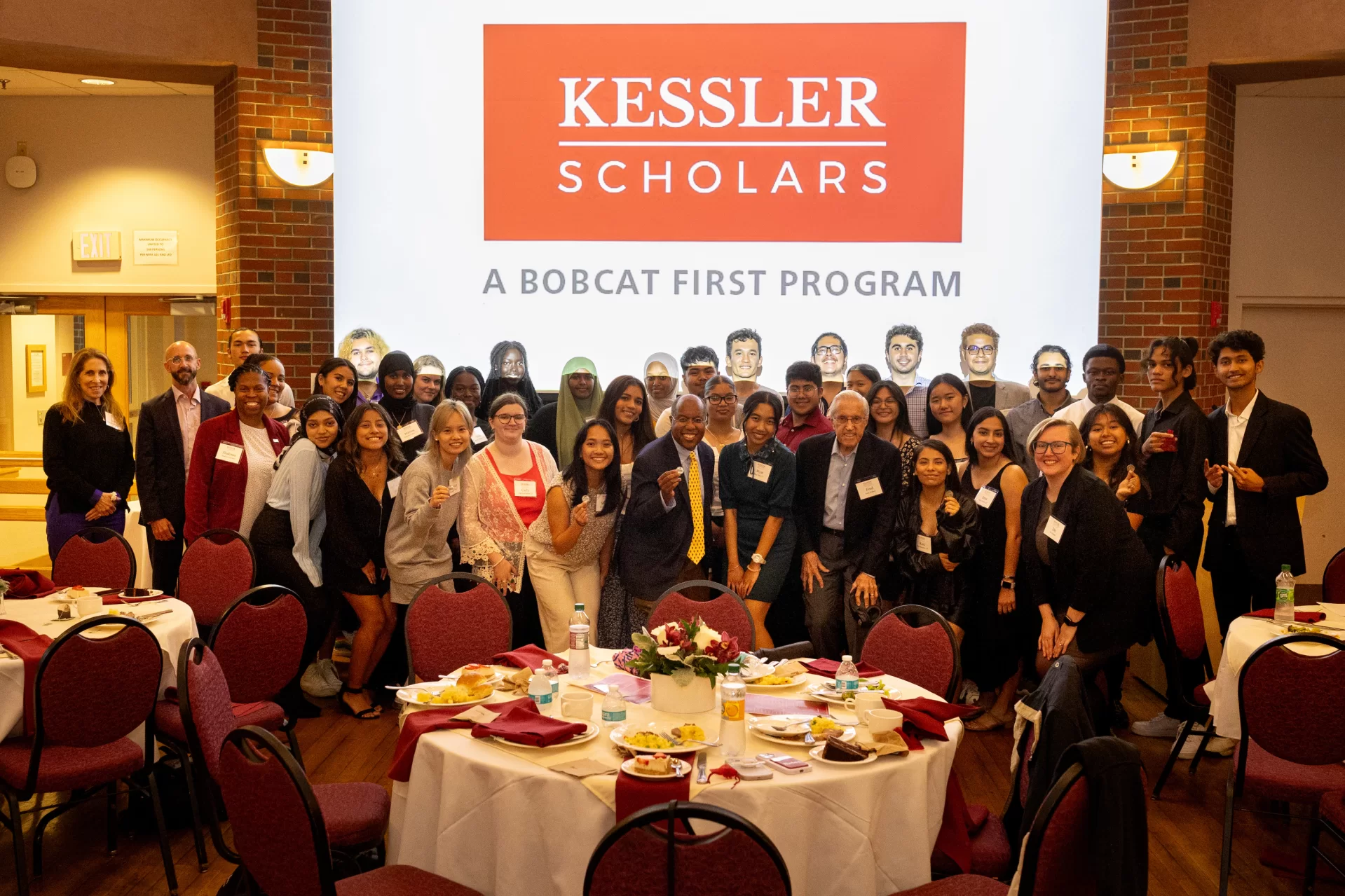 President Jenkins poses with the college's first cohort of Kessler Scholars during a coin ceremony in September that kicked off the scholars' bright journey at Bates — and beyond — and helped to welcome the scholars to the National Kessler Scholars Collaborative.
Kessler Scholars is a Bobcat First Program, providing holistic support, including mentoring, for a diverse community of high-achieving Bates students who are the first in their family to pursue a four-year college degree.
---
Sticking With It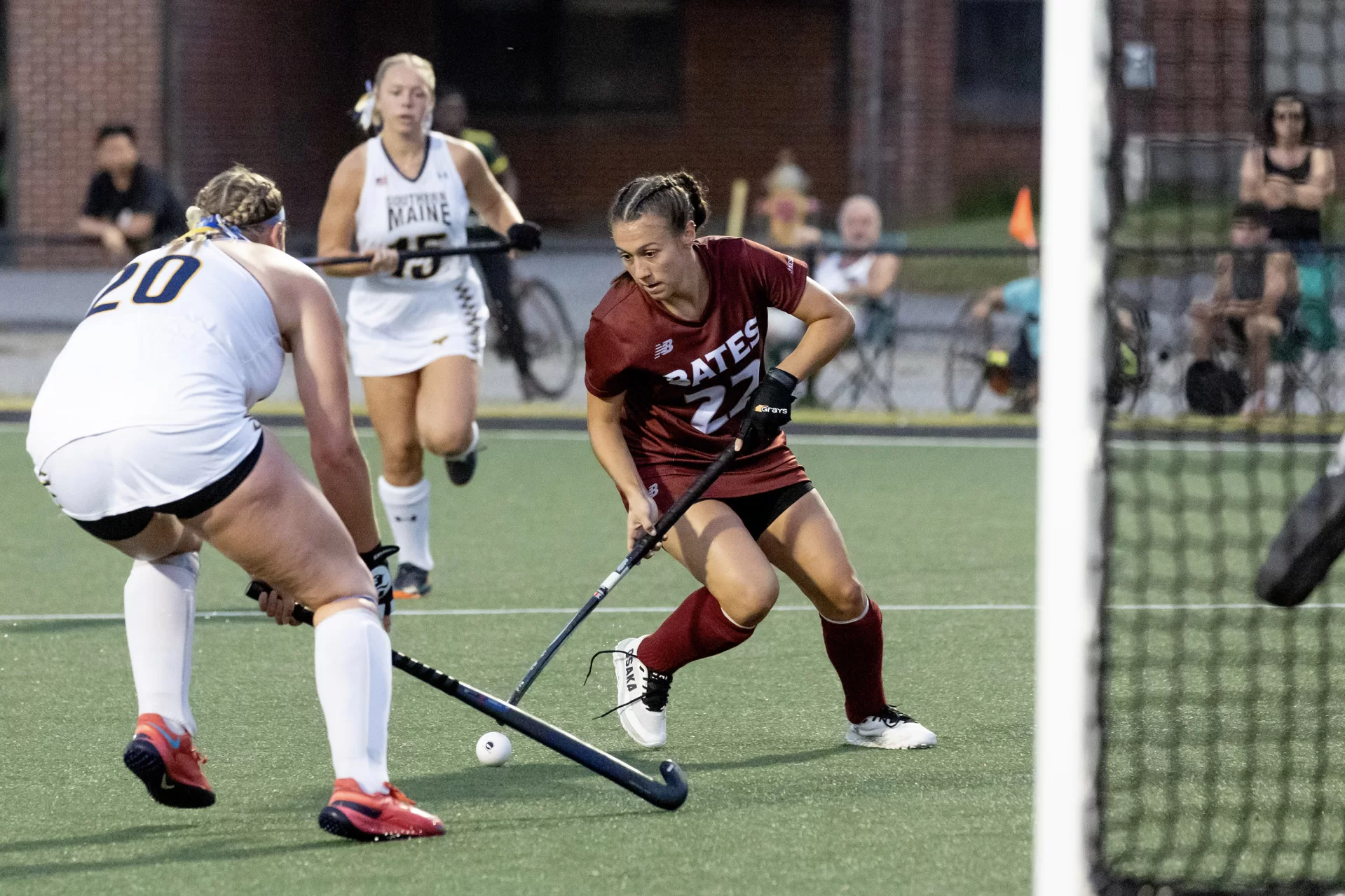 Maria Femia '25 of Canton, Mass., scored two goals and dished out an assist in a Bates win vs. the University of Southern Maine. Through early October, Femia was the team's leading goal scorer, with six, and the Bates team was ranked 10th in the nation.
---
Change of Scenery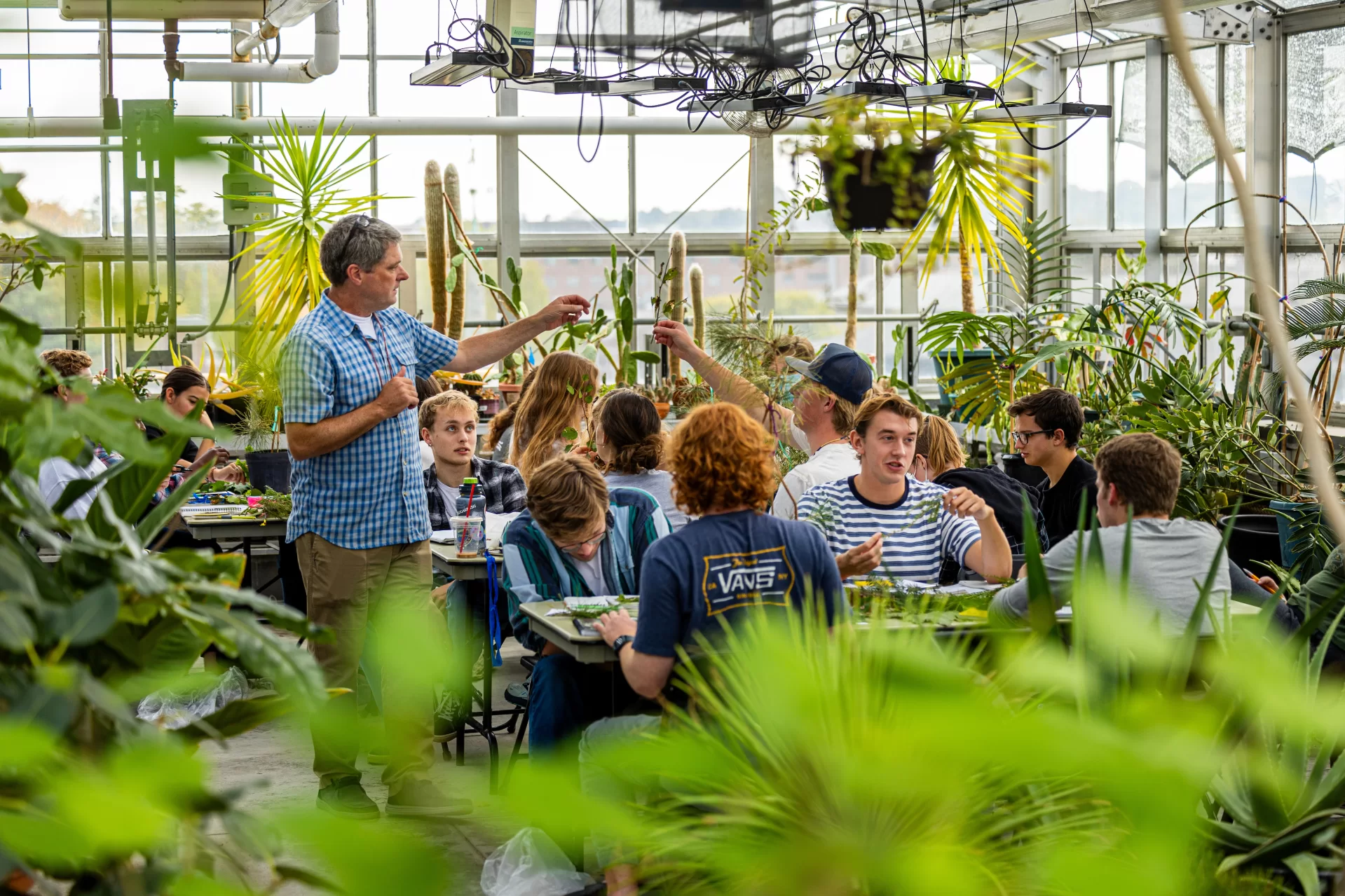 "Usually at this hour, we'd be down in the lecture hall," said Associate Professor of Biology Brett Huggett.
On this late-September day, he decided to bring his dendrology students to an alternative "classroom" in Carnegie Science Hall: the rooftop greenhouse, where they gathered to learn how to identify tree species using specimens that Huggett had gathered in his fieldwork.
---
Sprinting Towards Success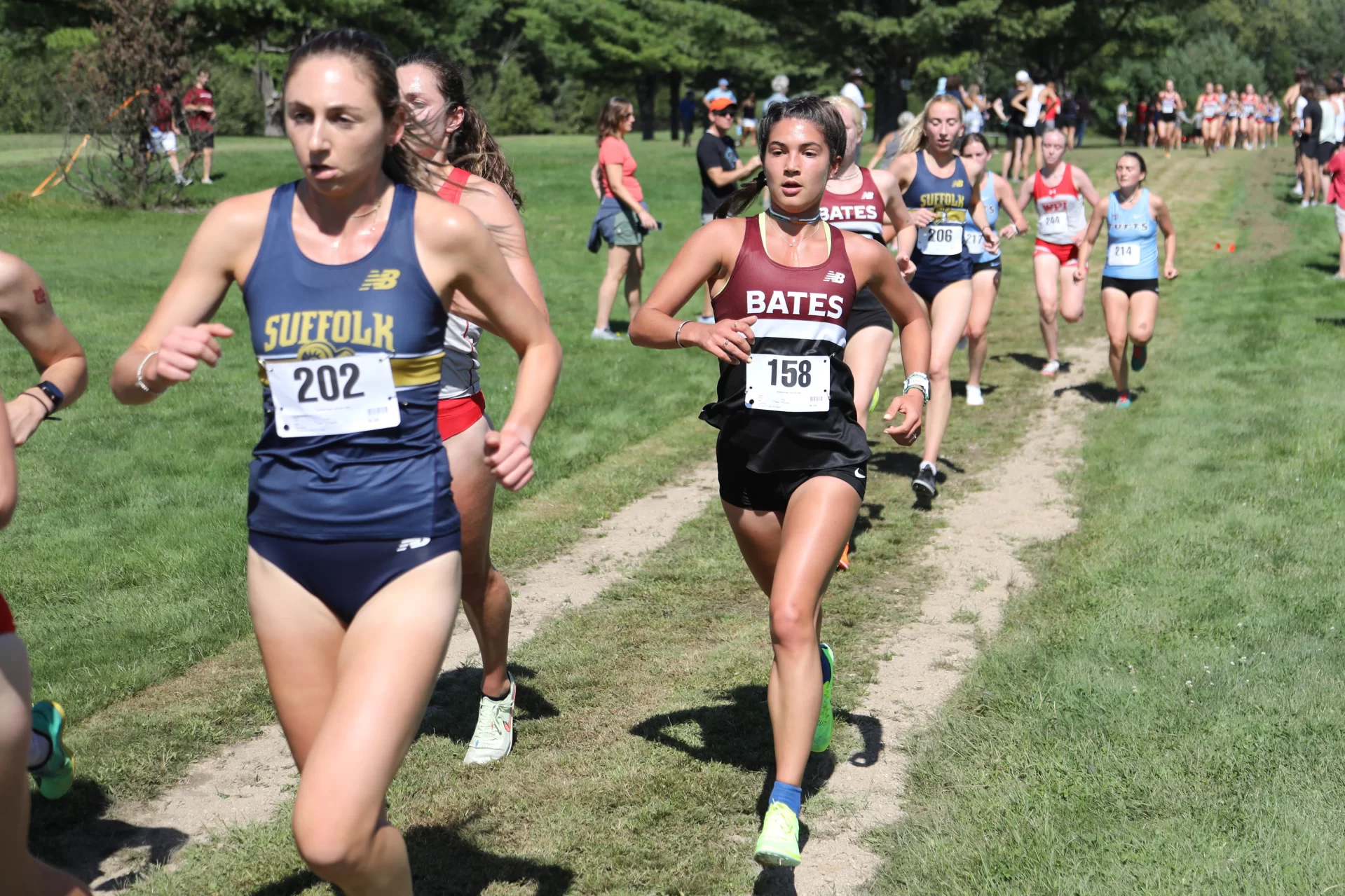 Phoebe Pohl '25 of Wayland, Mass., finished fourth in the Bates Invitational, held at Roy's Disc Golf in Auburn.
The Bobcats tallied 35 points, good for first out of six teams, 21 points ahead of runner-up Tufts. Of the top 20 runners at the meet, nine were Bobcats.
---
Easy Breezy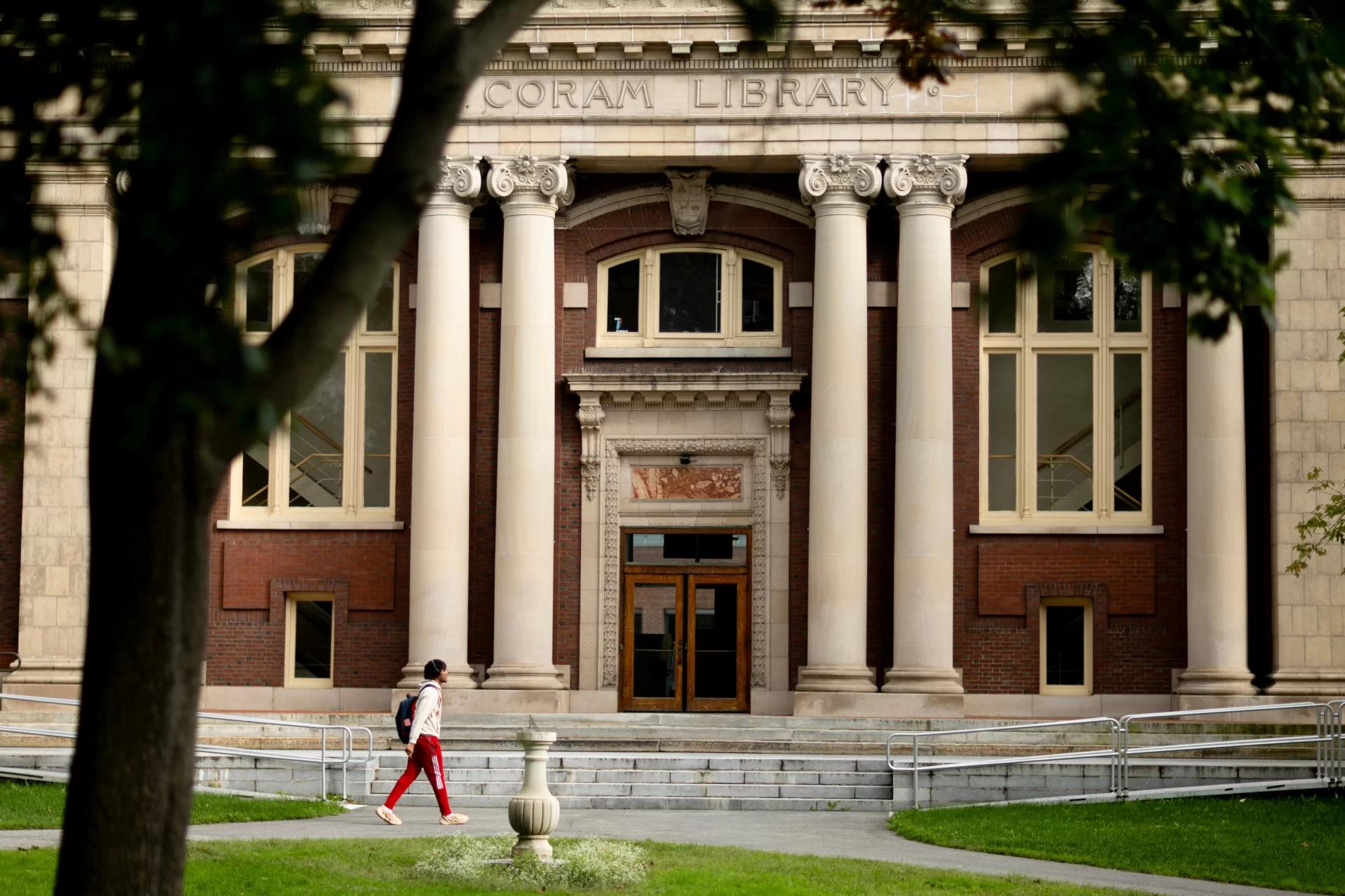 "The weather accentuates the vibe on campus, which is really good right now," said Jermiah Germain '24, a psychology major from Boston, passing Coram Library.
It was a splendid September afternoon, where the temperature topped off at 71 degrees with a fresh and dry northwesterly breeze.
---
Blooming at Bates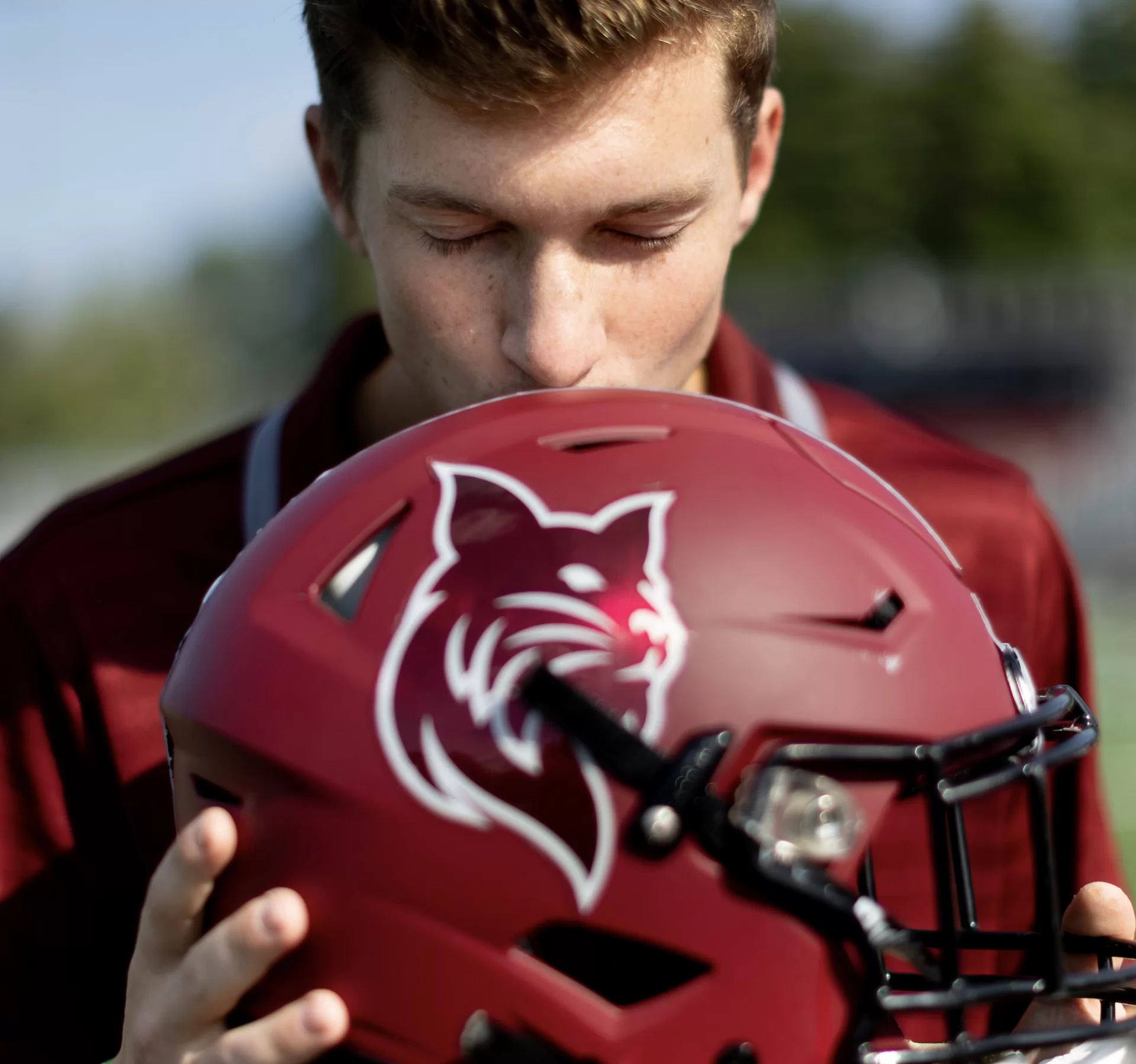 Too small to play tackle football in high school — but always loving the sport — Johnny Walker '24 of Brooklyn, N.Y., has gotten his chance at Bates.
He got taller and bigger late in high school, and by the time he came to Bates he was ready to play some kind of contact sport.
"Initially, I was planning on playing for the club rugby team," Walker said. But during Orientation, he got talking to classmate Ben Conrad of Ivoryton, Conn., a football player. "Ben said, 'Dude, just come out and play football,' and that was the seed of the idea."
---
Getting a Handle on It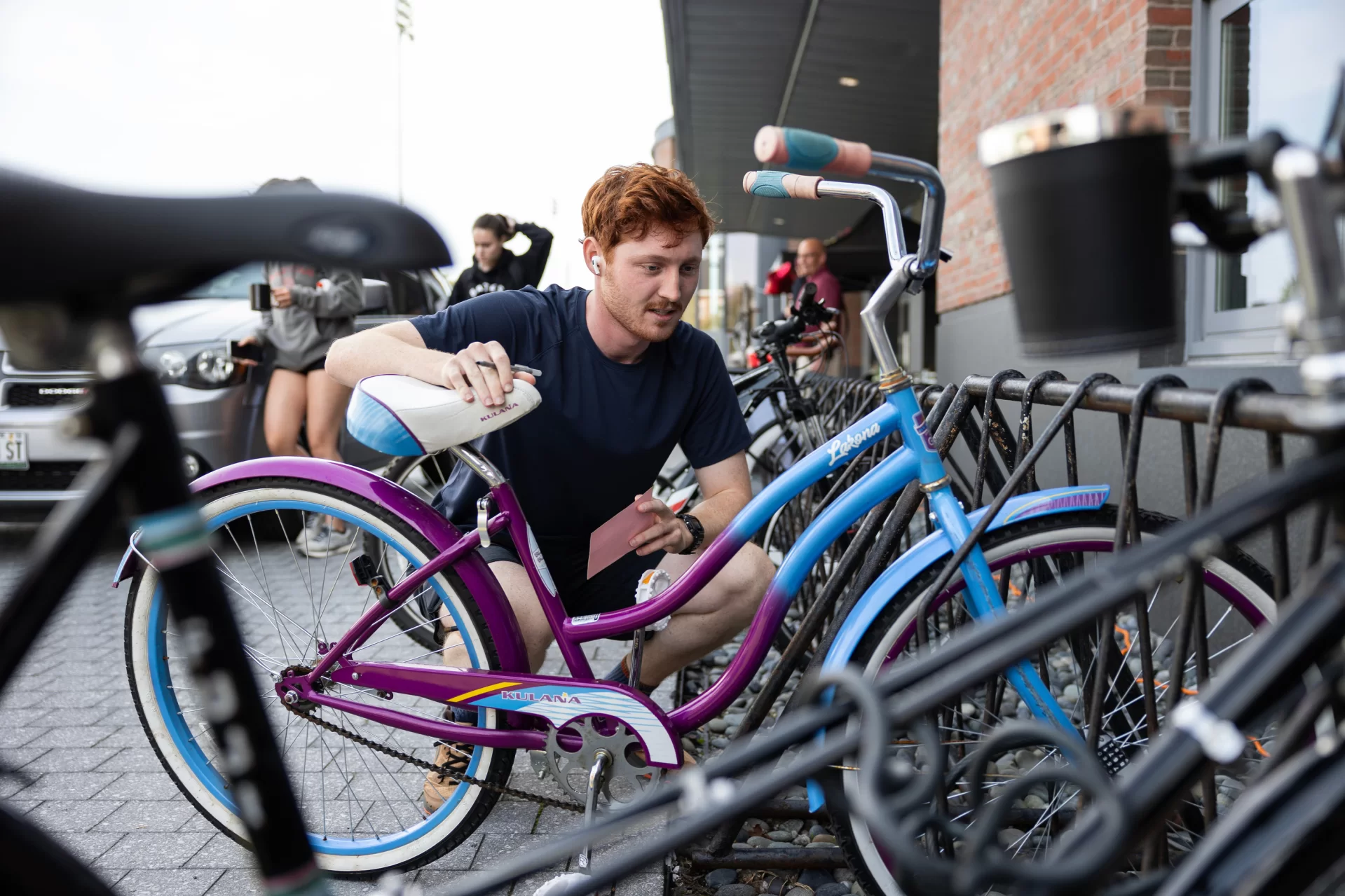 Mac Gaither '24, an environmental studies major from Palo Alto, Calif., checks for a serial number on his bike outside Commons during a bicycle registration event co-hosted by Campus Safety and a Lewiston bike shop, Rainbow Bicycle.
---
Benches of Bates
In terms of outdoor seating options for the Bates bottom, the colorful Adirondack chairs garner a lot of support.
But Lucia Pizarro '24, an English major from Cranford, N.J., is a fan of the wood benches, like the one she chose next to Gomes Chapel. "I like this spot. I feel like the benches on this campus are pretty underrated."
Pizarro was reading for her course, "Calling Bull: Data Literacy and Information Science," taught by Associate Professor of Digital and Computational Studies Carrie Diaz Eaton. The course teaches students how to spot, dissect, and publicly refutes false claims and inferences based on quantitative, statistical, and computational analysis of data.
---
Instead of Studying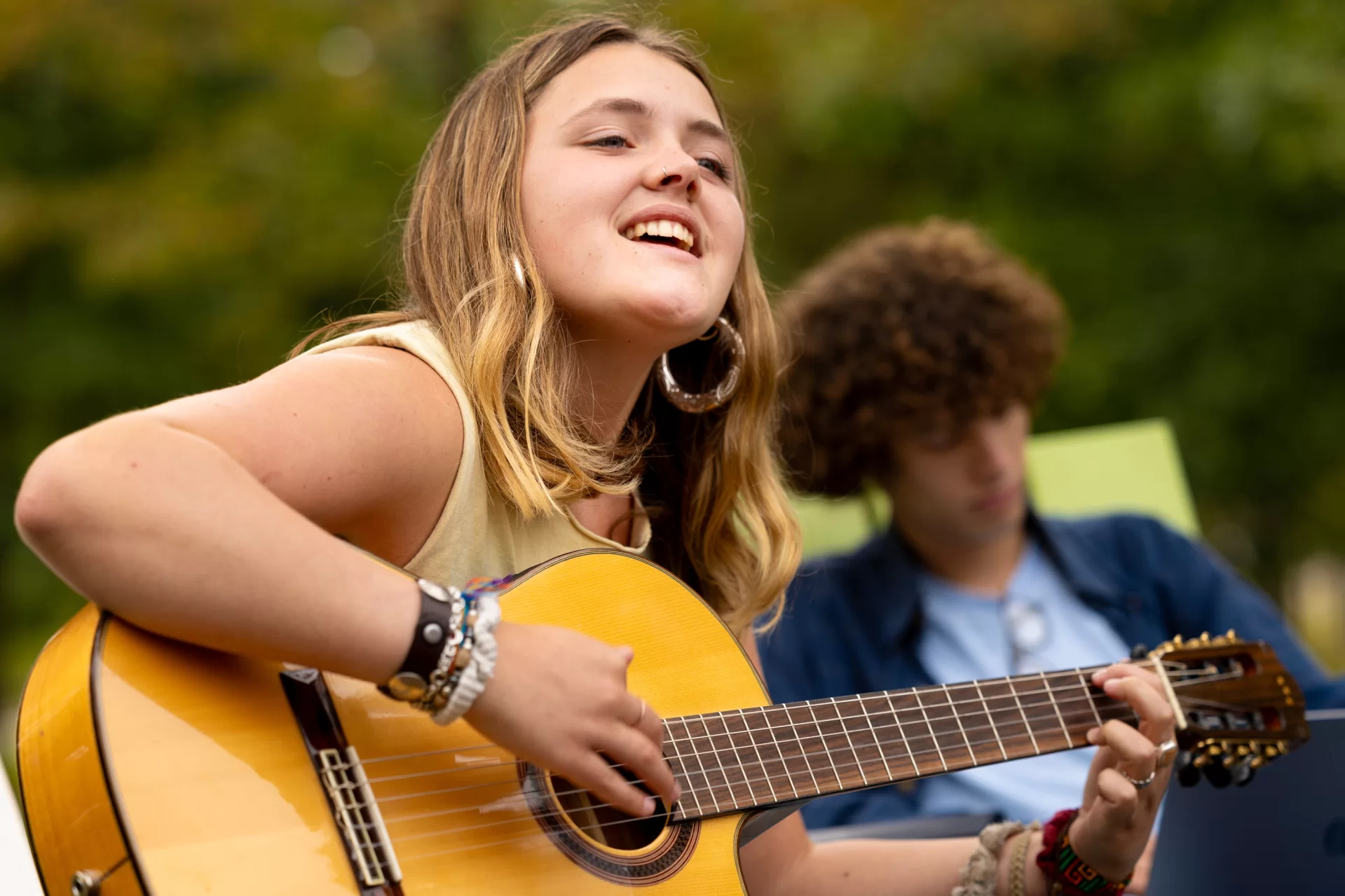 Mazie Chamberlin '27 of New York City plays the guitar while "quadding" with new Bates friends on the Historic Quad.
The friends arranged themselves in Adirondack chairs, prepared to work. But pleasant distractions, including the great weather, a guitar, and a tambourine, led them down a slightly different path that featured folk music, conversation, and a bit of reading — Naomi Klein's climate crisis classic, This Changes Everything.
---
Catching Up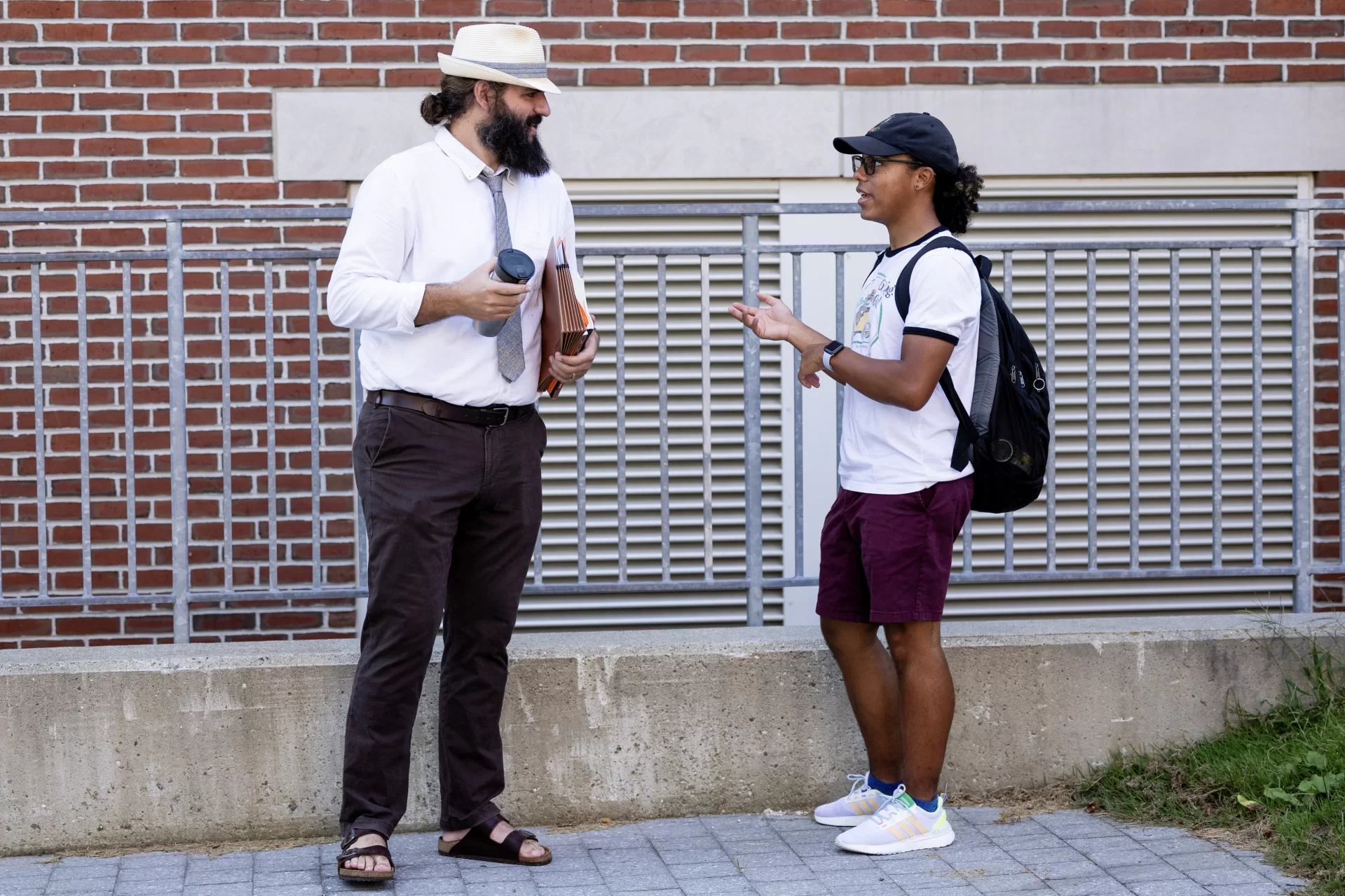 Mark Tizzoni, assistant professor of classical and medieval studies, and Truman Williams '25 of Montclair, N.J., continue their conversation following a class session of Tizzoni's course "Colonization and Resistance in Late Antique North Africa."
"We were talking about Indigenous and Roman identities and the ways in which they competed and coexisted in the colonized landscape of the late antique Maghreb," said Tizzoni. "That, and catching up after summer break!"
---
Toe-to-Toe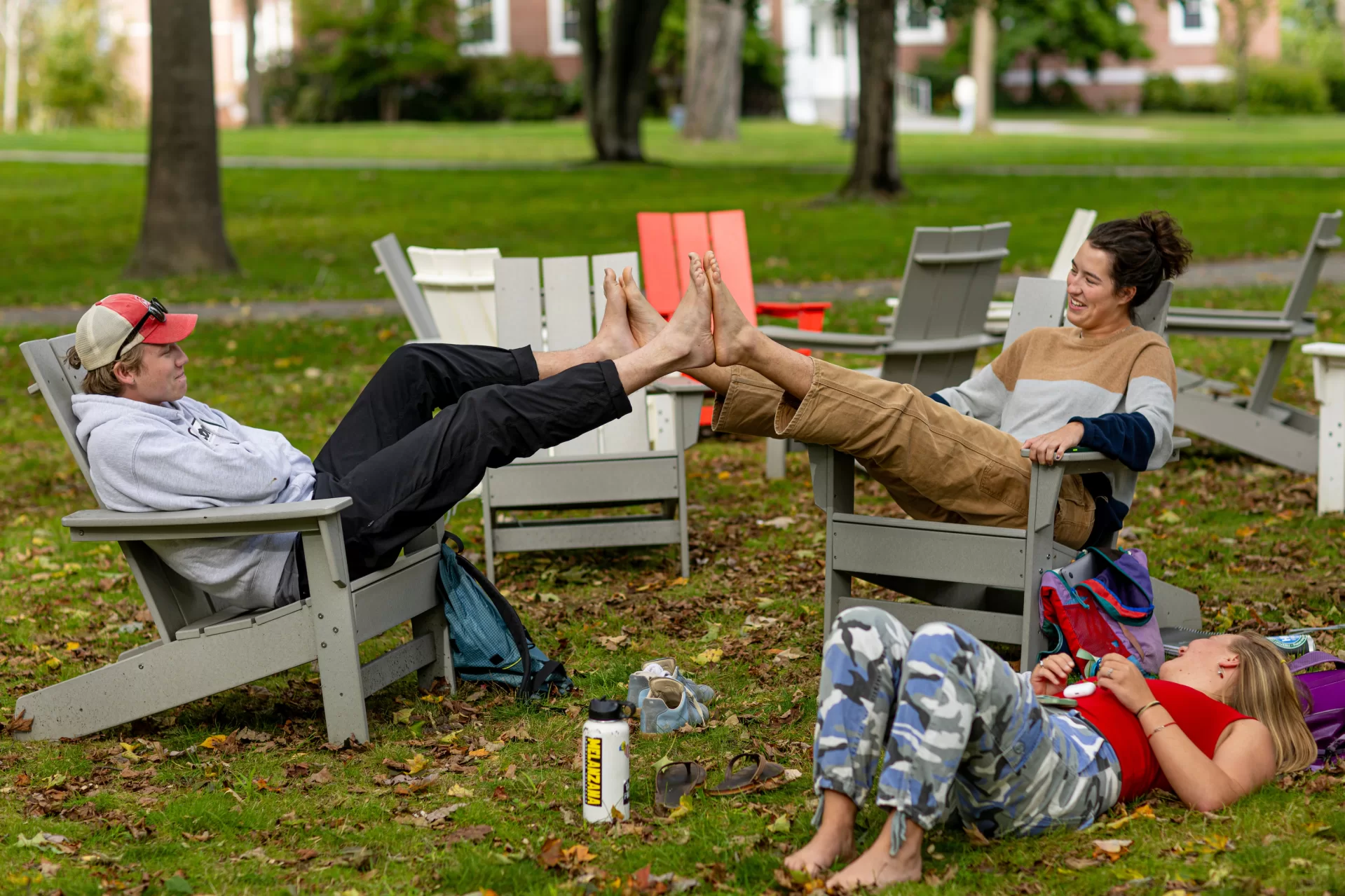 Adi Kolff '25, a double major in biology and in earth and climate sciences from Philadelphia, and Abby Marriott '25, an environmental studies major from Brooklyn, N.Y., compare the size of their feet on the Historic Quad.
Close call: Marriott is a women's size 11; Kolff, a men's 10.5.
---
Leading the Way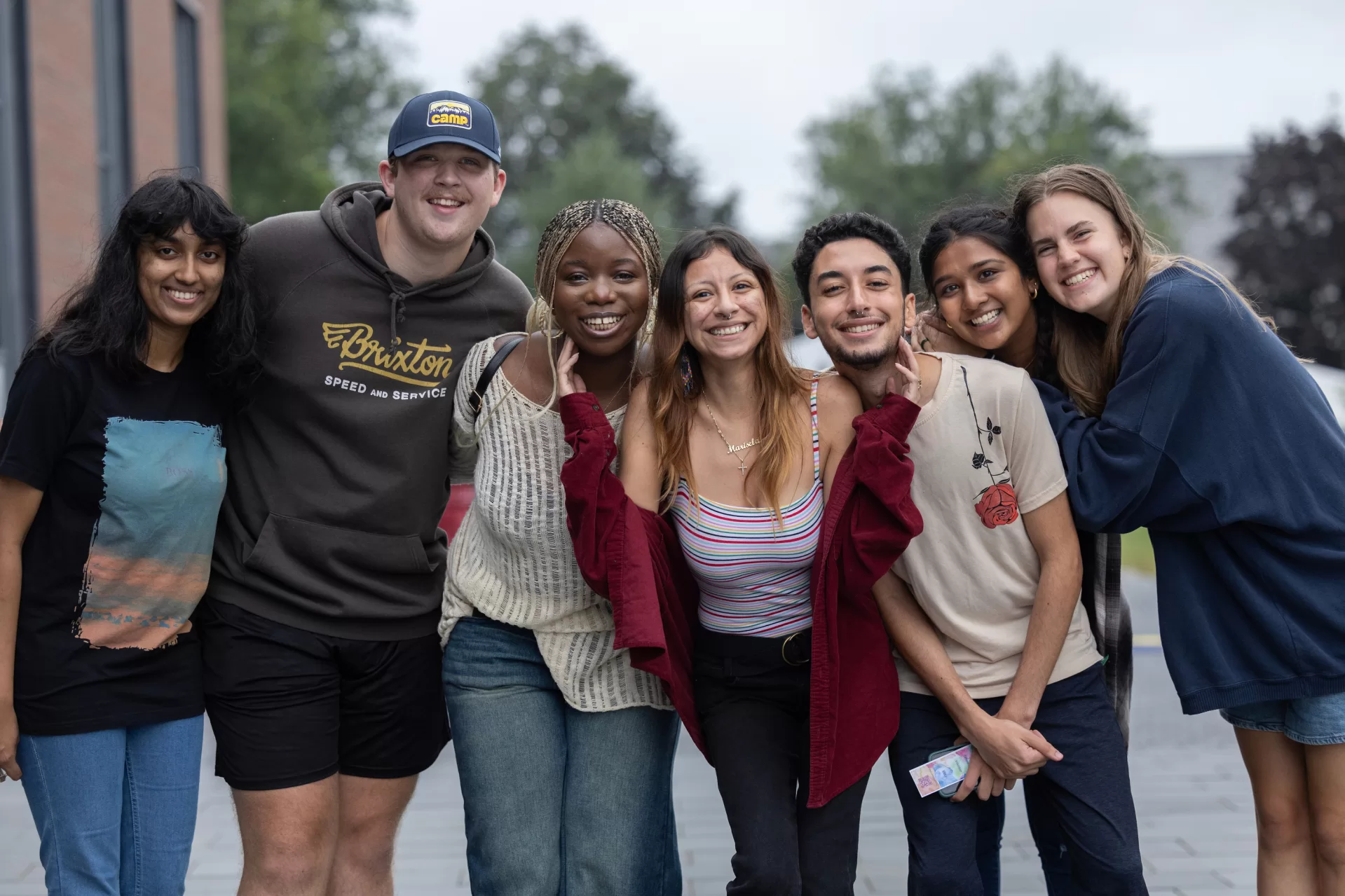 A group of Bonner Leaders pose for a photograph during the annual volunteer fair, sponsored by the Harward Center for Community Partnerships.
With a commitment to community service and civic engagement, Bonner Leaders spend four hours each week working with Lewiston-Auburn community partners. The experience "provides me with the opportunity to connect with incredible individuals who share our passion for making a positive difference," said Sivani Arvapalli '26 (second from right) of South Windsor, Conn.
From left, Vyshu Viju '26, Robbie Washburne '26, Chidera Kalu-Uka '27, Marisela Flores Pineda '24, Leith Chikh Rouhou '26, Sivani Arvapalli '26, and Hana Roggendorf '27.
---
Killing It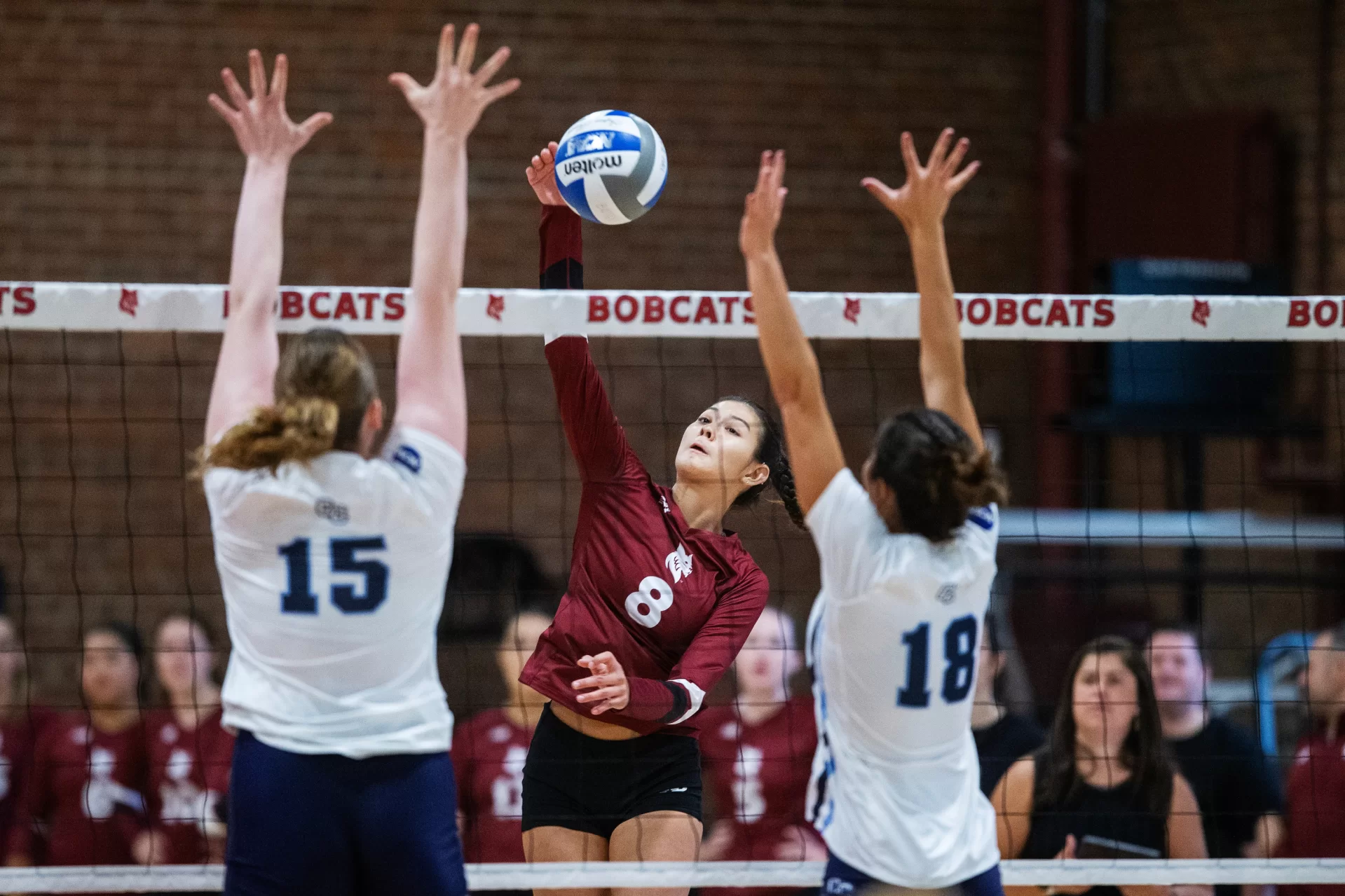 Ami Evans '26 of Honolulu had 11 kills in the Bobcats' 3-2 victory over Connecticut College in September.
---
Top Teacher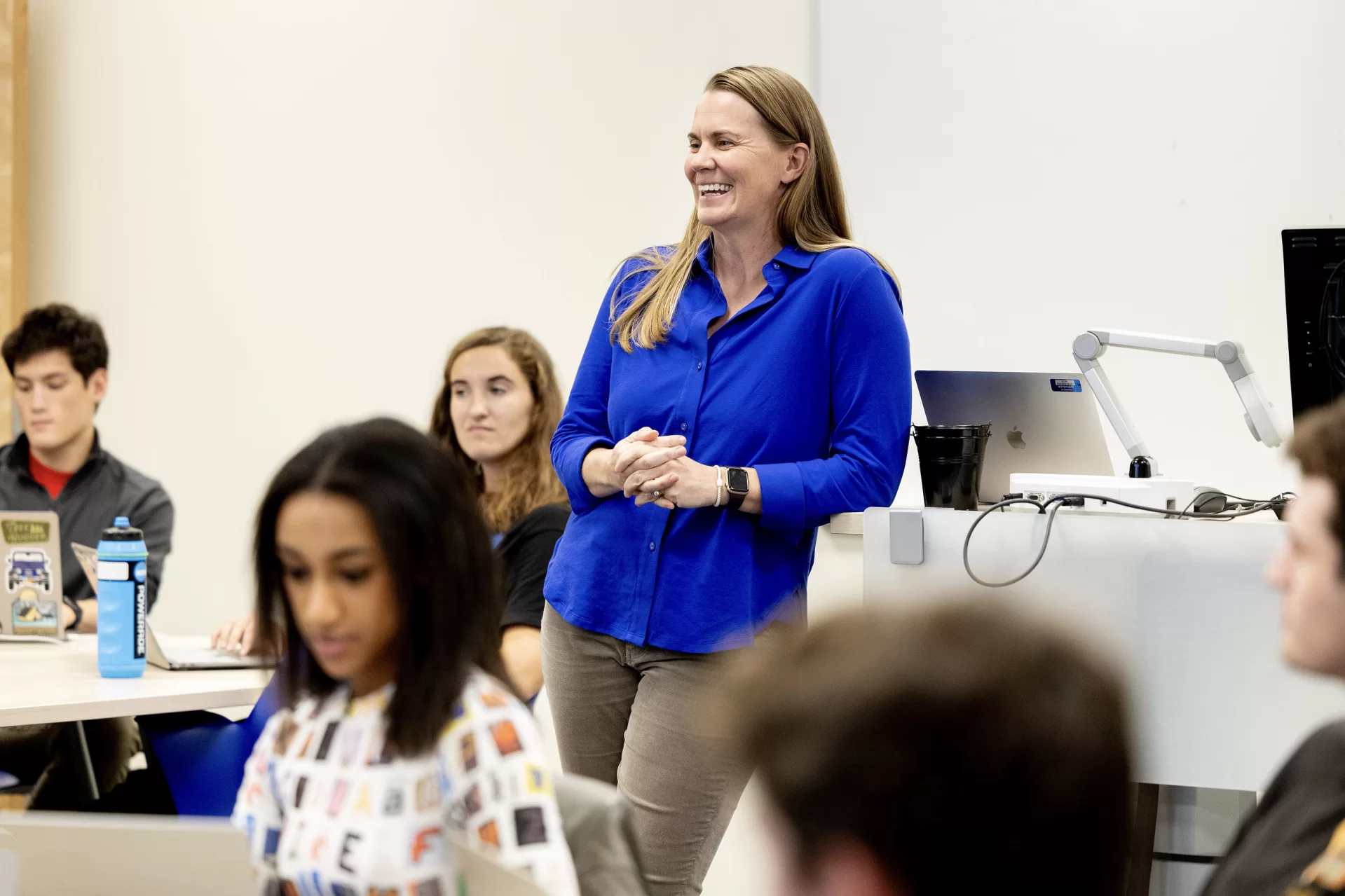 Associate Professor of Mathematics Katy Ott leads a session of her course "Mathematics for Social Justice," which teaches quantitative literacy, critical thinking, and problem-solving skills in a socially relevant context.
Ott recently received the 2023 Kroepsch Award, the college's highest award for excellence in teaching. On a humorous note, one student's nomination said that Ott's "ability to not only teach the class in a wonderful interesting way, but in a low-stress environment that almost tricks you into understanding the subject, will always baffle me!"
---
'United' at Bates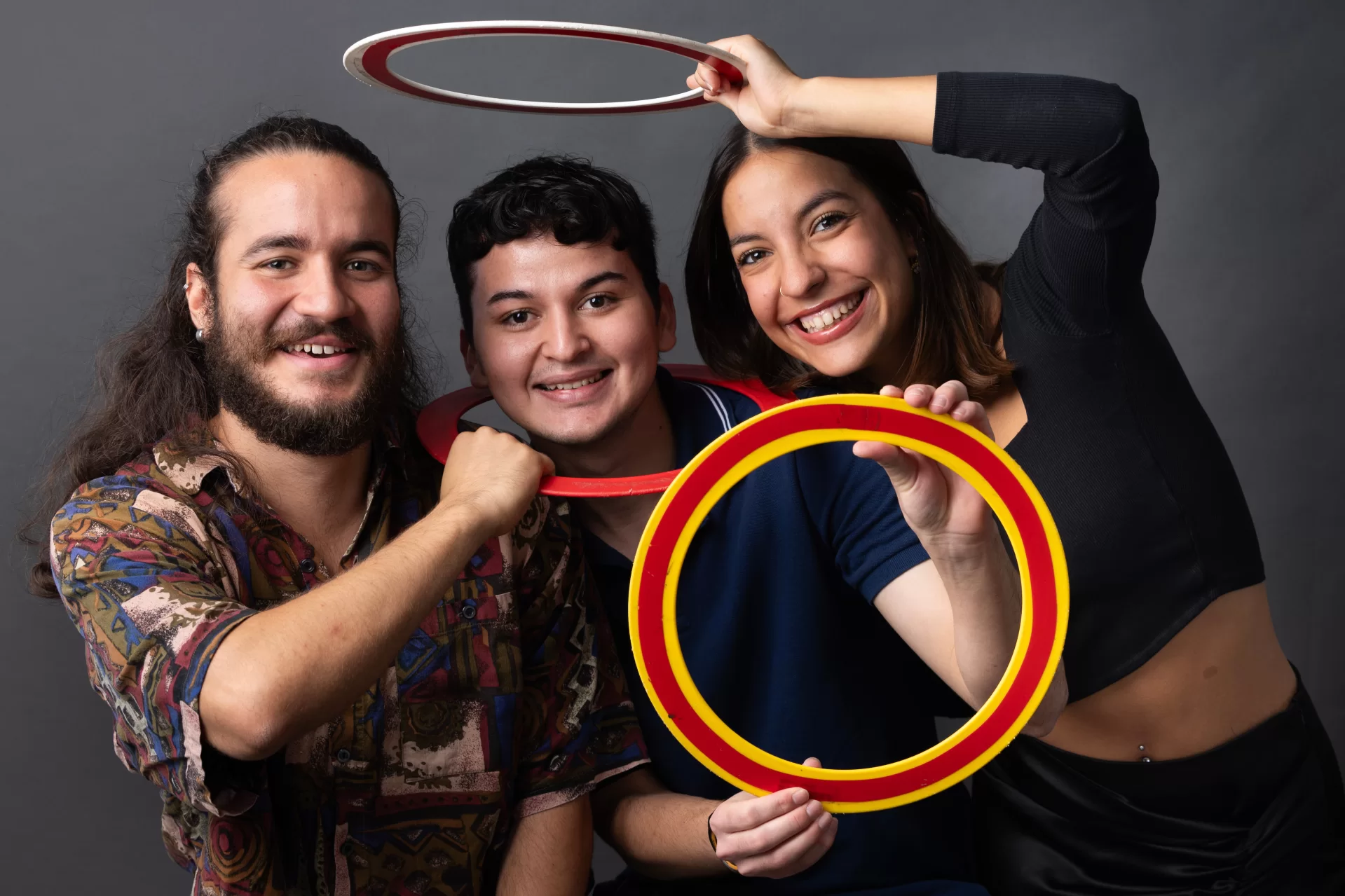 This year, 47 students from 28 different countries have come to Bates as Davis United World College Scholars.
From left, here are three who are seniors this year: Miguel Angel Pacheco of Caracas, Venezuela; Sebastián León Fallas of Perez Zeledon, Costa Rica; and Maria Francisca Pereira Pinto Costeira da Rocha of Porto, Portugal. As photo props, they used juggling rings belonging to Pacheco.
The Davis UWC Scholars Program awards need-based scholarship funding to graduates of schools and colleges in the United World Colleges movement. It is the world's largest international undergraduate scholarship initiative.
The program is dedicated to supporting promising students from diverse cultures at selected American colleges and universities "to create greater international understanding among the world's future decision makers."