Bates President George Colby Chase was inaugurated in 1894, the same year as the infamous Dreyfus Affair in France and a devastating fire in downtown Norway, Maine.
And at his inauguration in 1944, President Charles Phillips tackled big business, saying it presents "a real danger to our competitive system."
About a century later, in 1990, President Don Harward's inauguration kicked off the long-running tradition of Gala.
Those are among the facts and did-you-knows from past Bates presidential inaugurations, starting with George Colby Chase in 1894 and ending with Clayton Spencer in 2012.
All told, there have been nine presidents and seven inaugurations in Bates history. The college's first president, Oren Cheney, did not have an inauguration — but he did almost everything else, creating Bates from scratch, first as a seminary (like a high school) that opened its doors in 1857, and then transforming the school into a college, in 1864, and serving as president for another 30 years, until 1894.
And then there's the forthcoming inauguration for the college's ninth president, Garry W. Jenkins.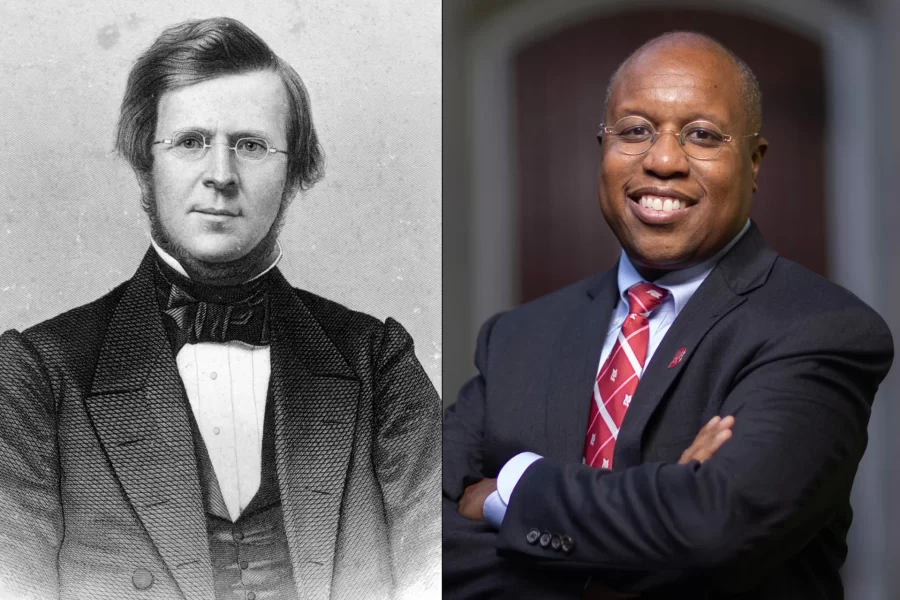 Here are the seven:
---
George Colby Chase (1894–1919)
Date of inauguration: Sept. 22, 1894
Location: Chapel, which at the time was in Hathorn Hall
Musical highlight: Not much is known, except that it was deemed "excellent" by The Boston Globe.
Inauguration fact: Outgoing President Cheney was overcome by emotion and was "obliged to suspend" his remarks several times, according to reports.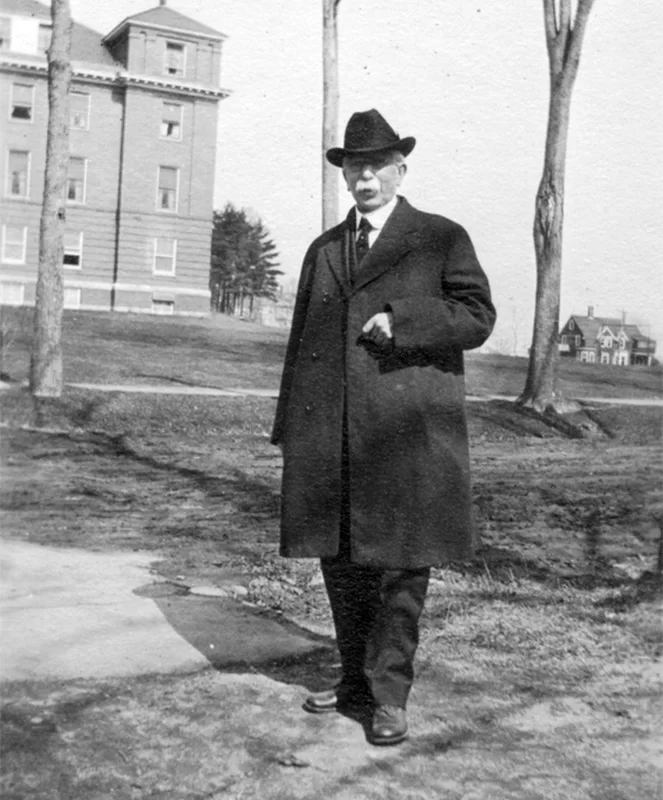 "The chapel was exquisite," reported the Morning Star newspaper. "Garnet (ever dear to Bates) and pink furnished the color effects upon a beautiful background of palms and rock ferns. Everywhere the hand of the artist was apparent."
Theme of the inaugural address: Chase spoke to the rapid pace of scientific discovery, noting that "the word 'scholar' in 1894 ought to mean far more than in any preceding year of the world's history."
Quote from the address: "The college of our day should…anticipate in its curriculum that world in which its students are to live," Chase said. A Bates education "must not be narrowed to the wants of the specialist, and should not look largely to what is falsely called the practical."
What Bates students said: "President Chase has come into the presidency as a leader of men comes to the front," wrote the editors of The Bates Student in October 1894.
"Today, Bates breathes the spirit of rapid growth. There is a new relation between the classes, between the students and the faculty, and between the [literary] societies. All have taken on another air, and with this quickening spirit, improvement adds another charm."
World, national, and Maine news in 1894:
In France, Alfred Dreyfus, a Jewish army officer, was wrongfully convicted of treason based on false evidence and anti-Semitism, in what became infamously known as the Dreyfus Affair.
In the U.S., wage cuts and poor working conditions at the Pullman Palace Car Co. triggered a widespread railroad labor protest that turned violent. Its ending marked the first time that a federal injunction was used to break a strike.
In Maine, much of the downtown of Norway, about 20 miles west of Bates, was destroyed by fire in May. "Village helpless in a fierce fire which swept through the town," reported The New York Times.
---
Clifton Daggett Gray (1920–1944)
Date of inauguration: June 23, 1920, same as Commencement
Location: Chapel
Musical highlight: Processional music was the march from Aida by Verdi.
Inauguration fact: The Lewiston Brigade Band, formed by Frederick George Payne, led the singing of the hymn "Integris Vitae" to close the inauguration.
Theme of the inaugural address: Gray described how the ideals of Bates' founders have become firm traditions that he pledged to strengthen.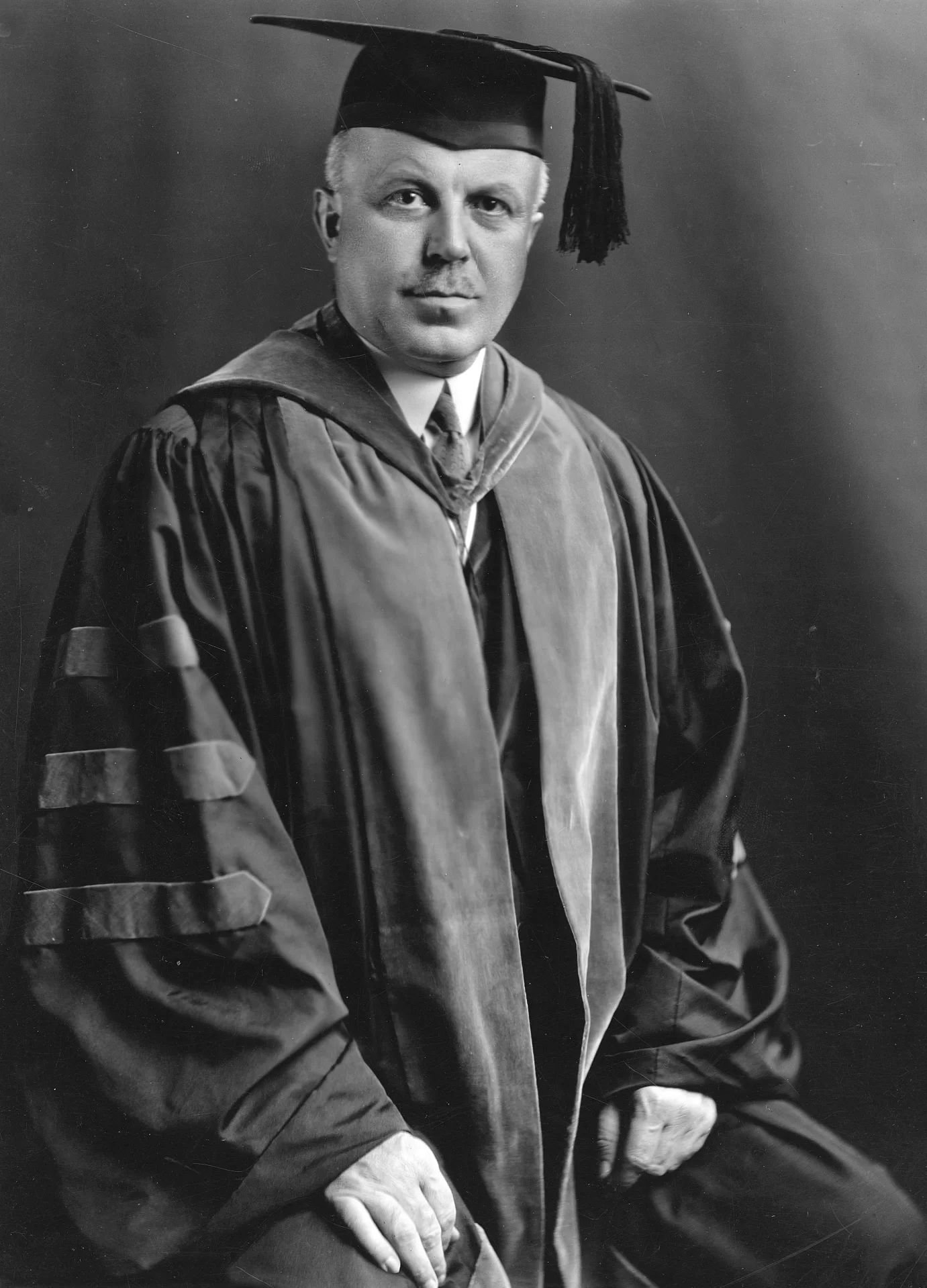 Quote from the address: "It has been the constant and studied policy of Bates to spare no effort to be helpful to students struggling with poverty. There were to be no cliques and no secret fraternities, for these were thought to be undemocratic and…their presence at Bates, where so many were working their way through college, could serve no end."
"The material resources of Bates College are still seriously limited and she is poor, compared with the wealth enjoyed by some institutions of learning, but she is rich in her noble ideals and tradition, rich in the affection of those who have learned to love her in proportion as they have sacrificed for her welfare, rich in the useful lives of her sons and daughters who throughout the length of this land and across the seas are exemplifying the high ideas of consecrated service to state and nation which they learned in these halls."
What Bates students said: "A new force, a strong and vital force, is behind the interests of the college. We have seen that President Gray has put his heart and soul into his work. We know that our Alma Mater is being guided well," reported The Bates Student on Oct. 1, 1920.
"We can help the college by observing its traditions and living up to its ideals. We can aid President Gray by abiding by the rules and making it unnecessary for him to be forever on the lookout for infractions."
World, national, and Maine news in 1920:
In Versailles, France, on June 23, the Treaty of Trianon was signed, officially ending World War I for Hungary and the end of the Austro-Hungarian Empire.
In the U.S., the 19th Amendment to the U.S. Constitution was ratified by the states on Aug. 18, enfranchising 26 million American women in time for the 1920 presidential election.
In Maine, a winter storm delivered a deluge of rain, sleet, and snow in March. "First came the rain…and before this had time to settle in or run away, down came the snow, which turned it to slush, and eventually to ice, which froze over, into, and onto every place where it could possibly do any harm," reported the Lewiston Daily Sun on March 8.
---
Charles Franklin Phillips (1944–1966)
Date of Inauguration: Nov. 14, 1944
Location: Chapel
Musical highlight: "The Lord Is My Light," by Robert E. Speaks (1873-1948), an American composer and hymn writer known for his contributions to Christian music. The processional march was by Jean Baptiste Calkin, and the recessional march by Karl King.
Inauguration fact: Due to World War II, ceremonies were modest and brief, just a half-day. Participants included Navy personnel with the V-12 training program housed at Bates.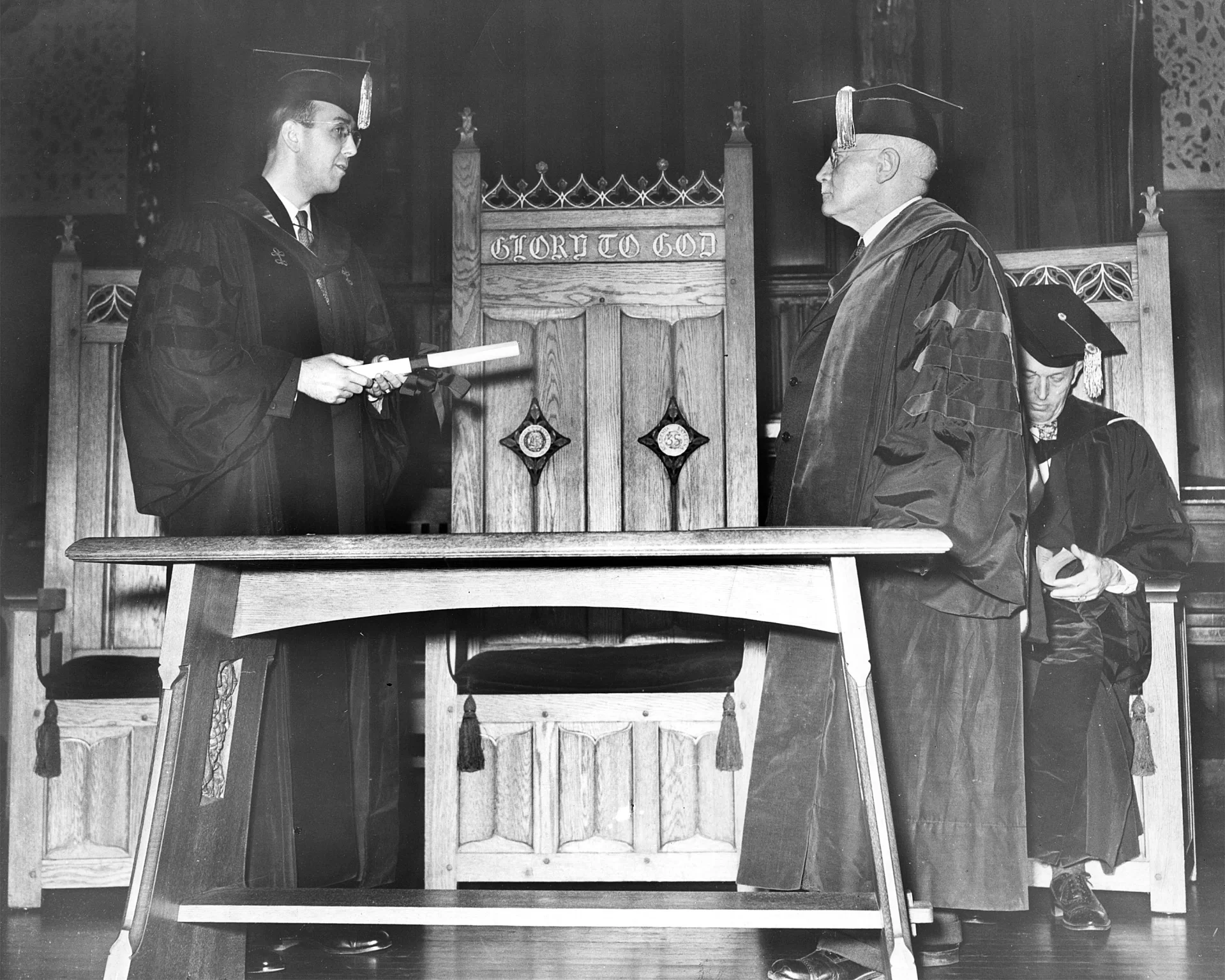 Theme of the inaugural address: An economist, Phillips spoke about the vital importance of small-business entrepreneurship and economic competition in the post-World War II economy.
Quote from the address: "The present-day American does not need to be told that he is living in an exchange economy in which Big Business plays a dominant role," Phillips said. "It is a…Gillette safety razor and blade with which he gets his setting-up exercises. It is a glass of Sunkist orange juice which he downs prior to his Bond Bread toast and his Maxwell House coffee.
"So great has been the success of Big Business that college men and women in the years before the war were becoming its employees without carefully appraising the advantage of being their own employers. This trend represents a real danger to our competitive system. It also represents a danger to the college man or woman who fails to achieve the personal advantages of being his or her own boss."
What Bates students said: "Having been warned that seats were scarce and expected attendance high, the student body arrived early," reported The Bates Student on Nov. 16. "They took their seats quietly and waited patiently, which was quite a feat for students. One freshman was so excited, however, that she fell into the row instead of walking."
Phillips' speech, reported the Student, was as "sound a speech as most of us expected from our new president who we know is 'on the ball.' Statistics were brilliantly handled and ideas expressed strong and hopeful."
World, national, and Maine news in 1944:
Near the Philippines, the U.S. Navy, joined by Australian forces, defeated the Japanese in a series of World War II battles known as the Battle of Leyte Gulf, allowing Gen. Douglas MacArthur's forces to continue their advance in the Philippines.
In the U.S., the Servicemen's Readjustment Act of 1944, aka the G.I. Bill of Rights, was signed into law on June 22, putting higher education, job training, and home ownership within the reach of millions of World War II veterans.
In Maine, a workers' strike at Bath Iron Works, a major shipyard, began on Sept. 27 and lasted 102 days. The labor dispute was over working conditions, wages, and job security.
---
Thomas Hedley Reynolds (1967–1989)
Date of inauguration: Oct. 7, 1967
Location: Alumni Gymnasium
Musical Highlight: "Royal Fireworks Music" by Handel during the academic procession
Inauguration fact: Held a day before the installation ceremony, an inaugural conference explored how colleges are responding to changes and innovations in secondary school curricula, such as a focus on critical thinking and student engagement.
Such changes, said a speaker, should prompt colleges to evaluate their own curricula, give students a greater role in curricular planning, and do a better job understanding students' "motives, fears, and abilities."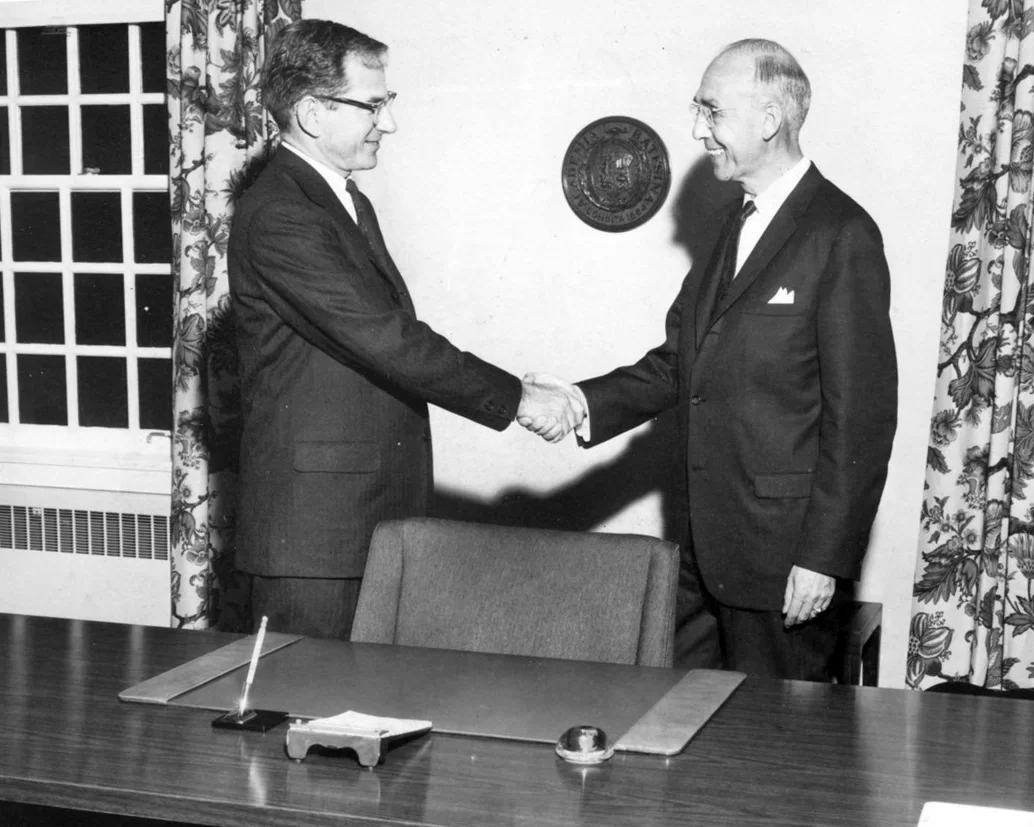 Theme of the inaugural address: With growing unrest over student life and freeedoms on college campuses, Reynolds said that ability and authority of college to govern residential life was being encroached on — harmfully — by outside interests.
Quote from the address: "The destruction of the right to influence students outside the classroom is being taken up as a cause by student groups throughout the land and the movement threatened to sweep away an important educational influence in college," Reynolds said.
"Would it not seem that if the nature of freedom is primarily intellectual, that the place where systems of ideas are studied, learned, evaluated, conceived, perhaps created is indeed the true home of freedom."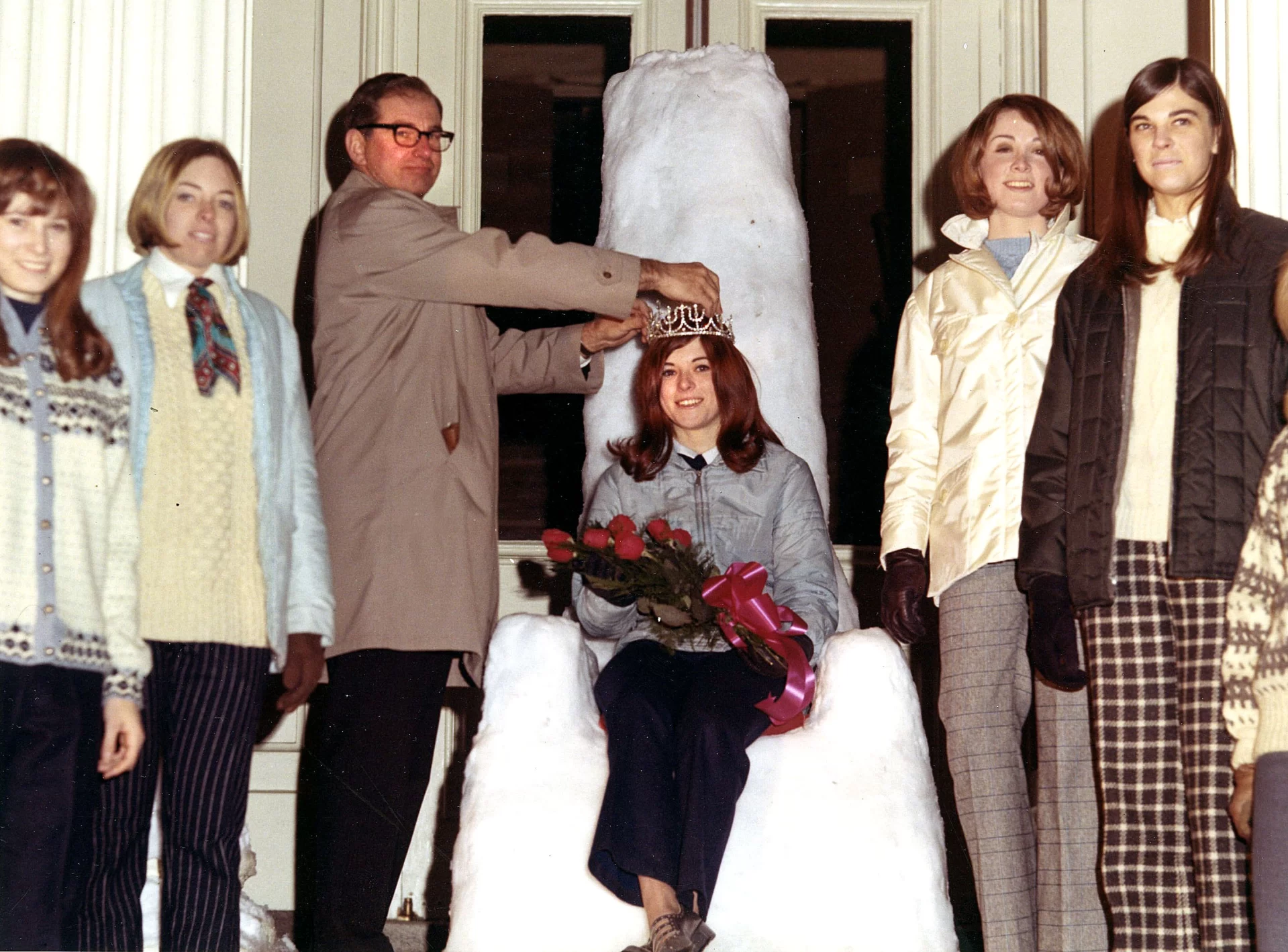 What Bates students said: Having become a bit restless with social restrictions, The Bates Student sounded an optimistic note in an editorial on Oct. 4, 1967, the eve of Reynolds' installation.
"Several measures have concretely illustrated that Dr. Reynolds is willing to allow the students a role in determining the direction of the college, socially and otherwise. We congratulate Bates and Dr. Reynolds at the inauguration of a new administration, and we hope the spirit of innovation and enthusiasm continues."
World, national, and Maine news in 1967
In Bolivia, revolutionary Marxist leader Ernesto "Che" Guevara was executed in Bolivia by Bolivian soldiers with the support of the CIA on Oct. 9.
In Washington, D.C., the March on the Pentagon drew tens of thousands of demonstrators to Washington, D.C., on Oct. 21–22 to protest the Vietnam War and America's escalated involvement. (This was the event where Abbie Hoffman famously announced his intention to "levitate the Pentagon" during the protest.)
In Maine, 758 new state laws were enacted in October, including a hike in the minimum wage from $1.25 to $1.40 an hour, and making it a felony to make, sell, or possess the drug LSD.
---
Donald West Harward (1989–2002)
Date of inauguration: March 31, 1990
Location: Merrill Gymnasium
Musical highlight: A Fanfare, "Fanfare, Toccata, and Prayer," commissioned by the Board of Trustees, by Associated Professor of Music William Matthews and performed by the Inaugural Brass.
Inauguration fact: An Inaugural Gala, held the night of the inauguration, became an annual campus event.
Theme of the inaugural address: Harward spoke about how words and language we use to describe liberal learning helps to achieve continuing and connection.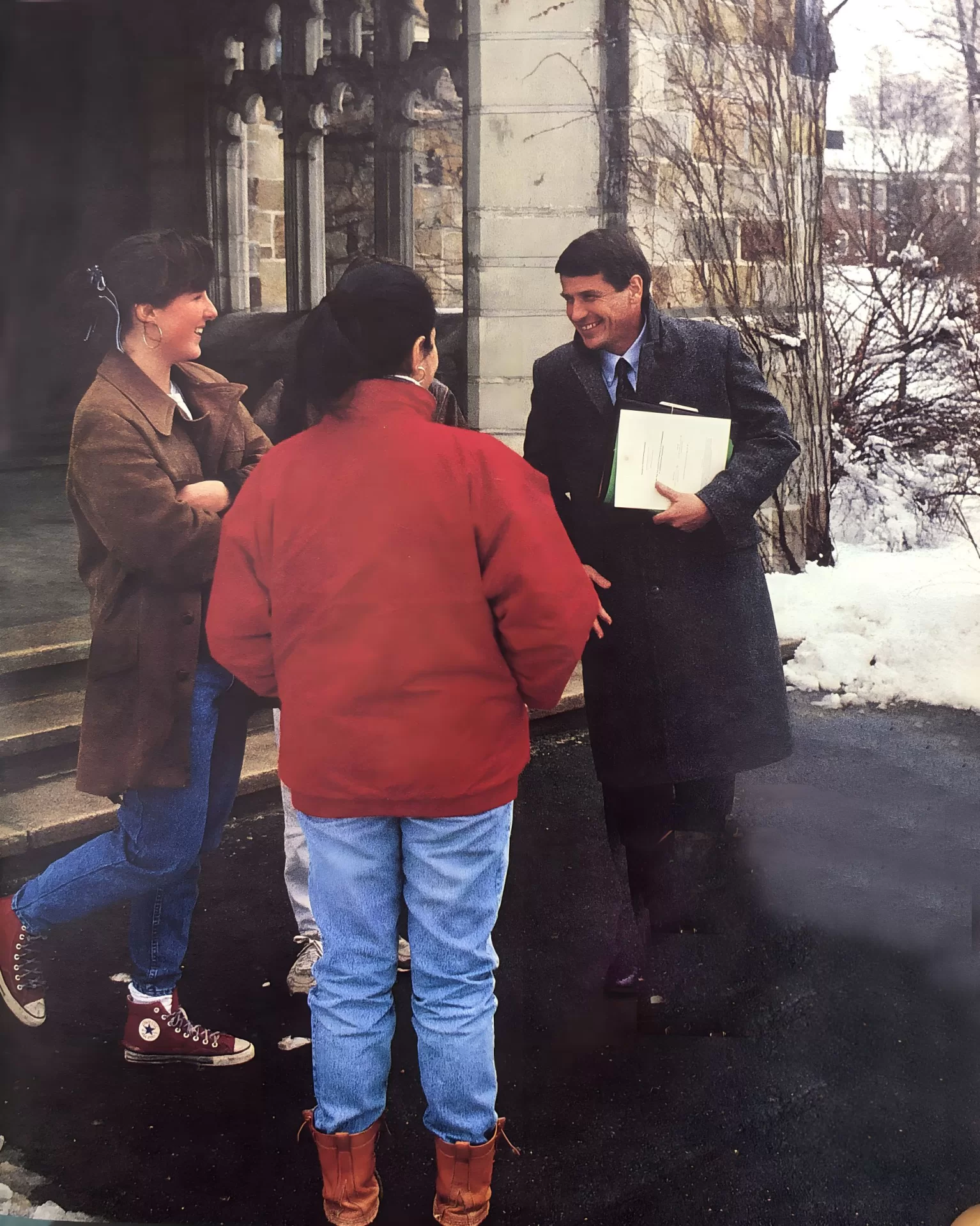 Quote from the address: "High-quality colleges intentionally structure a variety of persisting tensions among the conversations that take place there," Harward said. "The tensions are vitalized by insisting that the alternative or opposing elements in the conversations are supported and strengthened — the tensions are not resolved, they are celebrated. Colleges cultivate the power of opposition, of challenge, of disagreement, of doubt, of alternative, of a second opinion, of suspicion, of critical suspension of belief — of ideas."
What Bates students said: A reporter for the Student pressed Harward about the cost of the inauguration. "I am convinced that the [inauguration planning committee] has tried to put together a meaningful inaugural event without involving great costs," he said, noting that ideas such as flowers around campus and canopied walkways between buildings were scuttled.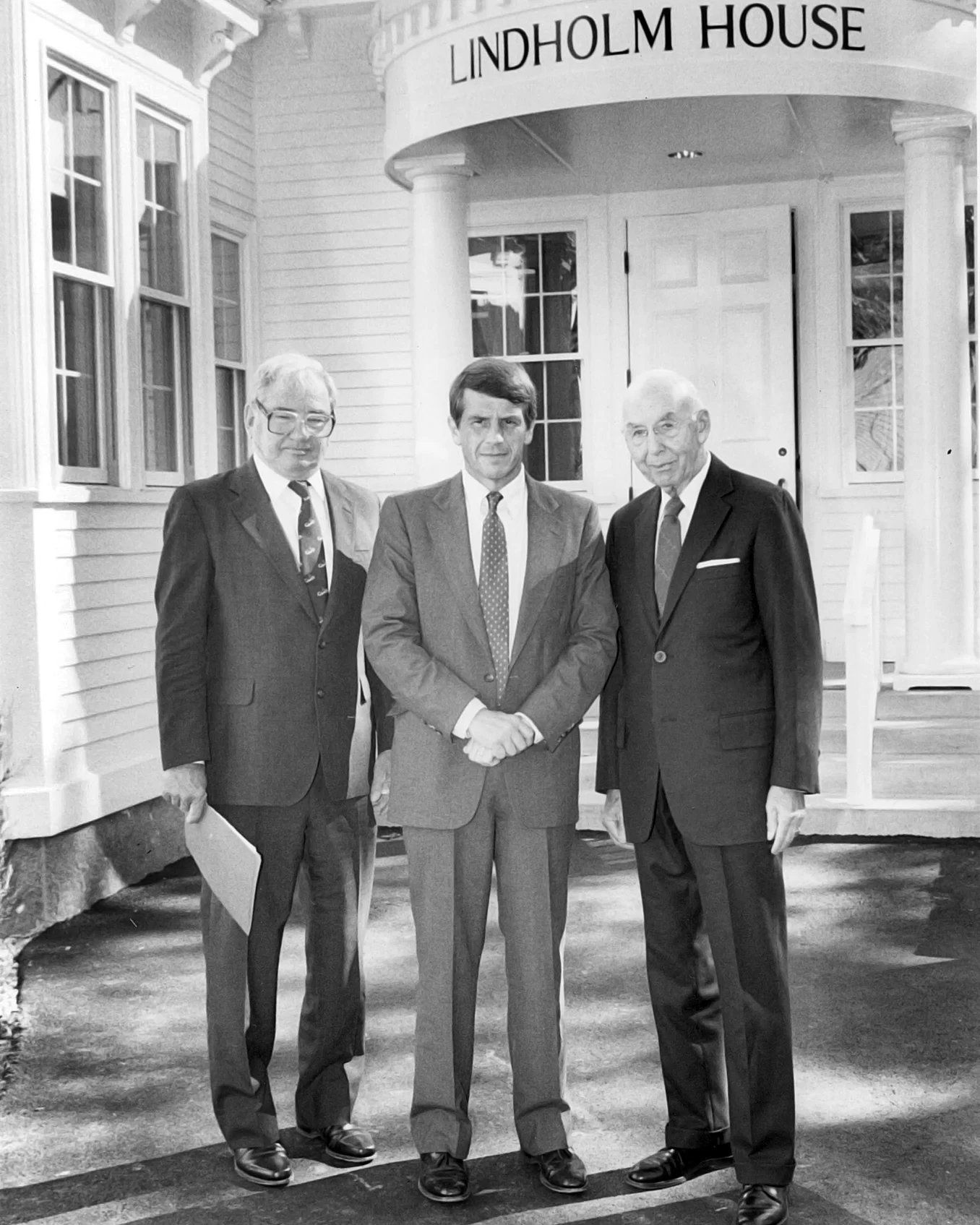 World, national, and Maine news in 1990
In the Soviet Union, Mikhail Gorbachev was elected president on March 31, bringing his policies of glasnost (openness) and perestroika (restructuring), which would eventually lead to the dissolution of the Soviet Union in the early 1990s.
In Boston, 13 pieces of art, including works by Vermeer and Rembrandt, were stolen from the Isabella Stewart Gardner Museum on March 18. It is considered one of the largest and most famous art thefts in history (and one with a Bates connection, albeit slim.)
In Lewiston, the famous bedspread pattern created by the Bates Manufacturing Co. celebrated its 50th anniversary. Known as "George Washington's Choice," (or Martha Washington's Choice), the pattern has adorned more than five million Bates-produced bedspreads since 1940.
---
Elaine Tuttle Hansen (2002–2011)
Date of inauguration: Oct. 26, 2002
Location: Merrill Gymnasium
Musical highlight: "I Dwell in Possibility," an original ode composed by William Matthews, who had been appointed Alice Swanson Esty Professor of Music in 1997, with text from the Emily Dickinson poem of the same name, performed by the Bates College Orchestra and the Bates College Choir.
Also performing was the Bates College Gamelan, playing music of a traditional ceremonial procession of the court of Sukarta, Java, in the 13th century.
Inauguration fact: The college's oldest alum, Ida Taylor Sperber, age 104 of the Class of 1920, attended the inauguration and gave her opinion of the new president. "I think she's fine, and I'm glad we have her," she told the Portland Press Herald.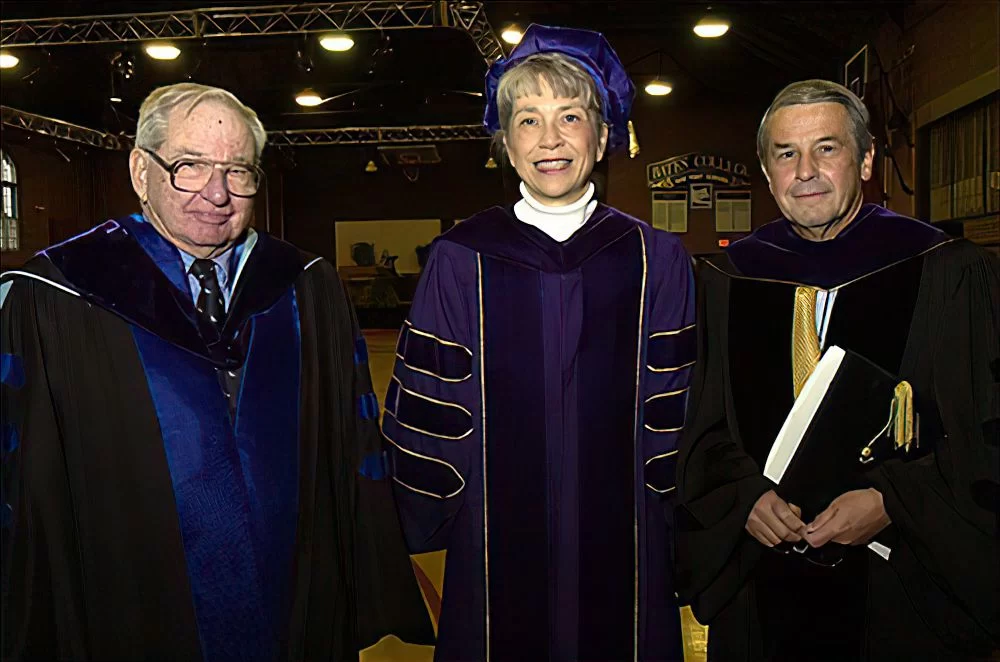 Theme of the inaugural address: Hansen spoke about Bates being a place of possibility.
Quote from the address: "We've done a superb job at Bates of creating a culture of engagement, of making and finding time for expanding possibilities through doing more," said Hansen.
"But we have not yet fully admitted, let alone solved, the widespread problem of fostering a culture of reflection…. We need time alone and time with others that is undisciplined time — time to listen, speak, think, imagine.
"What I am talking about is endangered because it looks like unproductive time, the rarest of commodities in a world that measures everything by its outcome. American culture is obsessed with measurable achievement, the bottom line, with ranking and competing."
What Bates students said: "Students don't see the 'important' work our presidents do," wrote Student editor-in-chief David Weliver '03 in his Oct. 29 column, such as "allocating unheard of amounts of money to keep the institution running."
What students do see and take notice of are "small tokens" from the president — a greeting with a smile on the Quad, a surprise sighting in Commons, or an answer to an email. "The trivial things we notice shape our collective opinion."
World, national, and Maine news in 2002
In Europe, the introduction of euro banknotes and coins in 12 European countries symbolized the adoption of the euro as the official currency in those nations.
In the U.S., the buildup to the Iraq War of March 2003 continued with passage of the Authorization for Use of Military Force Against Iraq Resolution by Congress. This resolution granted President George W. Bush the authority to use military force against Iraq, citing concerns about weapons of mass destruction (which proved to be either a lie or bad intelligence) and Iraq's alleged ties to terrorist organizations.
In Lewiston, the mayor's infamous request in October that leaders of the city's growing Somali community discourage friends and family from moving to the city initially sparked anti-immigration sentiment, but then came a major statewide movement, known as Many and One, and a huge gathering at Bates on Jan. 11, 2003, to support new citizens.
---
Ava Clayton Spencer (2012–2023)
Date of inauguration: Oct. 26, 2012
Location: Merrill Gymnasium
Musical highlight: This was the third inauguration featuring music composed specially for the event by William Matthews, Alice Swanson Esty Professor of Music. His composition was performed by the Bates Orchestra and Bates Choir. Selected by Spencer, the text was Wallace Stevens' "The House Was Quiet and the World Was Calm."
Inauguration fact: Inauguration events included the naming of the chapel in memory of the Rev. Peter J. Gomes '65, D.D. '96, on Oct. 25.
The official delegate representing Davidson College was Spencer's father, Sam Spencer, who served as president of Davidson from 1968 to 1983.
Theme of the inaugural address: Spencer told the audience that life presents us all with "questions worth asking," such as: What is our purpose? The job of Bates College is not to supply all the answers, said Spencer, "but it is our job to create the conditions under which our students will be inspired to ask them for themselves."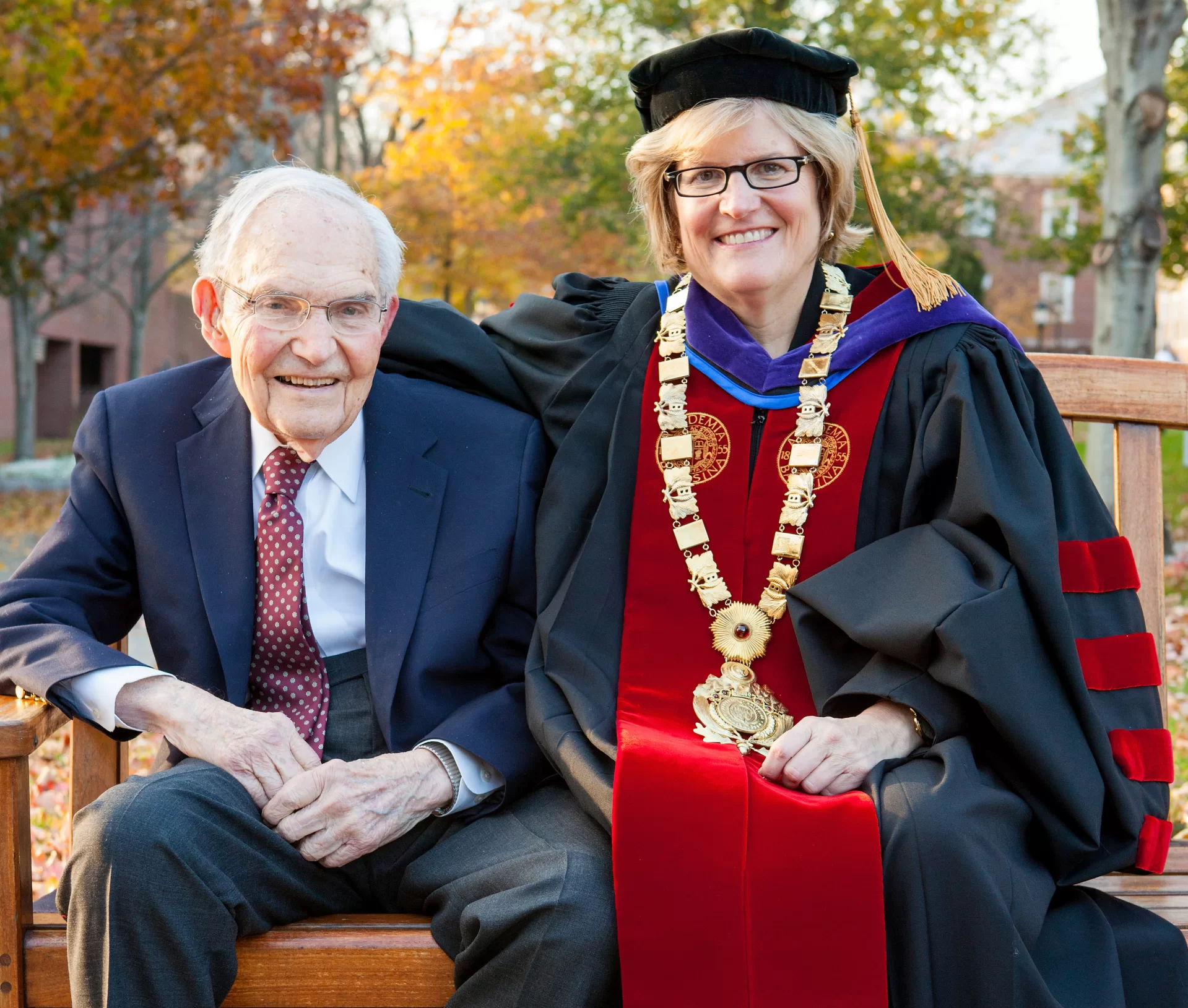 Quote from the address: "Learning here occurs in community. We are situated in a particular place, with a particular culture, and a particular set of human beings who come to know each other face to face. Just as all great novels are parochial novels, so the most complete kind of human learning takes place in community, with the solidarity of companionship and the challenge of truth."
What Bates students said: "Not only did the ceremony move us to tears, but Commons also outdid themselves with the cuisine this weekend!" noted the Student's "Bates Rates" feature..
World, national, and Maine news in 2012:
In Russia, members of the Russian feminist punk rock group Pussy Riot were arrested and subsequently put on trial for their protest performance inside Moscow's Christ the Savior Cathedral.
Along the Eastern seaboard, Hurricane Sandy, aka Superstorm Sandy, one of the largest and most destructive storms in U.S. history, made landfall on Oct. 29.
In Maine, a magnitude-4.0 earthquake on Oct. 16, centered west of Portland near Waterboro, was felt as far away as New Jersey.