Fifty-six years after its founding as Bates' first varsity sport for women, the Bobcat field hockey team is having one of the best seasons in program history.
On Wednesday, the No. 7 nationally ranked Bobcats shut out Johnson & Wales, 7–0, in the first round of the NCAA Division III Field Hockey Championship.

With the victory — the Bobcats' first NCAA tourney win — the team is now 13-5 and has matched the 1975 team for the most wins in a season in program history.
Bates faces No. 2 Babson College in the second round of the tournament at 11 a.m. on Saturday, Nov. 11, at Babson Park, Mass.
For folks who've just climbed aboard the Bobcat bandwagon, here are 12 CatFacts about the 2023 Bates field hockey program, team, and players.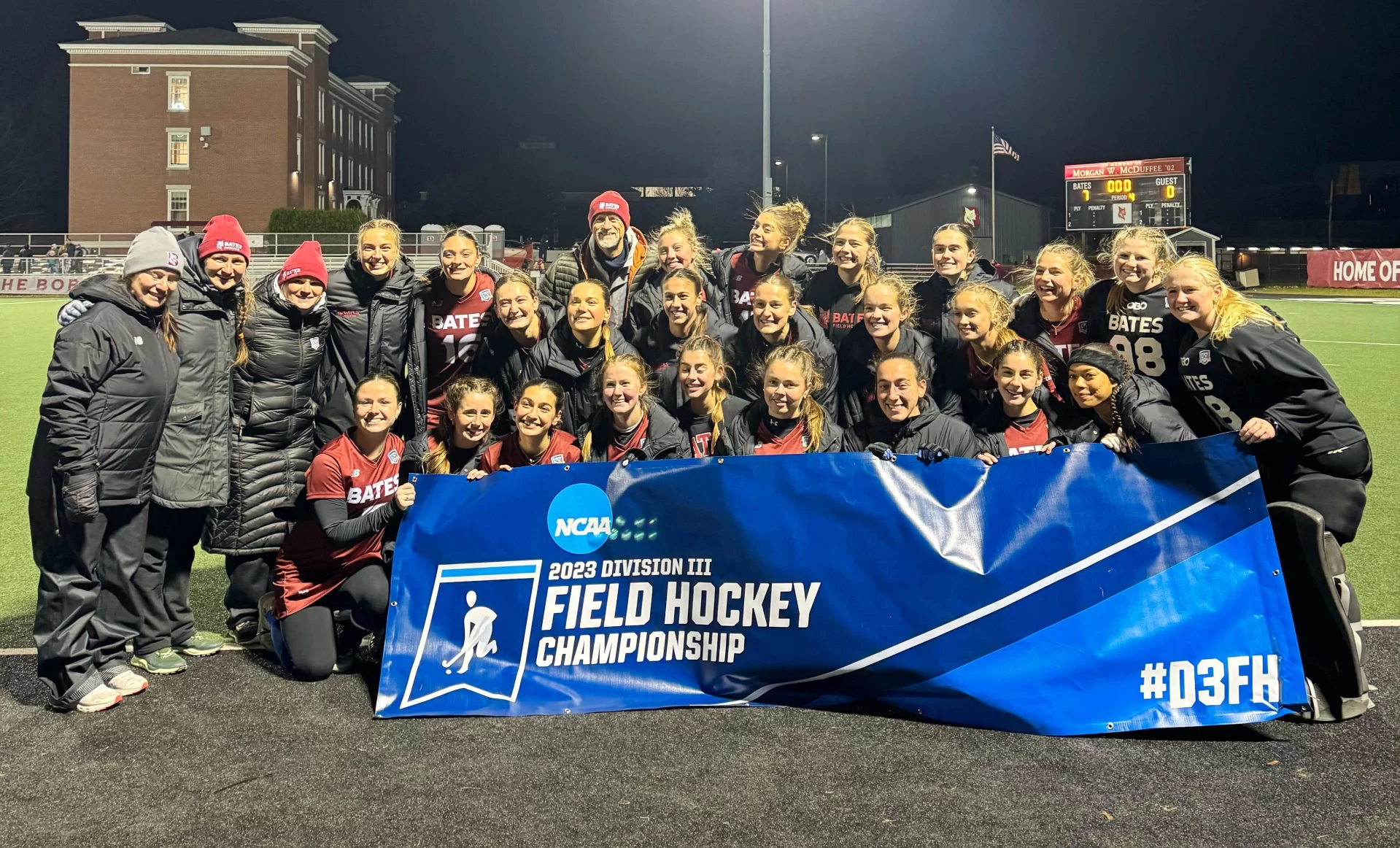 1. Two of the team's top players grew up near campus — and are sisters
Hailing from across the Androscoggin River in Auburn, sisters Anna Cote, a junior, and Paige Cote, a fifth-year senior, are the team scoring leaders, netting a third of the team's goals this year.
Being local means that "our whole family can come to all our games," Anna said. "It's really such an exciting time in our lives."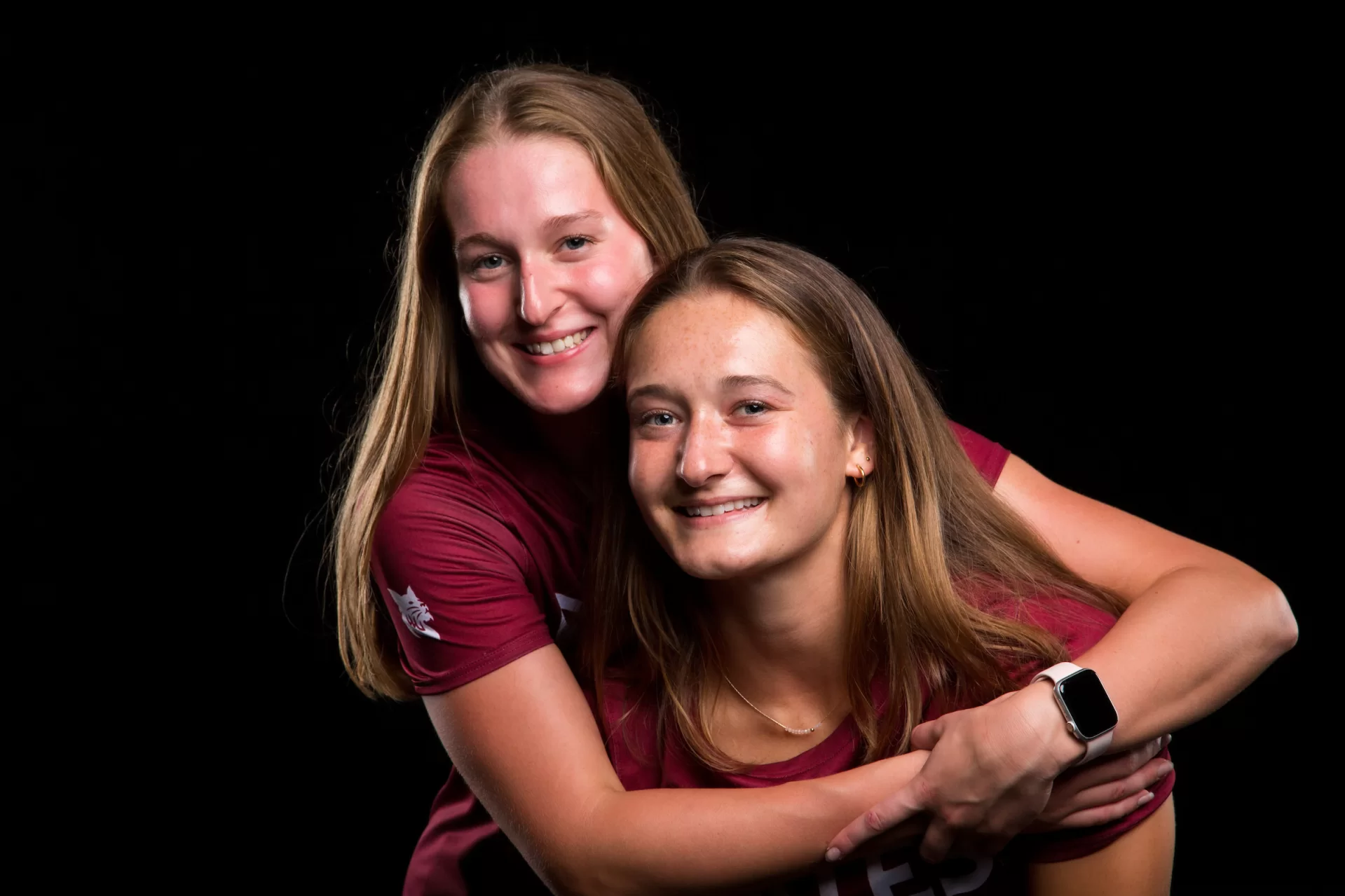 2. There's a chemistry professor on the Bates team
Varsity teams have faculty liaisons who partner with the team to support the students' curricular and co-curricular pursuits. Assistant Professor of Chemistry and Biochemistry Colleen O'Loughlin is field hockey's.
She attends games and sends encouraging emails to the players. And with three biochemistry majors on the team and others taking science courses, O'Loughlin — who played the sport in high school — has gotten to know a number of players as their professor.
3. Bates has a speedy surface for a speedy team
Because the Campus Avenue Field is dedicated almost exclusively to field hockey, Bates was able, in 2016, to install a sport-specific surface.
That was GreenFields TX, and it was the first North American installation to employ GreenFields' proprietary TenCate Ecocept elastic layer — a shock-absorbing layer that underlies the faux grass.
Since then, Bates has gone 39-17 at home, including a perfect 9-0 record this season.
It's smooth, forgiving to athletes' bodies, and fast, really fast, which suits the Bobcats' style. "It's almost like between turf and a gym floor," says Ella Blum '24 of South Salem, N.Y.
4. Field hockey is Bates' oldest women's varsity sport
Field hockey earned varsity status in 1967, winning the first 21 games the team played from 1967 to 1970. That's the longest winning streak in program history.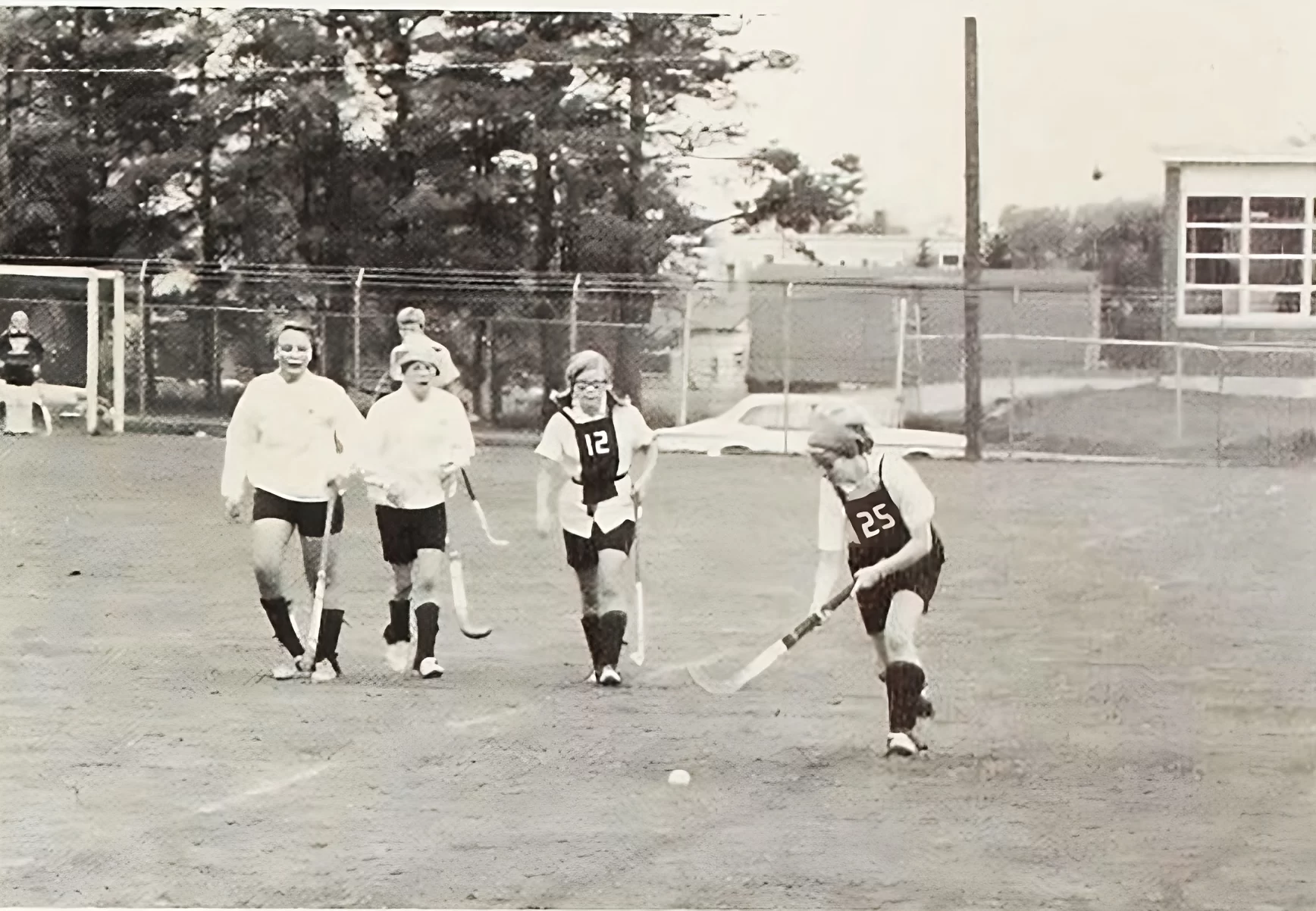 5. Field hockey at Bates was first played in 1905
Decades before field hockey was a varsity sport, it debuted as an intramural sport between the classes as part of the Young Women's Athletic Association, formed in fall 1905.
Field hockey, the Bates Student explained, "is played with field hockey sticks, which are heavier than those for ice hockey, and a cricket ball, painted either white or red. It is a game which involves much running and is both scientific and interesting when well played."
6. Penalty corners galore!
When the defense commits a foul near their goal, the offense is awarded what's called a penalty corner. The other team can only have four players and a goalie in a certain defensive area, but the offense can have more.
It gives the offense the chance to run all sorts of fun plays, and Bates has had a lot of fun and success this year with penalty corners.
Bates regularly "edits" their corner plays so "we stay unscoutable," says head coach Dani Kogut.
"And that really comes from the student-athletes. They're always coming up with creative ideas of how to change a corner, how to change a lineup so that we can do what we want to do without giving away (what we're doing on) our corner."
7. Music soothes the Bobcat
It's no surprise that popular artists such as Taylor Swift and Zach Bryan frequent these player's playlists. From country to pop, here are some artists that the team are listening to:
Noah Kahan
SZA
Taylor Swift
Tyler Childers
Zach Bryan
8. Field hockey is not ice hockey
Maria Femia '25 of Canton, Mass., grew up playing ice hockey, and only learning field hockey in high school.
"When I was a kid I was always lifting people's sticks. In field hockey they'll go, 'Yeah, you can't do that Maria.' And only using one side of the stick was a little confusing at first."
Femia's adjusted to field hockey just fine (and still plays ice hockey, with the Bates women's club ice hockey team.) She's scored eight goals this season, was named the NESCAC Player of the Week on Sept. 11, and, of course, did this:
Double Overtime.@BatesCollege vs. Bowdoin.

A win and Bates field hockey advances to the @NESCAC semifinals for the first time in program history.

Enter, Maria Femia.@JeffMannix on the call!#LewistonStrong #mesports #d3fh #GoBates #d3plays #SCTop10 @SportsCenter @Sports_SJ pic.twitter.com/nFanz9uQLU

— BatesSports (@BatesSports) November 1, 2023
9. One of Bates' greatest athletes came to Bates to play field hockey
One of the greatest athletes to ever attend Bates, Nancy Ingersoll Fiddler '78, a two-time Olympian in Nordic skiing, was drawn to Bates partly by the opportunity to play for the field hockey team.
"We had a lot of women come to Bates with an interest in hockey," Ingersoll Fiddler says, recalling how the women's locker room was located at the south side of the Gray Athletic Building, which is now the Muskie Archives. "I don't think we even had showers, but we had lockers."
10. Eight out of Bates' 36 academic majors are represented on the team
Bates offers 36 majors. And of the 14 players who have declared their majors, eight majors are represented. From English to biochemistry, this year's Bobcats are hard at work both on and off of the field.
Here are the declared majors on the team:
Biology (3)
Biochemistry (3)
Economics
Earth and Climate Studies
Environmental Studies
English
Psychology (2)
Sociology (3)
11. The Bobcats can dish it out
Whether at home or while visiting new places (or even exploring Commons), there are certain foods that bring this team extra happiness. Some of these items remind players of home, good times, and visits to exciting places.
Here are some dishes and treats that bring the team joy:
Cheese pizza
Fish Tacos
Lobster
Mangos
Sweet potatoes
Sushi
12. The Bobcats call Bates their home away from 11 homes:
They may call Bates "home" now, but these Bobcats also belong to communities across the globe. With a strong Maine and New England flavor, the team has players come from nine U.S states, the District of Columbia, and China:
China
Connecticut (2)
District of Columbia
Illinois
Maine (4)
Maryland
Massachusetts (8)
New York (4)
Pennsylvania
Rhode Island
Tennessee
---
Reported by Jay Burns, Hannah Kothari '26, and Aaron Morse.