Jane T. Costlow, Griffith Professor of Environmental Studies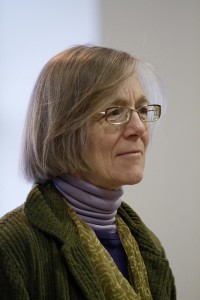 Clark Griffith, a 1953 alumnus and trustee emeritus of Bates, established the Griffith Professorship not only to honor an exceptional teacher-scholar but to champion the burgeoning environmental studies program.
From remarks by Carl Benton Straub, Professor Emeritus of Environmental Studies and the first to hold the Griffith Professorship, at a March 8, 2012, reception honoring six Bates faculty members appointed to named professorships. (Read about the event.)
Despite a report she [Jane] considered me her favorite curmudgeon, we have a "cloudless friendship." I relish her presence. After almost every conversation, there lingers in me an observation or idea she shared. She knows how to pass along her great learning. She knows how to mediate the past for the present. She knows how to teach remarkable literature for the sake of our unremarkable lives. She shows how to walk mindful of universals through the particular habitats where we dwell. This is what her best students always tell me.
There has been – and will be – a momentum in Jane's academic and scholarly journey. Focusing on what I would call "a sense of body" and a "sense of place," ever since her summa cum laude graduation from Duke she has cultivated diverse themes in Slavic studies, women's studies and what we can call environmental studies. Her harvests have been published by university presses at Stanford, Princeton, Pittsburgh, Duke. This year the Cornell University Press will publish her study on images of forests in 19th-century Russian literature. John Ackerman, director of the Cornell Press, who began here his own academic career in Russian history, has told me of his excitement for Jane's work. Surely more will come from her disciplined mind. And it will replenish her teaching and refresh our community.
A final note: Jane's appointment helps assure that insights and sensibilities of humanistic scholarship will inform the Program in Environmental Studies. From its beginning, the faculty was wise on this score. It acknowledged that human entanglements in nature – and therefore our adventures to comprehend and celebrate nature – are complex, mysterious. It acknowledged that the sciences alone cannot bring cognitive clarity, and the social sciences alone cannot guide our species into just relationships with wider communities of life.
Our discernments are broader. We learn also from the dark shadows of wolves recounted in Willa Cather's story and from the "fearful symmetry" of William Blake's tiger. We learn also from El Greco's landscape before Toledo and from Van Gogh's single blade of grass, from listening to sounds in our yards as songs and from watching movements in the wild as dances. Tolstoy's emblematic portrait of the Tartar thistle striving in the freshly plowed field also brings evidence of the botany and ecology within which we are fatefully embedded.
There are many reasons for celebrating this appointment. Thank you, Jane, for bringing it about.