Biography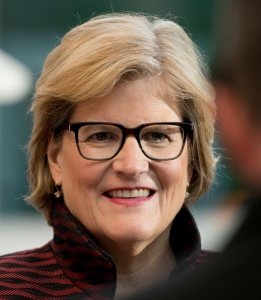 Clayton Spencer became the eighth president of Bates College on July 1, 2012. She came to Bates from Harvard University, where she spent more than 15 years on the university's senior leadership team.
Under her leadership, Bates has launched new initiatives in a number of areas, including: creating a new program in Digital and Computational Studies; strengthening programming in campus diversity and inclusion; transforming the college's approach to preparing students for work and career; and significantly increasing fundraising.
Before joining Bates, Spencer served for seven years as Vice President for Policy at Harvard, directing policy initiatives for the university. She previously served as Harvard's Associate Vice President for Higher Education Policy as well as Acting Executive Dean of the Radcliffe Institute for Advanced Study. Spencer was also a lecturer at Harvard's Graduate School of Education, where she taught courses on federal higher education policy.
As the former Chief Education Counsel to the U.S. Senate Committee on Labor and Human Resources, Spencer worked for the late U.S. Senator Edward M. Kennedy from 1993 to 1997. She directed education legislation and policy in the Senate, including federal student aid, science and research policy, the education budget, and technology in education.
Accomplishments at Bates
One of Bates' signature initiatives is Purposeful Work, launched in 2014. Built on the premise that preparing students for lives of meaningful work has always been a central purpose of the liberal arts, Purposeful Work represents a radical departure from traditional approaches to preparing students for careers. It is grounded in Bates' mission, has curricular and co-curricular aspects, and takes a four-year, developmental approach to working with students. Through funded internships, practitioner-taught courses, a speaker series, and other opportunities, Purposeful Work promotes greater agency in students' approach to their college years and a stronger bridge to life after college.
Spencer hired Bates' first chief diversity officer in 2013, who serves as associate vice president for strategic initiatives and is part of the college's senior leadership team. Under her leadership, Bates' Office of Intercultural Education has revitalized its space and staffing and has greatly expanded programming on questions of difference, with a resulting increase in student engagement. More broadly, the college has expanded the number of students from underrepresented groups admitted to Bates, created innovative programs for first-generation-to-college students, won major funding from the Mellon Foundation to diversify the faculty, increased staffing and programming related to issues of diversity, and joined the Creating Connections Consortium (C3), a collaboration of colleges and two research universities that aims to address the challenges of diversity in higher education.
Under Spencer, Bates has also introduced innovations in curriculum and pedagogy, including inviting small groups of students to work with professors to redesign courses, incorporating practitioner-taught courses into Bates' Short Term curriculum, and expanding Bates' established role as a national leader in community engaged work and learning, as well as other forms of practice-based learning.
Giving to the college has increased steadily since Spencer's arrival at Bates. She was integral to securing three of the college's largest-ever gifts: the $11.5 million spend-down Catalyst Fund in 2013; $19 million in endowment gifts in 2016 to establish six new professorships and create a new program in Digital and Computational Studies; and $10 million in endowment to name two new residence halls.
Prior Experience and Education
Earlier in her career, Spencer clerked in the U.S. District Court in Massachusetts, practiced law at the Boston firm of Ropes & Gray, and prosecuted criminal cases as an assistant U.S. attorney in Boston. She earned a J.D. from Yale Law School in 1985. While at Yale, Spencer was an editor of the Yale Law Journal, winner of the Moot Court competition, and chair of the Public Interest Council.
Spencer received a bachelor's degree from Williams College in 1977, magna cum laude and Phi Beta Kappa, with highest honors in history and German. She earned a bachelor's degree in theology from Oxford in 1979 and a master of arts degree in the study of religion from Harvard in 1982. In 2015 she received the Doctor of Civil Law honorary degree from Bishop's University in Sherbrooke, Quebec.
She has served as a trustee of Williams College and Phillips Exeter Academy and on the boards of the Maine Public Broadcasting Network, the American Council on Education, the Fund for the Improvement of Postsecondary Education of the U.S. Department of Education, and the Institute for the International Education of Students. Spencer was a member of the 2015 Aspen Institute Task Force on College Opportunity for High Achievers, the work of which resulted in the 2016 launch of the American Talent Initiative. She also took part in the American Council on Education's 2013 Presidential Innovation Laboratory, and received a Bicentennial Medal for achievement in the field of education policy from Williams College.