Lecture looks at Arctic reserve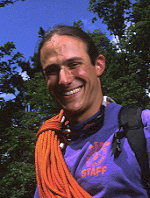 Timothy Leach, a 1999 graduate of Bates College, discusses his fact-finding tour of the Arctic National Wildlife Refuge (ANWR) in a lecture at 7:30 p.m. Monday, Jan. 14, in the college's Chase Lounge, 56 Campus Ave. The presentation is open to the public at no charge.
Following his graduation from Bates, Leach, a geology major, established an outdoor education and leadership program involving students from Bates and from grade schools in Lewiston and Auburn (for more information click here. Now a resident of Greenwich, N.Y., Leach is an ardent outdoorsman and environmental advocate. During his Alaskan visit he preceded his stay in the ANWR with a partial climb of Denali (Mount McKinley) and a 500-mile bike trek from Fairbanks north to Prudhoe Bay.
During his five weeks in the refuge and the Prudhoe oil fields, Leach discussed the possible effects of oil drilling in the ANWR with natives, scientists, environmentalists, journalists and oil workers. "There were many passionate voices offering original research that indicated the potential for a serious negative impact if the coastal plain in the ANWR were developed for oil," he says. At particular risk are the caribou that breed in the refuge and the native people who depend on them for sustenance.
"In my time in Alaska," says Leach, "I have come to realize how ecologically and culturally significant the coastal plain of the ANWR is." The notion, he says, "that we would trade it for a mere 3.2 billion barrels of oil, just enough to keep the United States fueled for six months, is ridiculously short-sighted."
For more information about Leach's lecture, please call 207-786-6330.
View Comments