Hastings to compete in NCAA swimming and diving championships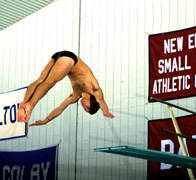 Bates College senior diver Andrew Hastings of Weston, Mass., will compete at the NCAA Division III men's swimming and diving championships for the fourth time in his career this weekend, March 21-23. The meet is being held at Miami University (Ohio) and is hosted by the College of Wooster.
Hastings, who has won six All-America honors in his three previous trips to the NCAAs, will look to become the first Bobcat named an All-American in all four years at Bates. He is a two-time All-NESCAC performer and four-time All-New England honoree, including winning the New England title in the three-meter event as a first-year diver in 1999. His top finish at the NCAA championships was a fourth-place finish in the one-meter event as a rookie and fourth in the three-meters in 2000. This year he finished third at the NESCAC championships in the three-meters and fifth in the one-meter.
View Comments