Dreyfus award to support post-doctoral fellow in chemistry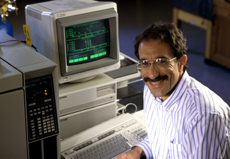 On behalf of the chemistry department, Charles A. Dana Professor of Chemistry Thomas Wenzel has received a two-year grant totaling more than $100,000 to support a teaching and research fellow at Bates.
The grant was awarded by the Camille and Henry Dreyfus Foundation, New York City. The foundation will award $55,000 for the Dreyfus Fellow's first year and $50,000 for the second. The foundation's Scholar/Fellow Program for Undergraduate Institutions aims to give recent recipients of a doctoral degree a head start on their academic teaching careers.
"A lot of people don't appreciate, when they come to a place like Bates, how to balance their activities between teaching and scholarly work," Wenzel explains. Finding that balance can be a struggle. "This program is designed to provide first-hand experience with how to balance both and how to succeed at doing both," he says, "with, in a sense, very little at stake, because you're not in a tenure-track position."
The search for the Dreyfus Fellow began this month. Starting at Bates this autumn, the fellow will assist Wenzel with both his teaching and his research, which explores processes for determining the molecular orientation of certain compounds that can exist in either "right-handed" and "left-handed" forms, with dramatically different properties in some cases.
Wenzel says the Dreyfus program benefits everyone involved. As noted above, the award will improve the chances of some young academic making it through those challenging early years. "I clearly have a concern about wanting to see people who are considering a career as a faculty member at an undergraduate institution flourish in that career," Wenzel says. "That's really the most positive aspect of the program, and what interested me most in it."
The program will enable Wenzel himself to gain ground on his research, thanks to the fellow's participation in both the lab and the classroom, because a reduced teaching load will afford Wenzel more research time. The college and the chemistry department will benefit from the fresh perspective, energy and ideas of a newly minted Ph.D.
Most important, Wenzel's research students will benefit from the Dreyfus Fellow's mentoring. "This person, just having finished graduate school, will be able to talk with those students about what graduate school is really like and what kinds of career opportunities exist," Wenzel says.
Wenzel, whose teaching methods and research results have won him a variety of honors, received his first Dreyfus Scholar/Fellow award in 1990. Only six of the Dreyfus grants are awarded annually. "It's something of an honor to get it," he says.
Check out the chemistry department's website here.
View Comments