Pope.L's Black Factory ramps up production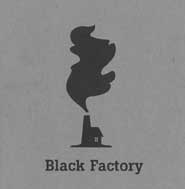 Working up to an April 2004 premiere at the Massachusetts Museum of Contemporary Art, acclaimed visual and performance artist William Pope.L is collecting raw material for his Black Factory project from 5 to 8 p.m. Thursday, Nov. 13, in Chase Hall Gallery at Bates College, where he teaches.
Internationally known for his surprising and provocative explorations of culture and consumerism, Pope.L's Black Factory is his most participatory, community-oriented project yet. It aims to re-energize discussions about race in America by inviting people to share objects that represent "blackness" to them.
There are two ways to contribute objects to the Factory on what Pope.L calls "Check Days" (the term refers to both the idea of checking in with someone and "the day of celebration in working-class culture when the check arrives," Pope.L says). Some participants choose to have their items photographed and published in an archive on the World Wide Web.
Others donate the objects outright. When the mobile Factory is operating in 2004-05, some of those objects will tour with it and others will be pulverized and turned into new products offered for sale in the Factory's gift shop.
The Black Factory is "aimed at anyone interested in issues of what makes us different," explains Pope.L, a lecturer in Bates' theater and rhetoric department. "Calling it the Black Factory is just a way of making it concrete. It's not specifically for black people — it's using the black experience as a funnel to talk about difference."
Anyone is welcome at the Nov. 13 Check Day. It's the third at Bates; another took place in Portland. Objects brought to prior Check Days have included quilts, photographs, jewelry — and birthmarks.
Chris Schiff of the Bates library staff submitted the identical birthmarks he and his daughter have on their arms. "It's something that connects him with his daughter, so he sees it as this amazing, positive thing," says Julie Hammond, a 2003 Bates graduate and Pope.L's assistant with the project.
"When his daughter was born, the doctors wanted to remove it," she adds. "But he showed the doctors that he had the identical one and said, 'Oh, no, it's not a problem at all. It just runs in the family.' "
While Pope.L and Hammond are building a virtual Black Factory on the Web, the factory's touring manifestation is also under construction: a truck that, oddly reminiscent of an old-time medicine show, will go from town to town in 2004 and 2005. Working with designers in the Portland area, Pope.L is fitting out the truck with expandable bays for a library, pulverizer and gift shop.
First stop: the Massachusetts Museum of Contemporary Art, the cutting-edge institution that, since it opened in 1999, has revitalized both a derelict complex of 19th-century factory buildings and the city of North Adams.
The Black Factory is supported by grants from the Rockefeller and Creative Capital foundations and the Mellon Foundation Summer Research Apprenticeship Program at Bates.
Working in sculpture, performance and installations, Pope.L has consistently challenged his audiences to confront and re-examine American notions about race, class, pop culture and consumerism. Ideas are products too, he says, and "the notions that we have about these things are part of a marketing of what we are. So the educated consumer should be critical about how ideas are marketed. 'What's on the market' may not be the only things available."
With past works that have included crawling through the streets of major cities, eating and regurgitating the Wall Street Journal, and mapping the United States in hot dogs, Pope.L is no stranger to controversy. Yet the ideas behind the works are invariably sophisticated and enduring, and the strength of his concepts has been recognized by a host of awards and major profiles in The Boston Globe, The Washington Post and The New York Times, among other publications.
In Maine, Pope.L may be best-known for eRacism, a retrospective exhibition at the Maine College of Art that later toured to Texas, Oregon and New York. Pope.L has been a lecturer in the Department of Theater and Rhetoric at Bates for 12 years.
View Comments