Hochadel earns NESCAC honors; basketball teams prepare for playoffs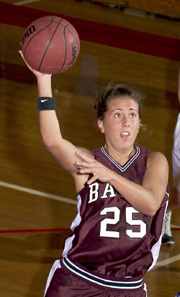 Betsy Hochadel was selected as the New England Small College Athletic Conference Women's Basketball Player of the Week by the conference on Monday afternoon.
Hochadel '05 (Portland, Maine) led Bates to a 3-0 week, averaging 15 points and 6.3 rebounds per game while hitting over 60% of her shots from the floor and over 90% of her free throw attempts. She recorded her second career double-double with 17 points and 10 rebounds in an 85-73 overtime win over Williams on Friday, then scored 19 points on 8-for-11 shooting in an 80-44 win over Middlebury to clinch a tie for second in the final NESCAC standings.
The Bobcats (17-7, 7-2 NESCAC) earned the No. 3 seed in the NESCAC Championship and will host No. 6 seed Amherst (11-13, 3-6) in the quarterfinal round on Saturday at 1 p.m. Bates defeated the Lord Jeffs 72-46 in the regular season.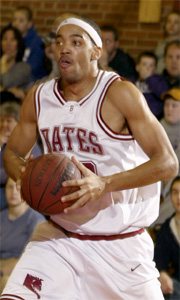 The game, originally scheduled for a 3 p.m. start, was moved to 1 p.m. to allow Bates fans the opportunity to travel to Brunswick in time for the men's NESCAC quarterfinal with Bowdoin.
The fifth-seeded Bobcats (17-7, 5-4) will face the Polar Bears for the third time this season. Bates defeated Bowdoin 87-56 at Alumni Gymnasium in early December, but the No. 4 seeded Polar Bears (16-8, 6-3) won the game which counted in the NESCAC standings, 62-55, two weeks ago.
NESCAC SCHEDULE
Women's Quarterfinal at Bates
Saturday, Feb. 21, 1 p.m.
No. 6 Amherst (11-13, 3-6) vs.
No. 3 Bates (17-7, 7-2), 1 p.m.
Men's Quarterfinal at Bowdoin
Saturday, Feb. 21, 4 p.m.
No. 5 Bates (17-7, 5-4) vs.
No. 4 Bowdoin (16-8, 6-3), 4 p.m.
View Comments