Everett Dance Theatre presents 'Home Movies' at Bates Dance Festival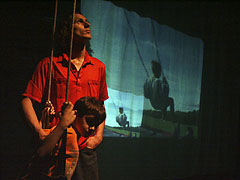 The Rhode Island-based Everett Dance Theatre returns to Bates College to present the 2004 world premiere of Home Movies. Incorporating dance, theater and video, Home Movies explores today's American family, tackling such issues as mental illness, homelessness and immigration. The Bates Dance Festival presents Everett Dance Theatre at 8 p.m. Friday and Saturday, August 6 and 7, at Schaeffer Theatre, College Street. Tickets are $17/$10 (students and seniors) and may be purchased by calling 207-786-6161 after July 10. (Home Movies is appropriate for people of all ages.)
Home Movies draws on Everett's multicultural makeup to depict the many ways families provide a sense of belonging and safety, to explore how we identify our families and to ask where we find home. With video in the mix, Everett brings family members to the stage, using humor to consider the many difficulties harbored amidst the love.
Considered one of the most refreshing dance companies to emerge from New England in many years, Everett is an intergenerational company nationally recognized for its evening-length, theme-based concert works and innovative educational programs. Everett works in depth in its community at the company's Carriage House Stage and School, providing long-term, professional-level training in the arts to inner-city youth and by bringing arts performances to its community.
Everett's works have toured to venues such as Dance Theater Workshop, Jacob's Pillow, Spoleto Festival and the Walker Arts Center. Called "poignant and poetic" by Dance Magazine, Everett received the Jabez Gorham Award for "Unwavering Commitment to Excellence" (1992); a Bessie, New York's Dance Choreography and Creator Award (1996) for its "Body of Work" concert; the First Annual Rhode Island Pell Award for Excellence in the Arts (1997); Meeting Street Center's Visionary Award for an Outstanding Level of Concern and Commitment for Rhode Island's Children and Adults with Disabilities (1997); and the Foundation for Contemporary Performance Arts Award (2000).
Artistic Director Dorothy Jungels has received four Choreographer's Fellowships from the National Endowment for the Arts, four fellowships from the Rhode Island State Council on the Arts and one from the Rhode Island foundation.
At press time the Bates Dance Festival gratefully acknowledges support for Home Movies from the National Endowment for the Arts, National Performance Network, LEF Foundation, Altria, Banknorth Charitable Foundation, Cole Haan, Androscoggin Savings Bank, Mechanics Savings Bank and Liberty Mutual Insurance.
View Comments