Pianist Frank Glazer, renowned Verdehr Trio featured in September concerts at Bates College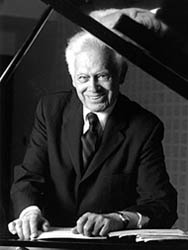 Musicians performing at Bates College in September include Frank Glazer, a prominent Maine pianist and Bates artist in residence; Atsuko Hirai, a soprano and member of the Bates faculty; and the Verdehr Trio, internationally acclaimed for its development of the violin-clarinet-piano trio repertoire.
Glazer opens the college's 2004-05 Noonday Concert Series at 12:30 p.m. Tuesday, Sept. 14, with music by Bach, Busoni, Haydn and Mendelssohn. Bates Noonday Concerts typically last around 30 minutes.
The Verdehr Trio, which has commissioned some 170 pieces of music during a career of more than 30 years, performs at 3 p.m. Sunday, Sept. 19. The trio's pianist, Yuri Funahashi, lives in Maine, and the program includes a piece by Bates faculty member Philip Carlsen. Also on the program is the world premiere of "Playground," a composition by Barry Conyngham, chair of Australian studies at Harvard University.
Hirai, the Kazushige Hirasawa Professor of History at Bates, is accompanied by Glazer in a program of 10 songs by Johannes Brahms. This Noonday Concert takes place at 12:30 p.m. Tuesday, Sept. 21.
Finally, Glazer offers music by Mozart, Schubert and Schumann in a recital at 8 p.m. Friday, Sept. 24.
The Olin Arts Center Concert Hall, 75 Russell St., is the site of all four concerts, which are open to the public at no cost. For more information, please call 207-786-6135.
Through commissioning new works and transcribing or rediscovering music from centuries past, the Verdehr Trio has molded and defined the personality of the violin-clarinet-piano trio. The ensemble has performed worldwide in chamber concerts and in trio-concerto repertoire for orchestra. Its catalog of recordings includes the 17-volume series "The Making of a Medium," documenting the trio's contributions to the repertoire (Crystal Records). An article about the trio appears in the new Groves Dictionary of Music.
Though in residence at Michigan State University in East Lansing, where violinist Walter Verdehr and clarinetist Elsa Ludewig-Verdehr teach, pianist Yuri Funahashi lives in Wilton and teaches at the University of Maine in Farmington. She is known statewide for her performances with such chamber ensembles as the Nordica Trio and the Funahashi-Pane Duo.
A highlight of the trio's Bates program is the world premiere of Conyngham's "Playground." In addition, the trio performs its own arrangement of the Andante-Allegretto (Op. 43, No. 13) from Beethoven's music for the ballet "The Creatures of Prometheus"; Carlsen's 1987 "Penumbra"; Peter Sculthorpe's 1992 "Dreamtracks," inspired by the Australian landscape; William Brohn's adaptation of music by songs by George and Ira Gershwin; and "Tibetan Dance," composed and dedicated to the Verdehr Trio by Bright Sheng.
One of Maine's best-known pianists, Bates College artist-in-residence Frank Glazer is a musician of international stature. His long career includes numerous recordings, and countless solo recitals and performances with orchestras and chamber ensembles, including the New England Piano Quartette, of which he was a founder.
Glazer, 89, taught at the Eastman School of Music for 15 years before retiring to Maine with his wife, Ruth, in 1980. The couple founded the Saco River Festival, held in Cornish every summer. A student of pianist Artur Schnabel in the 1930s and '40s, Glazer is one of the few remaining proteges of that great musician.
The first Kazushige Hirasawa Professor of History at Bates and a specialist in Japanese history, Atsuko Hirai is a graduate of Tokyo University and earned her Ph.D. in government at Harvard. She and Glazer perform together occasionally at Bates.
Philip Carlsen has degrees from the University of Washington, Brooklyn College and the CUNY Graduate Center. His many compositions include works for such Maine ensembles as the Portland Symphony Orchestra and Bates' gamelan orchestra, and a commission from the National Symphony Orchestra and the Kennedy Center in connection with the orchestra's residency in Maine. Carlsen teaches half-time at UMF and half-time at Bates, where he conducts the college orchestra.
View Comments