Performances reflect cultures of China, Russia, Indonesia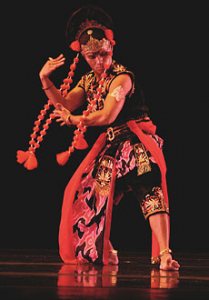 A concert of Indonesian music and dance, a play by the Russian master Anton Chekhov and an afternoon of classical Chinese opera will open windows onto the world for audiences at Bates College during the next week and a half.
Master drummer Undang Sumarna and dancer Ben Arcangel, representing performance traditions of the Sundanese people of West Java, Indonesia, join the Bates gamelan orchestra in concert at 8 p.m. Wednesday, March 23.
At 3 p.m. Saturday, March 26, a Chinese opera troupe and a professor of Chinese from Vassar College offer two operas of the classical Beijing school.
Sponsored by the Freeman Foundation Undergraduate Asian Studies Initiative, both performances are open to the public at no charge and take place in the Olin Arts Center Concert Hall, 75 Russell St. For more information call 207-786-6135.
Meanwhile, continuing through March 20 is the theater department's production of Chekhov's tragicomic play The Three Sisters, in the world stage premiere of a translation by Laurence Senelick, professor of drama at Tufts University. Performances take place at 8 p.m. Friday and Saturday, March 18 and 19, and 2 p.m. Sunday, the 20th, in Schaeffer Theatre. Admission is $6 for the general public and $3 for seniors and non-Bates students.
The annual spring concert of the Bates Gamelan Mawar Mekar ("blossom of inspiration") caps a 10-day residency for Sumarna and a five-day stay for Arcangel. The artists will work with students in the course "Music in World Cultures," taught by assistant professor Gina Fatone, who directs the percussion-based gamelan ensemble.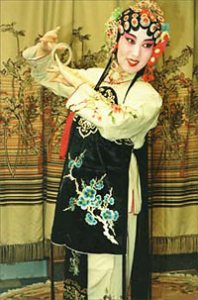 In sessions with Sumarna, students are learning gamelan instruments and experiencing the intense collaborative energy that a successful ensemble in this genre requires. During the second half of Sumarna's residency, he and Arcangel will demonstrate the symbiotic relationships between drumming and dance in Sundanese tradition.
Sumarna began studying gamelan as a child and has been known for his dance drumming since age 14. In 1974 he came to the United States, and is now an artist in residence and lecturer in music at the University of California, Santa Cruz.
Benjamin Arcangel is a graduate student at the University of Hawaii. He was recently selected as an Outstanding Performer at the 10th National American College Dance Festival held at the Kennedy Center in Washington, D.C. The award, presented by Dance Magazine, represents the highest honor among college and university dance students.
The March 26 Beijing opera performance features nine classically trained players along with Wenwei Du, associate professor of Chinese at Vassar and a specialist in Sino-Western comparative drama. With Du offering explanations and aesthetic interpretation, the operas are Picking up the Jade Bracelet, a romantic comedy; and Night Fight at Crossroads Inn, centered on stylized, acrobatic combat between two characters.
The performance takes place in association with the Bates course "Traditional Chinese Literature in Translation," taught by Shuhui Yang, professor of Chinese and chair of the Asian studies program.
A synthesis of centuries' worth of regional traditions, the school of Beijing opera emerged in the late 18th century. Formal and strongly stylized, it combines singing, dialogue and mime, acrobatic fighting and dancing, all set to the music of a small ensemble of wind, string and percussion instruments. Performers typically wear gorgeously embroidered costumes and decorative makeup.
Published in 1901, The Three Sisters is the story of three sisters and a brother, members of the privileged class, stuck in a provincial backwater and pining for the excitements of Moscow. "This is a play that's always relevant to the way things are," says Martin Andrucki, director of the theater department production and Dana Professor of Theater.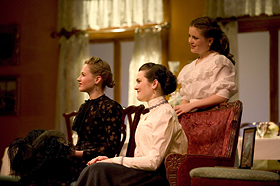 "It inhabits that space between hope and despair where most people spend most of their lives. Everyone in the play is longing for fulfillment, and everyone discovers the inevitability of loss and compromise."
The translation that Bates is premiering was among five Senelick renderings of Chekhov plays published last fall in a W.W. Norton collection, Anton Chekhov's Selected Plays. For reservations and more information, please call the box office at 207-786-6161.
View Comments