Faculty, Maine landscape share center stage at Museum of Art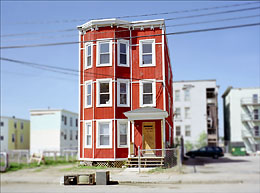 Artwork by Bates College faculty and artwork exploring diverse visions of the Maine landscape constitute the summer exhibitions at the Bates College Museum of Art, located at 75 Russell St.
The exhibitions Bates College Faculty, featuring several artists prominent on the Maine scene, and Off the Coast: A Landscape Chronology both open June 14. A third show, The Environment of Landscape: Works from the Olivia and Ellwood Straub Collection, opened in May.
For more information about the exhibitions, please call 207-786-6158 or visit the museum.
Artists included in Bates College Faculty are Robert Feintuch, Jessica Gandolf, Paul Heroux, Pamela Johnson, Penelope Jones, Elke Morris, Joseph Nicoletti and Erica Rand (with Elizabeth M. Stephens of the University of California, Santa Cruz). This exhibition by faculty in the Department of Art and Visual Culture is intended as a component of the college's celebration this year of its 150th anniversary.
Mounted in the museum's Bates Gallery, the show closes Sept. 25.
Off the Coast, which runs through May of next year in the Collection Gallery, taps museum holdings for images of inland Maine and the region by artists as diverse as Marsden Hartley, Neil Welliver, Grace Knowlton, William Thon, Elke Morris and Ellen Lesperance.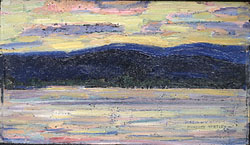 "This exhibition deconstructs the historical paradigm of New England and Maine while exploring innovations in contemporary landscape art," says Liz Sheehan, assistant curator.
"Contemporary artists are changing the local and global perception of Maine's artistic traditions, a perception based less and less on the beauty of the state and more on its innovative spirit," she says.
The Environment of Landscape: Works from the Olivia and Ellwood Straub Collection hangs in the Synergy Seminar Gallery through Sept. 25. The exhibition is the first drawn from the Straub Collection, which is intended to challenge viewers to look critically at our environment and landscape. Among the artists represented in the show are Philip Barter, Joel Babb and Dozier Bell, whose "Estuary" is the Straub Collection's latest acquisition.
The museum is open 10 a.m. to 5 p.m. Tuesday through Saturday, and is closed Sundays and major holidays.
View Comments