Program links student volunteers, community needs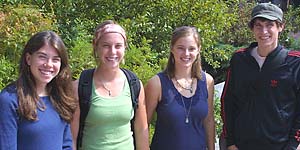 For the fourth year, Bates College students are coordinating a program that matches fellow students with volunteer opportunities in the Lewiston-Auburn region.
Seniors all, the four student volunteer fellows at Bates during the 2005-06 academic year are Emily Hoffer of Danville, Vt.; Sarah Mengel of Westport, Conn.; Christopher Petrella of Somers, Conn.; and Katie Seamon of Leverett, Mass.
The volunteer program has involved hundreds of Bates students in dozens of projects that include both occasional activities, such as helping to rehabilitate residences with the Rebuilding Together program, and ongoing efforts like the Longley School Mentoring program, the Trinity Soup Kitchen and the Hillview After-School Program.
Volunteerism is "one of the strongest ways students can involve themselves in the community, as opposed to just buying things in stores or having jobs," says Seamon, who also served as a volunteer fellow in 2003-04. "It shows that we're part of the community as well."
The student volunteer fellows work with the volunteer program run by the Harward Center for Community Partnerships at Bates.
Bates students can learn more about volunteer opportunities on Wednesday, Sept. 21, when community organizations come to campus for the annual Volunteer Fair. Participating organizations this year include Big Brothers/Big Sisters of Androscoggin County, Central Maine Adaptive Sports, New Beginnings, Lewiston Even Start Family Literacy Program, Abused Women's Advocacy Project and Habitat for Humanity.
Hoffer's role in the program is to promote volunteerism among student organizations and sports teams. Mengel administers the Longley Elementary School Mentoring Program, among other responsibilities.
Seamon helps develop volunteer opportunities for Bates students and administers campus participation in such ongoing programs as the Trinity Soup Kitchen and the Montello School reading program. Petrella coordinates campuswide participation in monthly and one-time events, such as Make-a-Difference Day and Advocates for Children Holiday Festival. He is also the student coordinator for Hurricane Katrina relief efforts at the college.
In terms of its benefit, student volunteerism is a two-way street. In addition to cultivating the culture of service intrinsic to the Bates education, it gives the college's students practical experience that complements their classroom learning.
"It's easy to find yourself so busy on campus that you just don't leave," says Hoffer. "But Lewiston-Auburn is big enough and diverse enough that it just has so many opportunities to see what the 'real world' can be like away from Bates."
The community, of course, also benefits. An administrator at Longley Elementary School, where Bates students also help pupils with their reading, told Mengel that the "kids really wanted to read because we were interested in reading with them," she reports. "I'm glad that we're showing kids that they can do things that they may not necessarily think they can do."
Leave a Reply
This is a forum for sharing your thoughts about the preceding post with the public. If you have a question for the author, please email the Bates Communications Office at communications@bates.edu.