Bates names Sowell Professor of Economics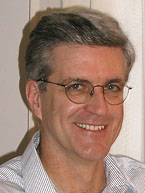 Bates College has named James W. Hughes, a member of the economics faculty since 1992, as the Thomas Sowell Professor of Economics. Hughes presents his inaugural lecture as Sowell Professor at 5:15 p.m. Friday, Oct. 28, in Chase Hall Lounge, 56 Campus Ave.
Titled . . ., Drugs and Rock & Roll: Intellectual Property in the 21st Century, Hughes' talk is open to the public at no charge. A reception follows.
The endowed Thomas Sowell Professorship in Economics was established in 2002 through a gift from Bates College trustee Joseph T. Willett and his wife, Janice, of Ridgewood, N.J. A member of the Bates class of 1973, Willett is the former chief operating officer of Merrill Lynch for Europe, the Middle East and Africa.
The professorship honors Sowell, an economist, author and commentator, and someone whom a Washington Post reviewer called America's "most valuable public intellectual" for his challenges to orthodox thought across the spectrum of society.
"I'm both happy and humbled that the college chose to appoint me to this prestigious position," says Hughes. "I'm grateful to Joe and Janice Willett for the generous gift that made this professorship possible, and pleased that they chose to name the professorship for such a prominent and provocative economist as Professor Sowell."
Hughes' lecture will examine serious challenges to intellectual property rights faced by two very different industries, pharmaceuticals and the music recording business, and how the public views those challenges.
"Intellectual property rights form the basis of their business" for both sectors, says Hughes. "Yet in public perception and public policy, there seems to be much more sympathy for the recording industry than the pharmaceutical industry. I hope to explore the reasons behind such different public perceptions."
The talk relates to Hughes' current research into the social value of pharmaceutical patents and the factors determining the longevity of such patents. He teaches economics across a wide range of applications, including labor, health and law. He has also investigated issues as diverse as gender equity in academic salaries, the effect of tort reform on medical malpractice claims, and Wal-Mart and the labor market.
Hughes' work on the effects of fee-shifting on litigation outcomes culminated in an invitation to contribute an entry on the subject to The New Palgrave Dictionary of Economics and the Law.
He received his Ph.D. in economics from the University of Michigan in 1987, and his bachelor's and master's degrees at Boston University. He is married to Debra A. Barbezat, professor of economics at Colby College. They live in Waterville and have a son, who is a junior at Waterville High School .
"The relentless search for the truth and the courage to express it despite its occasional unpopularity distinguishes Thomas Sowell," Joseph Willett said in 2002, when the Sowell professorship was announced. "Sowell's writing reveals a great and real compassion for people — but one rooted in facts, not merely lofty sentiments."
The Rose and Milton Friedman Senior Fellow in Public Policy at the Hoover Institution, Stanford University, Sowell writes on economics, history, social policy, ethnicity and the history of ideas. His recent books include Black Rednecks and White Liberals (Encounter Books, 2005), Affirmative Action Around the World (Yale University Press, 2004), Basic Economics (Basic Books, revised and expanded edition, 2003) and Barbarians Inside the Gates (Hoover Institution Press, 1999).
Sowell's current research focuses on cultural history in a world perspective. He was awarded the National Humanities Medal in 2002 and the Bradley Prize for intellectual achievement in 2003.
View Comments