Poet Meena Alexander to read from her work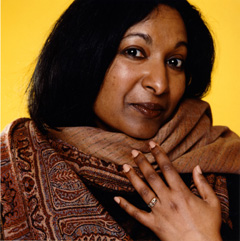 Meena Alexander, an award-winning poet, novelist and memoirist, will read from her poetry at 7:30 p.m. Monday, Nov. 7, in Chase Hall Lounge, 56 Campus Ave., Bates College. The public is invited to attend free of charge.
Distinguished Professor of English at Hunter College and the Graduate Centre, City University of New York, Alexander is the author of works including the poetry volumes Raw Silk (Triquarterly, 2004) and Illiterate Heart (Triquarterly, 2002); The Shock of Arrival: Reflections on Postcolonial Experience (South End Press, 1996); and the novels Manhattan Music (Mercury House, 1996) and Nampally Road (Mercury House), a 1991 Voice Literary Supplement Editor's Choice. Illiterate Heart won the 2002 PEN Open Book Award, while Publisher's Weekly Choice included her memoir Fault Lines (Feminist Press, 1993) among its best books of the year.
The editor of the anthology Indian Love Poems (Knopf, 2005), Alexander is currently at work on two projects: a volume of poems and a book of essays and notes titled Unquiet Borders: The Poetry of Migration.
Born in India and educated there and in North Africa and Britain, Alexander's work has been widely anthologized and translated into several languages, including Malayalam, Hindi, Arabic, Italian, Spanish, Macedonian, German and Swedish. Her writing has appeared in numerous magazines and literary journals, including The New York Times, the Harvard and  Kenyon reviews and Grand Street.
Alexander has received awards and residencies from, among others, the Fulbright, Rockefeller and Lila Wallace foundations, as well as the New York State Council on the Arts and the National Council for Research on Women.
Alexander's Bates reading is cosponsored by the English department, the Asian studies and women and gender studies programs, and by the Multicultural Center, the chaplain's office and the student organization Women of Color.
View Comments